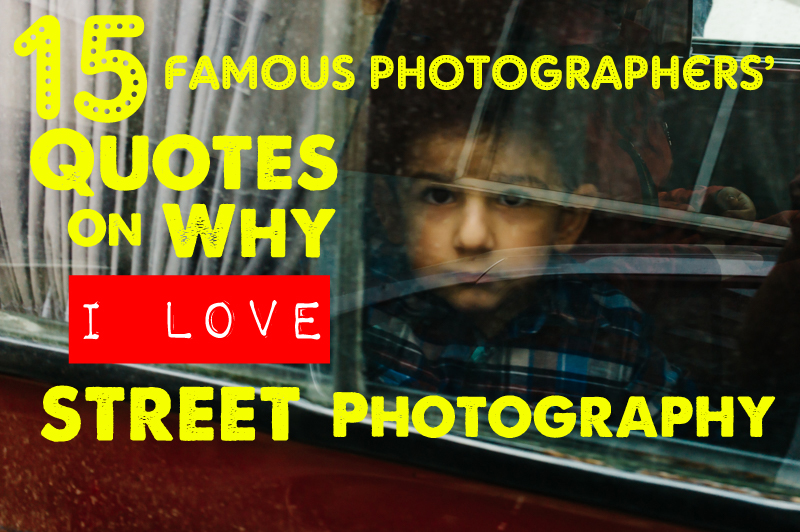 I love Street Photography for many reasons, but who better to put these reasons into words than the photographers I admire the most. Here, I've put together 15 quotes from 15 famous photographers that should help explain what I love about Street Photography.
15 Famous Photographers' Quotes on Why I Love Street Photography
Garry Winogrand: "I photograph to see what the world looks like in photographs."

Constantine Manos:

 "By choosing a precise intersection between subject and time, he may transform the ordinary into the extraordinary and the real into the surreal."

Lee Friedlander: "Photographs are so loaded with information. They're remarkable… you get both the tree and the forest."

Saul Leiter: "Seeing is a neglected enterprise."

Henri Cartier-Bresson: 

"It is an illusion that photos are made with the camera… they are made with the eye, heart and head."

Robert Frank: 

"When people look at my pictures I want them to feel the way they do when they want to read a line of a poem twice."

Elliot Erwitt: 

"I'm an amateur photographer, apart from being a professional one, and I think maybe my amateur pictures are the better ones."

Joel Meyerowitz: 

"You fill up the frame with feelings, energy, discovery, and risk, and leave room enough for someone else to get in there."

Diane Arbus: "I really believe there are things nobody would see if I didn't photograph them."

William Eggleston: "I am afraid that there are more people than I can imagine who can go no further than appreciating a picture that is a rectangle with an object in the middle of it, which they can identify."

Bruce Gilden: "If you can smell the street by looking at the photo, it's a street photograph."

Alex Webb: "I only know how to approach a place by walking."

Martin Parr: "Photography is the simplest thing in the world, but it is incredibly complicated to make it really work."

Tony Ray-Jones: "Photography can be a mirror and reflect life as it is, but I also think it is possible to walk, like Alice, through a looking glass and find another kind of world with the camera."

Josef Koudelka: "I would like to see everything, look at everything, I want to be the view itself."
Are there any quotes, by photographers you admire, that put your passion for photography into words? Tell me them in the comments below!