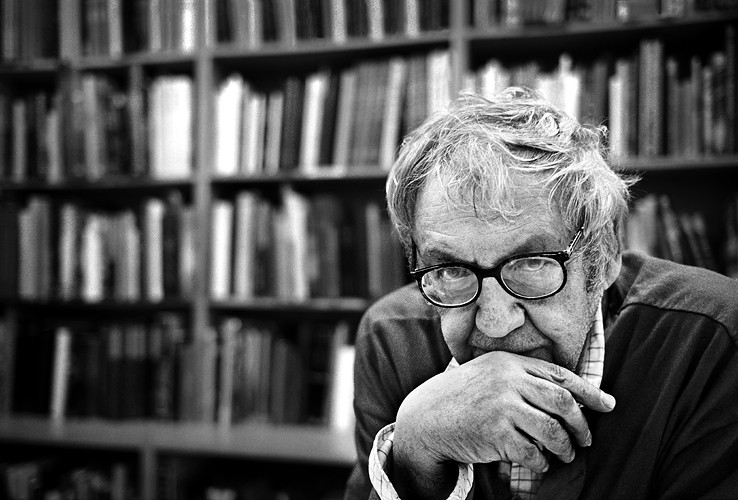 * "Master Profiles" is a series profiling all the great photographers of uncontrolled life. Unlike the rest of the blog, I'm doing these in a straight profile format to make it easy for quick access to facts, quotes and knowledge on all the masters. I'll also group them together here every time I add a new one.
Profile:
Saul Leiter (1923-2013)
American photographer, painter and pioneer of abstract color Street Photography.
Background:
Born: December 3, 1923 in Pittsburgh, PA, USA
Leiter's father was a well-known Talmud scholar who influenced Saul to study to become a Rabbi. At age 23, he left theology school, though, and moved to New York City to become an artist. 
His mother had given him his first camera at age 12, but he had developed more of an early interest in painting. W. Eugene Smith and the Abstract Expressionist painter Richard Pousette-Dart encouraged Leiter to pursue photography as well.
With a 35mm Leica given to him by Smith, he started taking black and white pictures, but in 1948 he switched to color photography. Saul worked around other photographers, like Robert Frank and Diane Arbus, and together they helped form what was termed as the New York School of photographers during the 1940s and 1950s.
He worked as a fashion photographer for the next 20 years and much of his color work was published in magazines such as Esquire and Harper's Bazaar.
Leiter saw the world completely different than his contemporaries at the time. Instead of loud, gritty black and white, he saw a symphony of colors, shapes, blur, and softness in the streets. He brought the eye of an abstract painter to Street Photography.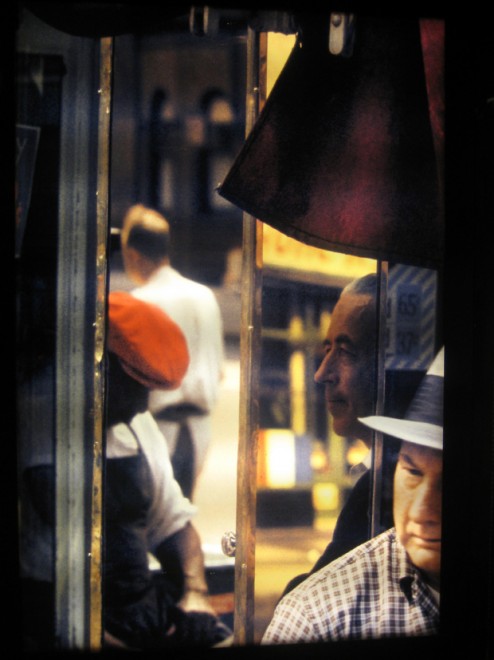 Being one of the first professionals to photograph New York City regularly in color, and in a way no one had seen, his work went  practically unknown to the general public for most of his life. Leiter lived a simple life, didn't worry about fame or recognition, and shot mostly for himself. While always respected by his peers, it wasn't until the 90's that he started getting recognized for his work.
Today, he is looked at as a pioneer of color and one of the foremost art photographers of his time. His unique, personal style of photography is like none other.
Style:
Symphony of Colors, Blacks and Whites
Abstract
Shapes and Texture
Telephoto Lens
Elegant, Inspired by Paintings
Soft Pastels and Saturated Colors
Focus on Shapes, Lights, Shadows, Abstractions, and the Colors of Everyday Life
Gear:
Leica 35mm with telephoto lens
For the most part, Leiter shot a Leica 35mm with a telephoto lens, up to 90mm and even 150mm. Later in his career, he also got into micro 4/3 and other digital cameras.
Leiter preferred Kodachrome film and regularly used it past its expiration date, which resulted in the slightly browned-out and pastel color of some of his work.
Notable Friends:
W. Eugene Smith, Robert Frank, Diane Arbus
Quotes:
"I experimented a lot. Sometimes I worked with a lens that I had when I might have preferred another lens. I think Picasso once said that he wanted to use green in a painting but since he didn't have it he used red. Perfection is not something I admire. A touch of confusion is a desirable ingredient."

"My friend Henry [Wolf] once said that I had a talent for being indifferent to opportunities. He felt that I could have built more of a career, but instead I went home and drank coffee and looked out the window."

"I don't have a philosophy. I have a camera."

"Some photographers think that by taking pictures of human misery, they are addressing a serious problem. I do not think that misery is more profound than happiness."

"Seeing is a neglected enterprise."

"I spent a great deal of my life being ignored. I was always very happy that way. Being ignored is a great privilege. That is how I think I learnt to see what others do not see and to react to situations differently. I simply looked at the world, not really prepared for anything."

"There are the things that are out in the open and then there are the things that are hidden, and life has more to do, the real world has more to do with what is hidden, maybe. You think?"
What Other Said About Him:
Magnum photographer Alex Webb, who is celebrated for the complexity of his color work, said Leiter had "an uncanny ability to pull complex situations out of everyday life, images that echo the abstraction of painting and yet, simultaneously, clearly depict the world."
Fun Fact:
For six decades, Leiter went virtually unknown, partly by choice. He made few prints and never publicized himself or searched for success. Instead, he roamed the streets, photographing purely for his own pleasure, while spending the rest of his time in his small apartment painting.
In an interview for a monograph published in Germany in 2008, he summed this up when he said "In order to build a career and to be successful, one has to be determined. One has to be ambitious. I much prefer to drink coffee, listen to music and to paint when I feel like it."
For a very personal look at this interesting man, I strongly recommend watching In No Great Hurry: 13 Lessons in Life with Saul Leiter. 
Recommended Reading:
Saul Leiter: Early Color
Saul Leiter Retrospective
Saul Leiter: Early Black and White
Highlighted Work:
Saul Leiter really did things his way, while bringing the mind of an abstract painter to Street Photography. It would be hard to find another body of work more recognizable to the artist. So tell me what you think about Leiter in the comments below! Do you have any favorite shots? Does his work impact you as much as others?