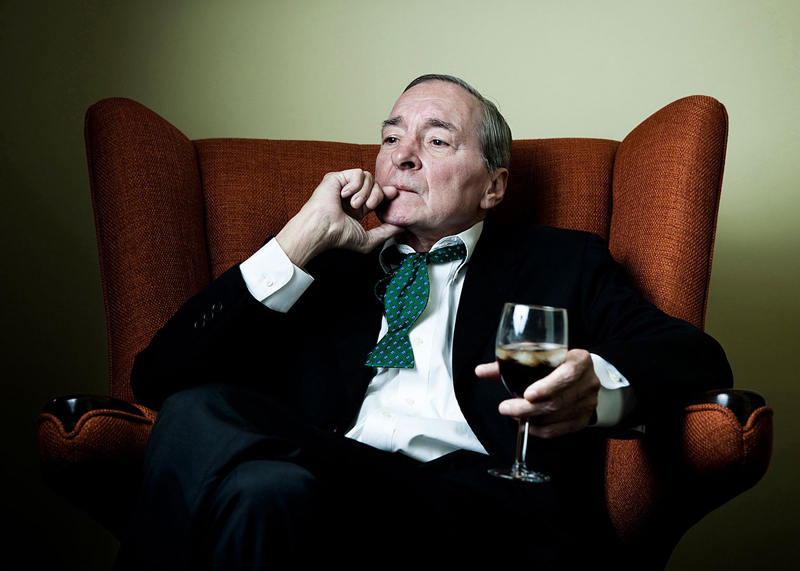 * "Master Profiles" is a series profiling all the great photographers of uncontrolled life. Unlike the rest of the blog, I'm doing these in a straight profile format to make it easy for quick access to facts, quotes and knowledge on all the masters. I'll also group them together here every time I add a new one.
Profile:
William Eggleston (1939-present)
American photographer who is widely considered a pioneer of color photography and the person who helped make it a legitimate medium to display in art galleries.
Background:
Born: July 27, 1939 in Memphis, TN, USA
William Eggleston was raised in Sumner, Mississippi. His father was an engineer and his mother was the daughter of a successful judge. His family also owned several plantations and he grew up somewhat spoiled without much direction. He was very introverted and spent most of his childhood alone playing the piano, drawing, and collecting visual media. 
Eggleston studied at a variety of art schools and universities over many years, without actually finishing any degrees. In 1957 he got his first camera, a Canon rangefinder, which he soon traded in for a Leica. After this, he started finding his own direction.
While studying art at Ole Miss, he was introduced to abstract expressionism by painter, Tom Young. At first, he found painting to be the much more interesting medium, as he found most photography simple and boring. Then he saw the work of Henri Cartier-Bresson and Robert Frank, which changed his outlook on photography as something that could be art.
Eggleston began experimenting with color in 1965 after being introduced to the medium by William Christenberry. Color slide film soon became his chosen medium for its saturation. His development came in complete isolation and when he brought a suitcase of his prints to John Szarkowski of New York's Museum of Modern Art in 1969, no one had seen anything like it.
Eggleston taught at Harvard in the early 1970's where he discovered dye-transfer printing. This had only been used for commercial prints for things like cigarette packs, but the color saturation and quality of ink was like nothing he'd seen. He immediately fell in love with the look when he applied the dye-transfer process to his own images, which resulted in some of Eggleston's most famous work.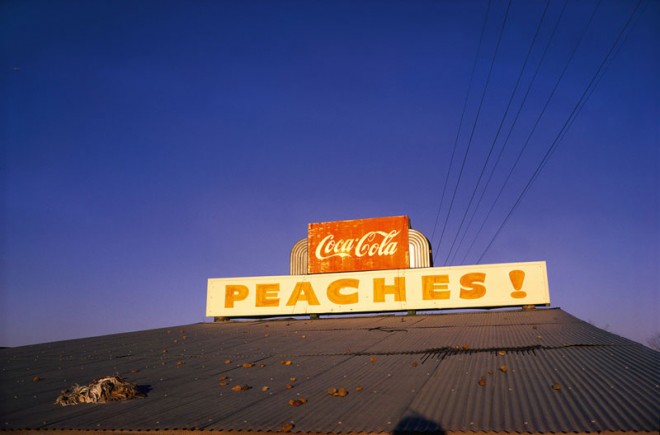 Eggleston's first exhibition was at the MoMA in 1976, which has become known as a big moment in photography, as it marked an acceptance of color photography as a respectable medium.
Eggleston believed that by looking deeply at what others ignore, interesting things can be captured. Much of his work showcases very ordinary subjects that might not seem like much to the common viewer at first. He captured things like vending machines, coke bottles, public advertisements, and signs in the South, around where he grew up. He looked for the complexity and beauty from the mundane, and color was one of the tools he used to bring this out. 
Much of his work has a very nostalgic feel to it now due to its subject matter of old advertisements and ordinary objects of the time period in the South. There was an honest quality to his work and the more you viewed his photos, the more you saw.
American artist Edward Ruscha said of Eggleston's work, "When you see a picture he's taken, you're stepping into some kind of jagged world that seems like Eggleston World."
Eggleston continues to photograph today much in the same way he always has. A recent documentary titled William Eggleston In the Real World
 gives a great look into his unique personality, work and life. 
Style:
Pioneer of color photography, using pleasing color combinations that stand out
Kodachrome and 'Dye transfer' printing method for saturation/vibrance
Ordinary things of everyday life, seemingly random snapshots
Finding the beauty in the mundane, showing inherent beauty in "boring" things we overlook
Different composition style, some things cut off, but all part of aesthetic
Moments around us that we don't notice, but make up most of our lives
Gear:
Leica and Canon Rangefinders with Kodachrome film
Eggleston has mostly been devoted to Canon and Leica rangefinders, but he has used other cameras over his career. Some of his cameras include a Leica M6, M3, and R5, a Canon VT, a Contax G2, a Pentax reflex, an Olympus Stylus Epic, a Mamiya 6×9, a Fuji GW690 6×9 and a Hassleblad.
He is also famous for the use of Kodachrome slide film for the highly saturated colors it provides.
Notable Friends:
John Szarkowski
Quotes:
"I am at war with the obvious."

"You can take a good picture of anything. A bad one, too."

"I had this notion of what I called a democratic way of looking around, that nothing was more or less important."

"I want to make a picture that could stand on its own, regardless of what it was a picture of. I've never been a bit interested in the fact that this was a picture of a blues musician or a street corner or something. "

"I only ever take one picture of one thing. Literally. Never two. So then that picture is taken and then the next one is waiting somewhere else."

"I am afraid that there are more people than I can imagine who can go no further than appreciating a picture that is a rectangle with an object in the middle of it, which they can identify. "

"I've always assumed that the abstract qualities of [my] photographs are obvious. For instance, I can turn them upside down and they're still interesting to me as pictures. If you turn a picture that's not well organized upside down, it won't work."

"Whether a photo or music, or a drawing or anything else I might do—it's ultimately all an abstraction of my peculiar experience."

"Often very often, I have these 'photographic dreams'. They are just one beautiful picture after another—which don't exist. Short time later, I don't remember them. I just remember being very happy during the dream [laughs]. Always in color."

"What I'm photographing, it is a hard question to answer. And the best I've come up up is 'life today.' I don't know whether they believe me or not, or what that means."
What Other Have Said About Him
"He takes very ordinary situations and can create very powerful pictures out of almost nothing. And therefore he is not relying particularly on the ultimate decorative thing like a nice sunset—or the incredible nostalgia that you will often see in contemporary practice. I would say he is kind of beyond that if you would like, he is almost photographing on the gap of everything else.

The thing you look for other photographers work is a sense of vision—that you can recognize someones vision by looking at their photographs. Now that may sound like a very easy thing to do, but in photography it is one of the hardest things to actually achieve.

If you would like it, Eggleston is a photographer's photographer. Because the vision is almost indescribable. It is more difficult to describe than most peoples vision, because it is about photographing democratically and photographing nothing and making it interesting—and that would seem to me to be the most difficult thing to achieve of all."

– Martin Parr
Fun Fact:
When Eggleston did his first show at the MOMA in New York in 1976, it was met with overwhelming criticism and negativity.  A New York Times art critic called the show "The most hated exhibition of the year." 
Recommended Reading:
William Eggleston's Guide
William Eggleston: Chromes
William Eggleston: Los Alamos Revisited
William Eggleston: From Black and White to Colour
William Eggleston: Postcard Box
For Now
William Eggleston, 2 1/4
Highlighted Work:

Not many photographers have a style as recognizably their own as William Eggleston does. While his work might seem like simple snapshots at first, the more you look at his photos, the more complexity you see. So tell me what you all think about him in the comments below! Do you have any favorite shots? Does his work impact you as much as others?