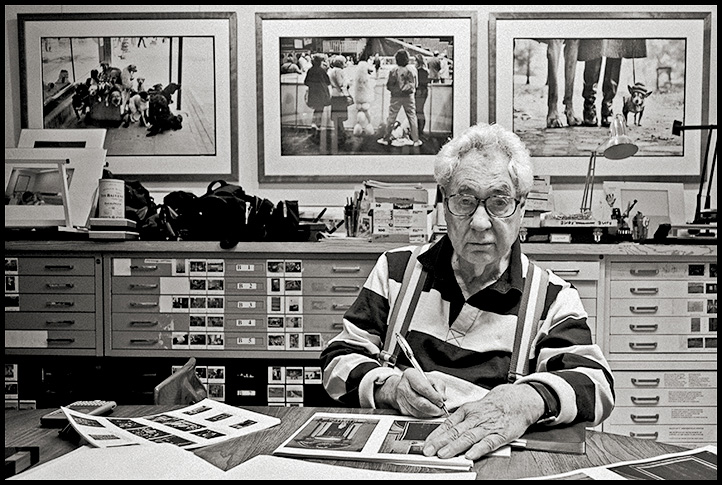 * "Master Profiles" is a series profiling all the great photographers of uncontrolled life. Unlike the rest of the blog, I'm doing these in a straight profile format to make it easy for quick access to facts and knowledge on all the masters. I will also group them together here every time I add a new one.
Profile:
Elliott Erwitt (1928-present)
Advertising and Documentary photographer known for his black and white candid photographs that mixed the slightly comical in with everyday normal life. 
Background:
Born: July 26, 1928 in Paris, France
Erwitt was born in Paris of Jewish-Russian immigrant parents. At the age of ten, his family immigrated to the United States. He studied photography and film making at Los Angeles City College.
After college, he served as a photographer's assistant in the United States Army while stationed in France and Germany. During this time, he met a few well-known photographers, including Robert Capa, Edward Steichen and Roy Stryker, who influenced him and helped start his career.
After working for Stryker, he began his freelance photography career, working mostly in advertising and documentary work. In 1953 he joined the famous Magnum Photos agency, which him allowed to shoot projects around the world.
In addition to his interest in bringing out the slightly absurd from everyday settings, he might be most famous for his focus on dogs over the years. He has produced four books centered around capturing dogs candidly. His photographs of famous people, including Che Guevara and Richard Nixon, add even more variety to his work over the years.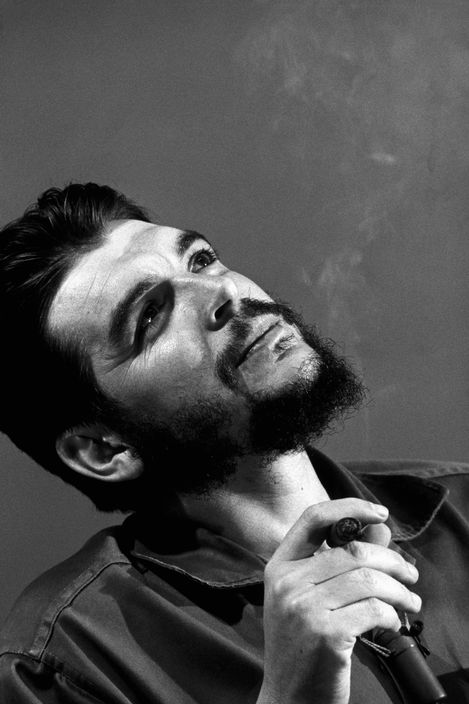 Starting in the 1970s, Erwitt also turned to movies and produced several documentaries and comedy films for Home Box Office. 
Even today, Erwitt is available for hire and continues to work in photojournalism and commercial photography.
 Style:
Photos tend to be more playful and amusing
Content over form
Curiosity and observation
Dogs
"Not conscious of a personal style…I just like to take pictures."
Gear:
Leica M3 with 50mm lens
In his early career, Erwitt used a Leica IIIf and IIIg with a 50mm lens, but switched to an M3 in the mid-1950s. He upgraded M's from there on. The 50mm lens was always his preferred angle, but he did occasionally use a 90mm.
Erwitt has been a big proponent of film, but uses digital when required professionally. Tri-X and HP4 have been his preferred black and white films. Outside of his personal work, he has also used the full Canon F-1 line, with lenses from 16mm to 300mm, and has done some work with 6×9 medium format too.
The portability and ease of use when traveling were the main reasons Erwitt shot with Leica when it came to personal work, but he has stated that he could open a store with all the cameras and equipment he owns. 
Notable Friends:
Mentored by Robert Capa
Quotes:
"I'm not a serious photographer like most of my colleagues. That is to say, I'm serious about not being serious."

"After following the crowd for a while, I'd then go 180 degrees in the exact opposite direction. It always worked for me, but then again, I'm very lucky."

"Balance of light is the problem, not the amount. Balance between shadows and highlights determines where the emphasis goes in the picture…make sure the major light in a picture falls at right angles to the camera."

"To me, photography is an art of observation. It's about finding something interesting in an ordinary place…. I've found it has little to do with the things you see and everything to do with the way you see them."

"All the technique in the world doesn't compensate for the inability to notice."

"The whole point of taking pictures is so that you don't have to explain things with words."

"The work I care about is terribly simple. I observe, I try to entertain, but above all, I want pictures that are emotional."

"I'm an amateur photographer, apart from being a professional one, and I think maybe my amateur pictures are the better ones."

"What I like in any—young, old, middle-aged, doesn't matter—photographers is a sense that they are interested in the human comedy, you might say, [and] that the pictures are good technically—by that I mean, good composition, good content. Unfortunately, now taking pictures has become so easy that everyone on Earth who has a telephone is a photographer. Consequently the work is generally a bit shoddy, because it's so easy. Somehow Photoshop and the ease with which one can produce an image has degraded the quality of photography in general. Still, there are very good photographers among the masses."
Fun Fact:
Erwitt created an alter ego, the beret-wearing and pretentious contemporary artist André S. Solidor (which abbreviates to "ass") from the French colonies in the Caribbean. He uses this character to satirize the excesses of contemporary photography and published the book, The Art of André S. Solidor, under this pseudonym. 
Recommended Reading:
Personal Best
Snaps
Kolor
Personal Exposures
Highlighted Work:


Elliot Erwitt is one of the most unique characters and talents in photography and he definitely did it his way. I recommend not only looking at his work, but also looking up his interviews, as he has a personality to match his photography. So tell me what you think about Erwitt in the comments below! Do you have any favorite shots? Does his work impact you as much as others?