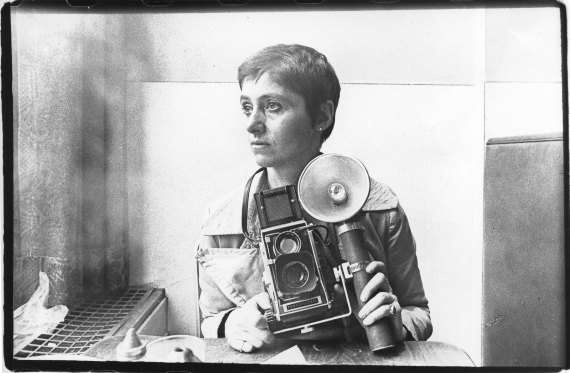 * "Master Profiles" is a series profiling all the great photographers of uncontrolled life. Unlike the rest of the blog, I'm doing these in a straight profile format to make it easy for quick access to facts, quotes and knowledge on all the masters. I'll also group them together here every time I add a new one.
Profile:
Diane Arbus (1923-1971)
American photographer famous for her photographs of marginalized people in society.
Background:
Born: March 14, 1923 in New York City, NY, USA
Diane Arbus was born to a wealthy family that owned Russek's, a famous Fifth Avenue department store in New York City. Her family was also into the arts. Her brother became a Poet Laureate, her sister became a sculptor and designer, and her father became a painter after retiring from Russek's.
At the young age of 18, Diane married a photographer named Allan Arbus who influenced her interest into photography. In 1946, they began a commercial photography business called "Diane & Allan Arbus", with Diane as art director and Allan as the photographer. Even though they didn't like the fashion world, most of their work was with magazines like Glamour, Vogue, Harper's Bazaar and Seventeen.
In 1956, Diane quit the commercial photography business and started photography on assignment for magazines like Esquire and The Sunday Times Magazine.

Arbus became known for her raw and unusual portraits of people in New York. She visited seedy hotels, parks, morgues and other interesting locations. She focused on establishing a strong personal relationship with her subjects and had an interest in people with intellectual disabilities. Arbus looked for a crazy beauty in some of the darkest places and she preferred the square format to help bring this out in her portraits.
By the mid-1960s, Arbus became a well-established photographer and was known for going to great lengths to get the shots she wanted. Her eerie portraits of off-beat subjects made her one of the more unique photographers of her time. Unfortunately, she also battled with depression and was known to have violent mood swings. Shortly after divorcing her husband, she sadly took her own life on July 26, 1971.
Style:
Marginalized people in society, transgender, dwarfs, nudists, circus freaks, etc
Square-format
Dark, casting harsh light on subjects
Look for a raw, crazy beauty 
Be specific, emphasis on certain parts of subject
Gear:
Nikon 35mm, TLR Rolleiflex square format
Around 1962, Arbus switched from her Nikon 35mm camera to a twin-lens reflex Rolleiflex camera. They both produced the rectangular images she is known for, but the Rolleiflex gave a little more detail and less grain. 
Arbus also liked to use flash and in 1964, she began using a twin-lens reflex Mamiya camera with flash in addition to the Rolleiflex.
Notable Friends:
Richard Avedon, Walker Evans
Quotes:
"A photograph is a secret about a secret. The more it tells you the less you know."

"I always thought of photography as a naughty thing to do — that was one of my favorite things about it, and when I first did it, I felt very perverse."

"I really believe there are things nobody would see if I didn't photograph them."

"I work from awkwardness. By that I mean I don't like to arrange things if I stand in front of something, instead of arranging it, I arrange myself"

"I never have taken a picture I've intended. They're always better or worse."

"Taking pictures is like tiptoeing into the kitchen late at night and stealing Oreo cookies."

"I'm very little drawn to photographing people that are known or even subjects that are known. They fascinate me when I've barely heard of them."

"Photography was a licence to go whenever I wanted and to do what I wanted to do."

"I don't know what good composition is…. Sometimes for me composition has to do with a certain brightness or a certain coming to restness and other times it has to do with funny mistakes. There's a kind of rightness and wrongness and sometimes I like rightness and sometimes I like wrongness."

"Most people go through life dreading they'll have a traumatic experience. Freaks were born with their trauma. They've already passed their test in life. They're aristocrats."

"Take pictures of what you fear."
Fun Fact:
Arbus was always afraid she would be known as the "photographer of freaks," which to some extent she was. She believed a camera could be "a little bit cold, a little bit harsh," but it's harshness revealed the truth. With a photograph, she felt she could capture the difference between what people wanted others to see and what they actually saw, their true flaws.
Recommended Reading:
Diane Arbus: An Aperture Monograph
Diane Arbus Revelations
Highlighted Work:

Diane Arbus definitely brought her own raw and uncut style to her portraits so tell me what you all think about her in the comments below! Do you have any favorite shots? Does her work impact you as much as others?