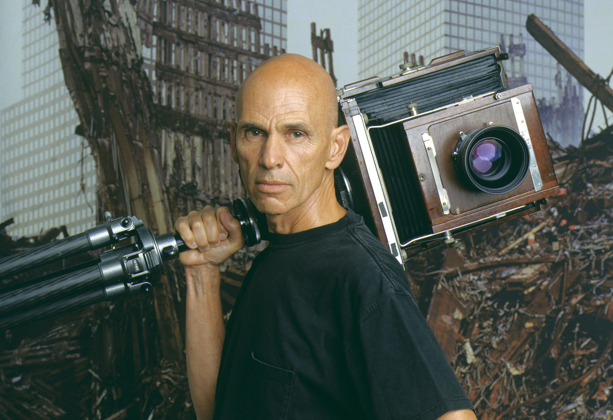 * "Master Profiles" is a series profiling all the great photographers of uncontrolled life. Unlike the rest of the blog, I'm doing these in a straight profile format to make it easy for quick access to facts, quotes and knowledge on all the masters. I'll also group them together here every time I add a new one.

Profile:
Joel Meyerowitz (1938-present)
American Street, Portrait and Landscape Photographer who was also an early advocate of color photography before it was widely accepted.
Background:
Born: March 6, 1938 in The Bronx, New York City, NY, USA
Meyerowitz started out as an art director at an advertising agency, but after seeing Robert Frank shooting the streets of New York, he immediately quit his job and took to the streets himself. 
He started out shooting 35mm black-and-white at the same time as other great photographers like Garry Winogrand, Tony Ray-Jones, Lee Friedlander, and Diane Arbus were also photographing the streets of New York City. Meyerowitz was also greatly inspired by Henri Cartier-Bresson, Robert Frank and Eugen Atget.
In the beginning, Meyerowitz could be found shooting his 35mm Leica side by side with Garry Winogrand. He liked to push his black-and-white film to ISO 12oo so he could capture life at the fastest shutter speed.
He soon became curious about color and liked to carry two Leicas on the street, one with black-and-white film and the other with color.  He then decided to fully commit to shooting only color during a time when it hadn't been accepted as serious art yet. Color was thought to be for amateur tourist and family photos, while black-and-white was for the professionals.

With the slow ISO color film available at the time, he was forced to be slower and take in more of the scene when shooting. This helped lead him to a desire of capturing more of an "experience" than a "decisive moment" in his work. 
Meyerowitz also found a strong interest in large format photography, as he liked the size of the photos and the amount of detail they could capture. His work in Cape Cod, with large format and a focus on color and light, first helped him gain the public's attention.
He has since authored 16 books of work, including the aftermath of the September 11, 2001 attack on the World Trade Center. He continues to be an inspiration and leader in photography today.
Style:
Pioneer of color Street Photography
Experience the scene instead of looking for a "caught" moment
Capture emotion and poetry out of ordinary life
Dispersed observation where everything in the frame plays an equal role
Gear:
Leica M, Leica s2, 8×10 Deardorff
Meyerowitz started out using a Leica M on the streets and credited it for teaching him everything he knows about being an artist and understanding human nature. He shot in different focal lengths, but preferred wide angle, around 28-35mm.
Later in his career he gained an interest in large format and used a 1920's vintage 8×10 Deardorff with a 10" or 12" Commercial Ektar lens. When he went digital, he switched to a medium format Leica S2 and digital Leica M's for his 35mm work.
Notable Friends:
Garry Winogrand, Tony Ray-Jones
Quotes:
"You fill up the frame with feelings, energy, discovery, and risk, and leave room enough for someone else to get in there."

"I think of photography as ideas. And do the pictures sustain your ideas or are they just good pictures?"

"[The small camera] taught me energy and decisiveness and immediacy … The large camera taught me reverence, patience, and meditation."

"Making any statement of your feelings is risky. It's just like making pictures."

"We all experience it. Those moments when we gasp and say, "Oh, look at that." Maybe it's nothing more than the way a shadow glides across a face, but in that split second, when you realize something truly remarkable is happening and disappearing right in front of you, if you can pass a camera before your eye, you'll tear a piece of time out of the whole, and in a breath, rescue it and give it new meaning."

"Photography is a response that has to do with the momentary recognition of things. Suddenly you're alive. A minute later there was nothing there. I just watched it evaporate. You look one moment and there's everything, next moment it's gone. Photography is very philosophical."

"I had to learn to identify what it was exactly I was responding to, and if my response was any good. The only way to do that is to take pictures, print them, look hard at them and discuss them with other people."

"It's appetite. You have to be hungry for these things to see it."
Fun Fact:
Meyerowitz had a very sudden and interesting start into Street Photography. Here, he tells the story of how he became a Street Photographer:
"Well, I was trained as a painter and I studied art history in graduate school, but I never thought of photography as an art form or something I was interested in doing. However, back in 1962 when I was working as junior art director in a small company in midtown Manhattan, I designed a booklet and my boss hired Robert Frank to shoot pictures for it. I didn't know who Robert Frank was, but he was a photographer, a commercial photographer. I went down and watched him execute the work for this book and it was amazing. He moved and photographed and it was all so physical, balletic and magical because I thought you had to say hold that pose and freeze that frame. Instead, he just moved with these two young girls that he was photographing and I was so bowled over by it that when I left the shoot everything I saw in the street – "Taxi!", "hello", "goodbye", adjust the baby's bonnet or bib – seemed to have meaning to it. By the time I got back to my office my boss asked how the shoot went and I said it was fine, but I'm quitting. He said, "It was that bad?" I said, "No, no, it was great, but I am quitting because I want to be a photographer."
Recommended Reading:
Joel Meyerowitz: Retrospective
Cape Light: Color Photographs by Joel Meyerowitz
Aftermath
Taking My Time
Highlighted Work:

Joel Meyerowitz has been one of the most important and involved figures in Street Photography. I recommend listening to some of his interviews too, as no one speaks as poetically in-depth about photography like he does. So tell me what you all think about him in the comments below! Do you have any favorite shots? Does his work impact you as much as others?