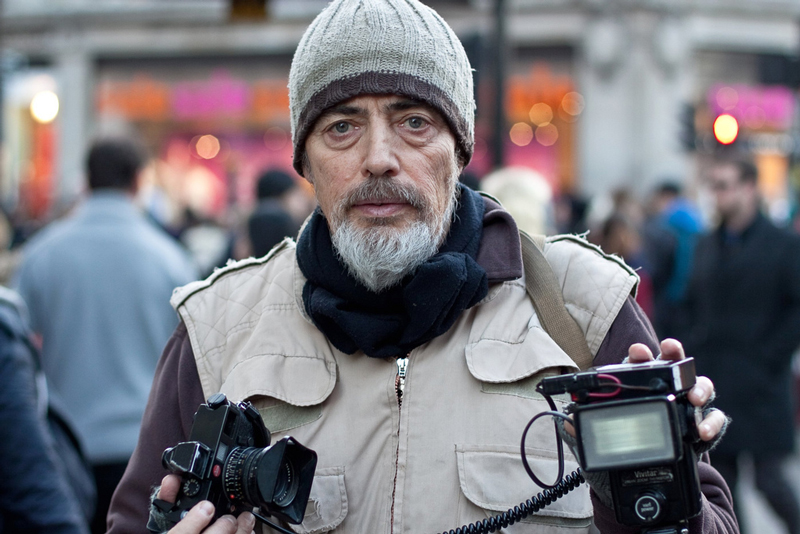 * "Master Profiles" is a series profiling all the great photographers of uncontrolled life. Unlike the rest of the blog, I'm doing these in a straight profile format to make it easy for quick access to facts, quotes and knowledge on all the masters. I'll also group them together here every time I add a new one.
Profile:
Bruce Gilden (1946-present)
American Street Photographer best known for his candid close-up flash photographs of people on the streets of New York City.
Background:
Born: October 16, 1946 in Brooklyn, New York City, NY, USA
Bruce studied sociology at Penn State, where he found an interest for photography. He soon bought a camera and started taking night classes at the School of Visual Arts of New York. 
He was fascinated with people on the street and chose to use a flash to help bring out the character and drama of the strangers he photographed. He also preferred to use a wide-angle lens and get up extremely close to bring a more intimate and heightened look to the people. 
His first big project was documenting the people, with a focus on their bodies, at Coney Island. Gilden also took 19 trips to Haiti over a period of many years to work on his project documenting the people. His photos from Haiti took a slight departure from the close-up style he is known for.
Gilden has photographed everything from Japan's Yakuza mobsters to bike gang members. Gilden is most curious about strong characters and has said that he's intrigued by people with double lives.

While he has traveled for some of his work, Gilden is thought of with New York City as much as any Street Photographer. From his attitude and style to the people and streets he captures. 
Gilden has been a member of Magnum Photos since 1998, but he is without a doubt one of the most controversial photographers alive due to his abrasive shooting style. Over time, his style has only become more in-your-face, garnering plenty of criticism. His unique style has also attracted a huge fan base and thousands of Street Photographers emulating his approach. As far as polarizing characters go in the world of photography, there might not be any as polarizing as Bruce Gilden.
Style:
Close-up, in your face
Off camera flash, angled to highlight human drama and theater, anxiety, emotion
Harsh, abrasive, energetic, mysterious
Unconventional compositions, many from low angles making subjects look larger
Street portraits, unique and startled looking strangers which Gilden refers to as "characters"
Gear:
Leica M6 with 28mm lens and off camera flash
Gilden has stuck to this set up for most of his career. It's the camera and look he knows inside and out so he doesn't see a need to change any of it. He likes to aim the camera up from a lower angle while he holds the flash higher, at an angle to the subject. 
Quotes:
"I love the people I photograph. I mean, they're my friends. I've never met most of them or I don't know them at all, yet through my images I live with them. At the same time, they are symbols. The people in my pictures aren't Mr. Jones or Mr. Smith or whatever; they're someone that crossed my path or I've crossed their path, and through the medium of photography I've been able to make a good picture of that encounter. They have a life of their own, but they are also are symbols. I would say that I respect the viewer, but I don't want to tell him everything. Hopefully, there's an element of mystery involved. I like him to look at a picture and say "Well, that that reminds me of someone," and make up a little story in his head, make him smile, brighten up his day. I think this is what I'm trying to achieve with my photographs."

"I'm known for taking pictures very close, and the older I get, the closer I get."

"If you can smell the street by looking at the photo, it's a street photograph."
What Other Have Said About Him:
With his controversial style, Gilden hasn't been loved by everyone, including some of his well-known peers. One of the pioneers of color Street Photography, Joel Meyerowitz, had the following to say about Bruce Gilden: 
"He's a f**king bully. I despise the work, I despise the attitude, he's an aggressive bully and all the pictures look alike because he only has one idea – 'I'm gonna embarrass you, I'm going to humiliate you.' I'm sorry, but no."
Fortunately for Bruce, he doesn't care much about what others think. 
Recommended Reading:
Bruce Gilden (Stern Fotografie)
Facing New York
Haiti
Bruce Gilden: Go
Coney Island
Highlighted Work:
Bruce Gilden might be controversial, polarizing and possess an abrasive in-your-face shooting style, but there's no denying he created a style and look all his own in Street Photography. A style that many have tried to copy since. So tell me what you all think about him in the comments below! Do you have any favorite shots? Does his work impact you as much as others?