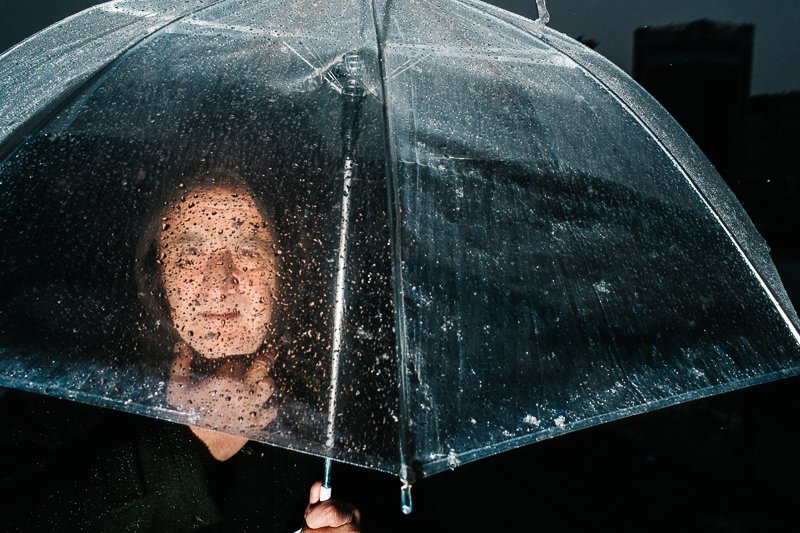 Street Shot Sundays Story & Stats
Story:
This Sunday's Street Shot of the Week was taken at Taksim Square in Istanbul, Turkey. Last Christmas, I gifted myself a fujifilm flash and cord for some off-camera flash street photography. I have photographer friends that are into flash religiously and I'd been wanting to try it out more. Natural light will always be my main focus, but flash is fun, adds an interesting dynamic and is great when the light out isn't so great.
When I returned to Istanbul early this year, the city was covered in snow. After spending most of the year under Istanbul's hot sun, the cold temperature and darkness were a complete change for photography. So it was the perfect chance to start using my new flash.
One evening as I was shooting around Taksim Square, the  snow/slush/rain started coming down. While my camera isn't weather proof, I tried to carefully get some flash shots in. I saw this man walking with a clear umbrella and an interesting look with his hand around his neck, so I walked over to get the shot. I also wanted him illuminated underneath the umbrella for both effect and so there wouldn't be a flash reflection on the plastic umbrella. So I quickly lowered the flash underneath and took the shoot just as he was in front of me. 
While flash isn't very noticeable during the day, it is once the sun goes down. So this shot actually sparked an interesting conversation. After finding out he was from France, moved to Istanbul, and some other quick life facts, the slush turned to heavy rain and it was time for me to call it a night so I'd have my camera working another day.
Stats:
Camera: Fujifilm Xpro1
Lens: Fujinon XF 18mm 
Focal Length: 18mm (27mm full frame equivalent)

Aperture: f/16

Shutter Speed: 1/60
ISO: 400

Flash:

 Fujifilm EF-X20