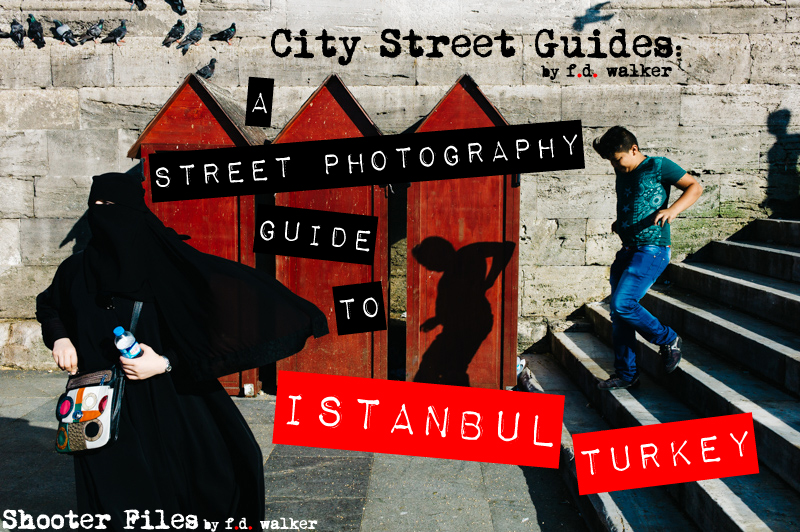 *A series of guides on shooting Street Photography in cities around the world. Find the best spots to shoot, things to capture, safety concerns, street tips, and more for cities around the world.  I have personally researched, explored and shot Street Photography in every city that I create a guide for. So you can be ready to capture the streets as soon as you step outside with your camera.
Istanbul
Overview:
Since moving to Istanbul, I've spent most of my daytime shooting its chaotic streets and experiencing the variety of life this amazing city has to offer. Because Istanbul is such a giant city, 5th largest in the world by city population, and I've actually been living here, I decided to put even more time than usual into this guide to make it the most expansive yet.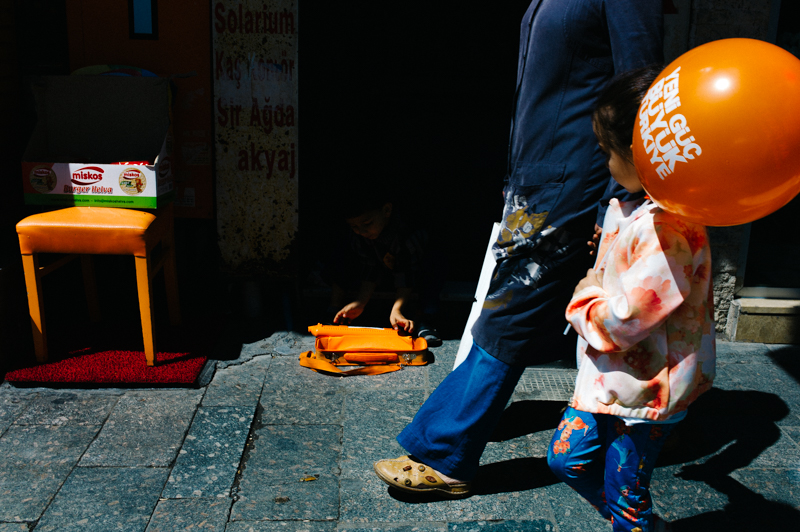 In my humble opinion, Istanbul could be argued as one of the best cities in the world for Street Photography. I don't know of any city that has more to offer a photographer. Culture, history, religion, politics, people, diversity, conflict, architecture, water, sunlight, color, old world, new world, and the list goes on. All of this in a city that spans two continents.
There truly is no other city like Istanbul. So here's a Street Photography guide so you can be ready to capture what Istanbul has to offer before you even arrive.
Map:

Taksim Square & Gezi Park
Istiklal Street
Eminonu & Galata Bridge
New Mosque & Bazaars
Balat & Along Golden Horn
Bebek
Kadikoy & Moda
 Top 7 Street Spots:
1. Taksim Square & Gezi Park
Taksim square is the center of the city and action in Istanbul. While not the prettiest square in the world, it is big and full of life.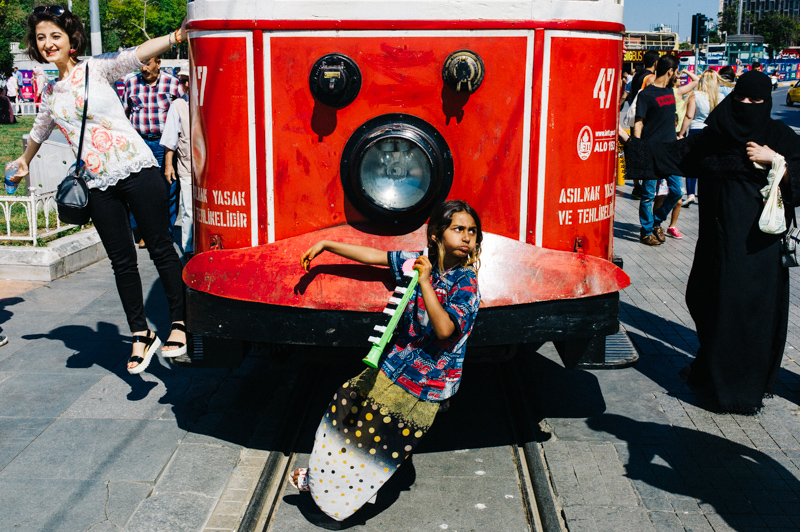 The largest metro station is here, the largest pedestrian street starts here, the famous red trolley is here and the largest celebrations and protests are here too. So it's a giant mix of people, from locals and students to tourists and expats.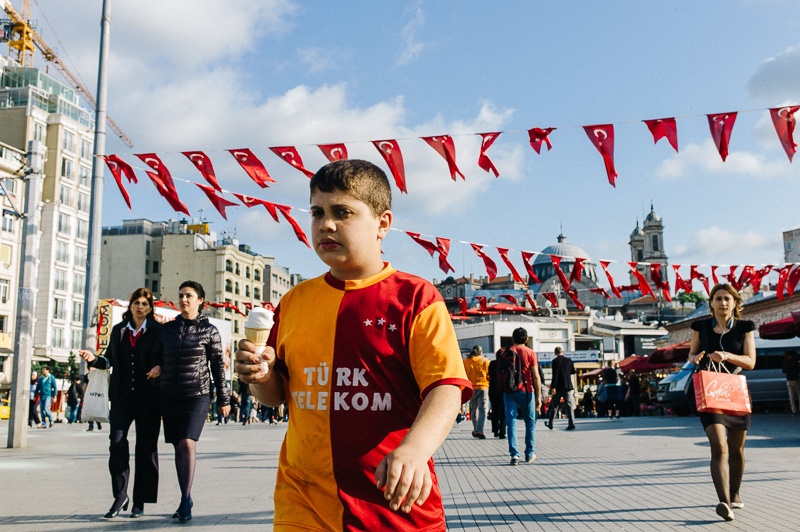 In the middle of the square is the Republic Monument where people meet up, hang out and take selfies (it might have the highest selfie stick usage per square meter in the world). Surrounding the monument, you have the red trolley making its rounds, pigeons being fed, and people coming and going in all directions. 
Directly above Taksim Square is Gezi Park, famous for the Gezi protests, but normally just a large park people come to relax at. There's a few restaurants and cafes to grab some tea up there too, or you can just lay out on the grass and overlook the chaos of Taksim square.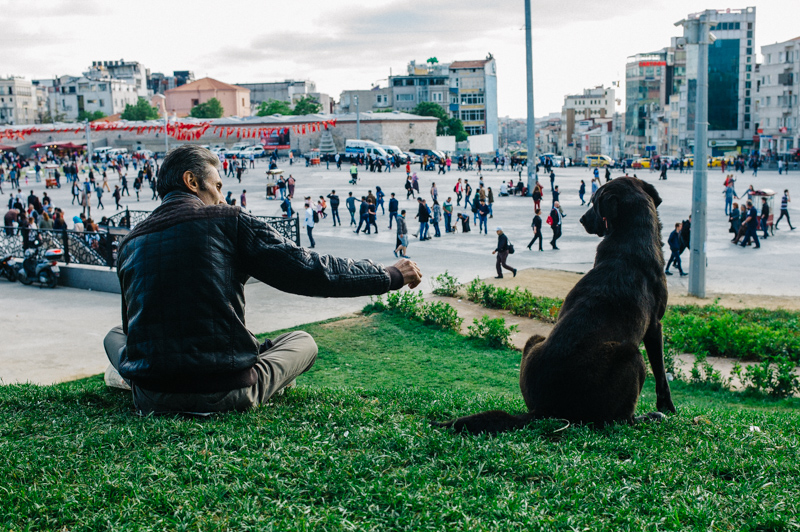 2. Istiklal Street
Istiklal Street is connected to Taksim Square, but it's so long and busy that it deserves its own spot on the list. 
Istiklal is mainly a pedestrian street, but you will have cars honk on by sometimes. Istanbul's famous trolleys also roll down the middle of the busy street. Istiklal is lined with clothing shops, restaurants, cafes, stores, and more.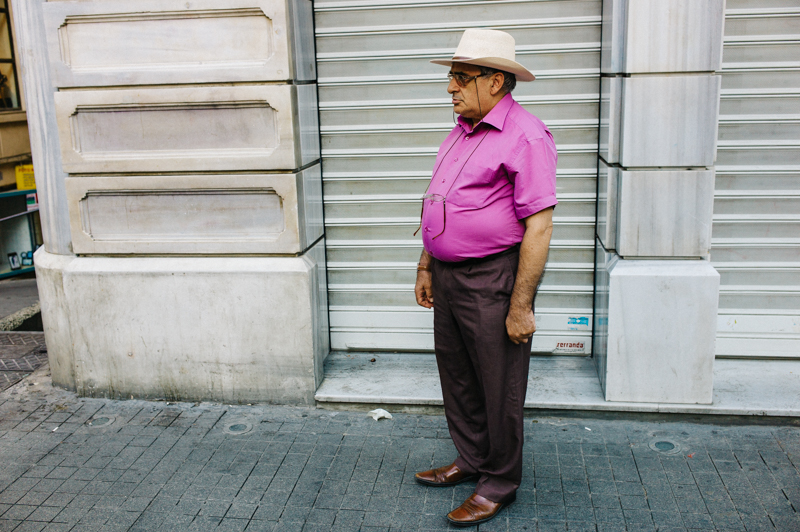 No matter the time of day or night, Istiklal is packed with people. Not many pedestrian streets the size of Istiklal are always so full of life like this one. Sometimes that can also be a downside, though.
Istiklal can get so packed with people moving everywhere that it's not always easy to capture a good photograph. Busy and messy backgrounds can be difficult to work around, but there's an endless amount of characters and life to capture so it's definitely worth some time.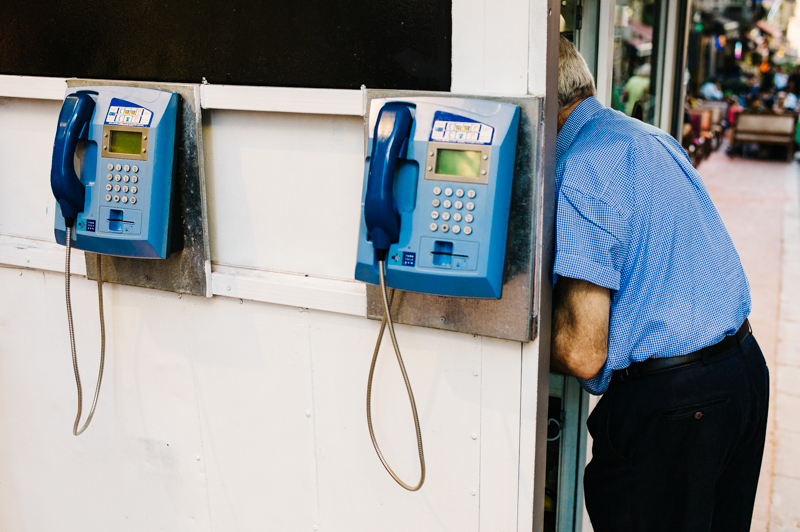 3. Eminonu & Galata Bridge
The area in Eminonu by the Galata Bridge is one of my favorite for Street Photography. Yes, it's touristy, but it's also so full of everything that makes Istanbul famous.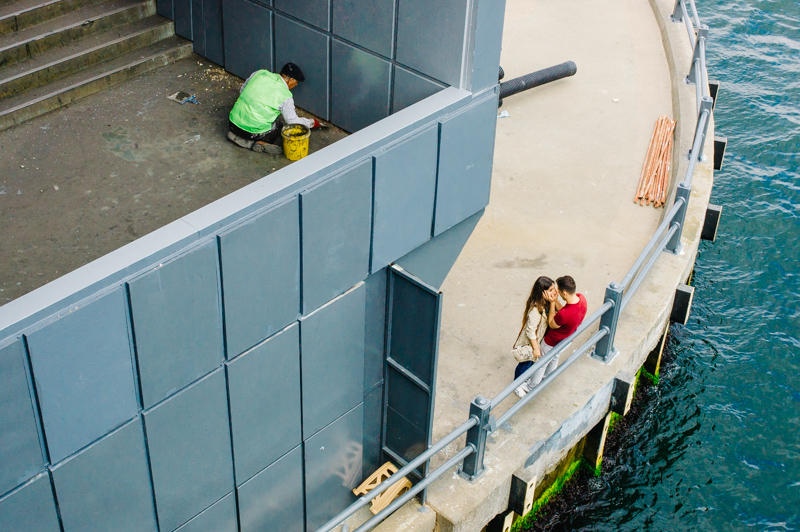 I'm a big fan of water. A city without water is a city I wouldn't be able to live in. There's something about the feeling and life that it creates and attracts. Fortunately, Istanbul has water to spare and the waterfront in Eminonu is one of the best spots for Street Photography. 
Eminonu is a major destination for catching the ferry, getting a fish sandwich or enjoying the view of the sea and city line. There's also a large bus station here. So combine all that transit traffic with the Galata Bridge and being next to the tourist central of bazaars and mosques in Sultanahmet, and you get plenty of photo ops.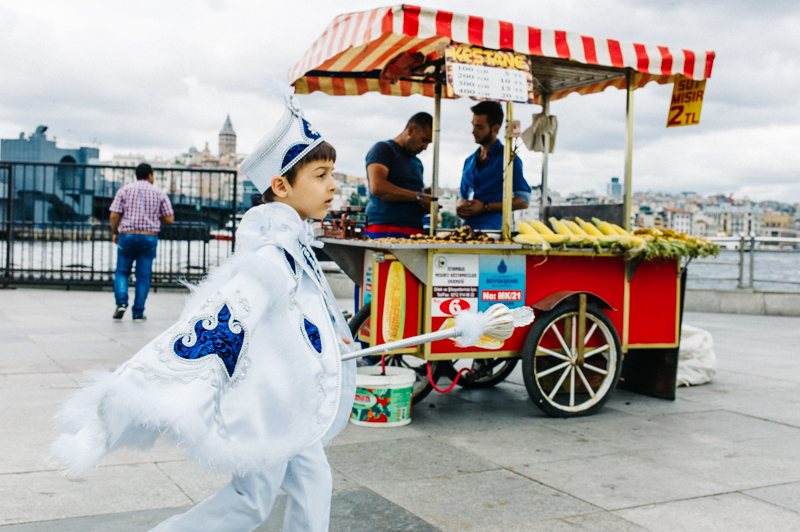 This is also one of the best spots for great light in the city. It's wide open and that golden light Istanbul is famous for really shines beautifully here. You can catch that light bouncing off the sea or on all the people coming out from the Galata bridge tunnel.
4. New Mosque & Bazaars
Just northwest of Eminonu's waterfront, through a tunnel, is the New Mosque and the start of the bazaars. This is also the tourist central of Istanbul, going up through Sultanahmet to Hagia Sofia.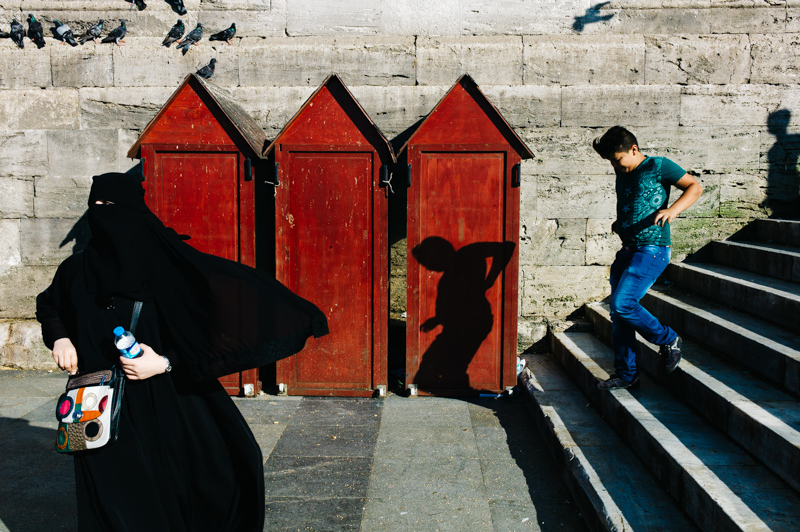 I really like the area in front of the New Mosque because it's always full of life with great light. It's also the most popular place to feed the pigeons so you can try to catch something there before you head into the bazaars.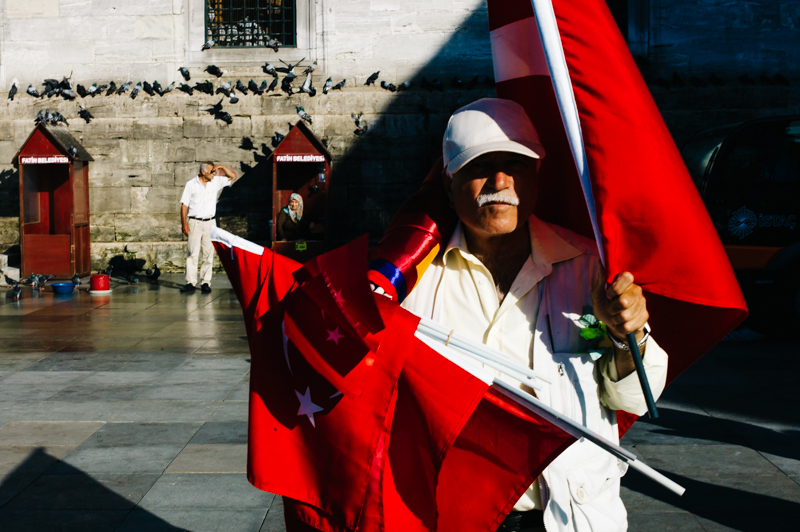 I'm personally not a big fan of chaotic, touristy bazaars like these because they're so crowded and focused on visitors instead of locals, but for some people this might be their favorite location for Street Photography. And to be honest, who goes to Istanbul with their camera and doesn't visit the bazaars? 
Some of the bazaars are outside in the street and some, like the Spice Bazaar, are completely inside. You can find a variety of pretty much anything here and all the commotion and life you'd expect from a city famous for its bazaars. 
5. Balat & Along Golden Horn
One of my favorite areas that many tourists don't explore, even though it's so close to everything, is the area of Fatih above Sultanahmet. In between Istanbul University and the Golden Horn, there are a cluster of neighborhoods up to Balat that give an old Istanbul feel. Balat does attract some tourists because of its colorful, old Istanbul styled neighborhood, but most people just stay in the touristic pockets.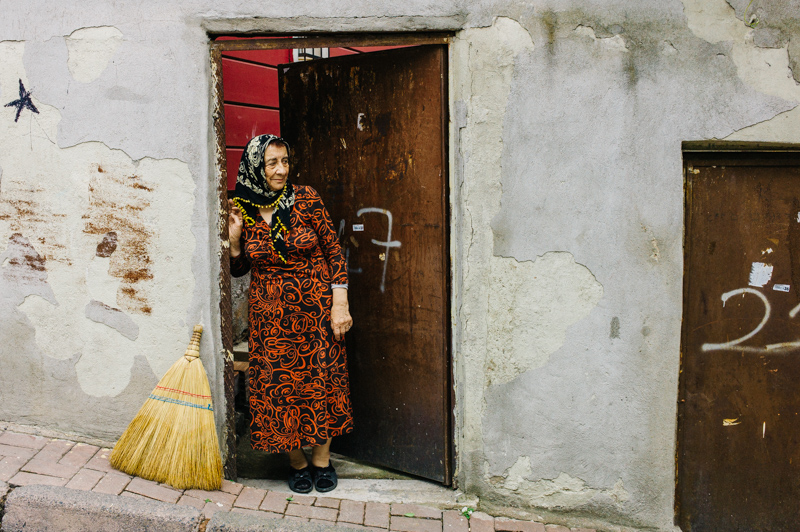 You can take a couple of routes too. You can walk along the waterfront of the Golden Horn or up and down the hills of Fatih, through its winding streets. 
Walking along the Golden Horn, you'll pass the fishing boats lining the shore. There's also a long park the whole way where it gets extra busy with barbecues and gatherings every Sunday.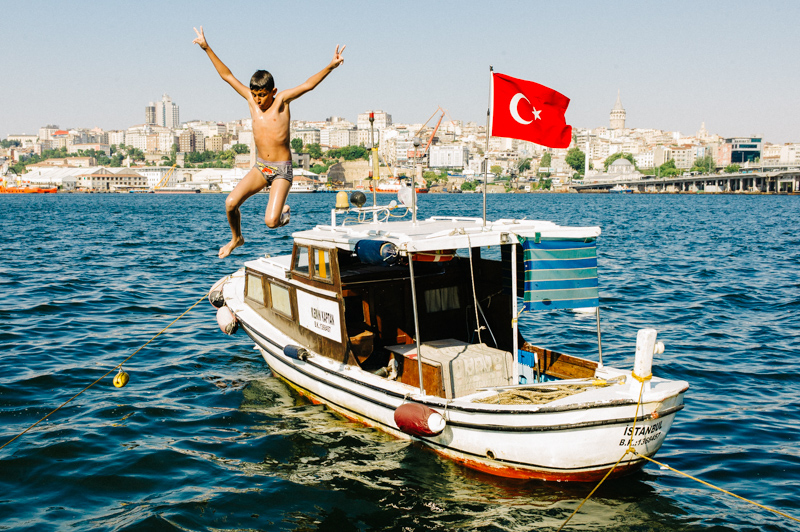 If you choose to go through the neighborhoods of Fatih, it will take longer to get to Balat, but you'll be rewarded with a different view of Istanbul and plenty of street photo opportunities. While most of the area has that old Istanbul feeling, the scenery does change.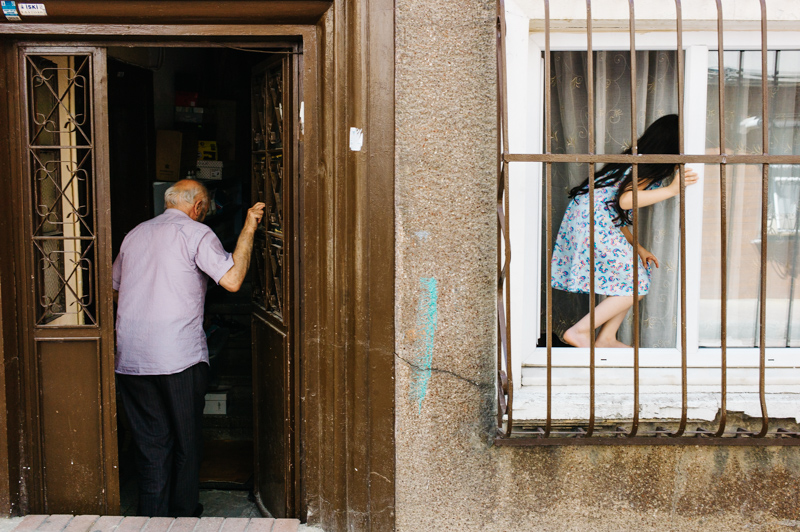 Some areas can get pretty eye opening with crumbling buildings, but most have colorful old houses and apartment buildings. There's a diverse mix of turkish, kurdish, gypsies and some syrian refugees living in the neighborhoods here.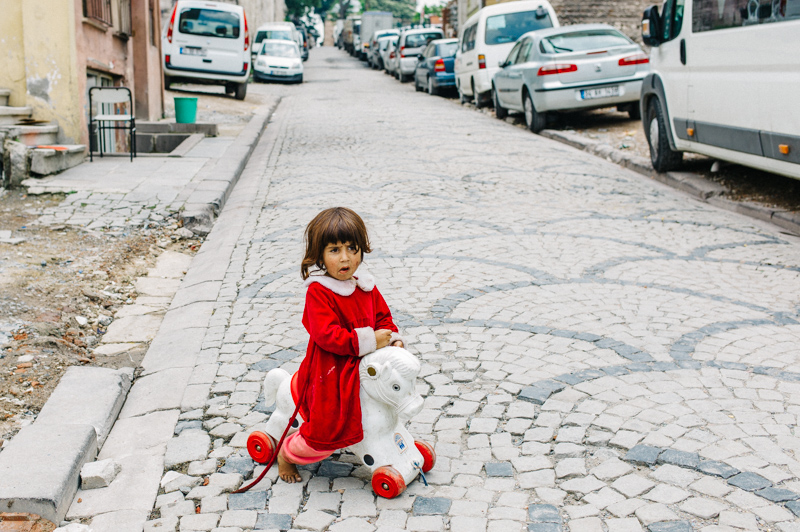 One of the best parts about the area is how much everyone stays outside. Kids playing in the streets, women knitting and gossiping on the door steps, and men smoking and drinking tea while talking politics. You can find some colorful backgrounds and graffiti here too.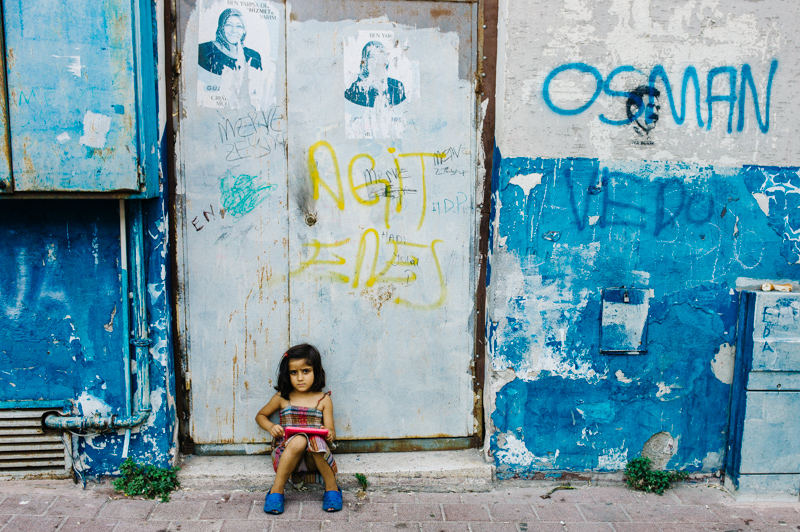 6. Bebek
While Fatih gives you a more old world look at Istanbul, Bebek gives you a look at the trendy and chic Istanbul.
Bebek is a beautiful area along the Bosphorus waterfront where you'll walk by expensive boats and yachts, fancy cafes and restaurants, and a beautiful park. There's also some popular spots for swimming here, for children to old men.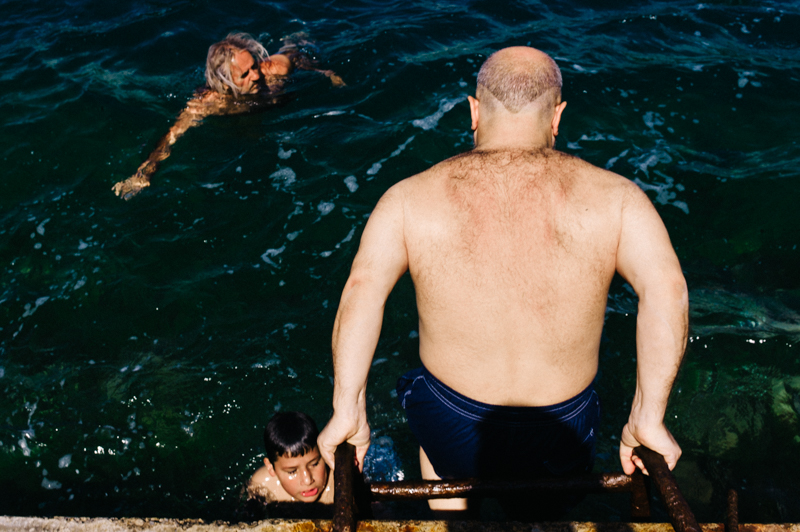 Because this area is so trendy and beautiful, many of Istanbul's wealthiest people live here. When walking by the fancier restaurants, you'll notice people dressed up, showing off their status. Almost like a Turkish Beverly Hills.  
More than a few locals have boasted to me that the Bebek Starbucks was rated #1 in the world, so that tells you a bit about how trendy it is here. I did go to the Starbucks and enjoyed a coffee a few feet from the Bosphorus sea while watching a dolphin swim by. So I can't really hate :)
7. Kadikoy & Moda
Many visitors just stay on the European side of Istanbul, where most of the attractions are, but you'd be doing yourself a big disservice to not visit the Asian side too. For one, you get to take the ferry instead of the metro, which is a definite bonus. You also get to see another part of Istanbul with plenty to offer.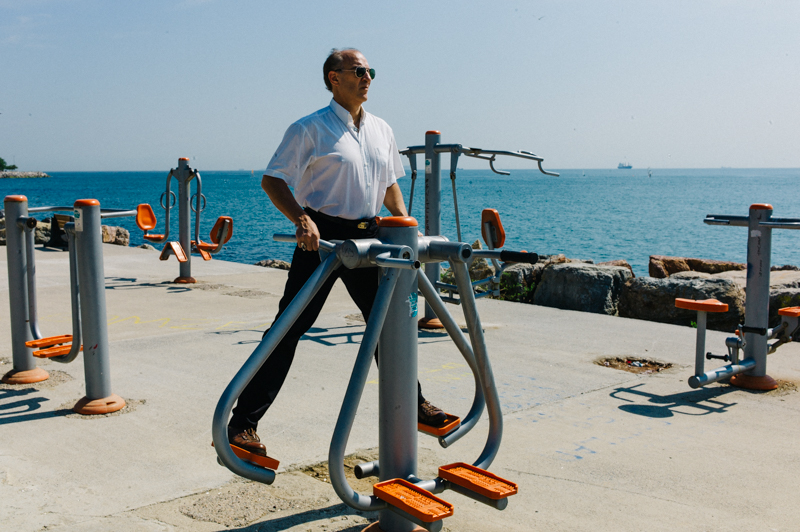 Kadikoy is the most popular spot on the Asian side. From the Kadikoy ferry stop, you can either go straight into the busy streets of restaurants, cafes, bars and shops, or you can take a right along Moda's waterfront. Moda is another somewhat chic neighborhood where some of the wealthier, and even famous, live. Moda's waterfront attracts everybody, though. The long green park that runs along it is a hot spot for younger people to hangout, drink or find a little privacy for some romance. 
Sample Street Walk:
For a full day of Street Photography, covering some of the best spots, you can follow this sample street walk for Istanbul:
Start in Taksim Square (1)
Follow Istiklal Street (2) the whole way down to Galata Bridge (3)
Walk over Galata Bridge (3) to spend some time around Eminonu (3)
Take the tunnel from Eminonu (3) to the New Mosque (4)
Then walk through the bazaars (4) up to Hagia Sofia
From there, depending how much time you've spent at each spot, you can either walk around Fatih up to the Golden Horn (5), walk back to Eminonu (3) to watch the sunset or take the metro back home
7 Things to Capture in Istanbul:
1. Light & Color
Istanbul has some of the best light you'll find anywhere. The bright, golden sunlight shines everywhere and brings life to your photos if you capture it well. All this sunlight is very useful in bringing out the many colors of Istanbul too, from the people's clothes to the scenery. 
With how Istanbul is built on top of endless hills, the light comes through to the street at all angles. This really helps finding light throughout the day when walking in the neighborhoods too. Also, with so much seafront, you can find many places with that bright golden light shining bright until sunset.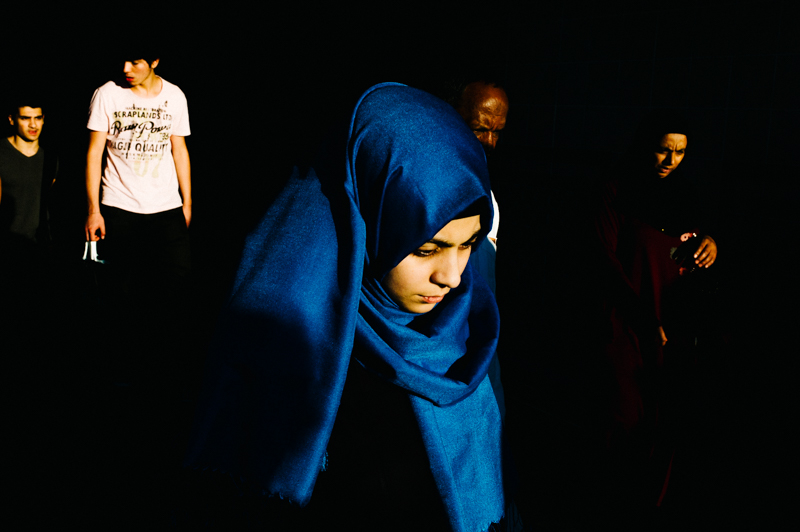 Sometimes I like to hang out by the tunnels that go under the Galata Bridge in Eminonu. With all the people constantly coming out from the dark tunnel into the bright sunlight, you can get some interesting photos, as long as you expose for the highlights.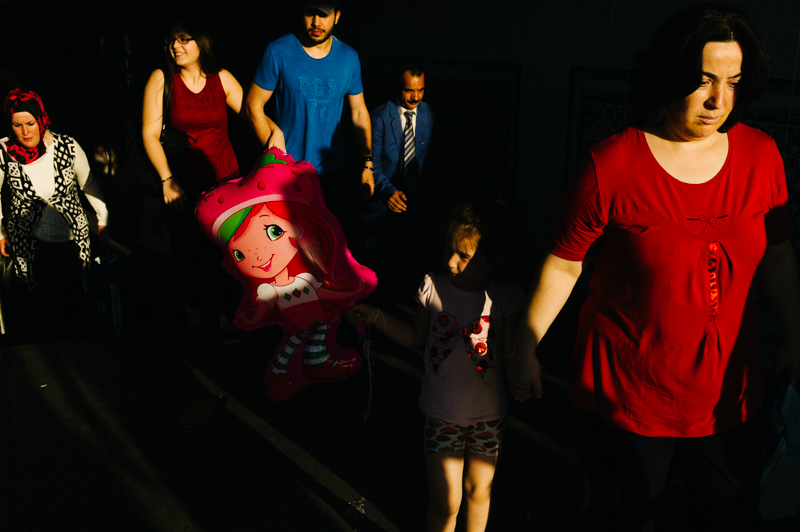 Istanbul really has light about as good as you'll find anywhere in the world. 
2. The Sea 
Water is a big part of Istanbul. There's the Bosphorus, Golden Horn and Marmara Sea all intertwined throughout the city. This brings bridges, ferries and plenty of waterfront life. Boats, children swimming, people enjoying waterfront parks, and much more.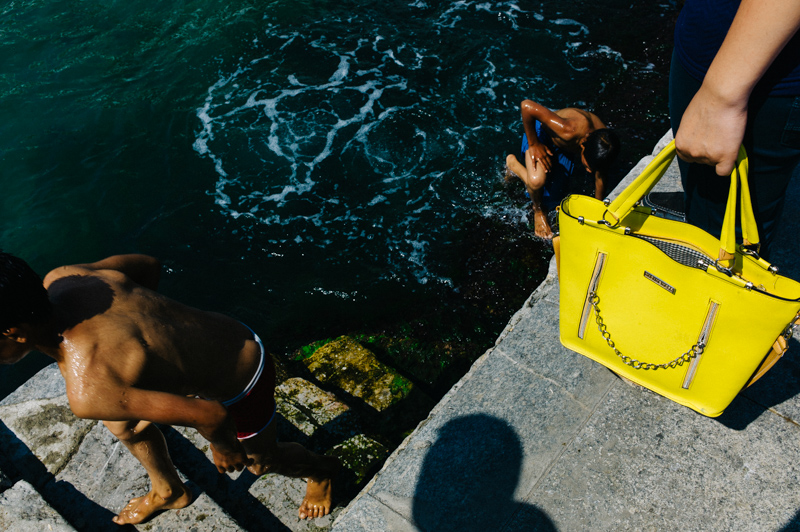 There's an endless amount of places and ways to capture the sea into your Street Photography here in Istanbul. Eminonu is a top waterfront spot, but the areas around Kabatas, Ortakoy and Bebek on the European side and Kadikoy, Moda and Uskudar on the Asian side are all good spots to check out too.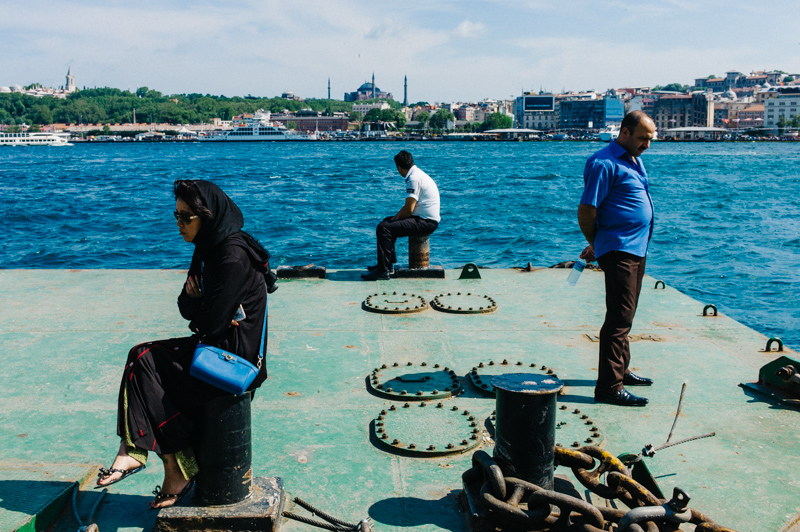 3. Mix of Cultures
When a city covers two continents and was once the capital of three empires, you can expect a mix of cultures. This is true now more than ever before as Istanbul really feels like a city where East meets West. You don't need to take a ferry from the European side to the Asian side to see and feel it, either. It's everywhere in Istanbul.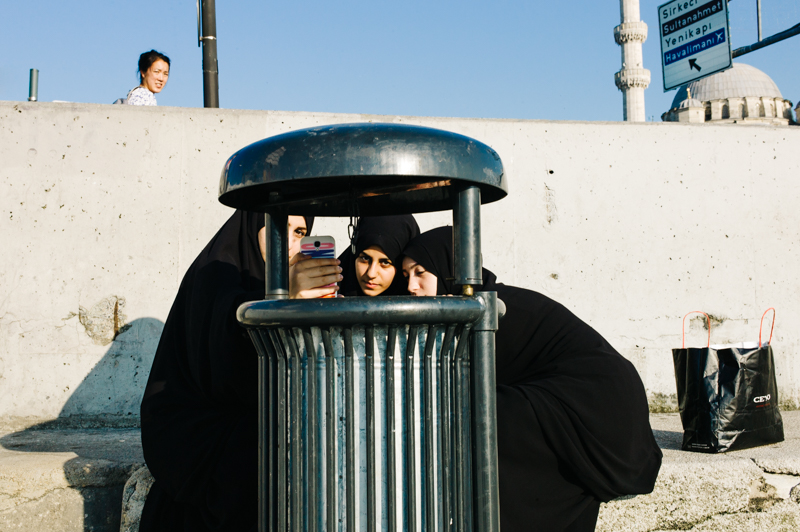 You have all the Ottoman and Byzantine architecture filling the city, but you also have areas that are extremely developed and modern. Turkish tea houses next door to Starbucks. Bazaars next to Shopping Malls.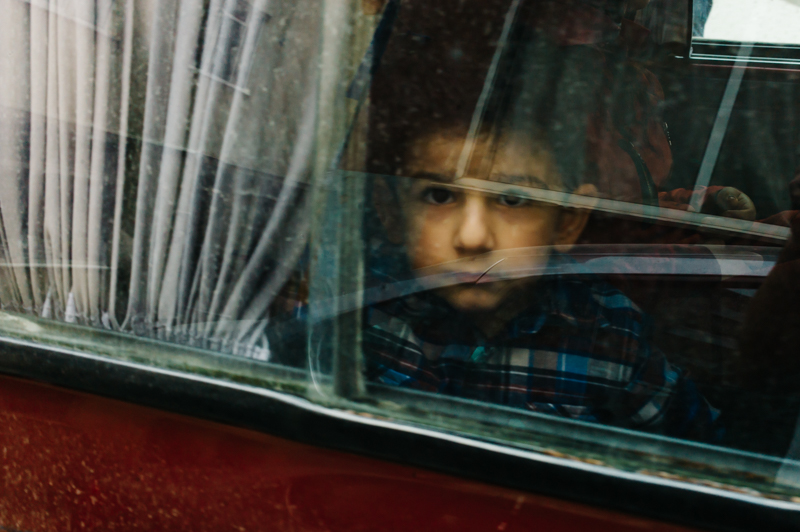 Istanbul also attracts many foreigners, from tourists to expats, so you'll hear plenty of different languages while walking down places like Istiklal Street. It's truly a multicultural city. You can try to capture this juxtaposition of cultures in many ways with your camera wherever you go.
4. Religion & Politics
There are roughly 3,000 mosques in Istanbul. Many of them are not only beautiful, but have courtyards, parks and views of the city. One of the best neighborhoods to really feel and see the religious influence is Carsamba in Fatih. Here you'll also find the incredible Fatih Mosque and the famous Wednesday street market, which the neighborhood was named after.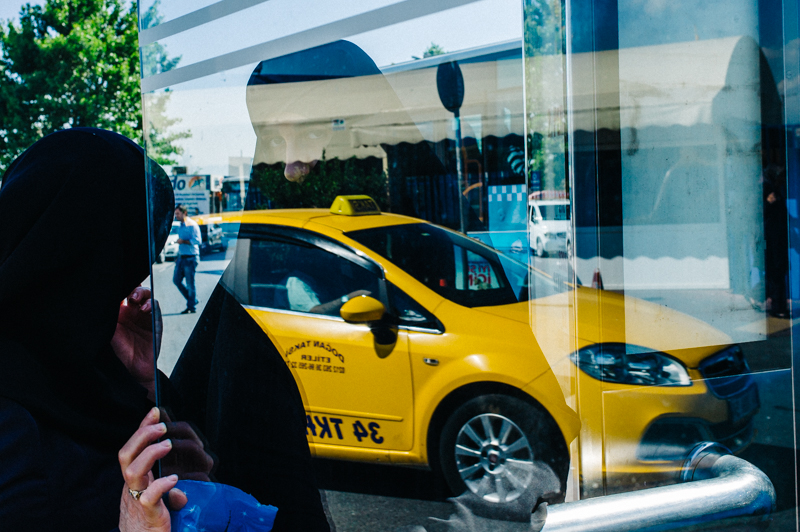 Politics and social movements are always hot topics in Istanbul. Protests and different gatherings are a regular occurrence here. Walking around the city, you'll notice walls tagged with one of the four major political party's initials.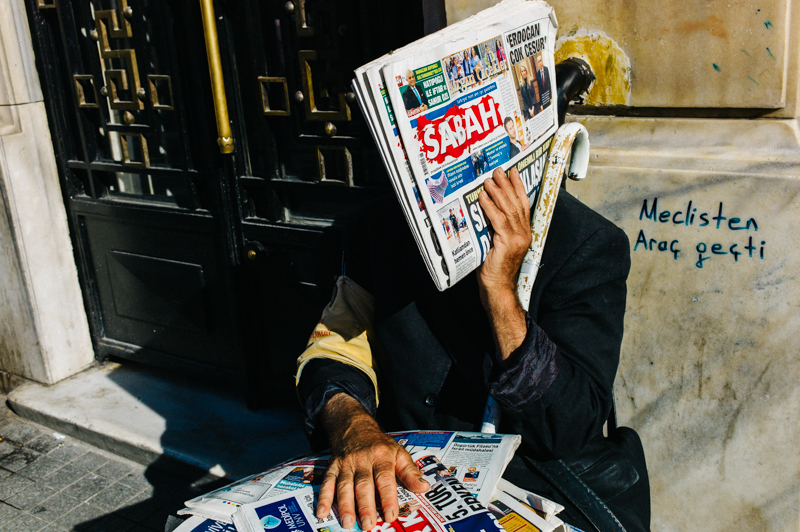 If you spend enough time around Taksim Square and Istiklal Street, especially on the weekend, you'll probably run into a protest of some sort. It's not always the best idea to hang out at protests in Istanbul, but if you feel up for it, there will be plenty to capture. Just watch out for the tear gas that can follow if things get out of hand.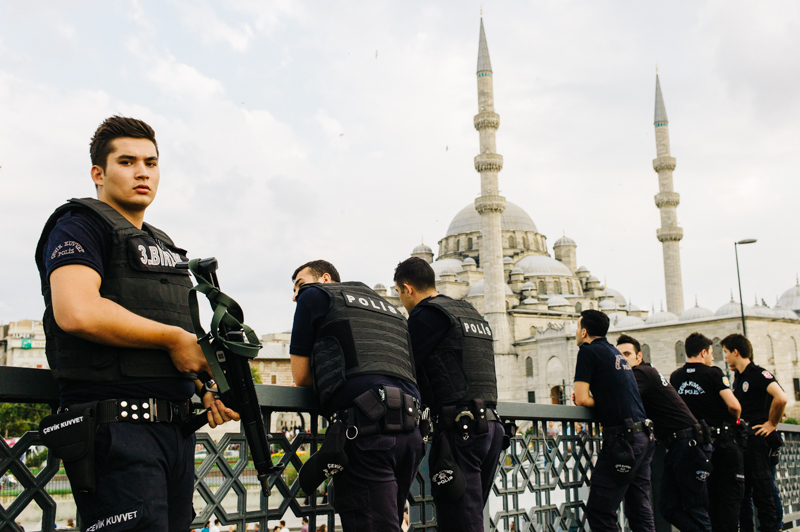 5. Cats
You'll never see as many cat filled streets as you do in Istanbul. In a city with a population of over 15 million, the cats might actually out number the people. They are everywhere. 
The popular Cihangir neighborhood, just below Taksim Square, could be the cat capital of the city too. If you spend any time in this area, which you should, you'll walk by at least 10 cats every block.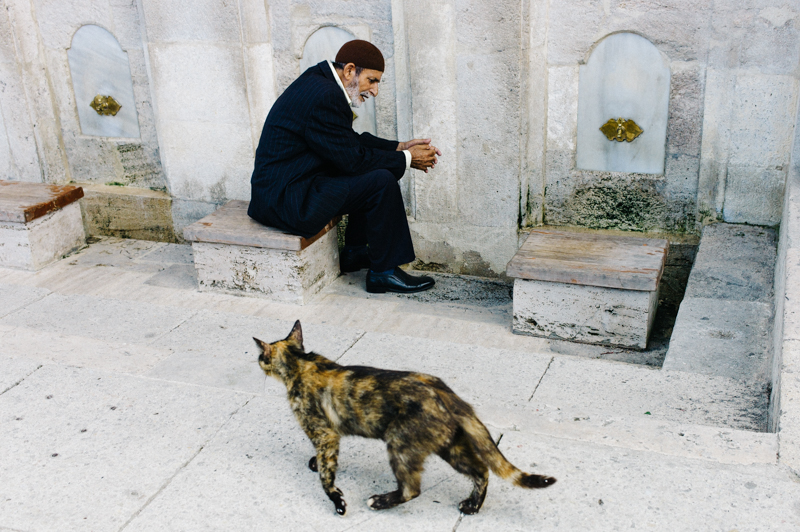 Istanbul has so many cats walking its streets that it really has become part of the city's image. Including a cat or two in some of your Street Photography should not only be easy to do, but impossible not to.
6. Tea
While Turkish Coffee is famous, there's no getting around that tea is the biggest drink here. For many it's not just something they drink, it's a part of their life. 
Turkish tea is really just black tea served in a small tulip shaped glass, usually with a sugar cube or two. Drinking it out of a small glass doesn't mean they drink less, it just means they go through more refills. It's a big part of the culture in Turkey and it's drunk from morning to night.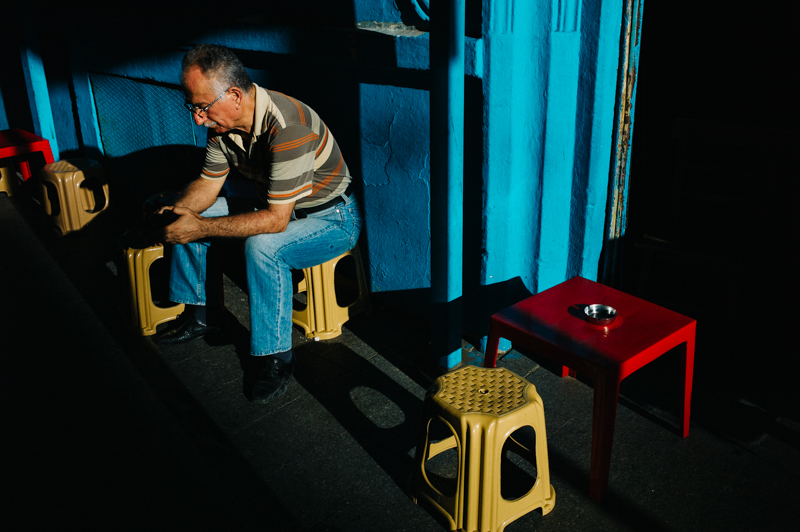 You'll walk by tea houses all over the city with men sitting on small stools sipping away. Some men will stay for hours drinking refills of tea, while reading the newspaper, playing backgammon, watching tv or talking politics with all the other tea drinkers.
7. Ferry Life
Not many things are more symbolic of Istanbul than their Ferries. With all that water dividing the city, taking the ferry is as regular as taking the metro to many locals.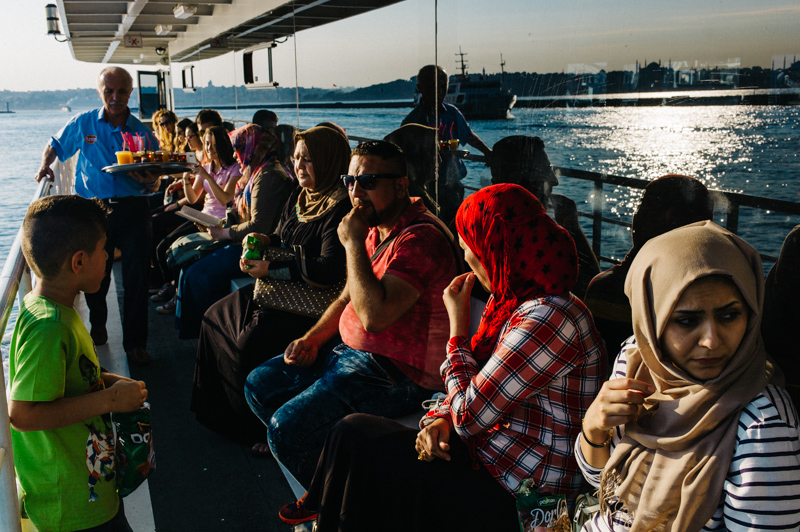 Ferries are a big symbol of Istanbul and capturing life on the ferries offers some great opportunities. You can go inside or outside up on the top deck. Some of the ferries are bigger than others, but just take a walk around and see you what you can capture.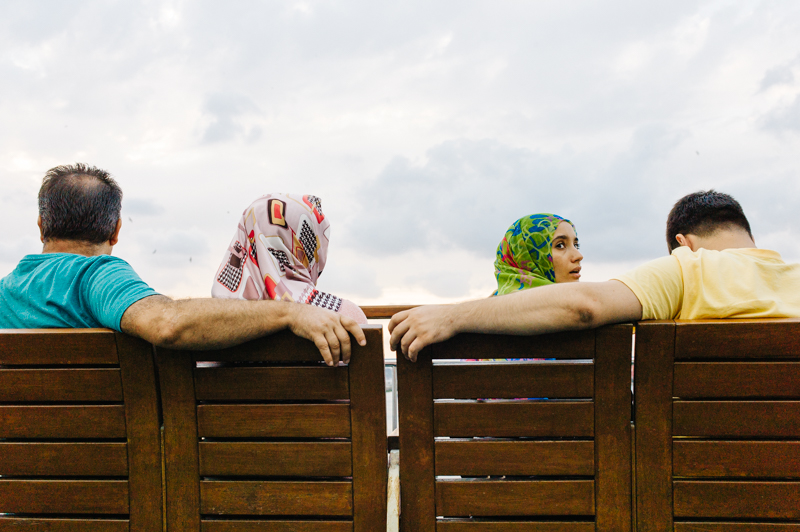 Street Safety Score: 7
*As always, no place is completely safe! So when I talk about safety, I'm speaking in general comparison to other places. Always take precaution, be smart, observe your surroundings and trust your instincts anywhere you go!
I find Istanbul relatively safe for a large city. But it is extremely large, so like most places of size, there's always going to be some dangerous areas. Most spots you probably will go should be pretty safe, though. The one spot of some danger that is worth mentioning would be Tarlabasi. The main reason it's worth mentioning is because it happens to be just north of Istiklal street so you might wander there.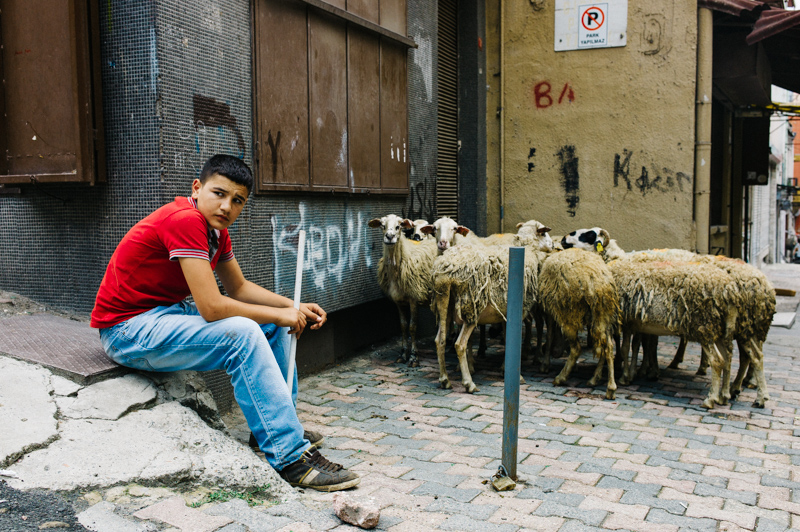 I've actually spent a good amount of time in Tarlabasi because there are some good photo opportunities, but locals usually advise against it due to the drug activity that does go on in the area. 
People's Reaction Score: 6
For many visitors, they will find Istanbul a camera friendly place. If you stay in the heavily touristic parts, you shouldn't have a problem.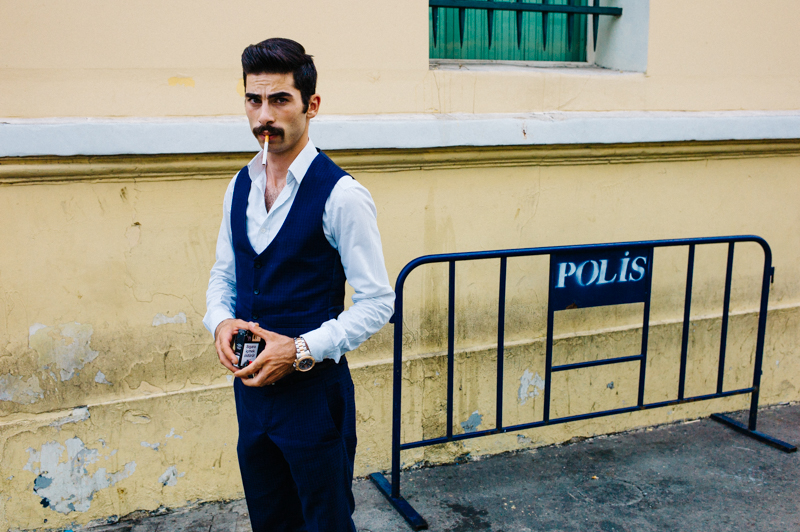 I, however, do like to venture away from the tourist areas, where you'll find only locals. This is where you have to be more careful because there can be very conservative feelings towards cameras in some of these areas. Overall, I find Istanbul to be less street photo friendly than most places, but it completely depends on where you go.
What To Do For a Street Photography Break?:
Tea Time or Time for Some Kebab
With all the tea houses and cafes serving tea, you might as well embrace the culture and a grab side street stool for some tea. Sitting down to enjoy a glass of tea while you watch the busy streets of people is a great way to relax and observe the chaos.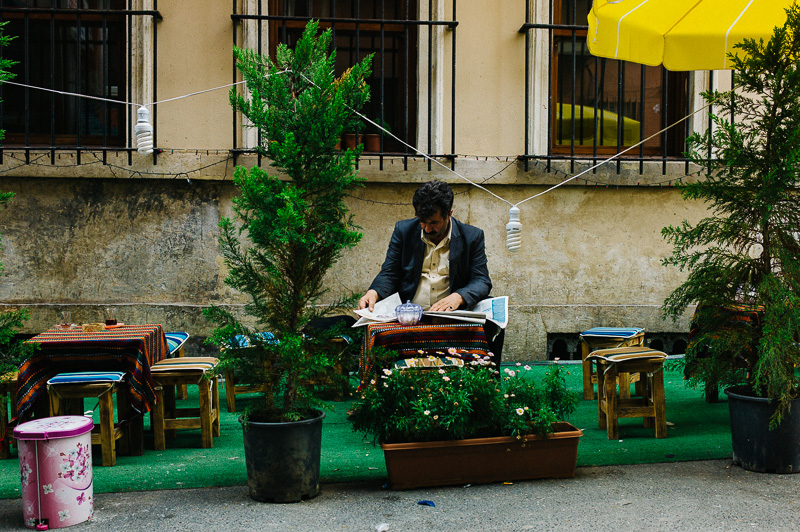 *Unfortunately, for women, many of the tea houses only permit men, but in Istanbul you can still find plenty of cafes and restaurants for everybody to enjoy some tea.
One of the best parts of Turkey is the food. There's a variety of amazing Turkish dishes, but Kebab is definitely the most famous. I'd recommend trying some Iskender, but you really can't go wrong with whatever you choose. And you can't go a street without finding it, either.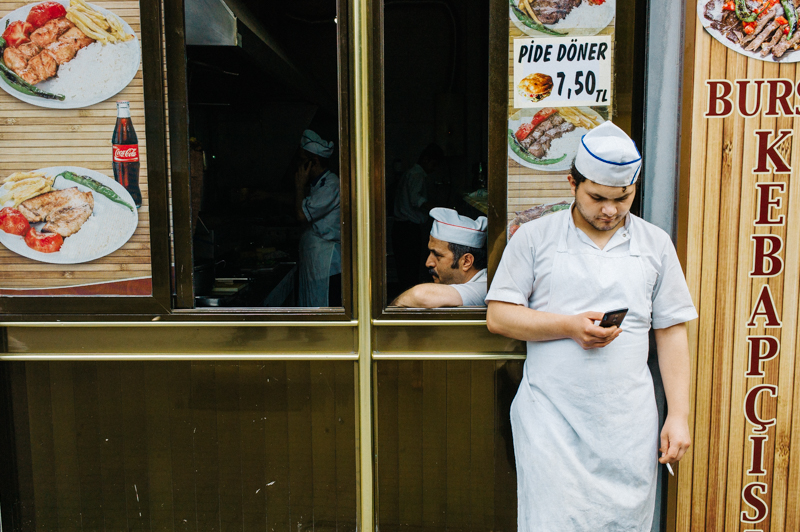 Street Tips:
Be ready for a workout
Istanbul is a city built on hills. It gives amazing city views, but when walking the streets, it also gives you a work out. So be ready for lots of stairs and steep climbs.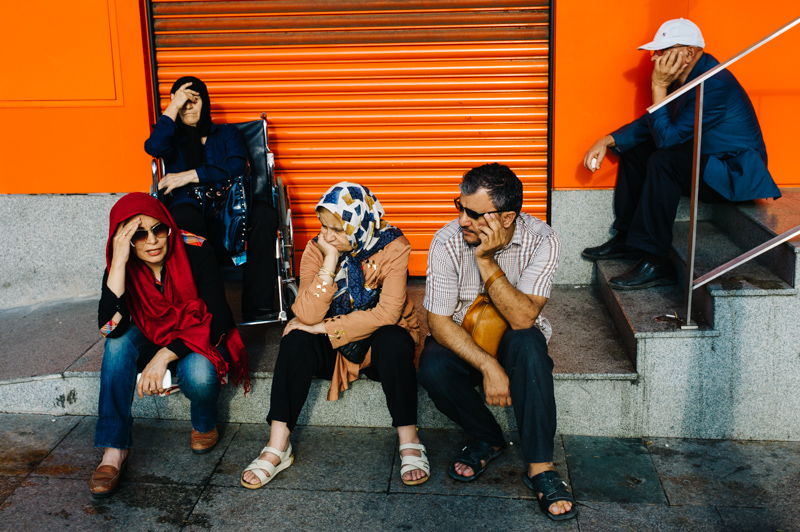 Take the Ferry
There might not be another city where taking the Ferry is more a part of daily life. So there's no reason to only use the metro system to get around (the metro does go underwater). Taking the ferry is an experience all its own with plenty to capture. Not to mention, most times it will take you where you need to go across the sea quicker than other options.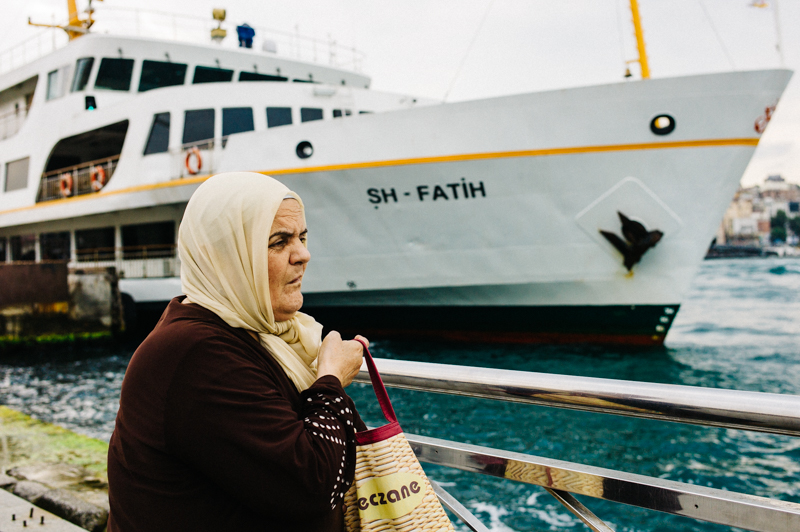 Expose for the highlights
When shooting digital, I'd usually recommend exposing for the highlights anyway, but in Istanbul, there's even more reason to do this. Istanbul has great light, but it's very bright. It can cause some high contrasts, but if handled correctly it will bring out colors and make scenes come alive. So make sure you're not blowing out your scenes, and if you like to shoot wide open, bring a neutral density filter.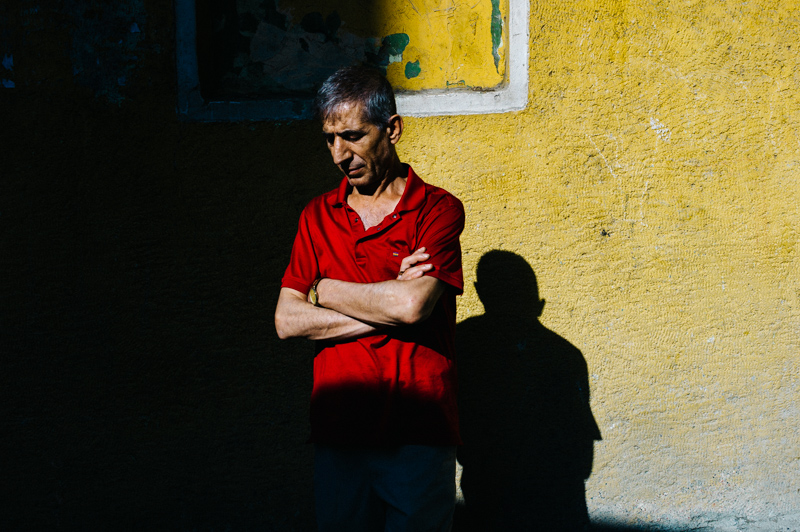 Conclusion:
For some inspiration, you can look through the photography of Istanbul's very own Ara Güler or check out Alex Webb's work titled after the city. 
Istanbul has been photographed plenty of times over the years. Many of the greatest photographers in the world have been drawn to this amazing city. There's so many reasons why, but I hope this guide can help you go find out some of the reasons for yourself, first hand. So grab your camera and get overwhelmed with all that Istanbul has to offer for Street Photography.
If you still have any questions about shooting in Istanbul, feel free to comment below or email me!
(I want to make these guides as valuable as possible for all of you so add any ideas on improvements, including addition requests, in the comment section!)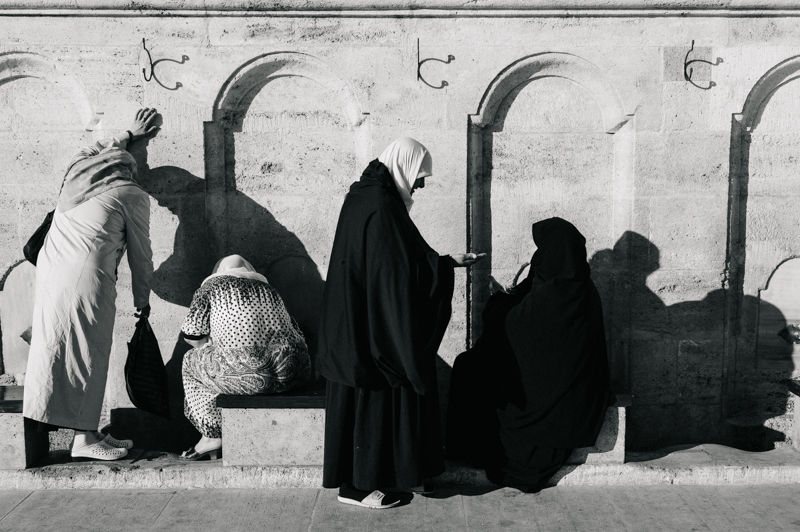 (A New Guide Posted Every Other Wednesday)