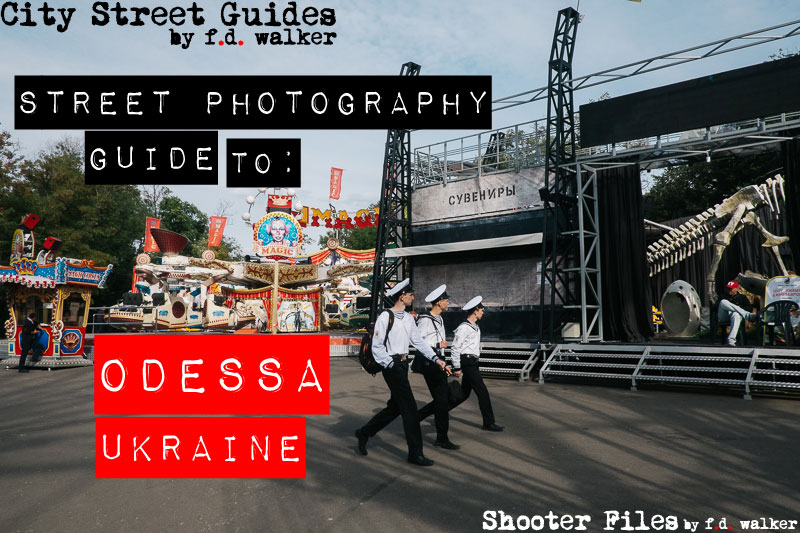 *A series of guides on shooting Street Photography in cities around the world. Find the best spots to shoot, things to capture, street walks, street tips, safety concerns, and more for cities around the world. I have personally researched, explored and shot Street Photography in every city that I create a guide for. So you can be ready to capture the streets as soon as you step outside with your camera!
Odessa
Overview:
Ukraine is one of my favorite countries for Street Photography. I've already done guides for Kiev and Lviv, but this guide for Odessa will probably be my favorite. Odessa is Ukraine's third largest city by population and its most popular summer destination. A major seaport, it also has a long stretch of beaches along the Black Sea that attract people from all over. Sometimes called the "Pearl of the Black Sea," or even the "South Capital" in its Soviet Union days, Odessa is everything I love about Ukraine and more. The authenticity, mood, character, raw beauty mixed with a little roughness, and slightly surreal atmosphere that is unique to the country. Mix all this with the unique beach life that possesses even more of that distinct character, and you get a city that's hard to beat for street photography.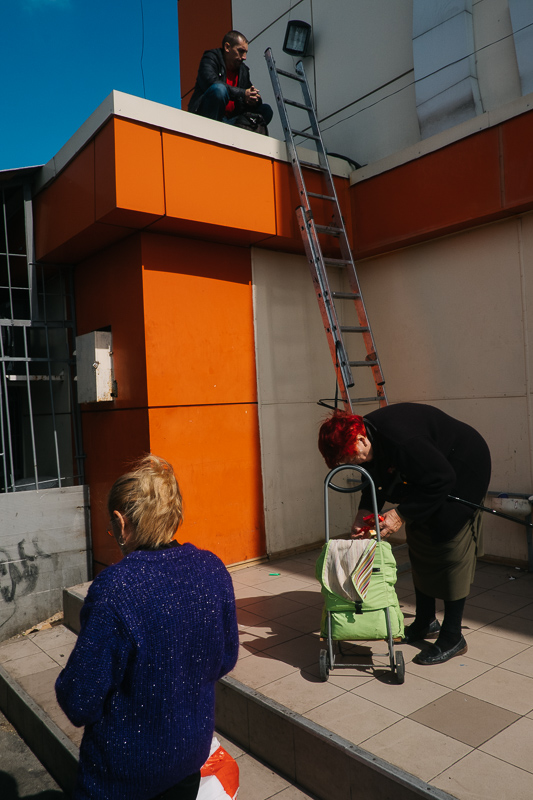 So here's a Street Photography guide so you can be ready to capture all that Odessa has to offer before you even arrive!
Map:
Beaches (Arcadia, Lanzheron & Otrada)
Train Station/Privoz Market
Deribasovskaya Street
Oleksandrivs'kyi Avenue (and other main center streets)
Shevchenka Park / Odessa Luna Park
Top 5 Street Spots:
1. Beaches (Arcadia, Lanzheron & Otrada)
Odessa has some of the most interesting beaches for street photography that I've experienced. The stretch of beaches go on forever and provide an endless number of smaller, sectioned beaches that can be very different in look, construction and atmosphere. It gives a great street photography walk that could last all day, while providing a diverse mix of photo opportunities. In addition to the different look of the beaches, from wood decks and concrete to white sand and resort chairs, the people themselves provide even more character.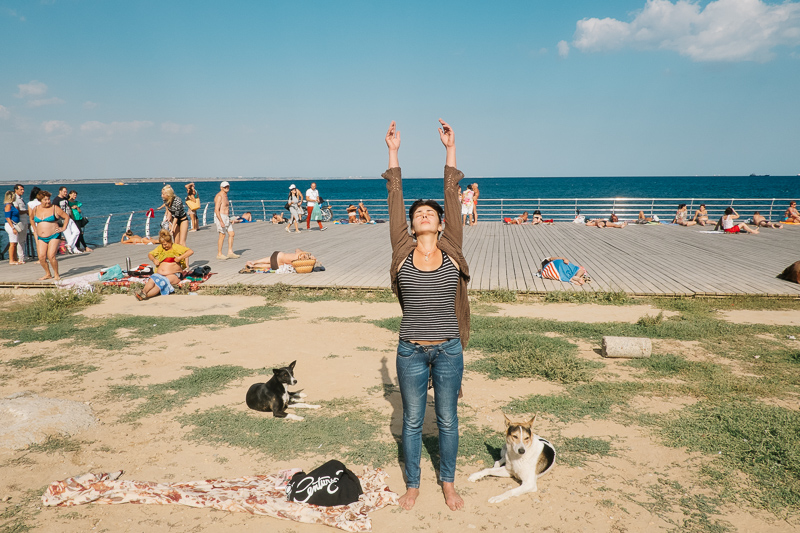 Here are the 3 beaches I'd most recommend visiting with your camera:
Arcadia is the largest and most developed beach in Odessa. It's the most commercialised of Odessa's beaches, but provides plenty of activity. During the summer, you'll find people here from day to night since it's also a top spot for nightlife. It is a 15 minute taxi or trolley ride from the city center, though, so you can't as easily walk to it like the rest of the beaches.
Lanzheron is probably my favorite beach in Odessa. It's the closest beach to the city center, you get to walk through Park Schevchenko to get there, and you a get a mix of smaller beaches to walk, each with their own unique Odessa atmosphere. Around the Dolphinarium, people lay out on wood decks, swim in the sea down the steps and fish on the concrete piers. If you keep walking south, you'll find a mix of concrete, sand and restaurants. In my opinion, this stretch provides the most character that makes Odessa's beaches so unique for street photography.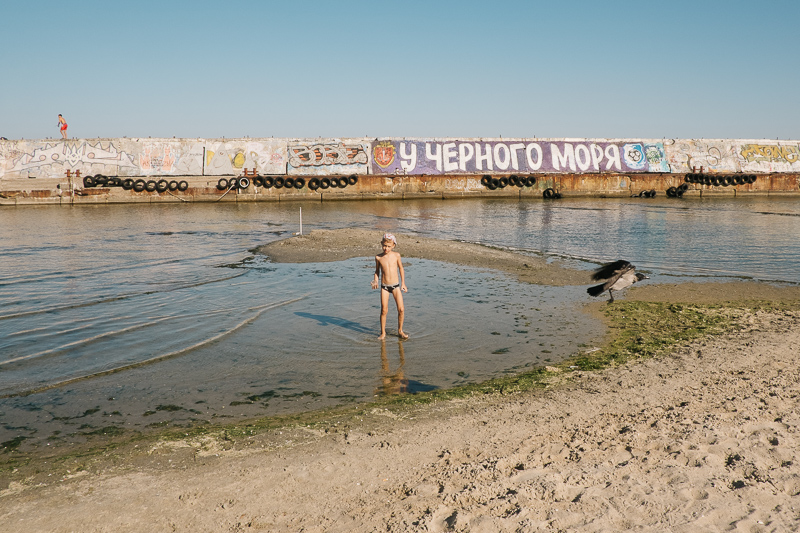 Otrada lies below Lanzheron and is worth the continued walk. It provides a stretch of beaches that give a blend of Arcadia and Lanzheron in atmosphere. You'll find bars, beach chair service and more character to capture.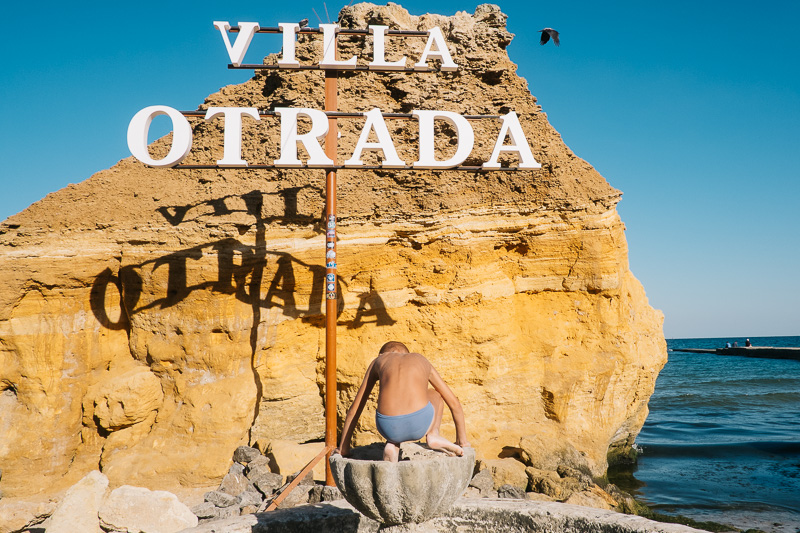 2. Privoz Market
Other than the beach, my favorite street photography spot in Odessa is Privoz Market. Not only the market, but also the surrounding area, which has some street markets spilling over, along with streets containing even more interest.
Privoz Market itself is the largest food market in Odessa. It was built almost 200 years ago and has since joined up with the city's first bazaar, as it continually grew. It's a unique, slightly strange market to describe. Parts feel like an old department store, other parts like an open air market, and other parts that just need to be experienced. And you can find almost everything for sale here. As one merchant put it to me, "you can find everything from condoms to atomic bombs."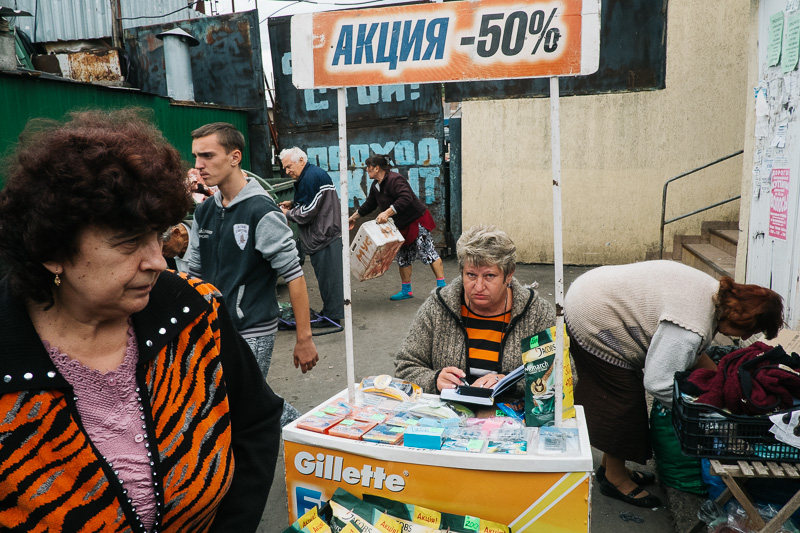 It has atmosphere, light, color, characters and everything you could want in a market in Ukraine. One of the best for street photography.
3. Deribasovskaya Street
Deribasovskaya Street is the most popular and busiest pedestrian street in the city. It's also a main attraction for visitors. It has history and an old, unique atmosphere. It's not long or wide, but it's been Odessa's main street for over a century, chosen for its beauty with many preserved 19th century buildings and important sites. There's always activity along Deribasovskaya, from the mix of tourists and locals going for a stroll to all the food stands, shopping and even pony rides.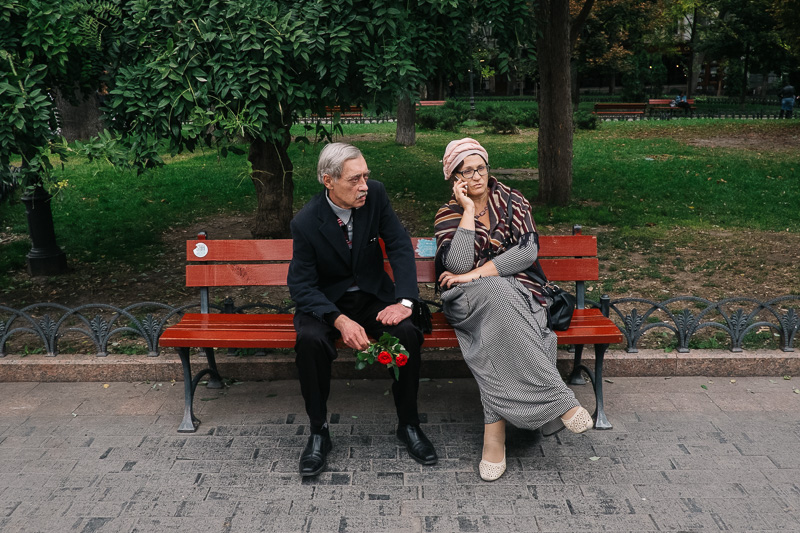 The old cobblestone street also takes you by Odessa's first park, built over 200 years ago. Here, you'll find a fountain, multiple monuments, benches, some greenery, and a bandstand that holds events. If you're on Deribasovskaya, make sure to stop and give it a walk around too with your camera.
4. Oleksandrivs'kyi Avenue (and other main center streets)
For street photography, there are some good main streets that run through the city center. Pushkins'ka and Katerynyns'ka are two of the best that I'd recommended giving a walk with your camera. They provide some prime Odessa atmosphere, activity, architecture and plenty of courtyards to check out. But my favorite street running through the center of Odessa would be Oleksandrivs'kyi Avenue. Here, not only will you experience Odessa's city center atmosphere for street photography, but you can also spend time shooting around Starobazarnyi Garden Square, walk along the pedestrian path on Oleksandrivs'kyi Avenue and then shoot around Odessa City Fair. You'll find plenty of green space, activity, recreational areas, children playing, food and commercial stands, and probably a few wedding shoots. It's a nice, easy walk packed with a variety of areas for street photography along the center of the city.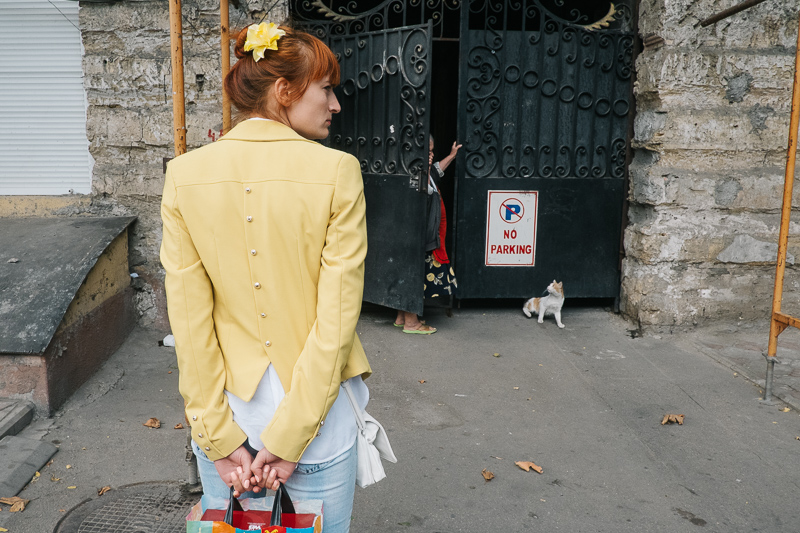 Walking around Odessa, you'll find other parks and squares too. They range in sizes, but in the city center, other than the two mentioned above, Cathedral square and City Garden are two more of my favorites. You'll find plenty of life for photography here among the green. You'll find food stands and attractions for children mixed in too.
5. Shevchenka Park / Odessa Luna Park
If you want a really big park, then head in the direction of Lanzheron Beach until you hit Tarasa Shevchenka Park.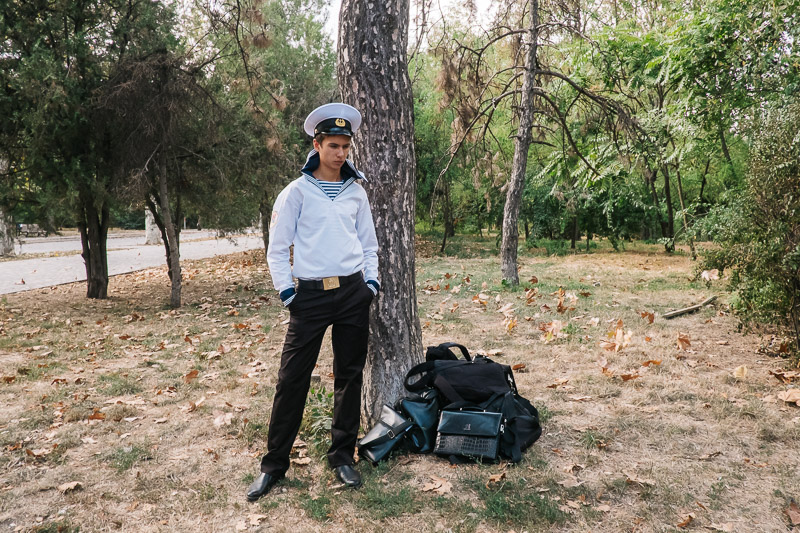 Shevchenka Park overlooks the Black Sea and is filled with endless paths, grass, trees and more. If you spend time exploring, you'll find everything from rest areas and viewpoints to merchant stalls and an outside gym. Being by the port, you'll see sailors walking around throughout the day, sometimes even practicing their line-up routine. Not only is it a great area to walk before hitting the beach, it's also joined by Odessa Luna Park. This small amusement park has no entrance fee and while not big, it does bring color and an older, interesting atmosphere. Amusement parks can be great for street photography with their backgrounds and scenes they attract. This one is no exception and worth walking through when you're in the area.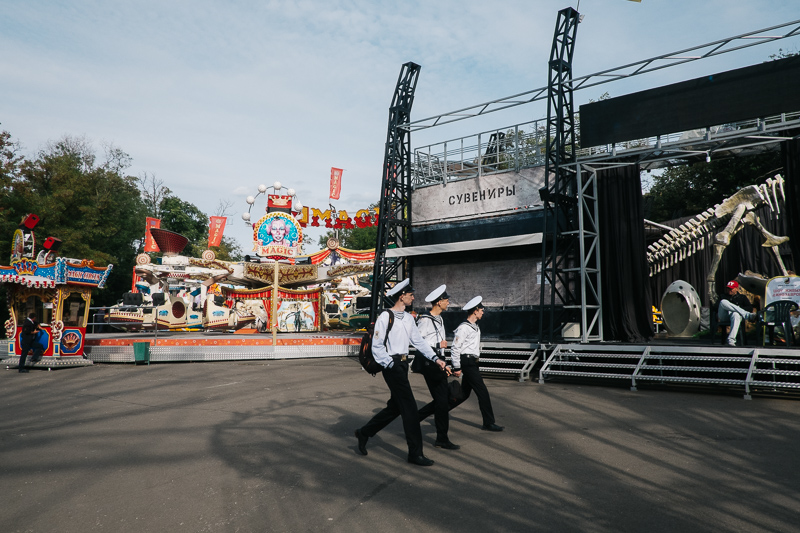 Sample Street Walk:
For a full day of Street Photography, covering some of the best spots, you can follow this sample street walk for Odessa:
Start your morning walking around the Privoz Market (2)
Then walk north up through Starobazarnyi Garden Square and along Oleksandrivs'kyi Avenue (4)
Walk up Oleksandrivs'kyi Avenue (4) through the Odessa City Fair until you get to City Garden (3)
Now you'll be on Deribasovskaya Street (3) so after the garden, slowly walk east along this main pedestrian street for more street photography
After you're done with this walk through the city center, head east to Shevchenka Park (5)
You can walk towards to the Black Sea straight through Shevchenka Park (5), or also stop at Odessa Luna Park along the way
Once you make it to the Black Sea, you'll be at Lanzheron Beach (1). Start on the wood decks by the Dolphinarium and walk south along the sea
You'll pass through the beaches of Lanzheron (1) and then continue into the Otrada beaches (1). Explore both the variety of beaches and some of the activity on the pathway above
From here, head back east to the city center and Privoz Market (2) to finish the day, or if you have more time, take transportation to end at Arcadia beach (1)
3 Things I'll Remember about Odessa:
1. Markets
Markets in Ukraine might be my favorite and Odessa doesn't disappoint. Markets are usually a top choice for many street photographers to visit because of the guaranteed activity and interest, but in my opinion, most don't actually provide great photos. They can be like a million other markets with people doing the same thing, packed together with poor lighting. But in Ukraine you can find the real deal. Wide open markets that are unique with character, lighting, colors and a more authentic feeling. In Odessa, you have the Privoz Market, which I covered above, but provides one of the best examples around for street photography. And walking the streets of Odessa, you'll be sure to find others too, some smaller and some larger like the Starokonnyi Flea Market. There's so much more to the markets here compared to what you find in most other countries that it always makes it a memorable part of shooting in Odessa.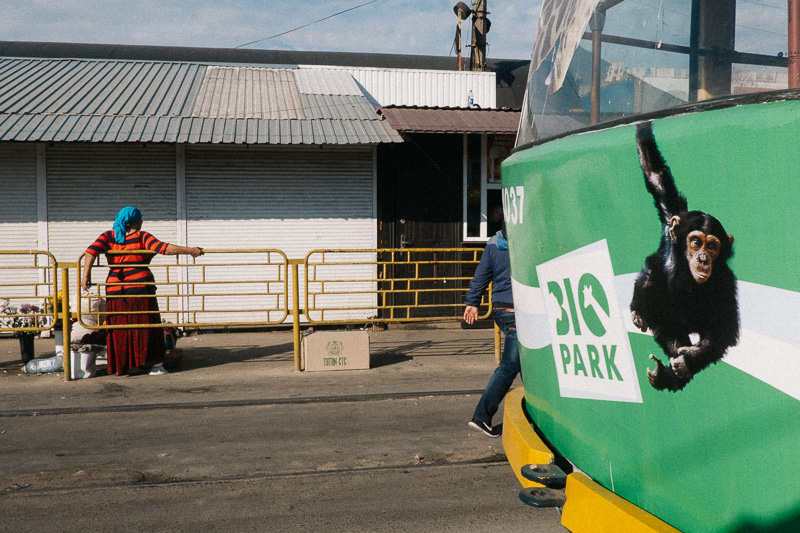 3. Courtyards
One of my favorite parts of Ukraine, and some other Eastern European countries, are the apartment courtyards. Ukraine might have the best ones, though, with Odessa containing as good example as you'll find in the country. These courtyards enclosed by the apartment buildings are filled with atmosphere. Women folding clothes, children playing, cats running around, and the sun peaking in giving some nice light.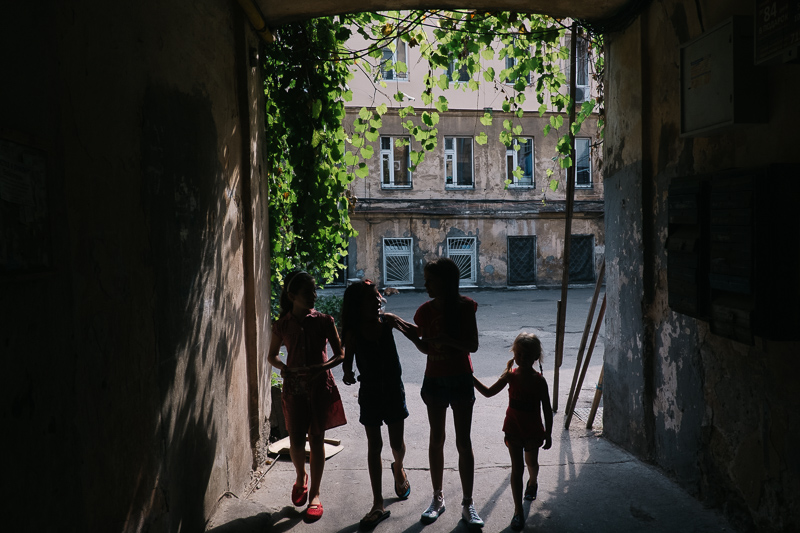 Sidewalk gates lead to these courtyards so you'll walk by them wherever you go. They're secluded from the street, but many times the gates are left open. Some are just parking lots or rubble, but many are secret gardens and other areas made for some photography. It's a fun and charming aspect of the city to explore when you want to move off the street, especially when you spot some activity going on. The main streets of Pushkins'ka and Katerynyns'ka provide good Odessa atmosphere with activity and courtyards along the way.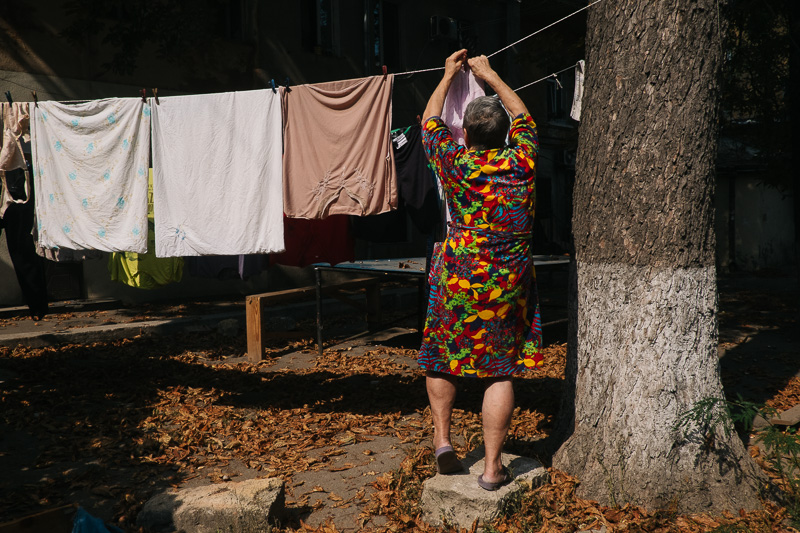 4. Odessa Character & Atmosphere
Ukraine is full of authenticity, character and mood. There's a beauty with roughness around the edges that comes from the scenery and the people that makes it not only photogenic, but enjoyable to shoot in. Nothing feels fake, yet it can have a surreal feeling to it all. Odessa is as good a showcase of what I like about Ukraine as any, but with its own unique quirks mixed in.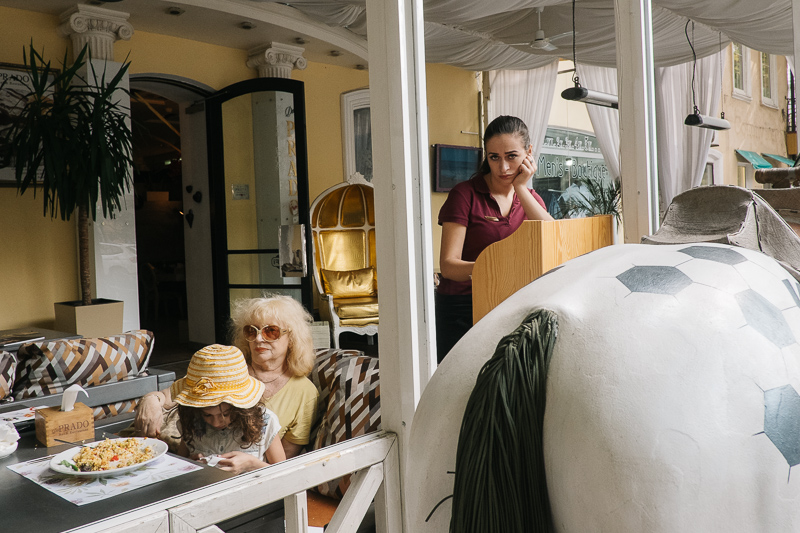 The low buildings, some crumbling with character, the courtyards and cobblestone streets, the street vendors and cafes, the mix of colors and mood, the more relaxed vibe of the streets, and the beaches that add their own mix of atmosphere. Some of it feels back in time, but with an authenticity that you won't find in many other European cities. There's a lot to see, feel and capture just walking the city in Odessa that you won't experience anywhere else. And this extends to the beaches too, filling them with some of the most unique atmosphere and characters you'll find anywhere at the beach. Even more so than the city, there's a surreal vibe at Odessa's beaches that make it perfect for street photography.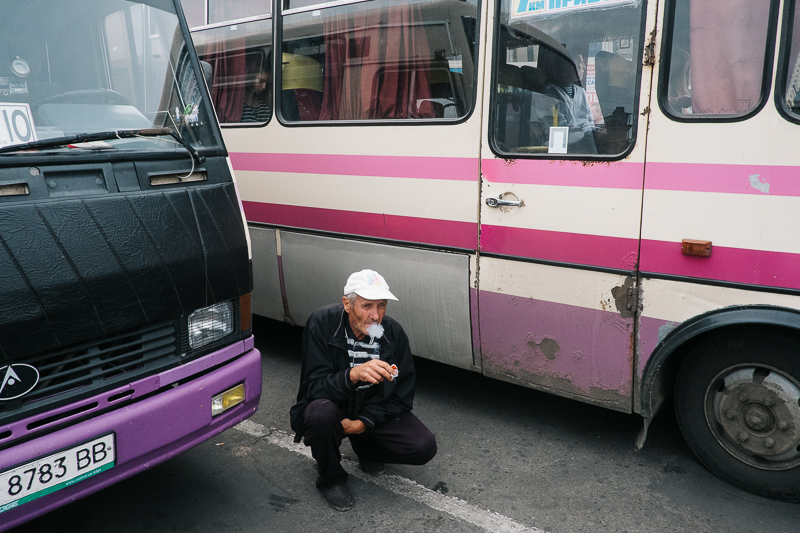 What To Do For a Street Photography Break?:
Anything, it's cheap.
You're not going to find a better value than Ukraine anywhere in the world right now. It will surprise you how far your money goes here. So eat a 5-course meal at a nice restaurant and start with some borsch. Take a coffee break at a nice cafe. Or grab a beach chair at the many resorts and enjoy a beverage in the sun. In Odessa you have many options and you don't have worry about breaking the bank for a break.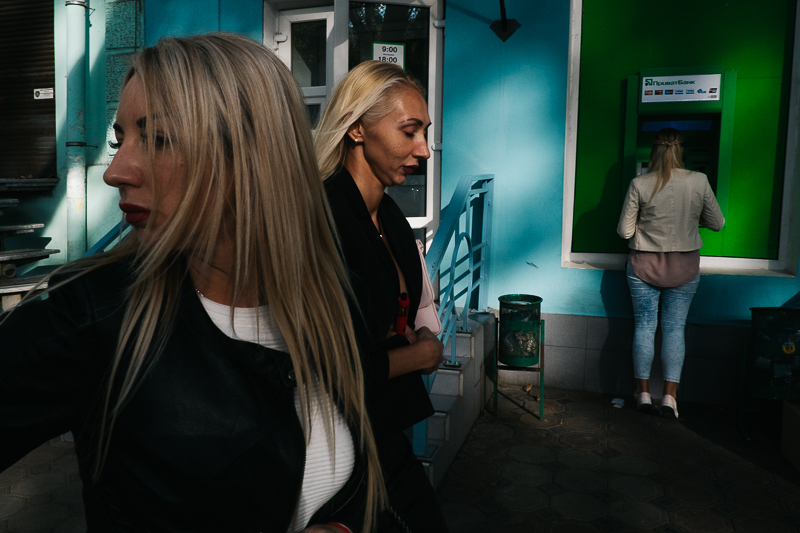 Street Safety Score: 8
*As always, no place is completely safe! So when I talk about safety, I'm speaking in general comparison to other places. Always take precaution, be smart, observe your surroundings and trust your instincts anywhere you go!
The first question people usually ask me about Ukraine is if it's safe. Don't worry about the safety concerns you hear about Ukraine. If you're away from the border/Crimea, you don't really notice these effects, especially when it comes to safety. This doesn't mean there isn't any crime or the locals don't feel any negative effects from the economic situation, but you shouldn't feel unsafe in Odessa. Odessa has a very laid back vibe and feels relaxed and safe exploring. There are some deteriorating areas that might make you feel uneasy, but this is mostly only looks. Just keep your street smarts if entering any uneasy situations and you should be fine, just like most anywhere else.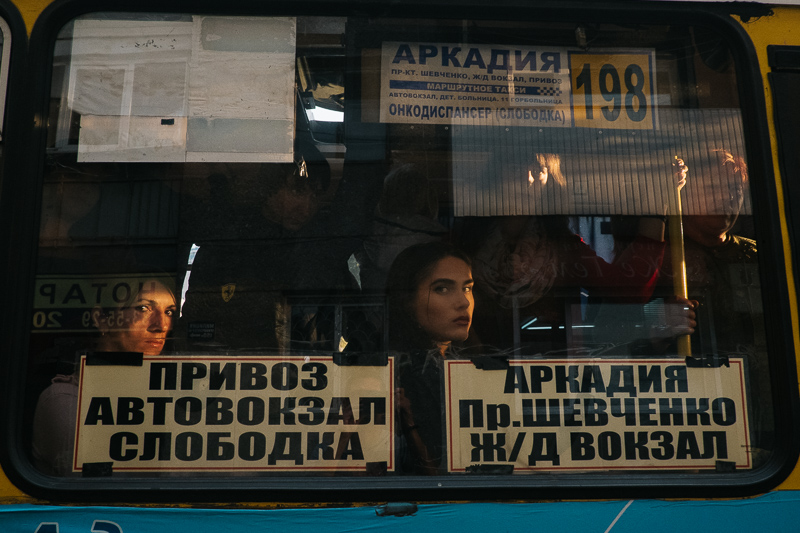 People's Reaction Score: 8
I've traveled and shot street photography quite a bit in Ukraine and it continues to be a very easy place for me when it comes to reactions. Odessa is no exception. While Kiev is still the most photo friendly city I've been to in Ukraine, Odessa allows you to shoot mostly carefree. It is more of a tourist city than other Ukraine cities so they pay attention to cameras a little more in Odessa, but markets are usually the only place you might find some pushback, as not all merchants want to be photographed. But other than that, most people don't mind, care, or they might even find it humorous. Trust your instincts, but also don't judge looks too much. Odessa is an easy place for street photography.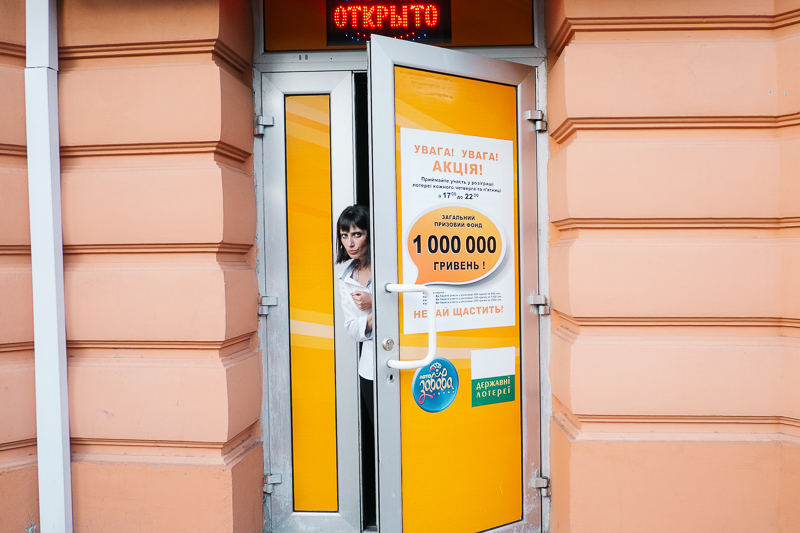 Street Tips:
Weather changes overnight at the end of summer: bikinis to coats
Multiple times now, I've visited Odessa at the end of August and at the start of September, just as summer ends, but it feels like experiencing two completely different seasons. When I say it can go from bikini weather to coat and glove weather overnight, I really do mean overnight. The first few days of September and the beaches are full of barely clothed people getting their dose of vitamin D in the sun. Then you wake up and it feels 30 degrees colder and the beaches are empty. Now everyone wears scarves, not shorts.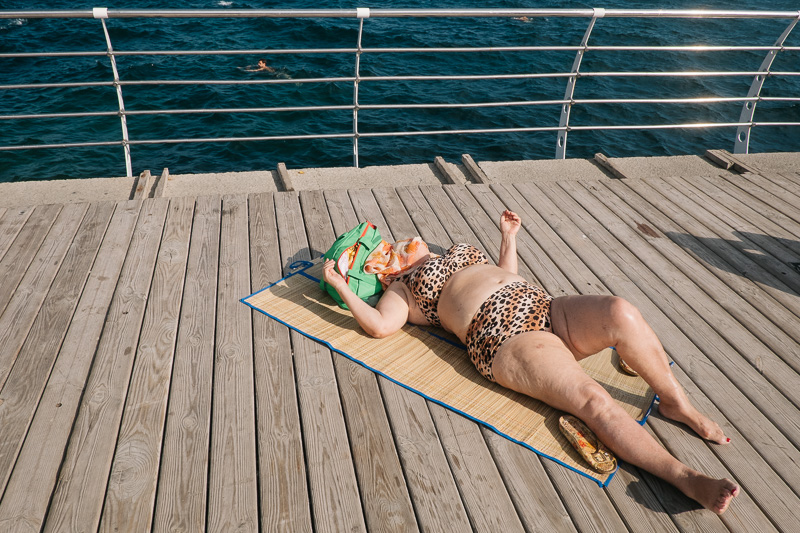 The city changes quite a bit, but I enjoy both "seasons." I enjoy the summer because of all the beach activity and busy atmosphere, but it keeps plenty of interest once the cold comes. Even the now quiet beach gives reason to walk with your camera. Some people still come out and it gets a slightly eerie vibe. The main city doesn't change too much, other than less tourists and more clothes. So come in the summer, but don't stop from coming other times too.
Explore courtyards
As I explained above, the many courtyards in Odessa can be great for street photography and atmosphere. Even when talking to local photographers, its one of their favorite parts of the city too. If they're open, then don't be afraid to come in and check them out. Sometimes there's more life and interest in the larger courtyards than out on the streets.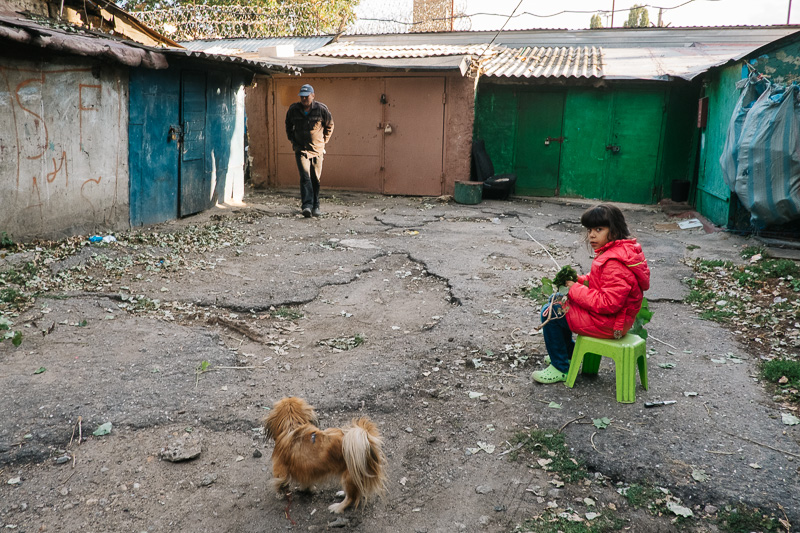 Cheap (with great cash exchange rates)
One of many things that make Ukraine a great place to visit is how far your money goes. It's one of the cheapest places in the world right now, but without feeling like it. From places to stay to going out to eat, you'll be surprised how cheap everything costs. It can feel like being in Western Europe, while paying prices cheaper than Southeast Asia. And even better is how the money exchange offices don't rip you off. You almost always get the fair rate without paying fees or raised rates like in much of Western Europe. Odessa makes for a great place with so much to enjoy, while paying a fraction of the price.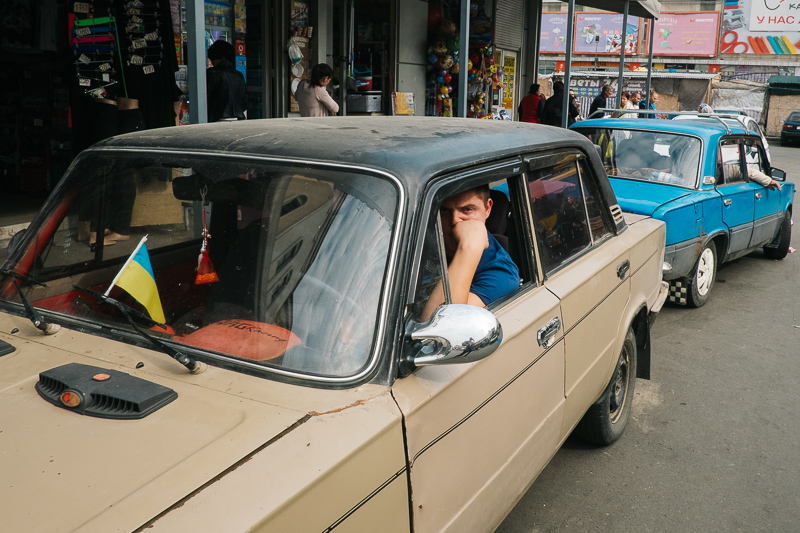 Inspiration:
For some more Ukraine inspiration, you can look through the Street Photography of Lviv photographer Taras Bychko and check out 33 of my photos taken in Odessa.
Conclusion:
While being Ukraine's third largest city, Odessa isn't too big. It feels compact and walkable, but fits such a dense variety of sights and life that makes it great for street photography. Odessa feels old with its history and scenery, while being developed enough without losing its authentic charm. You can enjoy the pedestrian streets, old courtyards, city life, parks, and markets in the city, and then take a walk to the beaches to enjoy the distinct Odessa atmosphere that fills them. Not many cities fit so much different character for street photography in a walkable space like Odessa.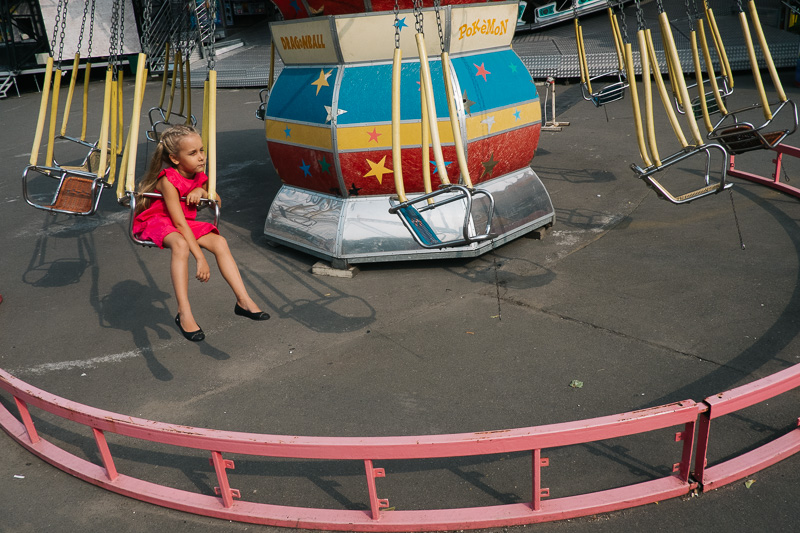 I hope this guide can help you go experience Odessa, a unique city many will miss out on. So grab your camera and capture all that Odessa has to offer for Street Photography!
If you still have any questions about shooting in Odessa, feel free to comment below or email me!
(I want to make these guides as valuable as possible for all of you so add any ideas on improvements, including addition requests, in the comment section!)
(A New Guide Posted Every Other Wednesday)