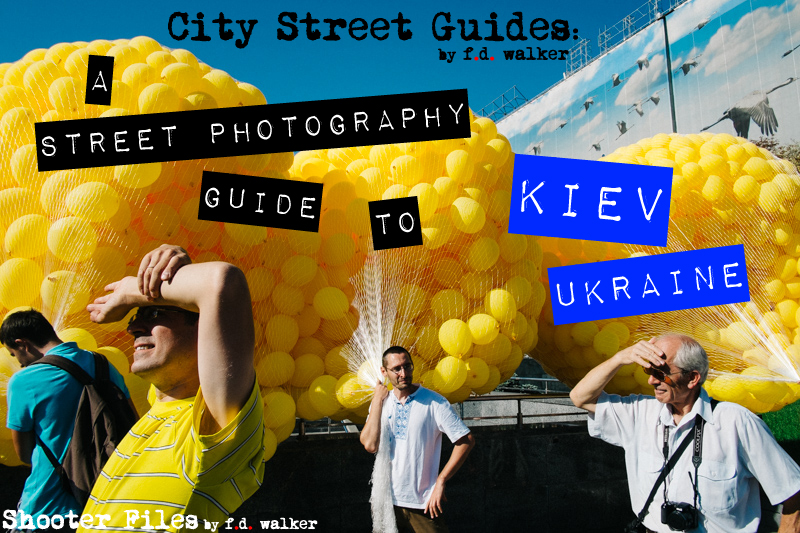 *A series of guides on shooting Street Photography in cities around the world. Find the best spots to shoot, things to capture, safety concerns, street tips, and more for cities around the world. I have personally researched, explored and shot Street Photography in every city that I create a guide for. So you can be ready to capture the streets as soon as you step outside with your camera!
Kiev
Overview:
I don't want to call Kiev or Ukraine something cliche like a "hidden gem," but for a place that's not on most people's travel lists, it really should be. Kiev is one of the best surprises I've had yet and Street Photography is one of the many reasons why. It has so much to offer and the fact everyone doesn't know this yet makes it that much better.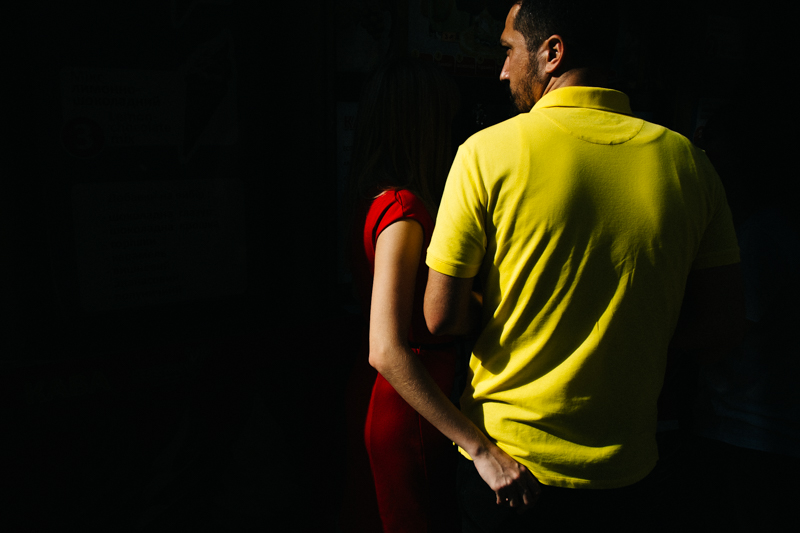 Kiev has a long and important history, including being the first capital of the Russian State. Today there's a strong mix of Western and Eastern Europe that really blends well together. It doesn't have the same dark feeling that many of the ex-Soviet cities have, either. There's beautiful architecture, cafes, and a feeling of prosperity, even though the country is going through hard times.
While the current crisis turns a lot of people away from visiting this amazing country, there's no reason it should, especially in Kiev. There's not a lot of opportunities left in Europe to visit capital cities with so much to offer, but haven't hit most travelers' radar yet. So here's a Street Photography guide so you can be ready to capture all that Kiev has to offer before you even arrive!
Map:
Maidan Square
Khreshchatyk
University
Darnytsia Station
Kontraktova Square
Top 5 Street Spots:
1. Maidan Square
Maidan Square is the central square of Kiev and attracts the most activity. The square also serves as the traditional place for political rallies and non-political events.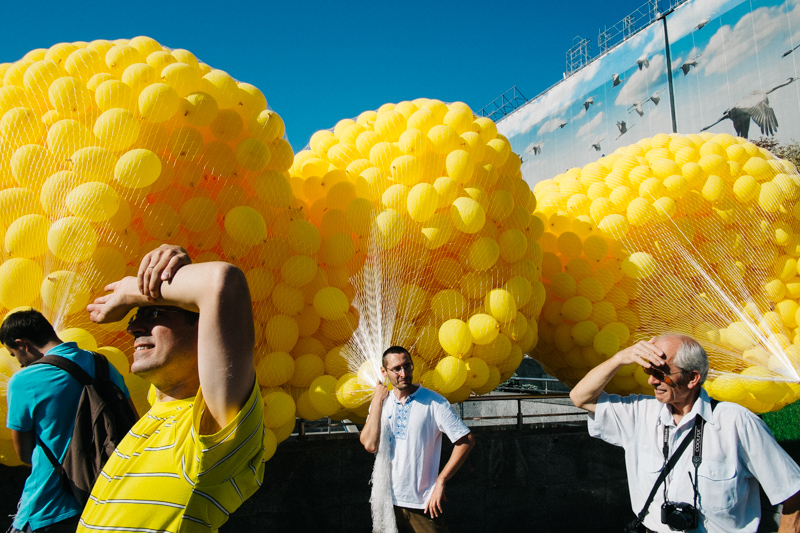 Kiev isn't very touristy yet, but Maidan Square is where you'll find most of the tourists. This also attracts giant cartoon character costumes running around trying to take photos with you for money. If they don't get you, then the people trying to put birds on you for photos will. Other than that, though, you have a large area packed with life and street photo opportunities on both sides of the street.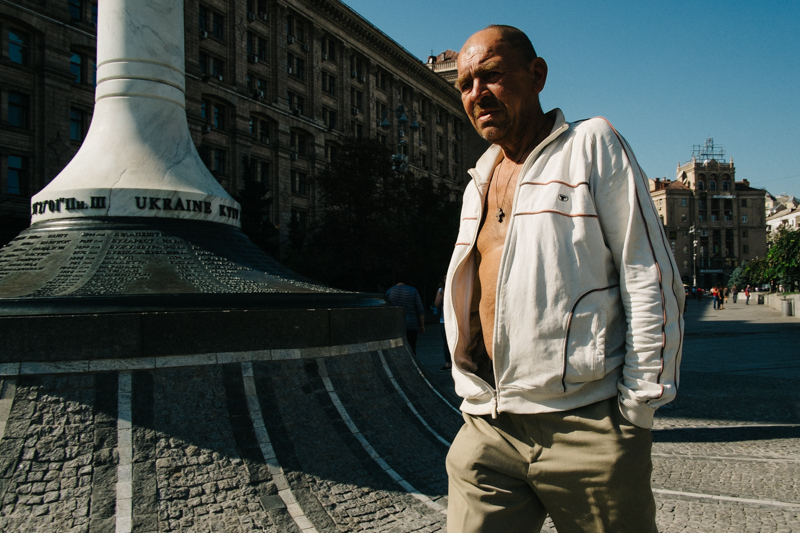 It's definitely busiest here on the weekend and there's a good chance some event will be taking place too. It's also on the main street in Kiev and has its own metro station so it's easy to get to. For both day and night Street Photographers, Maidan Square is a must stop.
2. Khreshchatyk
Khreshchatyk is the main street in Kiev.  It stretches from the European Square through the Maidan and ends at Bessarabska Square. This is the most popular area for shopping and strolling the city.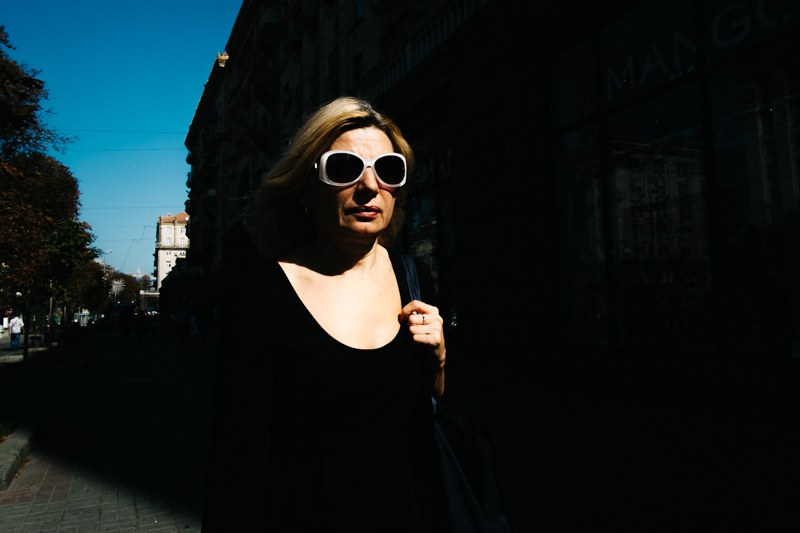 The entire street was destroyed during World War II by the Red Army and rebuilt in the neo-classical style of post-war Stalinist architecture. While that might not sound pretty, it actually is. On the main side, there's a wide pedestrian walkway with benches, ice cream stands and more.
For Street Photography, this is probably the busiest street with the best people watching. You'll find a variety of people here too. Locals, tourists, young, old, romantic couples, and families. While it is busiest on the weekends, any day of the week will provide plenty of people and photo opportunities on this main street.
3. University
The Taras Shevchenko National University of Kyiv is the most well-known university in Ukraine and was one of the top 3 universities in the USSR. The campus covers multiple blocks and not only consists of some nice architecture, but also includes one of the most lively parks in the city, with people from all over the city, not only students.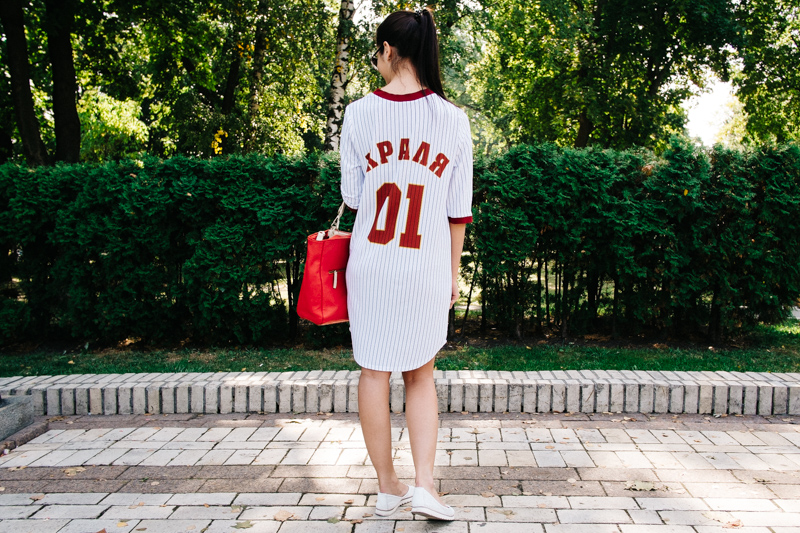 The park is beautiful itself, but also attracts a younger, fashionable crowd. Ukraine is already famous for their women and the scene here has become well known among both locals and visitors. There's even music and dancing that goes on outside here some evenings.
The park has a nice mixture of scenery, with open and tree covered spaces. Outside of the park, you can walk around the rest of the campus streets, which usually has plenty of activity too.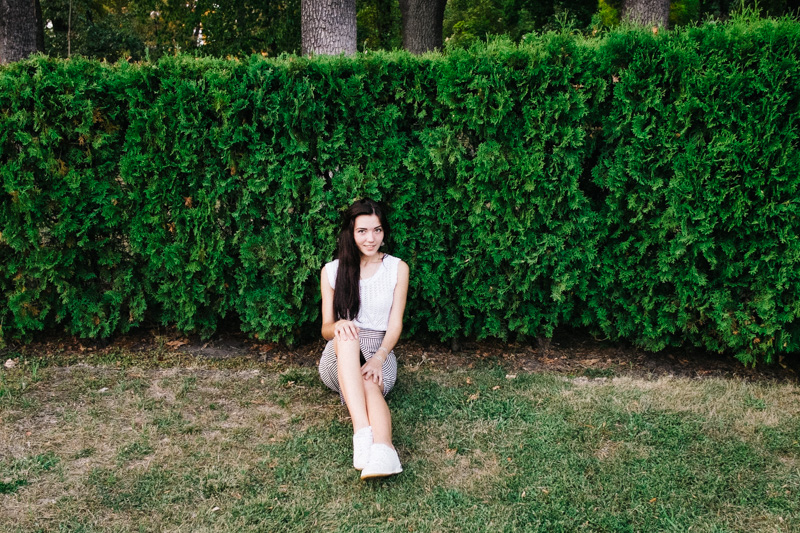 Only a few blocks from the park, you can also walk by Sportyvna Square. Here, you'll find the Gulliver Building, which is the tallest office building in Kiev and second tallest in Ukraine. It also holds the popular and trendy Gulliver Shopping Mall. So there's a lot of foot traffic here, especially by the "Kyiv" sign below.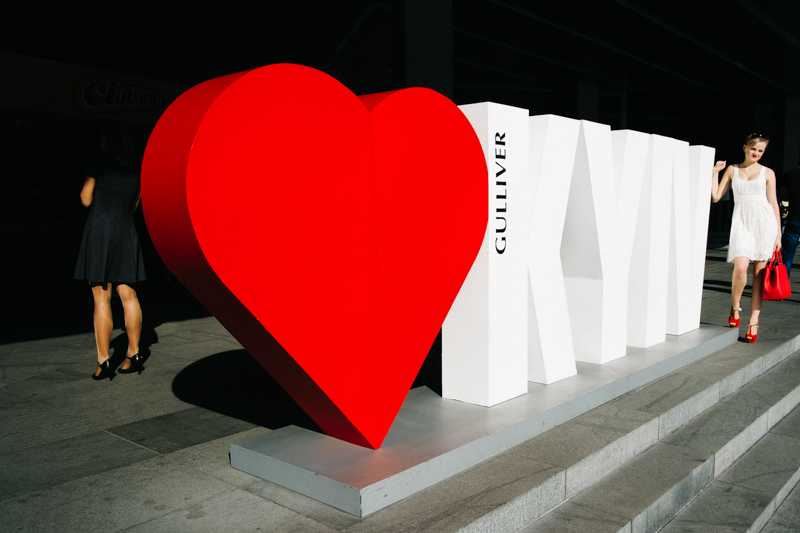 4. Darnytsia Station
North of the Darnytsia Station is one of my favorite outside markets in Kiev, which sells everything from produce to clothing. If you walk a little further north, you'll also get to Victory Park, one of the larger parks in the city.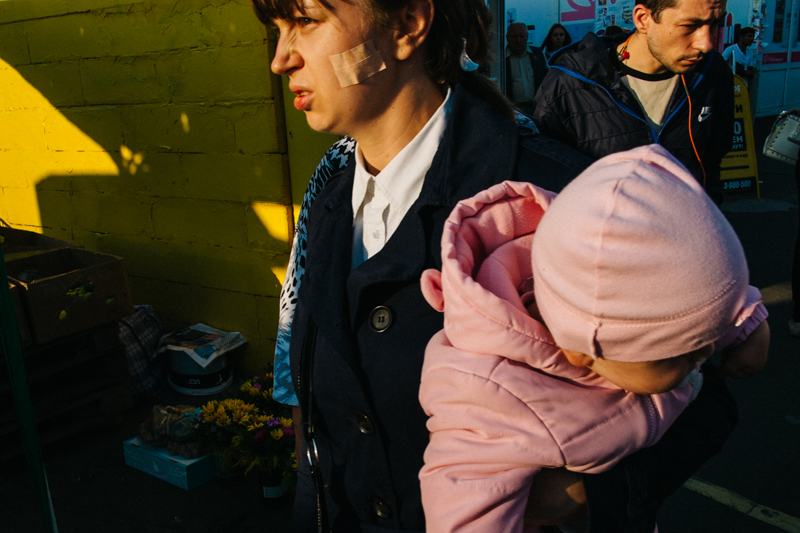 The outside market spans multiple blocks and you can explore connecting streets to find more street sellers too. There's usually a lot going on in this area and it always feels completely local and authentic, which makes it great for Street Photography.
After spending time around the market, you can walk to Victory Park, which was dedicated to the USSR's victory in World War II. It's a huge park so it takes some time to explore it all. The park includes areas of forest with park alleys, an artificial lake with arched bridges and an island. If you stroll the entire length, you'll see kids playing on WWII Soviet tanks and kiosks selling everything from coffee to beer.
5. Kontraktova Square
Kontraktova Square is my favorite square after Maidan. It's usually very busy because of the popular metro, bus and trolley stops all in the same area. It also has a small park and lot filled with mini-shops and food stands. 
There's always so much going on here, you can spend hours wandering the area and looking for photo opportunities. It also has a different and little more edgy vibe than Maidan Square so it's a great spot to mix in.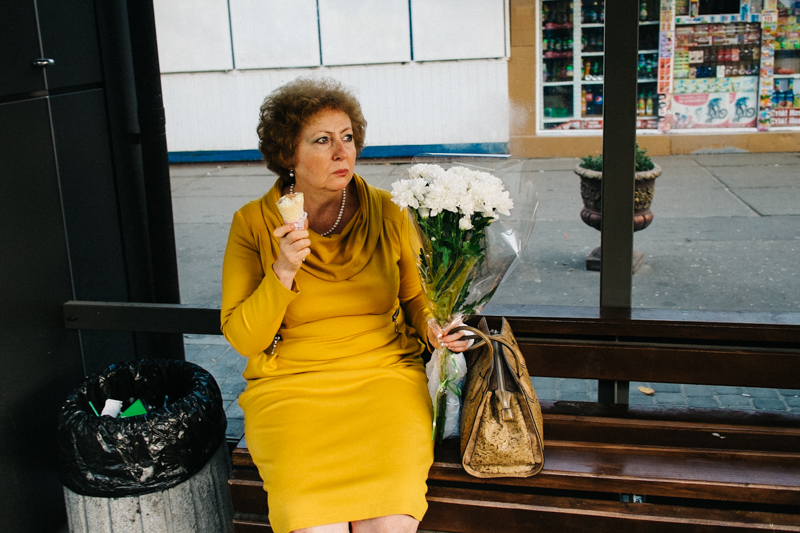 Sample Street Walk:
For a full day of Street Photography, covering some of the best spots, you can follow this sample street walk for Kiev:
Start your morning walking around the University (3)
Walk east to Khreshchatyk Street (2)
Take your time walking north up Khreshchatyk Street (2) 
Stop at Maidan Square (1) and explore the area
Take the Maidan Nezalezhnosti station (1) two stops up the blue line to Kontraktova station (5)
Finish your day of street photography walking around Kontraktova Square (5)
5 Things to Capture in Kiev:
1. Activity at Maidan Square
Maidan Square is known for the Euromaidan Revolution that took place here in 2014, when a series of violent protests ended in the ousting of Ukraine's president, Viktor Yanukovych. While it's still a spot for protests and events, it's completely safe and peaceful now, while attracting all types of life.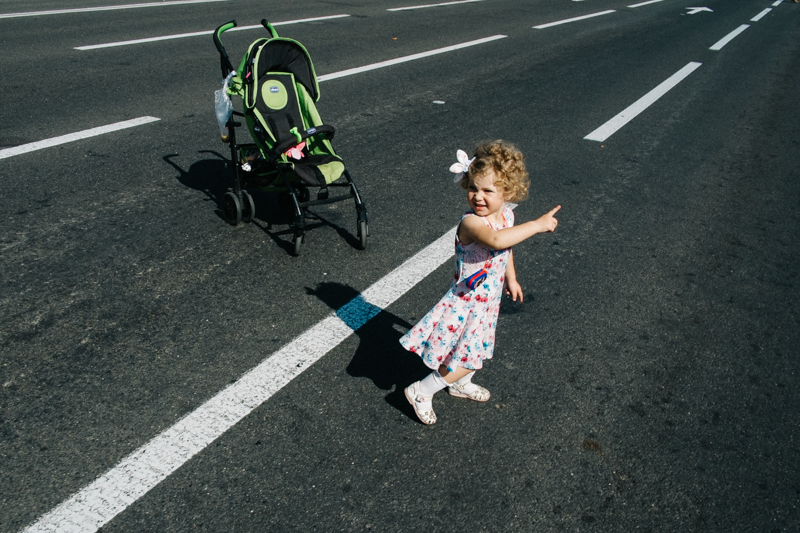 Sunday is the best day to visit Maidan Square. They close the main street from cars, opening up the whole area for people to walk around and events to take place. 
2. Markets
For Street Photography, I'm not a fan of markets that become overcrowded, messy and too touristy. Fortunately, Ukraine does outside markets right, and Kiev is no exception. The market outside of Darnytsia Station is my favorite, but Petrovka Market is a good one to check out too. Bessarabsky Market is Kiev's most well-known market. It's also Kiev's most expensive market, completely inside, and somewhat touristy. It's in the center by Khreshchatyk Street so it's an easy stop to fit in, though. 
3. Model Fashion
Kiev can feel like a giant modeling runway in many areas, especially around Khreshchatyk street or the University. The women are tall, beautiful and always dressed like they are going to a fashion show or fancy restaurant, even in the middle of the day. The fashion and striking look of the women can definitely add something to your Street Photography.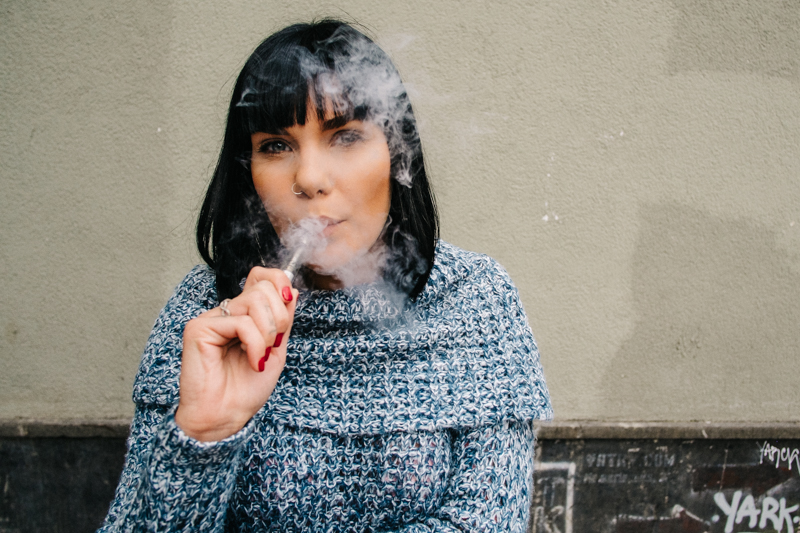 4. Military
You'll see plenty of men, and some women, dressed up in camouflaged army gear walking around Kiev everywhere. This is common all over Ukraine, but even more noticeable in Kiev. It gives a reminder of what's going on in the country, even if Kiev feels unaffected from the outside appearance.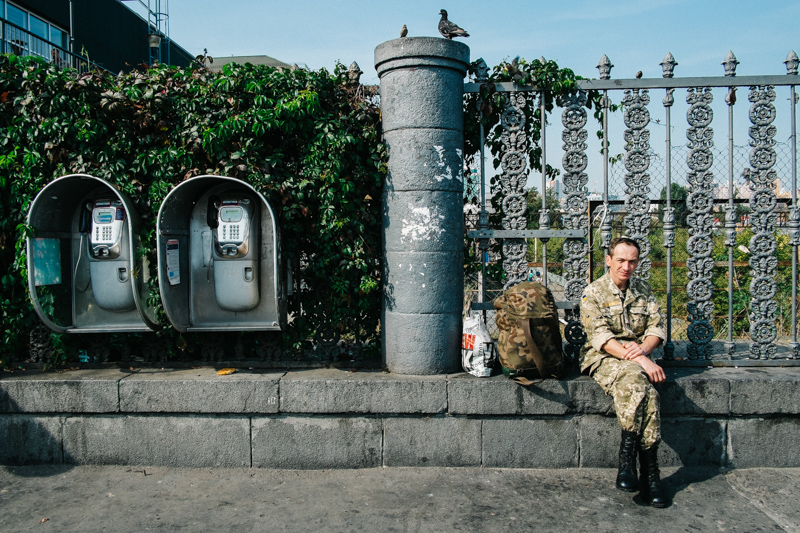 5. Metro
Moscow still has the most beautiful metro stations I've ever seen, but Kiev follows with some similarly beautiful stations themselves. With chandeliers, marble walls, and artwork, it can feel like the inside of a museum at some of the underground stations. The old blue and yellow trains add a nice touch too. Just make sure to boost the iso up to compensate for the dim light.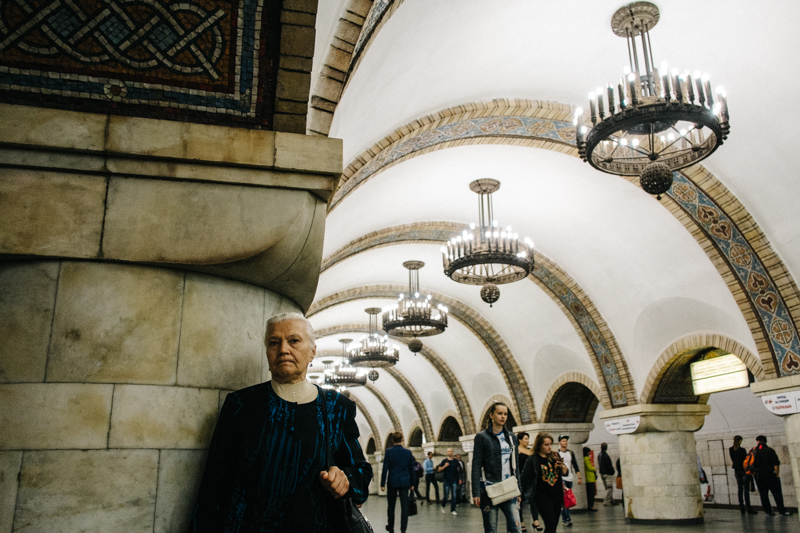 You can capture all the commotion of people leaving the stations at street level too. Khreshchatyk Station is especially good for this with all the people hanging outside and the great light shining on the station.
What To Do For a Street Photography Break?:
Live it up and Spend that Hryvnia
Hryvnia is Ukraine's currency and it's the best deal going in the world right now if you ask me. While Kiev feels like Western Europe, it costs absolutely nothing like it due to the country's crisis. In less than three years, the exchange rate has gone from 7 to 22 Hrynia to the dollar. This means your money goes absurdly far for what you get.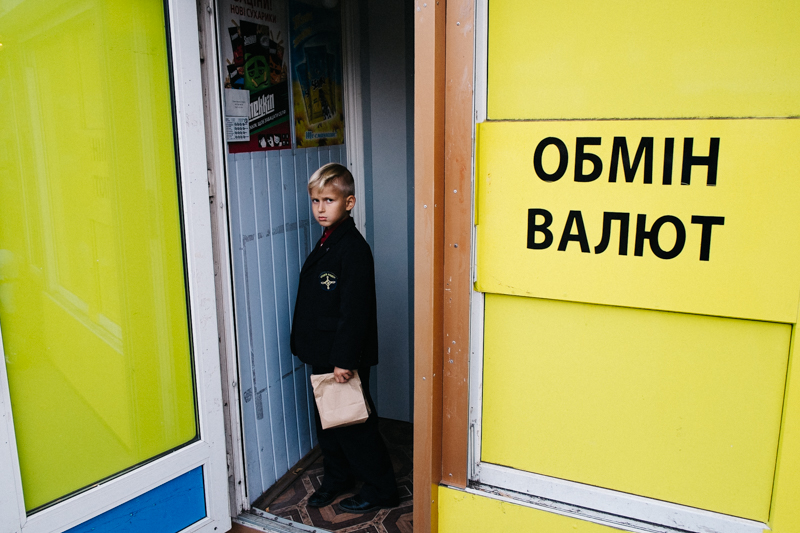 So go to that nice restaurant and treat yourself. A 5 course meal for $5 is not unheard of. And the food is really good too.
Street Safety Score: 7
*As always, no place is completely safe! So when I talk about safety, I'm speaking in general comparison to other places. Always take precaution, be smart, observe your surroundings and trust your instincts anywhere you go!
Other than being threatened by a giant Minion once, I've never felt unsafe at all in Kiev (True story. Apparently, men dressed as minions don't like to be photographed while smoking). Jokes aside, Kiev feels safe enough for a capital cities. Walking around the outskirts means more caution is needed, but the areas you'll probably be in should be pretty safe.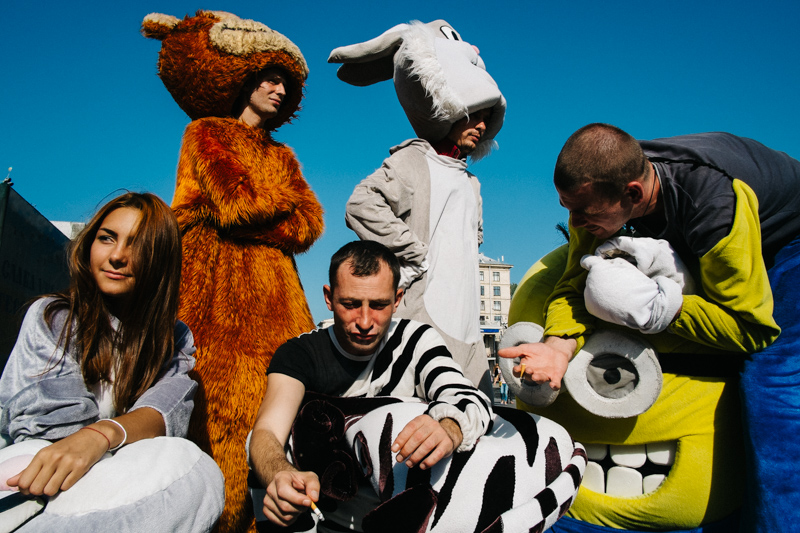 People's Reaction Score: 10
I've shot Street Photography in 30 countries now and Kiev currently holds the title of best reaction to Street Photography, in my experience. 
Not only do people not react negatively to being photographed, many of them seem to like it, while being genuinely curious about Street Photography. I struck up many conversations about my camera and photography in general after making a photo.
In addition, don't be intimidated by the runway model look and serious expression of the women. Once I made a candid photo of them, 9 times out of 10 their seriousness turned to big smiles, or even laughter (while wanting me to take another photo or two).
Kiev has been one the most enjoyable Street Photography experiences for me partly because of just how friendly the people are towards it.
Street Tips:
Have breakfast and coffee out
Because it's so cheap and the cafes are so nice, starting a day of shooting with a good breakfast and double espresso is the perfect idea in Kiev.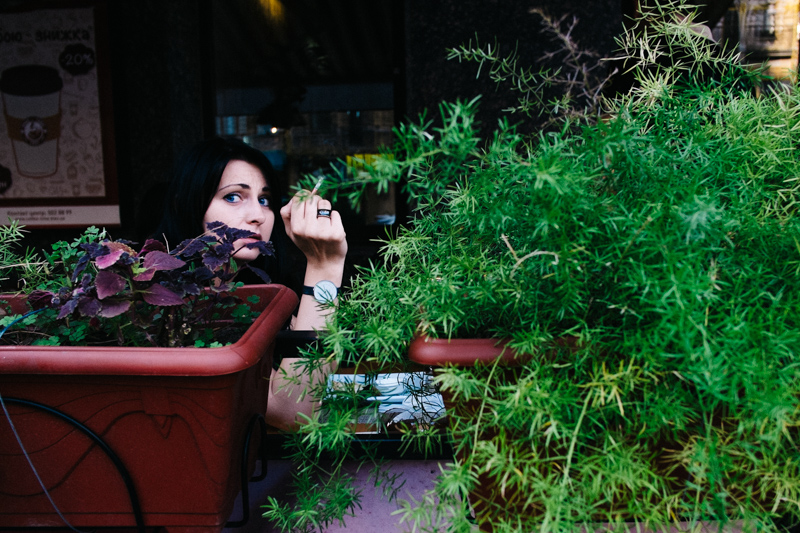 Make the shot, people are friendly
As long as you are respectful, you can really shoot with confidence in Kiev because people don't seem to have any negative assumptions about Street Photography. Many even seem to be intrigued by it.
You don't have to worry about offending people or having confrontations. Kiev is as good as any place for building some Street Photography confidence. So make the shots you normally wouldn't out of fear.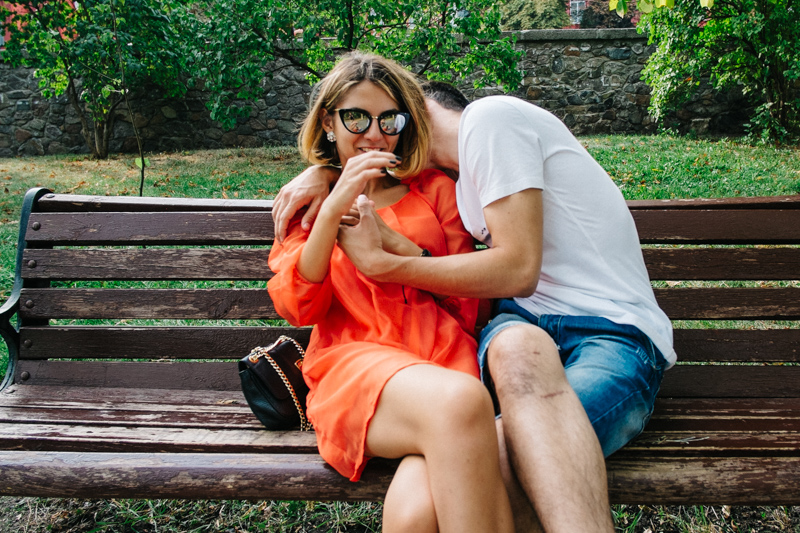 Use the metro, it's cheap and good
Kiev's metro is very cheap and actually pretty good too. I still like to walk as much as I can, but I used the metro in Kiev more often than most cities. It's also a great place for some photography because of the beautiful interior of some of the stations, the old bright blue and yellow trains, and the interesting people.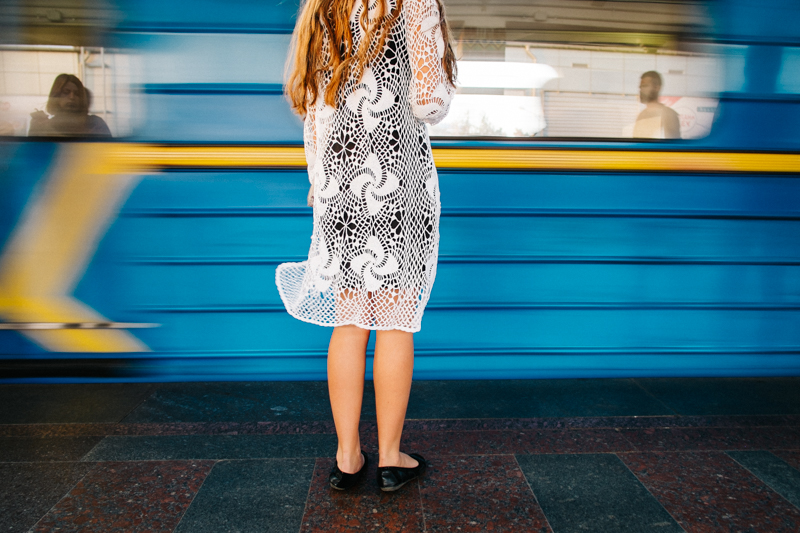 Inspiration:
For some more inspiration, you can look through the Street Photography of Kiev photographer Igor Rudenko and check out 33 of my photos taken in Kiev.
Conclusion:
Kiev is easily one of the best travel surprises I've had. So much so that I plan on returning for an extended amount of time this year. It has such a refreshing mix of things that you don't find in other cities of its size. There's something even more special about Kiev being a European capital city that hasn't been discovered by visitors to the degree of others. I hope this guide can help you go experience Kiev before everyone else discovers too. So grab your camera and capture all that Kiev has to offer for Street Photography!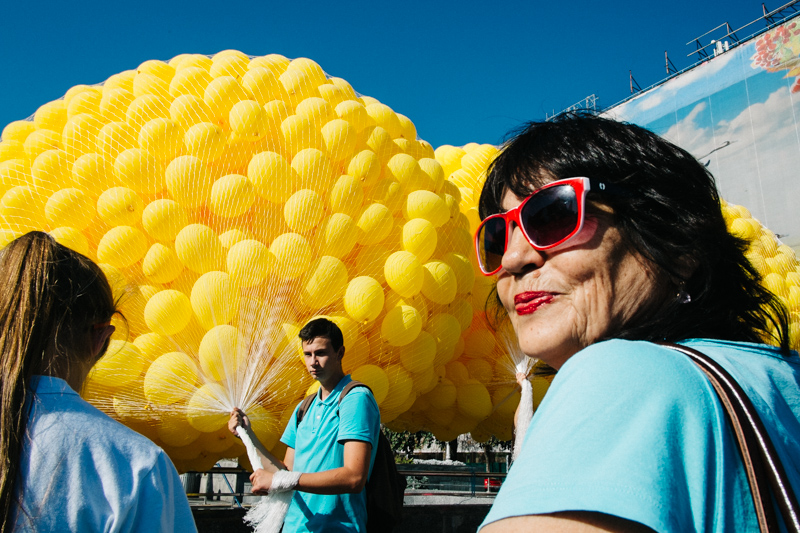 If you still have any questions about shooting in Kiev, feel free to comment below or email me!
(I want to make these guides as valuable as possible for all of you so add any ideas on improvements, including addition requests, in the comment section!)