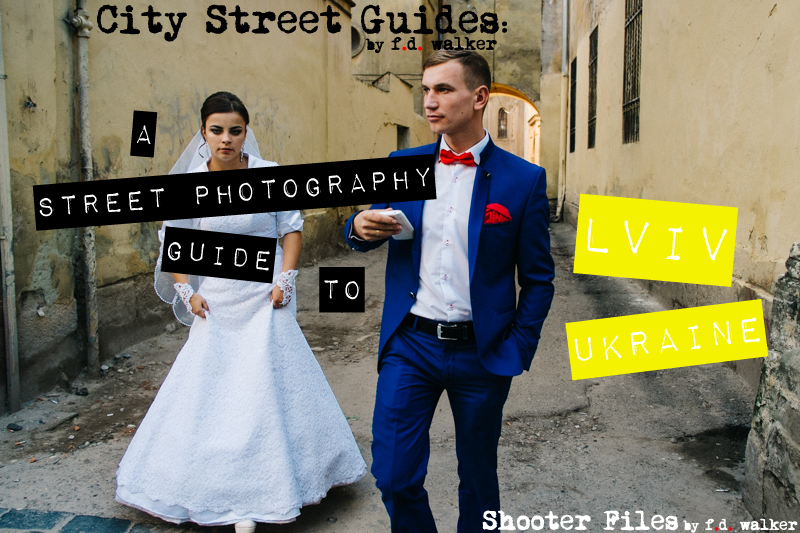 *A series of guides on shooting Street Photography in cities around the world. Find the best spots to shoot, things to capture, safety concerns, street tips, and more for cities around the world. I have personally researched, explored and shot Street Photography in every city that I create a guide for. So you can be ready to capture the streets as soon as you step outside with your camera!
Lviv
Overview:
Ukraine has become one of my favorite places for Street Photography, partly because most people don't think of it, even though they should. I really enjoy shooting in Kiev, but if you ask the locals, most pick Lviv as their favorite city to visit in the country. After spending some time in Lviv, it's easy to see why.
Back in the nineteenth century, Lviv became one of the most prosperous cities in Eastern Europe. Its location made it a transit center for trade in Europe and its population and wealth quickly grew. Mansions and parks were built and coffeehouses popped up everywhere for all the intellectual life the city attracted.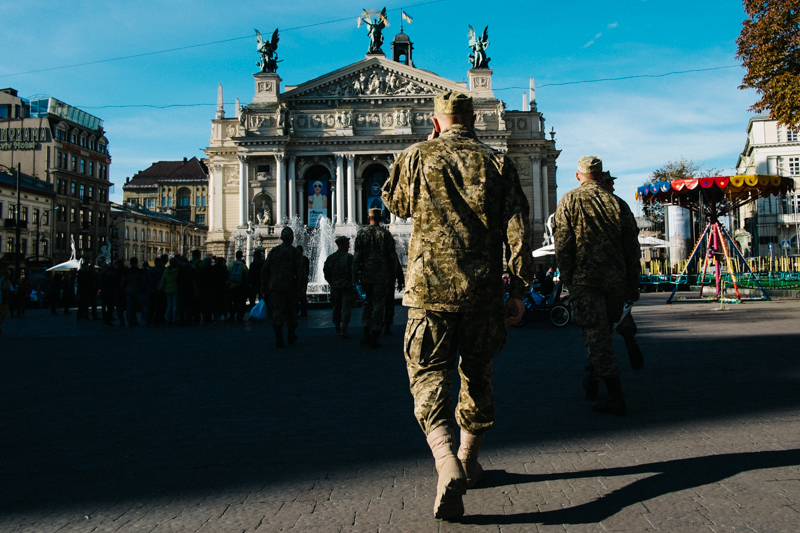 While the rise of the Soviet Union put a temporary stop to this, Lviv is back as a cultural center of Eastern Europe. The coffee houses, art, culture and intellectual life are all in full swing around the city once again.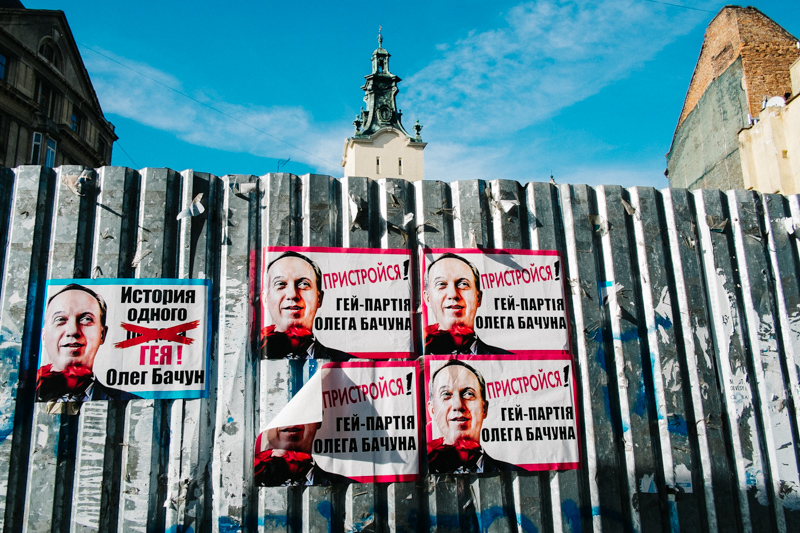 You can feel and see this when walking the streets. It's not just the scenery and places, but also the feeling of the people. How they dress, their interests and how they act. The people are proud of their city's culture and it shows. So here's a Street Photography guide so you can be ready to capture what Lviv has to offer before you even arrive.
Map:
Rynok Square (Market Square)
Svobody Avenue
Lviv Railway Station
Stryisky Bazaar
Ivan Fedorov Monument
Top 5 Street Spots:
1. Rynok Square (Market Square)
Rynok Square has been the center of public, political and cultural life in Lviv for centuries. It's in the heart of the city and reflects the "Europeanization" of Ukraine today. It also attracts the most activity, from tourists to locals.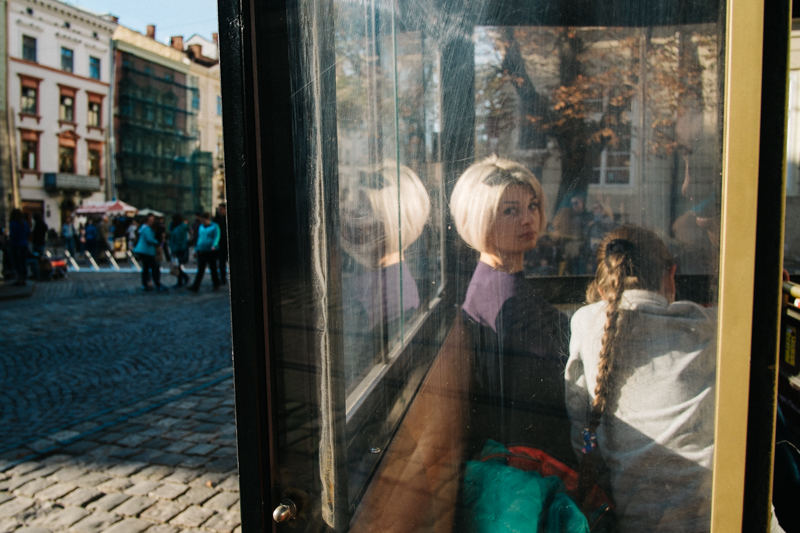 The rectangular square is filled with century old monuments and enclosed by cafes and shops, in a variety of beautiful architecture. This is where people come to meet up and enjoy the city, from day to night. Most of the city's street performers come here too, along with plenty of tourists, but there's much more to it than that. 
Rynok Square is always full of life, with plenty of opportunities to capture it for Street Photography. It's also a good spot for exploring the streets surrounding it.
2. Svobody Avenue
This is the city's main street and a great place for some Street Photography. It's lined with architecture, restaurants, shops and has a long square that ends by Lviv's famous Opera Theater.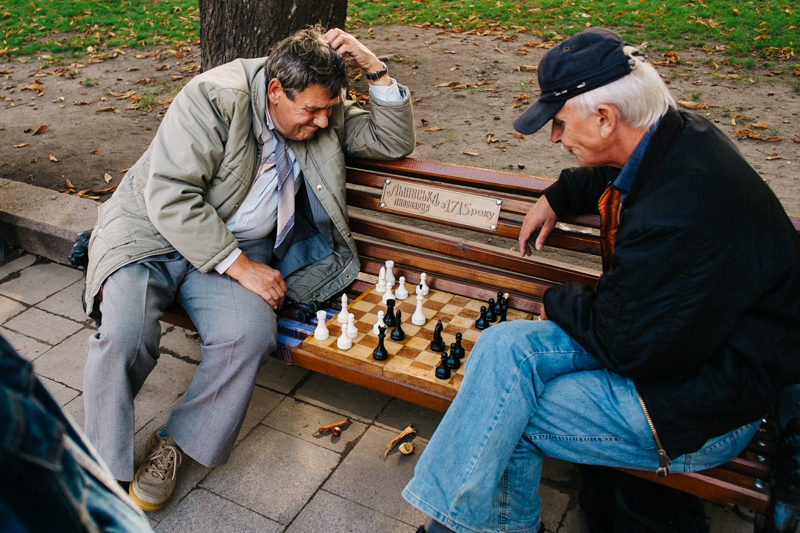 With the Opera Theater, City Hall and numerous monuments, there are a number of attractions that fill this part of the avenue up with plenty of people. By the Opera Theater is a large fountain, kids riding around on motorized minicars,  and a walkway lined with benches where men play chess all day.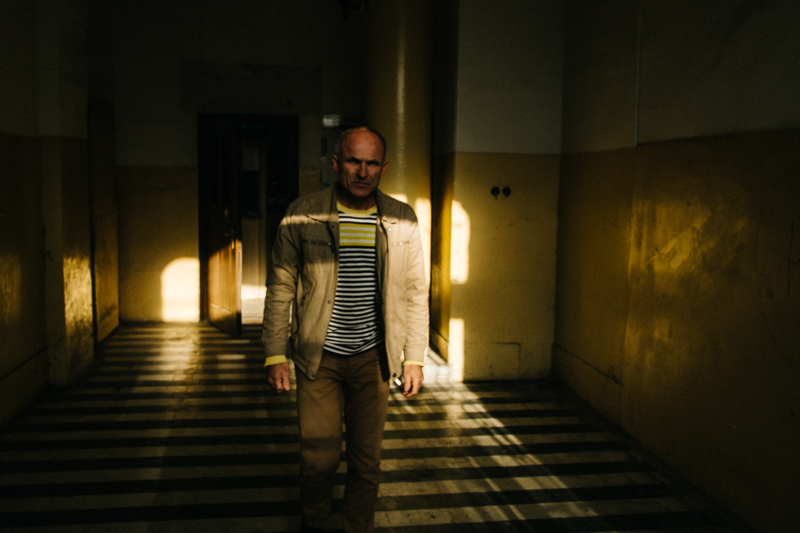 Walking further away from the Opera Theater, you'll find multiple monuments while entering more of the city center. Shops, restaurants, cafes and more line both sides of the avenue here. This is a good street to follow along for a while, with a variety of activity and scenes to capture along the way. From here, you can explore much of what makes Lviv so walkable for Street Photography.
3. Lviv Railway Station
The central railway station in Lviv always has a lot of activity going on around it, with the main train station, a large bus station, Dvirtseva Square, and Chernivetska Street connecting to the busy Horodotska Street. You can spend a good amount of time just walking around this area.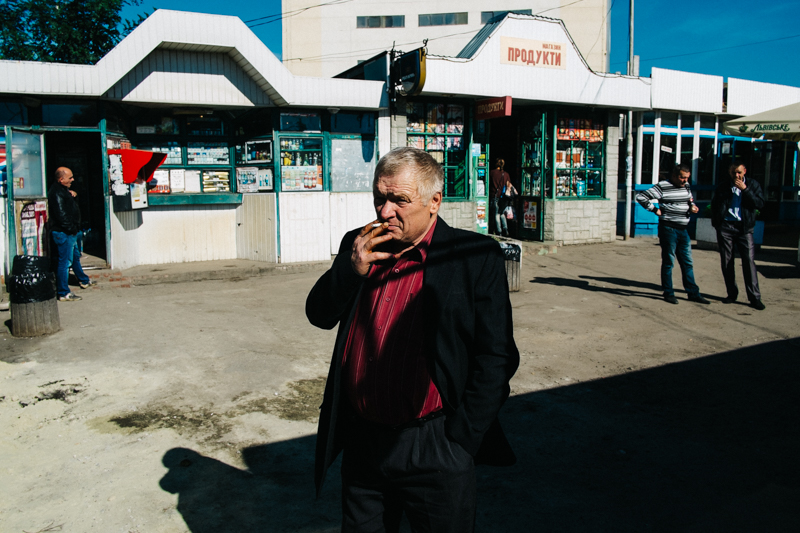 It also gives a different scene compared to the more touristy and culturally polished center of Lviv. You should find plenty of "characters" here and a more Eastern European vibe.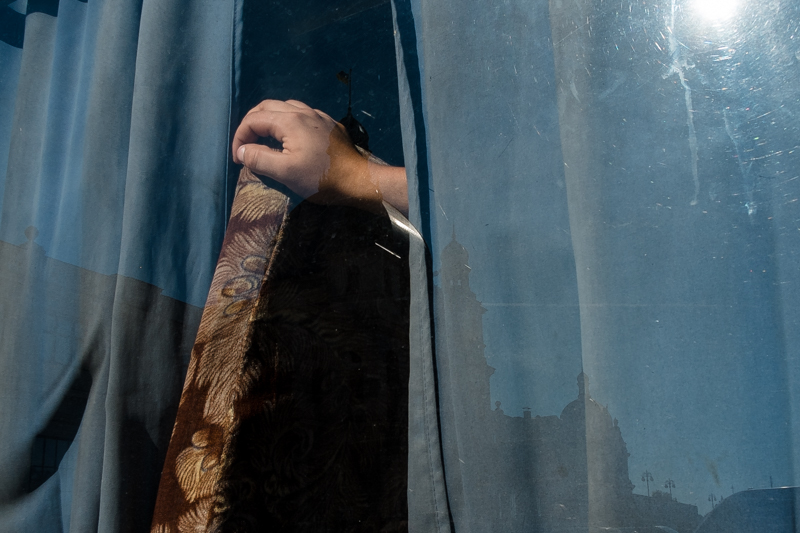 4. Stryisky Bazaar
The Stryisky Bazaar is the closest farmers style market to the city center. You can find anything from fresh fruit to meats and cheeses. Markets like these are always a big part of the local life in Ukraine cities. So you have the opportunity to capture life more authentically compared to more touristic markets in other countries.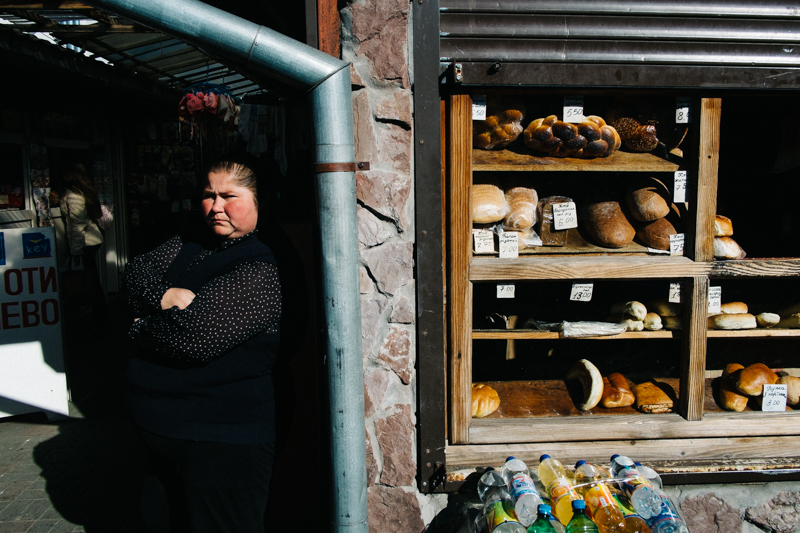 For people who love shooting Street Photography at markets, this is a must stop. And even for people like me, who don't always love markets, it's still worth the stop. In my opinion, the markets are so much better in Ukraine that any Street Photographer should enjoy them.
5. Ivan Fedorov Monument
The area around Ivan Fedorov monument has become a huge flea market where books and antiques can be bought. It gives a different vibe than most markets due to the beautiful, old architecture surrounding it, and the types of things for sale. There's also a large park and popular bus stop nearby for plenty of other activity and Street Photography opportunities.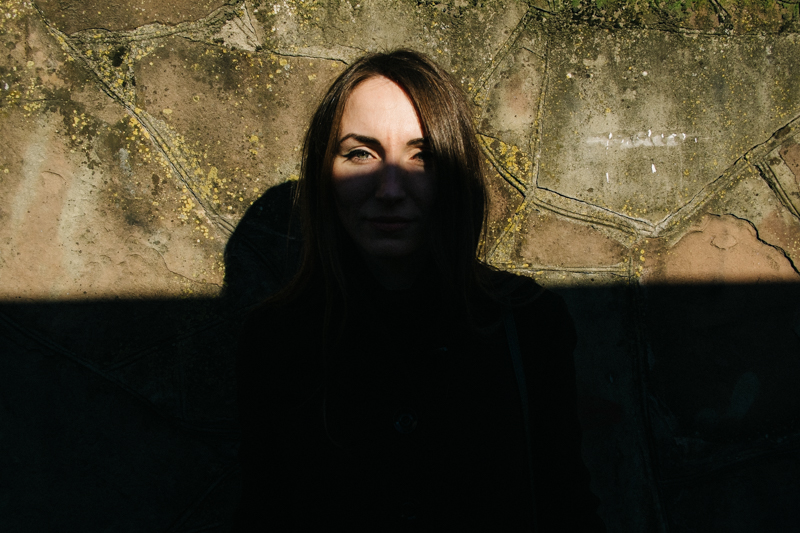 I'd recommend spending some time around this area and then walking south to explore the streets below and to the southeast. 
Sample Street Walk:
For a full day of Street Photography, covering some of the best spots, you can follow this sample street walk for Lviv:
Start your morning walking around Rynok Square (1)
Explore the Old Town surrounding Rynok Square (2), while making a stop at the Ivan Federov Monument (5)
After the Ivan Federov Monument (5), walk west through the Old Town until you get to Svobody Avenue (2) 
Once you've captured enough of Svobody Avenue (2), then either walk or catch transportation to Lviv Railway Station (4)
Finish your day of street photography walking around Rynok Square (1) again, this time with a much different evening atmosphere.
3 Things to Capture in Lviv:
1. Coffee Culture
Lviv is not only the coffee capital of Ukraine, but also one of the top coffee cities in all of Europe. It was a Ukrainian that brewed the first cup of coffee in a coffeehouse so the culture goes way back and the people of Lviv have a lot of pride when it comes to coffee. They even have an annual coffee festival to celebrate it.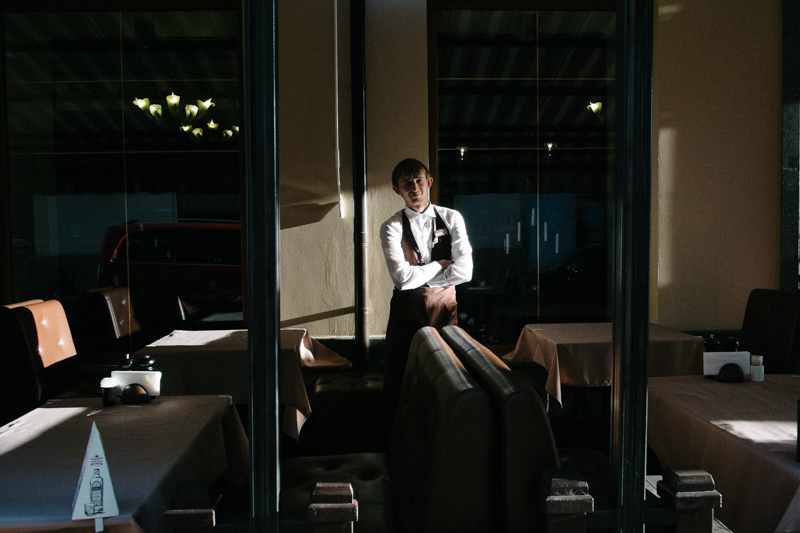 The streets are filled with coffee houses and cafes. Lviv has more than 600 cafes. They have a medieval style and many of them don't have internet so they can keep that theme and vibe. Some are so beautifully vintage inside that it's like walking into a coffee museum.
The coffee houses not only decorate the cobblestone streets, they provide part of the feeling of the city.
2. Lviv Spirit
Lviv has a special atmosphere that some refer to as "the Lviv Spirit." It really can be felt when walking around the city too. I'm not sure exactly what it is, but there's an aura to the city that makes it unique and charming.
Lviv's history has absorbed many influences. Over the years, it's been Polish, Hungarian, Austrian and now Ukrainian. It's also a city with a very prosperous past. This gave it amazing architecture, churches, parks, coffeehouses, and small restaurants everywhere. All packed into a rather small-sized city, which helps give it a very unique feeling.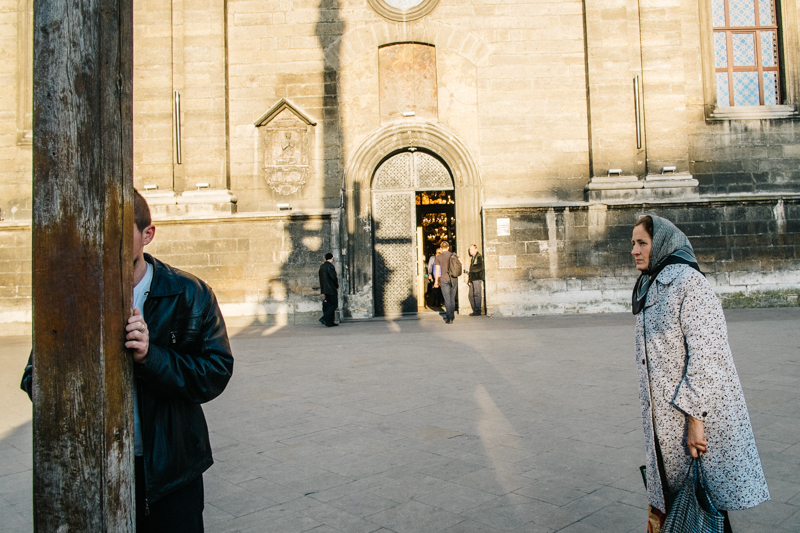 3. Brides & Grooms
Everyday I went out shooting in Lviv, I walked by couples dressed up in wedding attire. On the weekend, it seems like every block. This is not uncommon in Eastern European cities, but no where I've been is it to the degree of Lviv.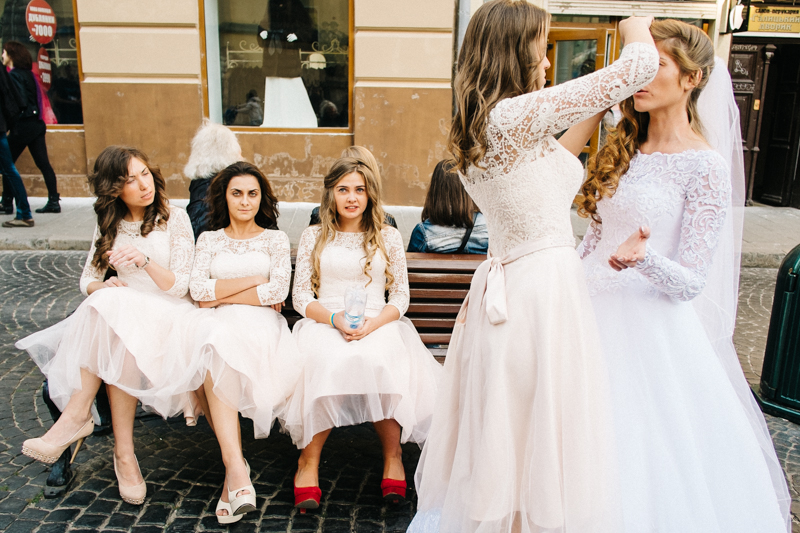 Lviv's beautiful streets, architecture and churches do play the perfect backdrop for wedding photos. Combine that with the importance of wedding photography in Ukraine and how compact the city is, it becomes a very noticeable part of the city's life on the streets.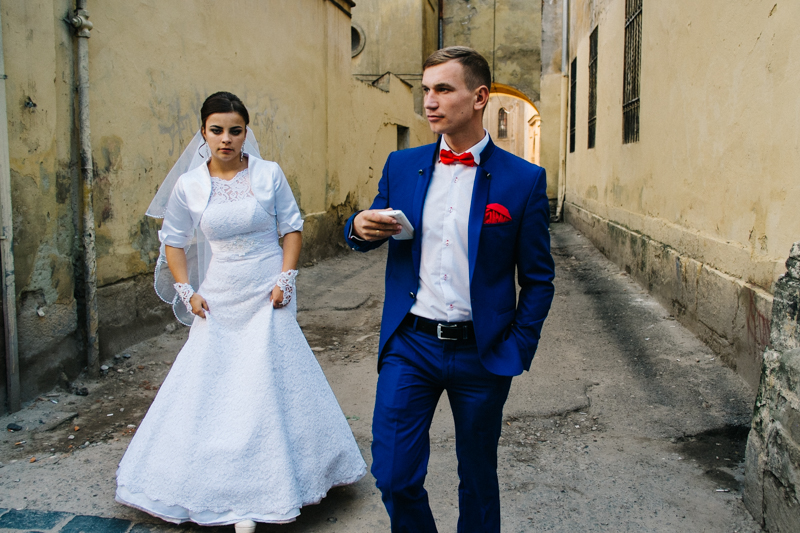 What To Do For a Street Photography Break?:
Visit one of the many old-time themed coffee cafes
As I mentioned before, you'll quickly notice how big coffee is in Lviv once you starting walking its streets. Just walking inside some of the vintage styled coffeehouses is interesting enough, but enjoying a cup makes it that much better. I can honestly say out of all the places I've traveled, including Italy, my best espresso was in Lviv. And the best part is it comes at Ukrainian prices, which means way cheaper than it should be.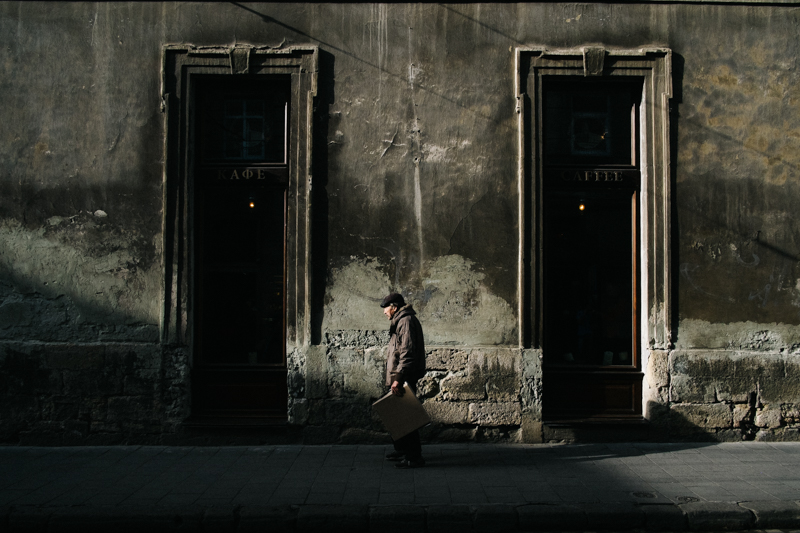 Street Safety Score: 9
*As always, no place is completely safe! So when I talk about safety, I'm speaking in general comparison to other places. Always take precaution, be smart, observe your surroundings and trust your instincts anywhere you go!
Lviv is about as safe as they come. With a population under one million, Lviv is not a big city, while also being kept very safe for all the visitors.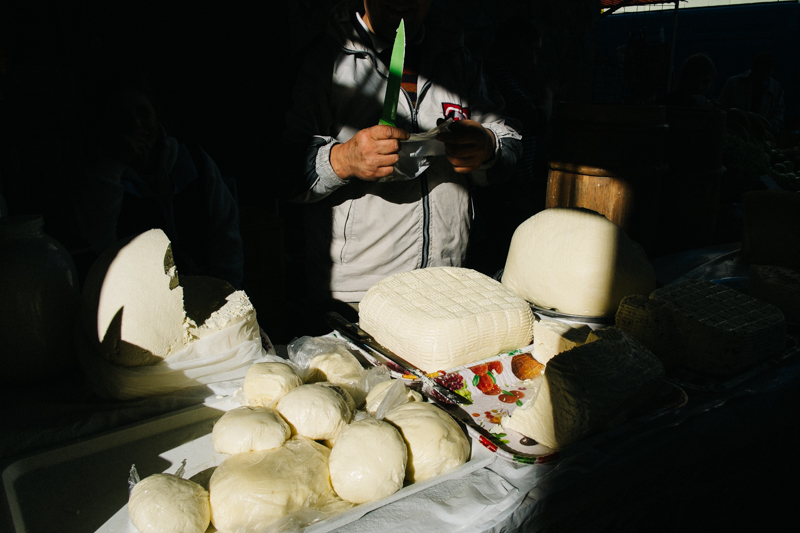 Even wandering around the city without a map, it's hard to find many areas that would make you feel cautious. So for being as safe as a city really can be, Lviv makes one of the better worry free walkable cities you'll find for Street Photography.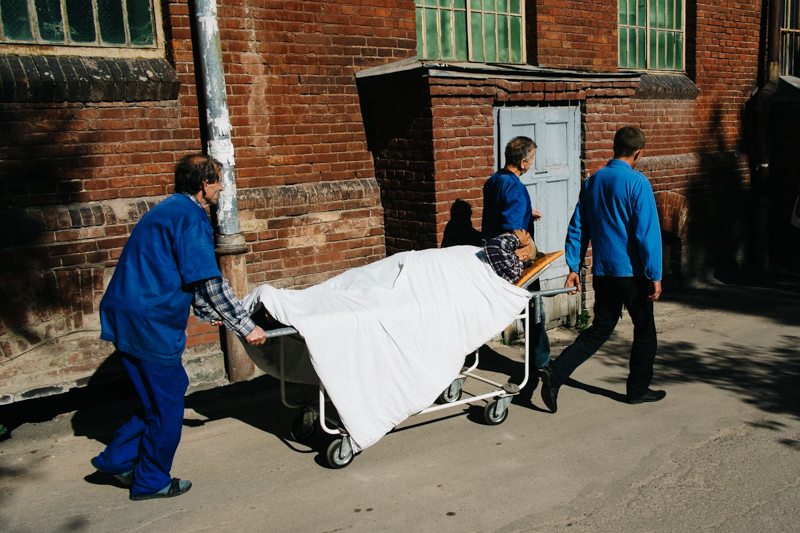 People's Reaction Score: 8
Compared to the rest of Ukraine, including Kiev, this western corner gets a little more conservative towards photos, but it's still very photo friendly compared to your average city.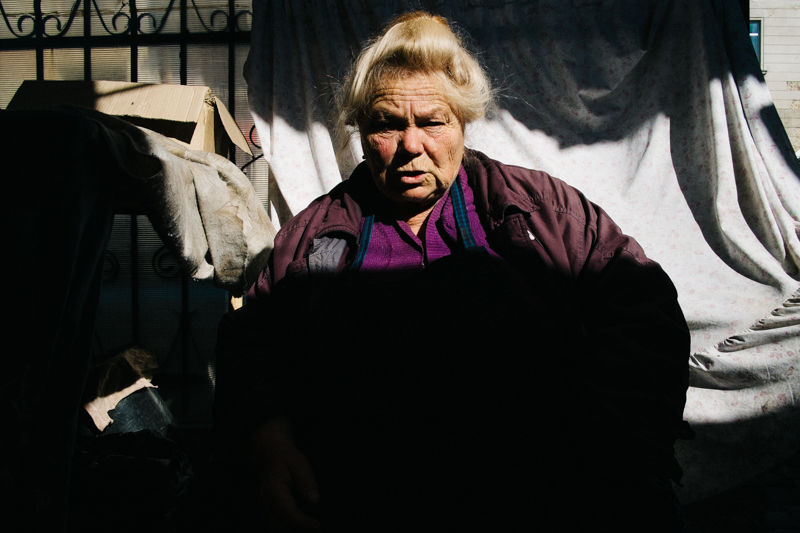 I haven't had one real problem or bad reaction while shooting street in Lviv, it just isn't as welcomed with smiles and open arms quite as much as most of Ukraine.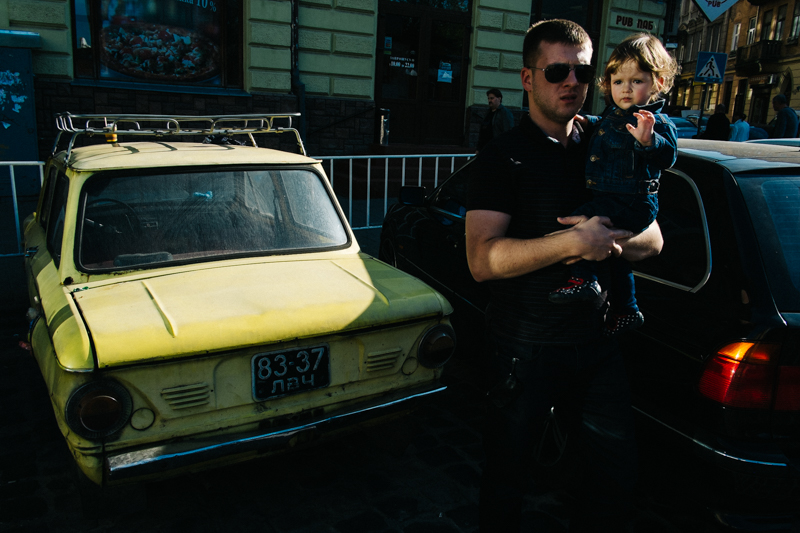 Street Tips:
Get Lost
Lviv is small, compact and safe. It's packed with interesting scenery, culture and life. And it has its own unique feeling wherever you walk. So forget your map or phone gps for a while and just get lost for a day.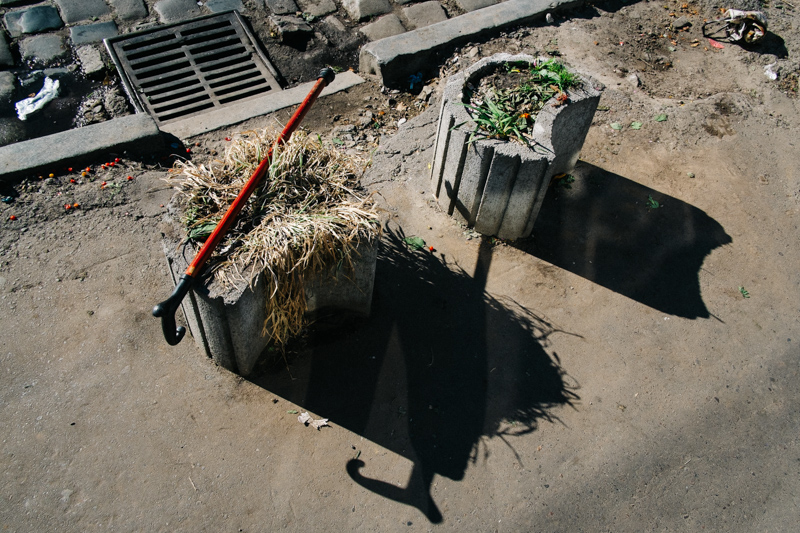 In some cities, if you don't take transportation, you can end up walking forever without seeing anything interesting. The opposite is true in Lviv, all the sights and life are found one after the other. So whatever direction you head or whatever point you are heading to, you will pass some more opportunities to see and capture something. And at the end of the day, it's always easy to find your way back home.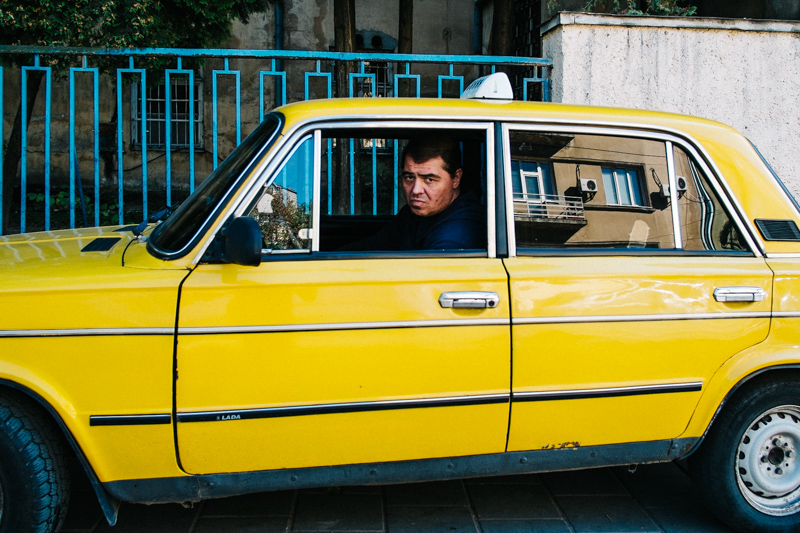 Drink plenty of coffee
Personally, coffee has become one of my best friends to help me get going, and keep going, for a full day of shooting Street Photography. In Lviv, it should be your best friend too. It's amazing coffee, it's cheap and there are cafes everywhere. So you can jumpstart your day of shooting with a cup and then take a break for another later wherever you go. 
Capture how the light hits the old churches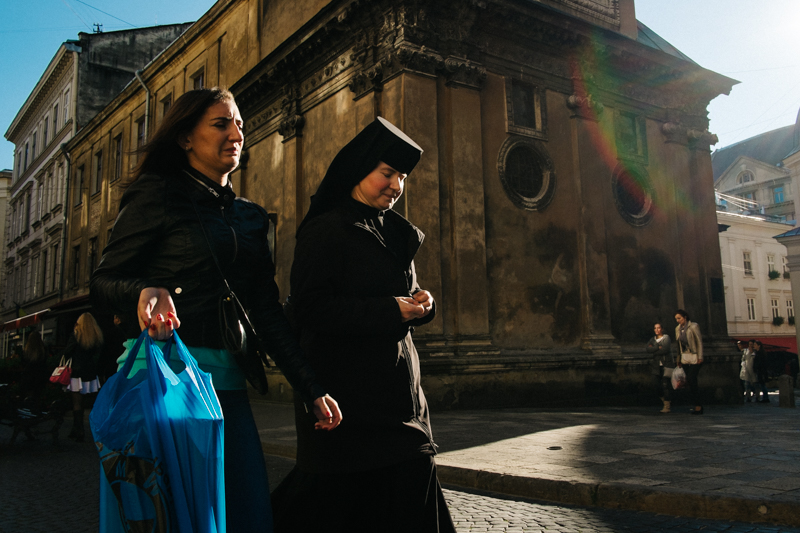 In the past, Lviv was a city where many religions co-existed peacefully. Today, religion is still a very important part of life in the city. There are churches all over the city and it seems like a service is always going on somewhere in the city.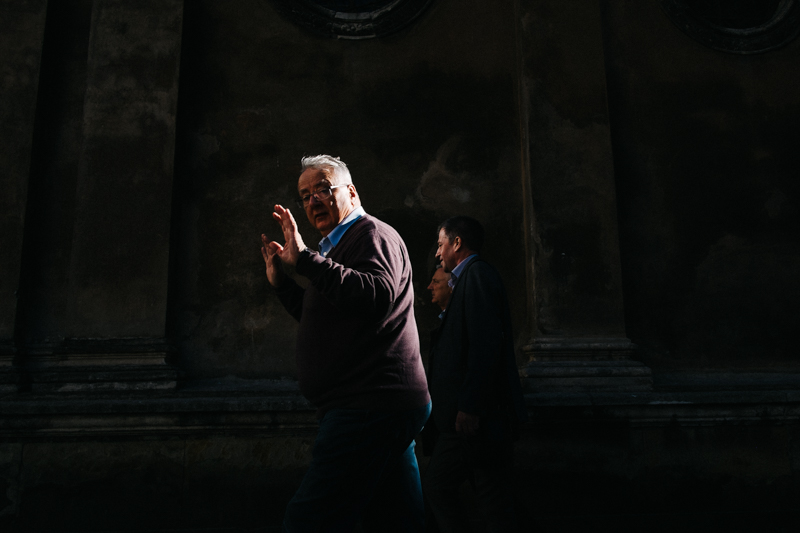 People pray and kiss the crosses outside the different churches and the way the sunlight hits the old churches is really something to capture. The best time is later in the day around an hour before the sun sets. All over the old town, you'll find rays of light shining through the narrow streets onto the beautiful, old churches.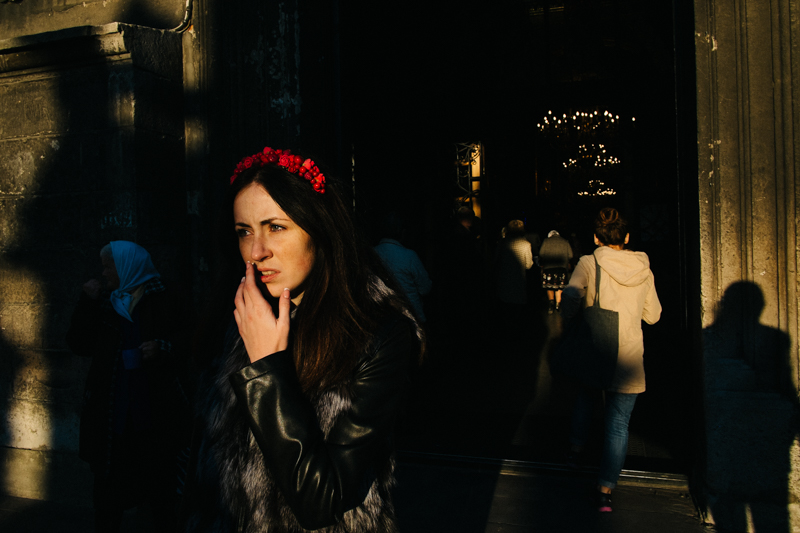 Inspiration:
For some more inspiration, you can look through the work of local photographer Taras Bychko and check out 33 of my photos taken in Lviv.
Conclusion:
Not many cities pack more into a smaller size than Lviv. It has a magical, but authentic feeling that's not found in other cities. The unique culture, scenery and spirit of Lviv make it a must stop in Eastern Europe. I hope this guide can help you go experience that "Lviv Spirit" for yourself. So grab your camera and capture all Lviv has to offer for Street Photography, and more!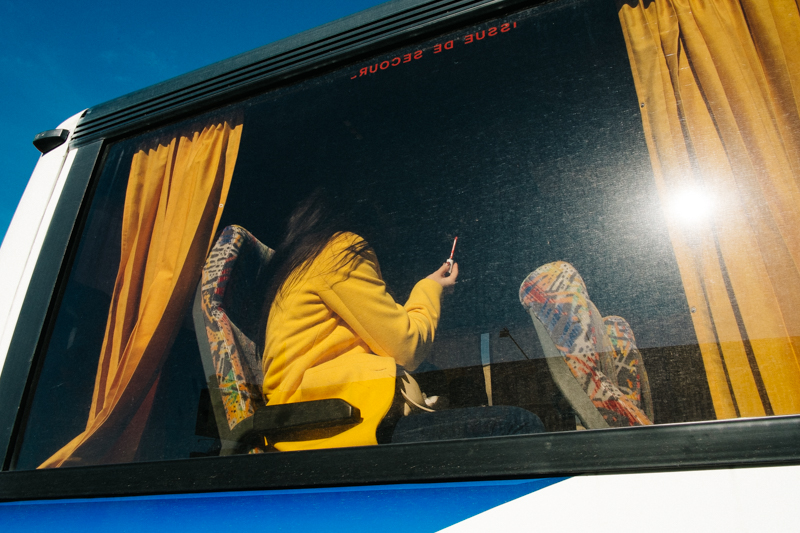 If you still have any questions about shooting in Lviv, feel free to comment below or email me!
(I want to make these guides as valuable as possible for all of you so add any ideas on improvements, including addition requests, in the comment section!)