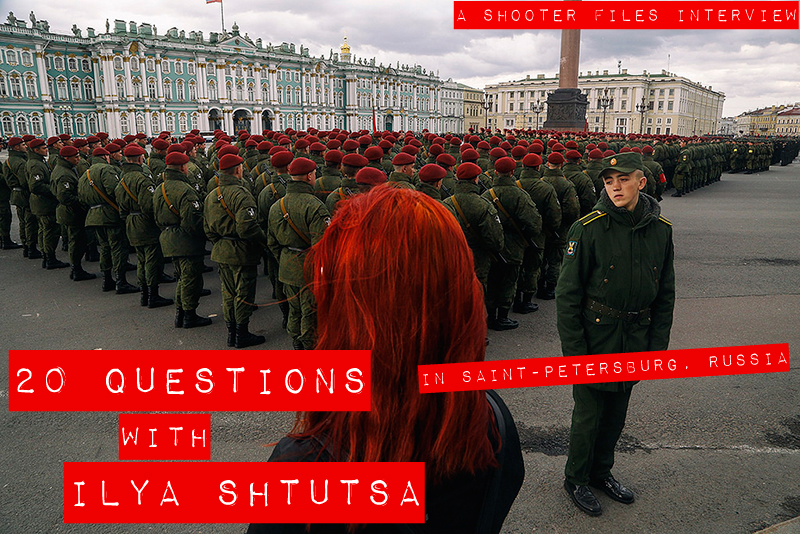 *A new interview series with a play on "20 questions," where I try to mix it up with different questions. Some serious, some not so much. I'll also be focusing the series on some of the best street photographers from the cities I visit around the world during my 100 Cities project.
At the beginning of last summer, I spent a couple of weeks in Saint-Petersburg, Russia. The White Nights Festival falls during the summer, when the long days of sunlight bring the beautiful city to life, making it an amazing time to visit this remarkable city. It ended up being one of my favorite cities I've visited during my 100 cities project so far, and also gave me the chance to meet and go shooting with local photographer Ilya Shtutsa.
Ilya is a member of the Observe Collective and his work is an excellent representation of the magic this city has to offer street photography. Finding the extraordinary from the ordinary is an overused saying in this genre, but that is exactly what he does. His scenes have a sometimes surreal, almost magical, look to them. Ilya captures complex and interesting, often unusual, scenes from daily life in Saint-Petersburg. They're scenes you probably haven't seen before and they're captured with an interest in light and color that really brings them to life. There's plenty to look at, with a painting like quality to it all in many of his images. 
So now to learn more about him, it's time for 20 Questions in Saint-Petersburg, Russia with Ilya Shtutsa…
20 Questions

with Ilya Shtutsa
Before we get to the 20 questions, please introduce yourself. Your name, where you're from and one interesting thing about you?
My name is Ilya Shtutsa. I'm from the Far East of Russia, but 5 years ago I moved to Saint-Petersburg. Since I was 24, I have been leading a life of a street musician. Wherever I go, I always take my flute with me. Now, for just the last 6 years, I also always have my camera with me. I think it's quite natural to become a street photographer if you are a street musician. In either case, your life is strongly connected with the street.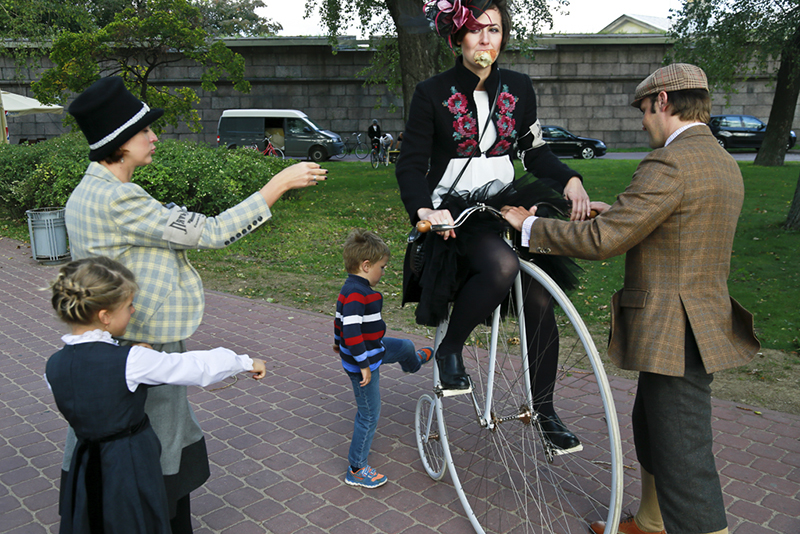 Past:
1. What is your earliest memory of photography?
My earliest memory of photography… It's interesting to try to recall, but… when I was 10 years old, my parents gave me a small camera called a Smena 8m. It was a cheap black and white film camera which was sold everywhere in the USSR. Film processing was quite easy, but it was very interesting. As there wasn't any other option, our bathroom served me as a dark room. I think it was the most fascinating thing for me then to watch how the image was emerging on the paper, emerging from nowhere. It was like a kind of magic. But, unfortunately, I don't remember if I had been interested in photography before they gave me a camera or whether it was that gift that forced my interest.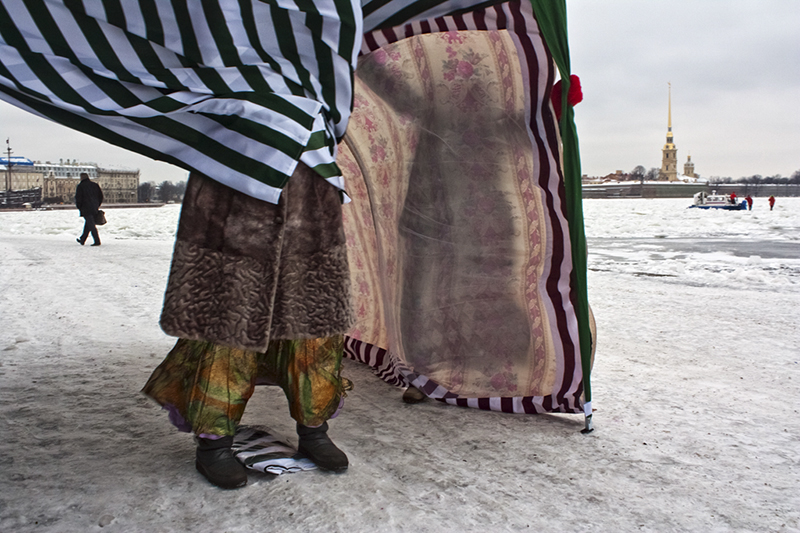 On the other hand, if we are talking about spectator's memory, I think, at that time the photos from the heap of soviet photo magazines in my uncle's apartment were the only professional photos I saw. However, my stepfather had a very good collection of albums with paintings, books on classic art history and so on. I could be sitting and looking at these paintings for hours. I think this experience was crucial to my visual education.
2. What do you think drew you to your preferred subjects in photography?
To answer what drew me to my favorite subjects, I should at first say which are my favorite subjects. This question is not so easy because the answer slips away constantly. In other words, I should now describe what am I looking for and why do I make photographs. For me, it's a kind of game, a game with the world. There is a Russian fairy tale called "Go don't know whither and bring devil knows what." This phrase for me describes the essence of this game. I never know what I'm looking for in particular, it should be a surprise. I think it's impossible to make a good picture without a cooperation with something that is greater than you, presence or power or, well, I don't know what. But I think the feeling of being connected to this strange power is exactly what draws me to my subjects. I can't explain it otherwise.
3. What advice would you have given yourself when first starting in photography?
Keep shooting, go on and don't wait until they invent the digital camera and you'll be able to buy it. It will happen 20 years later, it's too long. And, anyway, you'll return to photography, so there is no sense in losing these 20 years. So, keep shooting. It's your destiny.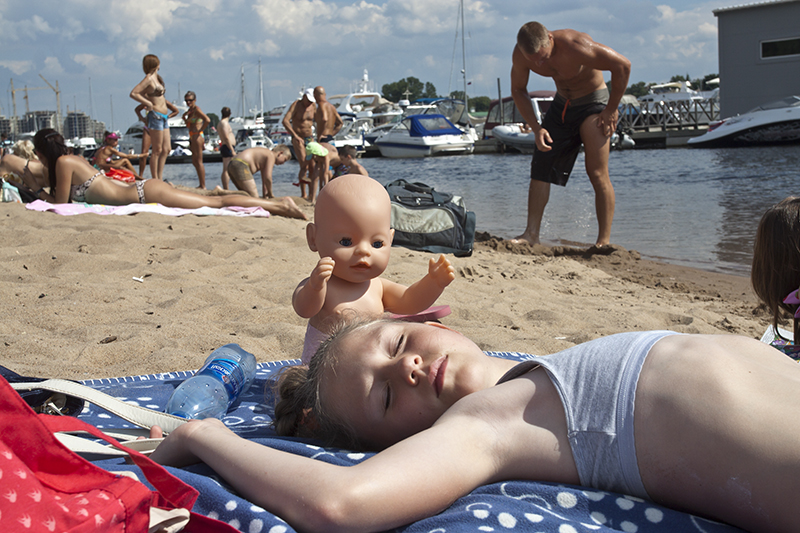 Present:
4. How has your photographic style evolved over the years?
Well, when I started shooting in my childhood I had no style at all. But my second coming to photography was forced by acquaintance with the work of In-Public members. It was an article in a photo magazine that I read in 2007 or 2008, I think, that made me say, "Wow, now I know what for we, humans, invented photography!" Of course, at first I tried to imitate Matt Stuart, I was looking for the funny side of what was surrounding me. Soon, I found that some strange things happen constantly, that our life is full of the absurd and I can show it. But after several years I became more interested in discovering some magic in very ordinary and simple situations. More quiet, more everyday things. To find some unexpected order in the mundane chaos – that's what I'm looking for now. Maybe it will change too. No one stands in one place for years, it's just boring.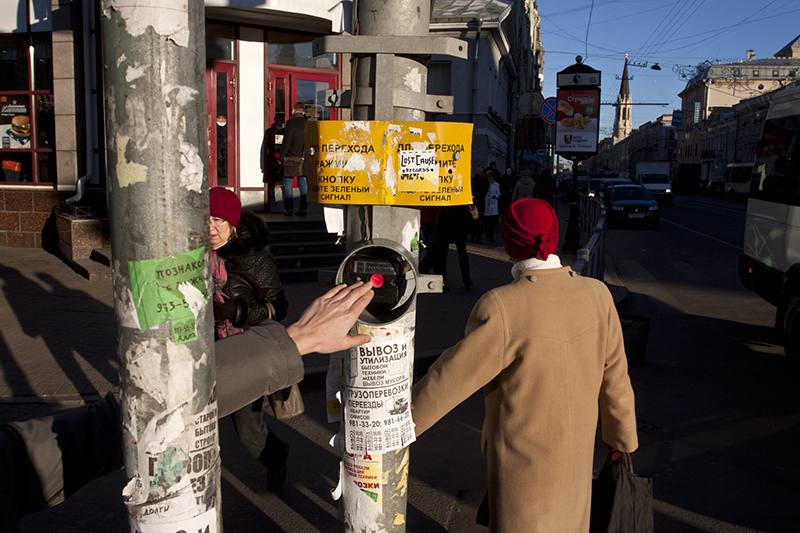 5. What is your preferred set-up (gear) when hitting the streets for photography?
The one and only that I have. At this moment it's a Canon 6D with 24-105 lens. It's a good instrument, it makes good pictures and of course it's fast, but it has a defect – when it's raining, it works very bad and I fear that once after the next rain, I'll find that it doesn't work at all.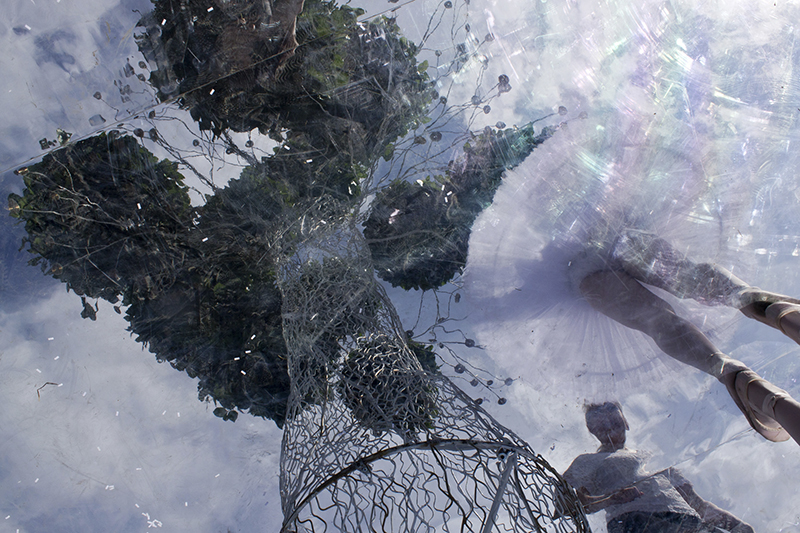 6. Describe how you approach Street Photography?
I think I answered this in the second question, but I'll try to describe this yet in another way. For me, the process of finding an image looks very similar to the process of composing a verse. What do you do when you compose a verse? You walk with some words in your head, you turn and roll these words to and fro and you feel that it doesn't make sense, that it's not what you are looking for, but you continue to roll them in your head until something happens, something that you cannot explain. It looks as if some tap opens and sought-for words come in and take their places. Or, maybe, you don't walk, but lie in your bed with your eyes closed and do the same until, again, something happens and you jump like crazy and write down the whole verse, and then you lie down again and then jump again, and again.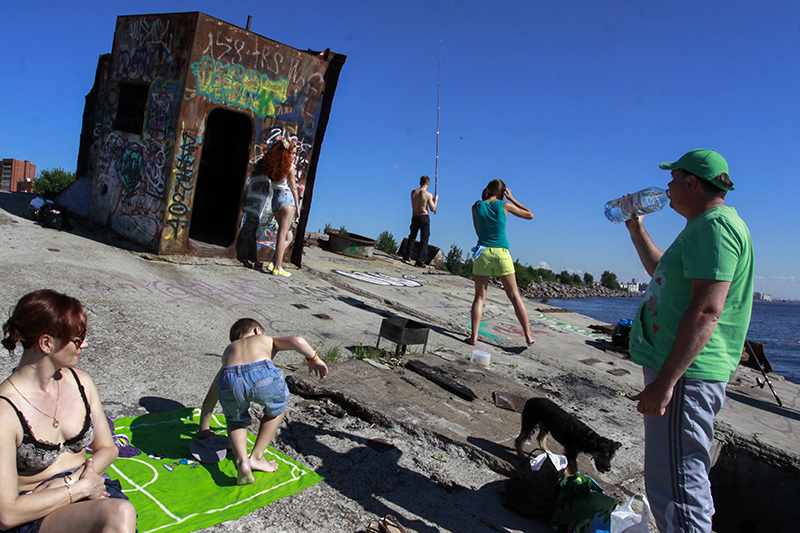 When you are going in the search of an image, the process is pretty much the same, with two distinctions. The first is that you should think visually, with pictures instead of words. And the second is, of course, that you cannot do it in your bed. But in both cases something comes to you seemingly by itself, something that you are looking for, but never know what it will be in advance. But it always comes only when you have done plenty of work. 
7. When you're looking at a photo, what makes a photo good, or even great?
It could be a lot of things – an interesting subject, beautiful colors, composition, etc. In general, it's always something that makes me stop and freeze in admiration or wonder, or… I think it's what spanish people call "duende." I just read an essay by Federico Garcia Lorca, it explains a lot. 
Not So Serious Questions:
8. You get one superpower for photography, what would it be and why? (You can't choose invisibility!)
Of course, it would be the ability to instantly move myself in any point of space by the power of my mind. Should I explain why? I used to dream about it when I was a child, it's so damn appealing.
9. You also get 3 photography related wishes, what are they?
It's quite easy. Of course, I would be happy if I could not think about how to earn money and concentrate on some stories that I want to shoot instead. I have a lot of plans, but they all require a lot of resources. I would like to have a possibility to travel as much and as freely as I want. Just go to any place in the world if I feel that something in this place attracts me and explore what it is. And, of course, it would be great to have any cameras that I want, experiment with different instruments and maybe find an ideal one, or maybe not.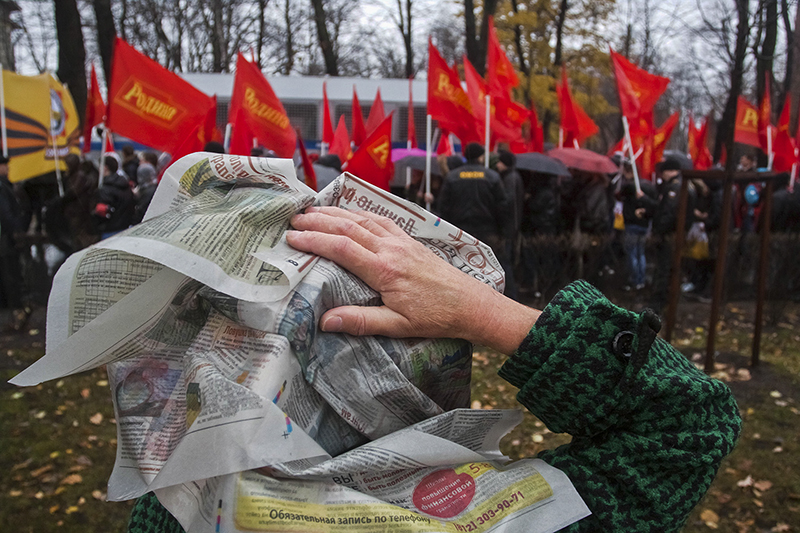 2 Speed Rounds (Give the first answers that come to mind)
This or That:
10. Shoot alone or with others?
I prefer alone. When I come to some event, for example, and find there are 20 other photographers, I always think – oh, it's so boring. And in such cases I try to never shoot the same thing as they all do, I always remember that I can find my own picture if only I turn my camera in the opposite direction.
11. Gritty or Pretty?
Tough, as Meyerowitz figured it out.
12. Single Photos or Series?
If I go to pick mushrooms and I find berries, of course, I'll pick them too.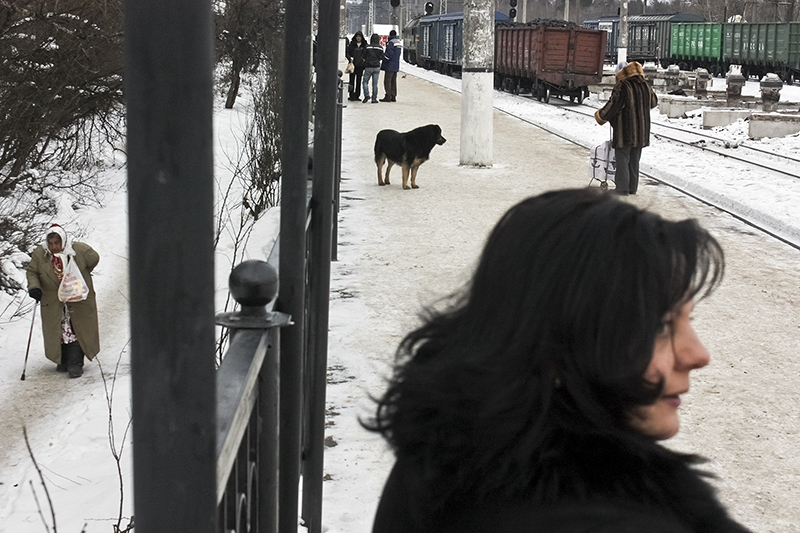 Name 3:
13. Inspirational Photographers (Past or Present)
There's a lot. Just to say several of the most important names for me – Matt Stuart (he was my first inspiration), then Henri Cartier-Bresson, of course, then Sergey Maximishin. And then Gueorgui Pinkhassov and Harry Gruyaert. But I love many, there's a lot of other great photographers.
14. Photography Books
Well, I have almost no possibility to collect photography books for two reasons – they are quite expensive for me and it's impossible to find a lot of books here in Saint-Petersburg. Our photography bookshops are sadly poor. But I always try to bring something with me back when I go abroad.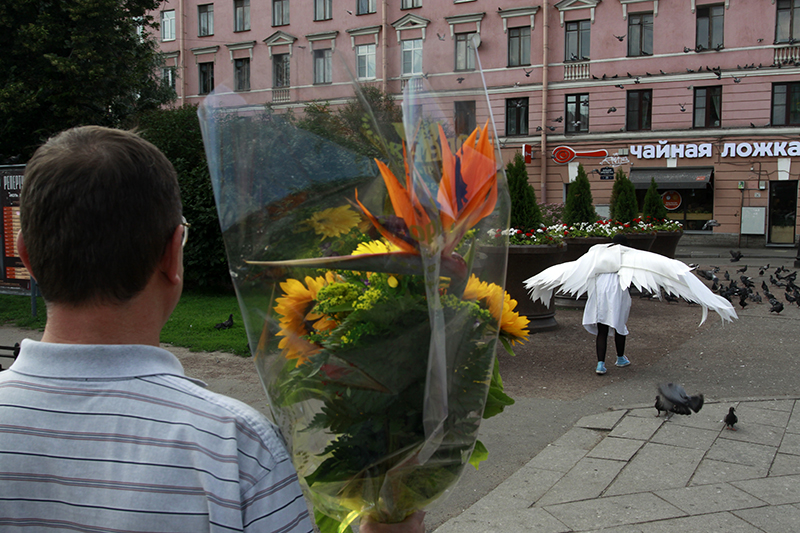 What books do I have right now? "Street Photography Now," of course, an album of Magnum photographers, the last book by Harry Gruyaert, "Glasgow" by Raymond Depardon, the book of very impressive Lithuanian photographer Aleksandras Macijauskas about Lithuanian rural markets, "Meiles lirika," the book of another very interesting Lithuanian photographer Algirdas Seskus, the book of Sergey Maximishin "100 photographs," "On Street Photography and the Poetic Image" by Alex Webb and Rebecca Norris-Webb, and several catalogs of exhibitions.
15. Non-photographic interests
As I've said, I love to play the flute. A recorder, to be precise. I like to play some folk music, from Irish to Turkish, but also Baroque and Renaissance music. But I love music in general, modern as well as old, and I love poetry and good fiction, and non-fiction too. I like to read psychology books, for example, it's very interesting for me how it all works in our mind and how we approach the explanation of it.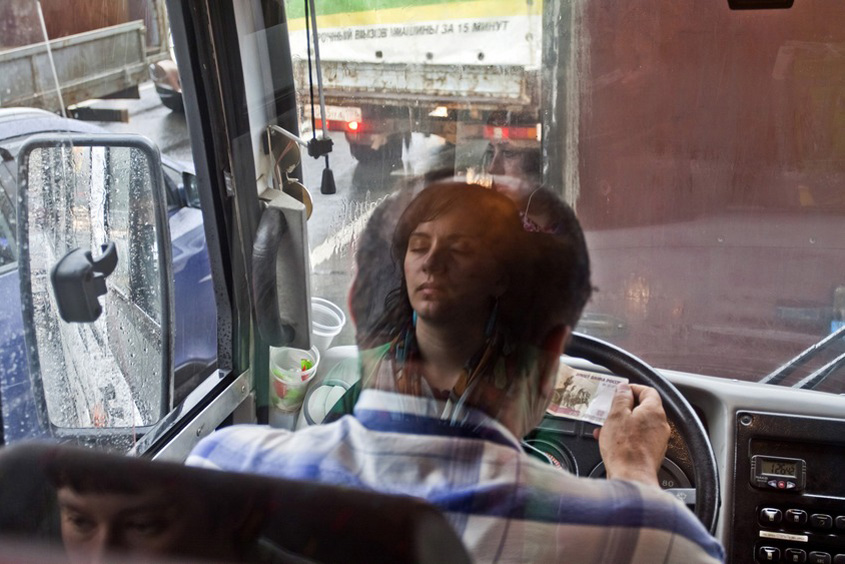 Your City:
16. Where do you like to photograph most in your city, Saint-Petersburg, and why? 
As my favorite game is called "Go don't know where," there are no preferable places. I cannot predict where I could find a picture – in a place where I've never been before or on Nevsky Prospect. Of course, I love to explore new places, Saint-Petersburg is a big enough city, but I also love to come to Nevsky and say – hey, Nevsky Prospect, let's play. Show me what you have today, something interesting! And it's wonderful that after all these years, this place continues to surprise me.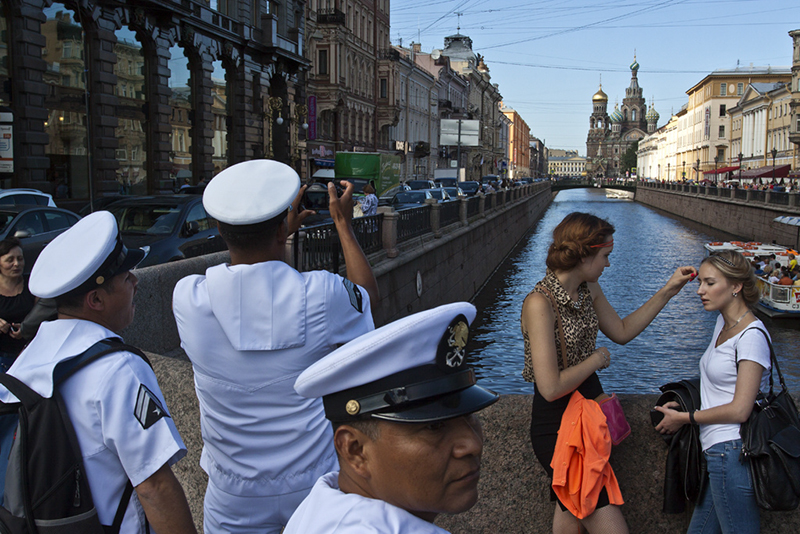 You:
17. When we met last, you had begun focusing on creating a series as opposed to single shots. Can you talk a little bit about that series and if you have any you're currently working on? 


I think it's quite a natural process. You make a picture, spontaneously, and then you make another one and see if when you put them together, they say more than separately. Then you start to look for other pictures, you have a certain idea, and you live with this idea and look at things from this angle of view.
One series I always continue to work is called "Dreammaker's Apprentice," after a book by Arnold Mindell. After reading Mindell's work, I think that all we percept as human beings is a kind of dream. Not only our night visions, but also everything that comes to us when we think that we are awake. I'm trying to show it in my pictures.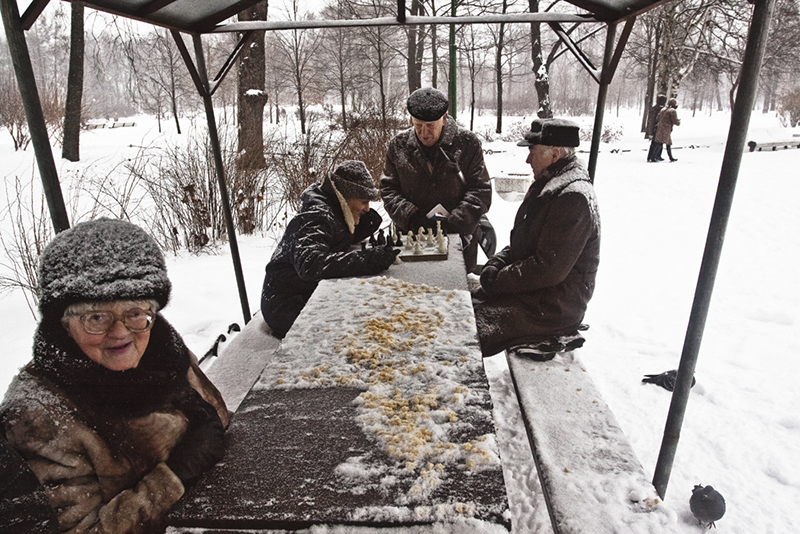 A new series I'm working right now is called "The Dusk." Or "The Twilight," I'm not sure which word I like better. You know, when it comes to light, maybe Saint-Petersburg isn't the greatest place for a street photographer. In winter there is almost no light. Well, there always is some light, so it's better to say there is almost no day. But certainly there is a line between day and night, that unsteady soft line where everything is possible. In "The Teachings of Don Juan" by Carlos Castaneda, he advised to stay in the search of the power in the twilight on a friendly hill, in the wilderness. In the twilight, he said there is no wind (and no mind), at this time of the day there is only power.

And also, now I'm working on a big documentary project I hope will be a book. A book of all religions here in Saint-Petersburg. For me, it's extremely interesting to find how and why a man looks for God in a modern big city. How a modern man can choose a particular religion, or a confession, why it happens, and how it looks today.
18. Since you're also a talented street musician/busker, can you tell us how you got into it? 
How I got into playing the flute? Well, I tried once and after a short time found that I cannot live without it. It's a special kind of drive, when you play on the street you change with the place itself, with something very important, some special kind of energy.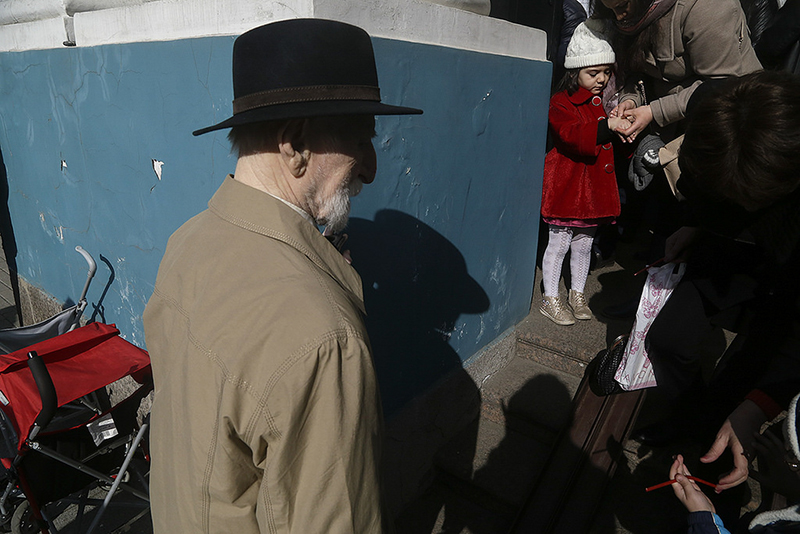 Behind a photo:
19. Pick a photo of yours that you remember capturing and share any memories you have attached to it.
You know, behind most street photos there is no story at all. You just found yourself in the right place at the right time and you are lucky to react fast and make a picture, that's all. But some pictures have their stories, of course. Well, let it be this picture – it's my favorite story and it's my very first really interesting picture.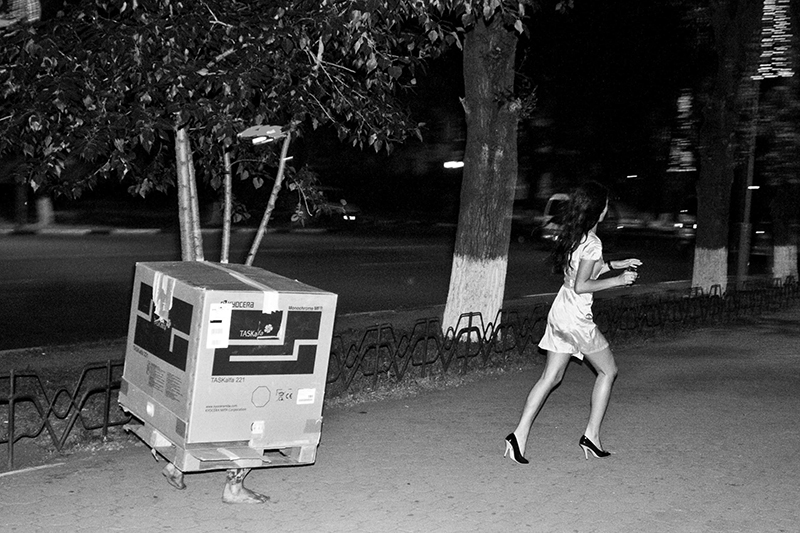 It was the summer of 2010, and I was in Blagoveshchensk, a city in the Far East of Russia on the Chinese border. It was really hot, maybe 42C, and I returned home late, about midnight, when I noticed the light of a cigarette in a small window of a seemingly empty cardboard box on the side of a sidewalk. I came closer and found a boy sitting inside. I made a photo, with flash, and immediately two more guys appeared out of nowhere and said to me, "Wait, he is going to frighten girls, maybe, it will be an interesting picture." I came with them to a dark place. Some time later, a girl appeared. When she passed, the box raised up on its legs and begin to run after her. Finally, the box pushed the girl's bottom, she turned back, screamed and began to run away. Then I took the picture.
The Final Question:
20. You have only 3 photos left on your last roll of film.
In the first direction, you see a group of children carrying colorful balloons
In the second direction, you see a group of nuns praying outside a church
In the third direction, you see a few workers carrying large mirrors under their arms
And in the last direction, you see lines of soldiers marching down the street
The light is perfect at all 4 locations. What do you do?
I'll wait until the workers carry the mirror close to the nuns and then there should be a perfect moment when the children with their balloons, as well as the soldiers, reflect in the mirror.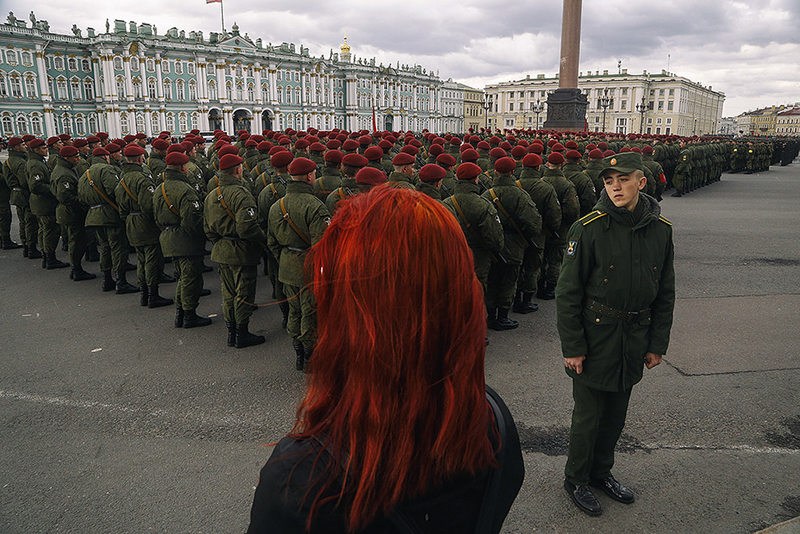 Another big thank you to Ilya for the Interview, and for anyone who would like to see more of his work, check the links below!