*A series of guides on shooting Street Photography in cities around the world. Find the best spots to shoot, things to capture, safety concerns, street tips, and more for cities around the world. I have personally researched, explored and shot Street Photography in every city that I create a guide for. So you can be ready to capture the streets as soon as you step outside with your camera!
Fes
Overview:
Fes, Morocco is home to one of the most preserved old cities in the Arab world. It's also home to the most elaborate medina you'll find anywhere. And while it does attract tourism, the old city contains a very local feeling where people still live and work inside its walls like they might have many years ago. Fes gives you a less chaotic experience compared to cities like Marrakech and Tangier, while surrounding you with its own unique atmosphere. And there's even more to Fes than the Old City if  you want to explore outside its walls.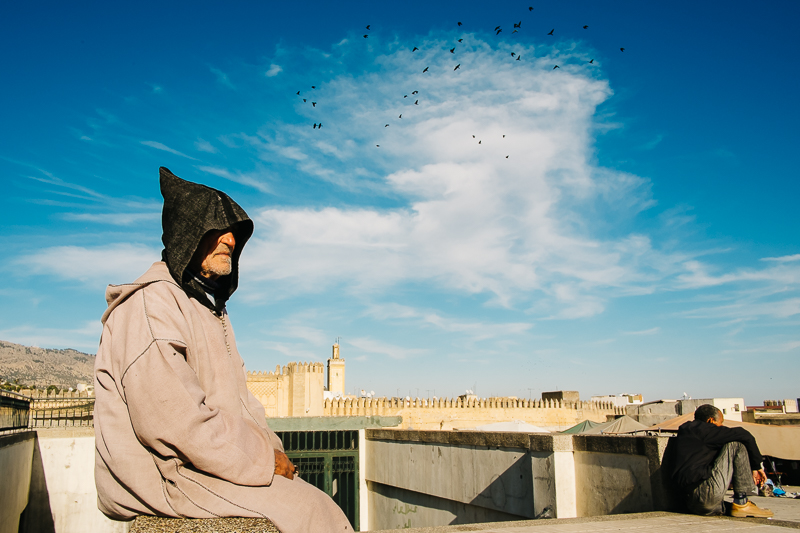 So here's a Street Photography guide so you can be ready to capture all that Fes has to offer before you even arrive!
Map:
Bab Rcif
Bab Boujloud "The Blue Gate"
Fes El Jdid "New Fes"
New Town
Parc Champ de Course
Top 5 Street Spots:
1. Bab Rcif
Bab Rcif is a large gate on the east side of the medina. Bab Rcif opens up to a large, open square full of activity and then narrows into different alleys of the medina. While it's one of the most active areas in Fes, it's a little less touristy and more local than the popular Bab Boujloud gate at the west side of the medina.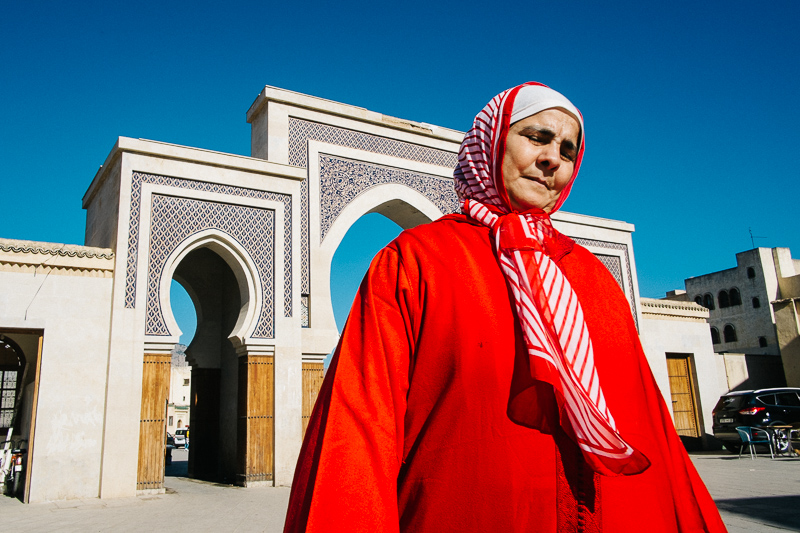 The open square is full of workers in the morning and fills up with children and people hanging out as the day goes on. This entrance to the medina is also near the tanneries, one of the biggest attractions in Fes, and a variety of shops.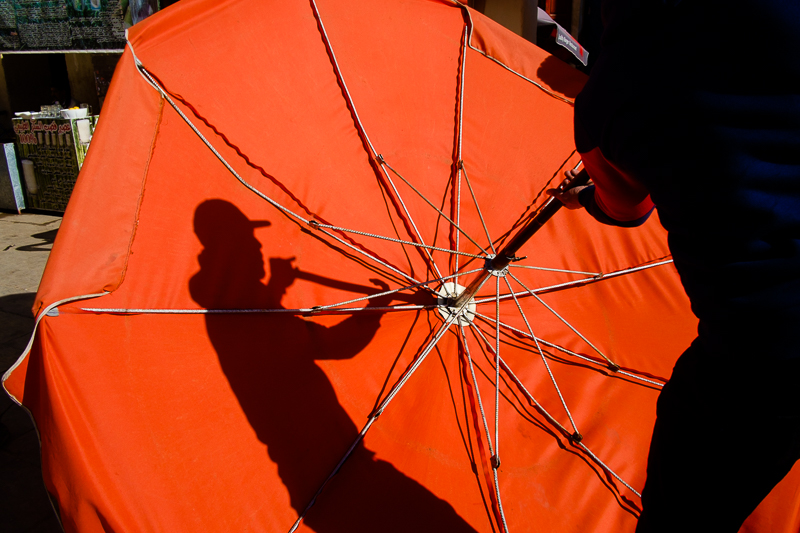 2. Bab Boujloud (and Bab Chorfa)
Bab Boujloud, commonly called the "Blue Gate," is probably the most popular spot in Fes for visitors. It's not only a beautiful blue color, but its near popular shops and restaurants at the edge of the medina.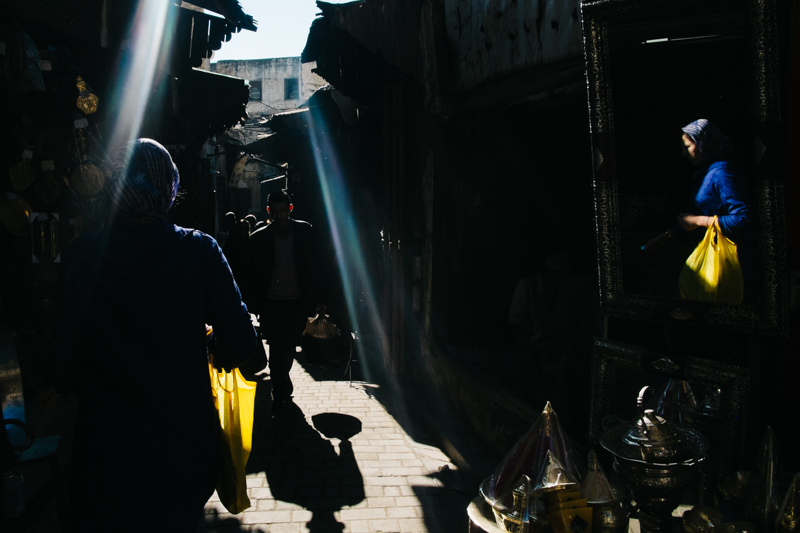 It's also next to Bab Chorfa, a less colorful, but impressive gate of its own. In front of the Bab Chorfa, you have a large open market too that's always worth checking out.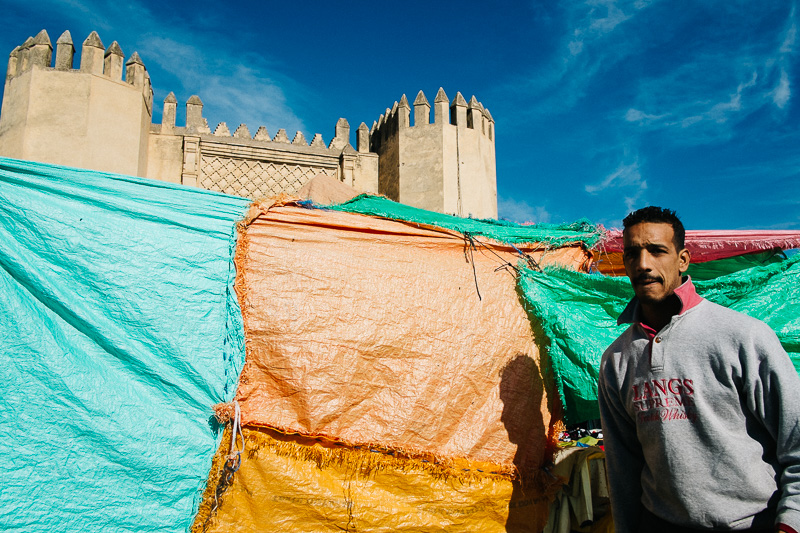 Bab Boujloud also provides an excellent navigational point, as it's right in the center of so many interesting streets and spots to explore.
3. Fes El Jdid ("New Fes")
The first two street spots are in Fez el Bali (Old Fes), the largest living medieval city in the world. Just outside its walls, you have Fez el Jedid (New Fes), which was a planned city built by the Merenids at the beginning of their rule. Later, the Mellah (Jewish ghetto) was added here for the Jews who were pushed out of Old Fes. The two cities weren't joined until the 19th century and while they have some similar feelings of age, the New Fes does provide a different experience.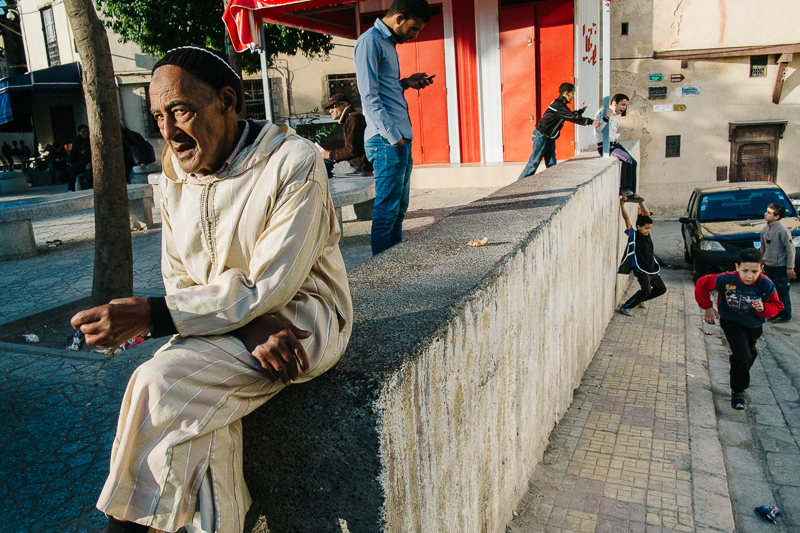 The streets are more open without the tight feeling of the medina. The Royal Palace and courtyard are located here and there are plenty of streets to explore. While it's not as packed with photo opportunities as Old Fes, it gives a more open experience and different scenery worth exploring.
4. New Town
When in Fes, most people spend almost all of their time in Old Fes, mainly in the medina. They might venture out to New Fes to check out the Royal Palace, but they usually don't make it out to the New Town, except when it's time to catch the train. The New Town is in walking distance, though, and provides a completely different experience. A more modern, urban city compared to the ancient Old City.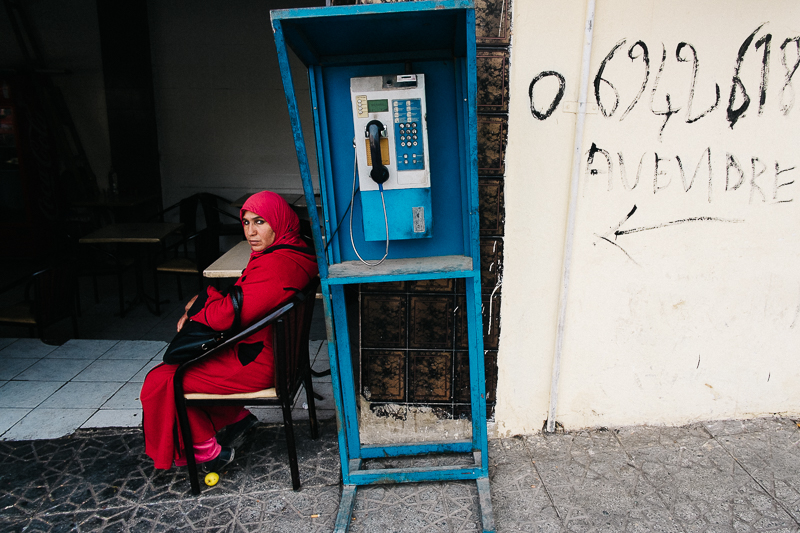 There's definitely enough for a few days around Old Fes, but you really should head outside to the New Town to give it a look. I wouldn't say it's special compared to other urban cities in Morocco, but it is a complete change of environment for Street Photography and there is city life to capture. It's worth the change of pace and scenery to make the short trip out.
5. Parc Champ de Course
If you do make it out to the New Town, make your way west to this large park. You wont find good information about it online and I just discovered it by walking, but it's a pretty impressive park, especially within its surroundings. The park gets its name from being built on an old horse racing course. The grassy park is filled with pathways, benches and has a small man-made lake in the center.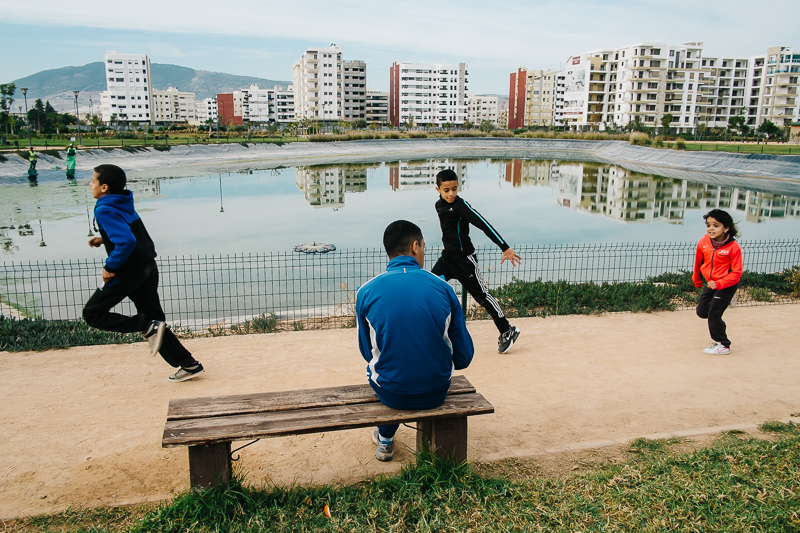 The large park gives another change of scenery within Fes for street photography and attracts a mixture of people. If you have the time, it's worth the stop with your camera.
 Sample Street Walk:
For a full day of Street Photography, covering some of the best spots, you can follow this sample street walk for Fes:
Start your morning walking around the Bab Rcif (1)
Walk northwest through the complex medina maze
Come out of the medina at Bab Boujloud (2) and explore the area
Walk through Fes El Jdid (3) to the New Town (4)
While exploring the New Town's different scene, check out Parc Champ de Course (5)
Return to the medina (1 or 2) to finish your day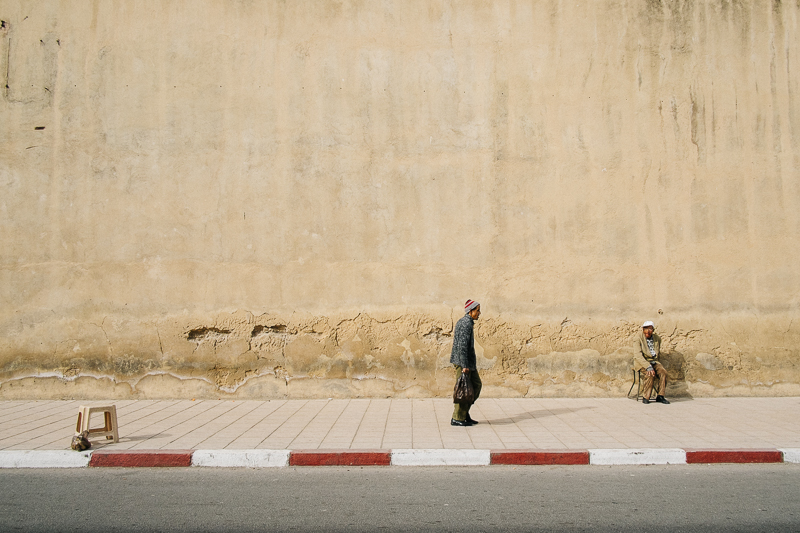 4 Things to Capture in Fes:
1. Medina
When it comes to medinas, the one in Fes isn't topped. The medina here is extremely elaborate and more like a whole city within the city. Some call Fes the most preserved old city in the Arab world and the medina here is actually the world's largest car-free urban zone. So donkeys, mules and hand carts are the modes of transportation within its walls.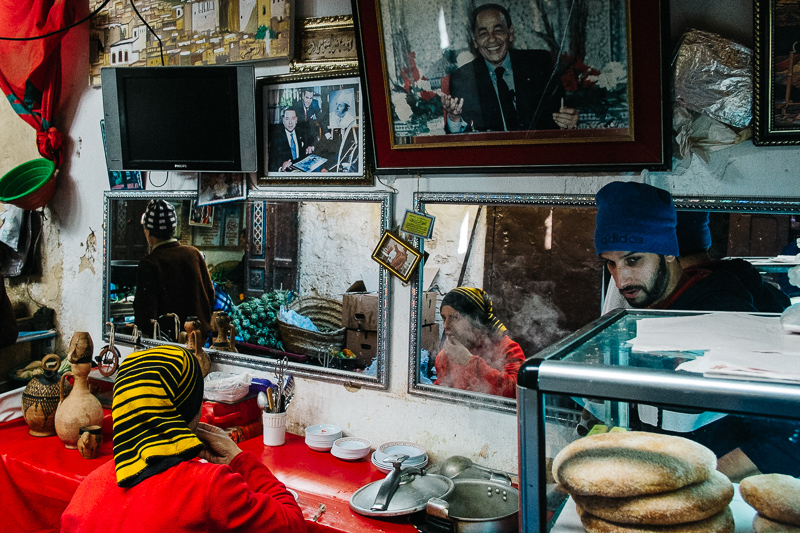 The medina here was designed for living and is filled with local life. You can really feel how people lived, and still live here today, within the labyrinth, which makes it more of an experience compared to other medinas and old towns.  
2. Life Back in Time
The best part of the old city in Fes is how authentically old it really feels. While there are tourists, Fes' old city attracts plenty of locals, many of whom live here. Unless you're by the tanneries, you won't get bothered as much, either, because they aren't as concerned with tourists.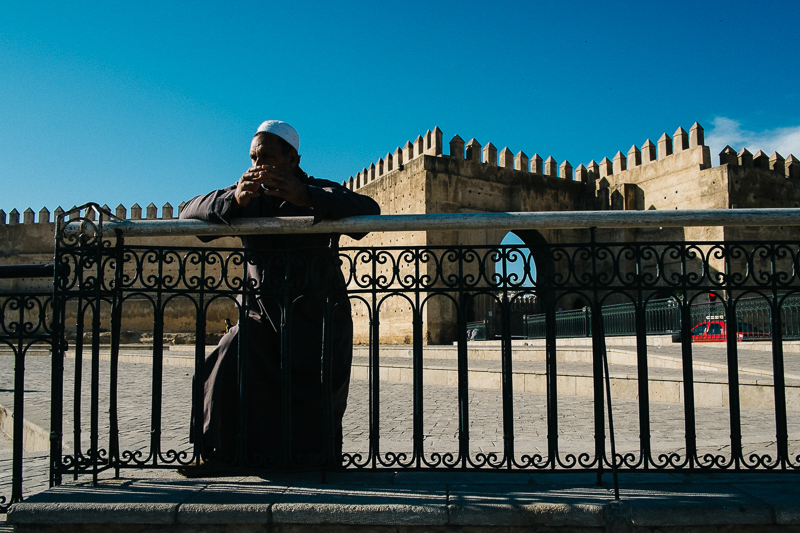 People really live in the medina here, kids play everywhere, and for many locals, this is where they work, shop and spend all of their time. This helps give it a more authentic feeling and helps take you back in time. It's the largest living medieval city in the world and it feels that way.
3. New & Old Town Contrast
Not many cities provide the contrast between new and old, urban and medieval quite like Fes. Going from the New Town to the Old City is like going from modern times in Morocco back centuries ago to the Morocco you see in postcards. Most people will come here to experience and photograph that older atmosphere, but it's more interesting experiencing it all, in my opinio. You get two worlds in one and can capture how they blend together into one city.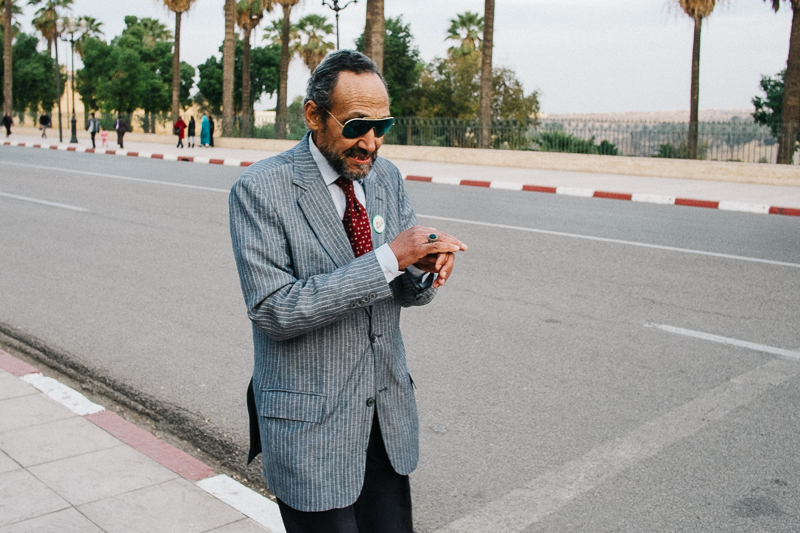 What To Do For a Street Photography Break?:
Shopping in the Medina
Since you'll be spending plenty of time in the medina, you might as well take a photography break for a little haggling. Fes el Bali is Morocco's shopping center. The streets are filled with different artisans and craftsmen of specific trades. Leather work is a specialty here with the tanneries, but you also have rugs, jewelry, pottery, tiling, silk, spices, copper ware, tailored clothing, and much more.  Much of it was made right there too.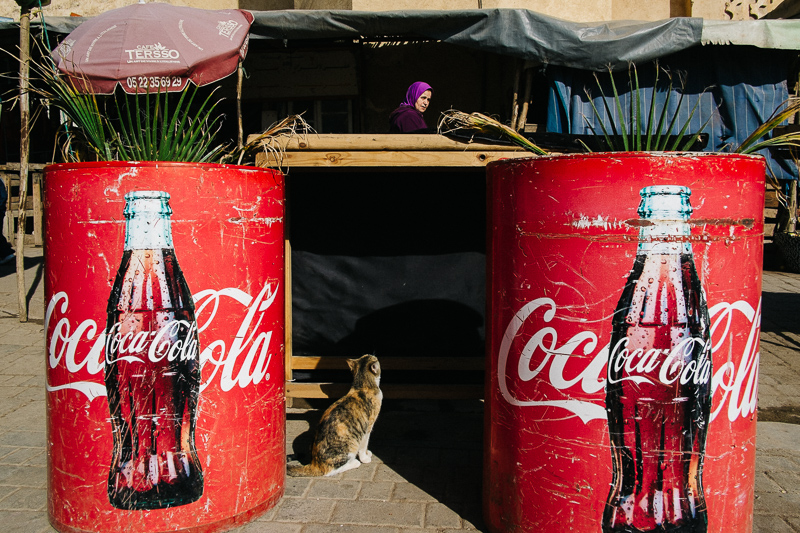 Of course, be prepared for all the haggling Morocco is famous for, but that can be part of the experience. 
Street Safety Score: 7
*As always, no place is completely safe! So when I talk about safety, I'm speaking in general comparison to other places. Always take precaution, be smart, observe your surroundings and trust your instincts anywhere you go!
Inside the Medina during the day, it feels really safe. At night, maybe not as much, but that has more to do with the atmosphere and lack of street lights. During the day, there's plenty of activity and life all over, but once night hits, the streets empty. There can be an almost eerie feeling walking around empty streets in the Old Town.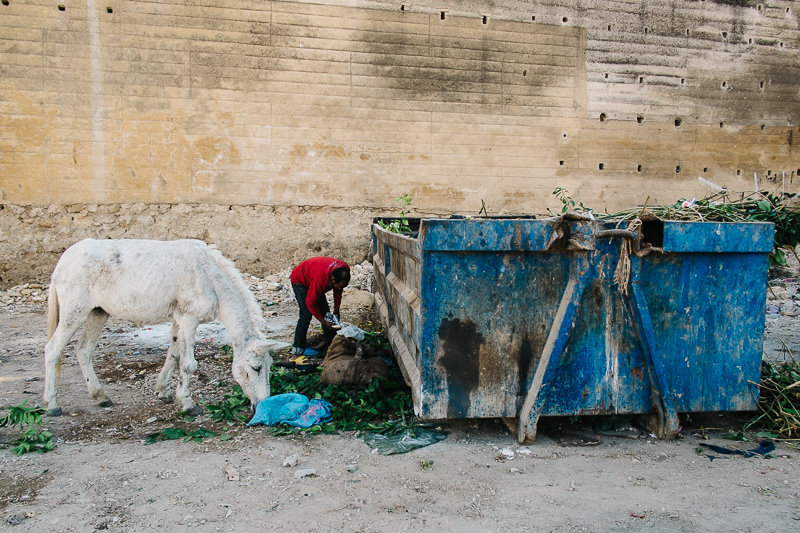 Outside of the medina in the New Town, it becomes much more urban and sketchier in parts so more caution should be used when exploring these areas, but safety concerns still aren't as bad as the larger cities in Morocco.
People's Reaction Score: 4
Fes is noticeably better for negative street photography reactions compared to cities like Marrakech, but that has more to do with it not being quite the tourist trap scene that Marrakech contains. People don't pay attention to foreigners quite as much here, but it still has plenty of tourism and a similar reaction scene as Marrakech, just on a lower scale.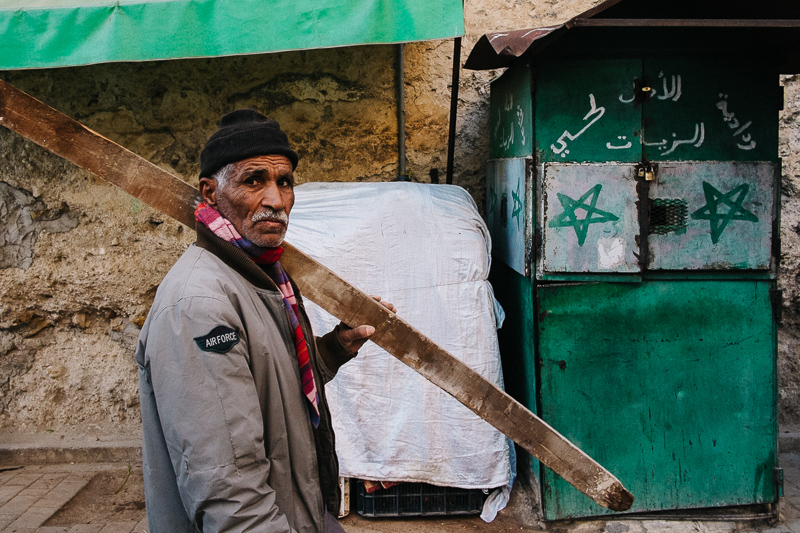 Street Tips:
Get Lost in the Medina
There's almost no way you won't get lost in Fes' medina. The medina's structure is so elaborate and complex that there's no way around it. Sometimes you might think you're going the right way, only to pass the same shop again 15 minutes later. Your phone's GPS might not always work in some areas of the medina, either, so there can be plenty of guessing. You might even find yourself using your phone's compass for a change.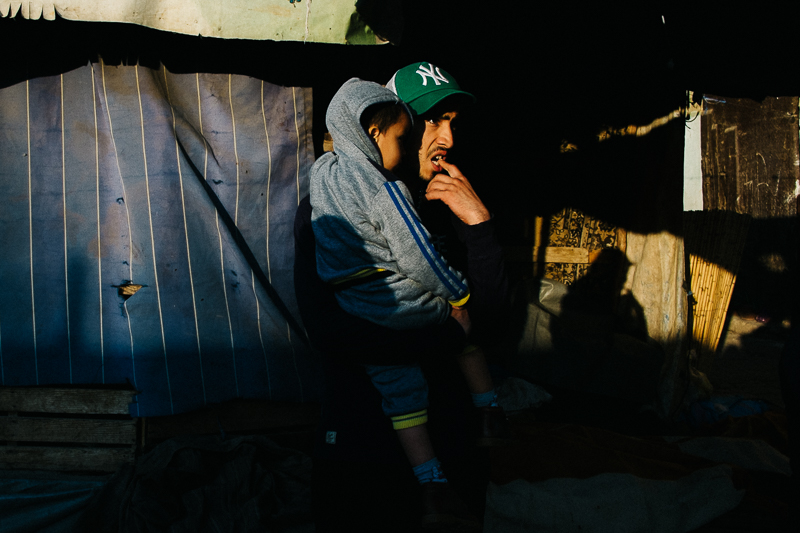 There's plenty of hills too so it can be a work out, but if you have the time, it can be an experience in itself getting lost. Not all of the medina is busy, either, so you can find some hidden areas that bring some nice captures and interesting moments. Many of the areas aways from the shops contain much of the local life too, which can be great for street photography. 
Leave the Medina too
Once you feel like you've spent enough time exploring and getting lost in the medina, you really should make your way out of the walls to explore the rest of Fes' life. It gives a change of pace, atmosphere and scenery, while providing some juxtaposition to capture with your camera.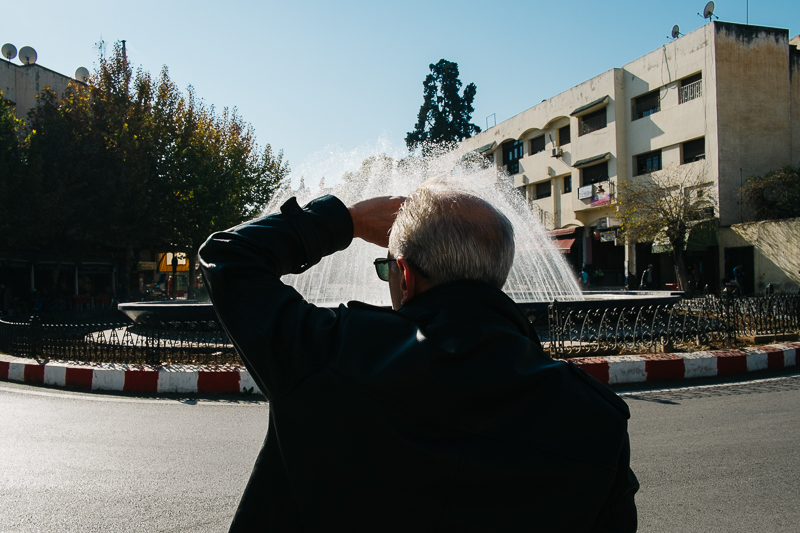 Play with the light in the narrow alleys
The old town is full of narrow, little alleys that block out much of the sunlight. When the light is right, though, you can use this to capture some interesting effects. You can catch the sunrays shining through and creating dramatic light and shadow scenes.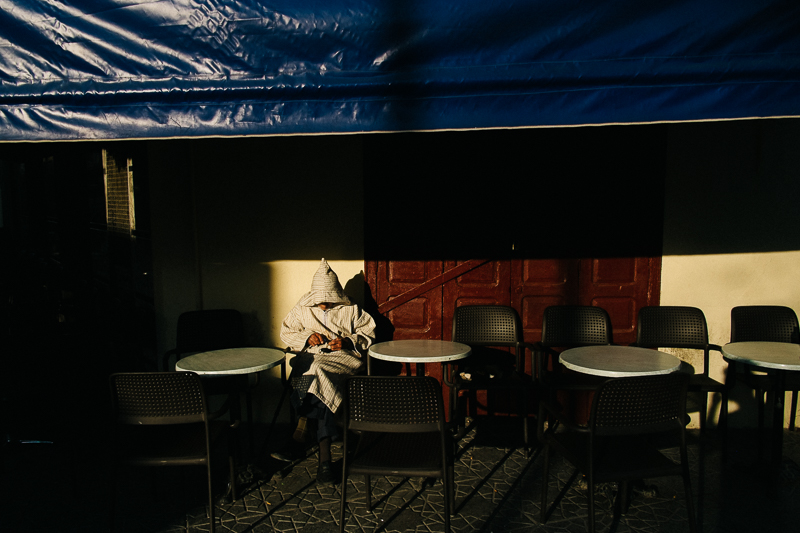 Inspiration:
For some more inspiration, you can look through the work done in Morocco by the great Harry Gruyaert and check out 33 of my photos taken in Fes.
Conclusion:
I find Fes very different to Marrakech. They're both very Morocco, but in different ways. Marrakech overwhelms you with chaos, colors, and life, while Fes gives you a more relaxed, less overwhelming Morocco centered around old medina life. Marrakech is more challenging for street photography, but with more to offer if you get past that, in my opinion.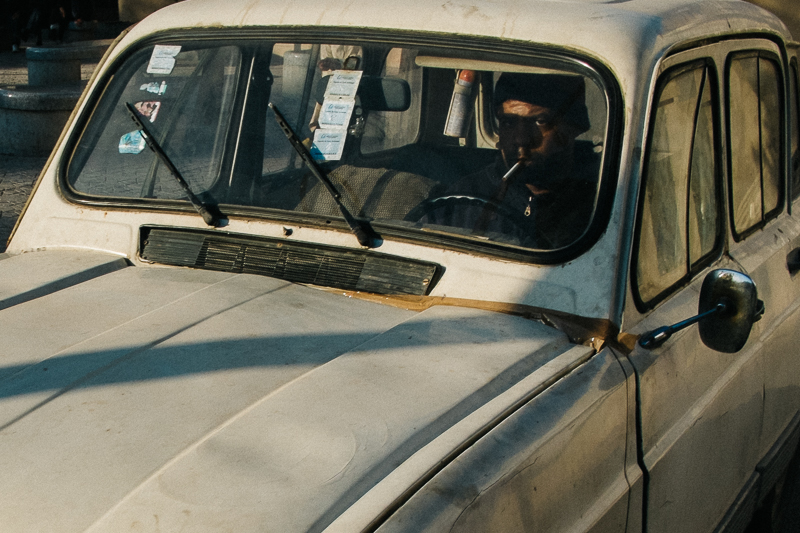 Personally, cities like Marrakech are my favorite, but that doesn't mean Fes doesn't have plenty to offer for photography too. Plus, both cities give you that great year-round sunlight, so while I'd recommend spending more time in Marrakech for people who like fast paced chaos with more to see, I'd recommend visiting both cities. And if the more relaxed and authentic local life of an old medina city appeal to you, then Fes just might be your preferred city. So grab your camera and capture all that Fes has to offer for Street Photography!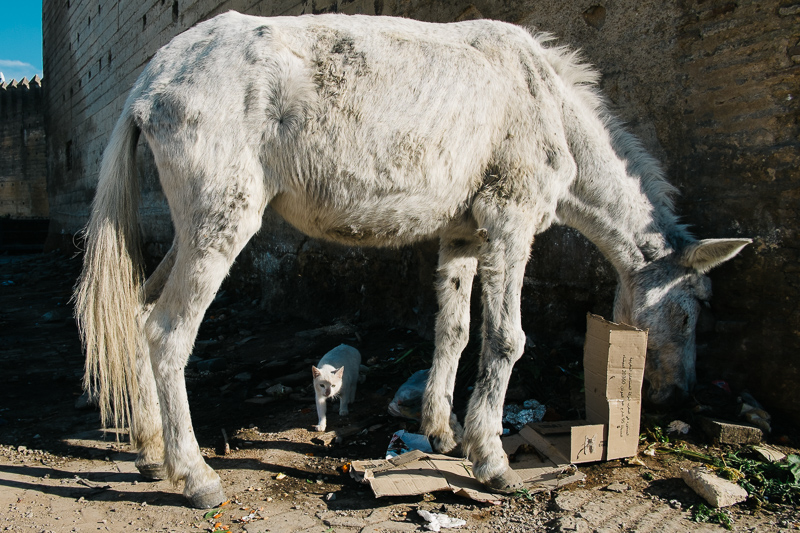 If you still have any questions about shooting in Fes, feel free to comment below!
(I want to make these guides as valuable as possible for all of you so add any ideas on improvements, including addition requests, in the comment section too!)
(A New Guide Posted Every Other Wednesday)