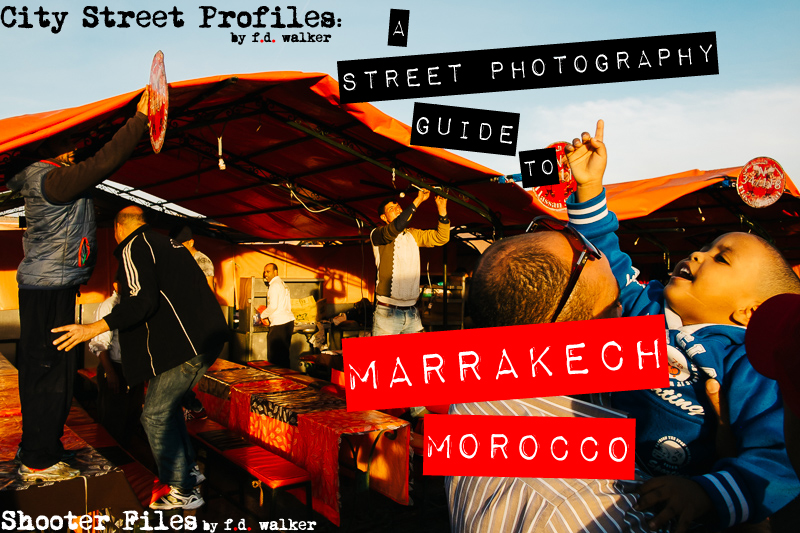 *A series of guides on shooting Street Photography in cities around the world. Find the best spots to shoot, things to capture, safety concerns, street tips, and more for cities around the world. I have personally researched, explored and shot Street Photography in every city that I create a guide for. So you can be ready to capture the streets as soon as you step outside with your camera!
Marrakech
Overview:
Marrakech is one of the most interesting cities for street photography that I've been to. Interesting not only for the rich variety of life and scenes to capture, but also for the challenge it brings. It's a city that is opening the world's largest photography museum in a place where the people aren't the most photography friendly. At least, without payment. So you have to be ready for that challenge if you want to capture candid photos. If you're prepared, you'll be rewarded with all the life, colors, chaos, atmosphere, unique charm, and more that Marrakech has to offer.  It's really a city that you have to experience yourself to fully understand how special it is. While it's not all perfect here, it's worth every bit of the challenge that comes with it.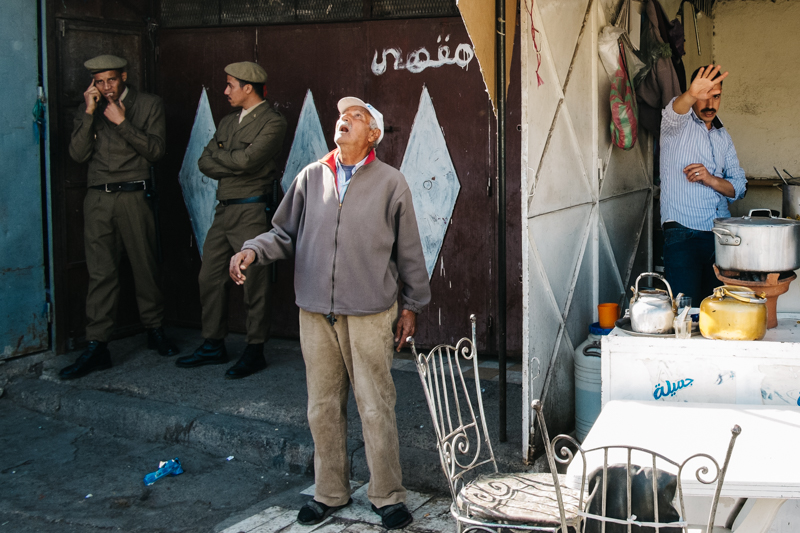 So here's a Street Photography guide so you can be ready to capture all that Marrakech has to offer before you even arrive!
Map:
Jemaa el-Fnaa
Medina
Mellah (Jewish Quarter)
Place des Ferblantiers/Palace Area
Grand Taxi Street
Top 5 Street Spots:
1. Jemaa el-Fnaa
There's nowhere in Morocco like the Jemaa el-Fna, and maybe no place in the world, either. Jemaa el-Fna is the main square in Marrakech and it's so gigantic that it can be one of the more overwhelming sights you'll find when it's packed, which is often.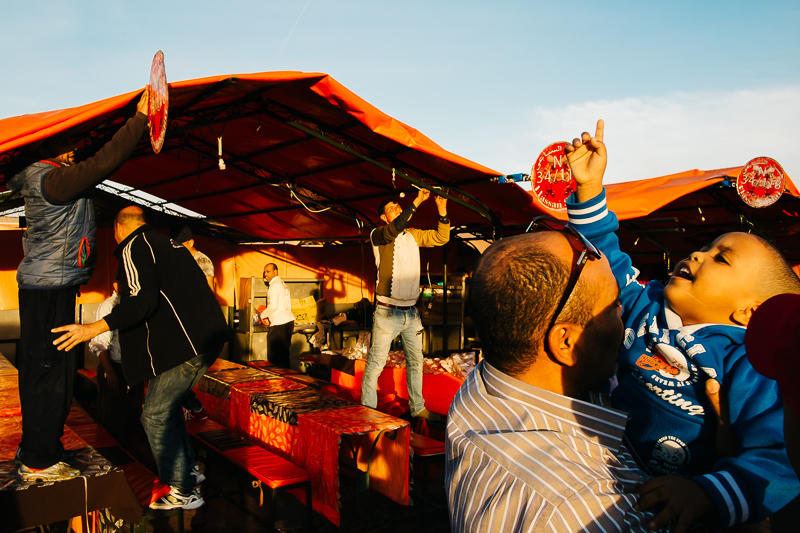 You have everything going on here. Food and juice stands, street hustlers and henna tattoo artists, snake charmers and monkey trainers, and crowds of people everywhere. While it is heavily touristic, there are plenty of locals that come here too, especially at night. During the day, there's a lot of empty space, but around late afternoon, the square really gets going.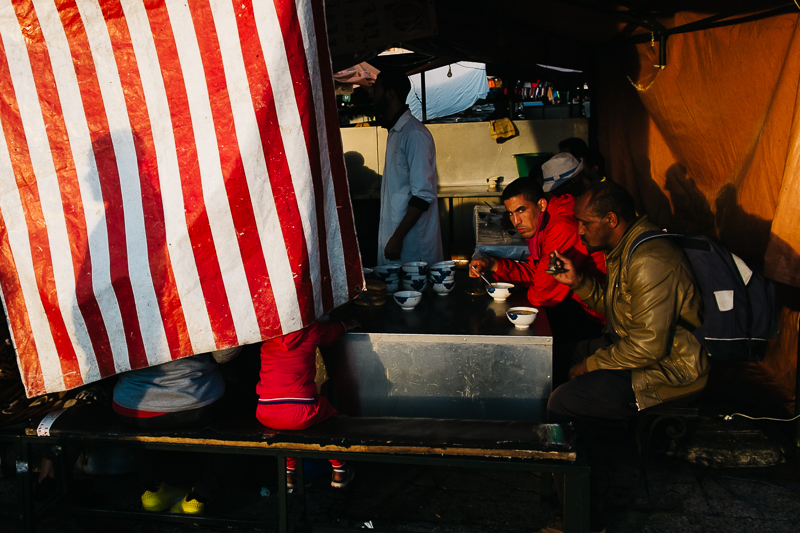 Everywhere you look in Jemaa el -Fna, there are scenes and drama to discover. One of my favorite times to come here is around an hour before sunset. The square is starting to fill up at this time, but not too packed yet, the outside restaurants are setting up, and the light is perfect. Not only is the light the best, but you get plenty of activity and life without it being too crowded yet. The square's so big, you can easily spend hours exploring and photographing the area.
2. Medina
Most Moroccan cities have a medina and Marrakech has one of the most well-known. The walled, maze like streets are easy to get lost in with unorganized narrow alleys going in every direction. Phone GPS can help out when needed, but getting lost and just feeling the atmosphere can be enjoyable in itself.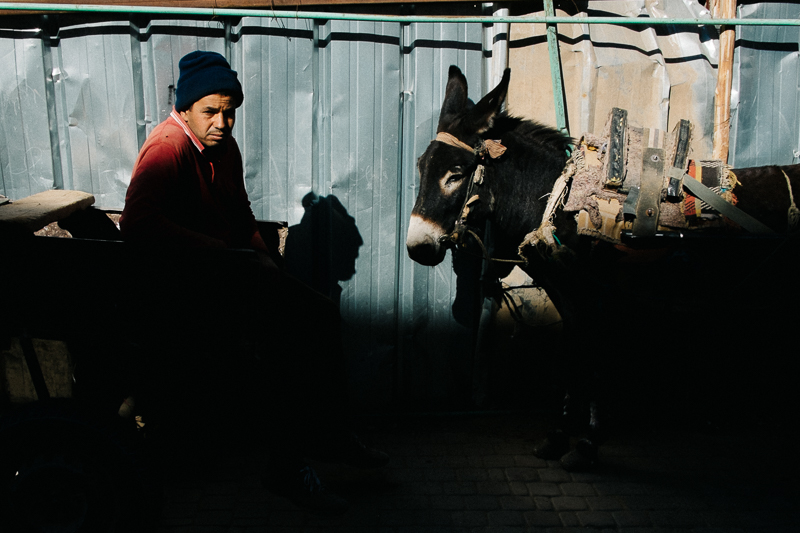 Marrakech's medina is more touristy than most so it can get packed, but you can find some quiet areas if you explore enough. When someone tells you that you're going the wrong way, don't believe them. It means they want to show you the "right" way. In exchange for money, of course. It also probably means you're heading away from the most touristic spots, which can be a good thing.
3. Mellah (Jewish Quarter)
The Mellah is a walled jewish quarter, similar to European jewish ghettos where the jewish population was confined. While it's no longer jewish only, it still gives an interesting look at the city's past.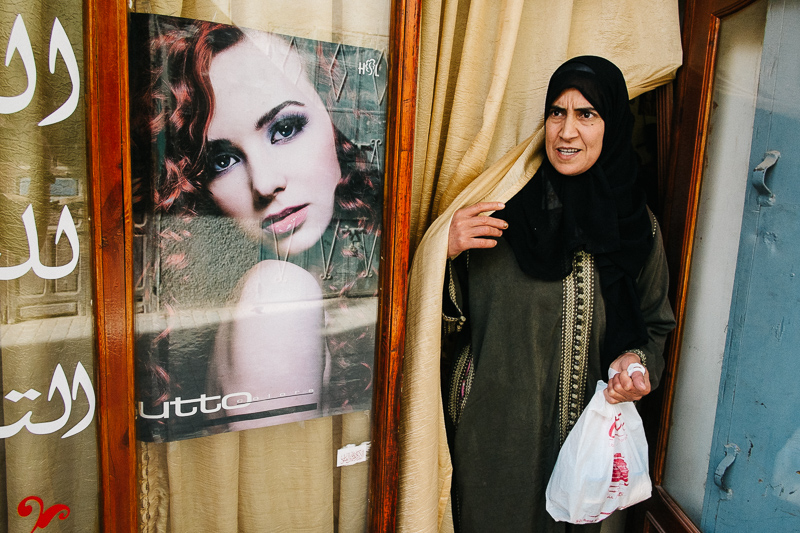 There's a lot of shops and narrow alleys that you can explore and get lost in. While it does have its fair share of tourism in parts, it's nothing to the degree of the medina, and feels a little more authentic and preserved too. It's also easier to get away from the crowds and find yourself with only the locals. People are more curious to see a foreigner in the quieter parts of the Mellah, but at the same time, the street hustlers aren't around to hassle so it's a little more relaxing to shoot here.
4. Place des Ferblantiers/Palace Area
Place des Ferblantiers is a square at the start of the Mellah, in-between the Bahia and El Badi palaces. It's also known as the tinsmith's square due to all the artisans that hand make items out of tin sheets. In addition to these craft shops, there's a few restaurants too that make it a popular spot to stop.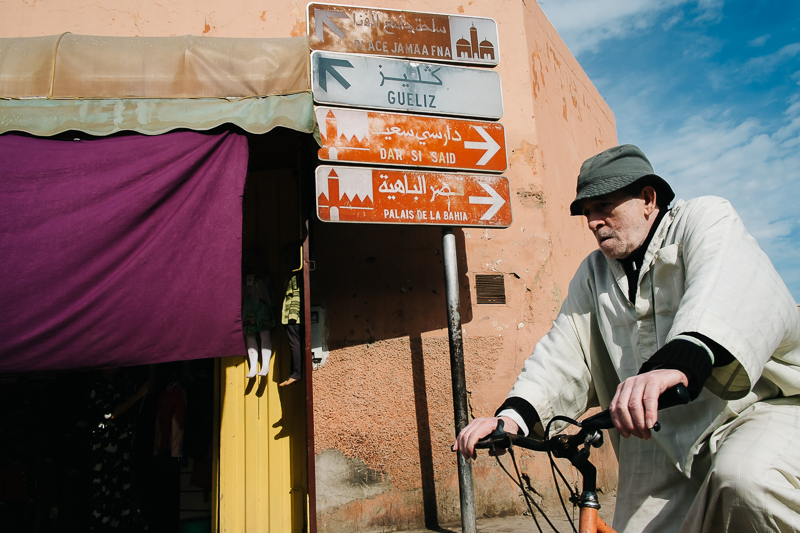 While not all of the elaborate Bahia Palace is open to the public, it's still one of the biggest draws for visitors to Marrakech. El Badi Palace is a ruined palace, which also has some busy streets intersecting around it. These palaces, combined with the square and other attractions in the area, make it one of the busier spots to capture life in Marrakech.
5. Grand Taxi Street
In Morocco they have two types of taxis, petit taxis and grand taxis. A petit taxi is your normal taxi used for local city transportation, while grand taxis are used for city to city, or village, transportation in a shared taxi system. Just outside the wall of the medina on the northeast side, there's a main Grand Taxi street a kilometer long and filled with these long distance older, white Mercedes-Benz W123 sedan taxis.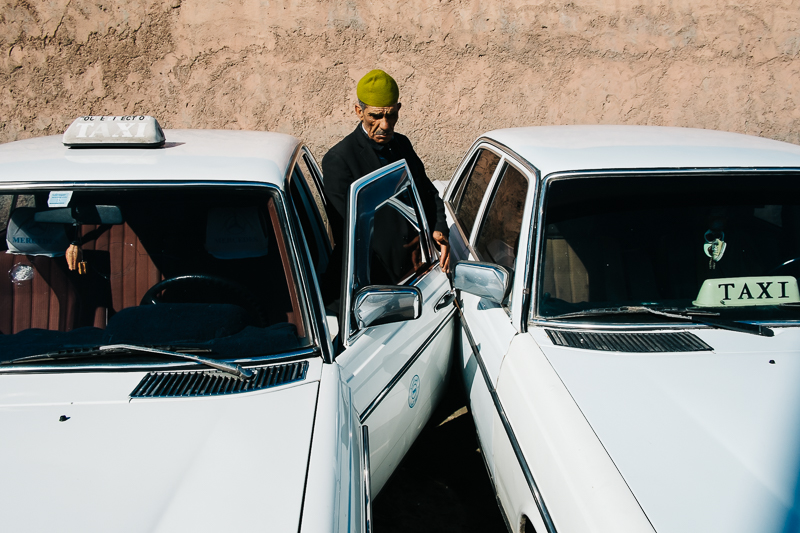 While it's close to the touristy areas, you don't see many foreigners make their way out here.There's usually a lot of activity with all the local people coming for longer distance travel and it can get a little chaotic with the groups of drivers all trying to fill up their taxis. It can really give an interesting scene. It's a really good stretch to walk down with your camera that most others don't see.
Sample Street Walk:
For a full day of Street Photography, covering some of the best spots, you can follow this sample street walk for Marrakech:
Start your morning walking around the Jemaa el-Fnaa (1)
Walk up through the maze streets of the Medina (2)
Go outside the north wall of the medina and head east along Grand Taxi Street (5) 
Come back to the Jemaa el-Fnaa area for some food (1) 
Walk down around the Place des Ferblantiers/Palace Area (4) and then explore the Mellah (3)
Finish your evening/night around Jemaa el-Fnaa (1) and enjoy its change in scenery and atmosphere
(This sample street walk is packed so you might want to split it into two days, with one including the medina(2) and grand taxi street(5), the other including the Place des Ferblantiers/Palace Area(4) and Mellah(3), and both including Jemaa el-Fnaa(1))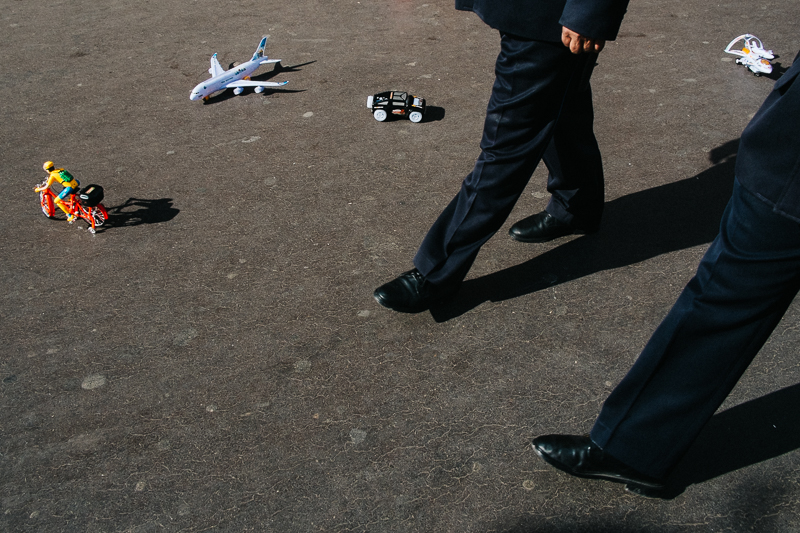 5 Things to Capture in Marrakech:
1. Chaos & Color
When I think of chaos and color, I think of cities in India, but Marrakech gives them a run for their money. You'd be hard pressed to find a more chaotic and colorful area than around Jemaa el-Fnaa. It's one of the places that attacks all of your sense at once and is an experience just by standing there looking at all that's going on around you.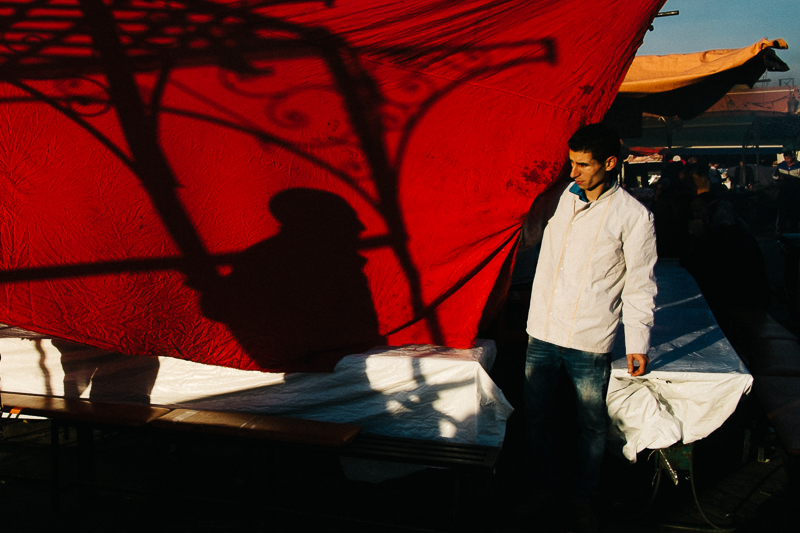 For street photography, it doesn't get much better than all the chaos and color that Marrakech provides. And attempting to organize and capture it is half the fun.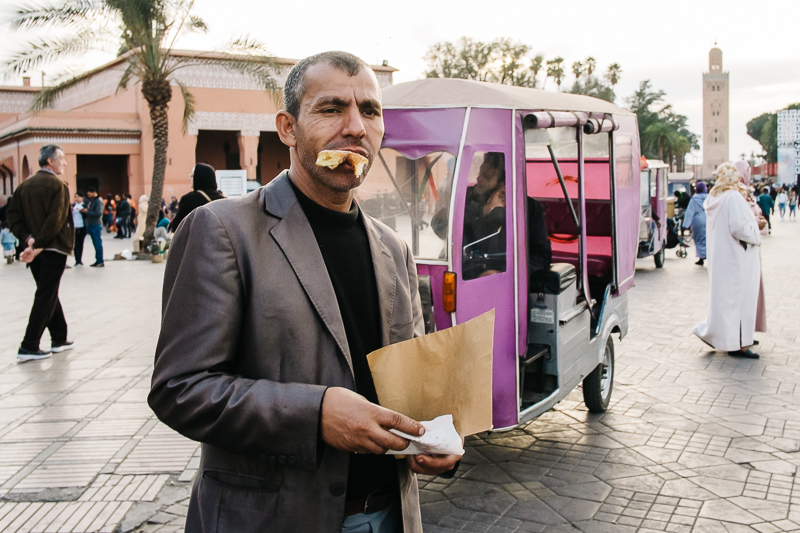 2. Medina Life
When looking for places for street photography in a Moroccan city, the medina is the easy go to. Not all medinas are created equal, though. In Fes, you have an elaborate local city like medina, in Casablanca you have more of an urban medina and in Marrakech you have a touristy, chaotic scene of a medina. A winding maze of streets packed with shops.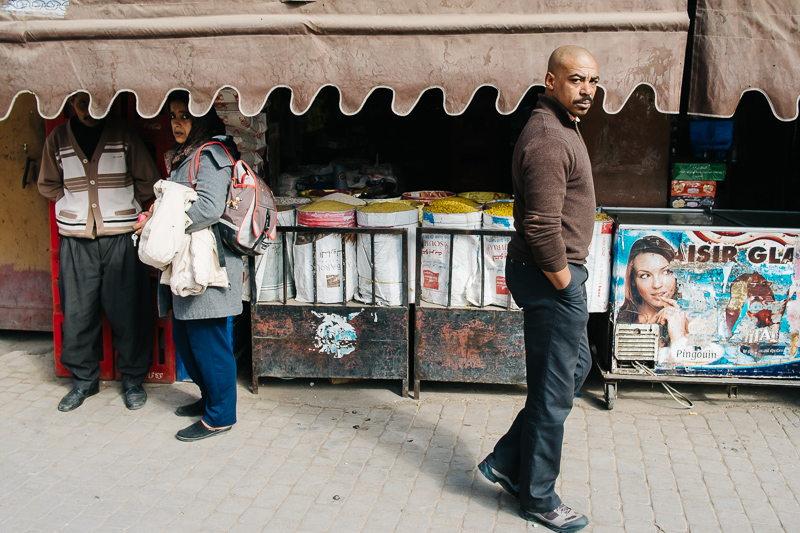 There's a reason it's touristy and chaotic, though. Marrakech's medina is one of it's most popular draws and has endless opportunities for photography. I do recommend getting lost while trying to find some of the spots away from the tourists too. There's a mixture of touristy and local that can be found here if you look hard enough.
3. Marrakech Colors
Marrakech has its own unique look and atmosphere. Some call it the Red City due to the buildings mostly being made with a Terracotta baked clay color. But Marrakech has a mix of other colors too. Green is everywhere in the city with older, protected gardens joined by newly planted gardens. You'll also notice orange trees all over the city and sidewalks, which I think can give a unique look to backgrounds.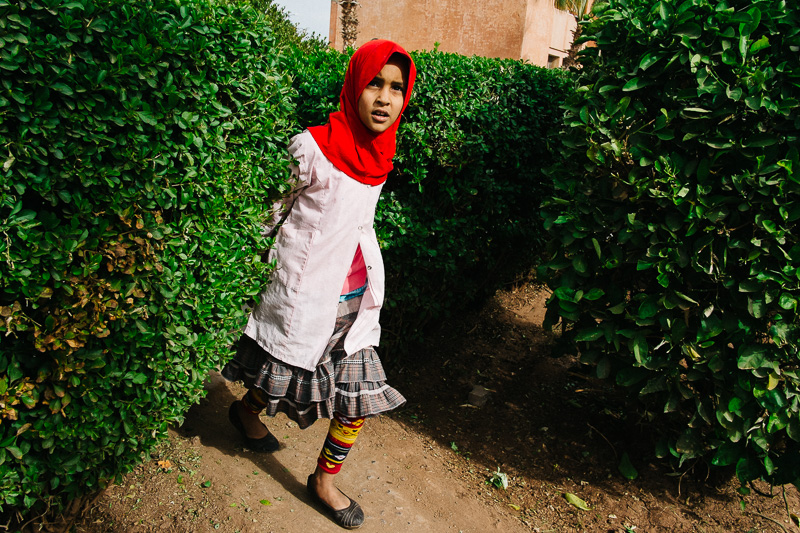 Being complementary colors, red and green go very well together too. I can't think of another city that shares this pleasing look quite like Marrakech. And for being such a sunny, dry city, the amount of vegetation mixed in is unique. The gardens are beautiful and definitely worth checking out for some street photography too, as plenty of people come to enjoy them.
4. Motorcycles & Donkeys
Moroccans love their motorcycles for getting around the city. And when it comes to pulling around carts and doing some heavy work in the streets, donkeys get the job, especially in the medina. This mix not only provides interesting scenes, but also an interesting atmosphere when attempting to navigate through motorcycles and donkeys in the busy, narrow streets.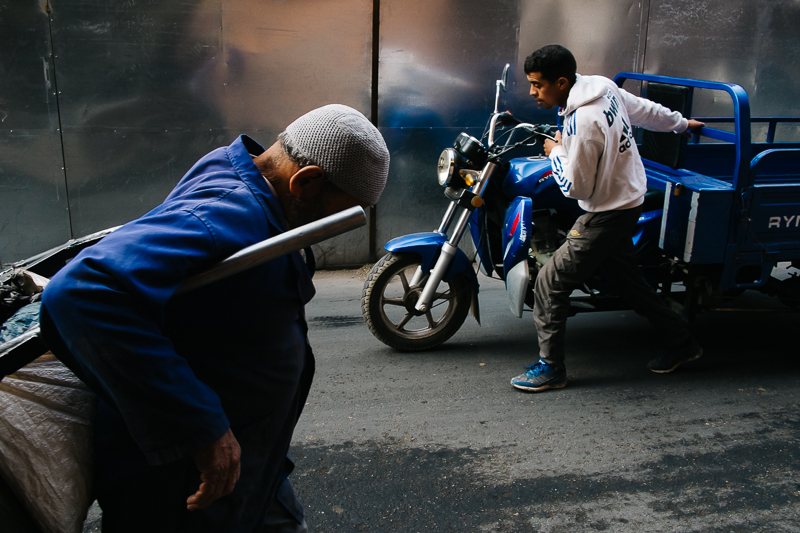 5. Year-Round Sun
When everywhere else is cold, gray and rainy, Morocco keeps the sun out all year long. There are over 300 days of sun a year in Marrakech. The light is great here already, but knowing that you'll have that light everyday is amazing. This makes it a great city and country to visit in the winter months too.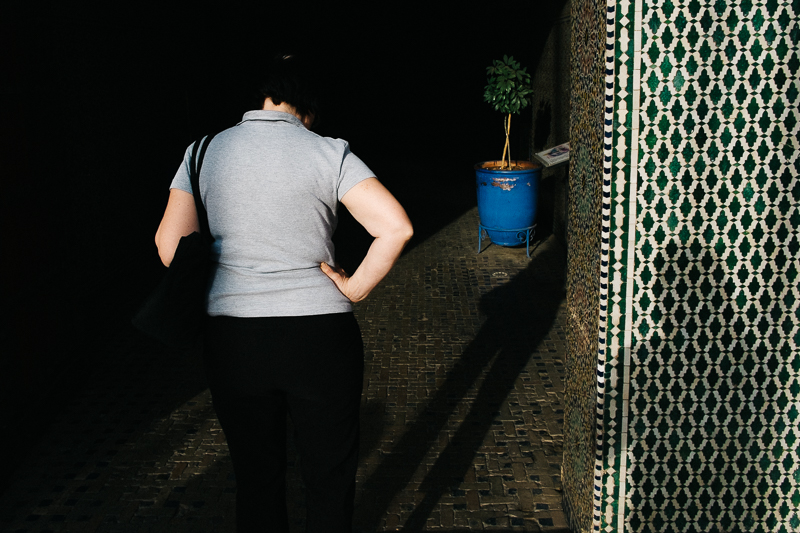 The light has a nice golden color too that works well with the colors of the city. As any city with so much sun, it can get a little harsh in the middle of the day, but mornings and evenings are perfect. 
What To Do For a Street Photography Break?:
Escape the Sun in the Gardens
One of the things that really makes Marrakech a beautiful city in the desert are the amount of gardens it has. Not only are many of them elaborate and beautiful to explore, but they also give you cover for a break from that desert sun. Filled with greenery, colorful tiles, fountains and more, it's a great place to come relax. Of course, with all the other people coming there to relax too, you can also get some street photography in here, but I recommend grabbing a bench for a few to recharge while you enjoy the setting.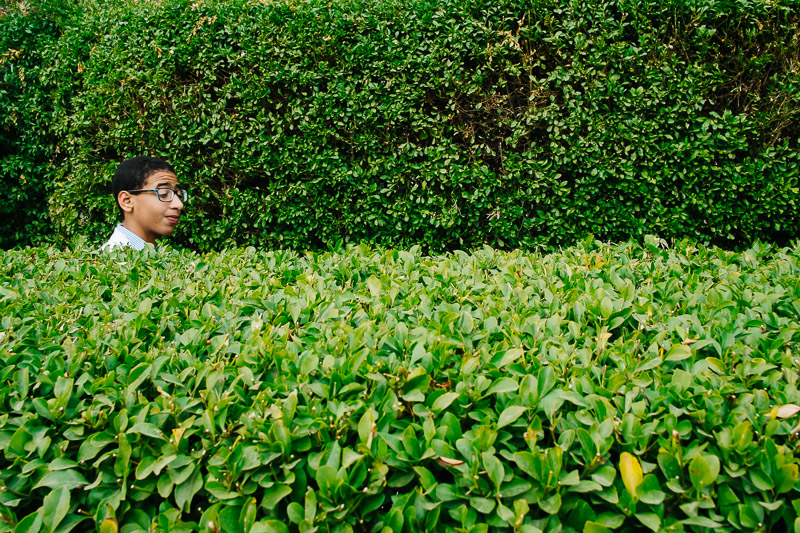 Street Safety Score: 6
*As always, no place is completely safe! So when I talk about safety, I'm speaking in general comparison to other places. Always take precaution, be smart, observe your surroundings and trust your instincts anywhere you go!
In the section of the city around Jemaa el-Fnaa and the medina, Marrakech feels fairly safe. Tourism is a big draw so there are plenty of police around to make sure things are safest here. If you venture out, you might find it a little less safe, though. You should be able to tell when you're entering the less safe areas. Be aware of your surroundings and use common sense in these areas. For the most part, like many touristic cities, petty theft is the biggest danger. So keep ahold of your camera and watch out for motorcycle thieves.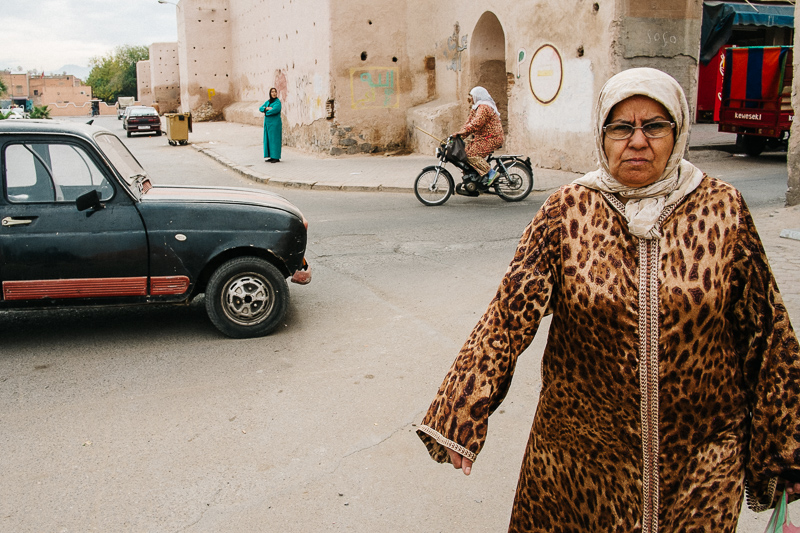 People's Reaction Score: 3
While Marrakech attracts endless amounts of photographers, the truth is it's not a street photography friendly city. If you know much about Marrakech, this probably won't come as a surprise. It's become well known and even Magnum photographers find it difficult to photograph here (Read this article for more on that: Marrakech: The city that distrusts photographers). This can come with a little irony when they're also building the largest photography museum in the world here, set to open this year. It can also come with a little frustration because everything about Marrakech is made for photography, especially Street Photography.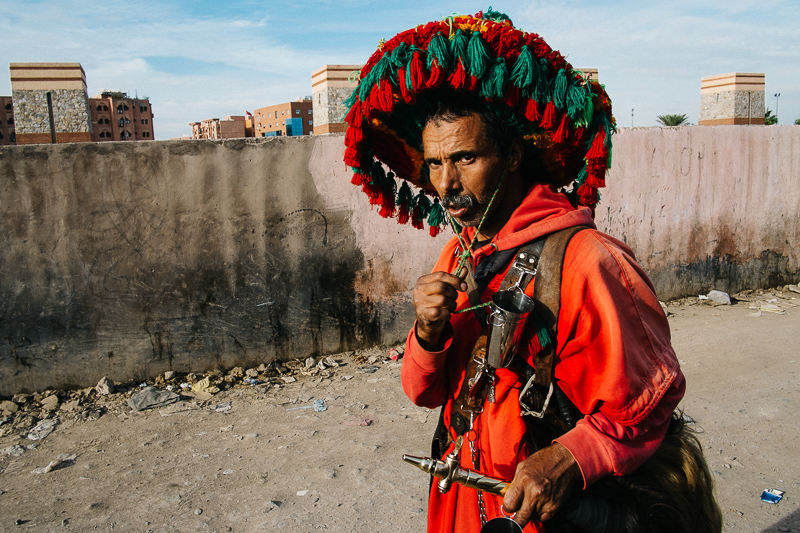 The problem is people either don't want their photo taken or they want money for it. Euros preferred. Now if you shoot far away or take normal tourist shots (that don't include street performers), you probably won't have as much of a problem. But if they see you raising your camera anywhere near them, they'll probably say something. 
There are ways around this that I found, though. You just have to be ready and know what you're doing. If you want to take the photos you want to make, then you have to accept the challenge here, which can be enjoyable in itself. 
Street Tips:
Stay Positive & Accept the Challenge
You'll be haggled and bothered non-stop. Told "no photos" constantly. It can get frustrating if you let it. But if you let it, then your mood will affect your photos. What makes it all worth staying positive is how rich Marrakech is with photo opportunities if you stick with it.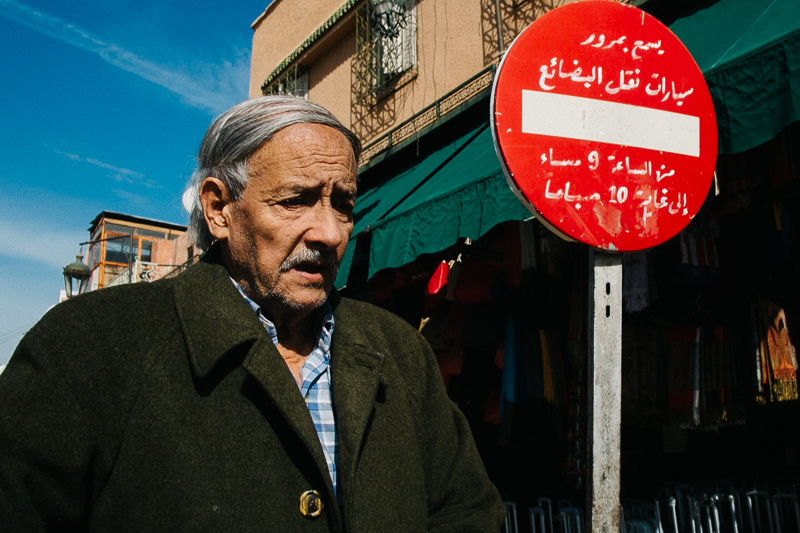 The difficulty with Street Photography here can be taken as a challenge. And that challenge is definitely worth it in Marrakech. 
Be Stealth
While most might feel pressure to do so here, I don't shoot from the hip or try to hide anything when I photograph. I stay focused and confidently make the photo and move on. Usually, this technique actually brings less attention to me. If you act normal and confident, people don't notice you as much.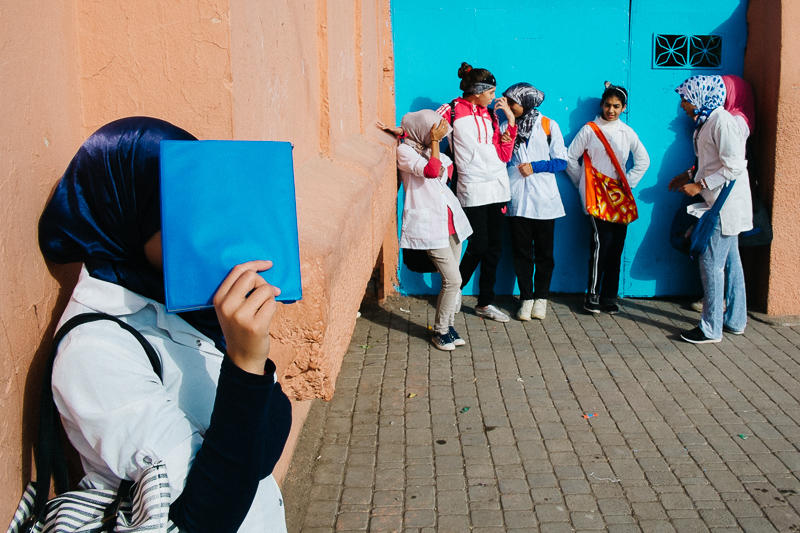 One thing in Marrakech that really helps is looking deep in thought focused on something else, especially after the photo. Think Garry Winogrand's technique. Even if they noticed me, they would usually just look at me slightly confused and then move on. If I didn't do this, they were likely to say something, and much of the time ask for "only" 5 euros or tell me to delete it.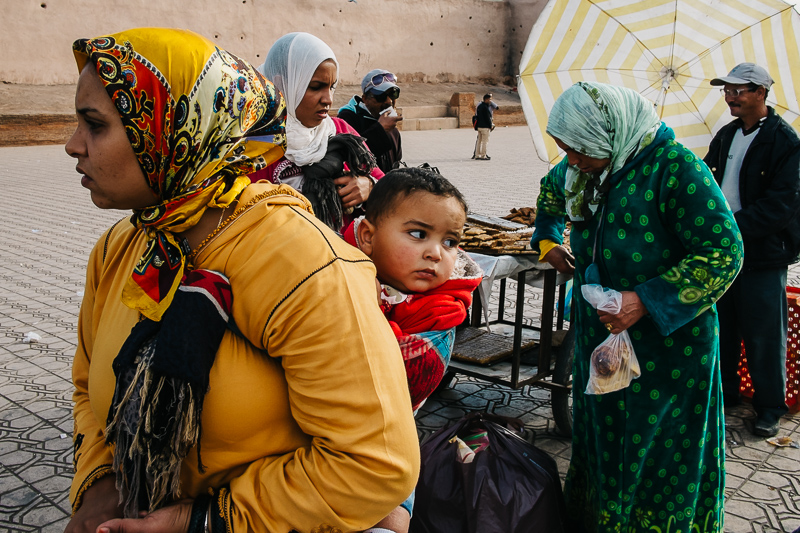 Know How the Hustlers Work
There's only a few cities in the world that rival Marrakech for non-stop haggling. People will constantly come up to you. The friendlier they are, the more they're after your money. Here are the Top 8 intros that guarantee that's exactly what they're after.
"Brother, My Friend, Amigo…"
"There's a very special market open only 1 day a week. And it's today!"
"Stay on the right side of the street…"
"Square is this way…"
"Market is that way…"
"Palace is this way…"
"Nothing is that way…" (Basically, wherever you're heading has nothing, but they'll show you where to go :)
"Hash?"
The truth is if anyone speaks to you at all in Marrakech, there's a 99.999% chance money is why. And if you're anywhere in or near a shop, prepare yourself. It can be a little frustrating at times when you're trying to focus on street photography, but it's just something you have to work around in Marrakech.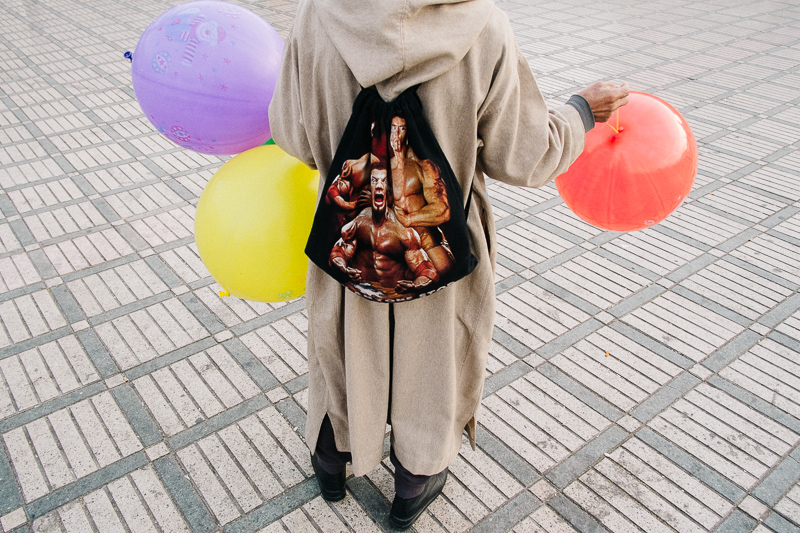 Photographing Government Buildings is Illegal
Make sure you're aware of what's in your photo, as government buildings are legally off-limits. Police are all over and if they see you point your camera anywhere near a government building, they're likely to come lecture you and make you delete any photos. As long as you're respectful when they come over, there shouldn't be any trouble other than that.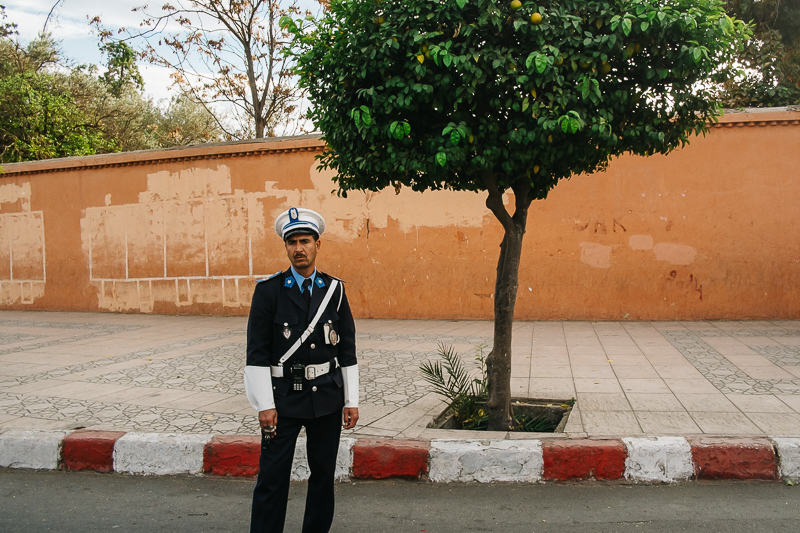 Sometimes it's hard to tell what's a government building and what's not. One time there was a blank, tan wall far in the background and an officer came over and had me delete a photo because it ended up being the back of a government building. Most police understand tourists don't know so just being cooperative should keep you from any trouble, but it's still best to try to be aware of what's in the photo.
Inspiration:
For some more inspiration, you can look through the work done in Morocco by the great Harry Gruyaert and check out 33 of my photos taken in Marrakech.
Conclusion:
Marrakech has a reputation for being touristic and full of hassling and haggling. It also has a reputation for not being the most photography friendly place. While all of this reputation is deserving, it more than makes up for it in so many ways. For non-stop photo opportunities, it ranks as one of the best cities I've been too. There's so much happening everywhere, so many characters and interesting people, so much color and beautiful scenery, and it's all mixed in with a unique atmosphere that is all Marrakech. And that beautiful sun is always above making sure you have no excuse not to go out and capture some that.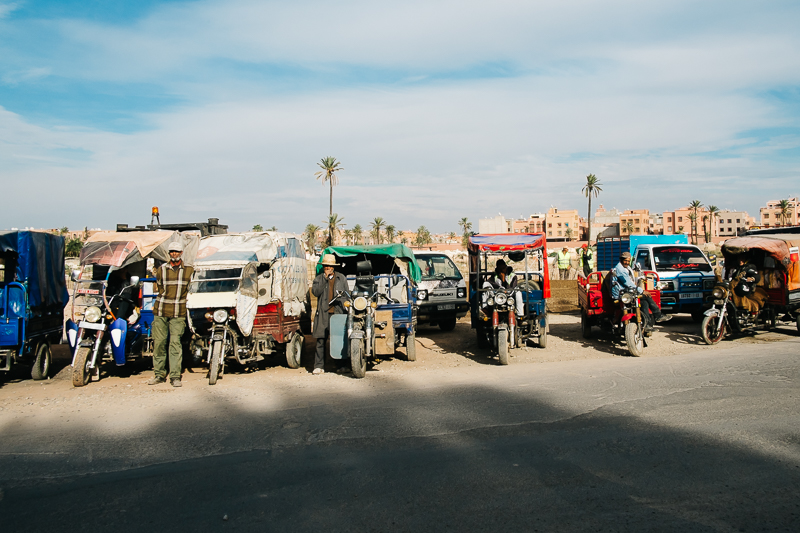 I think how much you enjoy Marrakech mostly depends on you approach it. You have to be patient at times and keep a positive attitude. But if you do, you will be rewarded with an amazing city full of life to capture. So grab your camera and capture all that Marrakech has to offer for Street Photography!
If you still have any questions about shooting in Marrakech, feel free to comment below or email me!
(I want to make these guides as valuable as possible for all of you so add any ideas on improvements, including addition requests, in the comment section!)
(A New Guide Posted Every Other Wednesday)