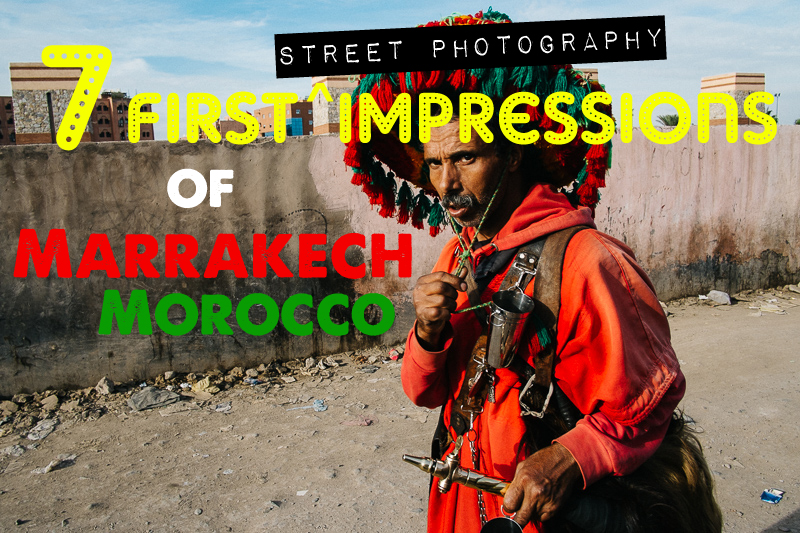 Marrakech was my first stop in Morocco and a city I had wanted to visit for a while. Luckily, it didn't disappoint at all. Marrakech is a mix of so many things that you have to experience it yourself to really understand how special it is. It's not all perfect here, but I knew it would be a city I'd want to return to after only the first day. Although it comes with challenges, Marrakech is definitely made for photographers too.

So here are my first impressions of Marrakech, from my personal Street Photographer perspective…
7 First Impressions of Marrakech, Morocco
(From a Street Photography Perspective)
1. Main Square is Pure Chaos
Jaama el Fna is the main square in Marrakech and it's really like no other square in the world. It's so gigantic that it can be a little overwhelming when it's packed, especially at night. You have everything going on here. Food and juice stands, street hustlers and henna tattoo artists, snake charmers and monkey trainers, and crowds of people everywhere. While it is heavily touristic, there are plenty of locals that come here too, especially at night.

When I was here, there was a large outdoor movie festival that only took up a portion of the square, to give you an idea of its size. My favorite time of the day for shooting here is around 5pm when the outdoor restaurants are setting up shop and the light is perfect. There's plenty of people too, but without it being too packed yet.
2. Easy to Get Lost in Medina (but that's ok)
The medina in Marrakech, like most medinas in Morocco, are easy to get lost in. The narrow alleys aren't organized and go in every direction. I have GPS on my phone to help out if needed, but I didn't use it much because getting lost and just feeling the atmosphere can be enjoyable in itself. 

Marrakech's medina is more touristy than most so it can get packed, but you can find some quiet areas if you explore enough. When someone tells you that you're going the wrong way, don't believe them. It means they want to show you the "right" way. In exchange for money, of course. It also probably means you're heading away from the most touristic spots, which can be a good thing.
3. People Are Not Photo Friendly
If you know much about Marrakech, this probably won't come as a surprise. It's become well known and even Magnum photographers find it difficult to photograph here (Read this article for more on that: Marrakech: The city that distrusts photographers). This can come with a little irony when they're also building the largest photography museum in the world here, set to open this year. It can also come with a little frustration because everything about Marrakech is made for photography, especially Street Photography.

The problem is people either don't want their photo taken or they want money for it. Euros preferred. Now if you shoot far away or take normal tourist shots (that don't include street performers), you probably won't have as much of a problem. But if they see you raising your camera anywhere near them, they'll probably say something. 

There are ways around this that I found, though. You just have to be ready and know what you're doing. If you want to take the photos you want to make, then you have to accept the challenge here…
4. A Beautiful Challenge
This difficulty with Street Photography can be taken as a challenge. And that challenge is definitely worth it in Marrakech. 
While most might feel pressure to do so here, I don't shoot from the hip or try to hide anything when I photograph. I stay focused and confidently make the photo and move on. Usually, this technique actually brings less attention to me. If you act normal and confident, people don't notice you as much.
One thing in Marrakech that really helps is looking deep in thought focused on something else, especially after the photo. Think Garry Winogrand's technique. Even if they noticed me, they would usually just look at me slightly confused and then move on. If I didn't do this, they were likely to say something and much of the time ask for "only" 5 euros or tell me to delete it.

One thing worth mentioning is that government buildings are legally off-limits, though. So make sure they aren't in the photo or you will be forced to delete it. Sometimes it's hard to tell what's a government building and what's not. One time there was a blank, tan wall far in the background and an officer came over and had me delete a photo because it ended up being the back of a government building. Most police understand tourists don't know so just being cooperative should keep you from any trouble, but it's still best to try to be aware of what's in the photo.
5.  Non-Stop Haggling (Top 8 Ice Breakers/Intros)
There's only a few cities in the world that rival Marrakech for non-stop haggling. People will constantly come up to you. The friendlier they are, the more they're after your money. Here are the Top 8 intros that guarantee that's exactly what they're after.
"Brother, My Friend, Amigo…"
"There's a very special market open only 1 day a week. And it's today!"
"Stay on the right side of the street…"
"Square is this way…"
"Market is that way…"
"Palace is this way…"
"Nothing is that way…" (Basically, wherever you're heading has nothing, but they'll show you where to go :)
"Hash?"

The truth is if anyone speaks to you at all in Marrakech, there's a 99.999% chance money is why. And if you're anywhere in or near a shop, prepare yourself. It can be a little frustrating at times when you're trying to focus on street photography, but it's just something you have to work around in Marrakech.
6. Always Sunny
When everywhere else is cold, gray and rainy, Morocco keeps the sun out all year long. There are over 300 days of sun a year in Marrakech. The light is great here already, but knowing that you'll have that light everyday is amazing. This makes it a great city and country to visit in the winter months too.

The light has a nice golden color too that works well with the colors of the city. As any city with so much sun, it can get a little harsh in the middle of the day, but mornings and evenings are perfect. 
7. Mix of Color, Red Sand and Green Gardens
Marrakech has its own unique look and atmosphere. Some call it the Red City due to the buildings mostly being made with a Terracotta baked clay color. But Marrakech has a mix of other colors too. Green is everywhere in the city with older, protected gardens joined by newly planted gardens. You'll also notice orange trees all over the city and sidewalks, which I think can give a unique look to backgrounds. 

Being complementary colors, red and green go very well together too. I can't think of another city that shares this pleasing look quite like Marrakech. And for being such a sunny, dry city, the amount of vegetation mixed in is unique too. The gardens are beautiful and definitely worth checking out for some street photography too, as plenty of people come to enjoy them.

Worth the Hassle
Marrakech has a reputation for being touristic and full of hassling and haggling. It also has a reputation for not being the most photography friendly place. While all of this reputation is deserving, it more than makes up for it in so many ways. For non-stop photo opportunities, it ranks as one of the best cities I've been too. There's so much happening everywhere, so many characters and interesting people, so much color and beautiful scenery, and it's all mixed in with a unique atmosphere that is all Marrakech. And the sun is always out making sure you have no excuse not to go out and capture some that.
I think how much you enjoy Marrakech mostly depends on you approach it. You have to be patient at times and keep a positive attitude. But if you do, you will be rewarded with an amazing city full of life to capture.
If any of you have been to Marrakech before, tell me about your experience and impressions of the city and country in the comments below! And stay tuned for more on Marrakech, including some of the best Street Photography shots I captured while there.
Click Here for More First Impressions on Cities Around the World (from a street photographer's perspective)