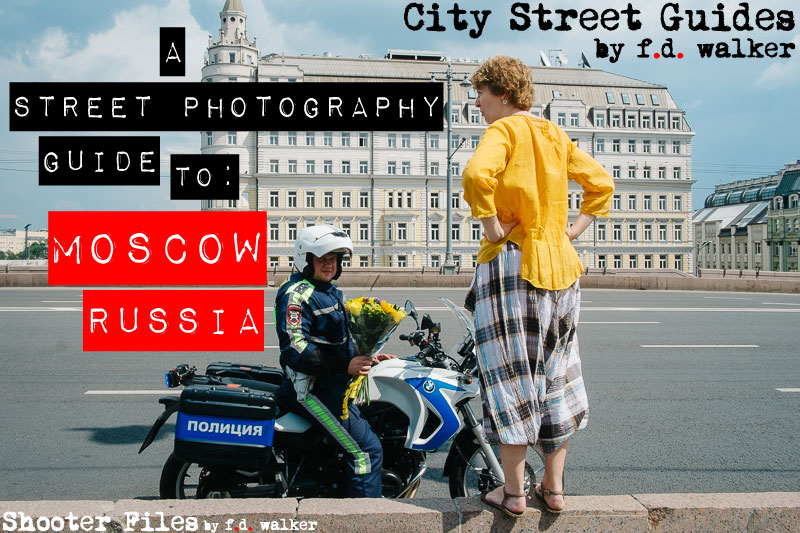 *A series of guides on shooting Street Photography in cities around the world. Find the best spots to shoot, things to capture, street walks, street tips, safety concerns, and more for cities around the world. I have personally researched, explored and shot Street Photography in every city that I create a guide for. So you can be ready to capture the streets as soon as you step outside with your camera!
Moscow
Overview:
At over 12 million people, Moscow is the largest city in Russia and second largest in Europe by population (Istanbul is #1). An urban, cosmopolitan metropolis with more than enough glitz and glam to cater to the elite, but without losing its fair share of Soviet era roughness around the edges. It can be fast paced, brash, busy, and trendy like other big cities, but it has its blend of West meets Russia atmosphere and beauty that provides plenty of unique interest. The Red Square is as famous as it gets, but there's so much more to this city, including the most beautiful subway system you've ever seen. It would take years to capture all of Moscow, but that means you have an endless amount of areas to discover.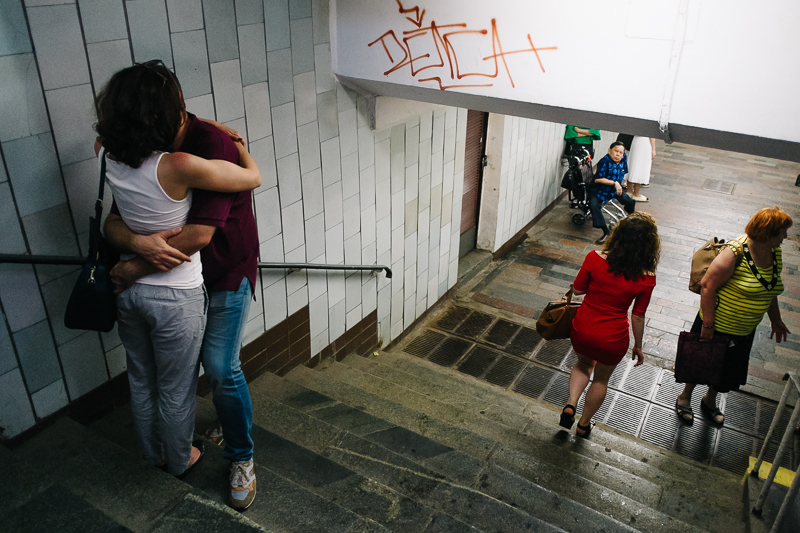 So here's a Street Photography guide so you can be ready to capture all that Moscow has to offer before you even arrive!
Map:
Red Square
Patriarch's Pond
Old Arbat Street
Gorky Park
Maroseyka Street
Tverskoy Boulevard
Top 5 Street Spots:
1. Red Square
The Red Square is the most famous square in not just Russia, but all of Eastern Europe. The name actually doesn't come from the color of the bricks or communism, but from the name in Russian, Krásnaya, once meaning "beautiful" before its meaning changed to "red." This large plaza is what you see on the cover of guide books and magazines for Moscow, with St. Basil's Cathedral being the center piece next to Lenin's Mausoleum surrounded by the Kremlin Wall. Of course, the Red Square attracts hordes of tourist due to the main attractions, but all that activity around an interesting atmosphere does provide street photo opportunities. It's also the central square connecting to the city's major streets, providing a good starting point to explore outward.
You'll also find the popular pedestrian only Nikolskaya Street connecting the Red Square to Lubyanka Square. This line of expensive shops includes plenty of activity, while also leading you to another popular square. Filled with history rivaling any city, the Red Square and surrounding areas are the heart and soul of Russia.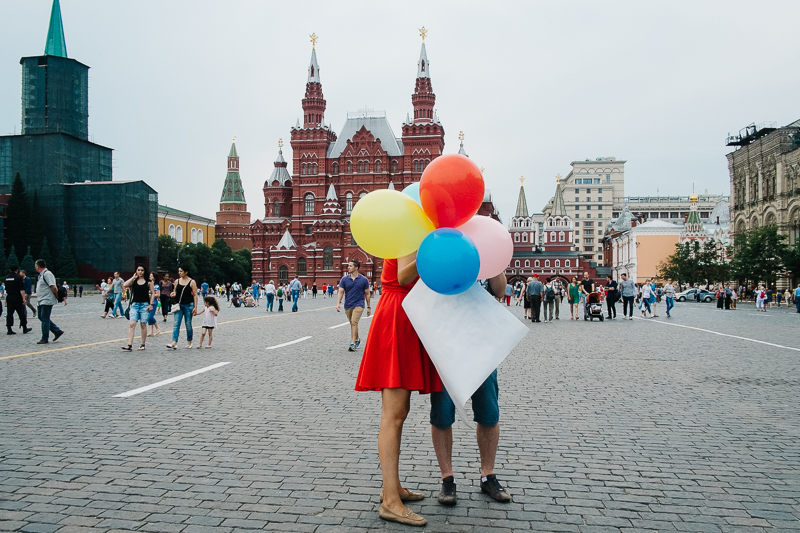 2. Patriarch's Ponds
Patriarch's Ponds is one of the most exclusive neighborhoods in Moscow. Despite the name being plural, there's only one large pond, but it's worth a visit with your camera. It's a popular spot for locals and expats to come relax or take a stroll around the pond. You get an interesting mix of young and old too, from young love to "babushkas" feeding pigeons. It's a very peaceful park atmosphere in one of the nicer areas within the city center, while bringing enough activity for street photography.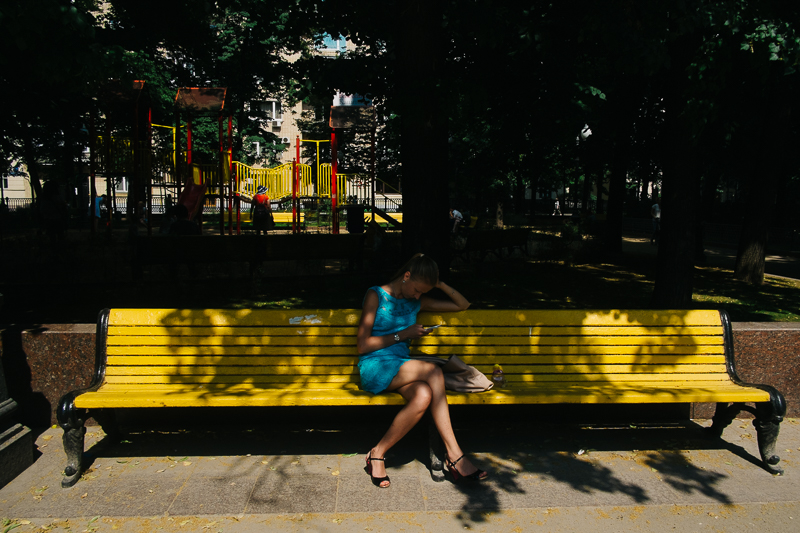 The pond is shallow and in the winter becomes a popular spot for ice-skating too. The area is also well-known for the location in the famous Russian novel, The Master and Margarita. 
3. Old Arbat (Stary Arbat)
Old Arbat is the most famous pedestrian street in Moscow, and dating back to the 15th century, also one of its oldest. Originally, it was an area of trade, but soon became the most prestigious residential area in Moscow. During the 18th century, Arbat started attracting the city's scholars and artists, including Alexander Pushkin. Cafes lined the streets and impressive homes filled the neighborhood. Since then, New Arbat street was created as a highway in the area, while Old Arbat was paved for a 1km pedestrian only walkway.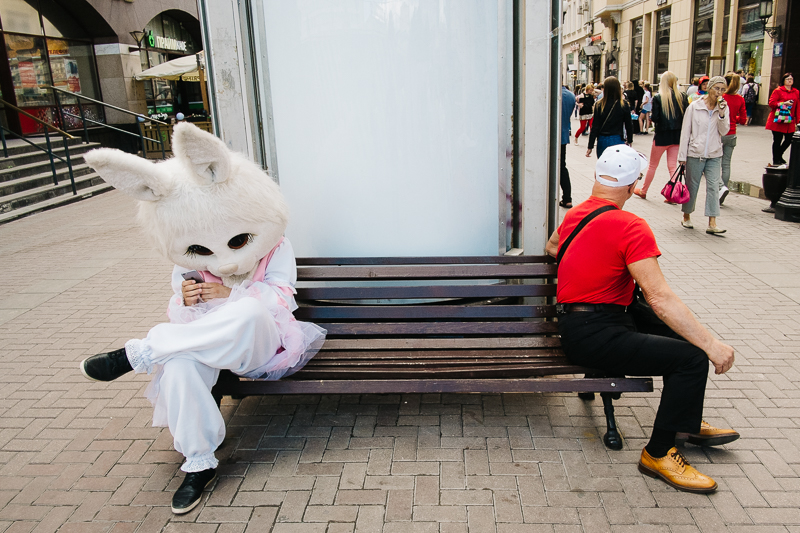 Due to the historic buildings, famous artists that lived here, and the bohemian atmosphere, Old Arbat has become a big attraction for tourists today. Now, there's a mix of cafes, restaurants, souvenir shops, street performers, street merchants and other attractions for visitors, and some locals, to come enjoy. It can get really busy here and there's usually something interesting going on so it's a good street to come walk with your camera for guaranteed life.
4. Gorky Park
One of the most famous places in Moscow is Gorky Park. The official name is Maxim Gorky's Central Park of Culture & Leisure, which gives you an idea of what goes on here. When built, it was the first of its kind in the Soviet Union. Divided into two parts, it stretches along Moscow River. One end contains fair rides, foods stands, tennis courts, a sports club, a lake for boat rides, and more. This end brings more active life due to its number of attractions, while the other end is more relaxed, where you'll find gardens, trees, older buildings, and an outdoor amphitheater.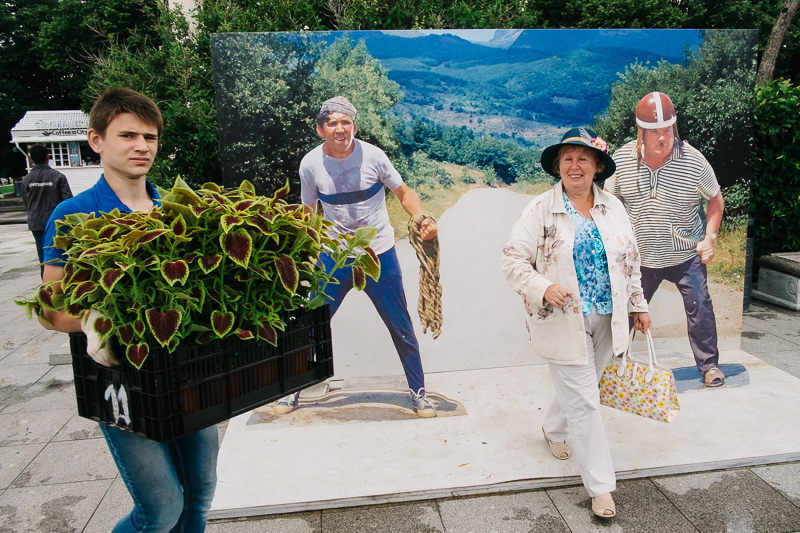 Gorky Park attracts mostly locals so it's a good spot to capture the non-tourist side of Moscow life. Muscovites come here to escape the city and unwind in a picturesque setting. The park remains alive outside of the warmer months too, especially when the lake turns into the city's largest outdoor skating rink. I'd recommend taking the metro out here to spend at least half a day exploring the massive park's life with your camera.
5. Maroseyka Street
Maroseyka Street is a popular area not too far from the Red Square. The long, winding street turns into Pokrovka and is lined with restaurants, cafes, bars and places to stay. It's actually where I like to stay when I'm in Moscow due to its location and solid street photography opportunities itself. You have Kitay-gorod station near and if you keep walking southwest, you'll get to the Red Square. But if you walk northwest, as it changes to Pokrovka, you can find a long street of activity for photography with its own interesting atmosphere.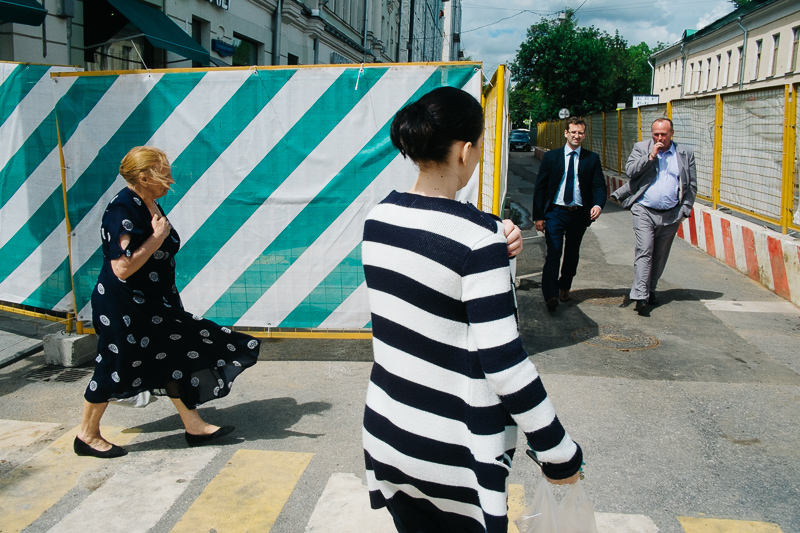 6. Tverskoy Boulevard
Tverskoy Boulevard is the oldest and longest boulevard in Moscow, beginning at the end of Nikitsky Boulevard, and finishing at Pushkin Square, a spot to come for activity itself. The boulevard is made up of two avenues, with pedestrian walkways in-between. You'll find grass, shrubbery, trees, benches and more walking it's almost kilometer length. Many people come here to enjoy some relaxation, walk their dog, or just to use it to walk wherever they're going. Its center location also provides a nice place to walk with your camera near plenty of other spots you'll want to check out anyway.
Sample Street Walk:
For a full day of Street Photography, covering some of the best spots, you can follow this sample street walk for Moscow:
Start your morning walking around the Red Square (1), while exploring the surrounding area, including Nikolskaya Street
Then walk northwest to Patriarch's Ponds (2) and slowly walk the pond and surrounding area with your camera
Next, walk east to the Pushkin Monument and stroll down Tverskoy Boulevard (6)
Once Tverskoy Boulevard (6) ends, it will turn into Nikitsky Boulevard. Follow this down until you get to the start of Old Arbat Street (3), across from Arbatskaya station
After you're done walking down Old Arbat Street (3) for more street photography, spend some time checking out Moscow's beautiful metro stations
To finish off the day with more street photography, get off the metro near Red Square (1) again, Maroseyka Street (5) or wherever you're staying for the night.
3 Things I'll Remember about Shooting in Moscow:
1. Museum Metro
The Moscow metro system was the first underground railway system in the Soviet Union and today includes 203 stations across 340km of routes. The elaborate system has some of the deepest stations in the world too, with escalators that seem to go on forever. None of this is what makes it so special, though. Many of its stations feel like stepping inside a museum, making it without a doubt the most interesting and beautiful metro system I've been in.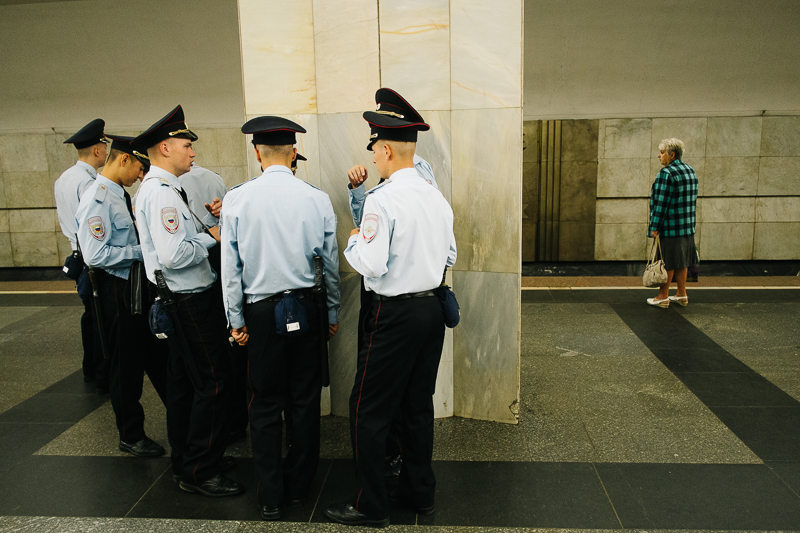 When built, Stalin wanted to make the metro stations "palaces for the people" with marble, chandeliers, and grand architecture. The best part is the variety of architecture and styles used, making many of the stations a completely different experience visually. You could easily spend a whole day traveling the stations and there are even tours available for people who wish to do just that. My advice, though, would be just to buy a ticket and hop on and off at different stations, while exploring different lines. The museum-like surrounding mixed with the crowds of characters can make for a great photography experience.
Since there are so many stations, here are some of my favorites to check out:
Novoslobodskaya
Mayakovskaya
Elektrozavodskaya
Komsomolskaya
Kievskaya
Ploschad Revolyutsii
Dostoyevskaya
Prospekt Mira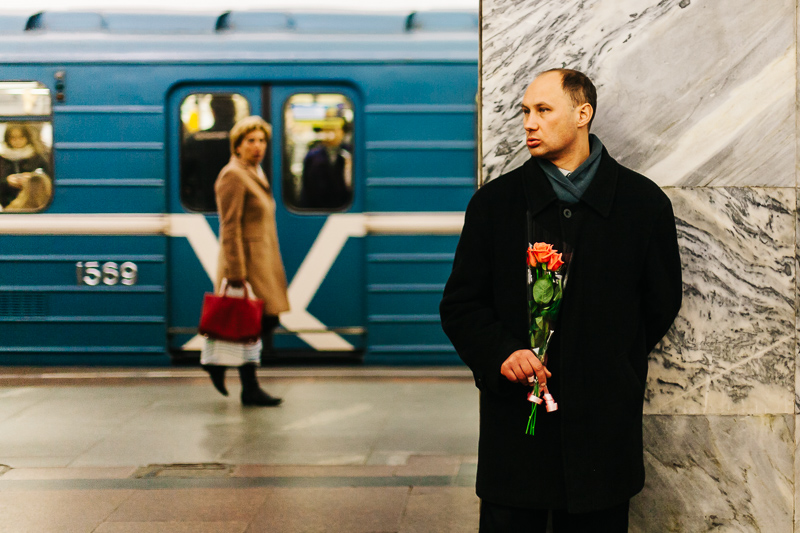 2. Moscow is Big
It's no secret that Moscow is a big city, but it can feel even bigger with how spread out much of it is. This is especially true if you compare it to cities outside of Asia. If I compared it to cities in Europe, I'd probably say only Istanbul would warrant more time to really discover the depths of this city. Most only explore around the Red Square and surrounding area, but that is such a small part of the city. Although, that central area does give you plenty to see on its own.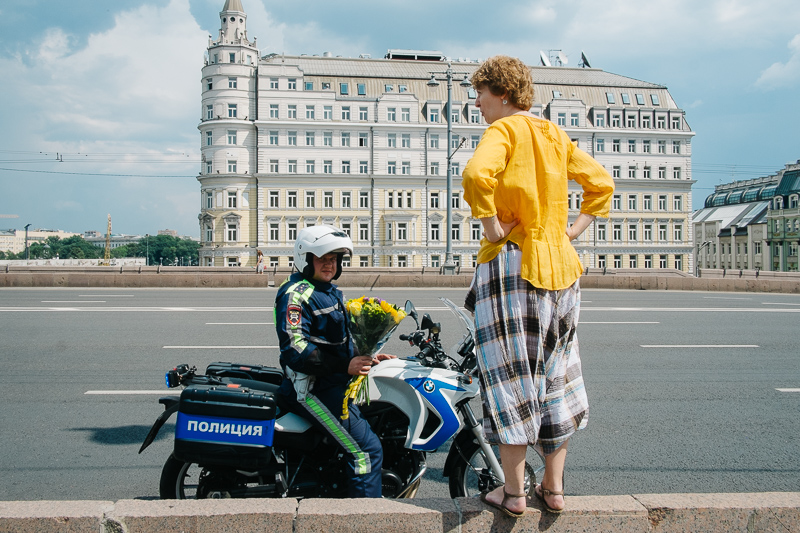 Fortunately, I had a good friend living in the city to show me around, but it opened up my eyes even more to how much there is to discover in Moscow. It's a big city with a variety of atmosphere that can take you from "east" to "west" and trendy to rugged depending on where you go. I'd imagine you'd have to live here a while to really know the city.
3. Cosmopolitan Mix of East meets West
Modern skyscrapers mixed with amazing architecture, a world-class metro system with museum-like beauty, trendy fashion and chic clubs, Moscow is a rich mix of Russian culture and history in a more western cosmopolitan package. There is a push to keep the Russian culture, while also pushing forward with a modern metropolis the whole world will envy. This comes with an impressive skyline, that continues to grow, and endless modernities, but with soviet nostalgia and atmosphere mixed in for good measure.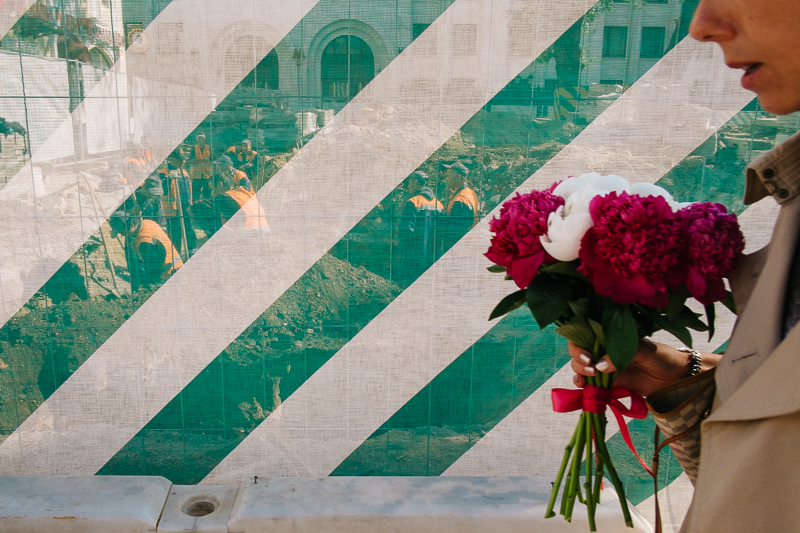 Mixed in with this grand western cosmopolitan atmosphere, is a strong national pride in Russia. This includes their famous leader, Vladimir Putin. Maybe no other place will you see a country's leader more often. All over, from the pricey tourist shops to the underground walkway stalls, you'll find goods with Putin's likeness covering them. From t-shirts to magnets to Matryoshka dolls. There's a strong national pride that can be seen around the city, which also extends to their leader. Moscow is many things. It's East meets West, modernizations meets Soviet era, and a whole lot more.
What To Do For a Street Photography Break?:
Eat at a Stolovaya
Stolovayas are Russian cafeterias that became popular in the Soviet days. You grab a tray and walk down the line of freshly prepared local dishes, and select whatever you want from the chefs. They're usually inexpensive and a much better value than restaurants, while giving you the opportunity to try from a wide selection of everyday Russian food. They're also very tasty. I always include some borsch on my tray and go from there. The places themselves are all over Moscow and usually come with Soviet-era aesthetics to complete the experience.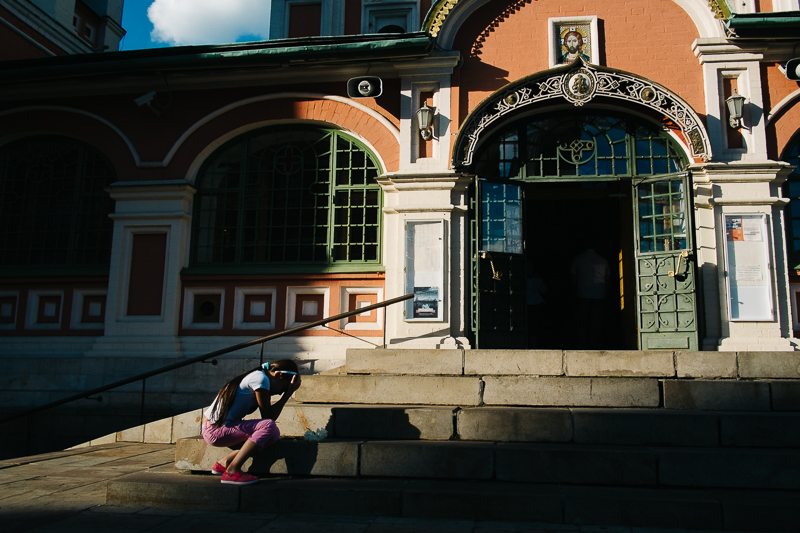 Street Safety Score: 7
*As always, no place is completely safe! So when I talk about safety, I'm speaking in general comparison to other places. Always take precaution, be smart, observe your surroundings and trust your instincts anywhere you go!
Being the 2nd largest city in Europe with over 12 million people, you're going to have your dangerous areas, but for the most part, it feels safe walking around. Russia is statistically higher in crime compared to most of Europe, but this generally doesn't apply to tourists and visitors. Around the Red Square and surrounding city center, you should feel completely safe walking around. Pick pocketing can happen, but no more than other touristic places. I always explore Moscow freely without coming across too much to worry about. It's a spread out city, though, so of course it matters where you are. Just use basic street smarts, know where you are and Moscow shouldn't give you a problem.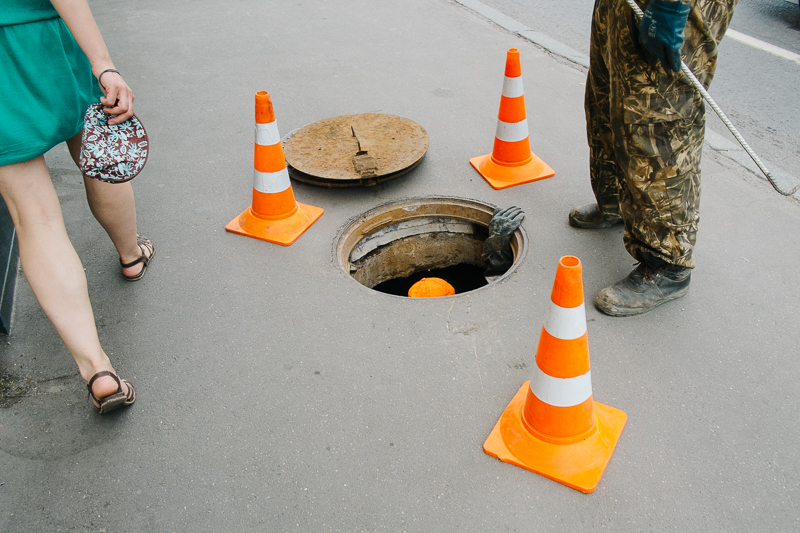 People's Reaction Score: 7
Moscow is fast paced, big city life, which usually means people aren't too concerned with you, or your camera. I don't find people notice or pay much attention to me when I'm out taking photos in Moscow. For the most part, people just go about their day. You shouldn't get too many looks or concern. But it can depend on the area you are in. The more you stick out, the more you might get noticed with suspicions. I've never had any problems in Moscow, or Russia, but just be careful who you're taking a photo of if you get out of the city center. Other than that, it's about average for reactions.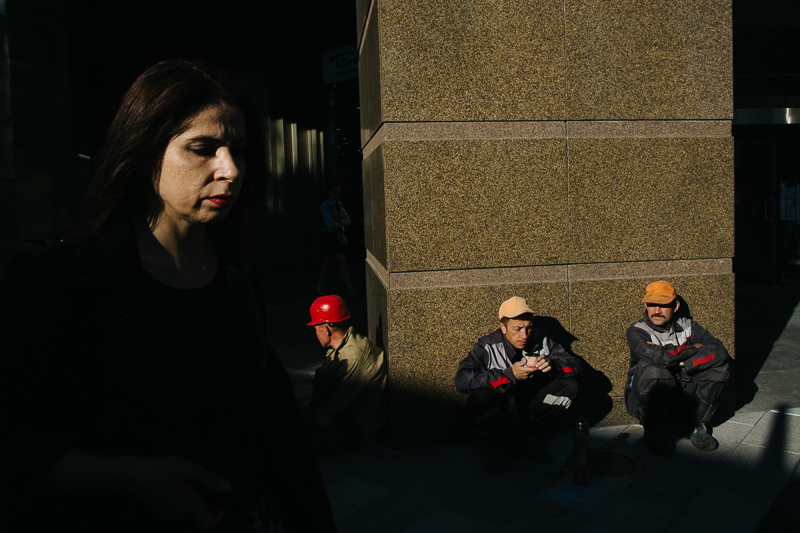 Street Tips:
Learn the Alphabet 
Much of Moscow, including the metro system, doesn't use english. The Russian alphabet uses letters from the Cyrillic script, which if you aren't familiar with it and don't know the sounds, can be hard to decipher the words. This is most important for street names and metro stops when trying to get around. It can save confusion and make it easier getting around if you learn the basic alphabet. At the very least then, you can sound out the words to see which are similar in the english conversion, which can help matching them to maps. When out shooting street photography, getting around is as important as anything. So save yourself some time and frustration by learning the Russian Alphabet.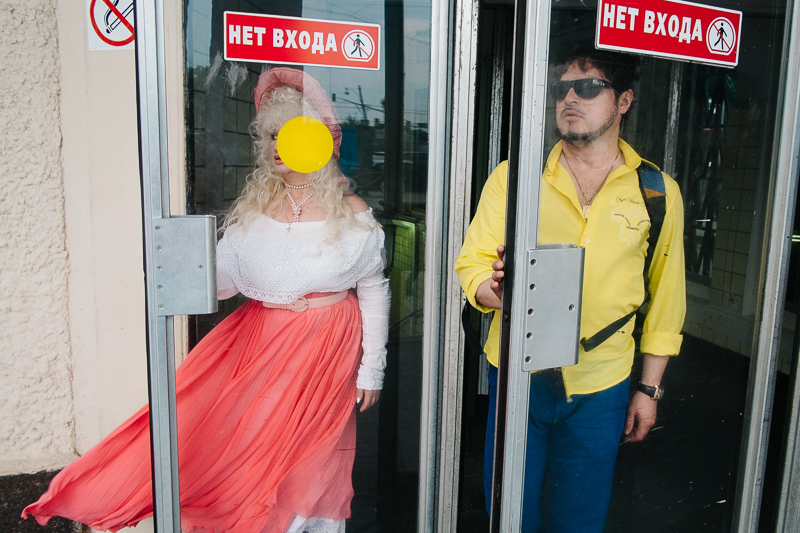 Use the metro
While Saint-Petersburg feels very walkable for a city its size, Moscow can feel very spread out, even for its bigger size. Outside of the Red Square area, you can have plenty of walking before getting anywhere very interesting, so you'll need to take the metro a lot if you really want to explore the city. Maps are deceiving here too, it will always be further than it looks.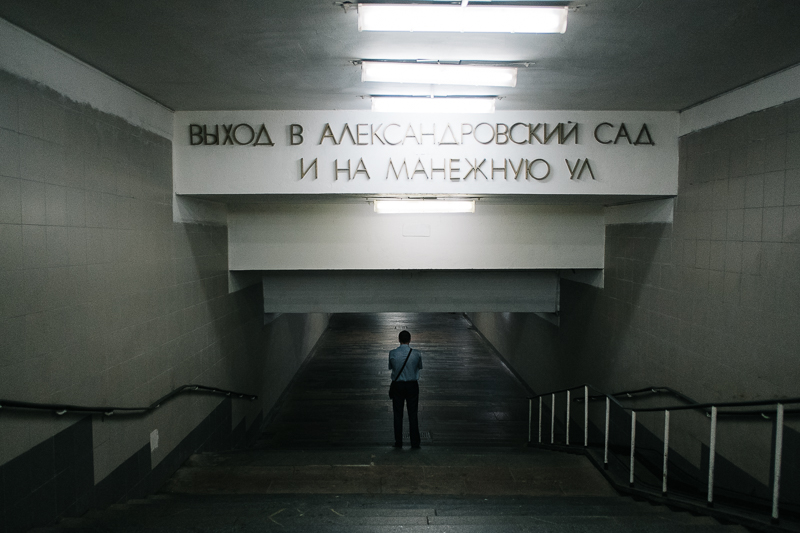 Another reason it's less walkable than Saint-Petersburg is its completely different set-up. Moscow's streets are mostly contstructed in rings with narrow, winding streets in-between. This is common with medieval city cities that used to be confined by walls, but you usually don't have it in a city this massive. Saint-Petersburg has a more grid-like pattern that also uses the canals to help you know your way around. When it comes to navigating on foot in Moscow, it can be more difficult, so bring a map and take the metro when needed. It's why Moscow's metro carries more passengers per day than the London and Paris subways combined.
Explore other areas if you have time
Moscow is really big. While most people stay around the Red Square within the Boulevard Ring, there's so much more to the city. I covered some other spots outside of this circle, but if you really want to see the city, you'll need time. If you do have time, some other areas I'd check out first are Zamoskvarechye, along some of the south and western Moscow.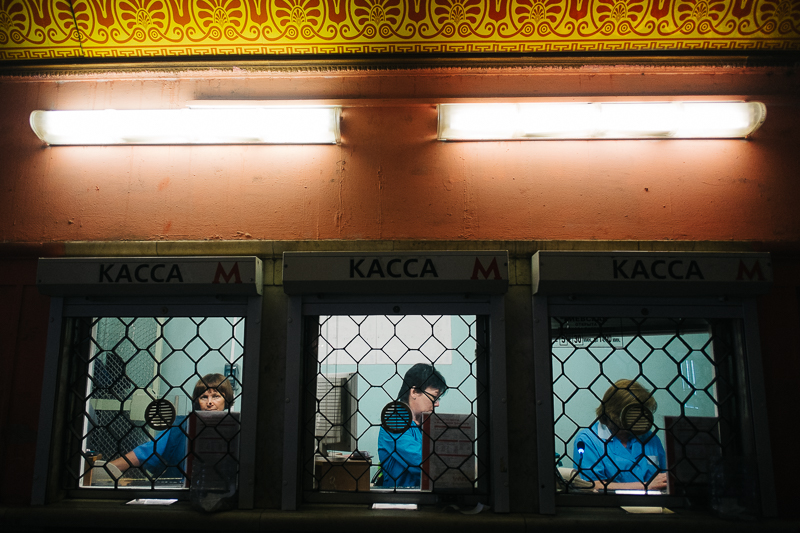 Inspiration:
For some more inspiration, you can look through the Street Photography of Moscow photographer Artem Zhitenev and check out 33 of my photos taken in Moscow.
Conclusion:
Moscow's name brings a certain mystique, but once you're there it might bring a different atmosphere than you expect. It's big and sprawling, but beautiful in many ways. It can feel like a European capital on a grand scale, but you can definitely find its Russian side in there.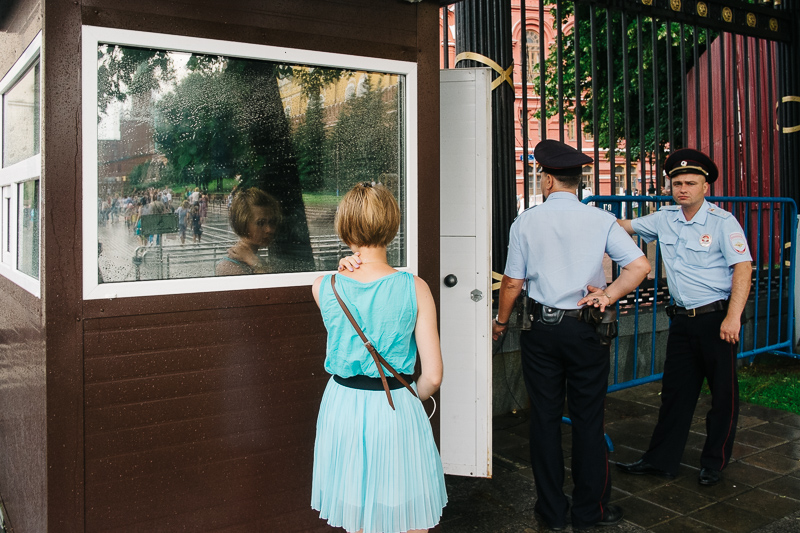 The urban sprawl of Moscow can be intimidating, but give it enough time and you'll be rewarded with plenty to discover. All with the world's best metro system to take you around.
I hope this guide can help you start to experience some of what Moscow contains. So grab your camera and capture all that Moscow has to offer for Street Photography!
If you still have any questions about shooting in Moscow, feel free to comment below or email me!
(I want to make these guides as valuable as possible for all of you so add any ideas on improvements, including addition requests, in the comment section!)
(A New Guide Posted Every Other Wednesday)