*A series of guides on shooting Street Photography in cities around the world. Find the best spots to shoot, things to capture, street walks, street tips, safety concerns, and more for cities around the world. All with plenty of candid photos to get a feeling of the city for photography. I have personally researched, explored and shot Street Photography in every city that I create a guide for. So you can be ready to capture the streets as soon as you step outside with your camera!
Saint-Petersburg
Overview:
For this City Street Photography Guide I get to cover one of my favorite cities in the world, Saint-Petersburg, Russia. Not only is it a favorite of mine, but it's a city that seems to go under the radar for many, including street photographers. A city this large and famous can't be considered a secret, but when you mention cities like London, Paris, Tokyo, New York City and Havana, I would put Saint-Petersburg right up there with them at the top.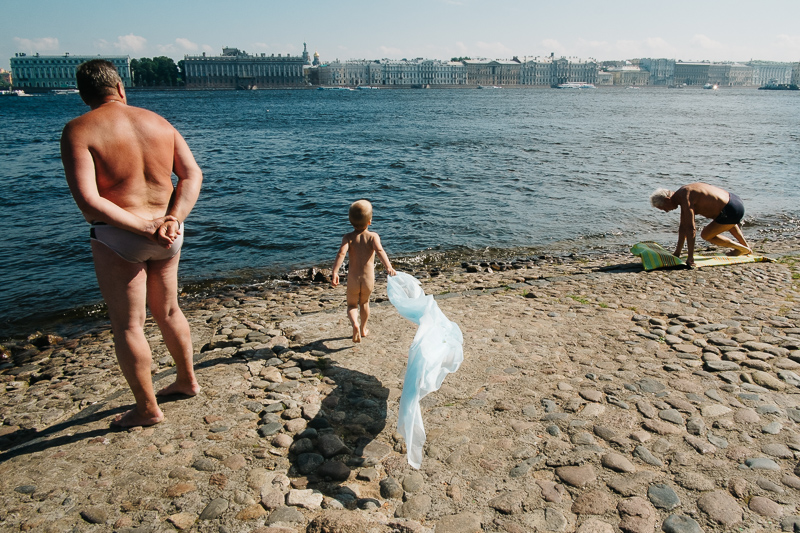 Why would I give Saint-Petersburg such high recommendations for a visit, especially for street photography? There's just something magical about Saint-Petersburg that you won't find anywhere else in the world. The canals, pastel colors, incredible architecture, bridges, islands, hundreds of parks, and more give it this atmosphere that has to be experienced. And even better is the variety of life and people that go along with it. It's a diverse mix of character, in the life and scenery, that when put together can create magic. For both your experience and your camera.
With such a high recommendation, I made sure to make this guide as in-depth as possible, with even more info and photos than normal to really give you a feeling of the city. So here's a Street Photography guide so you can be ready to capture all that Saint-Petersburg has to offer before you even arrive.
Map:
Nevsky Prospekt / Station
Hermitage / Field of Mars
Sennaya Square
Apraksin Dvor
Krestovskiy Ostrov
Hare Island
Udelnaya Flea Market (Weekends Only!)
Bonus: Kupchino
Top 7 Street Spots:
1. Nevsky Prospekt / Station
Nevsky Prospect is the main street in Saint-Petersburg, and one of the most famous in Russia. It runs through the historical center of the city along many popular sites like Kazan Cathedral, the Singer House and the Monument to Catherine the Great. It also runs by the majority of the city's shopping and nightlife. This long and wide street attracts the most foot traffic in the city and is the center for anyone looking to see, and capture, the life of the city.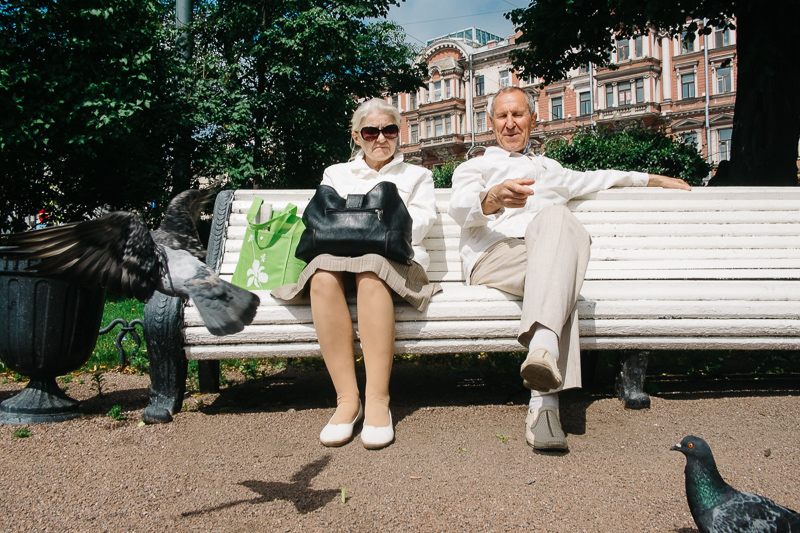 Some of the city's busiest metro stations are located here too, including Nevsky Prospect, Gostinyy Dvor, Mayakovskaya and Admiralteyskaya. In total, Nevsky Prospekt runs from the Admiralty to the Moscow Railway Station and then a slight turn to the Alexander Nevsky Monastery. The central location, scenery and amount of activity make this a street you'll want to keep coming back to for street photography in Saint-Petersburg.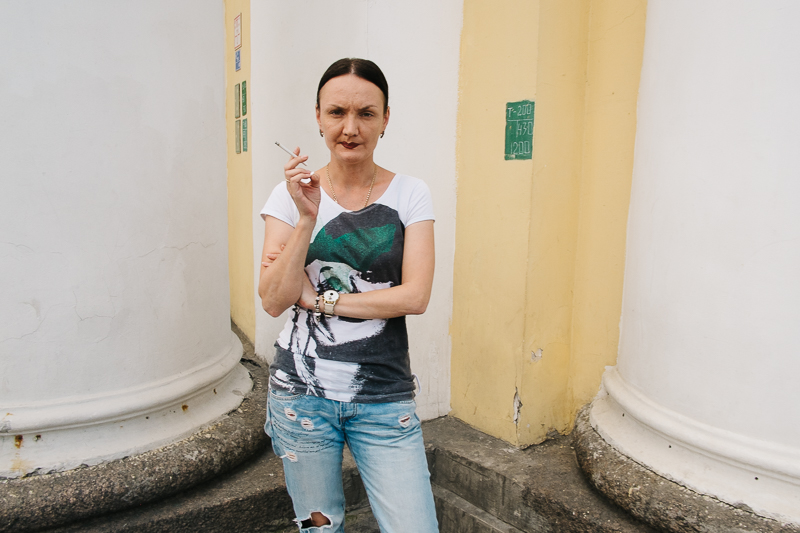 2. Hermitage / Field of Mars
The Hermitage is one of the largest and oldest museums in the world, comprising over three million items, including the largest collection of paintings in the world. Six buildings make up the complex, but a former residence of the Russian emperors called the Winter Palace is the most famous, and most beautiful. While this is Saint-Petersburg's top attraction, I included it on the list for what you see on the outside. The Winter Palace provides an amazing background to a very large square that fills with people, and sometimes outside events. It can be a great place for street photography due to the activity, light and backdrops.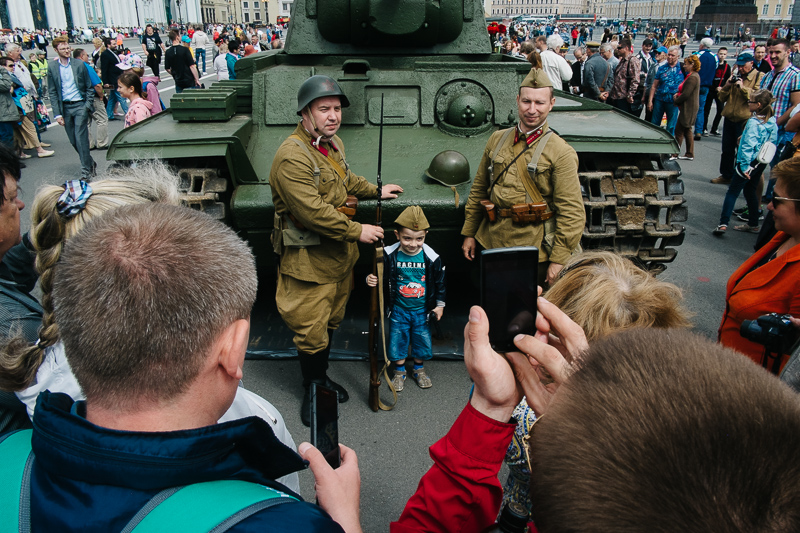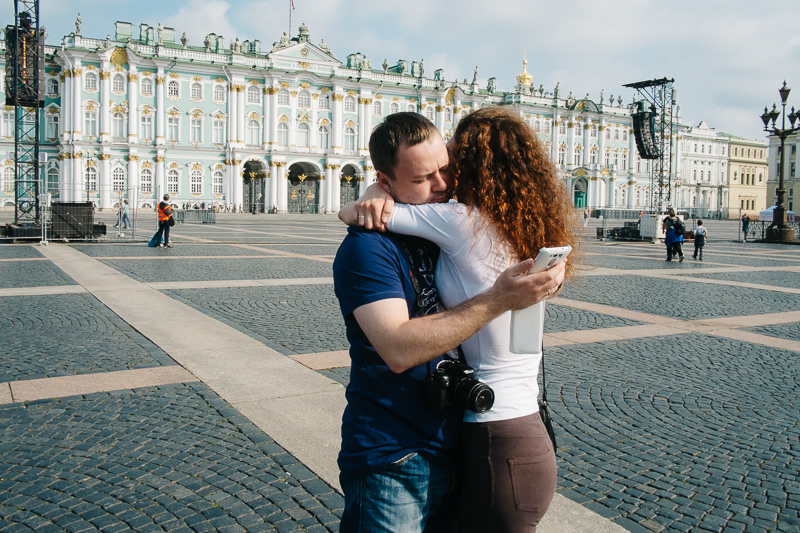 There are endless parks in Saint-Petersburg, but my favorite would probably be the Field of Mars, only a few blocks away from the Hermitage. Many ex-soviet cities have eternal flames burning and this is where Saint-Petersburg's is located. This large green space has been used for many things in the past, from military parades to a formal garden for Catherine I, but today it is used as a favorite place for locals, and tourists, to come relax and enjoy the beauty.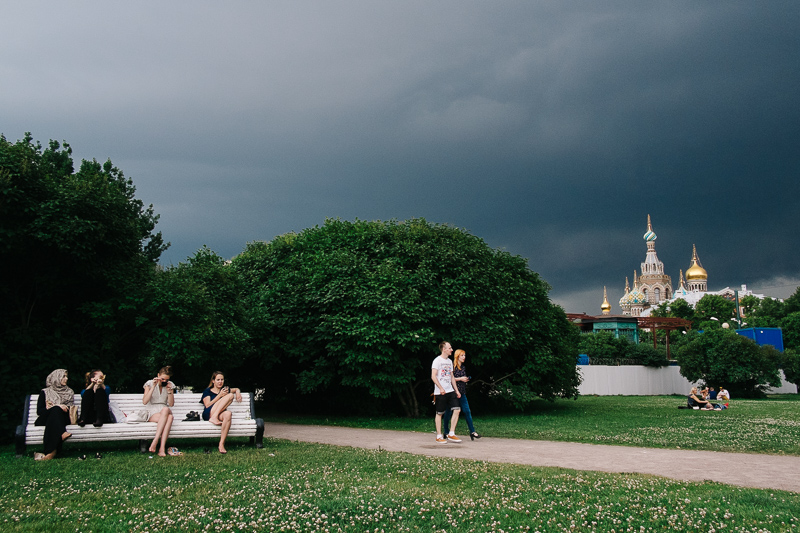 3. Sennaya Square
Sennaya Square is not only filled with history, but one of my favorites spots for guaranteed activity in the city. Originally, over 200 years ago, the square was used for selling hay, straw and firewood. In the 18th century, it became the city's main commercial and merchant street, and today it's one of the busiest squares in Saint-Petersburg.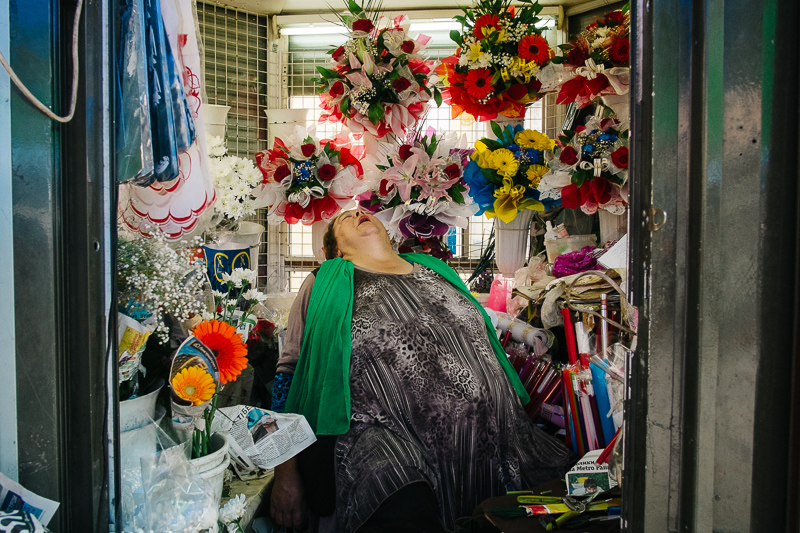 Sennaya Square still has a variety of merchant stands and stores, making it one of the liveliest markets in the city, but it also serves three metro stations, including Sennaya Ploshchad, Sadovaya and Spasskaya. So people are moving in all directions here for different reasons. You can walk through the merchant stands or just stand in the middle of the square in front of the station watching all the activity moving by. It's a nice, busy spot to hit up for street photography far enough away from Nevsky Prospect to lessen the amount of tourists, while still being in walking distance.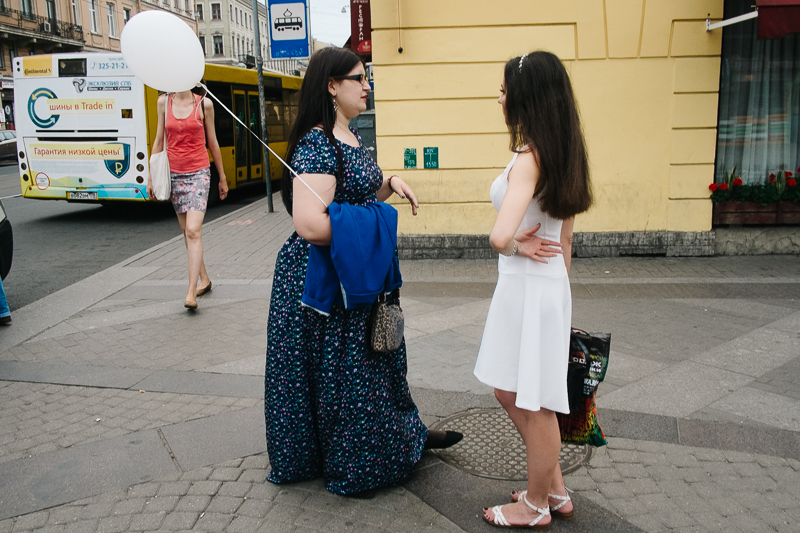 4. Apraksin Dvor
Apraksin Dvor is a 35 acre market/retail block that's been going since the 18th century. It's not pretty, but the mess of stalls provide a maze of chaotic activity that can be interesting to explore for some street photography. You'll find mostly cheap clothing items, as well as leather goods, food and ethnic products. The low prices attract a unique mix of characters, while the set up of stalls falling apart and cluttered streets add more character.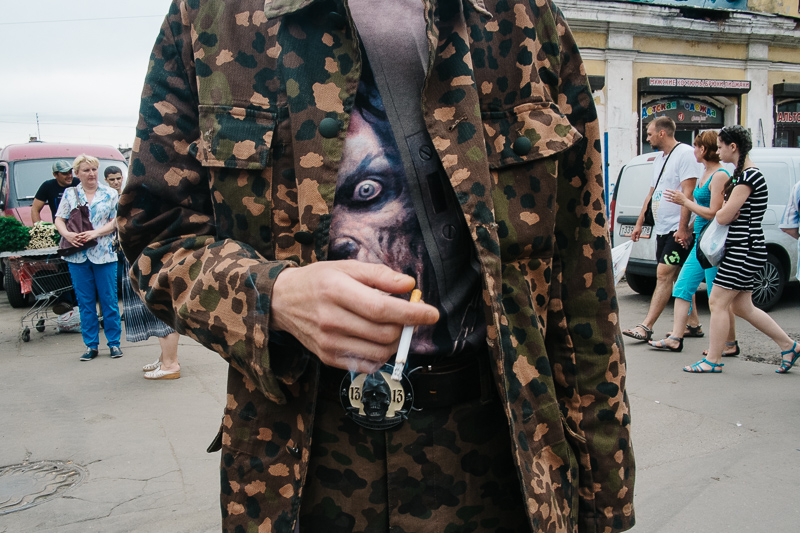 This large city block of over 500 small shops and stalls is undergoing some renovation, but hasn't lost its gritty atmosphere yet. It's an interesting stop with your camera and should provide a good amount of time for street photography.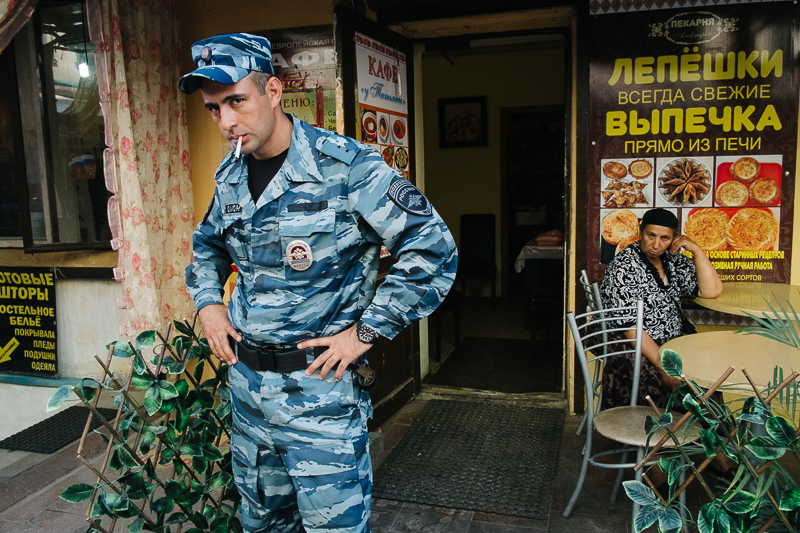 5. Krestovskiy Ostrov
When local street photographer Ilya Shtutsa showed me around Saint-Petersburg for a day of shooting, one place he took me to was Krestovskiy Ostrov, for something different that mostly only locals would know about. For centuries, this island has been a popular place for the locals to come for fun. With parkland and the Divo Ostrov amusement park, it still provides a fun place to get away from the city, but it's also become one of the nicest suburbs in Saint-Petersburg.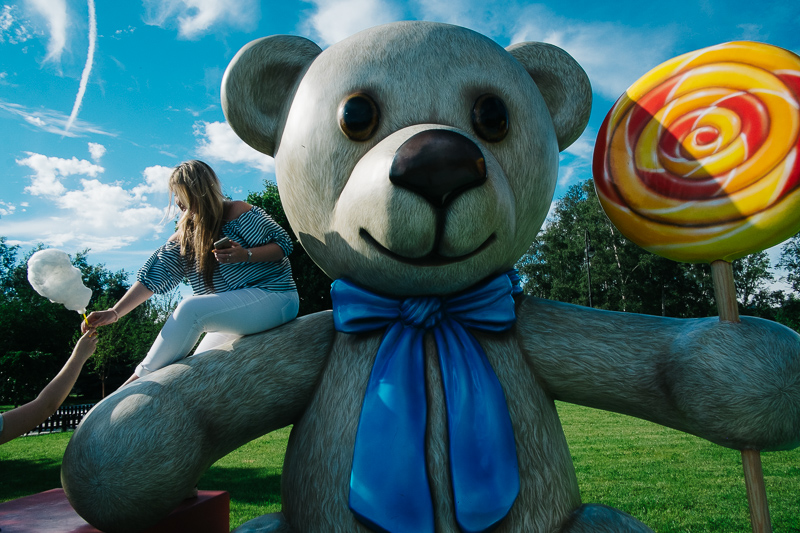 Divo Ostrov amusement park is free to enter and provides loads of activity, colors and interesting scenes for photography. Outside of the park, you'll find beaches, boating, sporting facilities and other outside activities. It's a place that really attracts the locals so you won't see many tourists making their way up here. Still, it's a quick and easy metro ride away, and worth it for a different atmosphere for street photography while in Saint-Petersburg.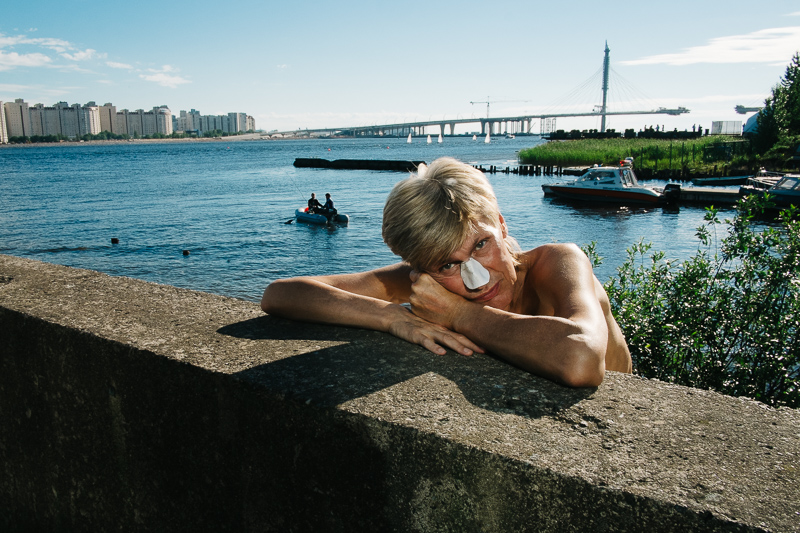 6. Hare Island
Zayachy Island, also known as "Hare Island," is a very small island in the center of Saint-Petersburg connected by two pedestrian bridges. In 1703, Peter the Great began construction of the Peter and Paul fortress here, which is a big tourist draw today. The grass, sand and stone surrounding the fortress is also a popular spot for the locals, especially in the summer. They come to lay out in the sun, take a dip in the water and enjoy the city view by the river.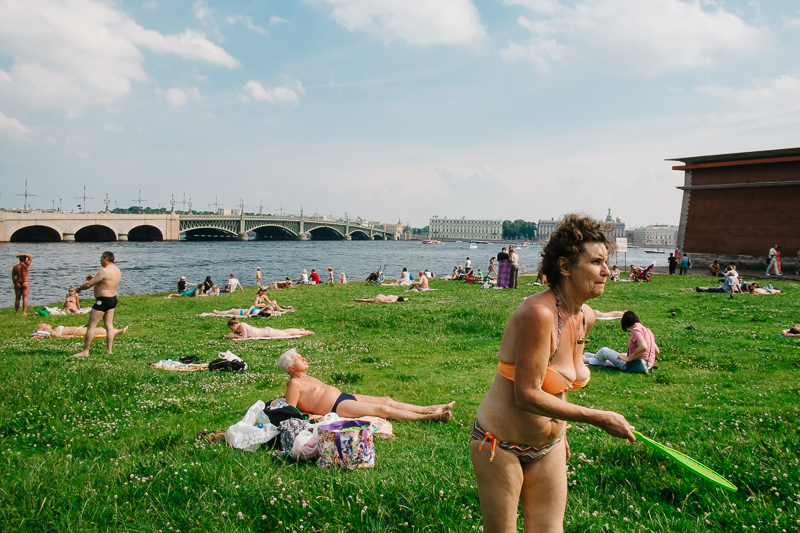 The large grass area fills up with activity, but the most interesting spot is around the fortress where you'll find a more secluded area with a large fort wall and stone shore. Since the wall faces the sun, it heats up and becomes a warm spot for locals to lay against in relaxation while they sunbathe. Combined with the mix of characters it attracts, it can create a very interesting, slightly surreal scene. It's one of the more unique and interesting places I've found. So much so that I made a short series about it with photos here.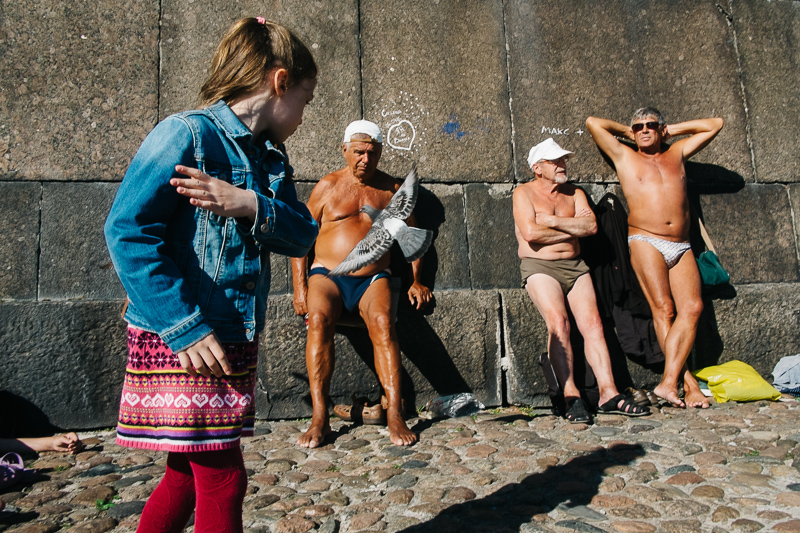 7. Udelnaya Flea Market (Weekends Only!)
The Udelnaya Flea Market is one of the largest flea markets in the world, and the most famous market in Russia. It's only on the weekends, but if you're here then, you should get up early and make your way over to the Udelnaya metro station to check it out. It's partly known for genuine Soviet Merchandise and things remaining from the Second World War, but there's plenty more to find here than that. And by plenty more, I mean this outside market goes on forever with stalls and fields covered with blankets of items. You can find anything and everything here. And the characters and life this place attracts provides even more interest. This is a big deal to many of the sellers, who make the trip out every weekend from smaller, poorer areas. Many of them older in age, bringing a different scene than the rest of Saint-Petersburg.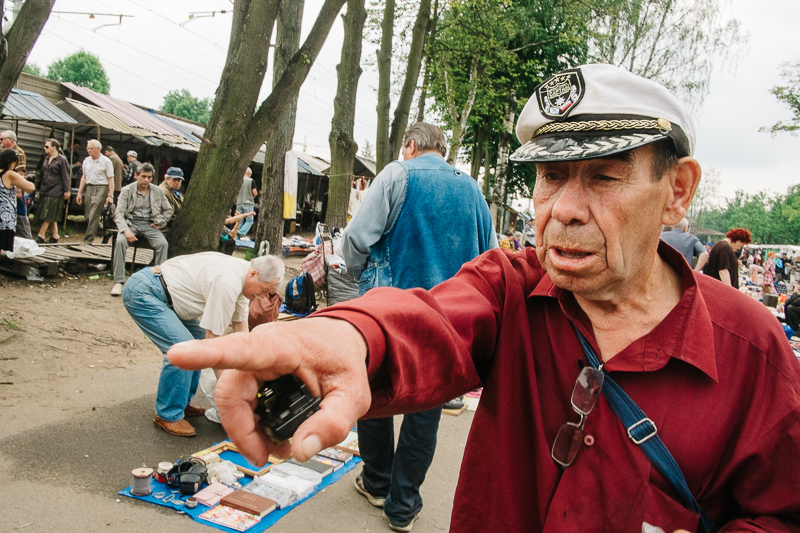 Directions: Once you exit the Udelnaya station, you'll see sellers along a large concrete lot, but where you really want to head is right, across the railroad tracks until you get to rows of stalls selling different items (just follow the people). Then once you make it all the way through the stalls to the end, it will open up to a large field completely covered with merchants and their goods. It's a one-of-a-kind place that should give you hours of exploration and photography. 
*Some people don't like photos here so you do have to be more careful than the rest of the city, but you'll still have plenty of photo opportunities, while enjoying the best flea market experience around.
Bonus:

Kupchino
Saint-Petersburg is a beautiful city, but you can still find a grittier side with some soviet feeling, especially if you venture outside of the center. Personally, I enjoy both the beautifully impressive architecture and the soviet buildings filled with more character than beauty. Kupchino can be an interesting place to find some of that latter feeling. While it has a reputation for being dangerous, it's much safer than it used to be. It's very close and easily reachable on the metro, but feels isolated with a much different feeling. There's an industrial and Soviet-time atmosphere with a strong local identity that I find appealing, especially for a change of scenery in Saint-Petersburg.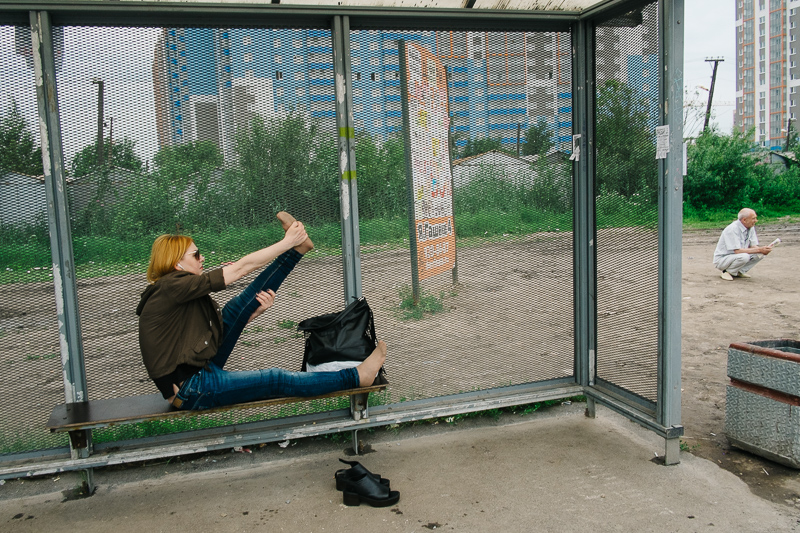 I'd recommend taking the metro for an easy visit to Kupchino at least once to experience and capture a different vibe for street photography, but do be a little more on guard and street smart in some areas.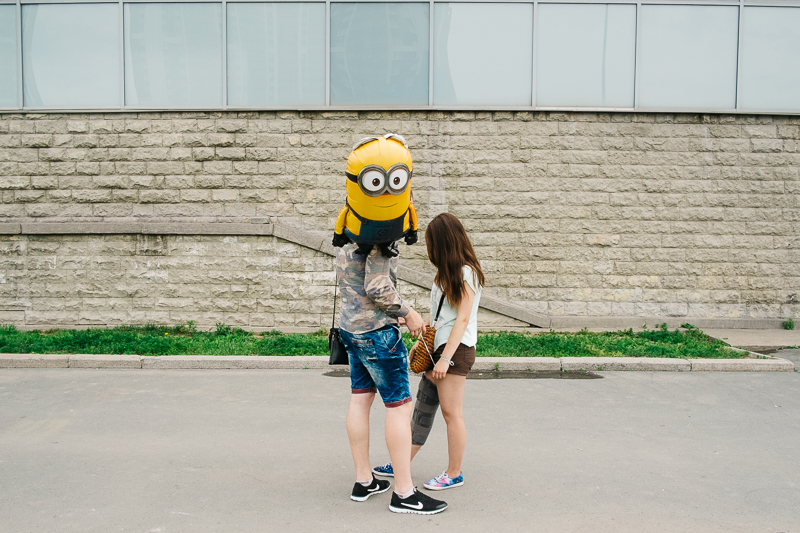 Sample Street Walk:
For a full day of Street Photography, covering some of the best spots, you can follow this sample street walk for Saint-Petersburg:
Start your morning slowly walking east along Nevsky Prospect (1), making sure to stop at the different squares and canals.
Take a right on Sadovaya until you get to Sennaya Square (3) where you can explore for street photography (and if you want, you can continue walking a little further until you get to Yusupov Gardens for more photography).
After you're done in this area head back northeast along Sennaya Square (3) until you get to Apraksin Dvor (4) for more exploring with your camera.
Then head further northeast back to Nevsky Prospect (1) and take a left through more activity until you finish at the Hermitage (2)
After exploring around the Hermitage (2), head northeast to the Field of Mars (2) for more photography
Then head northwest through the end of the Field of Mars (2) and across the bridge. Once across, turn west to cross the short pedestrian bridge to Hare Island (6) for one of my favorite street photography spots. Spend some time exploring the entire small island, especially the Southeast side.
Now depending on the time, you can walk back north over the pedestrian bridge to the Gor'kovskaya metro station to get to where you need. Back home or back to Nevsky (1) for more street photography, especially if you have that White Nights' summer light :)
Ask a Local Street Photographer Where to Go: Ilya Shtutsa
"As my favorite game is called "Go don't know where," there are no preferable places. I cannot predict where I could find a picture – in a place where I've never been before or on Nevsky Prospect. Of course, I love to explore new places, Saint-Petersburg is a big enough city, but I also love to come to Nevsky and say – hey, Nevsky Prospect, let's play. Show me what you have today, something interesting! And it's wonderful that after all these years, this place continues to surprise me."
3 Things I'll Remember About Saint-Petersburg:
1. Canals & Architecture
Saint-Petersburg has been nicknamed the "Venice of the North" due to its many canals running throughout the city. With around 100 waterways and over 800 bridges, it's as much a part of the city as anything.
There are only a few cities in the world where water is as much a part of the city as here. It gives it a calming atmosphere walking along the canals, while providing a place for street photography scenes you wouldn't be able to find elsewhere. Some of the city islands provide parks overlooking the water and the bridges are something the city is really known for. A city having some type of body of water has always been important to me for many reasons, and it's a big reason I love this city so much.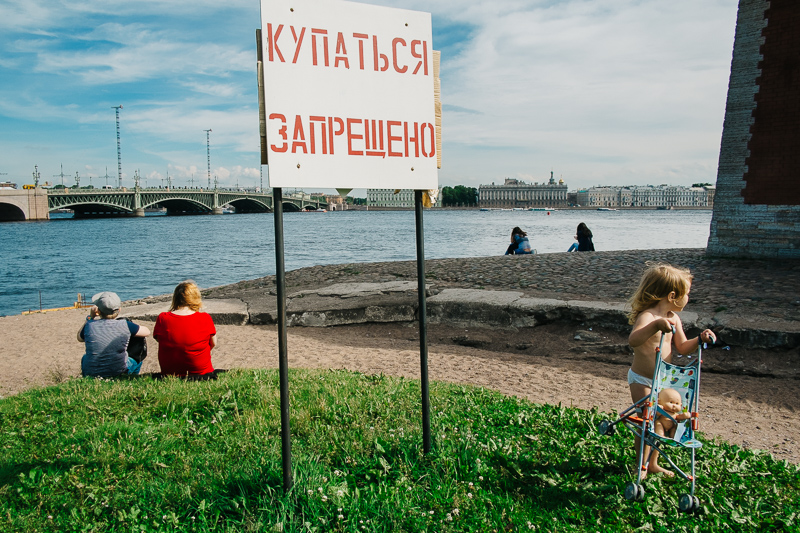 Another thing that stands out in Saint-Petersburg is its variety of impressive architecture. The colors and range of styles really make for a magical atmosphere when combined with the canals. While you can find Soviet style too, it's the mix of other styles that really makes the city stand out in Russia. For Baroque-Style, you have the grand Winter Palace, now the home of the Hermitage Museum. For Art Nouveau/Style Moderne, you have the famous Singer House in the middle of Nevsky Prospekt. For Neo-Gothic, you have the pink Chesme Church. And of course, for the Stalinist and Soviet Architecture, you have places like the House of Soviets and the 1920s Red Banner Textile Factory.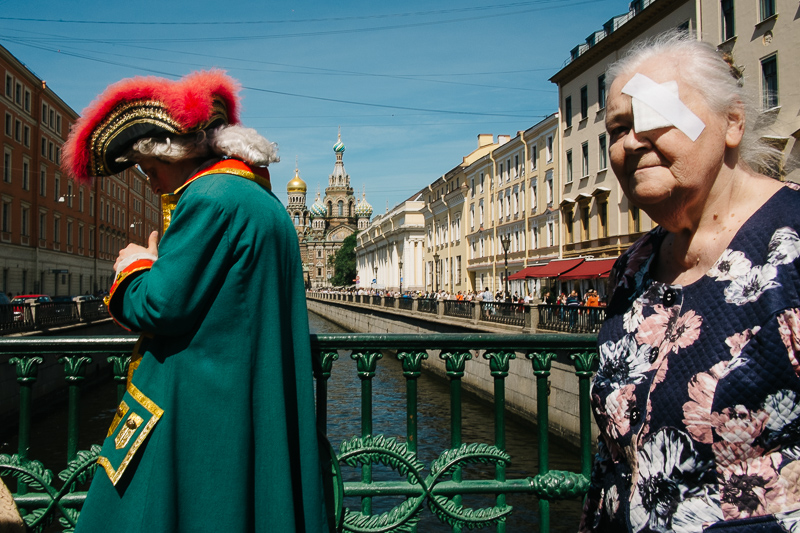 Saint-Petersburg is also home to my favorite church, The Church of the Savior on Spilled Blood. The style is more medieval Russian, resembling Moscow's famous St. Basil's Cathedral. The Church is covered with over 7500 square meters of mosaics, arguably more than other church in the world. It can look like a painting against the sky's backdrop. For someone unfamiliar with Saint-Petersburg, the architecture might be your most impressive surprise. And for photography, it can work beautifully for backgrounds.
2. Bridges & Parks
With over 200 parks and gardens, St. Petersburg is the greenest of Russia's major cities. It's one of my favorite parts about the city too, especially in the summer. Wherever you are, there's a park nearby. Many of them are large, open and full of life too. After the canals, bridges and architecture, it's what I think of next when I think about Saint-Petersburg. They can make for great spots for street photography too.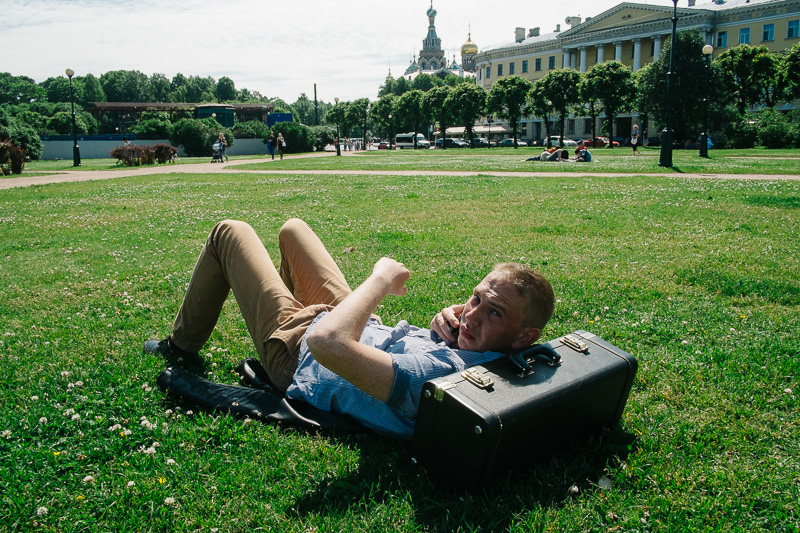 Summer Garden is the oldest park in the city, created in 1704 for Peter the Great and containing Russia's oldest collection of park sculptures. Catherine Garden gets plenty of activity due to its location, right in the center of Nevsky Prospekt. Alexander Garden is another beautiful park, located by the Hermitage, but my favorite would have to be the Field of Mars, which used to be the setting for military parades and drills. Most of these parks I walked through daily for street photo opportunities, and for a relaxing break.
There aren't too many things Saint-Petersburg is more known for than its many bridges. With all the canals and islands, bridges are everywhere. 342 bridges in the city limits, to be exact. Some are smaller pedestrian bridges, while others are much bigger. Many of these larger bridges fold up at night too, which has become a major attraction in itself.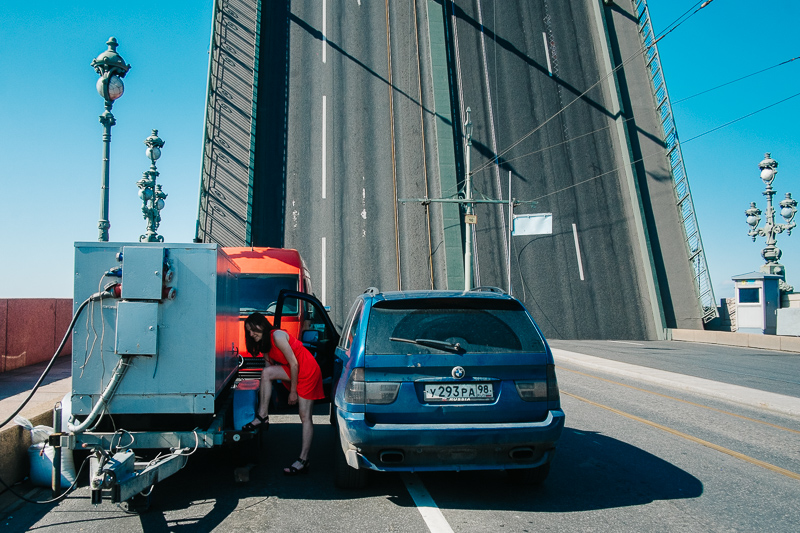 Below are a few bridges you'll definitely want to check out that should also attract activity for some street photography:
The Palace Bridge – Saint-Petersburg's most famous bridge, covering the historic center. When raised at night, this is the view you'll see across post cards and magazines, making it a big attraction for visitors.
Trinity Bridge – Probably the second most known bridge it the city, this is another attraction for its view, especially when raised at night.
Anichkov Bridge – Sitting on the busy Nevsky Prospect, this bridge is a popular attraction for its four equestrian statues.
The Bank Bridge – One of the city's most famous pedestrian bridges, known for its golden-winged griffons.
Lomonosov Bridges – An impressive stone bridge dating backing to the 1700's, one of the oldest in the city.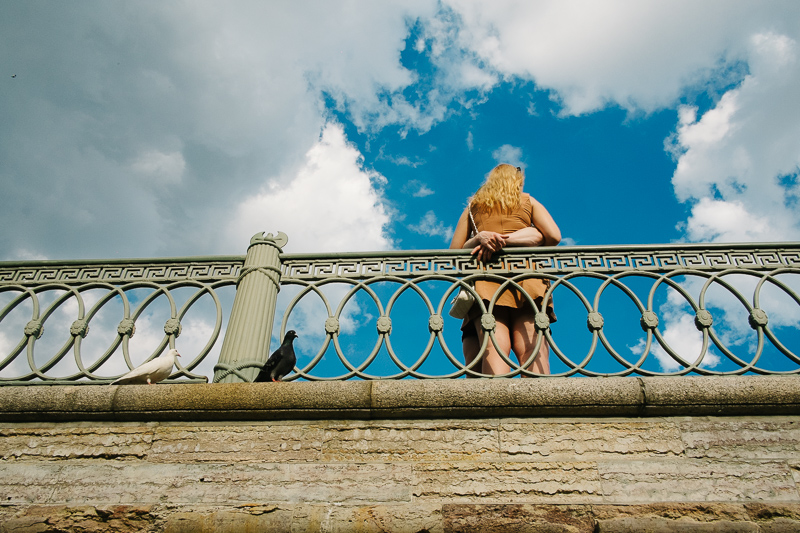 3. St P Magic
For anyone that's never been to Russia, Saint-Petersburg might feel much different than expected. The people who are most surprised Saint-Petersburg is one of my favorite cities in the world are usually the ones that picture a dark Soviet version of Russia. Personally, I really enjoy the more "Russian" parts of Russia due to their character, but Saint-Petersburg has its own special magic. It's filled with culture, art, museums, operas, plays, and everything that would rival anything Western Europe could throw at it. It's been called a "window to the west" in Russia, but it's also so much more.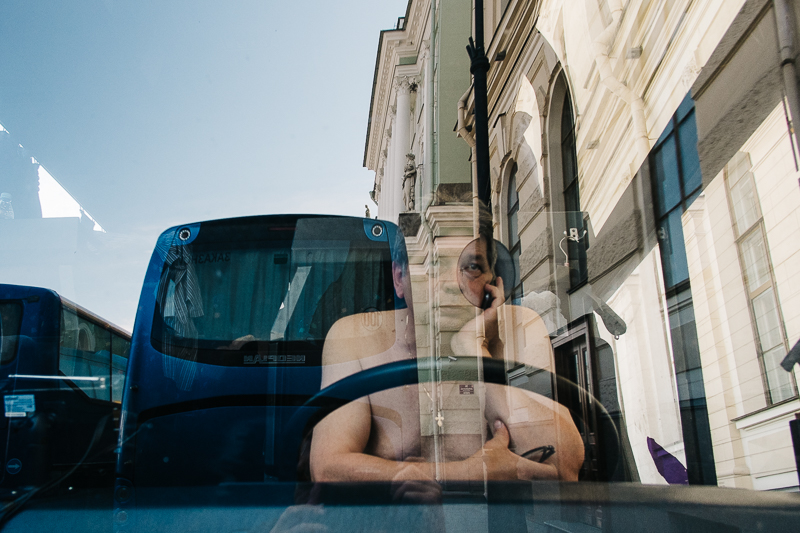 As stated earlier, though, if you venture outside of the center, you can still find plenty of soviet feeling. I enjoy the wide variety of scenery and feeling the city has to offer. In addition to the soviet-era scenery in some areas, there's a gritty industrial atmosphere in many areas, including the rubber factory and Kupchino. With all the islands and neighborhoods, the more time you have to explore Saint-Petersburg, the more you'll discover the variety it provides for street photography.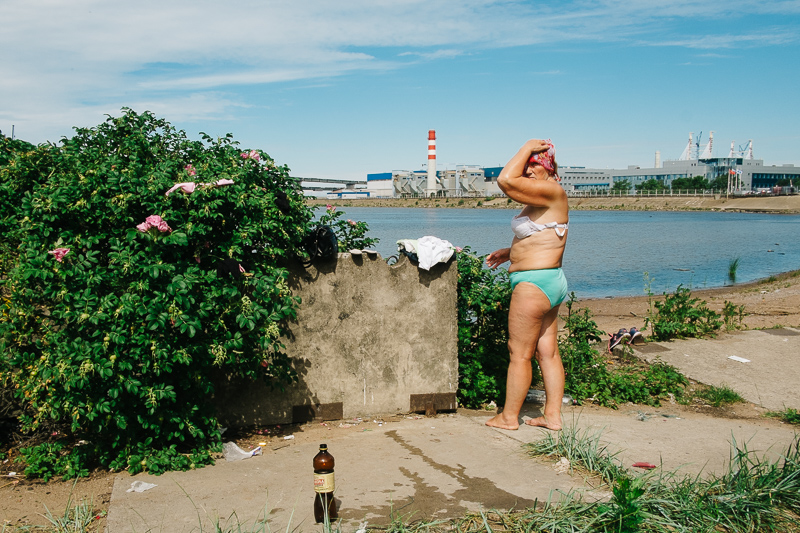 What To Do For a Street Photography Break?:
Parks, Bridges & Piroskis
I already covered why the city is known for their parks and bridges, but they also make a great spot for a break. Grab a bite to eat and relax in one of the many parks, like Field of Mars or Summer garden, or sit down on a bench by a bridge and enjoy the view. As for a local food that's easy to take along, try a Piroski. There's a variety to choose from, sweet to savory, and you can find them in bakeries, delis, cafes or even from babushkas pushing home-baked carts full of them.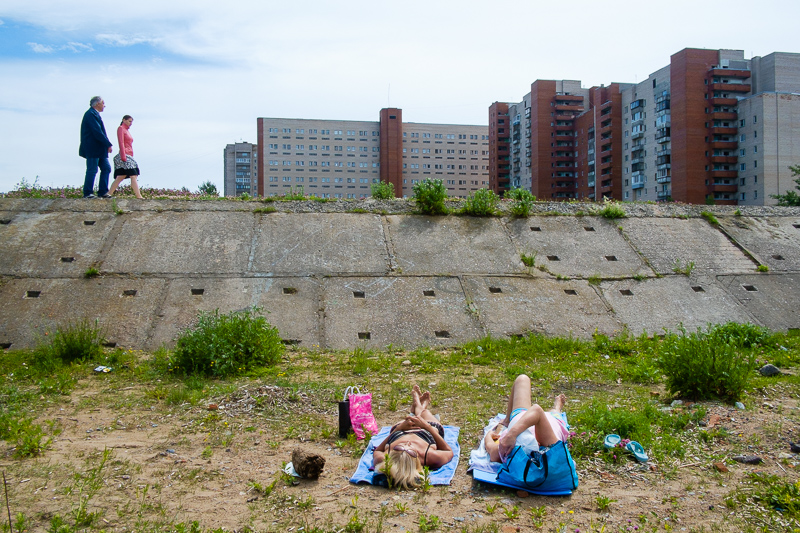 Street Safety Score: 8
*As always, no place is completely safe! So when I talk about safety, I'm speaking in general comparison to other places. Always take precaution, be smart, observe your surroundings and trust your instincts anywhere you go!
At 5 million people, Saint-Petersburg is the 4th largest city in Europe. So as with any city this size, you can't expect complete safety and should take normal precautions. Saying that, in most areas it feels like a very safe city with plenty of police presence, especially in the center. With crowds and tourism, be aware of pick-pockets, but not more than any other popular city in Europe. And while Russia is statistically higher in crime compared to most of Europe, this generally doesn't apply to tourists and visitors. I would visit and explore Saint-Petersburg without any special worries.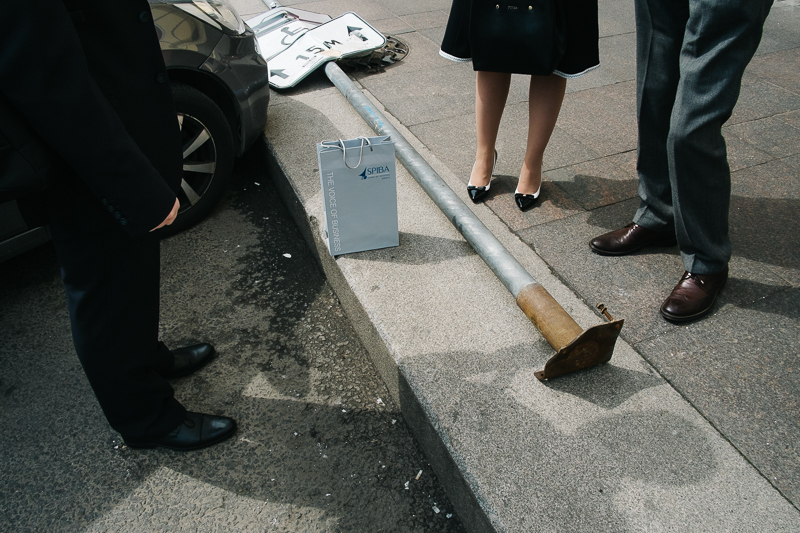 People's Reaction Score: 8
For me, Eastern Europe is one of the best places outside of Asia for street photography reactions. This is my personal experience, though, as some other photographers seem to have more fear here. I'm not sure why, but if you're confident and friendly here, you shouldn't have a problem. Many people tend to live their lives without as much care of what they look like to others, which can be great for street photography. And then the majority of those that do care, usually find photos surprising, yet amusing. Of course, this doesn't go for everybody, especially in some markets, but in general I find Saint-Petersburg an easy place for street photography reactions. Being friendly, yet confident is my best advice for here, and most everywhere.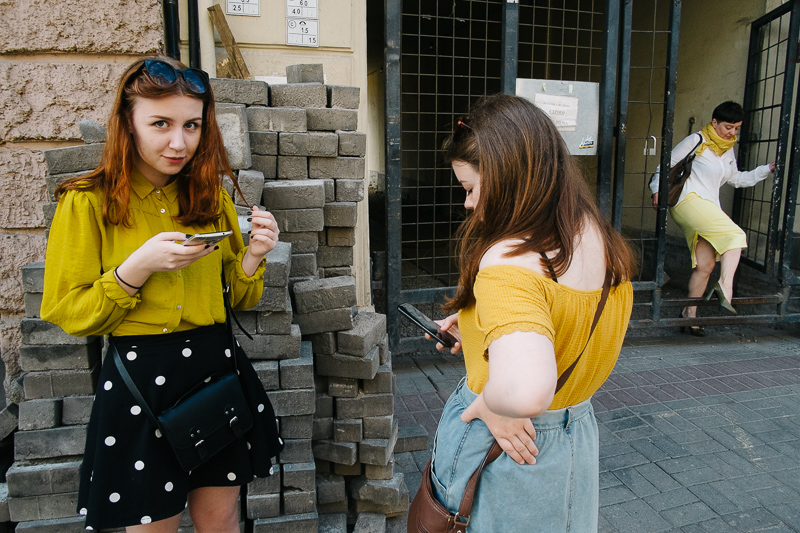 Street Tips:
Very Walkable for a city its size
When it comes to walkability, Saint-Petersburg is very good for a city its size (4th largest in Europe). While Moscow is still double the population, it's nowhere near as walkable of city as Saint-Petersburg. Interest doesn't feel as spread out here so you can walk from place to place without going long distances between photography opportunities. The way the streets and canals are set up, it makes for any easy city to find your way around. Transportation is solid here too with the metro system, but won't be needed as often as many large cities.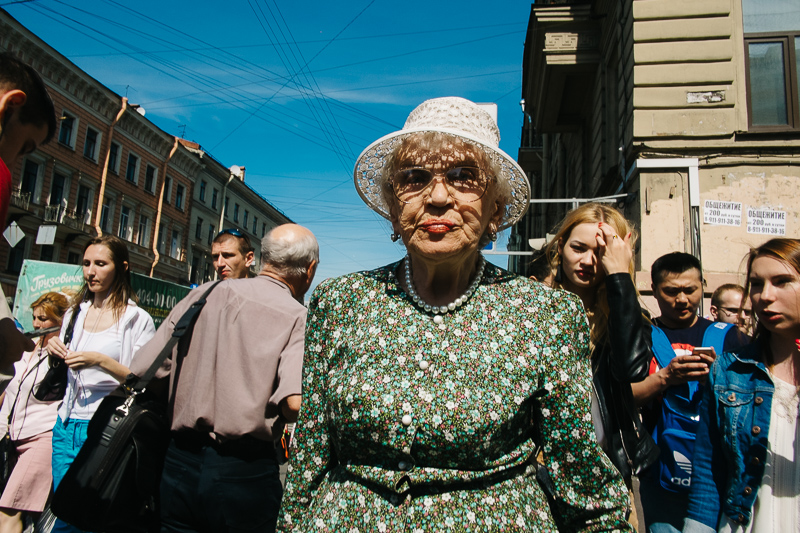 Go in the Summer for the Weather and White Nights
The summer is definitely my favorite time to be in Saint-Petersburg. Due to its location up north, summer light can last almost 24 hours a day. While I was there, it didn't get dark until after midnight, with the sun coming out again at 3am. Because of this, the city has the White Nights Festival during its longest days (a few weeks during June to July).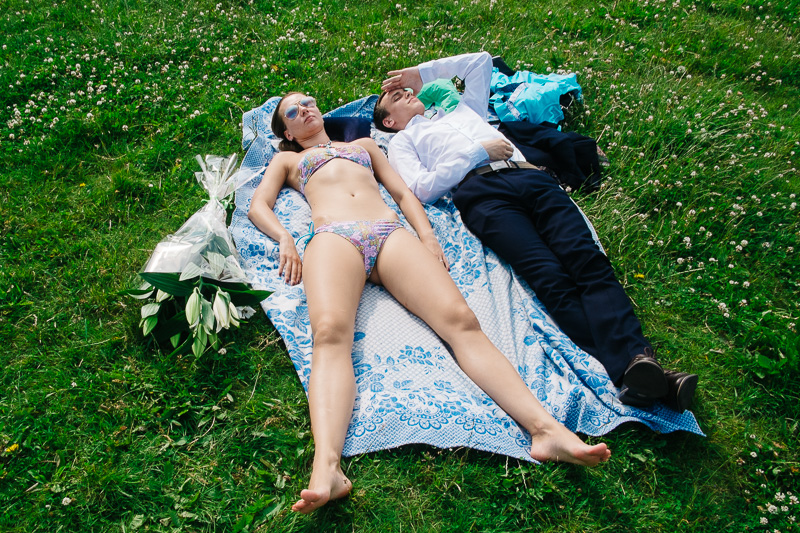 The city fills with life everywhere during this time, with people outside walking the streets, canals and bridges, or enjoying the sun at the many parks. And this activity lasts as long as the sun does so if you wanted to, you could shoot all day and night here without getting bored. The White Nights festival activity peaks on the Saturday nearest the longest day of the year (around June 22nd). It's especially celebrated as a holiday of graduates throughout the day and night, with the Scarlet Sails celebration of fireworks, concerts and water show topping it off. It's a different city during the summer and makes it one of the most enjoyable cities for photography I've been to.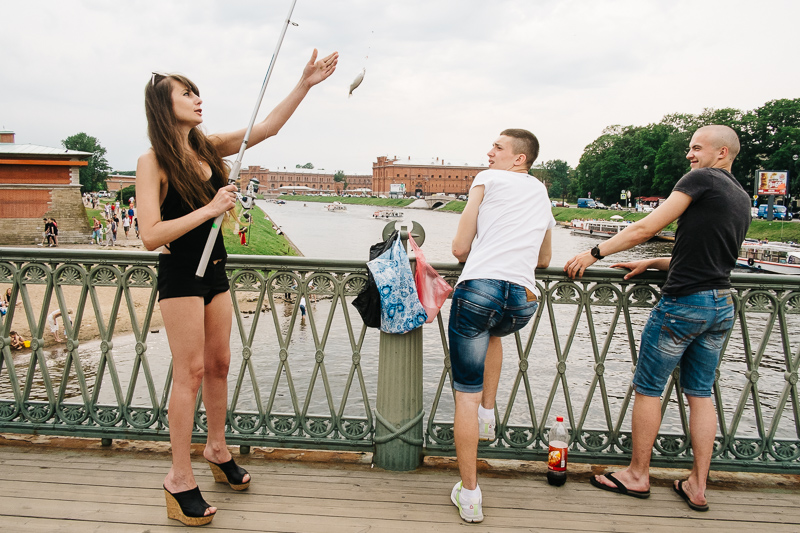 Don't get the metro card
While I would advise using the convenient and solid metro system here, I wouldn't recommend buying the metro cards. They expire quickly and don't save you much money, even if you do use the bought number of uses before expiration. Just buy some tokens.
Flea Market and Amusement Park on the Weekend
If you're here during the weekend, make sure to give both the Udelnaya Flea Market and Divo Ostrov amusement park a visit. They're both free entrance and easily reached by the metro, each providing their own different and unique atmospheres for street photography with plenty of activity and life.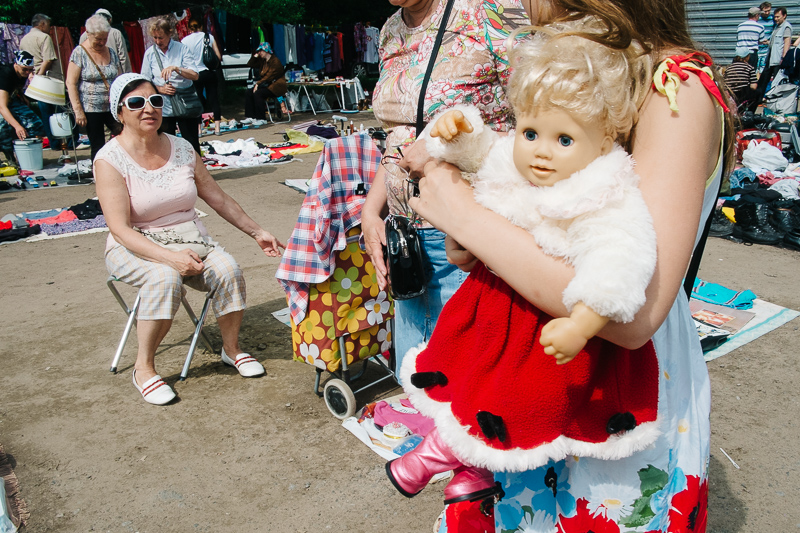 Inspiration:
For some more inspiration, look through the Street Photography of Saint-Petersburg photographers Ilya Shtutsa and Alexander Petrosyan, and check out 33 of my photos taken in Saint-Petersburg and my short series on Hare Island.
Conclusion:
There's something very special about Saint-Petersburg. Its history, architecture, canals, colors, light, parks and culture come together in a magical way that is unlike any other city in the world. What makes it even better is the mix of characters and life Russia provides in such a beautiful and unique city. Interest is all around you with the backgrounds to help bring it together into an extremely photographable city.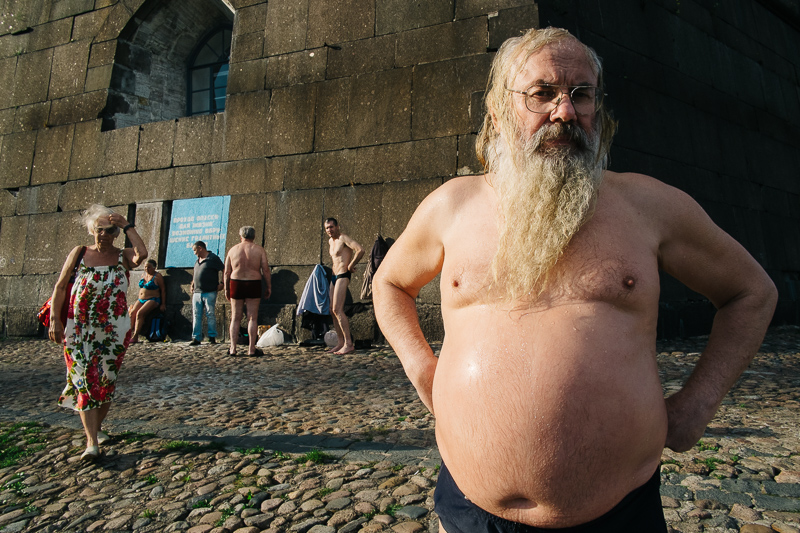 I hope this guide can help you go experience and photograph some of that Saint-Petersburg magic. So grab your camera and capture all that Saint-Petersburg has to offer for Street Photography!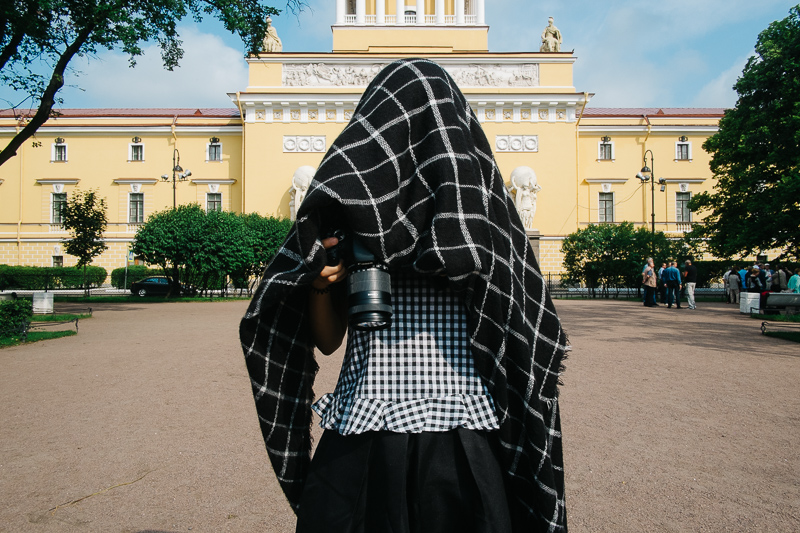 If you still have any questions about shooting in Saint-Petersburg, feel free to comment below or email me!
(I want to make these guides as valuable as possible for all of you so add any ideas on improvements, including addition requests, in the comment section!)
(A New Guide Posted Every Other Wednesday)