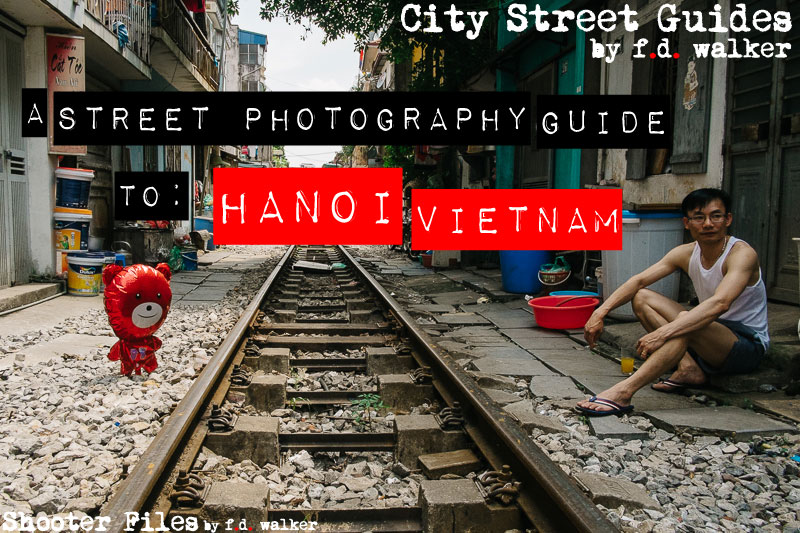 *A series of guides on shooting Street Photography in cities around the world. Find the best spots to shoot, things to capture, street walks, street tips, safety concerns, and more for cities around the world. I have personally researched, explored and shot Street Photography in every city that I create a guide for. So you can be ready to capture the streets as soon as you step outside with your camera!
Hanoi
Overview:
When it comes to best cities in Asia for street photography, I'd have to put Hanoi towards the top of my list. Vietnam's capital has endless character, charm, plenty of places to shoot, some of the most photography friendly people you'll meet, and packs this all into a very walk friendly city. Being thousands of years old, you feel the city's age when exploring the streets. It can feel almost like groups of villages packed into one big city with the authentic, old world atmosphere it exudes.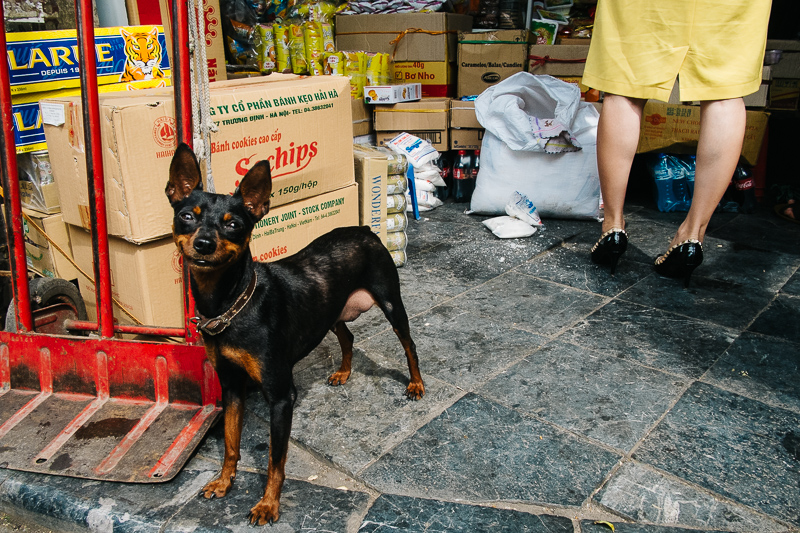 Due to Vietnam's popular northern attractions like Ha Long Bay, Sa Pa and the northern mountains, it can be a jumping off point for many visitors touring the country. I'd recommend Hanoi for a much longer stay than that, though, especially if you're interested in street photography.
So here's a Street Photography guide so you can be ready to capture all that Hanoi has to offer before you even arrive!
Map:
Hoàn Kiếm Lake / Nghĩa Thục Square
Chợ Đồng Xuân (Đồng Xuân Market) 
Quan Chuong Gate / Old Quarter
Train Tracks
Cathedral Area
Top 5 Street Spots:
1. Hoàn Kiếm Lake / Đông Kinh Nghĩa Thục Square
Hoan Kiem Lake is one of my favorite spots in the city for many reasons. Right in the heart of Hanoi, it's one of the more unique city lakes you'll find with the amount and variety of activity it attracts. Locals, tourists, traditional photo shoots, exercise, prayer, street sellers and more. It has it all, from sun up to sun down. It's a focal point for public life in the city combined with a picturesque atmosphere.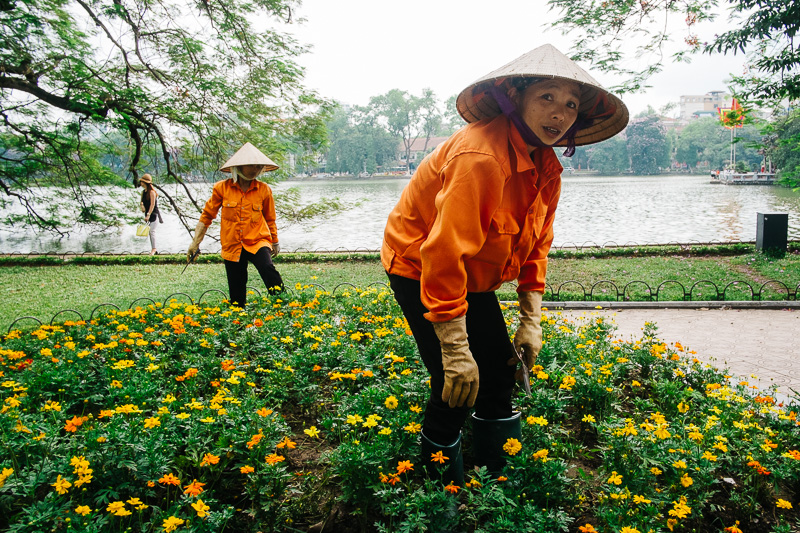 The morning has a more calm and peaceful atmosphere, but is definitely worth waking up early for due to the light and all the people coming to exercise and enjoy the peace. During the day it gets busier with tourists and a mix of locals, but just before sunset is my favorite time to come. The lakeside gym fills up with characters and the scene lining the whole lake really comes alive. The lake's center location right by the Old Quarter makes it a prime spot for coming back as often as you want too.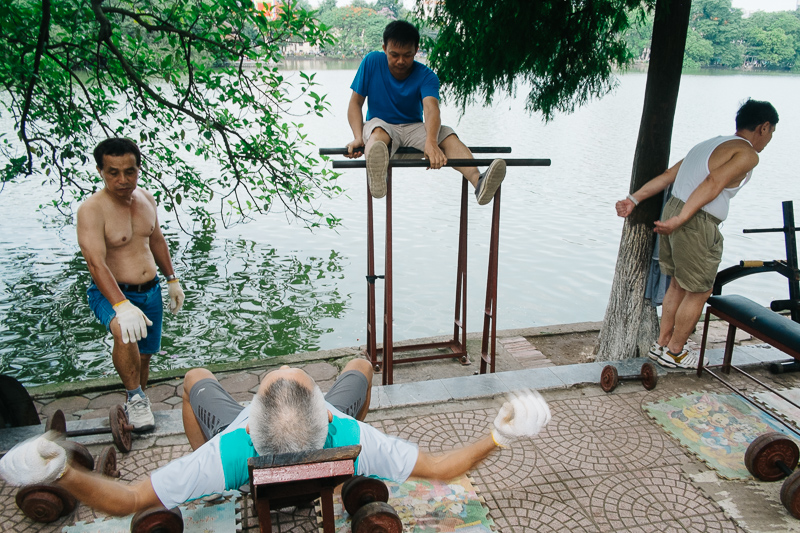 2. Chợ Đồng Xuân (Đồng Xuân Market)
Chợ Đồng Xuân is the largest covered market in Hanoi. Its multiple levels are filled with wholesale traders selling clothes, household items, food and more. While you can have fun shooting inside, I much prefer the area surrounding the market. The streets are filled with market stands, street sellers, workers pulling carts, and the older Vietnam market atmosphere.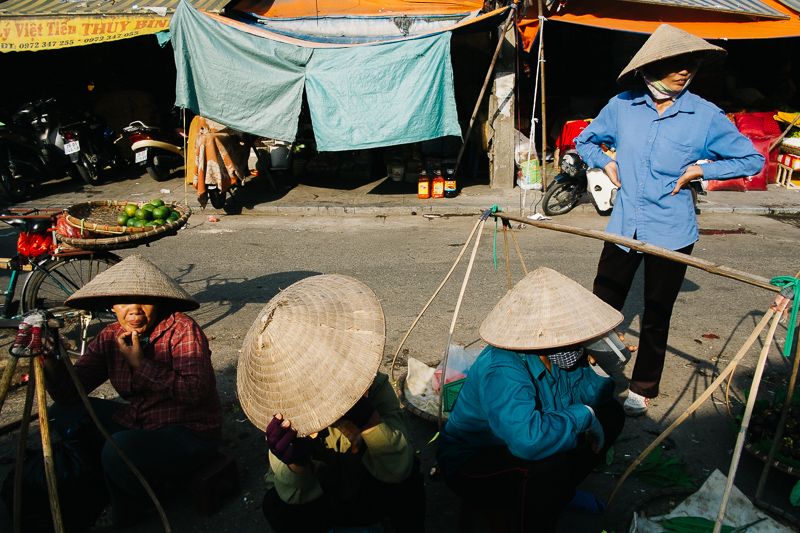 You'll find some nice backdrops, colors and shadows to play with along the market complex too. It's a top attraction for tourists, but provides so much authentic atmosphere and local life that you don't notice it much.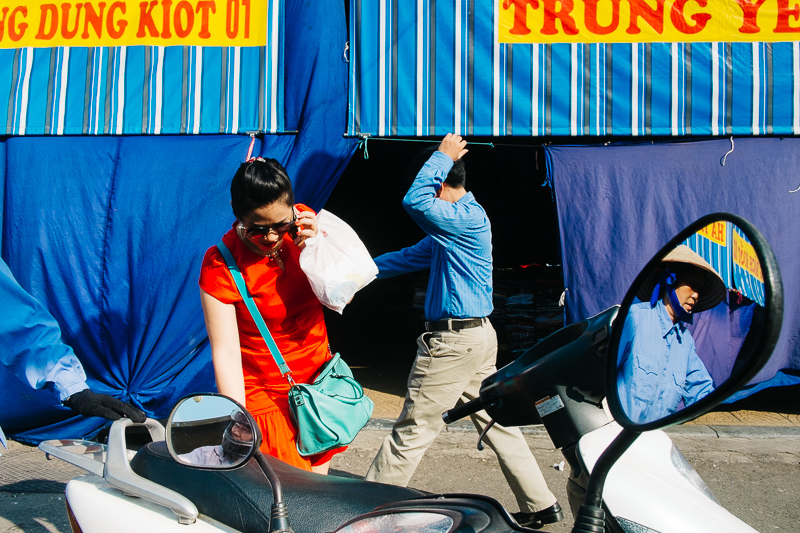 Just a short walk up north from Đồng Xuân Market, you'll find Long Biên Market, another authentic market complex worth your time. If you walk south instead, you can find Thanh Hà Market, slightly hidden off of Thanh Hà street. This outside produce market is best to visit early in the morning before they pack things up mid-day. All together, you can spend your whole day exploring and capturing market life around Chợ Đồng Xuân.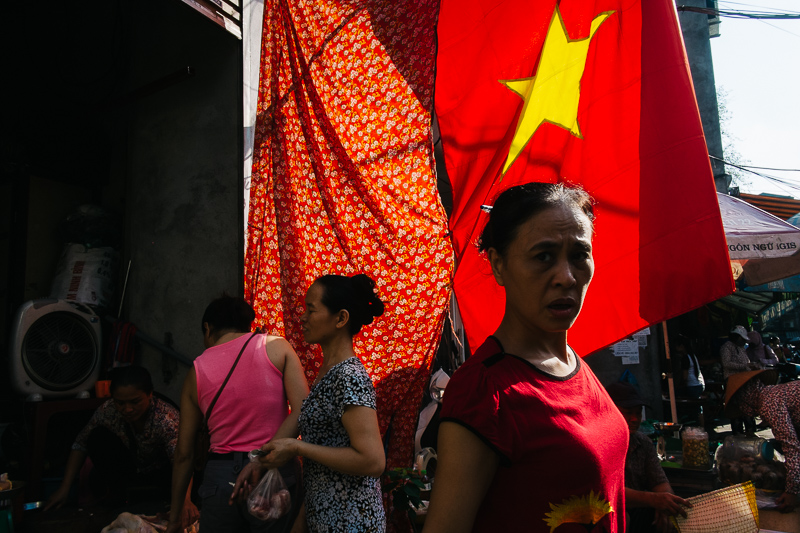 3. Quan Chuong Gate / Old Quarter
Quan Chuong Gate, also known as the Old City Gate, is the one remaining original gate to the Royal City. The entrance is an attraction on its own, but once inside, you'll find a market square leading to the famous Old Quarter. Hanoi's Old Quarter is not only its historic district and major tourist area, but also the center of the city's downtown life. It covers a large area, from Hoàn Kiếm Lake up to Đồng Xuân Market, but once you enter the Quan Chuong Gate, you'll find yourself in its busiest section.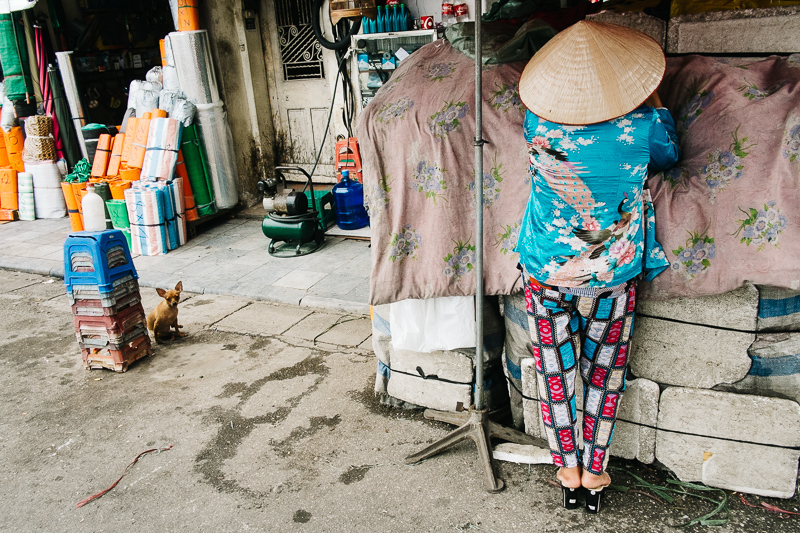 The Old Quarter is how you picture Vietnam many years ago, with women in their cone-shaped hats carrying goods, carts being pulled around markets and street sellers filling the streets everywhere. The French-colonial architecture and shop-houses are preserved from centuries ago. Most of the buildings are narrow and low to the ground, and with activity moving in every direction, there's a feeling of life compacted around you where ever you go.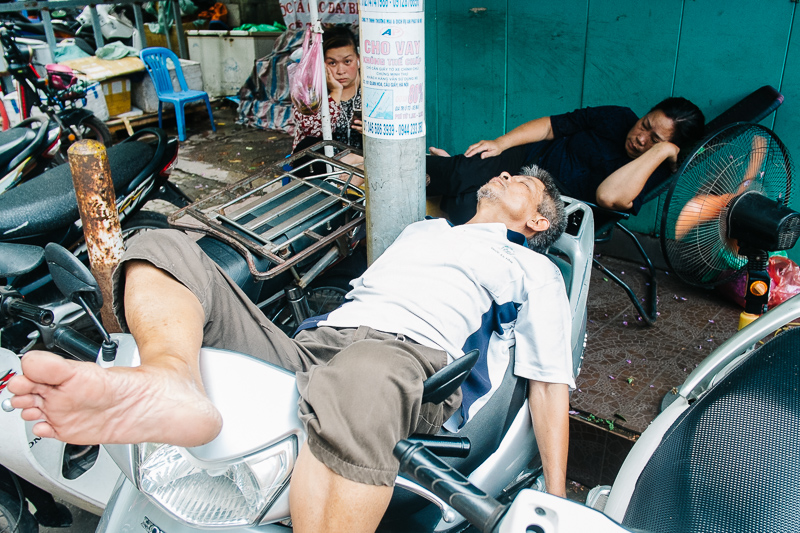 Walking west from the gate, make sure to explore all the narrow alleys and crowded streets, including "beer street." The old quarter is the heart and soul of Hanoi. Its ancient commercial streets take you back in time and give you an atmosphere made for street photography.
4. Train Tracks
The railroad is another favorite, and unique, street photography spot. It's also one where you won't find many tourists or crowds. It's a more peaceful atmosphere. You can start at one part of the tracks and just walk along through the city center on these tracks. What's great about them are the little homes lining these tracks. The older buildings are only steps from the tracks and while they're slowly falling apart, they still hold plenty of life.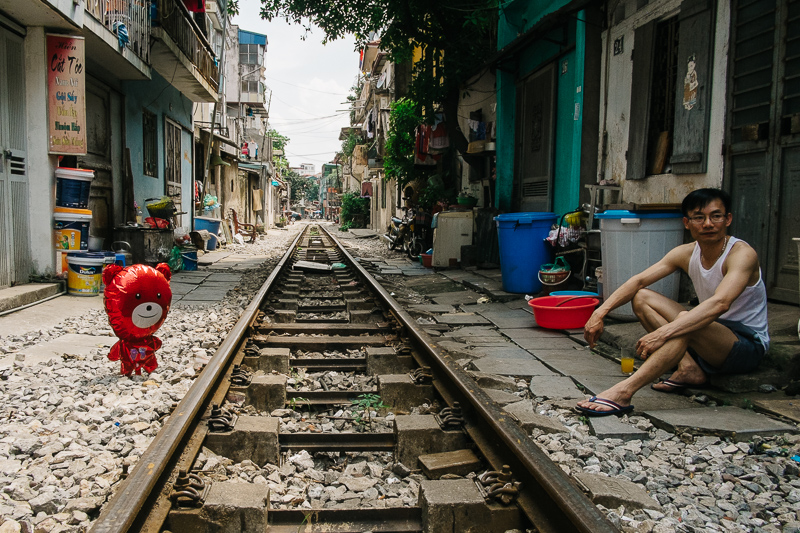 Many people leave the doors open and the outside can feel like extension of their home. Women hang clothes out to dry, men sit out for a smoke, kids play, and chickens hop around looking for feed. Not only does it supply photo opportunities, but it provides an enjoyable walk with a different atmosphere within the city.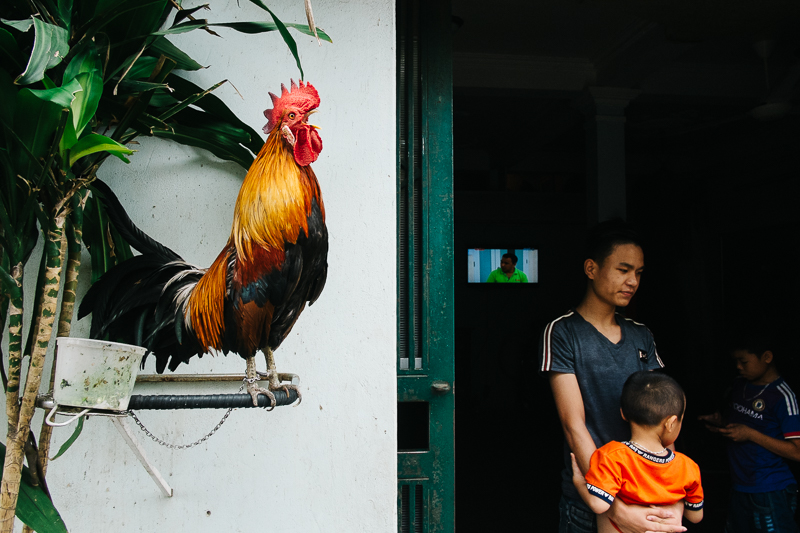 5. St. Joseph's Cathedral Area
St. Joseph's Cathedral was one of the first structures built by the French in Indochina and was made to resemble Notre Dame de Paris in architectural style. It's one of the most impressive structures in the city and conducts mass several times during the day, with crowds filling the street afterwards. It has a nice square in front that attracts some life and the surrounding streets are packed with restaurants, shops and accommodation, making it somewhat touristy too. While the area doesn't contain quite the atmosphere as the Old Quarter above, it still is worth your time for some photography. With the lake in between it and the Old Quarter, it's an easy spot to fit in too.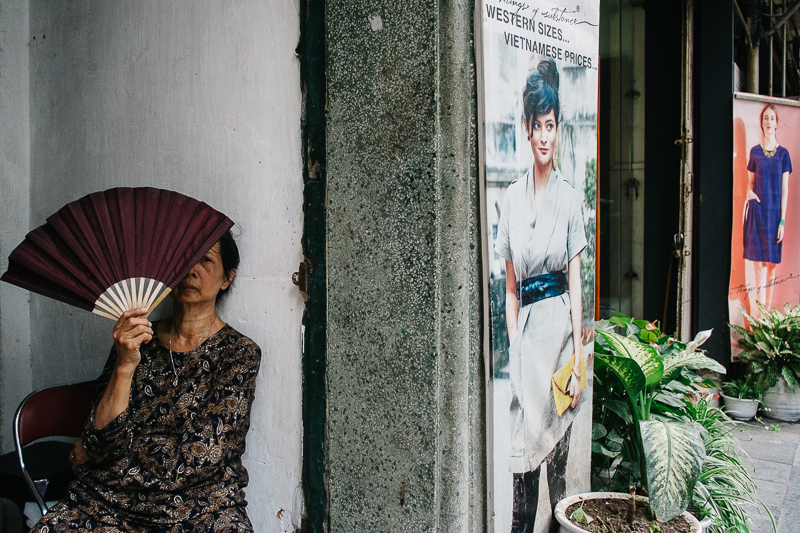 Sample Street Walk:
For a full day of Street Photography, covering some of the best spots, you can follow this sample street walk for Hanoi:
Start your morning walking around the Hoàn Kiếm Lake (1)
From Nghĩa Thục Square (1), walk in and explore the Old Quarter over to Quan Chuong Gate (3)
Walk to Thanh Ha Market (3), the earlier the better as it doesn't stay open long
After exploring the area around Thanh Ha Market (3), it's a short walk up Đồng Xuân Market (2)
There's plenty of market activity going on inside and outside Đồng Xuân Market (2) so spend plenty of time here
Walk east through the Old Quarter to the train tracks (4) and walk south along them 
Walk around the Cathedral Area (5) on your back to Hoàn Kiếm Lake (1) in the evening/night for a busier atmosphere 
Hoàn Kiếm Lake | Hanoi, Vietnam
Ask a Local Street Photographer: Chu Việt Hà
"I usually go shooting around Hoan Kiem Lake, then walk to Dong Xuan market. I love Hoan Kiem Lake because there are beautiful views to boost my mood and especially many exciting activities over there. For example, outdoor exercising in the morning and late evening, or student activity. On the contrary, Dong Xuan market is more crowded and busy with labors. Over there, shapes of light and shadow created by a canvas roof or particular architecture is the great inspiration of street life photography."
3 Things to Capture in Hanoi:
1. Old Character
Hanoi has been inhabited since before 3000 BC and recently celebrated its millennium of being founded. All that time has given the city a ton of character. You can really feel and see all the history when walking around Hanoi. No where do you feel this more than in the Old Quarter, where you can go back in time with you camera.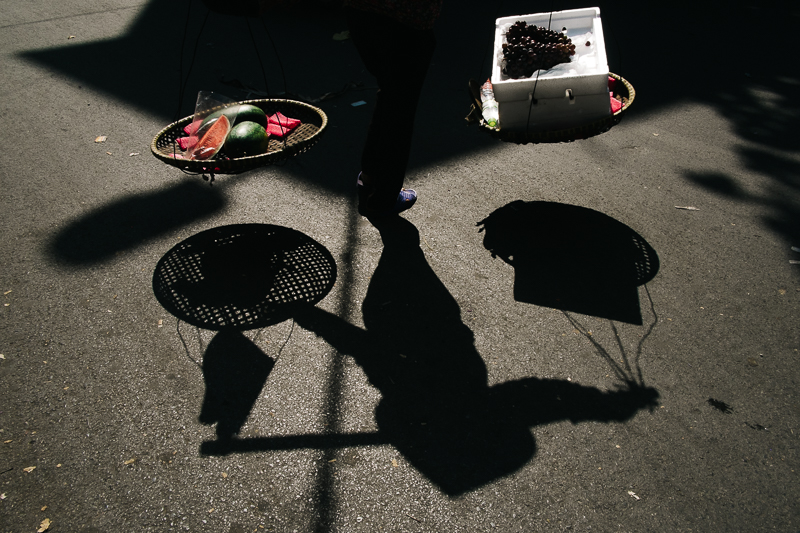 2. Lake Exercise
The life at Hoan Kiem Lake is great in so many ways, but one of my favorite unique sights here is all the exercising it attracts. From early morning to night, people come here to get in shape next to the picturesque setting in the center of the city.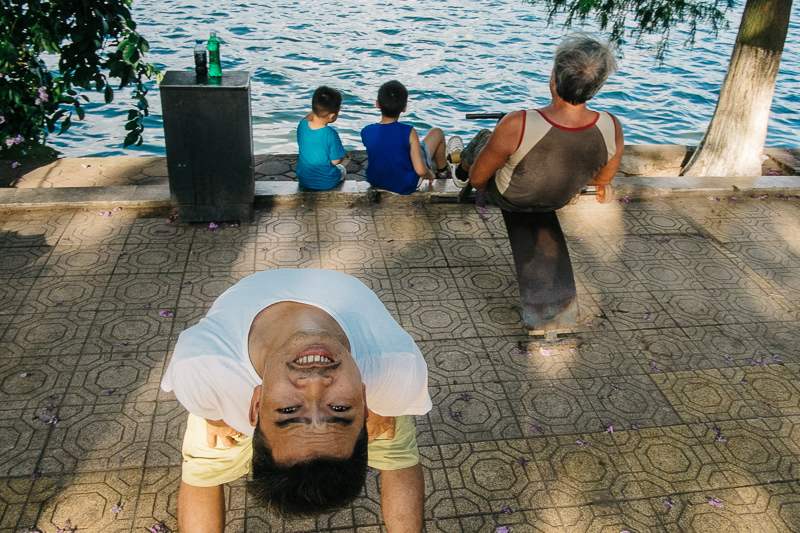 In the morning you get a more peaceful atmosphere of joggers, stretching and meditation. In the evening, old gym equipment is brought out on an area lining the lake. Complete with free weights and everything, groups of regulars come ready to workout. They take it serious too. 
It's a humorous spectacle that attracts plenty of tourist camera phone pics from afar, but don't be afraid to get up closer. They might invite you in for a set on the bench, but they don't mind photos. And if you shoot with a flash, it's a great opportunity to use it.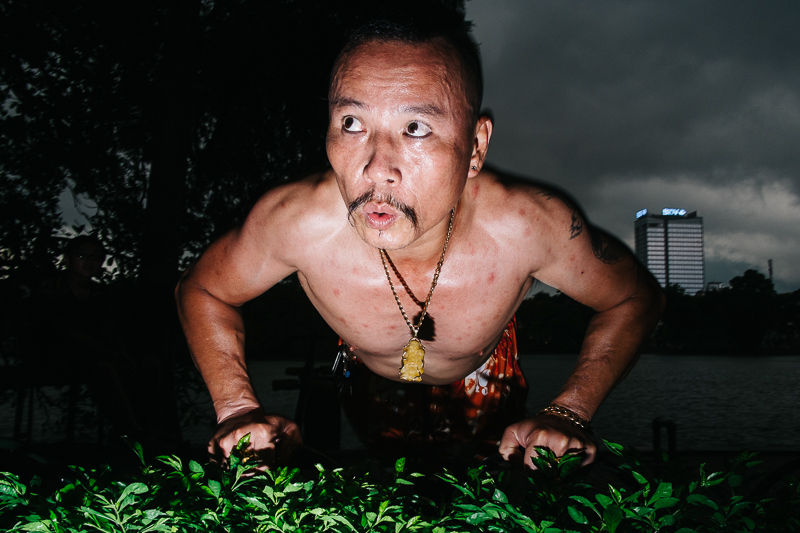 3. Motorbikes
After living in Ho Chi Minh City, it wasn't as noticeable for me, but for any newcomers, it's definitely worth noting. The streets are dominated by motorbikes and scooters like no where you've seen outside of Vietnam. Everyone has a motorbike here and knows how to weave between each other, only inches apart.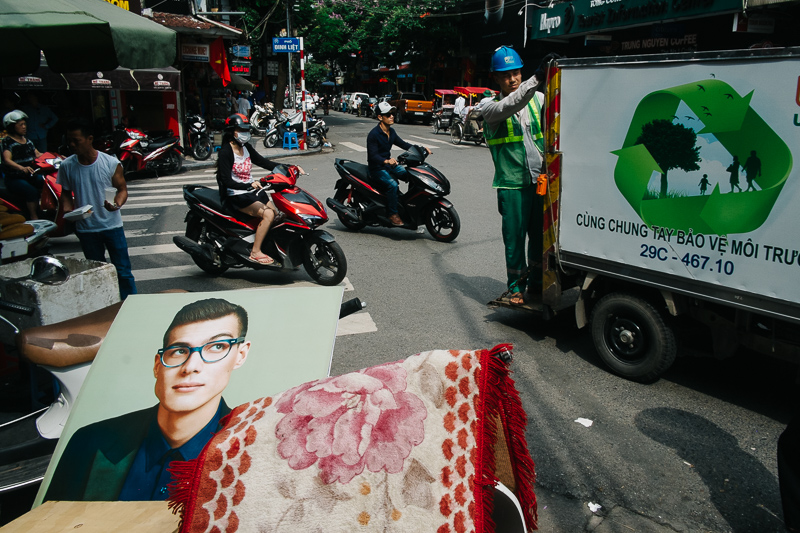 The sounds and sights of these motorbikes become a part of the atmosphere in Hanoi and is something you'll remember as much as anything. Also, learning how to cross the roads becomes part of the fun. It's a little more unorganized here than Ho Chi Minh City, but with smaller roads. For the most part, though, they still move in a flow that allows you to cross the street in rhythm. Hesitate or step backwards in the middle of the street, you might be in trouble, but as long as you confidently move across without stopping, you're good. 
What To Do For a Street Photography Break?:
Bia Hoi, Coffee and Bún chả
Bia Hoi translates to "fresh beer" and is what they call the many small street bars you'll find in Hanoi. The beer is brewed daily and is normally served out on the street where they have lines of little plastic stools for you to sit and drink. The beer is light, not very good, but it is extremely cheap. It makes a great spot for people watching and experiencing the atmosphere of Hanoi over a cold beer.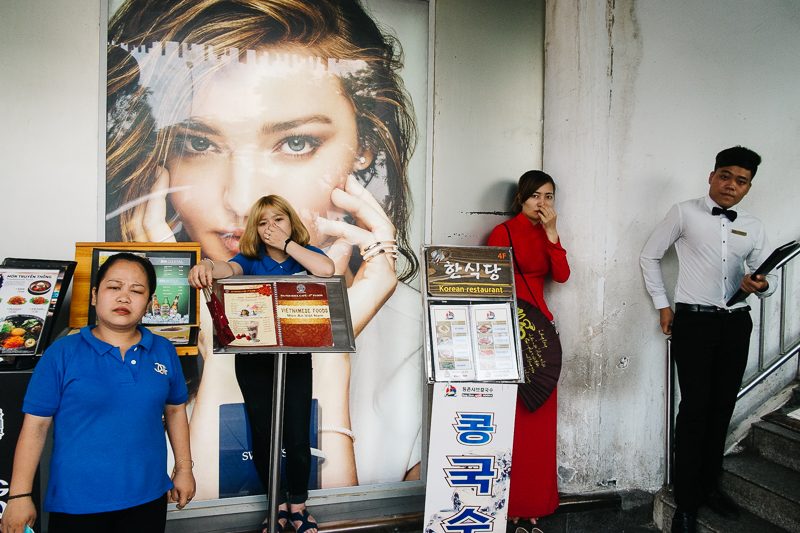 You'll also see these same plastic stools used at small coffee shops around the city. Vietnam is the second largest producer of coffee in the world. French colonists introduced coffee to Vietnam, but the Vietnamese have made it all their own. It's strong, flavorful, and can be found just as easily as the street food. In addition to the street stool shops, you can find plenty of cafes too.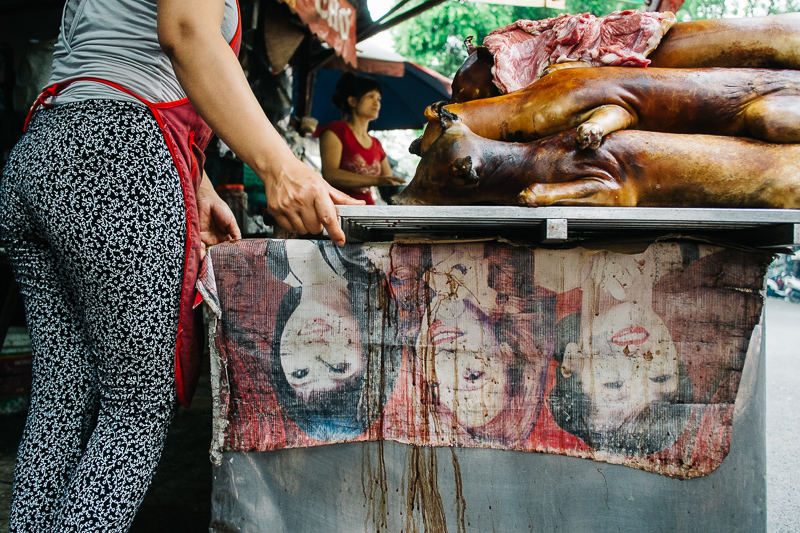 Lastly, when in Hanoi, make sure you grab some Bún chả. This famous dish originated in Hanoi and is served with grilled pork, rice noodles, herbs and a special dipping sauce. Vietnam is famous for their food and this is one of their best.
Street Safety Score: 8
*As always, no place is completely safe! So when I talk about safety, I'm speaking in general comparison to other places. Always take precaution, be smart, observe your surroundings and trust your instincts anywhere you go!
Hanoi feels very safe, especially for its size. There's a friendly vibe of a village in a city with over 3 million people. It's still a bigger city so it's not completely danger free, but outside of biker thieves, you should feel safe most places here. As for biker thieves doing a drive-by snatch, this is something I'm constantly warned about by locals in Vietnam, but have yet to have it happen to me or anyone I know (knock on wood).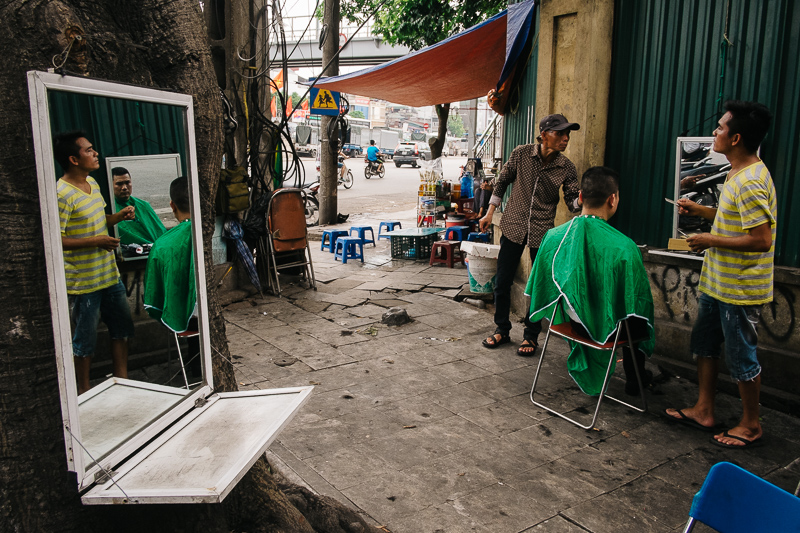 People's Reaction Score: 9
Vietnam is about as good as it gets for reactions to street photography. Just like in Saigon, smiles and laughs are the reactions here. Honestly, it's about as good as I've experienced when it comes to photo reactions. For anyone who has trouble to finding the courage to get up closer when they shoot candid, Hanoi would be a great city to spend some time in.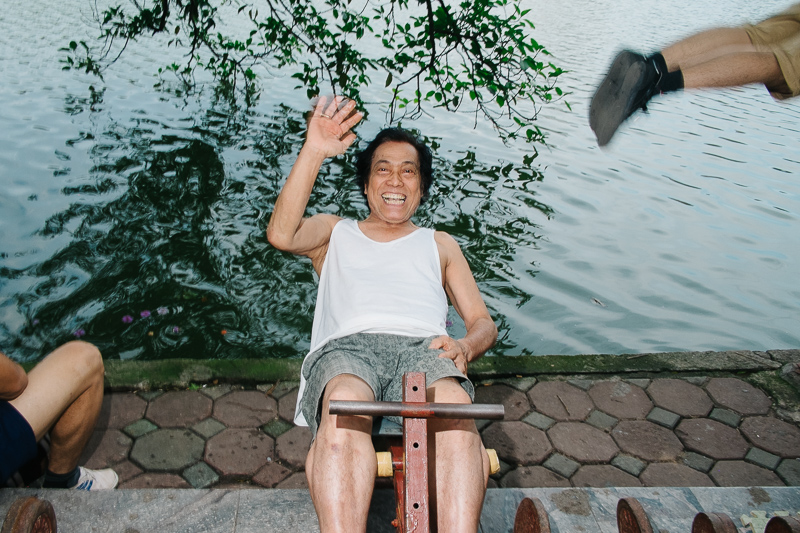 Street Tips:
Very walkable, Use the train tracks and lake to get around/navigate
The more I shoot, the more I appreciate cities where I can walk most everywhere without taking transportation. I can step outside with my camera and walk all day exploring and shooting, and not go miles without seeing activity or interest. Hanoi is one of those cities. In comparison to Ho Chi Minh City, it's a much more walk friendly city.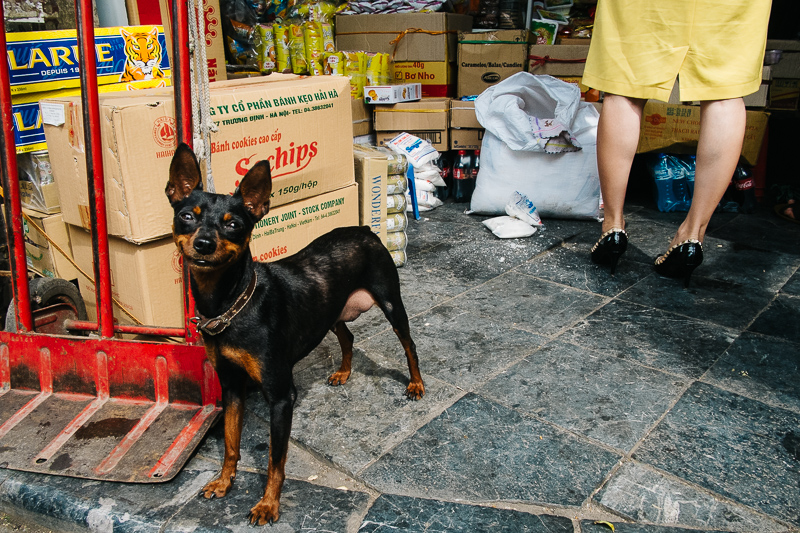 You have the Old Quarter, popular lakes, main markets, train tracks, and other neighboring areas of interest all condensed together. It's easy to go from one place to the next, while passing more activity and scenes most of the way. You can even make a few rounds of the main places as they change from morning to night. All in the same day without ever getting bored or needing to catch a ride. It makes for a great shooting experience and plenty of captures.
Dress light 
Hanoi can get very hot and humid. So dress light, drink plenty of water, and take a break in the shade during the day.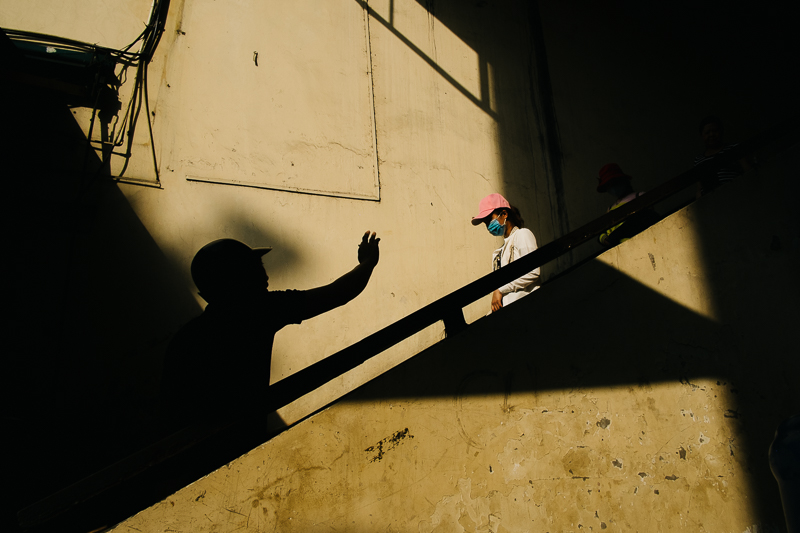 Check the alleys
This is becoming repetitive for asian cities, but so many people ignore the narrow side streets when a lot of time that's where the photos are. In Hanoi, these narrow alley gems are everywhere. It can be like finding a city within a city with all the life that goes on in these alleys. Also, if the light is good, it can create some great atmosphere and sun rays to play with.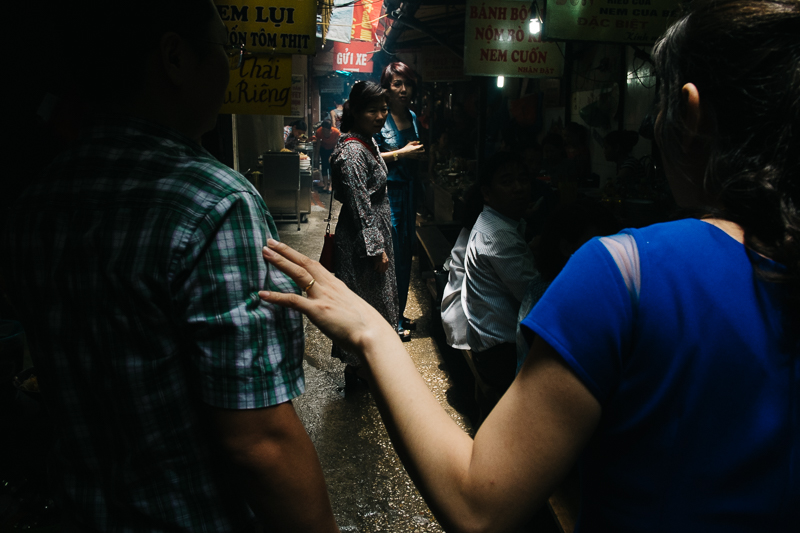 Inspiration:
For some more inspiration, you can look through the Street Photography of Hanoi photographer Chu Việt Hà and check out 33 of my photos taken in Hanoi.
Conclusion:
I've lived in Ho Chi Minh City (Saigon) and love it, but if I have to be honest, Hanoi is even better when it comes to street photography. In my experience, this opinion was shared by most local photographers too. Ho Chi Minh City is a great city which some photographers might prefer, but Hanoi is so much older and filled with even more character. They share many similarities, including the friendliness of the people, but Ho Chi Minh City is a little more polished and urban, while Hanoi is more walkable and gives a little more of the exotic. If big city skyscrapers and development are your preference, then Ho Chi Minh City might win out, but for me, Hanoi has a very attractive blend of big city and old world. Both cities are highly recommended, though, so visit both and decide for yourself.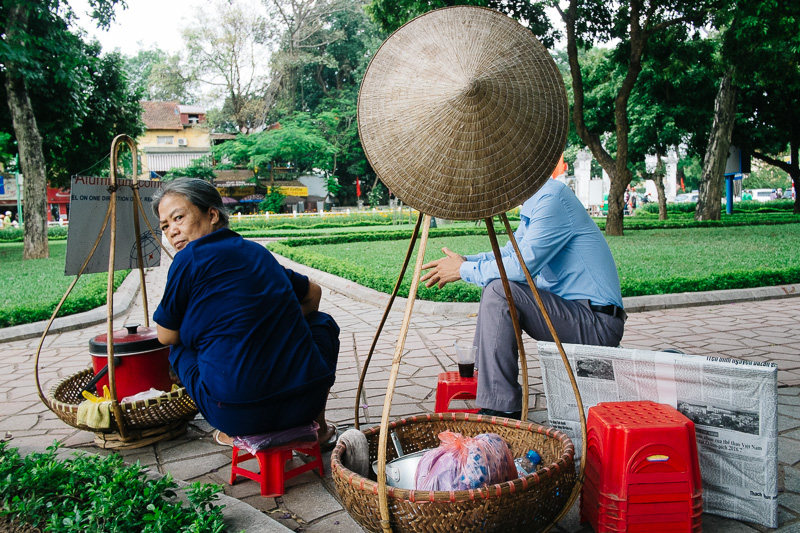 I hope this guide can help you go experience the old world charm of one of Asia's most photogenic cities. So grab your camera and capture all that Hanoi has to offer for Street Photography!
If you still have any questions about shooting in Hanoi, feel free to comment below or email me!
(I want to make these guides as valuable as possible for all of you so add any ideas on improvements, including addition requests, in the comment section!)