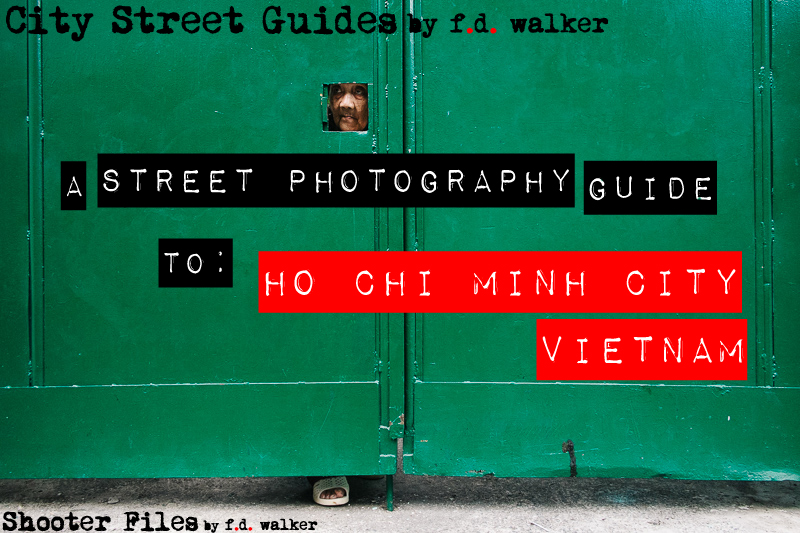 *A series of guides on shooting Street Photography in cities around the world. Find the best spots to shoot, things to capture, street walks, street tips, safety concerns, and more for cities around the world. I have personally researched, explored and shot Street Photography in every city that I create a guide for. So you can be ready to capture the streets as soon as you step outside with your camera!
Ho Chi Minh City
Overview:
At roughly 9 million people, Ho Chi Minh City (HCMC) is the largest city in Vietnam. Many of the locals and business signs still refer to it by its older, and easier to say, name of Saigon. Today, HCMC is a rapidly developing cosmopolitan city with a mix of old and new. You can definitely find those chaotic Vietnamese streets filled with motorbikes, street food, lights and bar girls, but you also have modern skyscrapers, rooftop bars, fancy restaurants, and chic shopping streets too. In Saigon today, you have it all. It really is one of the more underrated destinations. And for street photography, it's filled with chaotic captures and some of the most photo friendly people in the world.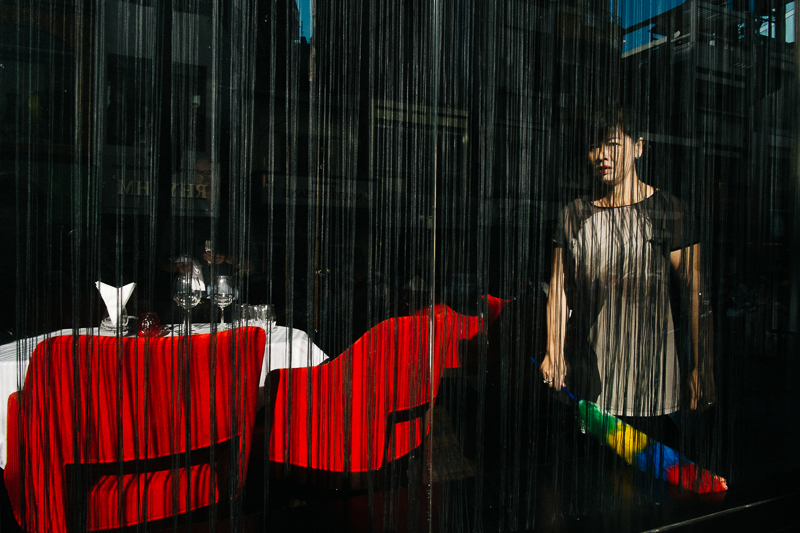 So here's a Street Photography guide so you can be ready to capture all that Ho Chi Minh City has to offer before you even arrive!
Map:
Binh Tay Market
Chợ Phường 2
Nguyen Hue Street (Walking Street)
Bui Vien / Phạm Ngũ Lão Street
Ben Thanh Market
Gò Vấp District (Near Airport)
Bonus: Parks
Công viên Tao Đàn
Công viên 23 Tháng 9
Top 7 Street Spots:
1. Binh Tay Market
Binh Tay Market is the main market in Saigon's Cholon quarter (District 5), the largest Chinatown in the world by area. The older French construction gives it some character and while it does attract some tourists, it caters mostly to locals. It's primarily a wholesale market selling everything from produce and meat to handicrafts and household items.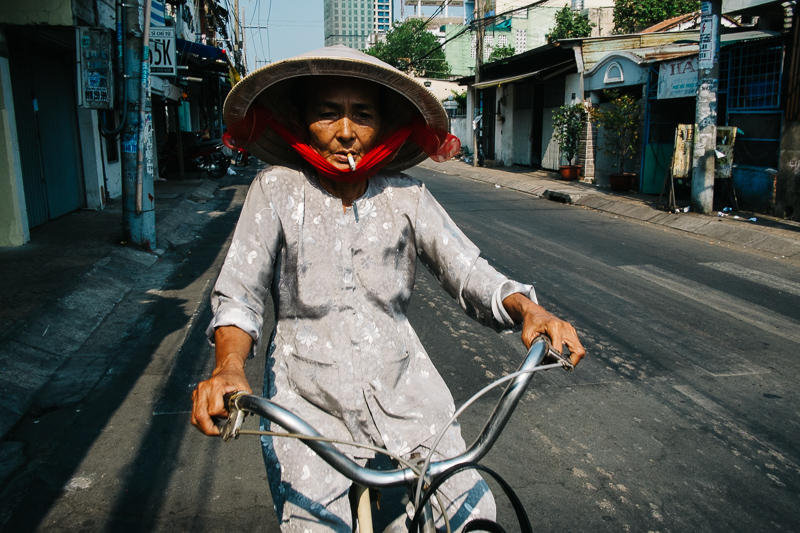 The best part of Binh Tay Market is its surroundings, though. District 5, also referred to as China Town, gives an atmosphere that feels more like the Saigon of old, before much of the development.  You have narrow alleys, markets, and people everywhere, more traditionally dressed, living their lives outside. Binh Tay Market provides a great spot to explore around for a high concentration of streets and activity providing this atmosphere.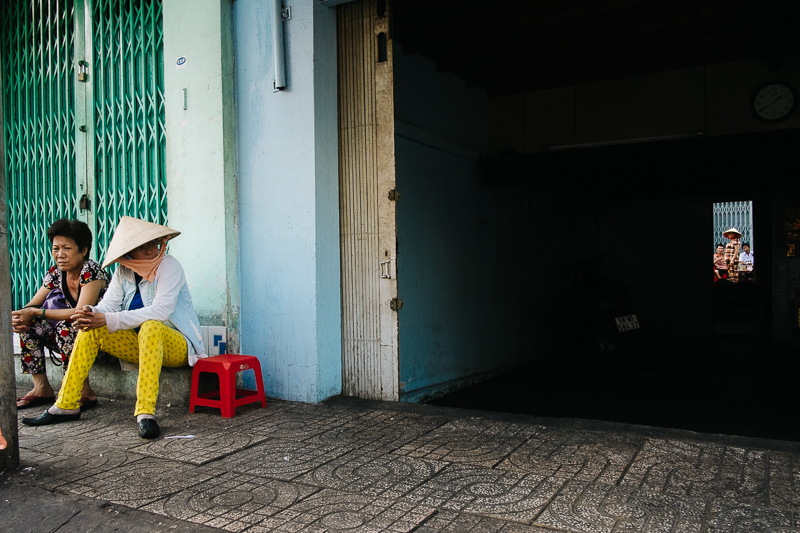 It's a really large area so you could easily spend all day here. After exploring around the main market, try walking north up until Ba Tháng Hai street for plenty more streets and alleys providing similar life and atmosphere.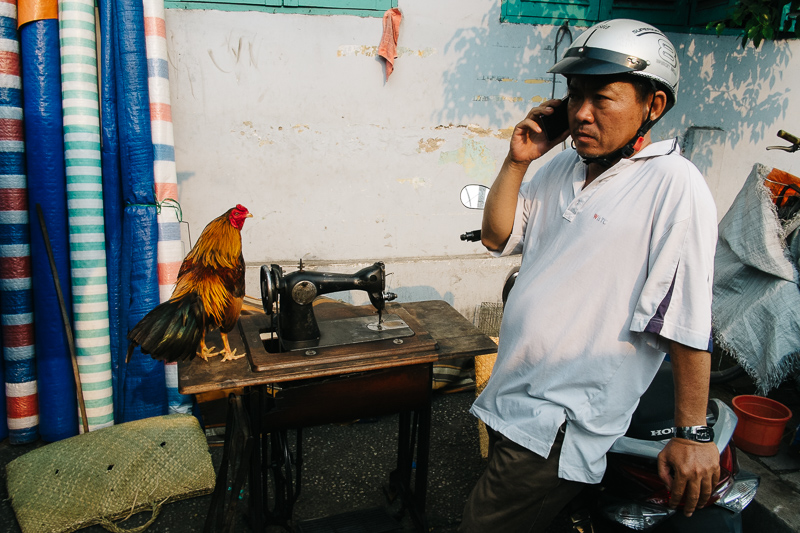 2. Chợ Phường 2
Chợ Phường 2 is my other favorite market area to explore for that older, authentic Saigon atmosphere. Here, you'll find a covered market surrounded by a large apartment complex. You probably won't find any tourists around, either, as it's really only known by the locals. The market is highly active in the morning, but starts closing up in the afternoon. Still, I find it worthing coming to later on too, when the stands are gone and the remaining activity can be captured in an interesting atmosphere.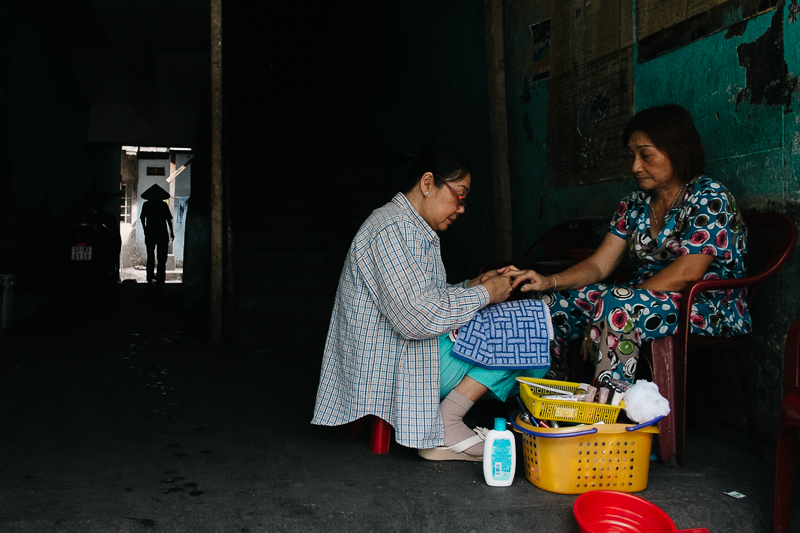 Just like with Binh Tay Market, there's plenty of surrounding streets and alleys worth exploring. You'll find street stands, cafes, bars and lots of activity in this area. Not too far away, just northwest, you'll find a large flower market too. Just explore away with your camera.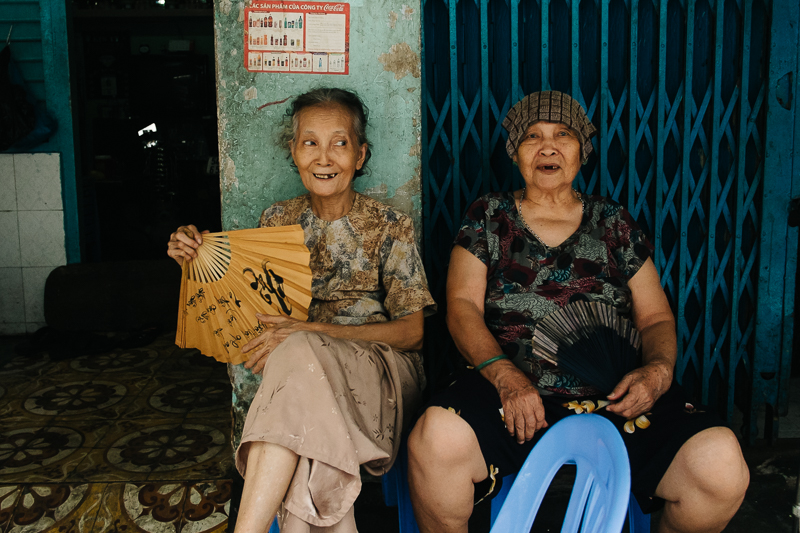 3. Nguyen Hue Street (Walking Street)
Nguyen Hue is Saigon's first pedestrian-only street. At one end of the street, you'll find a large statue of Ho Chi Minh himself. This sits in front of the landmark City Hall, with its impressive French architecture, so it attracts some tourists. But other than some quick photo opportunities, Nguyen Hue doesn't get its busiest until night. It's become a popular spot for young locals to hang out, especially on the weekends. There's plenty of nightlife activity to capture here due to its location by rows of streets lined with cafes and hot spots.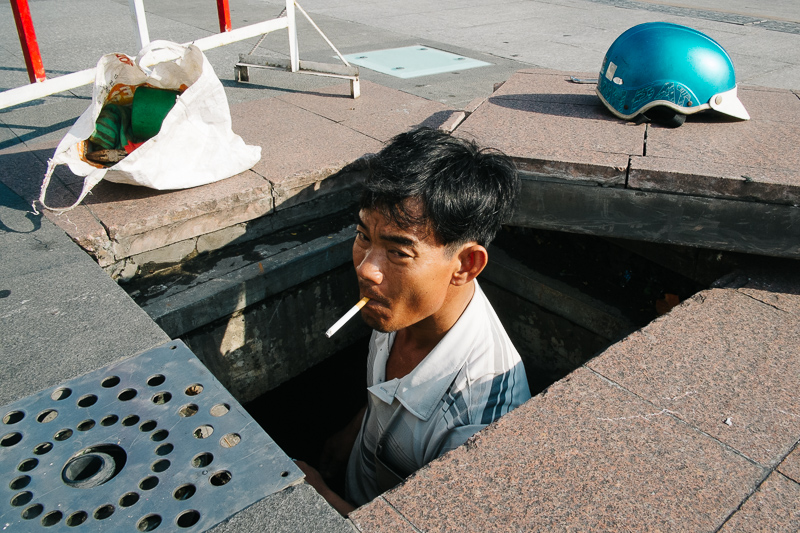 I'd say it's definitely worth checking out during the day too, though. It's a good spot for people watching with a wide open space for light. It's not uncommon for events to be held here too.
4. Bui Vien / Phạm Ngũ Lão Street
Buin Vien and Phạm Ngũ Lão are two streets that run next to each other and make up Saigon's backpacker district. While Bangkok's Khao San Road is the most famous of the backpacker districts, Bui Vien is the closest I've found to it. Bui Vien is lined with budget accommodation, cafes, restaurants, street food, tourist shops and massage parlors. There's really not a time it doesn't have activity, it's busy from day to night.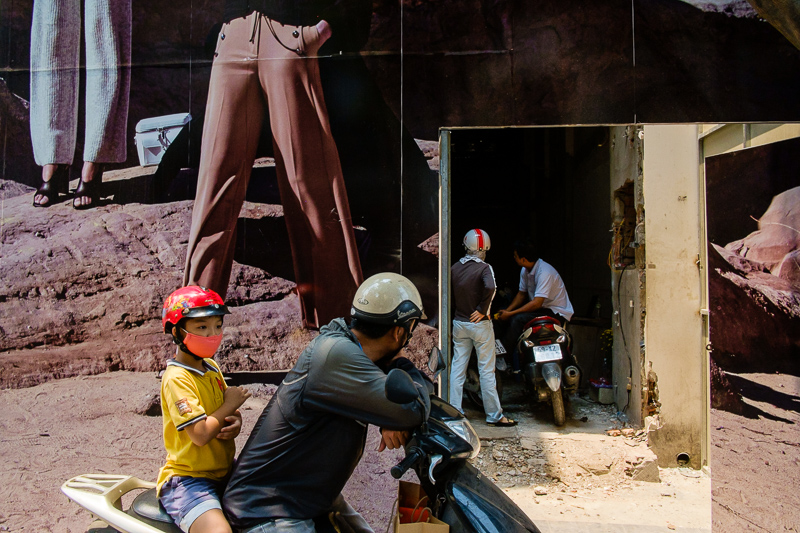 Once night hits, the lights come on, the plastic street chairs come out, and the noise gets louder. While Bui Vien provides a much more intense atmosphere, as both sides of the street engulf you with energy, similar activity extends to Phạm Ngũ Lão street too. While it feels touristy, many locals do come here, for the nightlife and especially the food.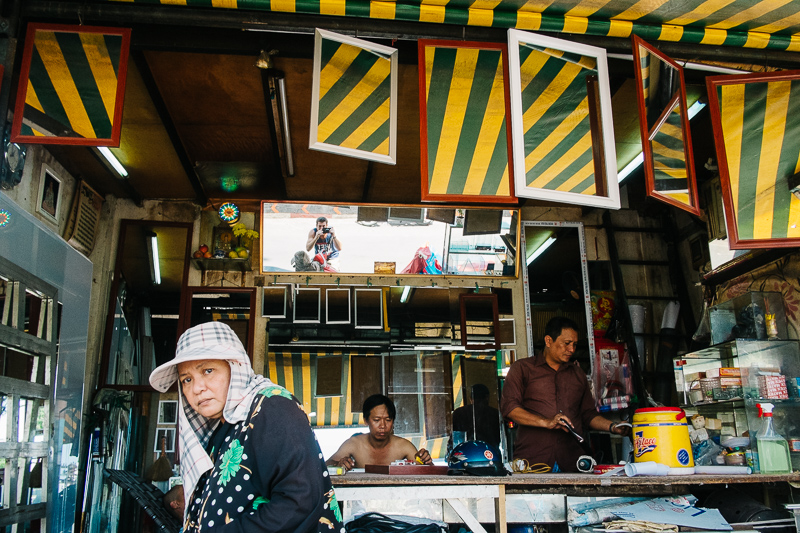 5. Ben Thanh Market
Ben Thanh Market is the city's most popular market, partly because of its location in the heart of the city. It's the most touristy spot in the city, but also the most lively. The French colonial architecture with a large clock tower provides a symbol of the city, while the surrounding streets going in every direction provide plenty more to capture with your camera.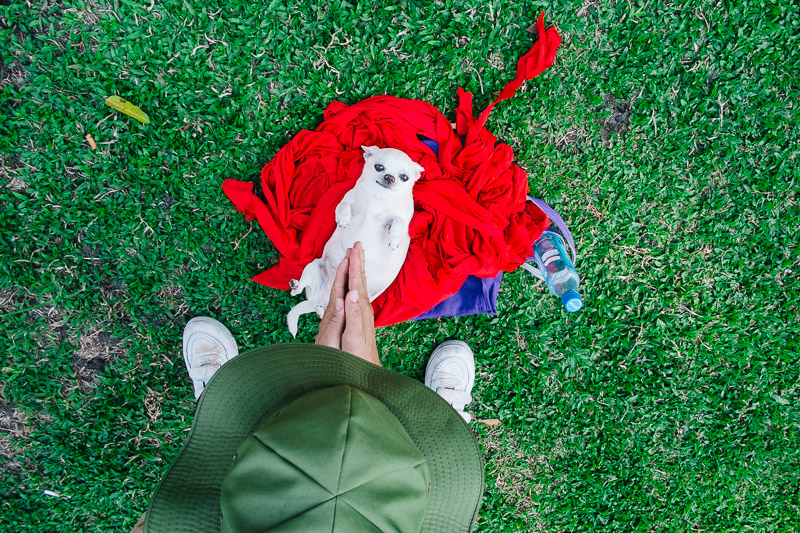 This area stays active day and night so you can come here anytime for street photography. 
6. Gò Vấp District (Near Airport)
While most city's airports are outside of the city, Saigon's is right in the center near everything. The Gò Vấp District borders just northwest of the airport. This can give interesting opportunities with airplanes flying close overhead. The photo below shows you just how close the planes fly overhead in this district. To get your timing right, you have to judge by the sound of a plane nearing, which takes a little luck too. But it's a busy airport so the opportunities are there to capture something interesting if you are patient.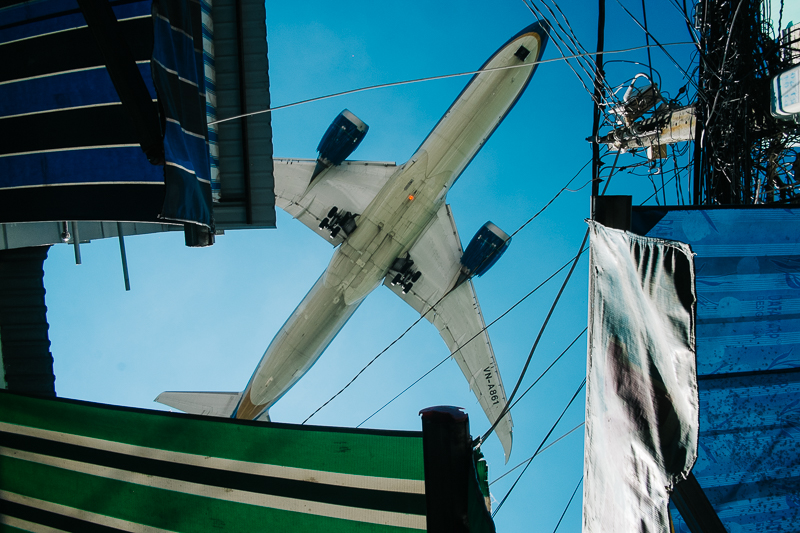 But even better than the planes are the friendly neighborhood alleys to explore in Gò Vấp. In this urban district, Quang Trung is a good street to start at. From there, you can walk around the side alleys where you'll find plenty of local life and atmosphere under the planes. Hanh thong tay market is a popular market in the area, but here I prefer the small street markets you'll run into if you walk enough of the alleys.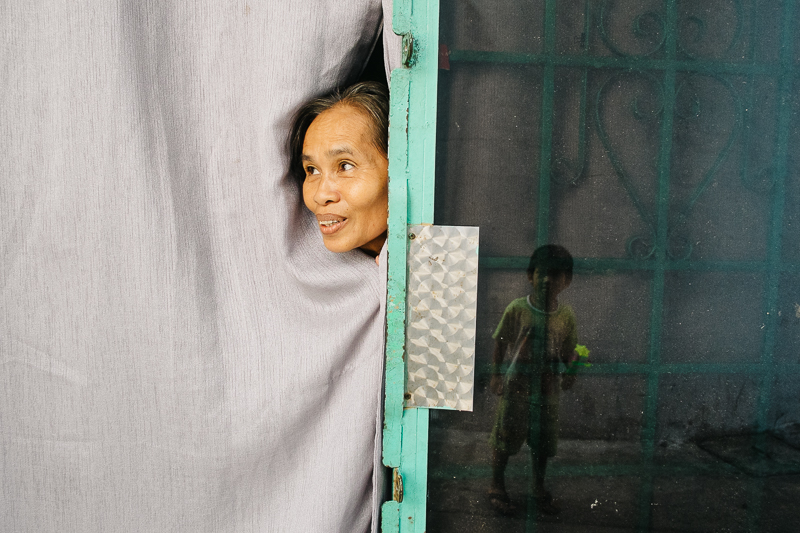 Bonus: Central Parks
These two parks are located right in the center of the city in District 1. They're in middle of all the chaos of downtown Saigon so they stay filled with life. They're very urban parks with some green mixed in, while providing space for a variety of activity.
September 23 Park (Công viên 23 Tháng 9) stretches multiple blocks along Phạm Ngũ Lão street up to Ben Thanh Market. So it's in the heart of the city right by the touristic backpacker district and ending at the city's most famous market, making it one of the busier spots in the city. You get a mix of locals and tourists, different events, students looking to practice english, people playing shuttlecock, and public exercising stations.
Tao Dan Park (Công viên Tao Đàn) is larger and more spread out than September 23 Park. Originally, it was the Governor's Palace premises, but has since been turned into the city's "cultural park." There's dedicated areas for children to play, a sports club, gardens, trees, exercise stations, benches mixed throughout and more. This is another popular spot for students to come practice english so if you go to either of these parks, don't be surprised if you're approached for a conversation. 
I'd say September 23 park can have a little more of a touristy feel, but both attract plenty of locals and life for street photography.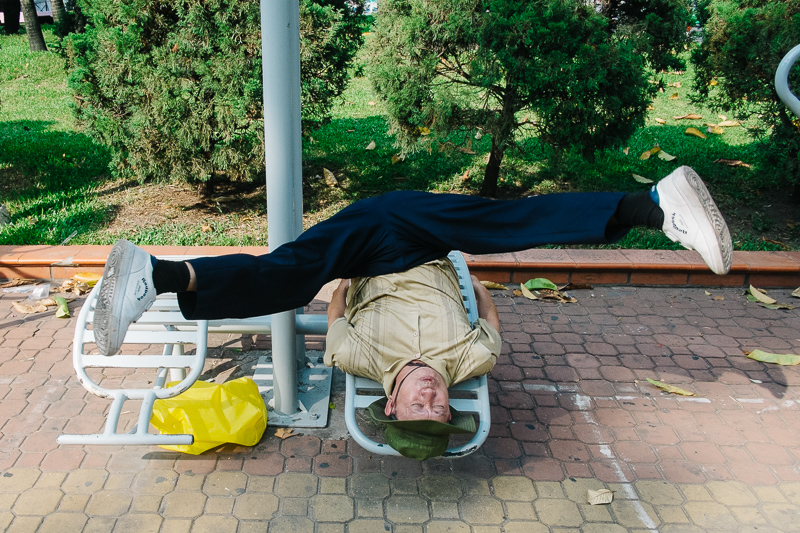 Sample Street Walk:
For a full day of Street Photography, covering some of the best spots, you can follow this sample street walk for Ho Chi Minh City:
Start your morning walking around Chợ Phường 2 market (2)
Walk (or take transportation) northeast to Phạm Ngũ Lão Street (6)
Slowly walk north around Phạm Ngũ Lão Street (6) and within the adjacent park until you get to Ben Thanh Market (5) 
After exploring the area around the market, walk northeast to Nguyen Hue Street (Walking Street) (3)
Finish your day/night of street photography walking down and around Bui Vien (4)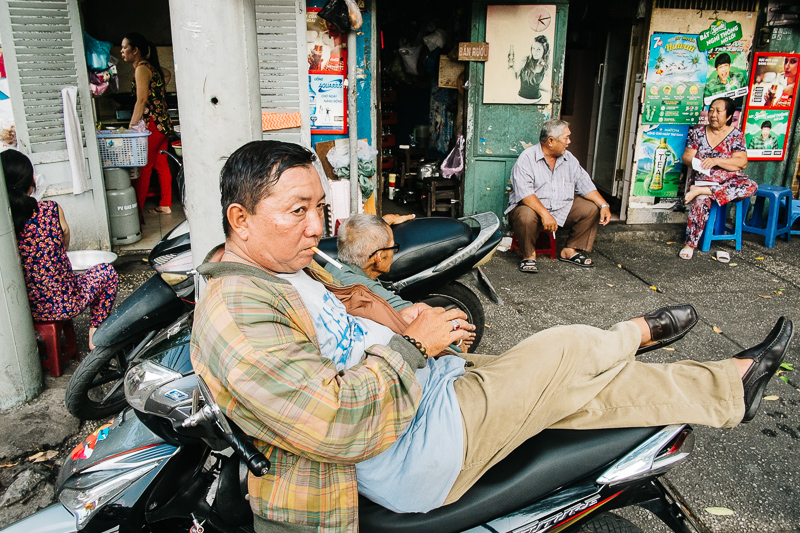 3 Things to Capture in Ho Chi Minh City:
1. Motorbikes!
Over two million motorcycles, scooters, and mopeds fill the streets of Saigon. Watching and hearing them buzz around becomes as big a part of the city's atmosphere as anything. Men with boxes and produce stacked ten feet high, making you wonder how the bike keeps upright. Women in skirts, high heels and pink helmets. Families of four or more packed together on one seat, with the children having to stand just to make it work. And of course the sidewalks lined with men laying across their bike seats for a nap. It's a sight to see, and capture.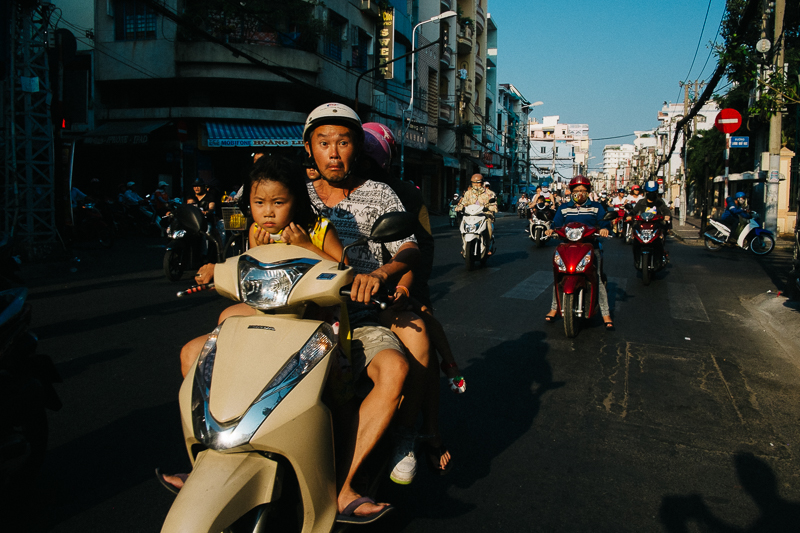 2. Fast Development
Cranes and construction fill the city with new developments popping up everywhere. In Saigon's city center, it might surprise many just how developed and modern the city has become. It can feel cosmopolitan and chic with all its shiny skycrapers, fancy restaurants and cafes, and every western convenience you could ask for. Roof top bars are as big here as any city I've been too. Compared to the more old world Hanoi, it has a completely different feel. While you can find the grimy, timeless alleys, you can also find the clean streets lined with ritzy hotels and modern buildings.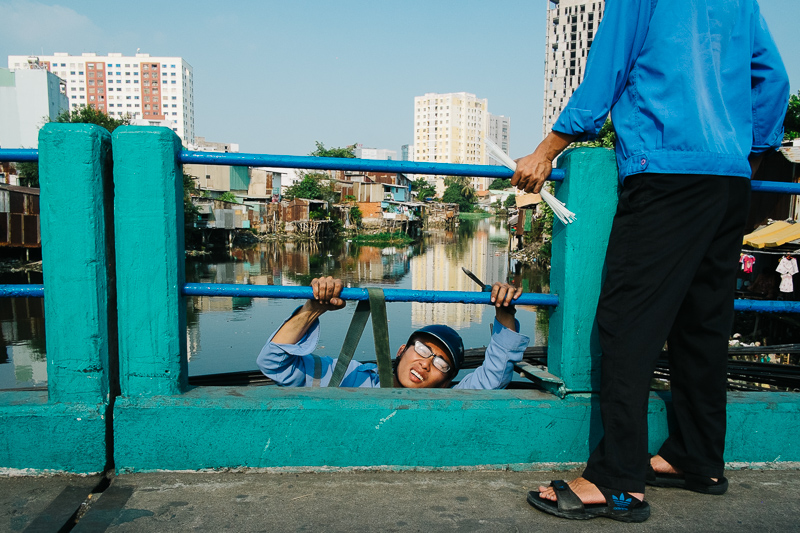 You'll notice construction workers all over the city in their blue uniforms, fenced off construction areas lining the sidewalks, buildings half-finished and even a metro system that is visibly in process. There's a lot going on in Saigon and it looks like the big changes have just begun. If you want the gritty, old world Vietnam atmosphere, you can still find it certain areas, but there's no question that Saigon is Vietnam's Cosmopolitan city.

3. Street Food & Cafe Culture
Saigon is known as one of the top cities in the world for street food. Food stands and small eateries line the streets and narrow alleys, filling the sidewalks with small plastic stools for people to enjoy their food.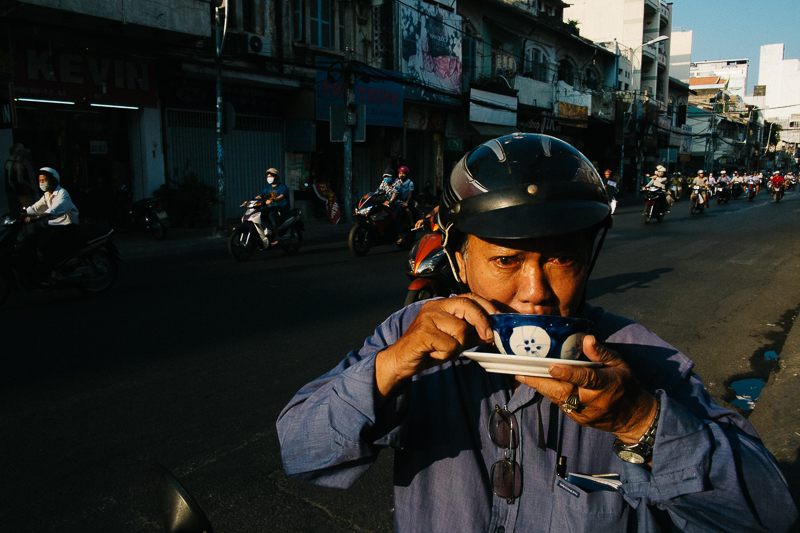 Vietnam is also the second largest producer of coffee in the world. French colonists introduced coffee to Vietnam, but the Vietnamese have made it all their own. It's strong, flavorful, and can be found just as easily as the street food. Many of the stools outside are for small coffee shops, but Saigon is filled with nicer cafes too. For meeting friends or dates, a coffee joint is the popular spot.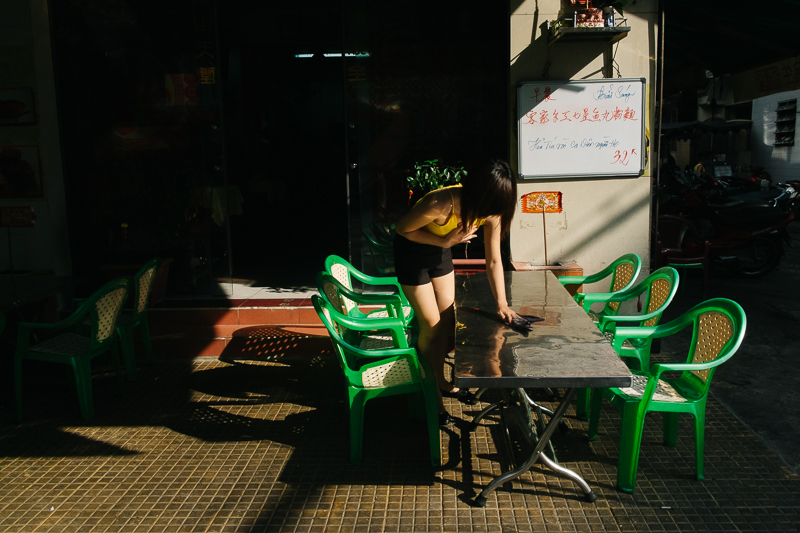 Street food and coffee houses dominate the streets and become a big part of Saigon's atmosphere.
What To Do For a Street Photography Break?:
Street Food! 
As mentioned earlier, if you're in Saigon, you're in one of the best spots in the world for street food. Not only is it a big part of the city's atmosphere, it's also very good. Famous chef, tv personality and traveling foodie Anthony Bourdain has called Vietnam his favorite country. They have their own uniquely flavorful cuisine with a variety of dishes to try. Pho is of course everywhere, as it's found all over the world today, but dishes like Bun Cha, Op la, and Bun bo Hue are some others I'd highly recommend trying. And if you've been in Asia long, you might be missing bread. Luckily, the French influence here gave them the baguette and they use it well in their Bánh mì sandwiches. So for food, you're in luck when visiting Vietnam where you can enjoy some of the world's best food at an extremely budget friendly cost.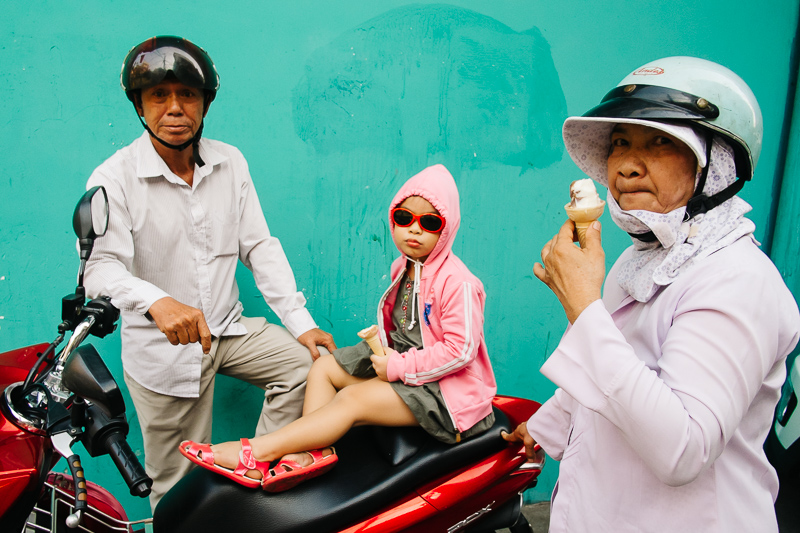 Street Safety Score: 8
*As always, no place is completely safe! So when I talk about safety, I'm speaking in general comparison to other places. Always take precaution, be smart, observe your surroundings and trust your instincts anywhere you go!
Vietnam is a relatively safe country for visitors and Saigon is no different for a large city. Locals seem to have a feeling that it's not so safe, but I've walked all over at all times of the day and night without ever feeling unsafe. Statistically, it's shown to be pretty safe too. Petty theft is on the rise, but it's still on a small scale. Using common sense, you should be completely fine and will probably feel much safer than other large cities you've been to. Just watch out for the cab drivers not using the meter because they'll cheat you :)
*Uber and GrabTaxi are two transportation phone apps here that can save you money over the pricier local cabs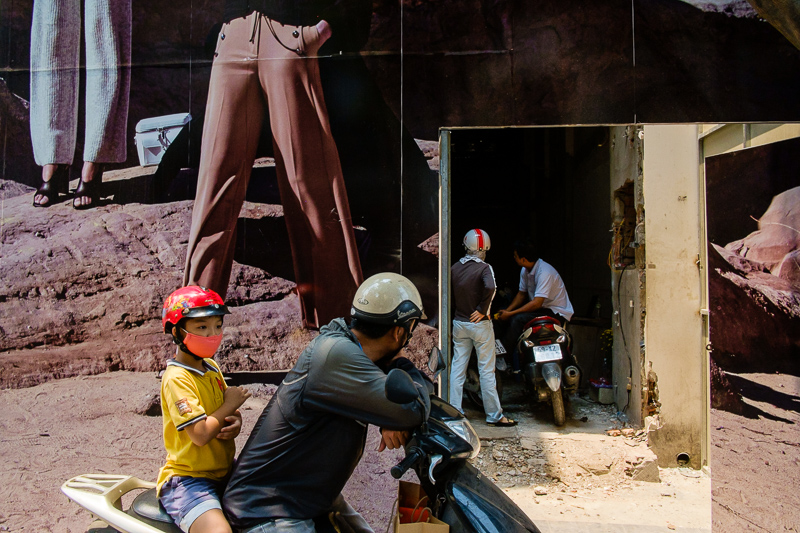 People's Reaction Score: 9
In Saigon, smiles and laughs are the reactions to street photography. Living here, photographing almost every day, I never had one negative reaction. And I don't shy away from getting up close or hide from letting people know that I just took a photo of them. In Saigon, you feel completely free when it comes to shooting candid in public. Honestly, it's about as good as I've experienced when it comes to photo reactions.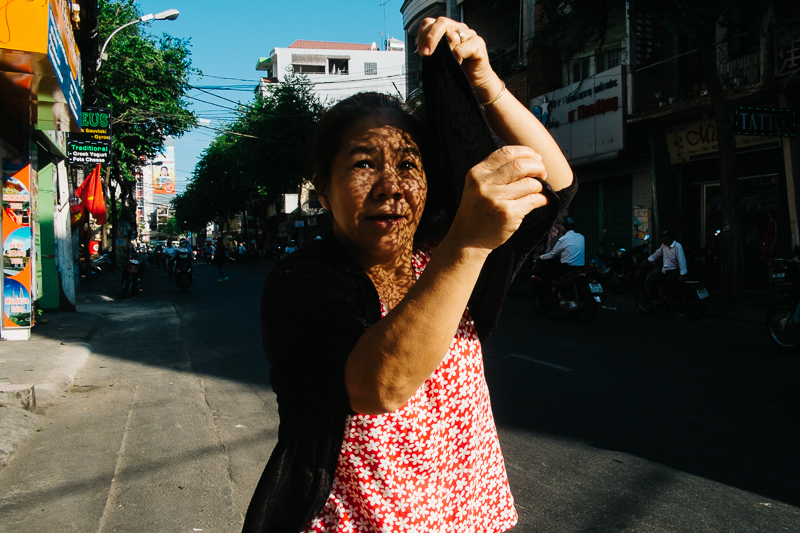 Many of the people seem to find it endearing and will probably smile, laugh or even say thank you. They can be curious at times with street photography too, but no where near to the degree of places like India. For anyone who has trouble to finding the courage to get up closer when they shoot candid, Saigon would be a great city to spend some time in.
Street Tips:
Check Alleys
In Saigon, the side streets can be full of street photography opportunities. Not only do most of them take you back in time, but they can wind around forever and give you plenty to explore. They're different from your normal side streets as they can be more like mini neighborhoods. In these side streets and alleys, people live their lives outside more than anywhere. You'll pass food stands, cafes, and mini-markets within these narrow streets too. Most of these streets will have a blue sign overhead with the street's name. So whenever you pass one along the sidewalk, take a turn in and see what you can discover.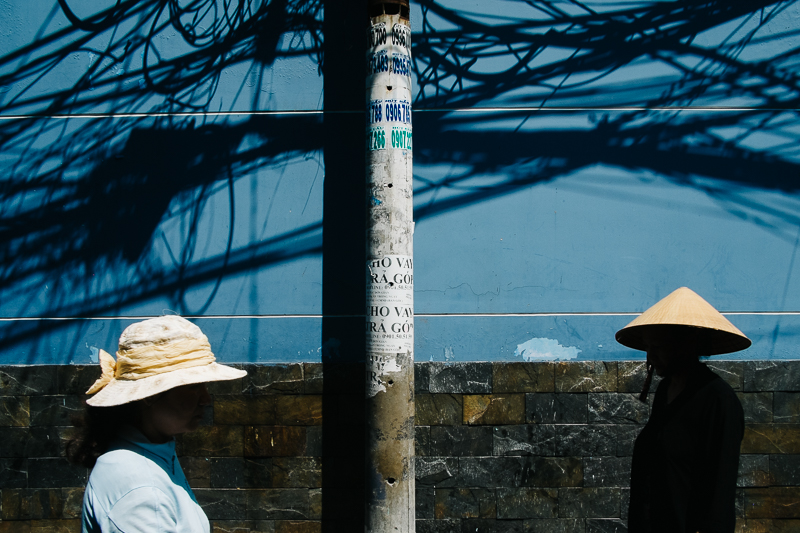 Mingle with the locals
People are extremely friendly to visitors in Saigon. You can walk through any of the random alleys and be welcomed by smiles, especially if you smile first. So I'd recommend exploring as much of the inner alley life as possible and meeting the people. It can be an experience and help you get some nice captures, and memories.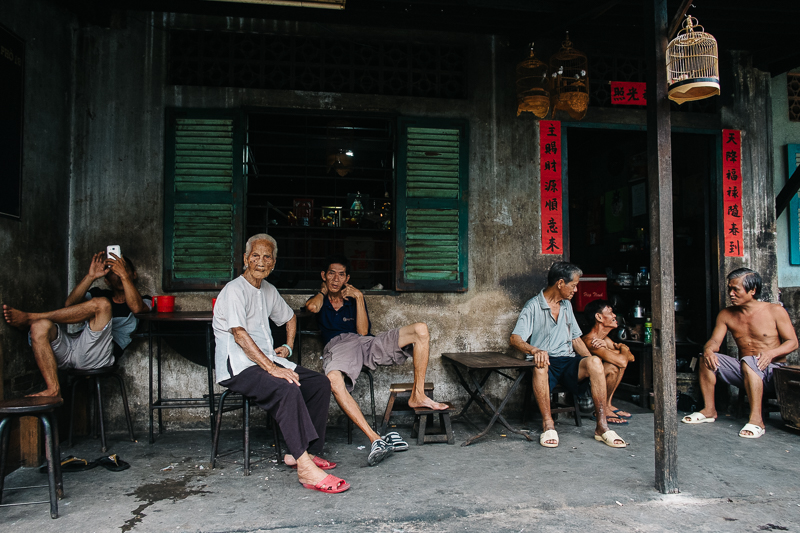 Crossing the Street
As chaotic as Saigon traffic may look, they actually make the crowded traffic of motorbikes work rather fluidly. Compared to places like India and Morocco, it's poetry in motion. At first, crossing the street can feel intimidating, but once you learn the flow, you can walk across easily, unlike India where it feels like you risk your life each time. The bikes go by pace, so as long as you confidently keep your pace, they'll drive accordingly around you. Hesitate or try to move out of their way, and then you might have a problem. Bikes measure their direction by you not stopping. Once you get the hang of it, it's actually a beautiful thing how smoothly you can walk through all that traffic.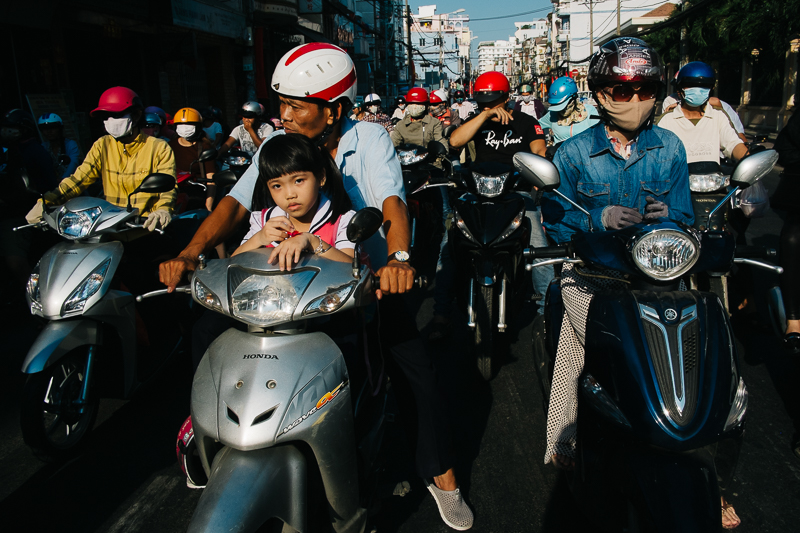 Prepare for the Heat
The heat in Saigon can affect your street photography experience more than most places. Not only does it get very hot, but it can get very humid too. After living and shooting here, I'd have to say it's one of the more exhaustive places if you go out all day. The dense heat can really get to you. So be prepared to drink lots of water and crash on your bed as soon as you get home. Having some cold, fresh coconut water is one of the best ways to the end the hot day of street photography, though.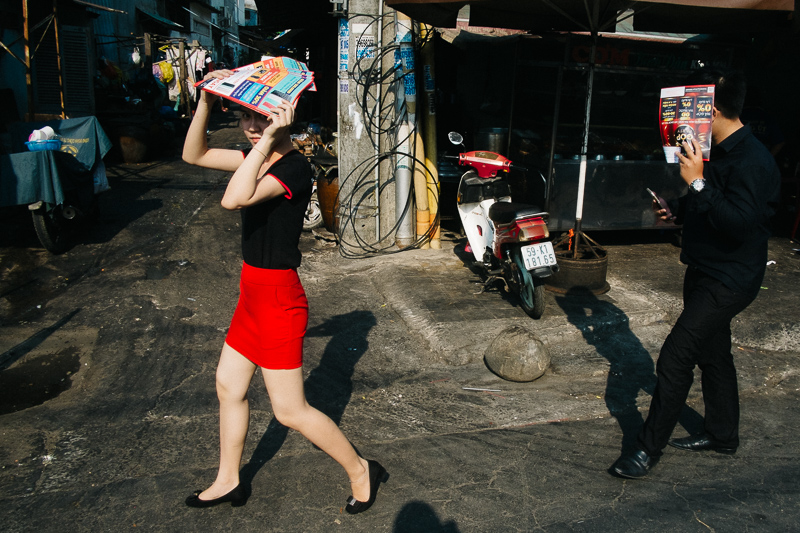 Check Out the Night Scene
The nightlife in Saigon can be a sight to see even if you don't join in. It's a unique scene in the popular night spots like Bui Vien. The neon lights, noise, packed streets and smells from street food give the night so much life. Most of the bars have proactively dressed women outside to entice men inside for a drink, while others are there to gain massage customers at all hours of the night. And then you have the crowds of people coming to party. They not only fill the streets, walking in every direction, but also the sidewalks filled with plastic stools for enjoying some beer.
With all the neon signs, music and activity, it can create a very interesting place for people watching and night street photography.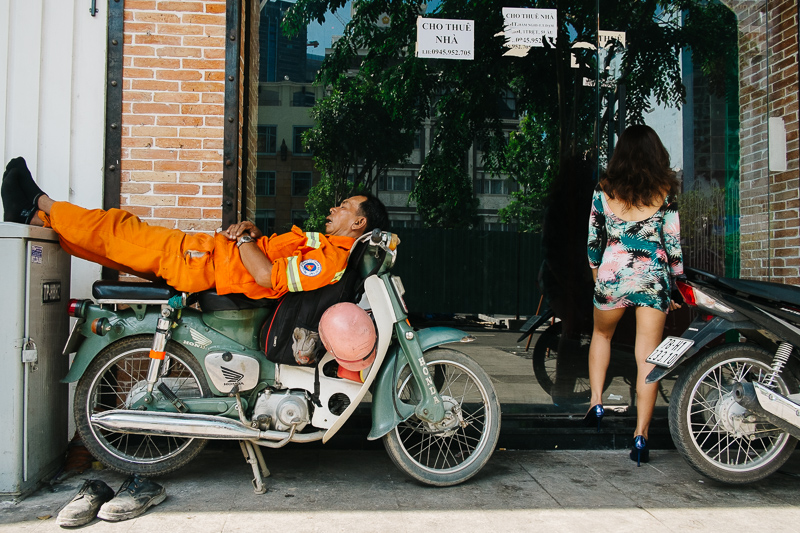 Inspiration:
For some more inspiration, you can look through the Street Photography of Ho Chi Minh City photographer Cuong Tran and check out 33 of my photos taken in Ho Chi Minh City.
Conclusion:
Saigon really has a lot going for it, from food and friendliness to cost and comfort. You have everything you need, but with an edge and character all its own. For someone newly visiting Asia, it's one of the easiest cities to travel to. And for street photography, it's one of the easiest cities to shoot in when it comes to friendliness. So for any street photographers looking to take a trip out to Asia, Ho Chi Minh City, and Vietnam in general, is a great choice all around.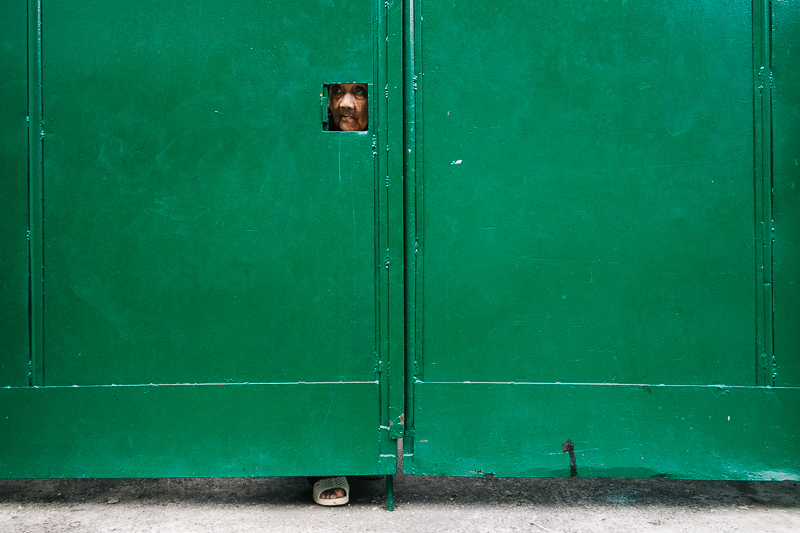 I hope this guide can help you go experience Ho Chi Minh City's mix of rapidly developing cosmopolitan city and streets of old Saigon atmosphere. So grab your camera and capture all that Ho Chi Minh City has to offer for Street Photography!
If you still have any questions about shooting in Ho Chi Minh City, feel free to comment below or email me!
(I want to make these guides as valuable as possible for all of you so add any ideas on improvements, including addition requests, in the comment section!)
(A New Guide Posted Every Other Wednesday)