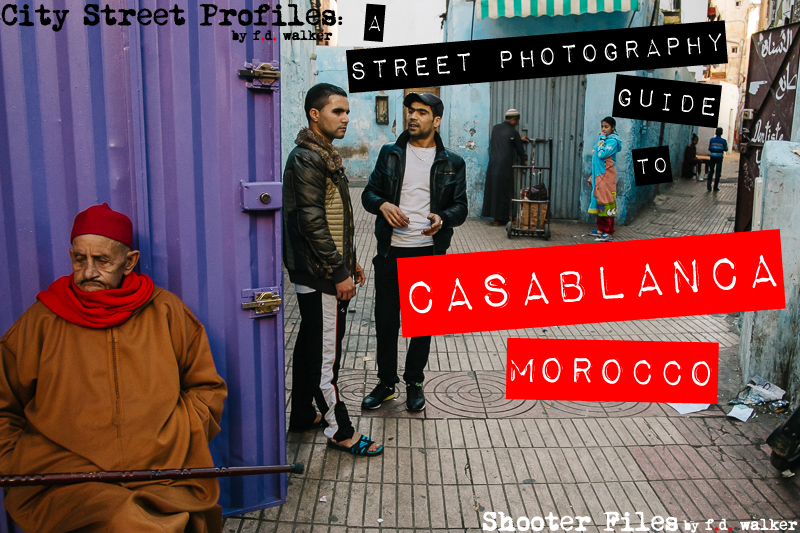 *A series of guides on shooting Street Photography in cities around the world. Find the best spots to shoot, things to capture, safety concerns, street tips, and more for cities around the world. I have personally researched, explored and shot Street Photography in every city that I create a guide for. So you can be ready to capture the streets as soon as you step outside with your camera!
Casablanca
Overview:
While Casablanca is the largest city in Morocco, it doesn't get as much love as many of the country's more tourist oriented cities. People might fly in and out of Casablanca, but it's hard to find many recommending staying here longer than that. I made sure to find out if this reputation is justified or if people just aren't giving it a chance.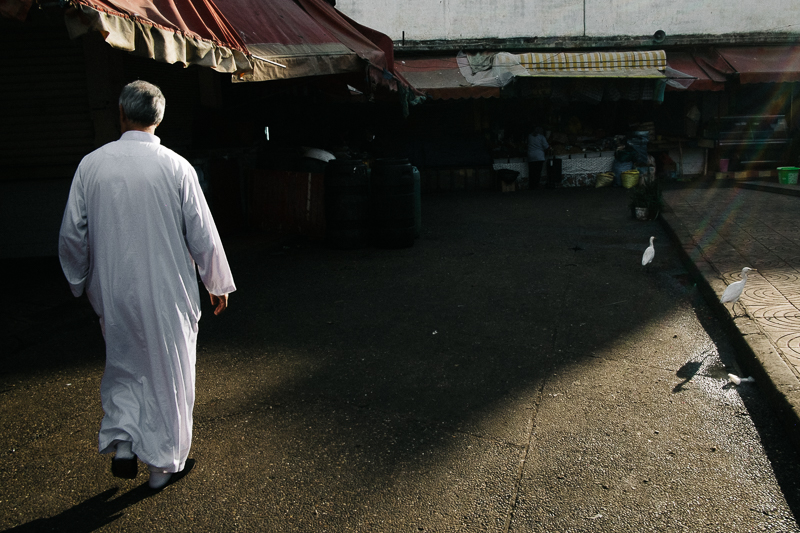 The truth is, after exploring the city, I can understand why most tourists quickly make their way to Morocco's other attractions, but for street photography, I found many reasons to give Casablanca a chance. It's a big, urban city that doesn't come polished for visitors, but for those who like photographing big cities, there's plenty here to capture. It's an urban atmosphere within Morocco that gives you a very different feeling than the rest of the country. It just takes a little more time to find it.
So here's a Street Photography guide so you can be ready to capture all that Casablanca has to offer before you even arrive!
Map:
Old Medina
Place des Nations Unies
Parc de la Ligue Arabe
Hassan II Mosque
Central Market (Marche Central)
Top 5 Street Spots:
1. Old Medina
Like most Moroccan cities, Casablanca has its own medina, but it feels different from the others. The big city atmosphere influences the medina here. It doesn't feel like you're going quite as far back in time, but in many ways, I found it just as interesting.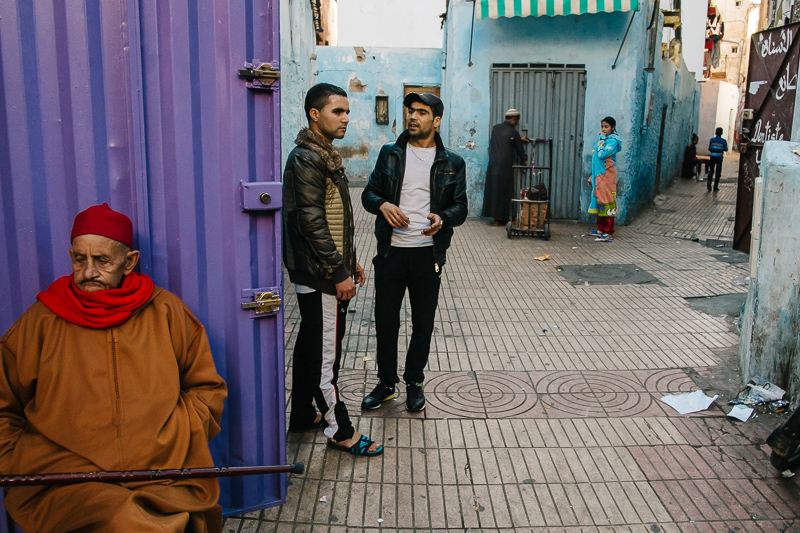 There's an urban feeling to the medina. The streets aren't as much of a maze so it's easier to find your way around. The people and atmosphere feel more big city too, even though much of the scenery and activity is definitely a medina. But while it does show more urban influence than other medinas, the atmosphere still changes from the city quite a bit. Before France took over a century ago, the Old Medina was the main part of the city. Most of the French influence came in building the city outside of the medina, while leaving most of the medina preserved. So it gives a great mix of old medina and big city.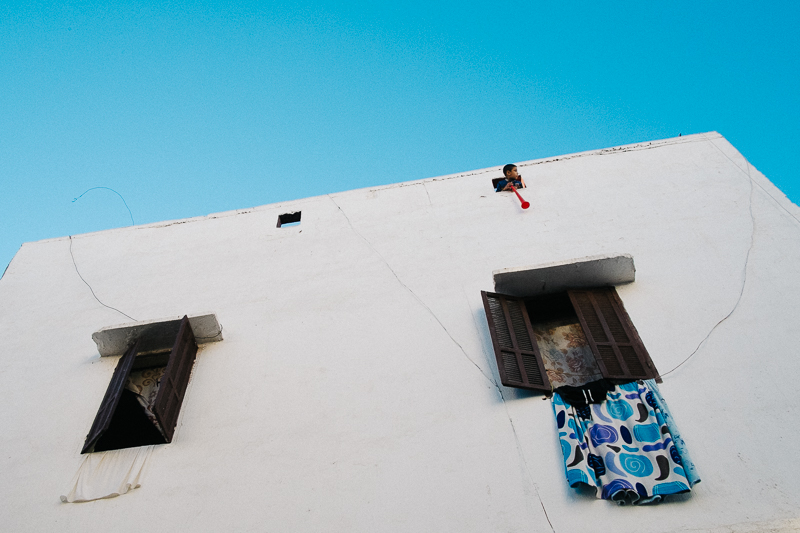 There's also more open space for good light, which I found very valuable for street photography. Many of the medinas in other cities have narrow alleys and don't get much light most of the day. But the medina in Casablanca has wider streets and open areas full of sunlight and activity.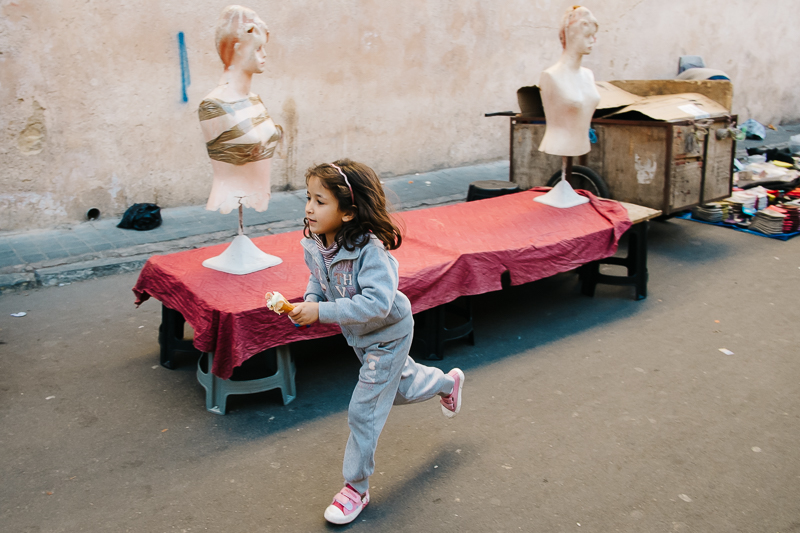 2. Place des Nations Unies
The United Nations Square is the main square in Casablanca. It's located just outside of the Old Medina main entrance in the city center so it packs with a mix of tourists and locals. A mix of transportation connects here too so it's always one of the busiest spots in the city. While most people are moving in different directions in this large open space, plenty hang out here too. There's some nice, lively outside cafes and it usually gets even busier in the evening.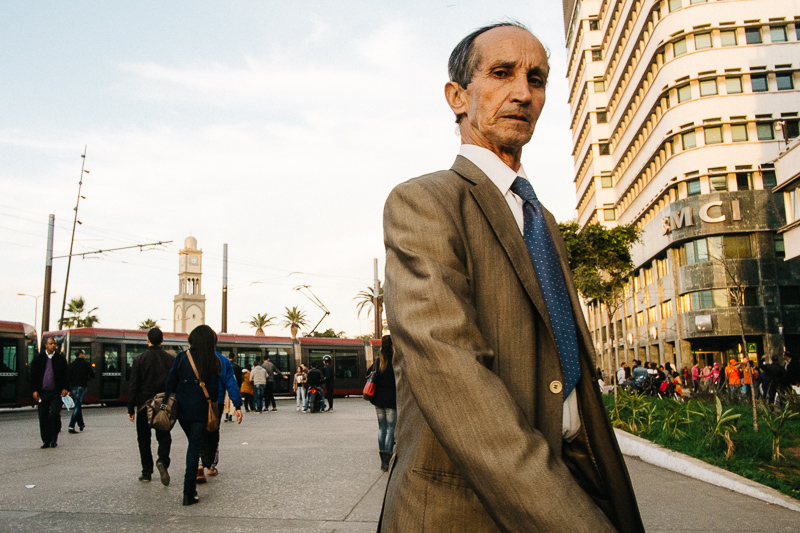 3. Parc de la Ligue Arabe
Parc de la Ligue Arabe is Casablanca's largest park and is mostly wide open. Many people come here to walk, exercise, relax or play games. The design is somewhat interesting with french and art deco influence. It looks like it's seen better days, but can give an interesting mix of characters with lots of light.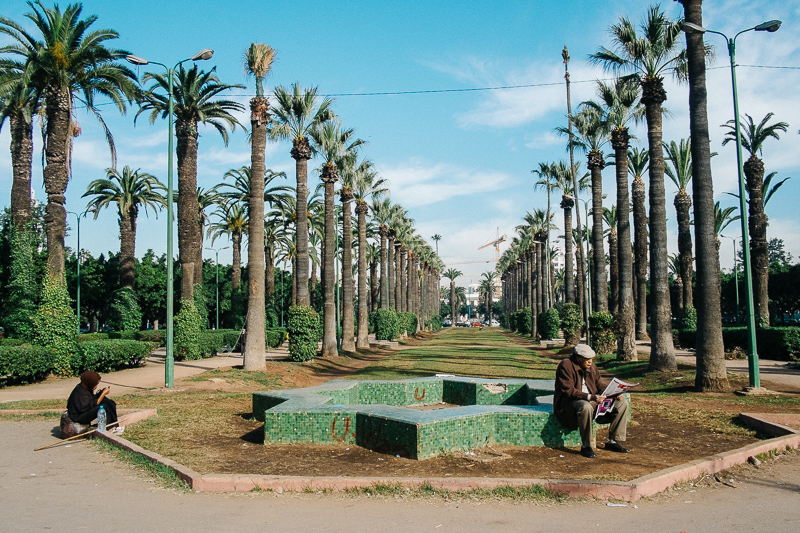 4. Hassan II Mosque
Now while the city might not be the most beautiful, you can't say that about the The Hassan II Mosque. From traveling and living in a city that has over 1,000 mosques, I've seen plenty of them, but Casablanca might have the most impressive I've seen yet.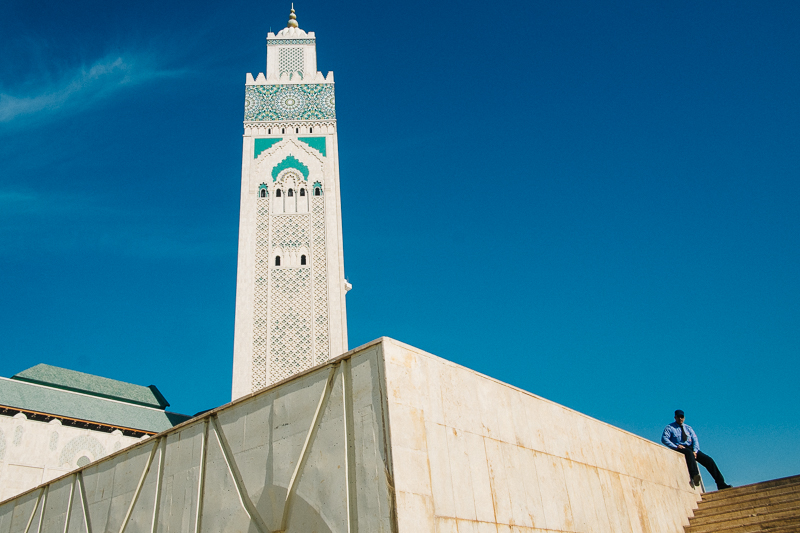 First, it's right on the ocean. Second, its beautiful marble reflects the sun in a way that is reminiscent of the Taj Mahal. And 3rd, its gigantic courtyard in front is packed with people. It's a sight to see when you first walk up to the courtyard. For some street photography, it's not a bad spot to check out too for activity and atmosphere. Along the courtyard entrance to the mosque, you can find some nice backgrounds and shadows to work in with the people too.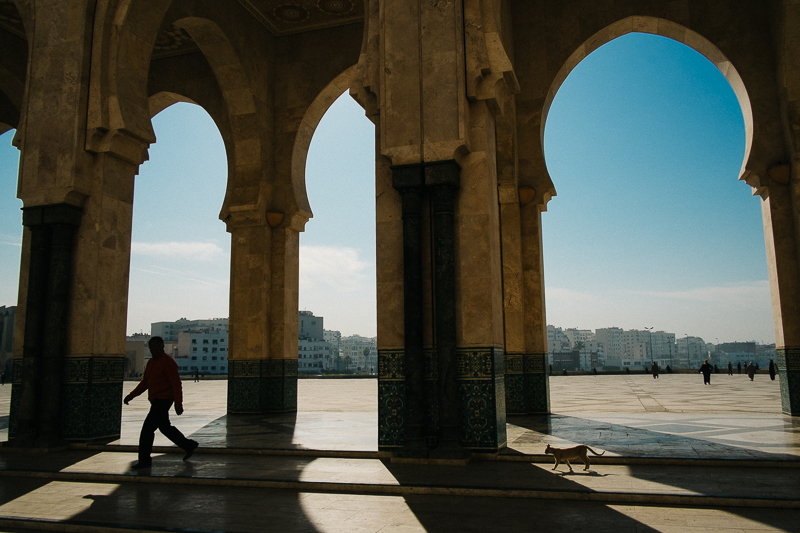 5. Central Market (Marche Central)
The Central Market is one of the oldest traditional markets in the city center, but it isn't too big or complicated so it makes for an easy stop for some photography. The white-walled stalls contain vendors selling everything from produce, fish and nuts to argan oils and Moroccan elixirs.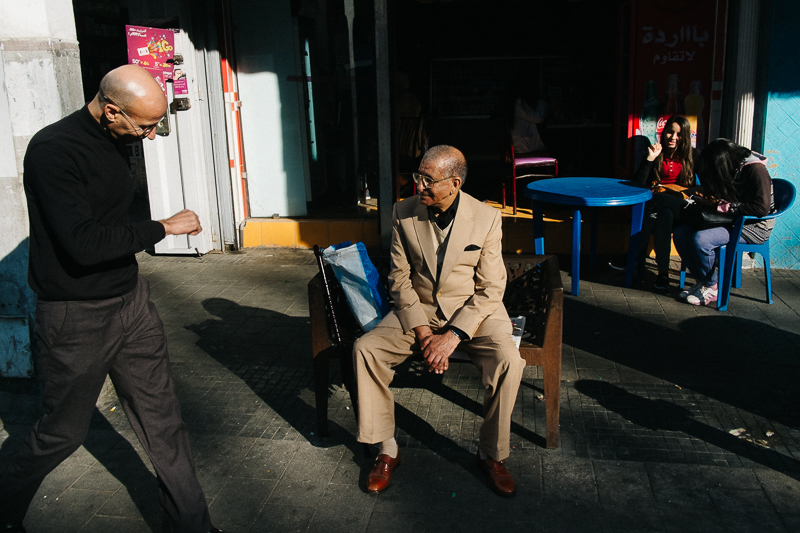 For me, though, the streets surrounding the Central Market provide the best street photography opportunities.  You'll find some of the nicest Art Deco architecture in the city here, with cafes and people lining the streets. There can be good light and shadow here too with the wide open streets and covered sidewalk stores and cafes. This area provides some of the best character in the city and is a good starting point towards some of the above spots, including Place des Nations Unies.
Sample Street Walk:
For a full day of Street Photography, covering some of the best spots, you can follow this sample street walk for Casablanca:
Start your morning walking around the Central Market (5) and surrounding streets
Walk west to Place des Nations Unies (2) and spend some time there
Walk north to the Old Medina (1) 
After spending a lot of time exploring the medina streets (1) , you can walk northwest to the Hassan II Mosque (4) or south to the Parc de la Ligue Arabe (3) 
Finish your day of street photography walking back to Place des Nations Unies (2) to capture the change of scenery and activity in the evening.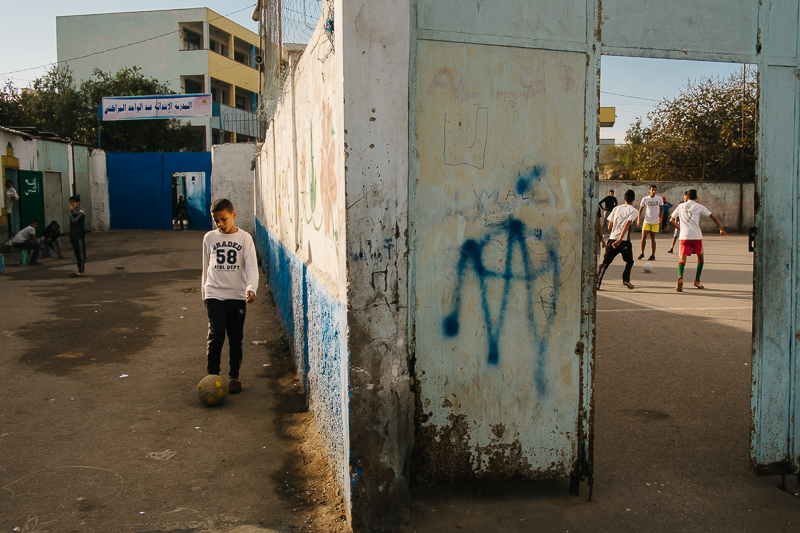 3 Things to Capture in Casablanca:
1. Deteriorating French Influence/Cafes
Much of the old architecture in the city is deteriorating and in bad shape. This includes many of the french cafes all over the city. For some this can give a depressed sort of feeling, but for others, you can find a lot of character within that deteriorating french atmosphere. Personally, I enjoy it's rough, edginess blending with the french and art deco architecture.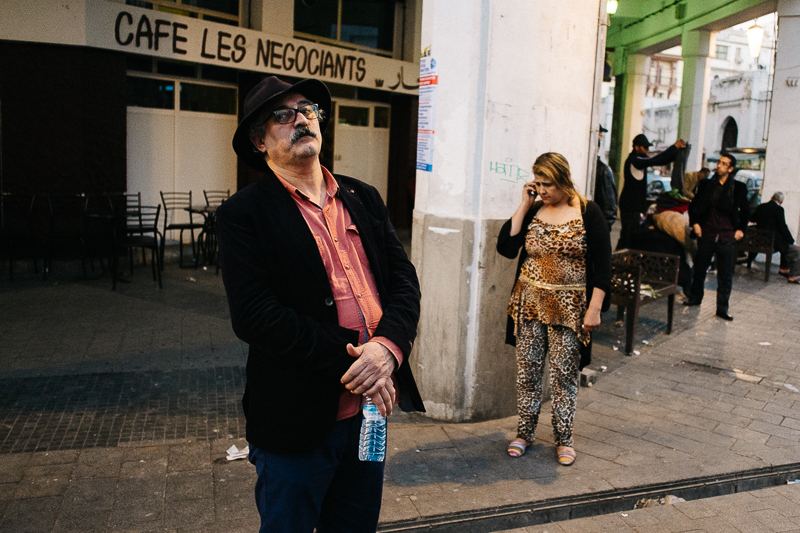 2. Urban Medina
As noted earlier, I really enjoy Casablanca's medina for how it stands apart from the others. It gives great light with its wider open spacing, but it also contains a nice mix of urban and ancient medina. Everything from the scenery to the people and activity give off this unique atmosphere for street photography. I'd recommend catching it in the morning and just as school gets out for some of the best photo opportunities with the best light.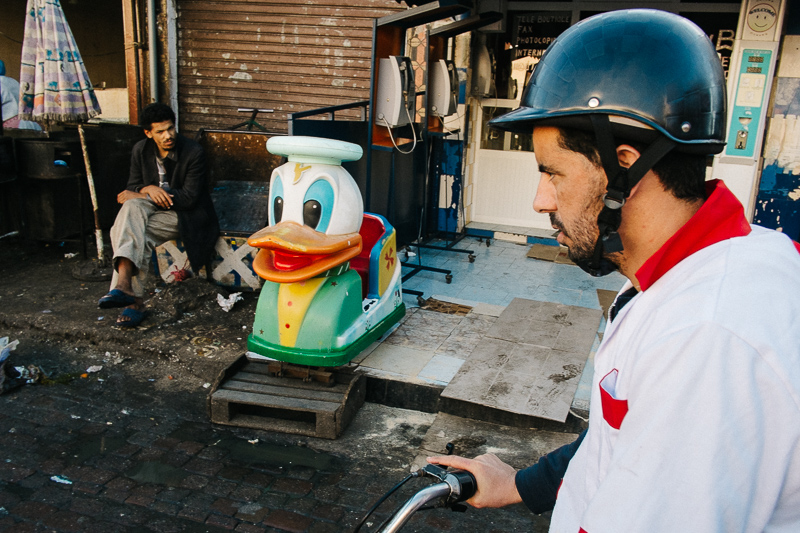 3. Big City Side of Morocco
The clothing and dress code in Casablanca is noticeably different from most of Morocco. While much of the country is more traditionally dressed, especially with women, people here dress much like any other big city around the world. Young men and women dress much more fashionably and trendy. 
Another big difference you'll notice if you've already spent time in other parts of Morocco, people here are much less concerned with you. You don't get near the amount of stares, hassling or push back when it comes to street photography. Outside a couple of areas, people aren't looking to haggle tourists, partly because the city isn't centered around tourism. They're mostly just going about their big city life.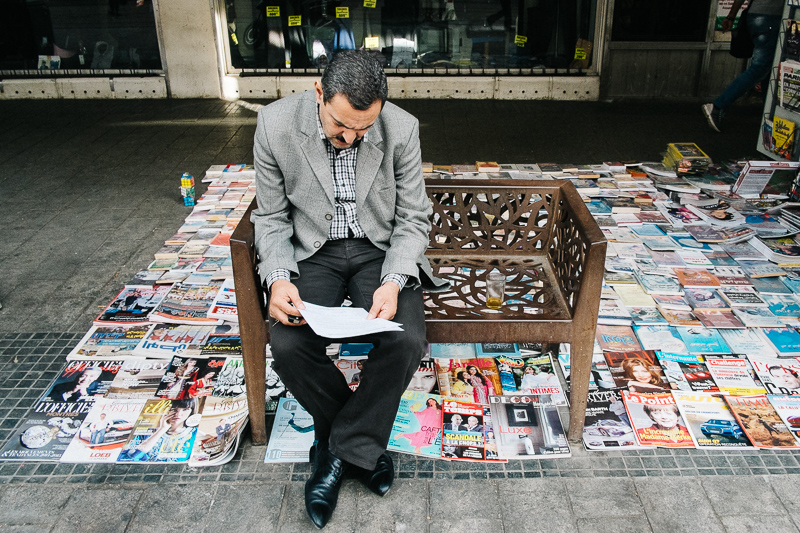 While they don't love street photography compared to most areas in the world, they're much less against it than the rest of the country. Many of them even openly welcome it in Casablanca. So after places like Marrakech, it's nice to not have to worry so much about reactions to street photography.
What To Do For a Street Photography Break?:
Stop at a Cafe
Casablanca is filled with cafes, most with outside seating. Most of them come with that rugged french influence giving them an interesting feeling. Stopping at cafe for a coffee or tea is very popular here and you can keep people watching while taking a break.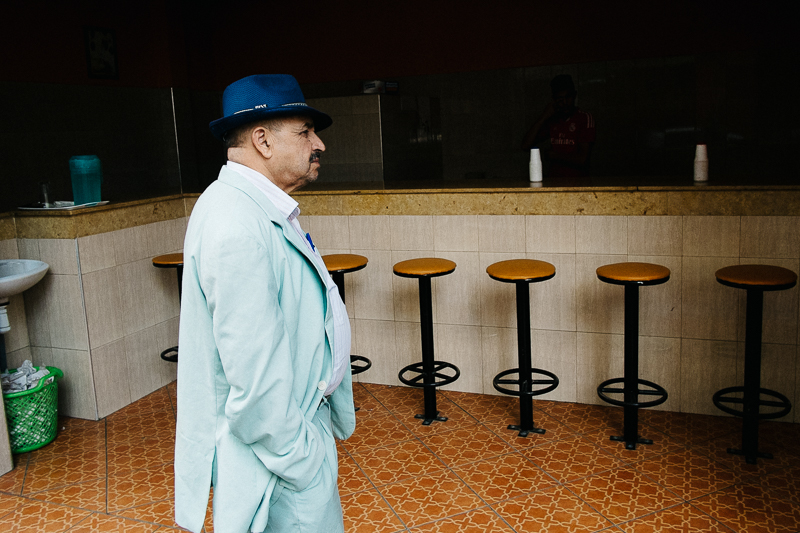 Street Safety Score: 6
*As always, no place is completely safe! So when I talk about safety, I'm speaking in general comparison to other places. Always take precaution, be smart, observe your surroundings and trust your instincts anywhere you go!
There's not too much information online about different areas of Casablanca, so I spent a lot of my time freely exploring the city myself. I ended up wandering into a few areas that gave off a dangerous vibe, though. You can tell when looks change from genuine curiosity to caution. I've never had anything happen to me in Casablanca, but it is smart to be on guard if you're going to venture around. If you want to explore outside of the center, there's some interesting places for street photography, but you should probably have some help from a local.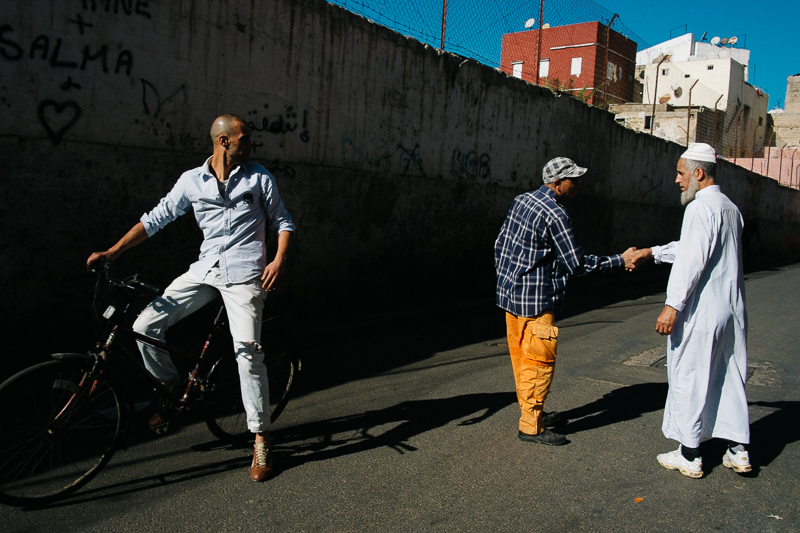 People's Reaction Score: 5
It's not saying much, but Casablanca is the most street photography friendly city in Morocco that I've been to. This isn't because they're actually that photo friendly, but they just don't pay attention to others as much. It's big city life here and tourists aren't everywhere like other Moroccan cities so it isn't people's focus in the same way.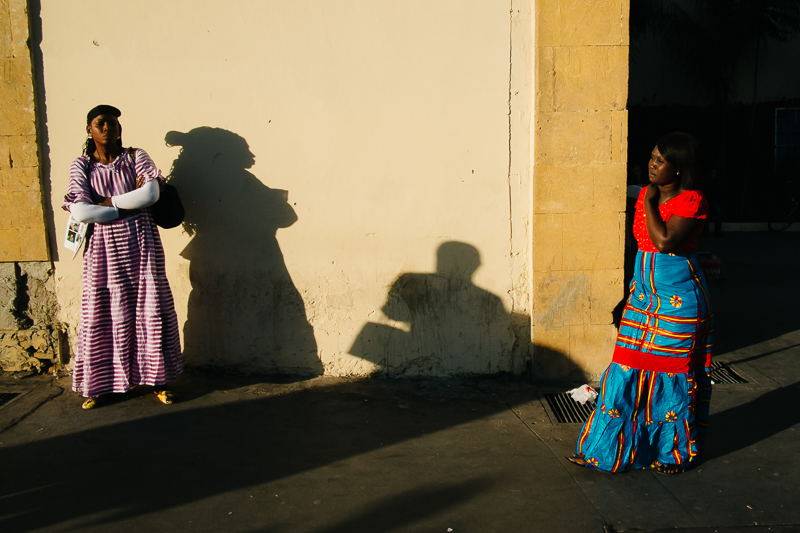 Street Tips:
Be Stealth, but Confident
In Morocco, you have to be a little more stealth if you want to capture any candid photography in the streets. That doesn't mean trying to hide the shot, but it means you have to be faster here and less noticeable. I find being confident and making the shot without thinking about it too much is the best approach. If you handle yourself normally, people won't notice you as much, and if you're confident and friendly, they won't be as suspicious, either.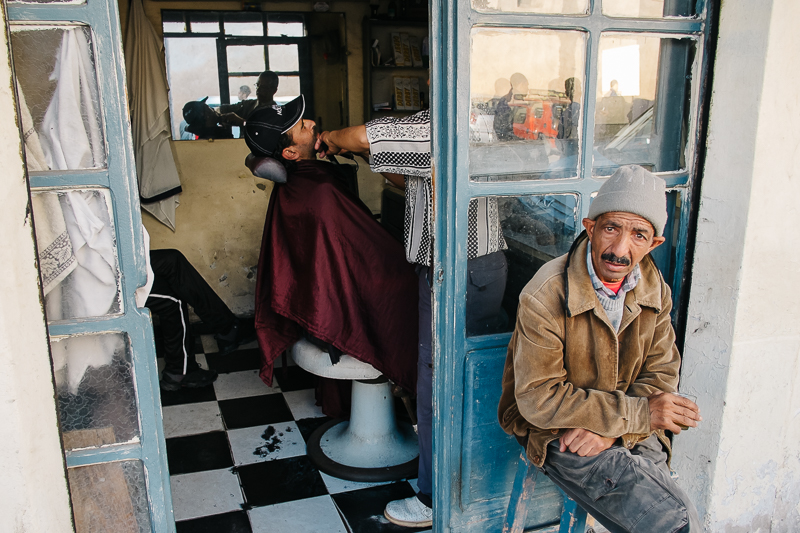 Luckily, in Casablanca, you're already less noticeable compared to other cities in Morocco. So the confident, timely shot works even better here.
Waterfront Not Great, Unfortunately
I love the water, especially the ocean. A city needs some type of water, in my opinion, and an ocean usually adds so much life to a place. Casablanca is right on the Atlantic Ocean, but it doesn't really feel like it. Most of the seafront has nothing going on. There aren't many places to enjoy it so people don't really go there. It can feel like a waste.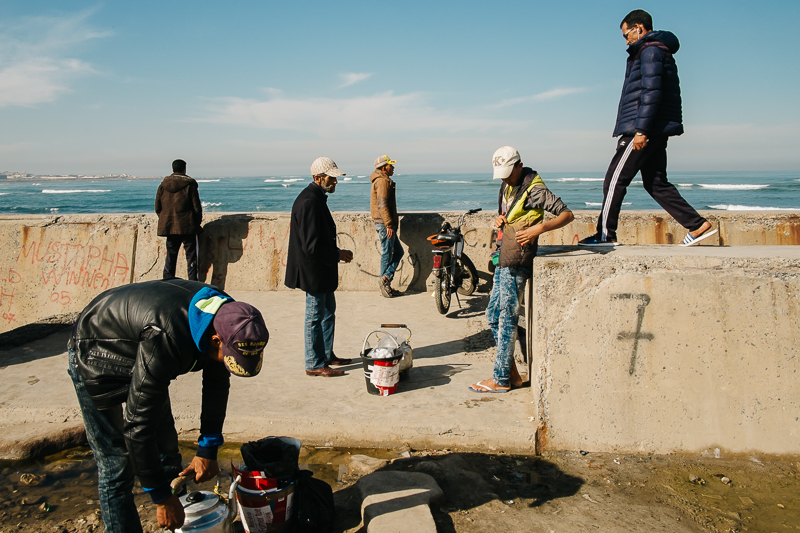 I tried finding areas where they took advantage of their coastline, but there really isn't much yet. It does look like the city might be doing something about this now, though. There's plenty of construction going on along the oceanfront. We'll see how much of that are properties and hotels, and how much is for the public.
Give Casablanca a Chance
In a country so full of amazing cities to visit, you don't find many people recommending Casablanca. For street photographers, though, there is plenty to like. It's the most urban city in the country and less touristy. The people are more oblivious to photographers. Casablanca contains a grittiness and edge that can be exactly what many street photographers look for. So give it a couple of days or more if you get the chance, especially if you're flying in or out here.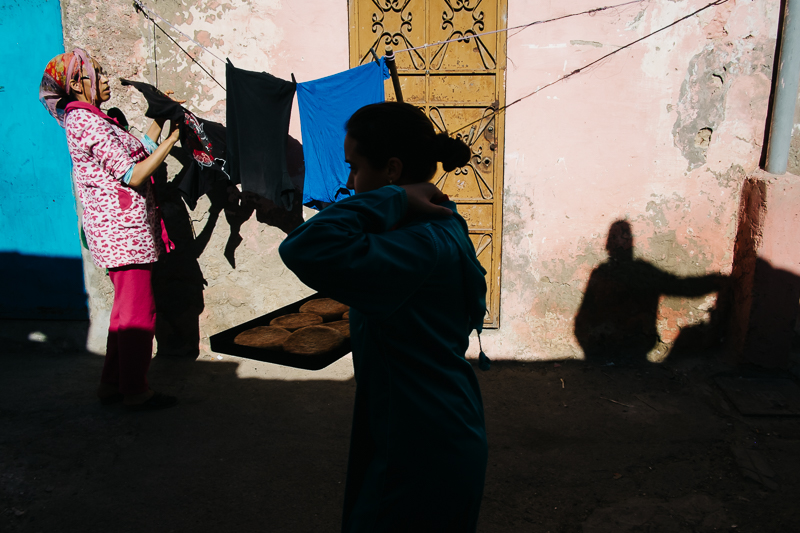 Inspiration:
For some more inspiration, you can look through the work done in Morocco by the great Harry Gruyaert and check out 33 of my photos taken in Casablanca.
Conclusion:
For many of the reasons people don't love Casablanca, I found plenty of reasons why they're be missing out. Now for your average tourist, it probably doesn't have too much of what you're looking for. But for street photographers or people interested in experiencing the less touristic and more urban side of Morocco, then it has plenty.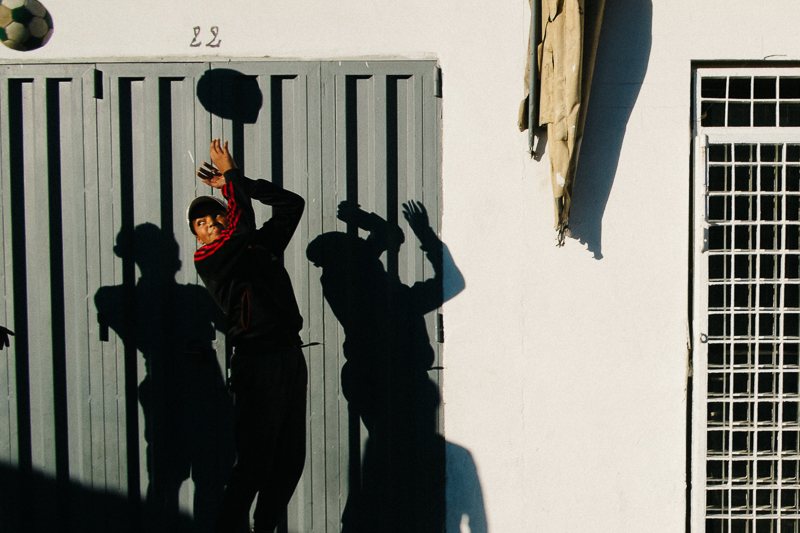 Hopefully this guide can help you go experience Casablanca, while the other tourists miss out. So grab your camera and capture all that Casablanca has to offer for Street Photography!
If you still have any questions about shooting in Casablanca, feel free to comment below or email me!
(I want to make these guides as valuable as possible for all of you so add any ideas on improvements, including addition requests, in the comment section!)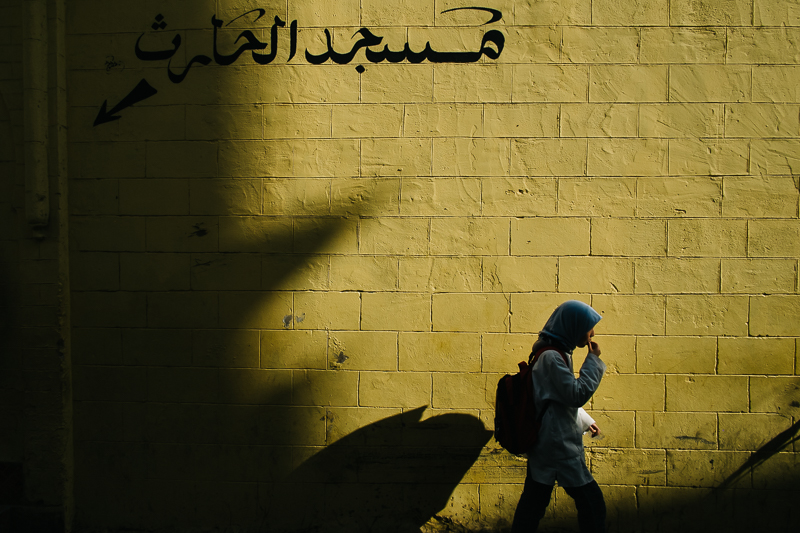 (A New Guide Posted Every Other Wednesday)