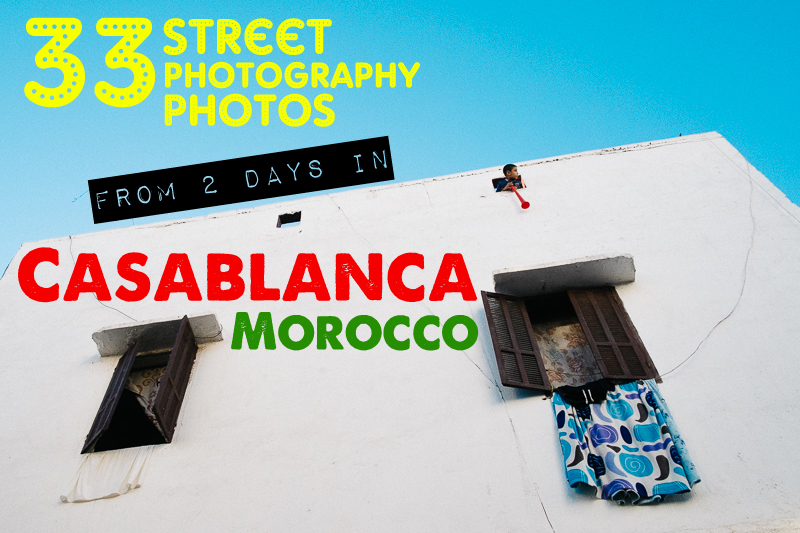 I finished off my visit to Morocco flying out of Casablanca. While Casablanca is the biggest city in Morocco, not many stay longer than it takes to fly in and out. Most visitors come here for all the other cities in Morocco, but you don't hear anybody recommend visiting Casablanca. Since it is a large, well-known city, I wanted to see how deserving this was so I decided to leave a couple of days to explore the city before I left Morocco.
While it was easy to see why it's not high on the list for travelers to Morocco, I did find it worth exploring for street photographers. At first impression, it's a somewhat ugly, charmless sprawl of an urban city. Deteriorating and dirty without many attractions. There isn't much info online so I really had to discover the city on my own, by foot. I found underneath this uninspiring exterior, there was plenty of life and interest to capture. I enjoyed the urban city side of Morocco and while it's not pretty, there's still some character there for street photography. 
I only had 2 days here so it didn't give me much opportunity to capture as many photos as usual, but I still wanted to keep with 33 photos series theme, anyway. So here's 33 street photography photos from 2 days in Casablanca, Morocco…
Street Photography from 2 Days in Casablanca
1.
2.
3.
4.
5.
6.
7.
8.
9.
10.
11.
12.
13.
14.
15.
16.
17.
18.

19.

20.
21.
22.
23.
24.
25.
26.
27.
28.
29.
30.
32.
31.
32.
Finished with a little black & white…
33.
For more info on Casablanca, be sure to check out my first impressions from a street photographer's perspective. And stay tuned for one of my in-depth City Street Photography Guides on Casablanca coming soon!

Have you photographed Casablanca before or do you plan on it someday? Let me know about it in the comments below!
And let me know which photos you like best too!
Click Here for More "33 Street Photos" from Cities Around the World