*A series of guides on shooting Street Photography in cities around the world. Find the best spots to shoot, things to capture, safety concerns, street tips, and more for cities around the world.  I have personally researched, explored and shot Street Photography in every city that I create a guide for. So you can be ready to capture the streets as soon as you step outside with your camera!
Belgrade
Overview:
Belgrade actually translates to "White City," but I'd find "Gray City" more fitting. While Belgrade might not be the most beautiful city in the traditional sense, it brings a character that becomes beautiful in its own way. The city has been somewhat of a battleground over the years and this dark past still shows today. At the same time, you can see the positive transition the city is currently enjoying. It's also a very walkable city, which is great for exploring this unique Balkan city by foot.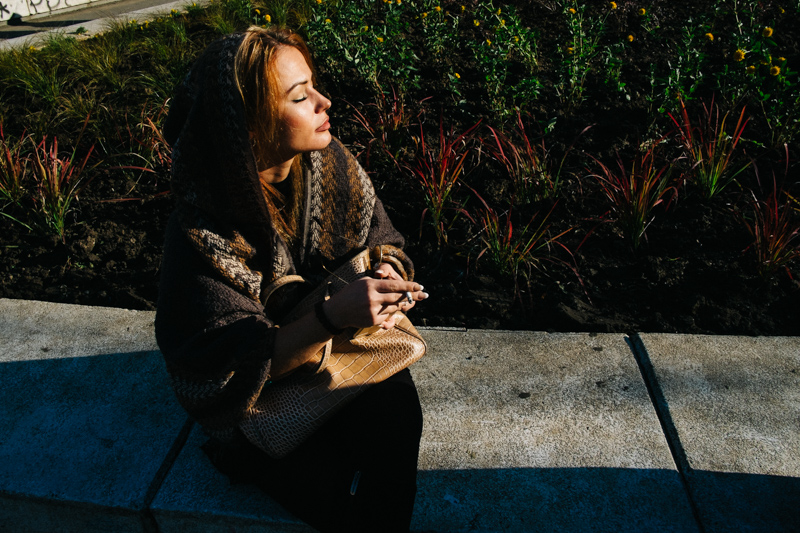 From the people to the city itself, Belgrade has a lot of personality. There's beauty mixed in the rugged exterior and it's unlike an other city I've been to. When it comes to Street Photography, Belgrade has a lot going for it with an atmosphere all its own. So here's a Street Photography guide to help you prepare for capturing all that Belgrade has to offer before you even arrive.
Map:
Republic Square
Prince Michael Street (Knez Mihailova)
Belgrade Fortress / Kalemegdan Park
Skadarlija Street
Slavija Roundabout
Zeleni Venac Bus Station
Top 6 Street Spots:
1. Republic Square
Repuplic Square is the city's most active square and located in the center of Belgrade. The square surrounds the statue of Prince Mihailo and connects to the popular pedestrian walkway, Prince Michael Street.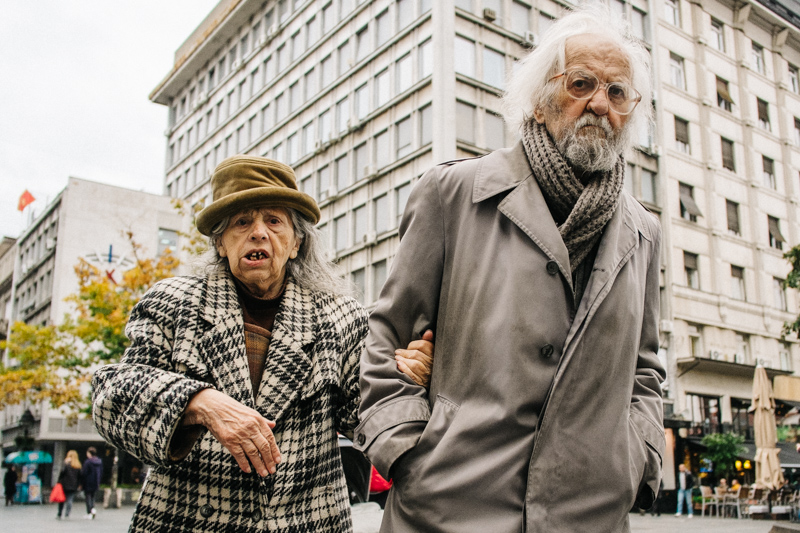 Republic Square is one of the busiest places in Belgrade, with over 20 bus and trolleybus lines passing through the square. It's also one of the central business areas in the city and the location of Belgrade's glass and steel constructed shopping mall, Staklenac. 
With all the activity here, it's a great area for Street Photography, while also being a good center location to start and finish a day of shooting in Belgrade.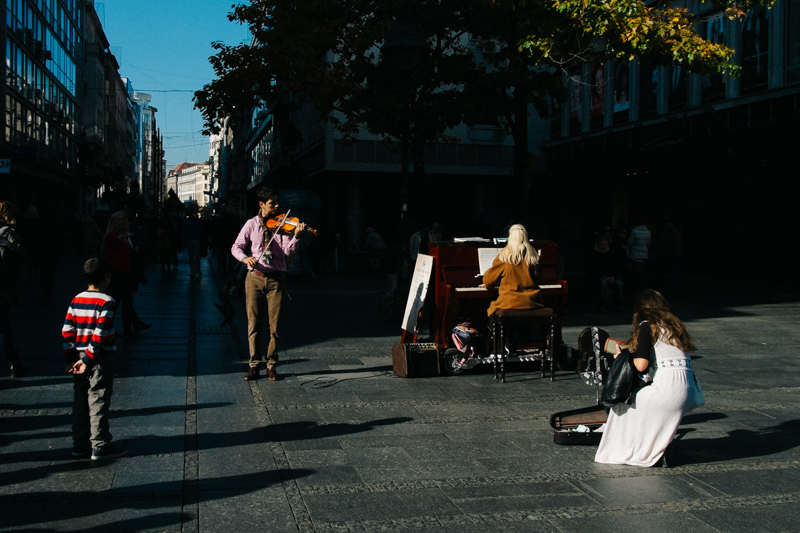 2.  Prince Michael Street (Knez Mihailova)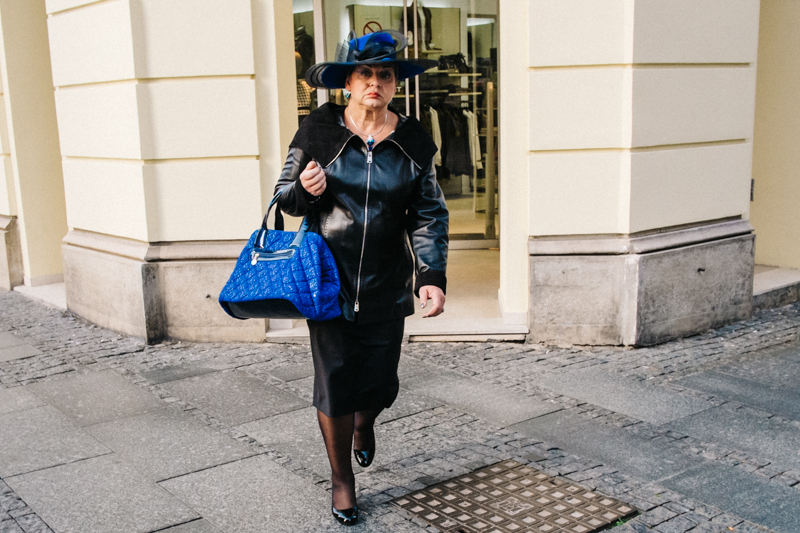 Prince Michael Street is the main pedestrian and shopping zone in Belgrade. It's also protected by law as one of the oldest landmarks in the city, with some of the buildings being built in the late 1800's.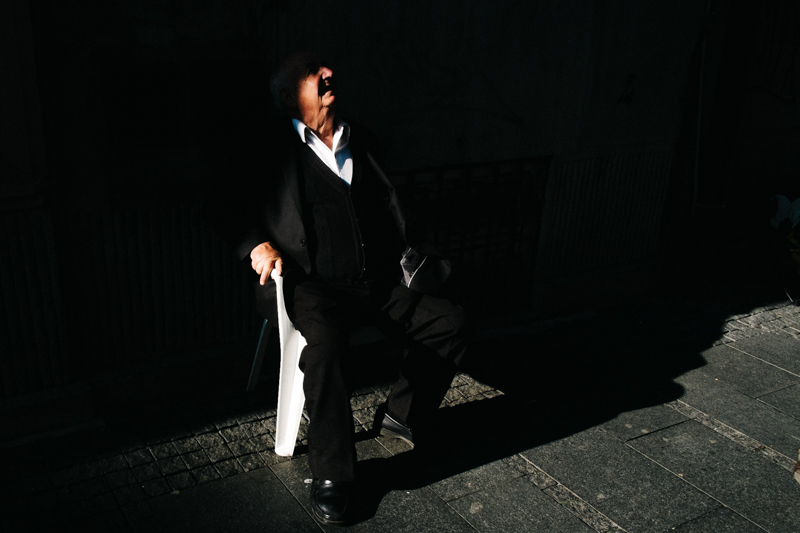 The street is one of the more attractive pedestrian zones in Eastern Europe, contrasting from some of the more rugged streets in Belgrade. The street is usually buzzing with both locals and tourists. Not only for the shopping and cafes, but as it's also a straight path from the city center to Kalemegdan park and the Belgrade Fortress. Prince Michael Street also runs by the University of Belgrade campus, which has a popular park and plenty of students walking around.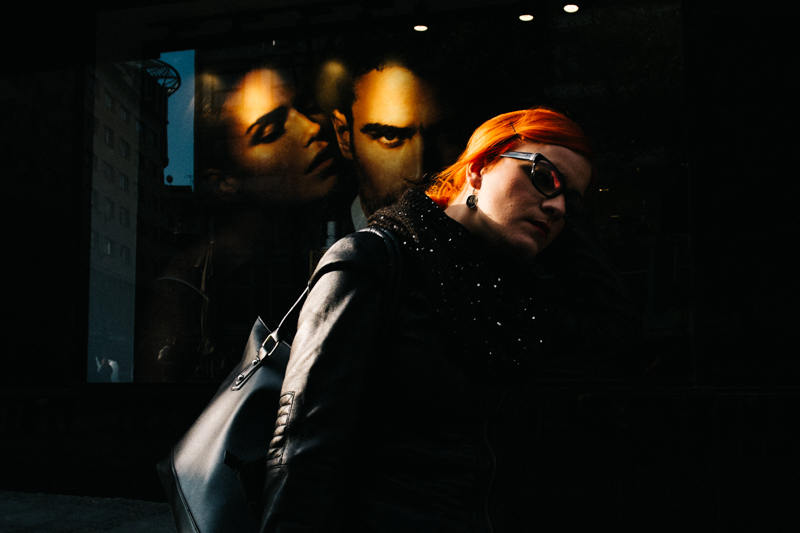 Popular pedestrian streets are usually good for Street Photography and Prince Michael Street is no exception. Its location is also prime and can easily being included in a day of Street Photography in Belgrade.
3. Belgrade Fortress / Kalemegdan Park
The Belgrade Fortress became one of my favorite spots in Belgrade, which I didn't expect. It's much more than a fortress, as it also contains Kalemegdan Park, one of the more interesting parks I've been to. This area not only has the best views of the city, but also a unique atmosphere for Street Photography. The light is nice up here too, along with the backgrounds and scenery.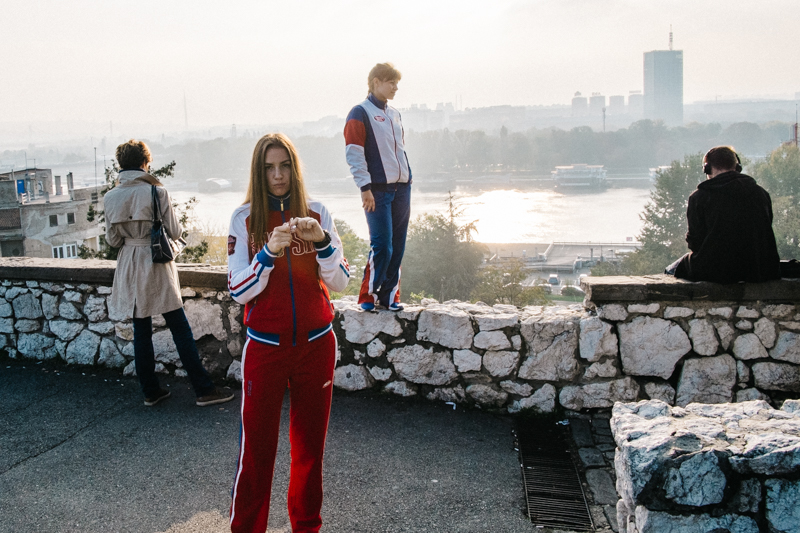 The fortress and park attract tourists, but they also attract plenty of locals due to the unique little spots around the fortress where you can relax or check out the views of the city and river. It's also a very popular spot for young couples.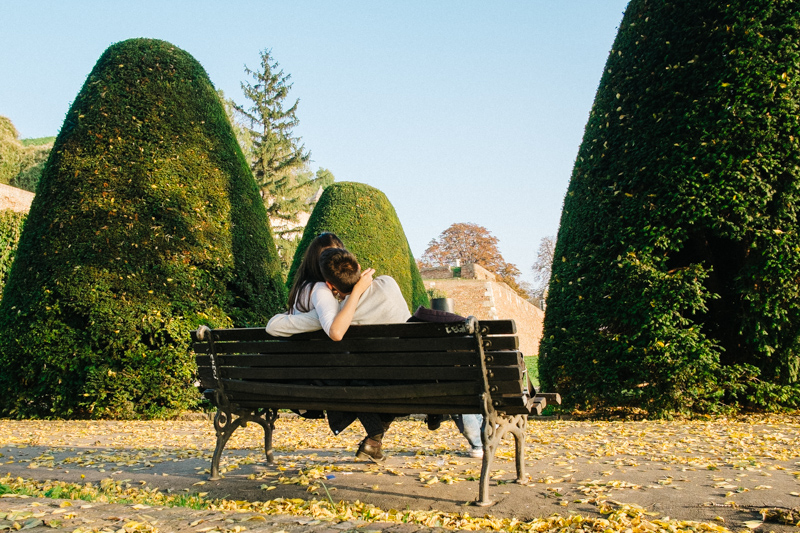 Along the park, there's a short wall and row of benches to enjoy the views, while within the park you can find plenty of activity, from dog walking to chess playing.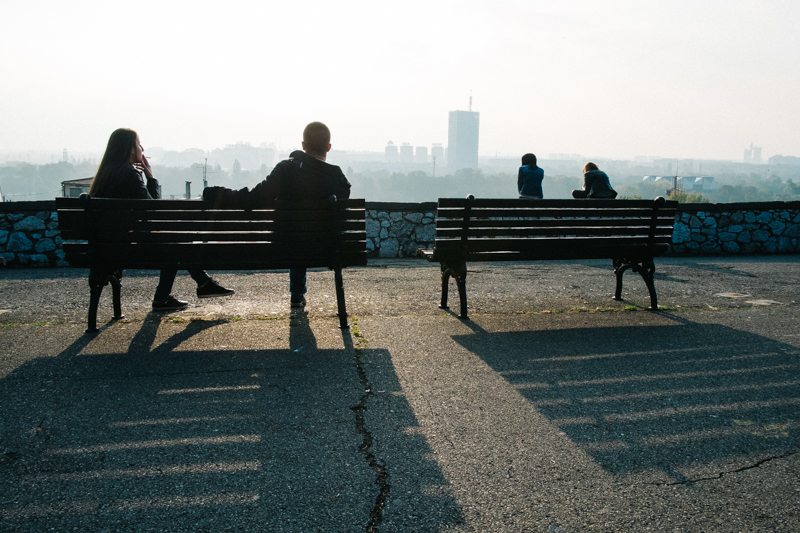 4. Skadarlija Street
Skadarlija is considered the main bohemian quarter of Belgrade. Its cobblestone pedestrian street is lined with popular restaurants, art galleries and little shops. The street isn't too long, but it's packed with a large number of Kafanas, an older type of restaurant, almost like a tavern.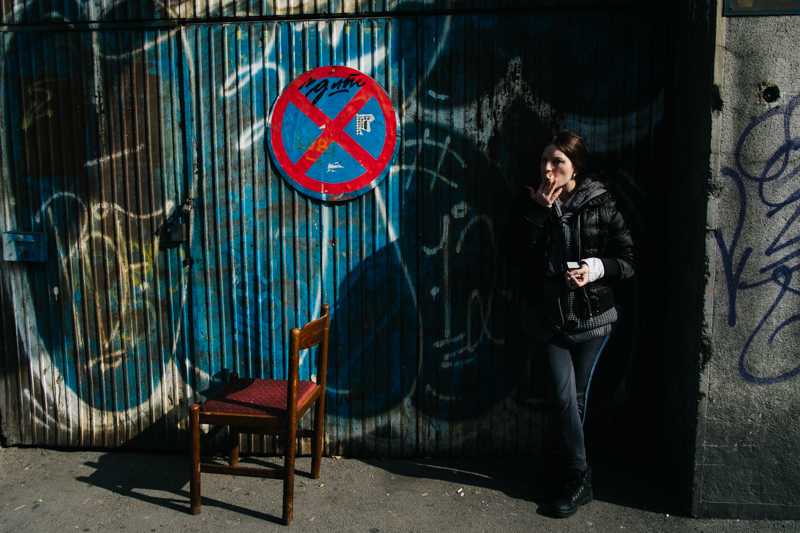 The bohemian atmosphere, restaurants and artistic vibe have made it one of the more touristic areas in Belgrade, but it's also one of the best bohemian quarters you'll find. It's rich in culture and can add a different atmosphere to your street photography in Belgrade.
5. Slavija Roundabout
The Slavija roundabout is one of the crazier intersections you'll see, with 7 different streets connecting here. This major commercial junction is situated between the intersections of Kralja Milana, Beogradska, Makenzijeva, Svetosavska, Bulevar oslobođenja, Deligradska and Nemanjina streets. All these busy streets intersecting at one gigantic roundabout make it pretty impressive and lively.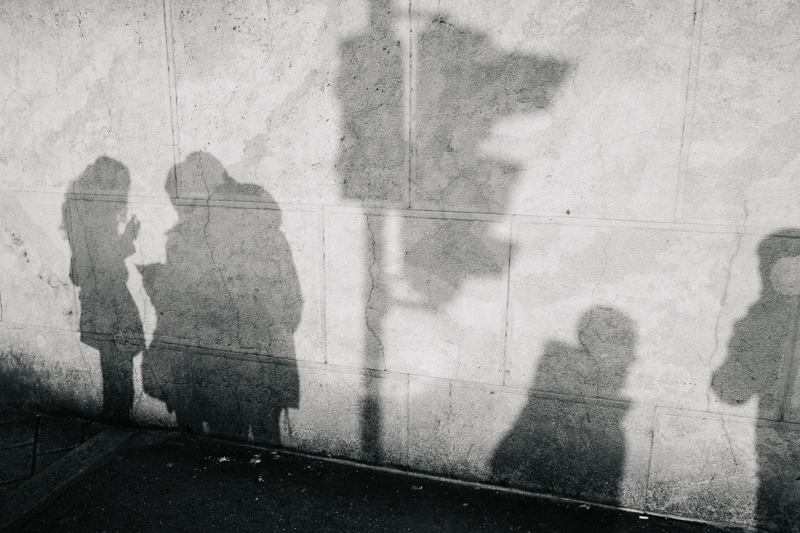 There's also a popular trolley and bus stop here, which adds even more to the pedestrian activity in the area. 
6. Zeleni Venac bus station
The Zeleni Venac bus station is Belgrade's major terminal station and is located directly in the center of the city. Across from the station is the Zeleni Venac open market, one of the largest in the city.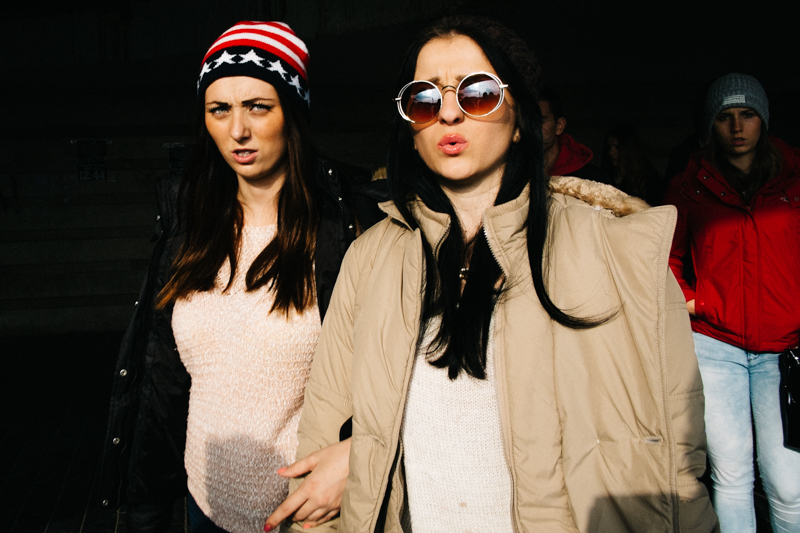 It's always busy around this area and brings some of the edgy Belgrade vibe. You get some interesting characters in this area too so you can spend a good amount of time here just people watching.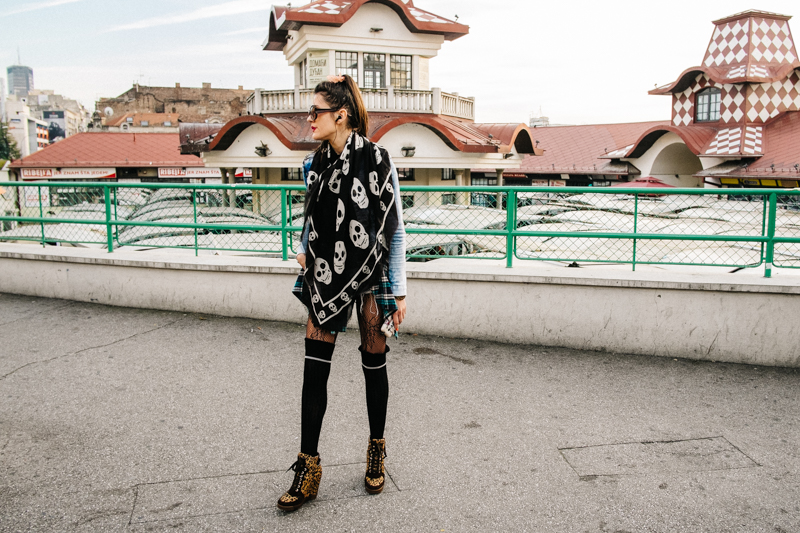 One part I really like is the pedestrian tunnel that goes underneath the above road and opens up to the bus station. On a sunny day, the light is perfect for highlighting the people coming out of the tunnel, against the black shadowed background.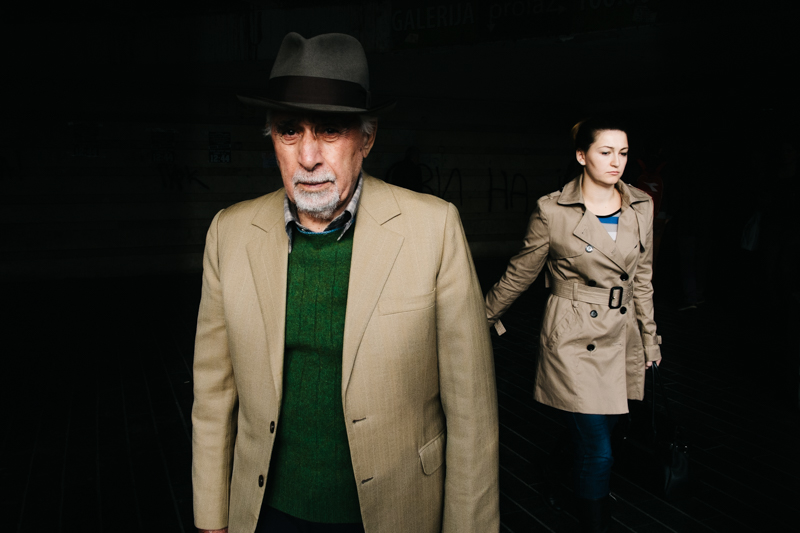 Sample Street Walk:
For a full day of Street Photography, covering some of the best spots, you can follow this sample street walk for Belgrade:
Start at the Zeleni Venac bus station (6)
Walk northeast the Republic Square (1) before continuing on to Skadarlija Street (4)
After exploring Skadarlija Street (4), walk back to Republic Square (1) before going north on Prince Michael Street (2)
Walk along Prince Michael Street (2) until the end where you can cross the street to Kalemegdan Park (3)
After walking around the park (3), continue on to also explore the Belgrade Fortress (3)
From here, you can either enjoy of the rest of your daylight at the Belgrade Fortress / Kalemegdan Park (3) or walk back to Republic Square(1)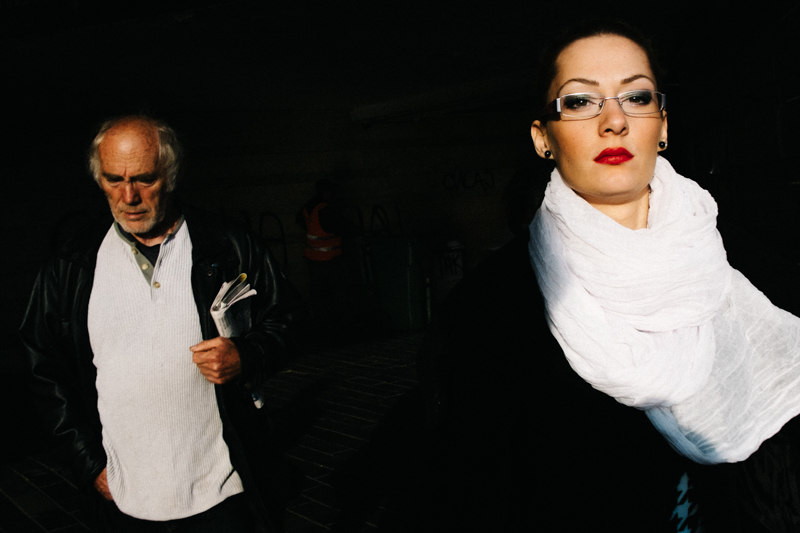 3 Things to Capture in Belgrade:
1. Scars of Past, Positive Transition
Belgrade is a city in the middle of a positive transition. Belgrade has seen plenty of trouble in its past, with the Kosovo War being as recent as 1999, but things really seem to be looking up now. This is most evident in the city's center, especially around Prince Michael Street.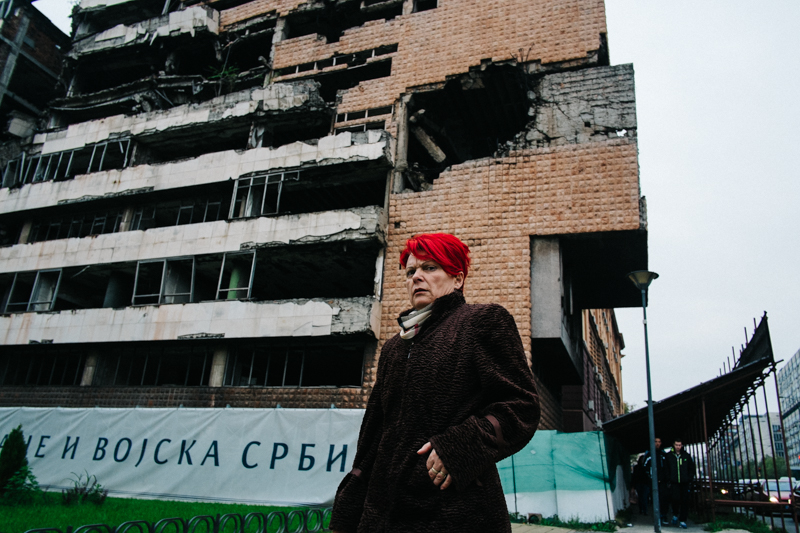 You can also see this transition in the change of environment. One street might be full of crumbling discount stores, while another street a block away is full of upscale shopping. Many of the rusty cars and trams look their age, while others drive around in the latest luxury vehicles. There's even remnants from bombed buildings kept for remembrance, while many areas have been rebuilt to reflect a modern future.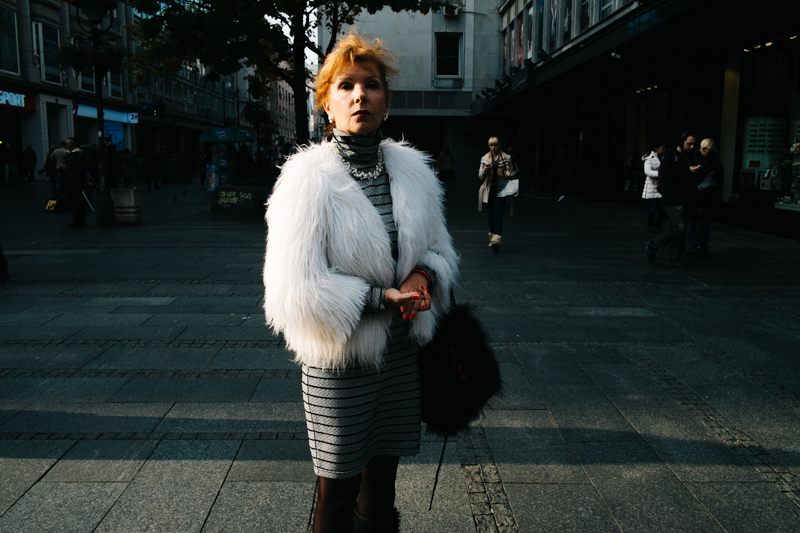 It's very interesting walking around observing a city in such transition. It's not something you get to see often to the degree of Belgrade. This visual transition is one of the best aspects of the city for Street Photography. 
2. Fortress Area
The Belgrade Fortress/Kalemegdan Park is great for capturing a different view of the city. It's very unique and a complete change of scenery to the grittier urban landscape of the city. It has a special atmosphere, with the views and the fortress landscape. It's the most popular area for people to come escape the city or young couples to come for a little romance.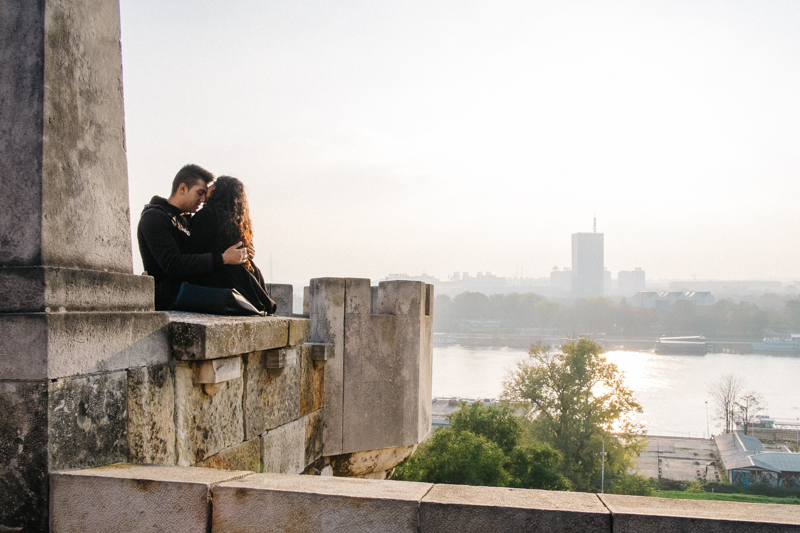 3. Dark feeling
Many might find Belgrade to be somewhat ugly. While the city is transitioning and becoming more modern, there doesn't seem to be too much effort into making the city look pretty. In addition to some of the crumbled buildings, graffiti and worn appearance, it also can have a darker, edgier feeling in many areas. There's noticeably strong ties to their communist past too. This helps give Belgrade some of its soviet atmosphere when exploring the city.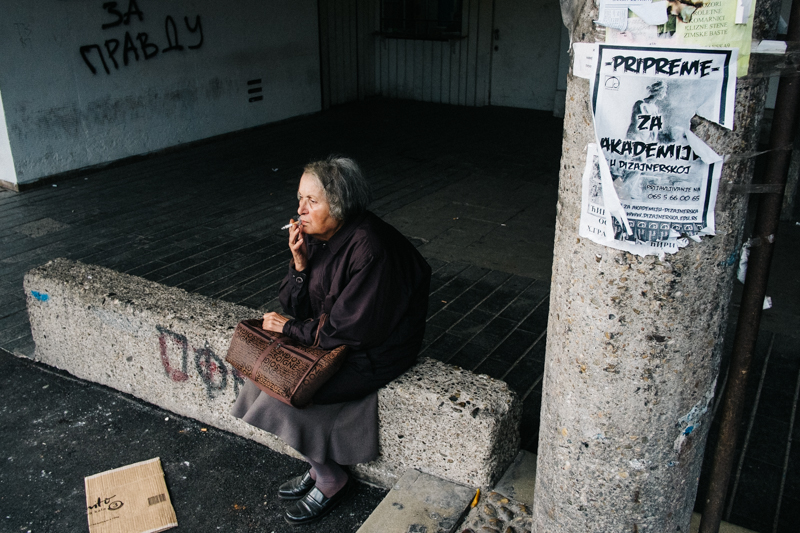 In my opinion, Belgrade's overall appearance isn't a negative at all, though. It's worn and haggard environment shows character and has an authentic charm. It's not polished. It's real and you can feel its past while walking the streets. For many, this edgy, visual character can create interesting street photos more often than most "pretty" cities. 
What To Do For a Street Photography Break?:
Relax at the Fortress
I highly recommend enjoying the area around the fortress. Not only is it good for some street photography opportunities, but it's also a nice place to get away from the city and relax. It's interesting, unique, and you can enjoy the views, explore the fortress, and relax at the park.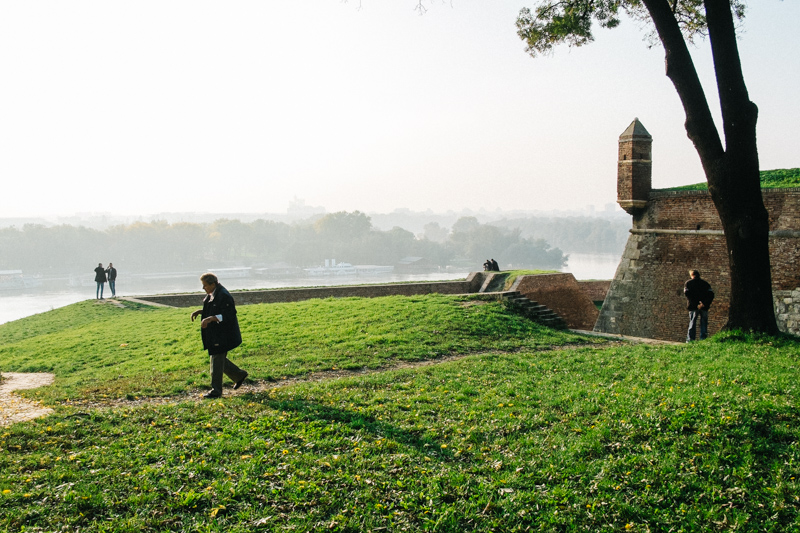 Street Safety Score: 7
*As always, no place is completely safe! So when I talk about safety, I'm speaking in general comparison to other places. Always take precaution, be smart, observe your surroundings and trust your instincts anywhere you go!
Belgrade might feel rough around the edges, but it doesn't feel unsafe. Being such a walkable city, you luckily don't have to worry too much about where you walk, either. There's some spots at night near the train station that can feel a little seedy, but during the day you'll be fine.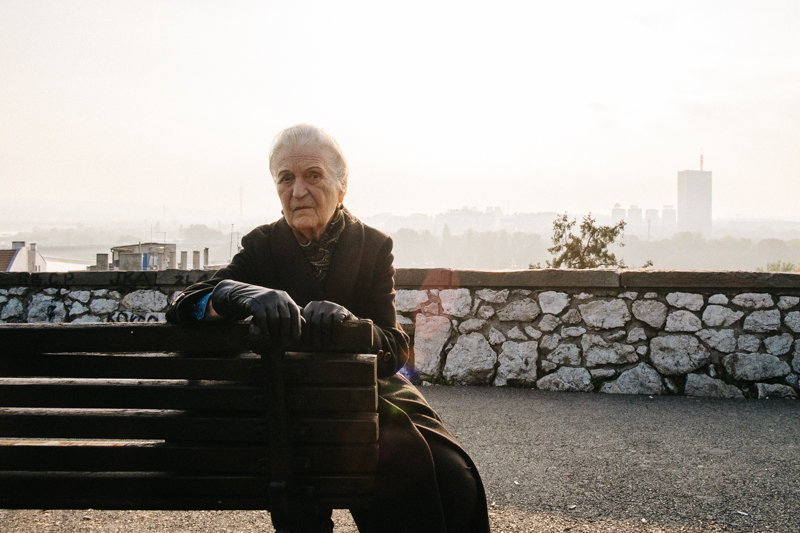 People's Reaction Score: 8
Overall, Belgrade has a better reaction to Street Photography than most cities. I'd put it at the top of the list, just below Kiev, when it comes to larger Eastern European cities. People are mostly friendly and receptive when they notice they are being photographed. Some might not understand why anyone would take a photo of them, but that's it. At first sight, many of the people can look serious, but once you speak to them, it's usually smiles and friendly conversation. There's a very likeable sense of humor many of the Serbian people share too.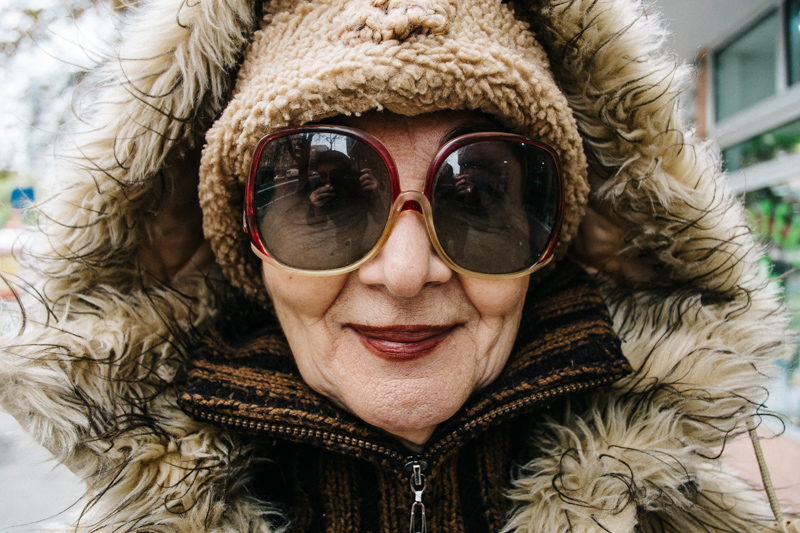 Street Tips:
Walk everywhere
Belgrade is another extremely walkable city for Street Photography in Eastern Europe. Most things are concentrated close to each other and you can get around easily by foot. They don't have a metro system yet, but the buses can get you around and the taxis are cheap, if needed. But I doubt you'll find transportation required most of the time.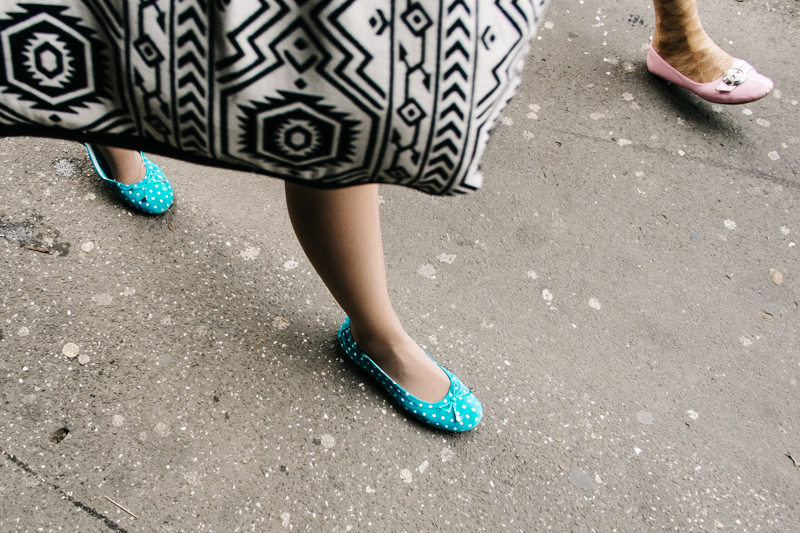 Strike Up a Conversation (For English Speakers)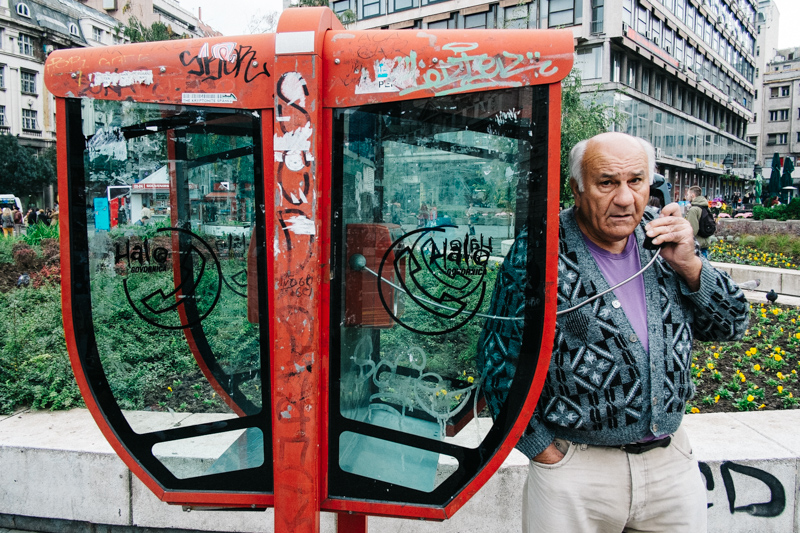 I haven't been to a city in Eastern Europe where everyone is fluent in english anywhere near to the degree as Belgrade. I'm not sure why this is, but it does make things easier navigating the city and communicating with strangers when shooting Street Photography. Not once have I been unable to communicate in english with a stranger. So if you want to ask to make a photo, or if you want to strike up a conversation after making a candid shot, don't be afraid. 
Inspiration:
For some more inspiration, look at the work from well-known Serbian photographer, Boogie. And check out 33 of my photos from Belgrade.
Conclusion:
Belgrade has an adventurous, outspoken charm to its people and a gritty, fascinating charm to the city. While it's not going to win any beauty contests, the city brings its own style of attraction. A chaotic past, a positive future and character to spare, all wrapped up into a very walkable city. All this and more makes Belgrade a great stop for some Street Photography.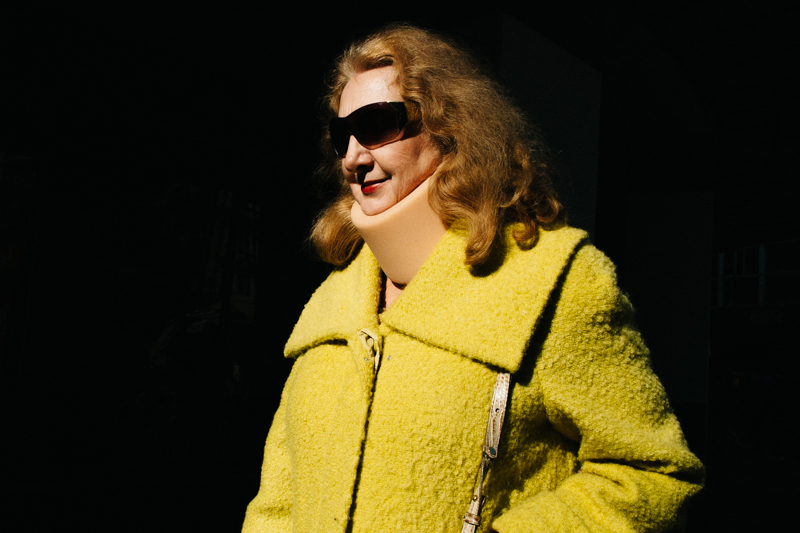 I hope this Street Photography Guide to Belgrade helps you get ready to photograph this city full of gritty character and charm. If you still have any questions about shooting in Belgrade, feel free to email me or comment below!
(I want to make these guides as valuable as possible for all of you so add any ideas on improvements or additions below in the comment section too!)
(A New Guide Posted Every Other Wednesday)