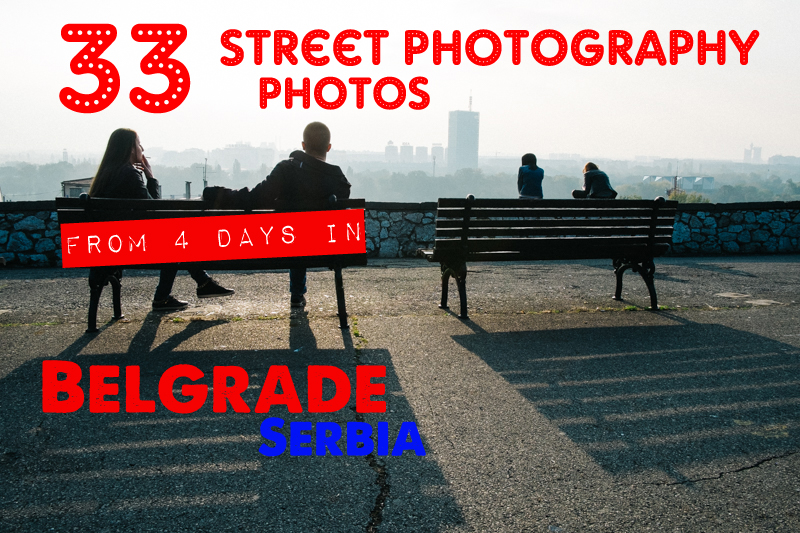 After my detour to Rome, I made my way back to Eastern Europe in Belgrade, Serbia. The city isn't known for its beauty, but in many ways it has something more than a pretty picture can give. It's gritty and real. You can feel its dark past, but see its bright future. It quickly became one of my favorite cities in Eastern Europe.
So here's 33 photos that I was able to capture during my time in Belgrade…
33 Street Photography Photos from Belgrade
Starting in the Streets of Belgrade..
1.
2.
3.

4.
5.
6.
7.
8.
9.

10.
11.
12.
13.
14.
Exploring the Belgrade Fortress…
15.
16.
17.
18.
19.
20.
21.
22.
23.
24.
Finishing off with some Light & Shadow…
25.
26.
27.
28.
29.
30.
31.
32.
33.
And a little Black & White…

Belgrade is for people who enjoy experiencing an authentic city full of character. And for Street Photography, it's one of the best in Eastern Europe too. Check out my first impressions of Belgrade from a Street Photographer's perspective to find out more. And stay tuned for a Street Photography Guide to the city! 
Have you visited or photographed Belgrade before? Do you plan on it someday? Let me know about it in the comments below!
And let me know which photos you like best too!