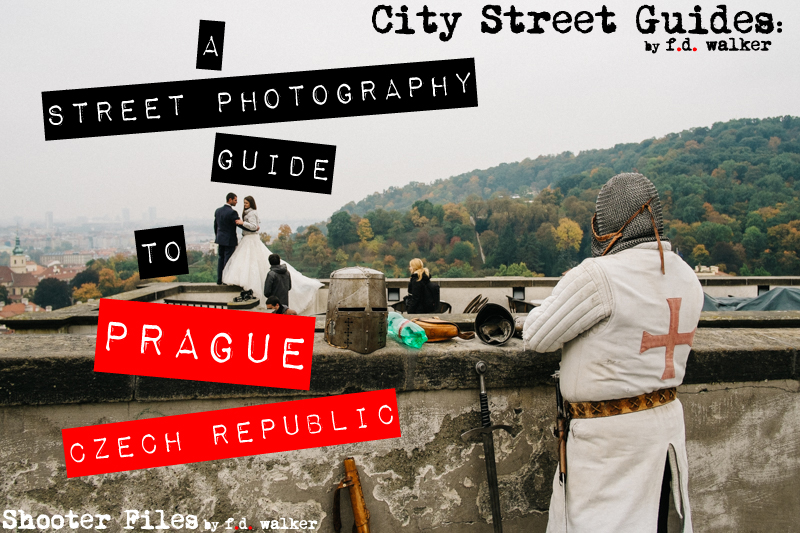 *City Street Profiles is a series of guides on shooting Street Photography in cities across the world. One of the biggest things I found lacking on the internet was Street Photography info for specific cities so you can be ready to shoot when traveling to a new city. Find the best spots to shoot, what to capture, safety concerns, street tips, and more for cities around the world.  (I have personally shot Street Photography in every city that I create a guide for.)
Prague
Overview:
Prague has changed a lot over the last decade. I first came here 7 years ago, when it was towards its start of becoming the hot spot for travelers looking for hidden gems in Europe. Today, tourism has affected some of that unique and authentic charm Prague had then.
That being said, there's still a reason it has become such a popular destination for travelers and tourists. Outside of Western Europe, it's become about as popular a destination as there is in Europe. Architecturally, it doesn't get any more beautiful. The wide variety and preservation of architecture gives Prague an almost fairy tale like feeling.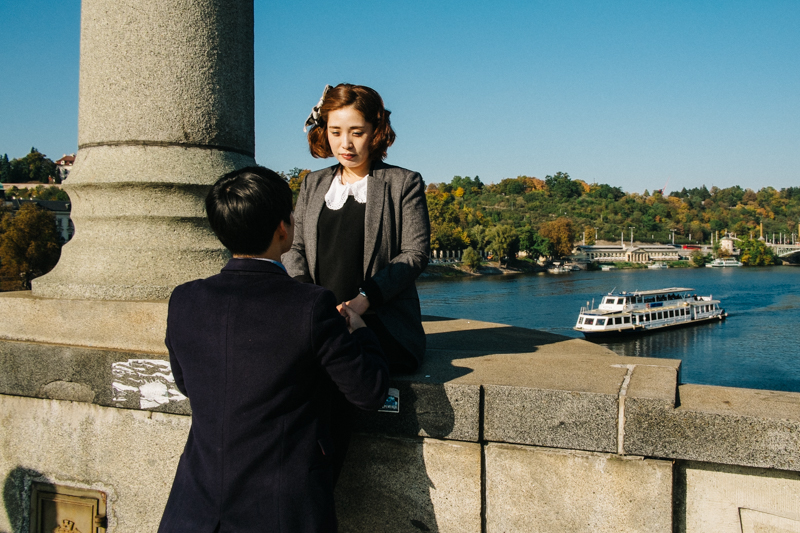 The old town, the bridges, the largest castle in the world, the fairytale scenery mixed with a completely different scene outside of the center all make Prague a very unique city. Yes, there will be crowds of tourists around the more popular spots, but there's still plenty of reason to travel to Prague. Even for Street Photography.
So here's a Street Photography guide so you can be ready to capture some of what Prague has to offer before you even arrive.
Map:

Old Town Square
Wenceslas Square
Josefov (Jewish Quarter)
Charles Bridge (and Manes' Bridge too)
Hradčany (Castle District)
Prague 3
Top 5 Street Spots:
1. Old Town Square
In between Wenceslas Square and Charles Bridge is the Old Town Square. Outside of Charles bridge, this is usually the most crowded area in Prague. There's a variety of architecture surrounding the Jan Hus monument in the middle, but what really draws the tourists is the medieval Prague Orloj, the oldest working astronomical clock in the world.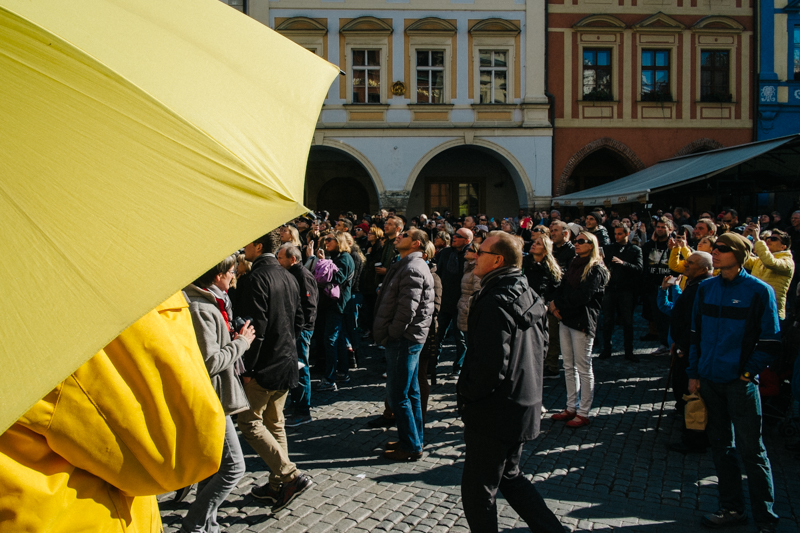 Crowds of people gather and wait with their phones ready to record the clock's hourly show. Honestly, it's one of the biggest tourist scenes you'll see for such an uninspiring attraction. Disappointment usually follows for the hourly crowds. But it does supply an interesting, and slightly humorous, scene for people watching.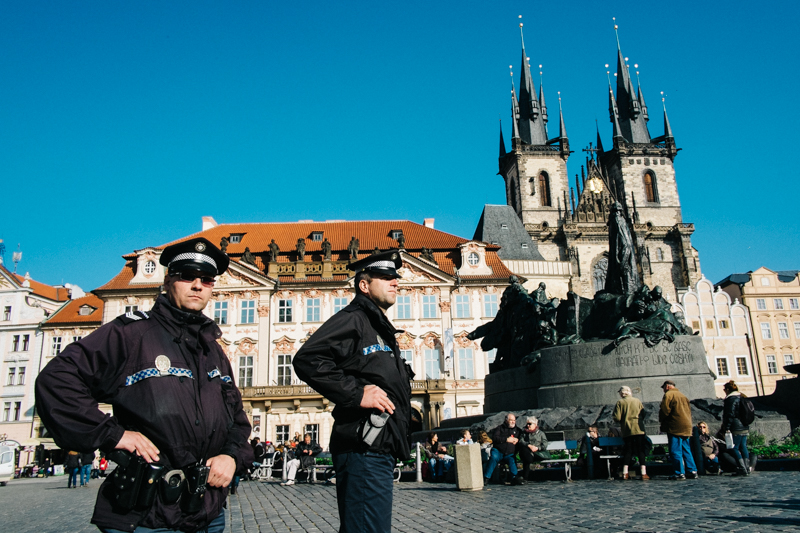 Like most city's main squares, there's plenty of activity always going on here. Plenty of street performers, merchants, tour guides, and tourists too. Mixed with Prague's amazing architecture surrounding the square, it can provide some nice photos, though. 
2. Wenceslas Square
Wenceslas Square is more of a wide boulevard than a square. Many historic events have happened here and it's become the most popular spot for demonstrations, celebrations and public gatherings. Wenceslas is lined with beautiful, older architecture that is now the home of a variety of shopping stores.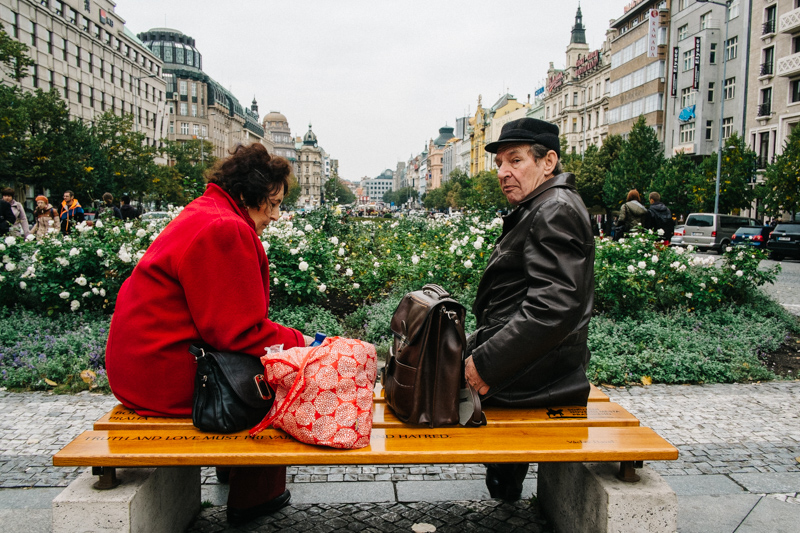 At one end is the grand neoclassical Czech National Museum, while the other end takes you into the Old Town.
This is one of the better spots for people watching along the middle, and sides, of the long, rectangular square. You get a good mix of people since it does actually attract some locals too for the shopping and restaurants.
3. Josefov (Jewish Quarter)
Josefov is the smallest named area in Prague and is surrounded by the Old Town. Josefov was once the Jewish Ghetto of Prague, but is nothing like it used to be. Outside of a few synagogues and the famous jewish cemetery, most of the area was demolished and rebuilt to be modeled after Paris.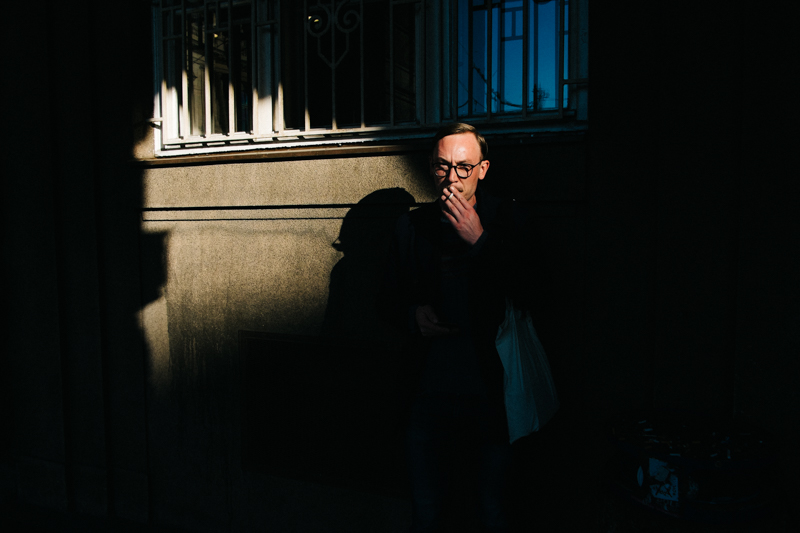 One of the most expensive shopping streets in the city is located here now too. So you get a mix of tourism, jewish influence, Parisian architecture and wealthy shoppers. It's probably not worth too much of your time for Street Photography, but it is worth checking out when you're in the area.
4. Charles Bridge (and Manes' Bridge too)
Visually, Charles Bridge might be my favorite bridge in the world. It's straight out of a fairytale. It's also probably the busiest and most crowded bridge in the world. Street performers, musicians, artists and merchants line the sides of the bridge, while tourists fill the rest of it. If you get here early in the morning, though, you can beat the crowds and catch it before it fills up.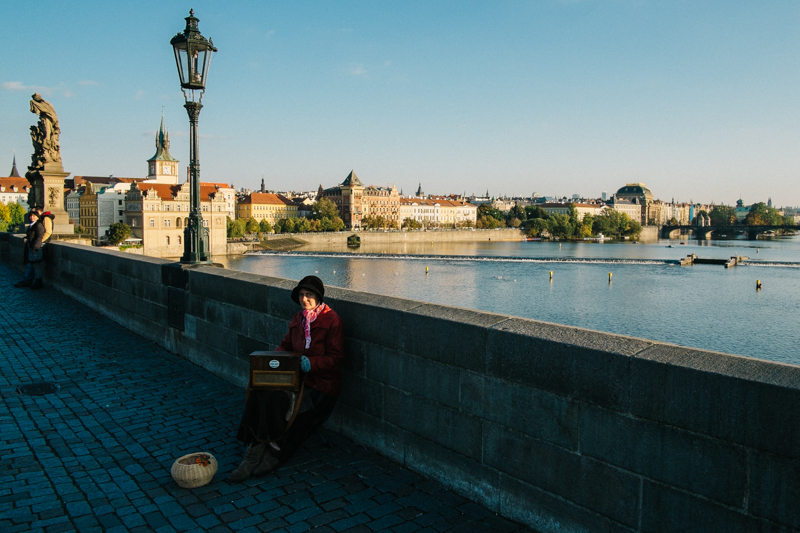 For Street Photography, Charles Bridge will usually have plenty going on, but it will also be crowded and messy much of the time. Still, it symbolizes Prague as much as any stop and gives a variety of ways to capture the city, life and backgrounds.
5. Hradčany (Castle District)
Hradčany surrounds Prague's largest castle in the world so it's commonly called the Castle District. Much of the district consists of historical palaces, so it has much of that Prague fairytale feel. It also includes many narrow alleys and some quiet areas that can actually take you away from the nearby tourist crowds. If you walk all the way up to the top you'll get some amazing views of the city too.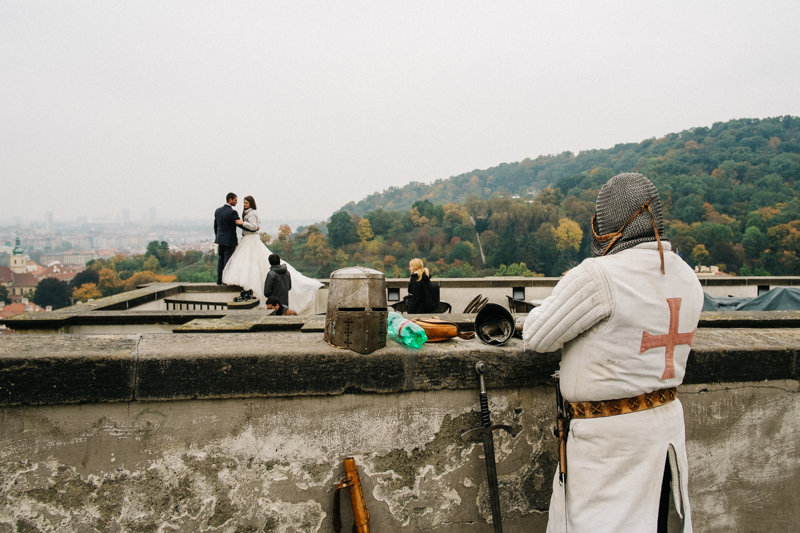 From the top, you get to see the mix of Prague's orange rooftops, architecture, and green trees that give the city a special atmosphere. This district is full of opportunities for finding ways to mix this fairytale feeling and look into your Street Photography.
6. Bonus: Get Away from the Tourism
All of the places named above happen to be pretty touristic now with Prague's popularity. Many people, including myself, also like to venture away from crowds of tourists for Street Photography. The reason I named these places, though, is because not only do they provide the most activity with Prague's special atmosphere, but they're also where most of the places to stay and city's infrastructure are centered. So it's still the best area to explore, unless you're lucky enough to have a local to take you around the outer areas.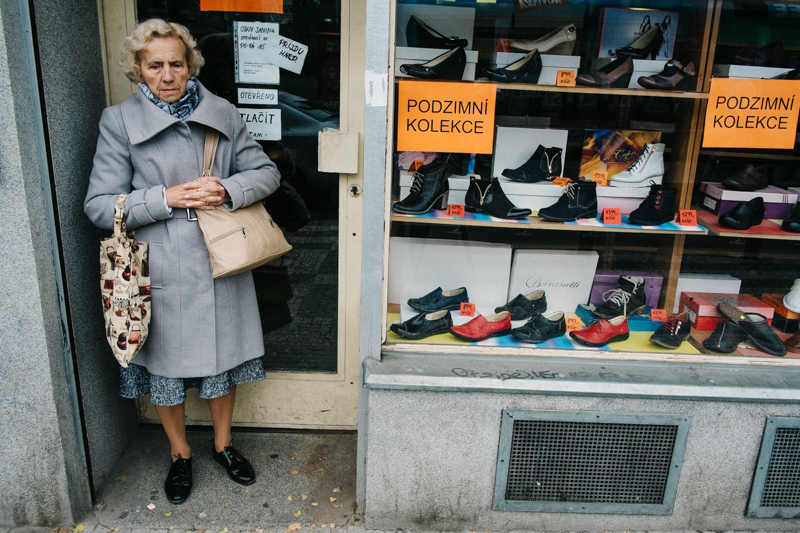 If you do want a different scene, though, you can check out Prague's other districts. Prague is divided into numbered districts. For example, the Old Town is located in Prague 1. If you want to get away at some point, I'd recommend going east of the main train station, into Prague 3. You can explore around the Žižkov Television Tower, famous for Czech artist David Černý's baby sculptures crawling up and down it. I like this area because it's a little rough around the edges with graffiti and less polish. It also gives you a much different look at Prague, with more of the local life, but is close enough to the rest of the attractions and places to stay.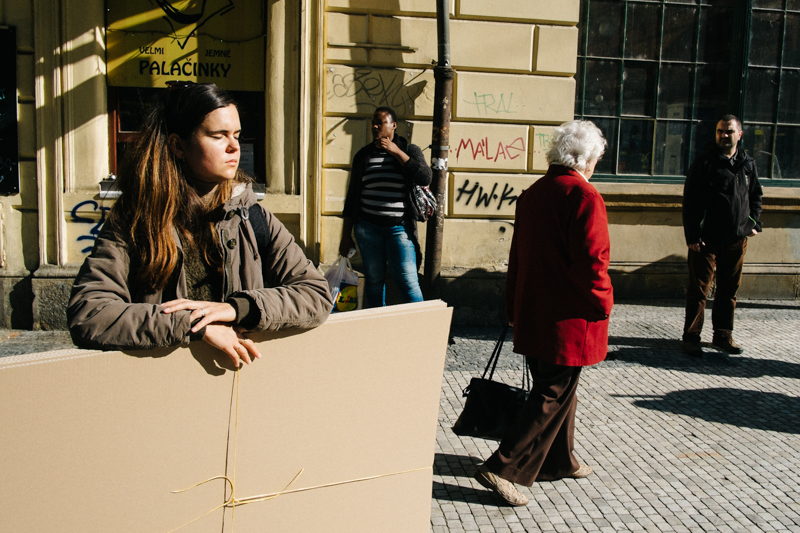 The Main Square, Charles Bridge, and Prague Castle areas are prime locations for both street photography and architecture, but getting out early is smart if you're looking for less cluttered photos. Then take a trip outside of these areas to get a better feel of Prague without the tourism.
Sample Street Walk:
For a full day of Street Photography, covering some of the best spots, you can follow this sample street walk for Prague:
Start off at the Czech National Museum (2) and walking down Wenceslas Square (2)
At the end of Wenceslas Square (2) walk northwest to the Old Town Square (1)
After spending some time around the square (1) continue walking northeast to Josefov (3)
Then walk down along the river to Charles Bridge (4)
After capturing the chaos of Charles Bridge (4) walk across and up through the Hradčany (5)
Finish your day of Street Photography up above at the Prague Castle (5) and enjoy the views
3 Things to Capture in Prague:
1. Architecture
When it comes to architecture, it might not get any better than Prague. The old city has been well-preserved over the years, through wars and time. It also has a very diverse variety of architecture. It's almost like a visual history lesson in architectural styles over the centuries. Gothic, Renaissance, Baroque, 19th-Century Neoclassical, Art Nouveau, Communist, you name it.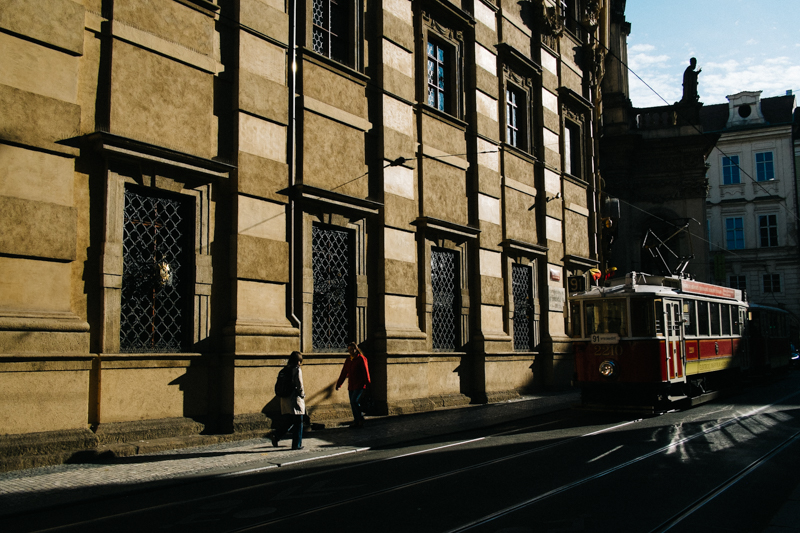 Many movies are filmed in Prague because they have access to such a variety of amazing architecture. And every day I went out shooting, I ran into a filming crew at work. If you like working with backdrops of interesting architecture in your Street Photography, Prague is a great place to be.
2. Chaos of Charles Bridge
Charles Bridge is one of my favorite bridges in the world, there's no other bridge like it. Plenty of other people seem to like it too, though, judging by how packed it usually is.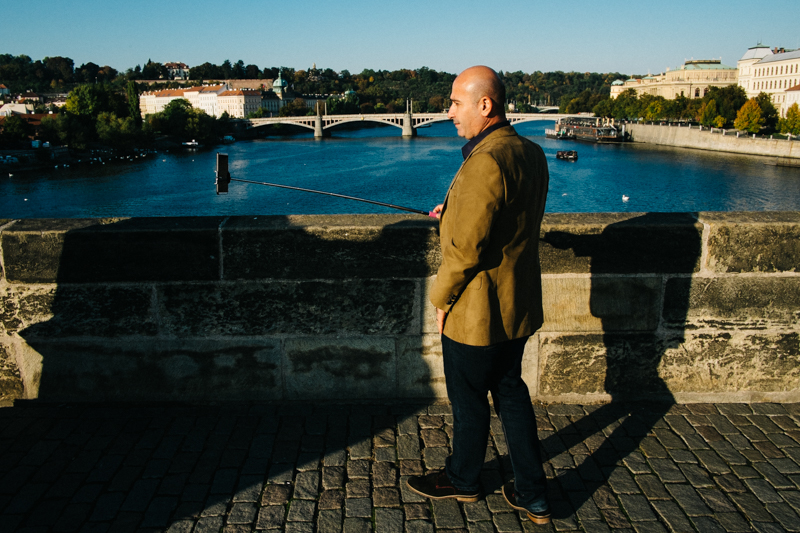 Because it symbolizes so much of what makes Prague special, while providing so much life at all hours, you have to spend some time around this area with your camera. That being said, getting up early to capture this area, before all the crowds, is highly recommended.
3. Fairytale Feeling
Walking around Prague can be like jumping into a fairytale. The mixture of architecture, the largest castle in the world, the bridges, cobblestone streets and touches of greenery give it a magical, almost surreal, atmosphere.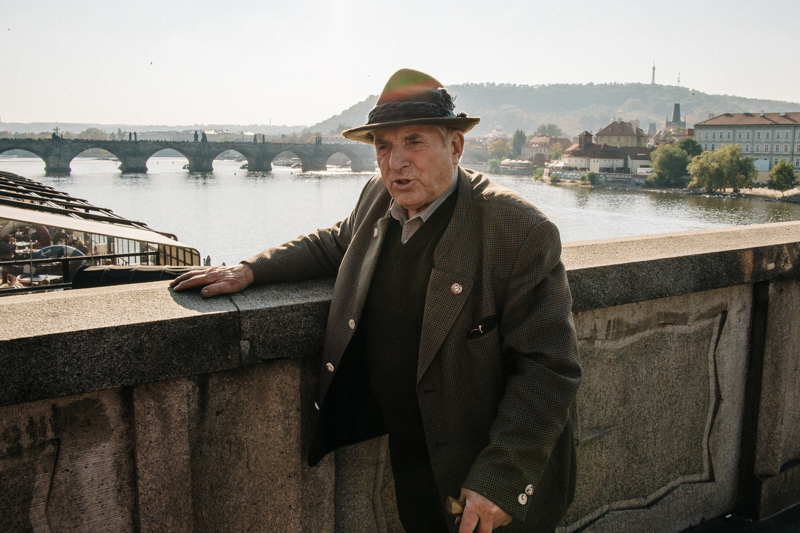 Not many cities give you an opportunity to capture this fairytale, surreal feeling in your Street Photography like Prague does. So take advantage of that and see what you can do with your camera in Prague.
What To Do For a Street Photography Break?:
Try a Trdelník and Beer

A Trdelník is a traditional Slovak cake made from dough wrapped around a stick, then cooked while being spun over heat, and topped with sugar and cinnamon. Nowadays, Trdelník is extremely popular among tourists as a sweet pastry in Slovakia and the Czech Republic. In Prague, it has become the top tourist treat, with Trdelník stands all over the city. It's similar to a cinnamon roll, but can also be made with Nutella, walnuts and other toppings. They're addictive and they're any easy Street Photography snack to pick up along your walks too.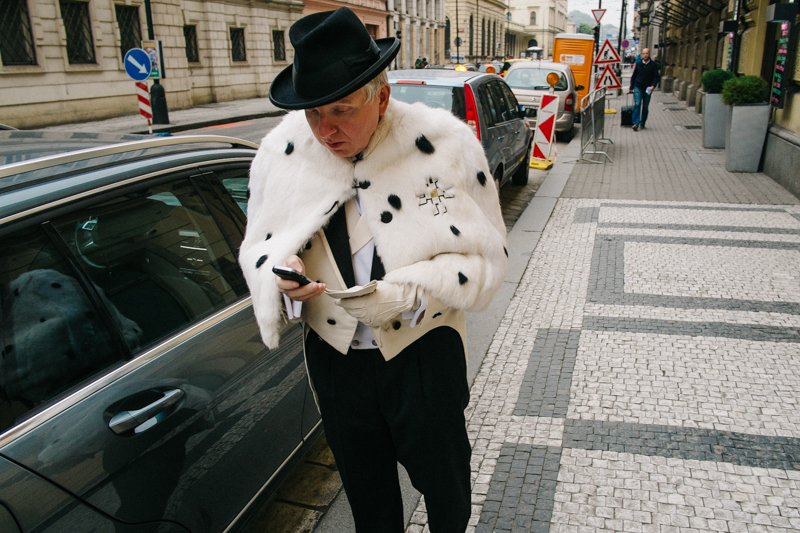 Czech's are extremely proud of their beer. Like they feel that they have the best beer in the world type of proud. Coming from Portland, I'm big on beer, but critical on what is actually good beer. And I'll admit the beer is pretty good here, probably the best in Europe outside of Belgium, in my opinion (Sorry Germany). So if you like beer, Prague is great city to stop for a pint during a day of Street Photography.
Street Safety Score: 8
*As always, no place is completely safe! So when I talk about safety, I'm speaking in general comparison to other places. Always take precaution, be smart, observe your surroundings and trust your instincts anywhere you go!
Around the center and touristy sections, like Old Town, Prague is a 10/10 on the safety scale. If you go outside of the more popular spots, it can get a little edgier, but is still relatively safe. Just observe your surroundings and you'll be fine in Prague.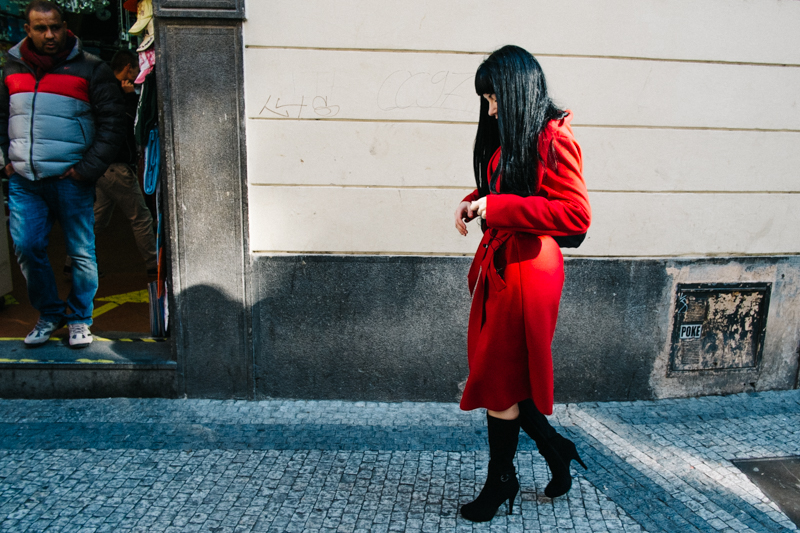 People's Reaction Score: 7
It's not the worst city when it comes to people's reactions to photographs, but it's seems worse than much of Eastern/Central Europe, in my experience. That's not saying too much since this region of Europe is one of the better places for positive reaction to Street Photography, but it's worth noting.
I'm not sure what it is, it could be that locals are annoyed by the surge in tourists or it might just be the Czech's general attitude towards cameras and strangers, which doesn't seem to be the friendliest.  That being said, I still have never had a big problem shooting Street Photography in Prague.
Street Tips:
Watch out for Segways
Segways rule the cobblestone streets of Prague's Old Town, Castle District, and bridges. For whatever reason, Segway tours have become extremely popular in this city.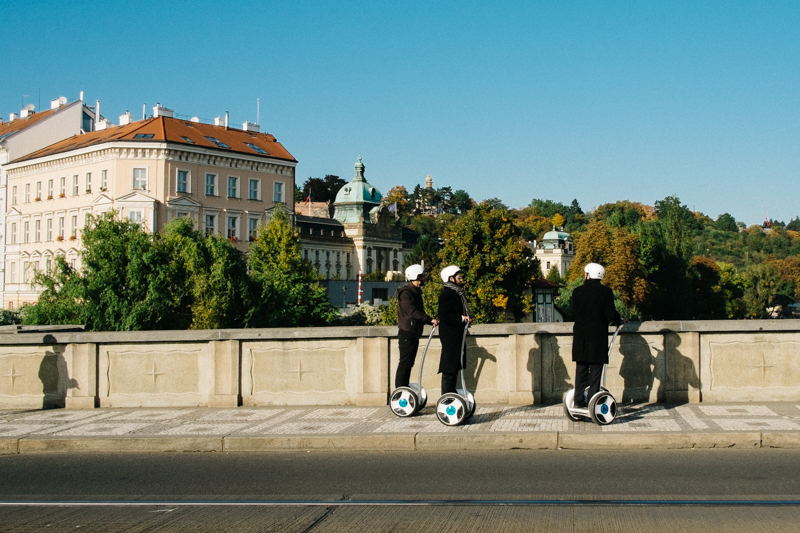 So you have a bunch of people attempting to roll around on something they've never driven before in their life. Combine this with cobblestone terrain and crowds of tourists, and you better watch out.
Get up early
Prague fills up with so many tourists now that it can become very crowded. While tourism has taken over, it doesn't really fill up until noon. So if you get up early you can explore and capture a much different looking, and feeling, Prague.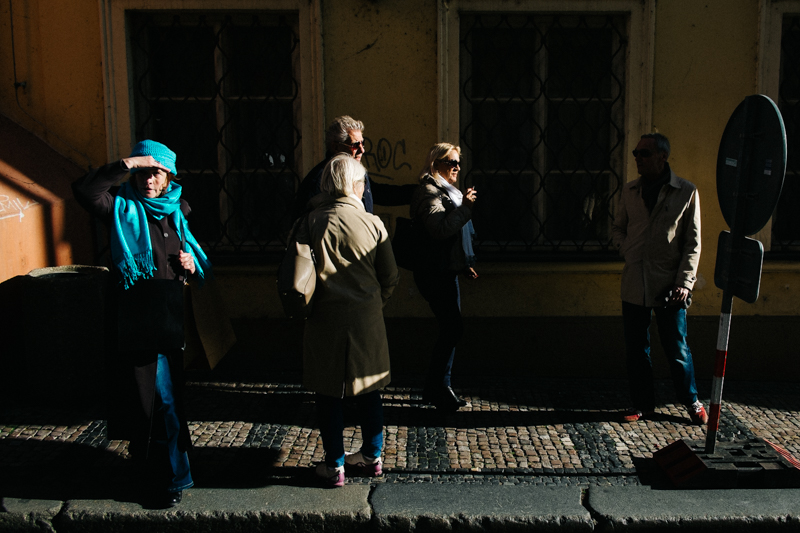 Inspiration:
For some more inspiration, you can look through the work of Czech photographer Josef Koudelka, one of the most famous photographers ever, and check out 33 of my photos taken in Prague & Krakow.
Conclusion:
While Prague has changed over the recent years, it's still an amazing city. It brings a unique, almost fairytale like experience that no other cities offer quite like Prague. And if you like architecture to be a big part of your Street Photography, Prague should be at the top of your list. You can spend days walking the cobblestone streets of the center with your camera, or if you have time and know any locals, you can venture outside the center to capture a completely different city. Plus they have good beer, which is always a plus in my book after a day of shooting the streets :)
I hope this guide can help you go experience the fairytale magic of Prague. So grab your camera and capture all that Prague has to offer for Street Photography, and more!
If you still have any questions about shooting in Prague, feel free to comment below or email me!
(I want to make these guides as valuable as possible for all of you so add any ideas on improvements, including addition requests, in the comment section!)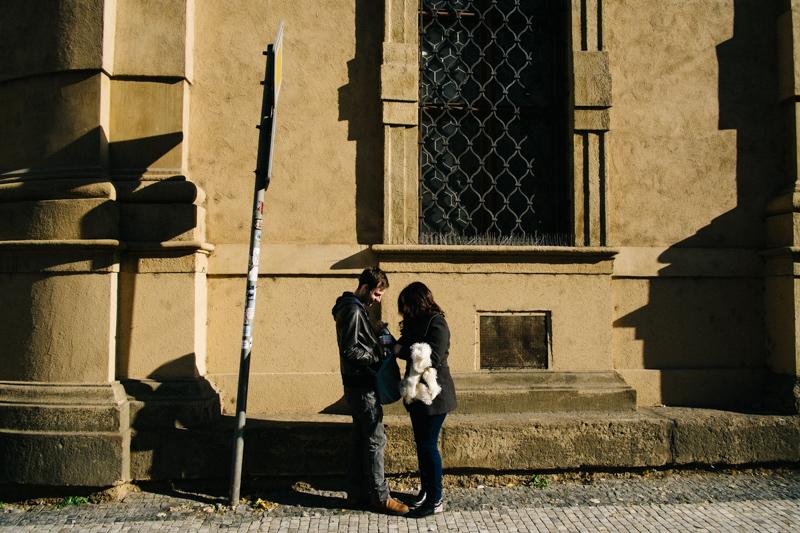 (A New Guide Posted Every Other Wednesday)