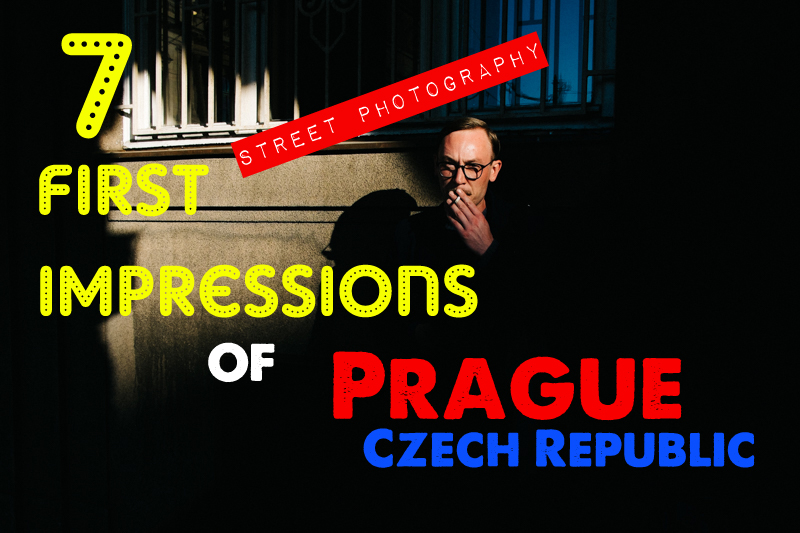 After Kiev, Lviv and Krakow, the next stop on my Eastern European Street Photography Tour was Prague.
I've actually traveled to Prague once before, but it was over 7 years ago. So you might call this 7 First Impressions of Prague in 2016. With how much Prague has recently changed, it felt like going there for the first time in many ways, anyway. 
This fairytale of city has become one of the most popular tourist destinations in Europe very quickly over the last decade. There's plenty of reason why too. There's really no other city like it. When it comes to Street Photography, though, too much tourism saturation can be a negative at times. 

Being a special city like Prague brings both an amazing setting and crowds of people to share it with. So here are my first impressions of Prague, from my personal Street Photographer perspective…
7 First Impressions of Prague
(From a Street Photography Perspective)
1. Prague has changed
When I first traveled to Prague 7 years ago, I had great memories of being blown away by how beautiful and unique of a city it was, but I was surprised how much it had changed on this return.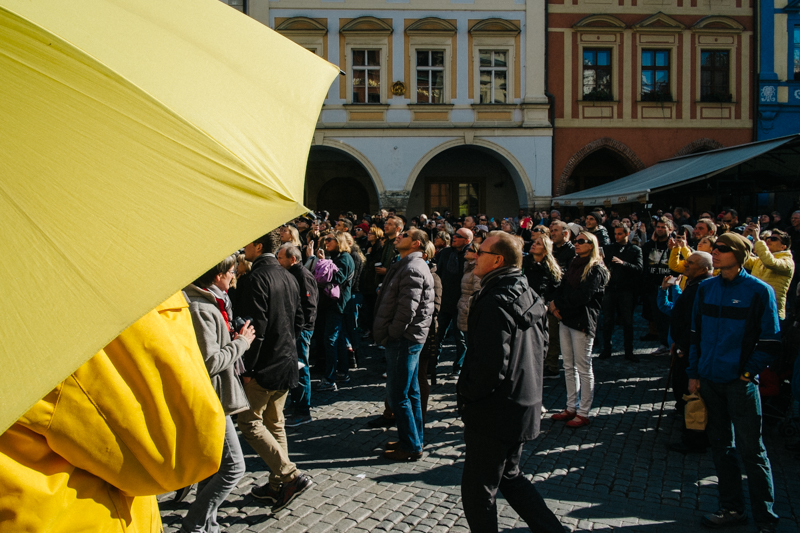 Unfortunately, while Prague is still very beautiful and unique, I feel it has lost some of it's charm due to being overrun with tourism. Segway tours and crowds of people fill the streets now, while that authentic feeling I remembered seems to have given way to more of a tourist attraction at times. It's still definitely a great city worth visiting, especially if this is your fist time there. Changes like this usually happen when you have something special like Prague does.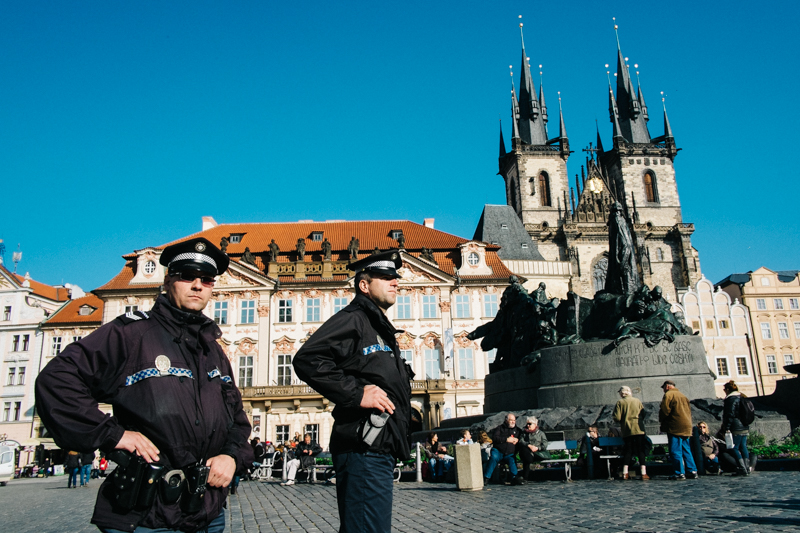 As for Street Photography, much of the environment is still uniquely Prague, but the feeling can be much more similar to many touristic cities in Western Europe today.
2. Architecture is Diverse
Architecturally, Prague is one of the most beautiful cities I've ever been to. The best part is the variety and diversity of the architecture around the city. It's almost like a visual history lesson in architectural styles over the centuries. Gothic, Renaissance, Baroque, 19th Century Neoclassical, Art Nouveau, Communist, you name it.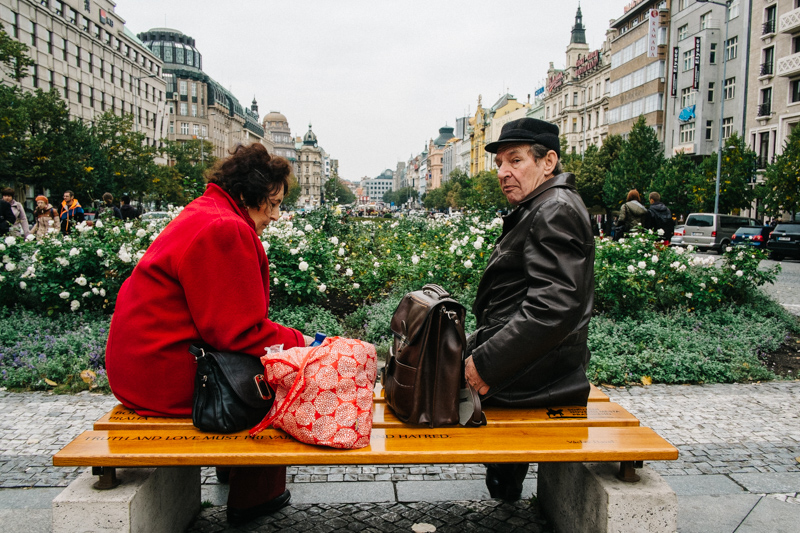 Many movies are filmed in Prague because they have access to such a variety of amazing architecture. And every day I went out shooting, I ran into a filming crew at work somewhere. This variety of amazing architecture can be used as some nice settings for Street Photography too.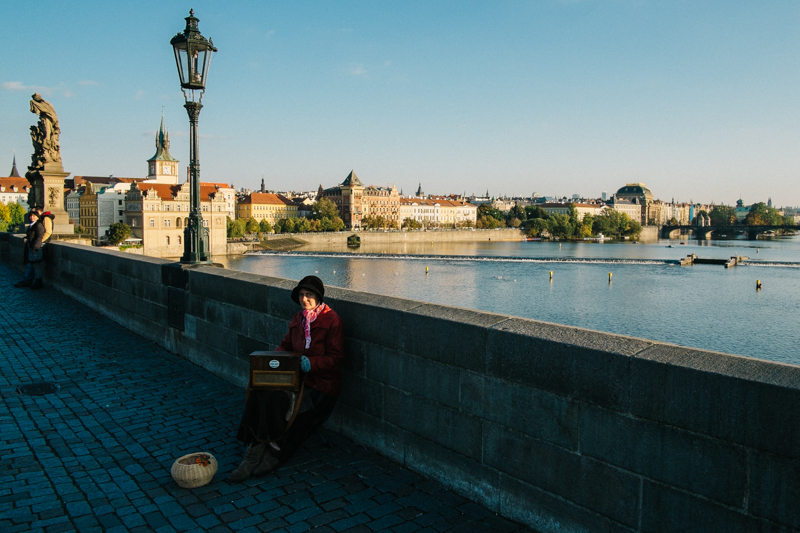 3. Tourists & Segways Everywhere
As I touched on already, tourism has taken over much of Prague. At least the center area where you're mostly likely to spend most of your time. Outside of the Western countries, there might not be a more touristic city in Europe right now.  
This has not only brought tourists, but a large variety of street performers around the city (I noticed the "floating man" trick seems to be especially popular here).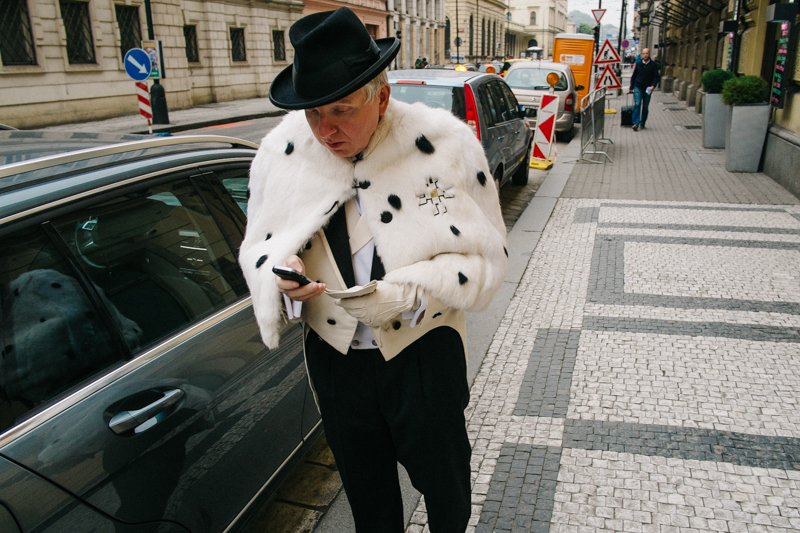 But the tourist attraction that really has taken over Prague are Segways. You seriously have to watch out for them while walking around the Old Town and Castle District. Segway tours have become a big money-maker in Prague and attract tourists that have never stepped on one before. Novice Segway Riders + Cobblestone = Trouble.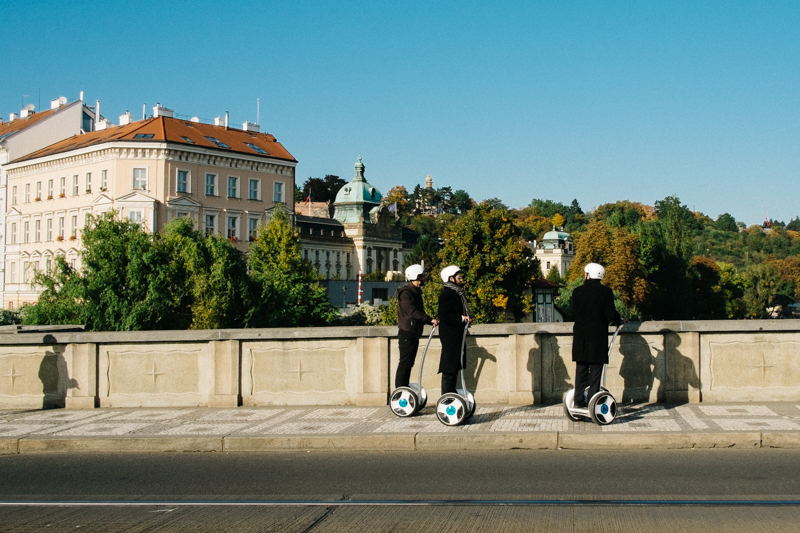 When walking around such a beautifully preserved old city like Prague, it's a little strange seeing teams of Segways rolling around cobblestone streets.
4. Very Different Outside of the Center
Once you get outside of the old town and city center, Prague's scenery changes a lot. It gets much less touristic and less polished. It loses the fairytale feeling of castles, bridges and grand architecture, but it replaces it with its own rougher charm. In a lot of ways, it could be considered more interesting for Street Photography. It feels a little more authentic and is without all the touristic facade.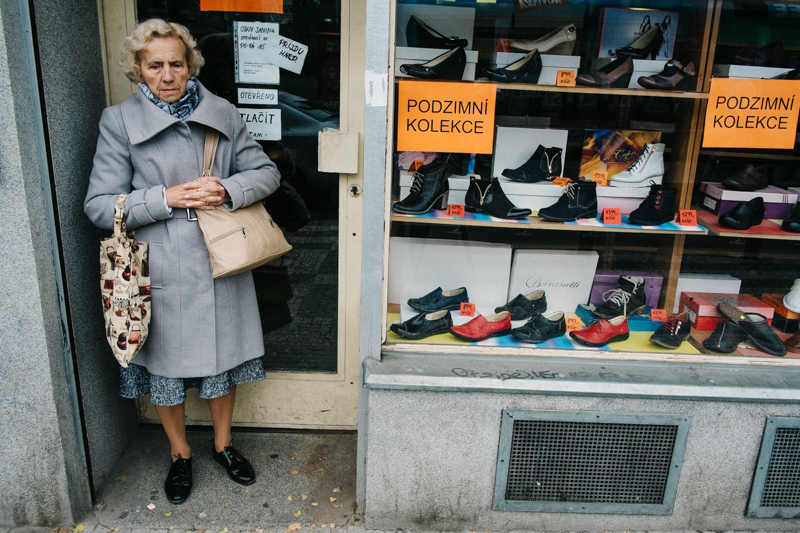 At the same time, it also loses much of what makes Prague so unique, beautiful, and attractive to visitors in the first place. If there were more options to stay and you had a local to show you around, it would make exploring the outskirts of Prague much easier too, as it's not set up extremely well for that. Although, I fortunately did manage to spend some time away from the center, which I enjoyed.

It also gets much, much cheaper outside of the center, which is always a welcome bonus.
5.  Charles Bridge is Always Busy
Charles Bridge might visually be my favorite bridge in the world. It's straight out of a fairytale. It's also might be the busiest and most crowded bridge in the world too. Street performers, musicians, artists and merchants line the sides of the bridge, while tourists fill the rest of it.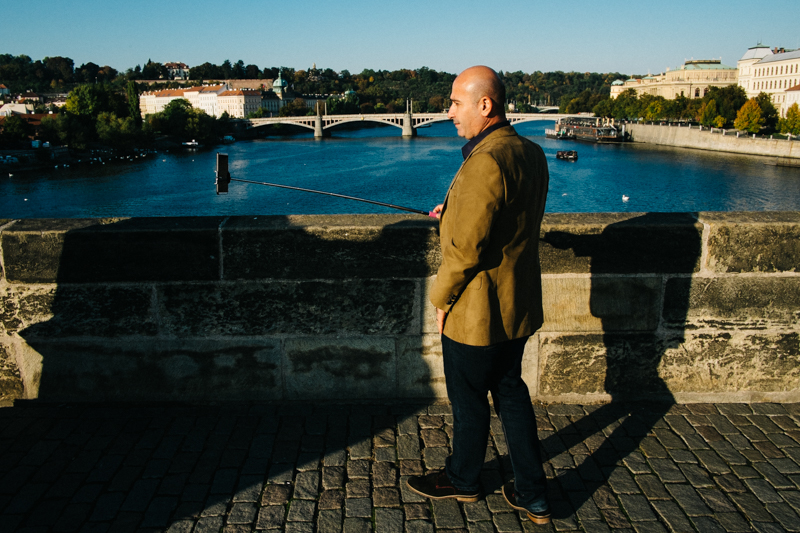 From morning to night, I never saw it without crowds, but it's still definitely a place to spend some time at. There's plenty of great people watching, scenery, and if you try hard enough, you might be able to work in some good Street Photography captures.
6. Beer is Big
Czech people are extremely proud of their beer. They feel they brew the best in the world and many even believe they invented it. So you see this pride all over the city with pubs, beer shops and beer paraphernalia. There's a few cities with noticeable beer cultures, like Munich and Brussels, and Prague is another one of them.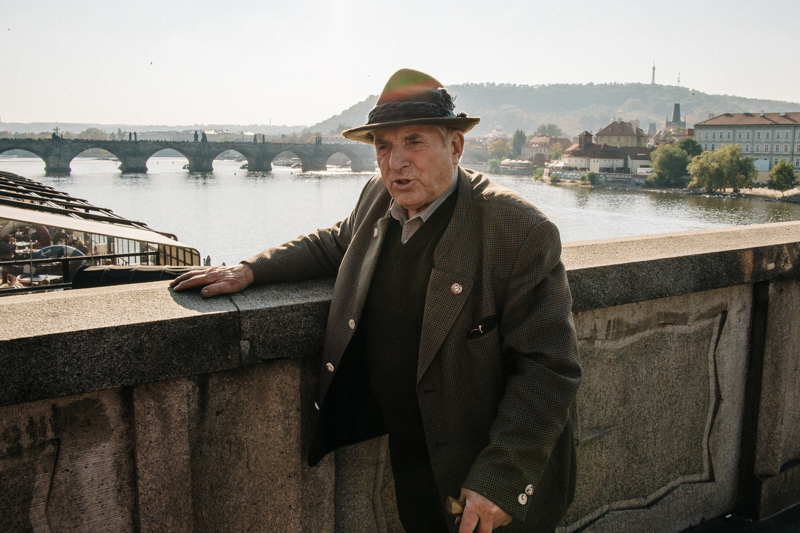 When something is this much a part of a city, you can try to find interesting ways to incorporate it into your Street Photography. They also love plenty of foam head on their beers, which is why they like to use their wide, almost bowl shape mugs. So don't send it back expecting them to fill it to the top :)
7. Fantasy Land
Parts of Prague almost feel like a fantasy land to me. Like it's almost not real. Straight out of fairytale.
The Old Town, Castle District, Charles Bridge, architecture, cobblestone streets, orange rooftops and greenery mixed in all come together to create this feeling. I really can't think of another city quite like it.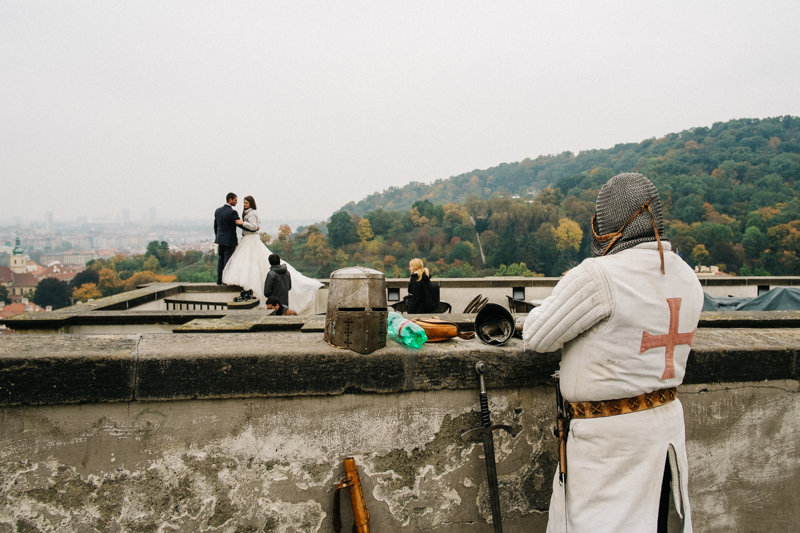 Changed, but Still Special
While Prague has changed and I missed how it was the first time I visited, it's still an amazing city. Any city that brings its own unique experience is worth visiting and capturing with your camera. And when it comes to architecture and fairytale like scenery, Prague brings that unique experience and more. Plus they have good beer, which is always a plus in my book after a day of shooting the streets :)
If any of you have been to Prague before, tell me about your experience and impressions of the city in the comments below! And stay tuned for more on Prague, including some of the best Street Photography shots I captured while there.