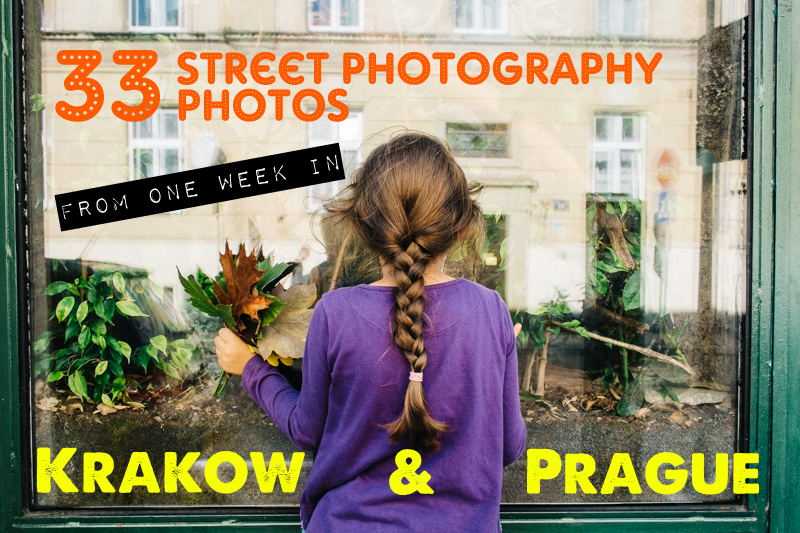 I spent over a week in Kraków and Prague, but didn't get in as much Street Photography as I would have liked, unfortunately. Bad weather and friends visiting kept me off the streets as much as I had planned. So although I didn't get as much solid Street Photography done as usual, I still wanted to put together a post of some of the photos I made in both cities.
Kraków and Prague are very different from each other, while still sharing similarities. They share an old world, magical vibe and make for some interesting exploration and scenery on foot. Carrying my camera around, with hands fully gloved due to the cold, made experiencing these cities even more enjoyable.
So here's 33 photos that I was able to capture during my time in Kraków and Prague…
33 Street Photography Photos from Kraków & Prague
Starting in the streets of Kraków…
1.
2.
3.
4.
5.
6.
7.
8.
9.
10.
11.
12.
13.
14.
15.
16.
17.


18.
19.
20.
Off to the streets of Prague…
21.
22.
23.
24.
25.
26.
27.
28.
29.
30.
31.

32.
33.
The weather got very cold very fast during my time in Kraków and Prague, but I still enjoyed both cities a lot. They have two of the best Old Towns in Europe, but are very different and unique in their own ways. They also have fairly touristic city centers, but change drastically once you venture away. In the future, I'd definitely love to spend more time exploring the areas only the locals go in Kraków and Prague. Either way, both cities get my recommendation on experiencing for yourself, camera included. 
Check out my first impressions of Kraków and Prague from a Street Photographer's perspective to find out more. And stay tuned for Street Photography Guides to both cities!
Have you visited or photographed Kraków or Prague before? Do you plan on it someday? Let me know about it in the comments below!
And let me know which photos you like best too!