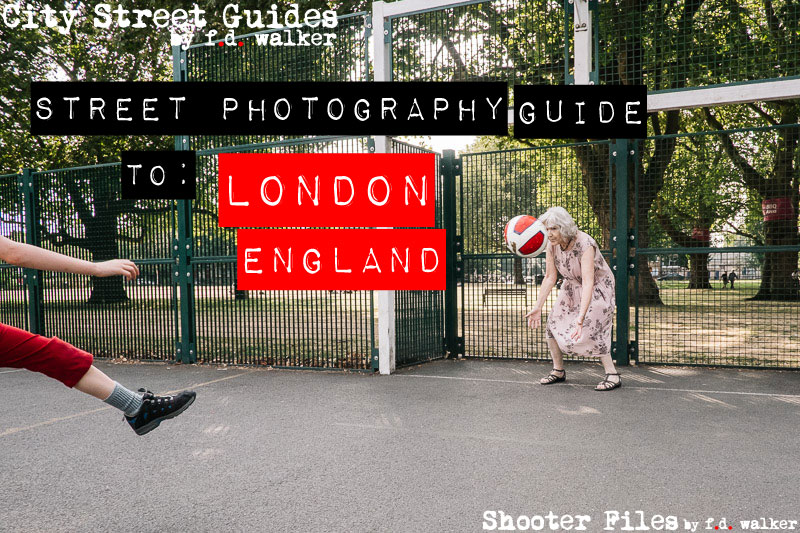 *A series of guides on shooting Street Photography in cities around the world. Find the best spots to shoot, things to capture, street walks, street tips, safety concerns, and more for cities around the world. I have personally researched, explored and shot Street Photography in every city that I create a guide for. So you can be ready to capture the streets as soon as you step outside with your camera!
London
Overview:
Creating a street photography guide for a city like London is not any easy task. It's the most visited city in the world and a center for street photography since the beginning. From the West End to the East End, London has something for everyone. London is filled with familiar landmarks, but it's also filled with a variety of neighborhoods, each with their own character. It's a diverse, multicultural working city with a blend of the past and present. As large and populated as it is, it doesn't have the overwhelming feeling of a New York or Tokyo, yet has just as much to see and experience. London is immersed in history and antiquity mixed with a young, urban vibe. You might not find another city with so many different areas, boroughs and atmospheres for street photography. It's London and there's no place like it.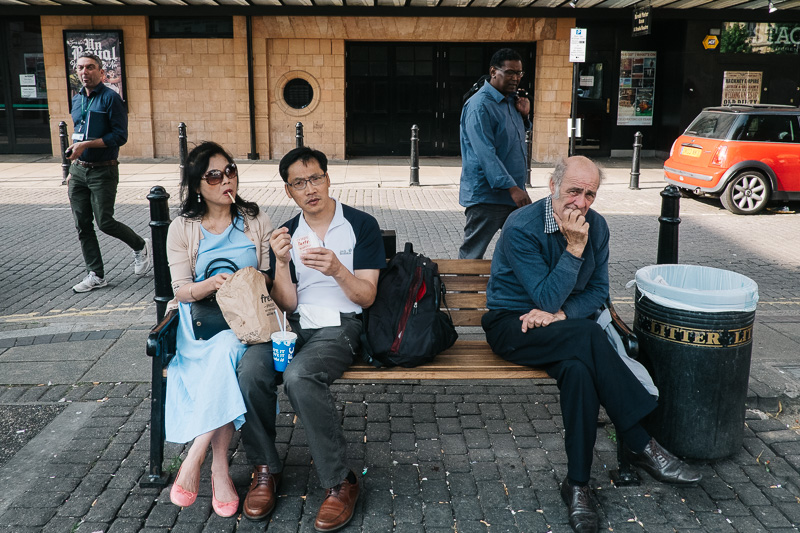 So here's a Street Photography guide so you can be ready to capture all that London has to offer before you even arrive!
Map:
Oxford Street / Oxford Circus
Shoreditch
Brick Lane
Leicester Square / Picadilly / Convent Garden / China Town / Trafalger Square (Soho)
City of London / Liverpool Street Station
Brixton
South Bank
London Fields
Camden Yards
Top 9 Street Spots:
1. Oxford Street / Oxford Circus
Oxford Street is Europe's busiest shopping street. With half a million pedestrians a day, this street gets packed. It's located in Westminster running from Tottenham Court Road to Marble Arch. The mix of over 300 shops, the location near so many other attractions and the busy Oxford Circus tube station make this the place to go if you want activity and chaos in London.
For street photography, you can walk the street and see what you can find along all the shops and people moving in every direction. It's a good sized street so that should take some time, especially if you explore the busy side streets too. The height of chaos is found at Oxford Circus, though. This is where Oxford Street meets Regent Street, above the Oxford tube station, the busiest rapid-transit station in the United Kingdom with the highest pedestrian volumes in London.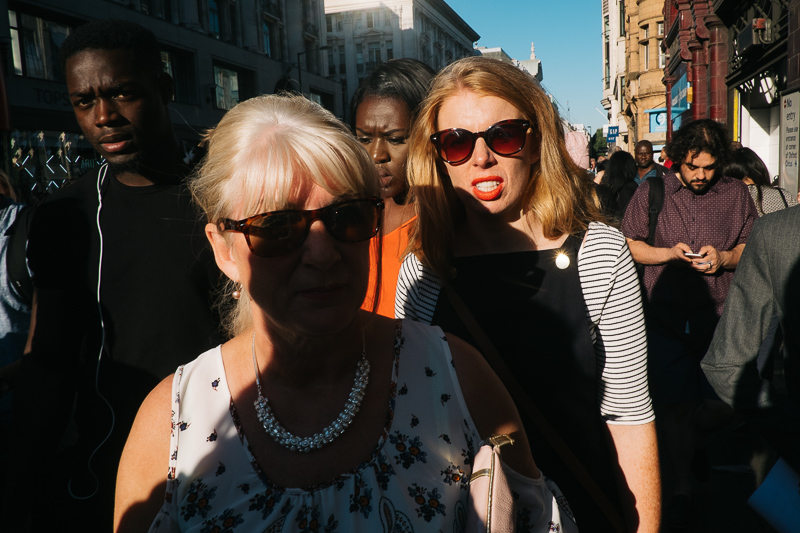 This junction of pedestrians and commuters is something to see when its activity peaks, especially just after work gets out. When the sun is shining, that rush hour timing also coincides with the sunset so you can get some beautiful light coming directly down Oxford Street. If you come out here at this time, you're sure to see other street photographers standing at the junction looking through the crowds of people coming to see what they can capture in the light.
2. Shoreditch
Shoreditch has become a favorite area of mine to explore for street photography. It contains a lot of character and a blend of atmospheres in London. It's one of the more colorful areas of the city too. Shoreditch is a district in the East End of London. It lies just north of the City of London once you get into Hackney, which helps give an interesting mix of scenery and life.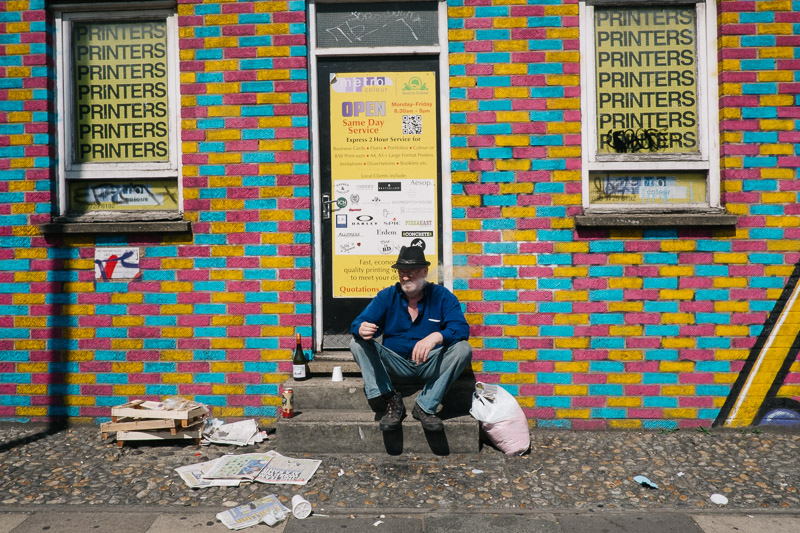 There's an industrial look with a little edge brought to life by graffiti murals on old brick warehouses and a very artistic scene. Banksy has made this a known area for his own artwork too. There's a very gritty urban feel here, but with a trendy, creative influence. It's a vibrant area made for street photography.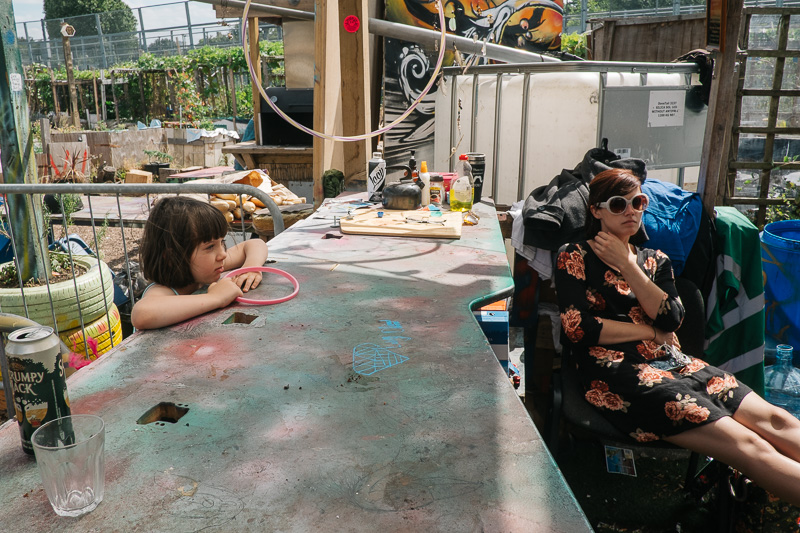 3. Brick Lane
Brick Lane runs from Whitechapel to Bethnal Green and gives you one of the most vibrant streets in London. It's known for its Bangladeshi community, which is easily seen by the curry houses and life of the street. The bright colors and culture of Brick Lane attract plenty of tourists, and street markets, so it can get very crowded here.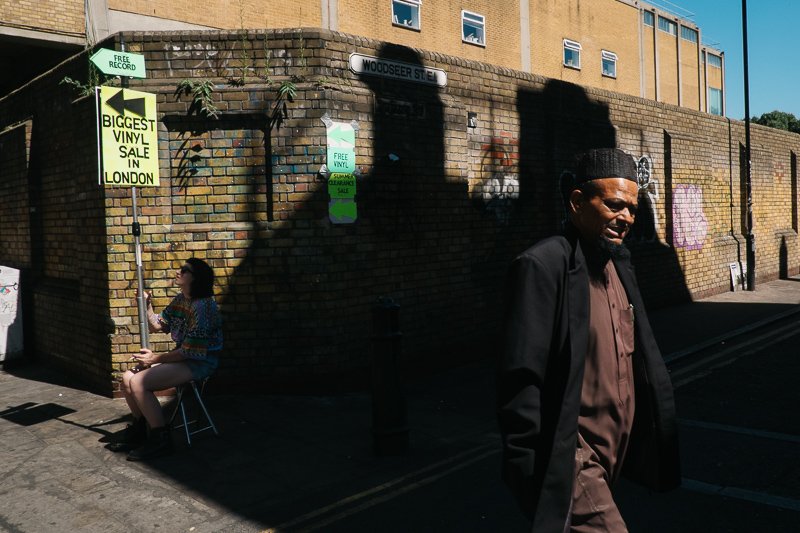 On the east end, Brick Lane Market sells flea market goods like antiques and clothing, while the The Truman Markets cover a variety of markets and goods. You'll also find food trucks, street performers and a number of other attractions on the weekend, especially if you explore some of the outlying streets. The mix of colorful buildings and graffiti, Bengali culture, markets, and trendy/hipster vibe make this street full of life and scenery for street photography.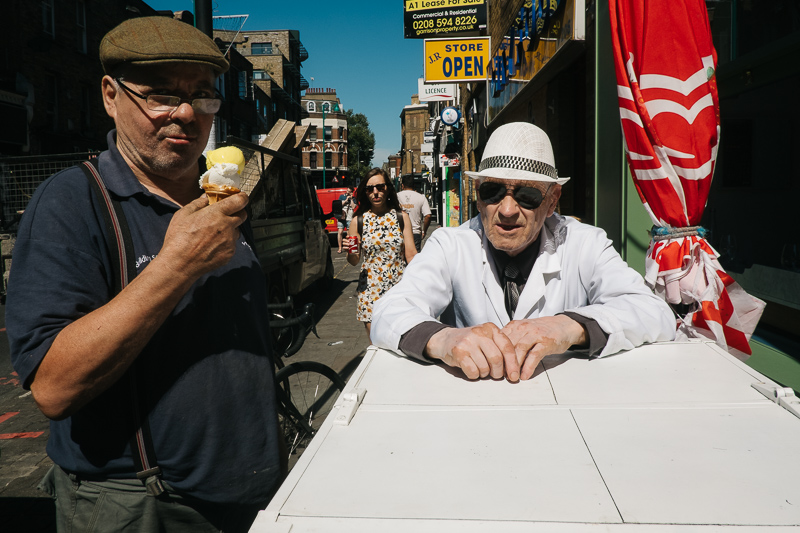 4. Leicester Square / Picadilly Circus / Convent Garden / China Town / Trafalger Square (Soho)
Soho is really the epicenter of pedestrian activity in London, which is saying a lot. There's so much packed into a relatively small area that I'm combining these many spots into one, but you can easily spend a day around here if you wanted. There's an endless variety of activity and interest to capture. For many, this will be their favorite area for a street photography walk because of all the compact options. I could go into detail on each one of the spots included, but that could make for its own post and it's best just to go explore and discover for yourself.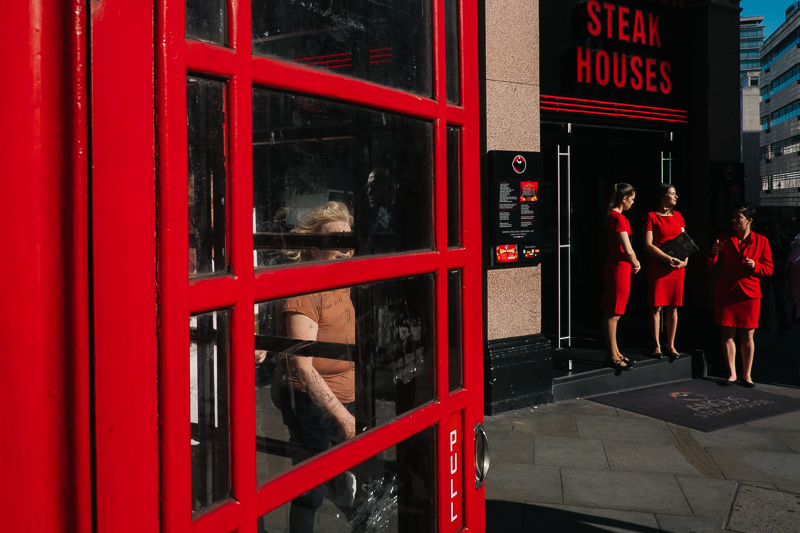 Leicester Square is in the heart of it all, surrounded by entertainment and shopping, while Trafalger Square gives you more open space to play with in a busy square. Multiple streets intersect at Picadilly Circus, making it one of the highest concentrations for foot traffic and street performers, while Covent Garden contains a variety of attractions and scenery to attract the crowds. And of course, China Town is probably what you'd expect, while the red light district is also nearby and Old Compton Street makes a nice spot to check out for some more street photography in the Soho area too.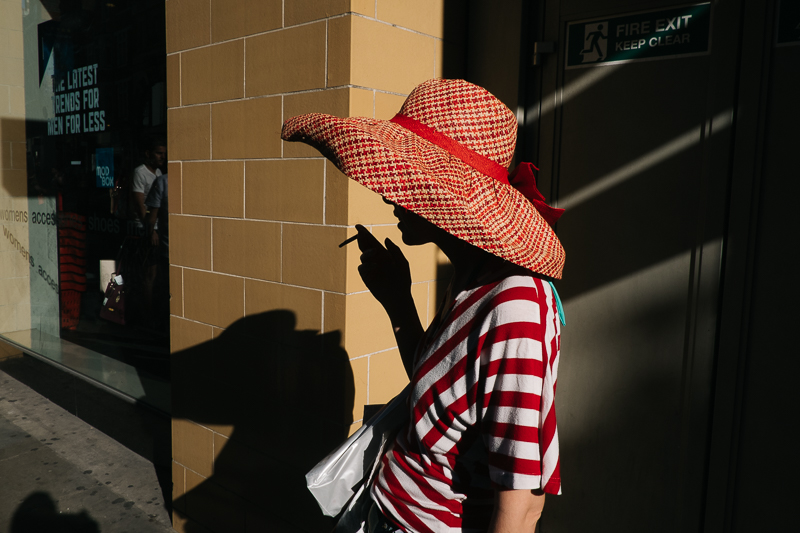 5. City of London / Liverpool Street Station
The City of London is only one district in London, but gets its name from the days when it made up most of the city. While only a square mile in area, it's the center of the United Kingdom's financial industries today. Here's where you'll find business suits and shiny skyscrapers, which stands out next to much of London's antiquity. During the weekdays it's always bustling with workers and activity, while on the weekends it clears out and can become surprisingly quiet.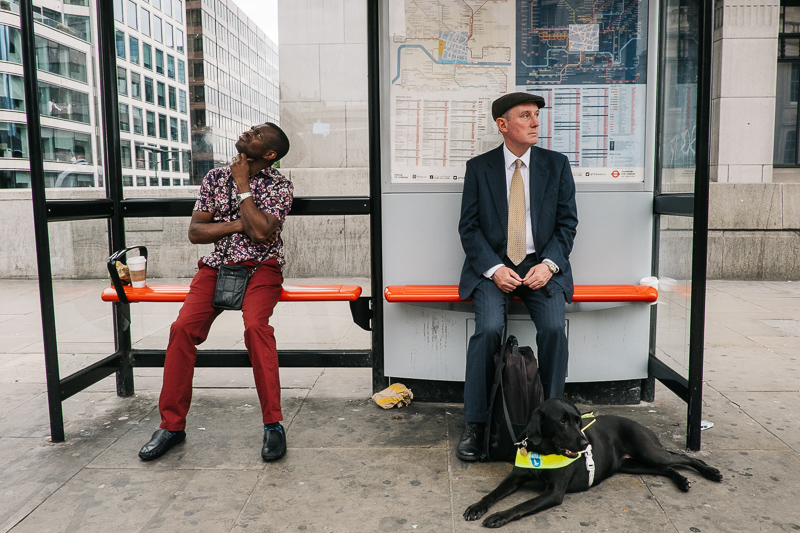 The London Bridge connects you to the "City," but another good place to come here is around Liverpool Street Station, one of the busiest stations in the city. At only a square mile, it's an easy section to explore and capture the modern business side of London. Just make sure to come here on the weekdays if you want tons of business activity. At the same time, many might prefer to capture a slightly stranger atmosphere when it's more quiet on the weekends.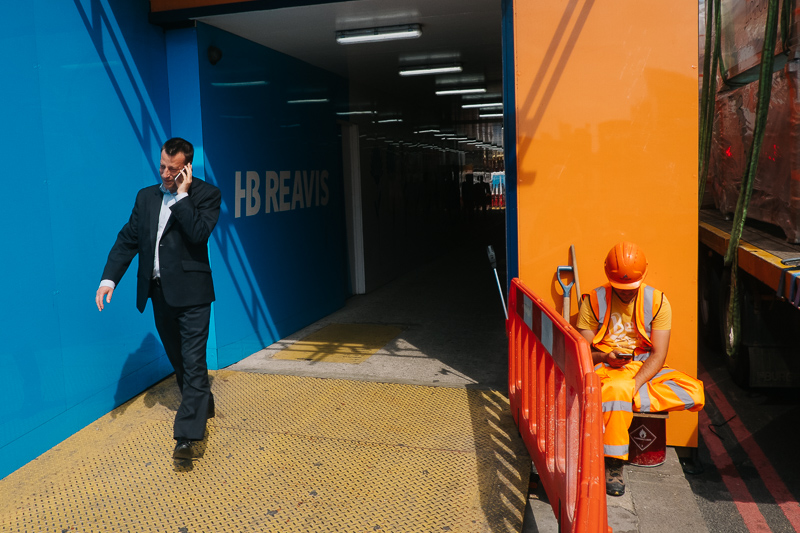 6. Brixton
Brixton is an area known for its Caribbean community, among other ethnicities. As soon as you step out of the tube and head to its famous street market, you feel this Caribbean influence too. Brixton is a little edgy and unpolished, but with that comes character and an atmosphere much different from the rest of London. Electric Avenue is lined with shops, while the Brixton Village Market brings the markets, small restaurants and galleries. There's color, character, Caribbean culture and more found here. It might not be the most beautiful area in the city, but it takes you far from London's West End while providing a beauty of its own for street photography.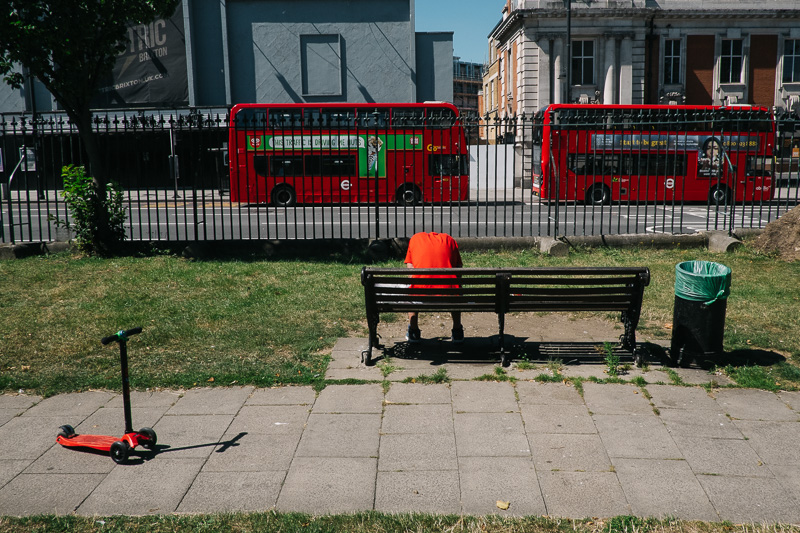 7. South Bank
The South Bank lies along the River Thames in Central London, on the opposite side to Westminster. It's a commercial and entertainment district, and the location of the giant Ferris wheel, the London Eye. It's a very popular area for a walk along the water, and attracts plenty of tourists. The famous Tate Modern museum is here too, among many other attractions. It's a good spot to start the morning or finish the day when shooting, while always providing plenty of activity.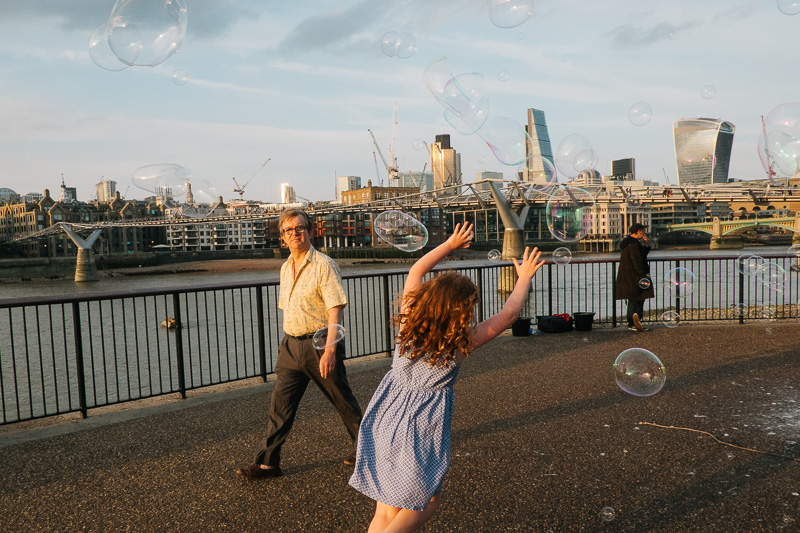 If you walk to the west end, just before the London Bridge, you'll also find the popular Borough Market, which many find good for street photography too. All in all, this two-mile stretch along the river should give you hours of activity for shooting.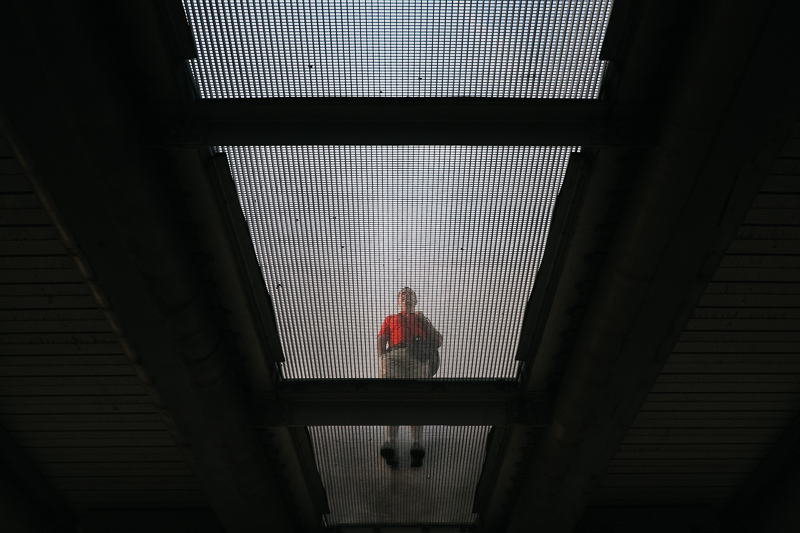 8. London Fields
London Fields and the surrounding area is one I've never heard or seen mentioned for street photography, but it's actually one of my favorite spots. It's only growing and getting more active and interesting too. London Fields is a large, open park in Hackney Central. It's actually a historical park that goes back to the 13th century, but today has its own unique atmosphere compared to other parks in the city. It has character and more of a laid-back, but lively atmosphere compared to some of the city's more beautiful parks. You'll find recreational facilities, trees, open pathways and large green fields filled with people when it's nice out. At times, the fields can be covered with picnickers, barbecues, food and plenty of drinks. Its open atmosphere attracts friends and families that want to have some fun. Nearby, you have trendy hipster streets lined with restaurants and bars with a younger vibe that are worth a walk too.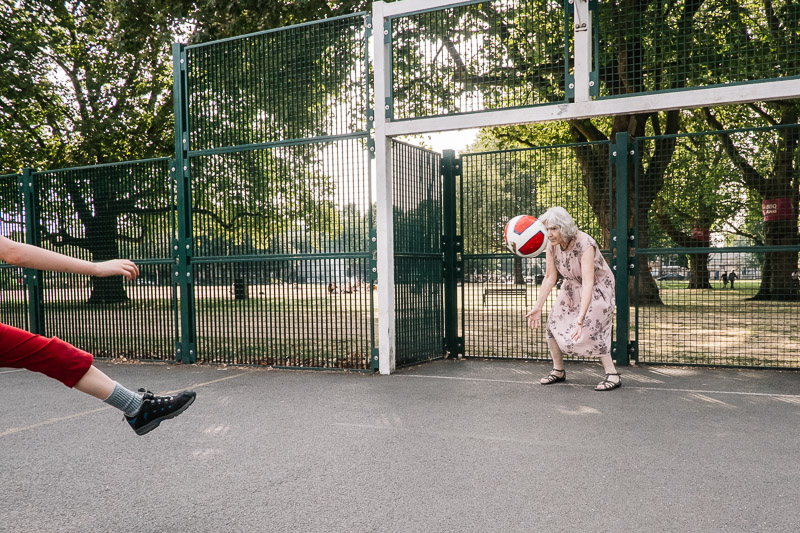 9. Camden Town
For street photography, I find Camden Town is either a love it or hate location. I know many locals that never go there for shooting, while others focus much of their time there. Either way, there's no question that this area attracts the crowds. It's most famous for its alternative culture and punk rock history. You'll see combat boots, leather, studs, Mohawks and more here, but much of this scene is past its prime and no longer like it used to be. But it still plays to its past atmosphere, just with a touristy polish. People come to enjoy the colorful, punk/pop art scenery, street markets, music venues and pubs. There's a variety of characters, colors, crowded streets and a young, fun vibrance to the area that should appeal to many. It might not be authentically the same as used to be, but it still contains plenty to see and capture if you're ok with that.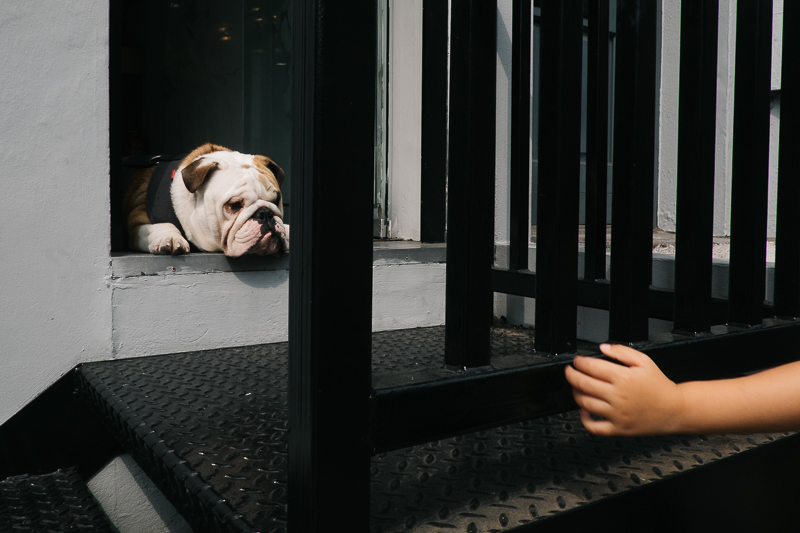 Sample Street Walk:
For a full day of Street Photography, you can follow this sample street walk introduction for London in the densely packed center:
Start your morning exploring the Borough Market (7) before continuing along Southbank (7)
Finish Southbank by walking over the Hungerford Bridge until you get to Trafalgar Square (4)
After walking around Trafalgar Square (4), head northwest to Picadilly Square (4)
From here, head east to Leicester Square (4) and then walk up through China Town (4)
After your finished explored this area densely filled with street photography spots, walk north to Oxford Street (1)
Take a left on Oxford Street (1) and walk along this always busy street until you get to Marble Arch station 
From here, if it's nice out you can check out Hyde Park, and then turn around and walk back along Oxford to Oxford Circus (1)
Before sunset, if the sun is out, the light should be great here. And then you can take the metro home, or to wherever you're going next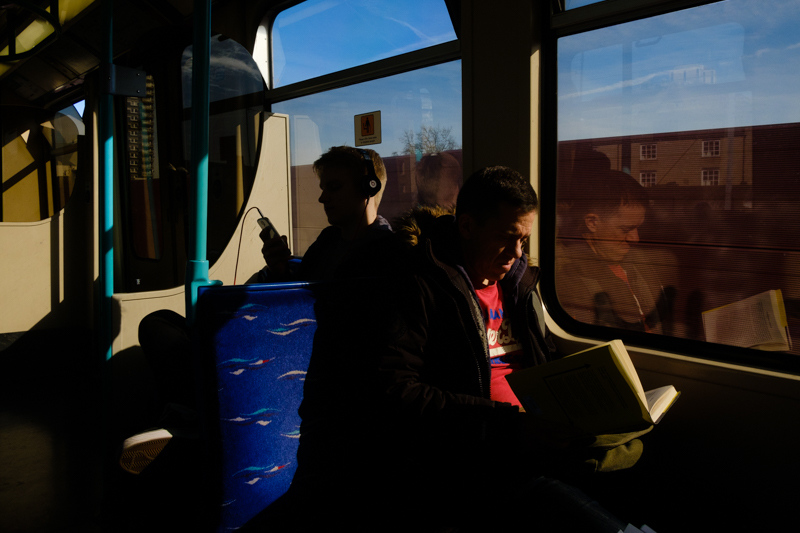 Ask a Local Street Photographer Where to Go: Dmitry Stepanenko
"I like exploring, as I get tired of the same locations. Having said that, I like Soho, Shoreditch and Southbank most if I need to choose."
3 Things I'll Remember about London (for street photography):
1. Variety of Character
The variety of life and character might be my favorite thing about London. Like I said earlier, there are so many places to shoot, each bringing something new. London can feel like different villages grew until they combined into one large city over time. It isn't like New York or Tokyo, where skyscrapers dominate over you. London doesn't feel overwhelming for a city its size.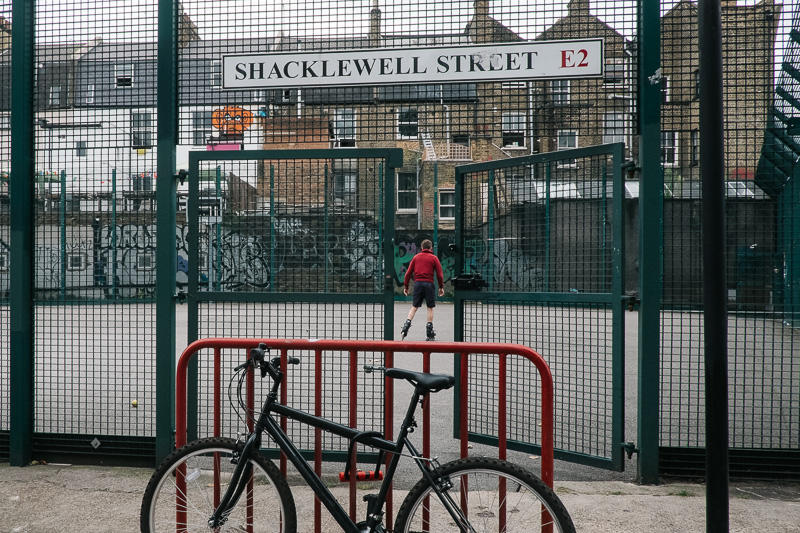 You can spend your days exploring parts of London on foot and get completely different atmospheres when it comes to photography. Some areas are chaotic and crazy, while others are quiet and relaxing. Some are immersed in history and antiquity, while others feel modern and young. And some are a unique blend of it all. London is also as international and multicultural as it gets. With over 270 nationalities living in the city, the diverse mix of cultures adds another layer to the variety of atmosphere London contains.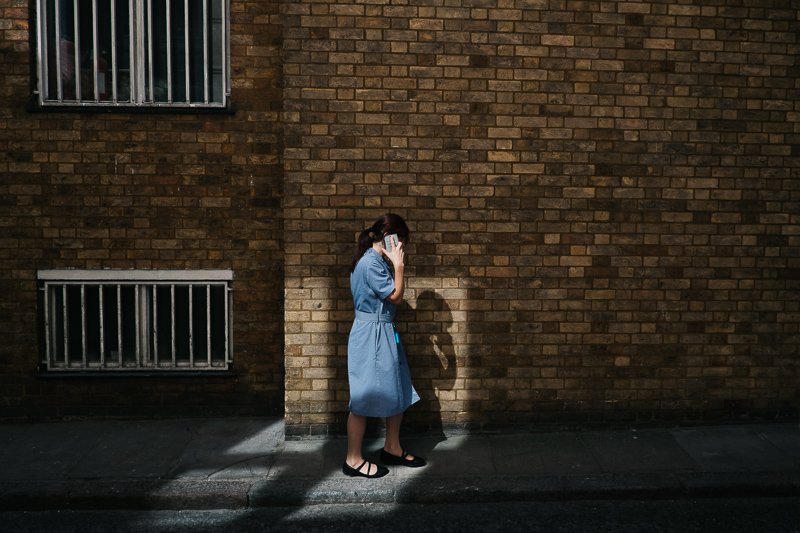 Red bricks and a mix of architectural styles and ages providing the backdrop for a variety of life to capture. In London, there's something new around every crooked, winding street, and you never know what it will be.
2. So many places to shoot
The capital of the United Kingdom is filled with so many neighborhoods and spots to shoot in that only a few other cities could rival it, making London feel endless with places to go with your camera.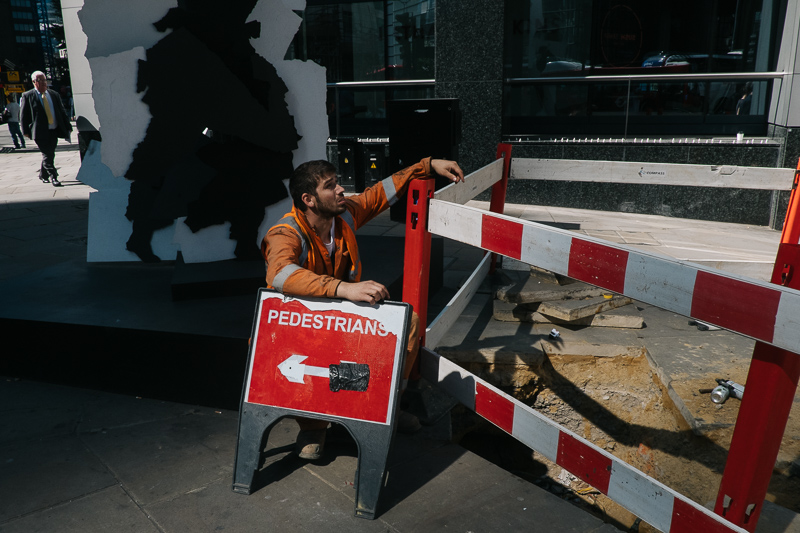 With 48 different neighborhoods making up London, here's 11 of my favorite that I'd highly recommend for street photography:
City of London
Soho
Covent Garden
Knightsbridge
Camden Town
Notting Hill
South Bank
Shoreditch
Whitechapel/Brick Lane
London Fields/Hackney Central
Brixton
3. So many street photographers shooting here too
London takes the award for most street photographers I've seen shooting in one city, even compared to cities like New York and Paris. This is multiplied when the sun's out and if you're around Oxford Circus just before sunset, you'll be surrounded by photographers at the corner capturing the rush of people coming into the beautiful light.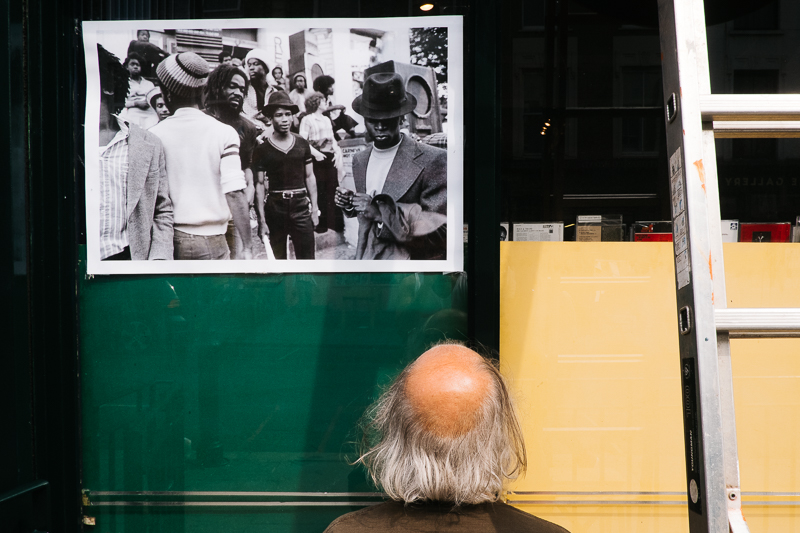 As famous for street photography as London is, it still was surprising how many I saw compared to other cities. Luckily, London has more than enough to find your own shot. Just don't be surprised if there's someone else behind you trying to take it too in some areas.
What To Do For a Street Photography Break?:
Hit up a museum (or pub) for a break
London is full of museums and galleries around the city, but the best thing is most are free. Tate Modern is always worth checking out, but you'll find a variety around town with a good chance someone is showing an exhibition you'll be interested in. It's especially good for when the London weather isn't cooperating. It gives you a chance to still enjoy some photography, even if you aren't doing any shooting.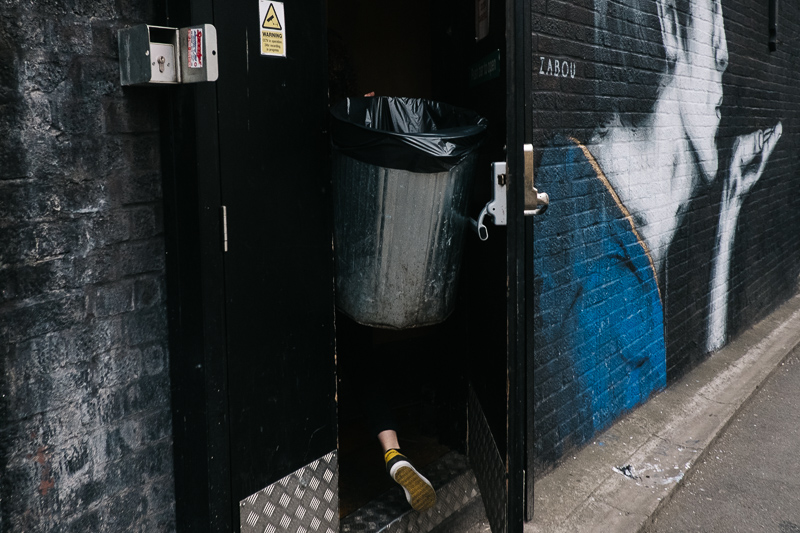 While the pubs, unfortunately, aren't free like the museums, they're still a great street photography break or way to finish your day in London. British Pubs are famous the world over so it shouldn't come as a surprise there's a pub on almost every corner in London. Grabbing a pint is one of the most popular activities in the city. Once work gets out, you'll see crowds of people standing outside pubs as you walk the street so why not join them.
Street Safety Score: 7
*As always, no place is completely safe! So when I talk about safety, I'm speaking in general comparison to other places. Always take precaution, be smart, observe your surroundings and trust your instincts anywhere you go!
While London has obviously been in the news more often recently when it comes to safety issues, it still feels relatively as safe walking around the main sections for a city its size. I don't want to minimize things that have happened, but it shouldn't deter you from freely walking the city. There's so many areas to explore and I've never felt too unsafe in any of them, but there of course are neighborhoods where it can get dodgier than the next. The areas I've recommended are mostly very safe, with Whitechapel, Hackney and Brixton maybe warranting a little more attention when exploring. London is a big city so using street smarts is key here, but you should be fine as long as you trust your instincts.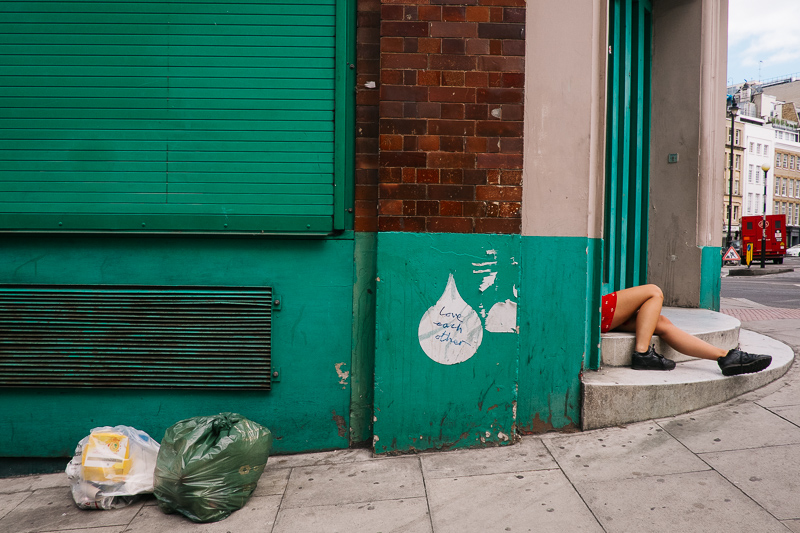 People's Reaction Score: 8
London is a very easy city to shoot street photography in when it comes to reactions. It's one of the many reasons it's so popular for street photography. Of course, there can always be exceptions, but bad reactions should be few and far between. Most people just don't notice or care about cameras. Personally, I've never had a problem in London, but it is one of the few places I've been questioned by police. This has been covered quite a bit online over the last few years, but police and security are more and more suspicious of public photography in London, unfortunately. Some of it comes from misuse (or misunderstanding) of terror laws, some comes from public spaces that might not actually be considered public, and some just comes from heightened paranoia (especially when it comes to children). Saying that, if ever questioned (which is still very unlikely), just know your rights (public photography isn't illegal in London) and be confidently polite. Fortunately, the police are usually polite too.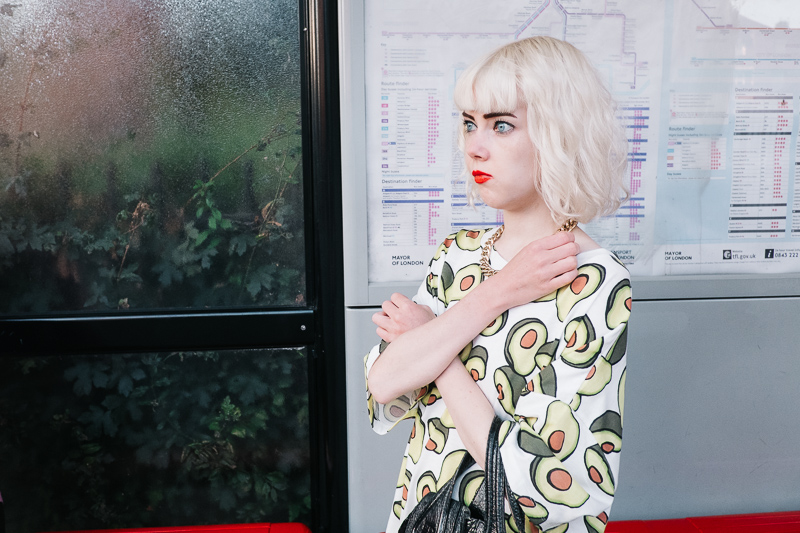 Street Tips:
Head East too
London's west side is where most visitors head, and for good reason. This is where most of the attractions and sites London is famous for are located. It's also the busiest area, filled with tons of activity and life to capture. There's plenty of neighborhoods to explore and things to do and see all around you. The truth is, though, I might like the east side even better. I bring this up because many might neglect the east while few will miss the west. Do both, but definitely give plenty of time out east.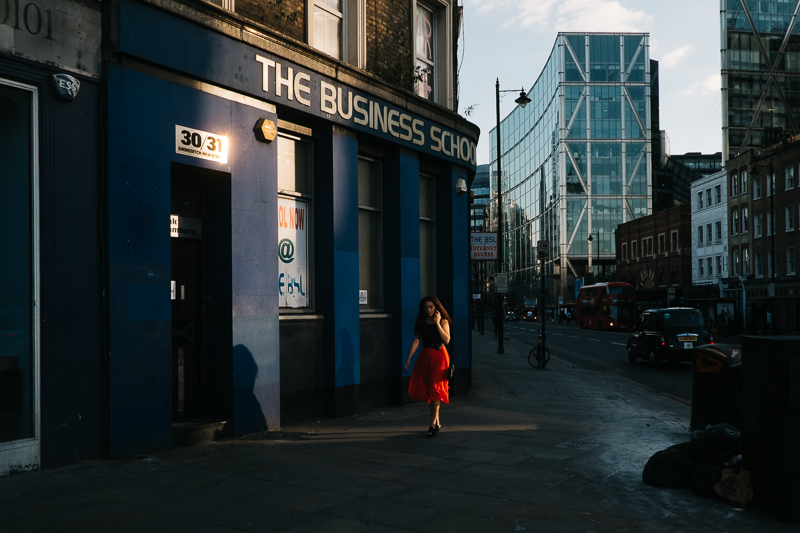 Compared to the west side, the east side is more edgy with a character that I love. Famous for Jack the Ripper, the east does have some of that darker atmosphere, in a good way, but it also has vibrant and trendy streets like Brick Lane or the 150 year old flower market. The area is a cultural melting pot with a mix of old and new. Shoreditch could be my favorite neighborhood to explore, but I also really enjoy spots like Whitechapel, Bethnal Green and London fields in Hackney. The east side provides a different side of London filled with character. Some spots can get quiet, but it's all worth exploring with your camera. The more time the better.
When there's light, London can be colorful
Don't be fooled by the gray/dull reputation, London has color.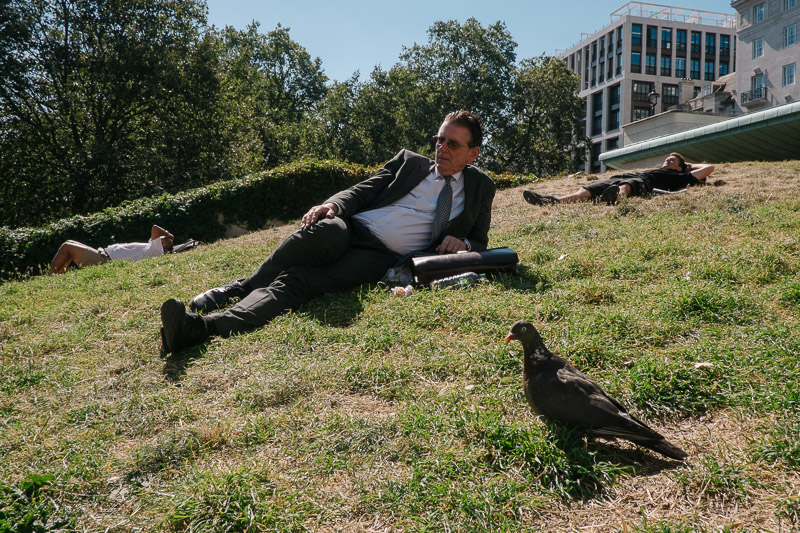 London has more parkland than any capital city in the world, which gives it plenty of green, but when the sun's out, London actually showcases how many more colors it has. London is known for being dark and grey, but that's mostly due to the weather because it can be a pretty colorful city when the weather cooperates.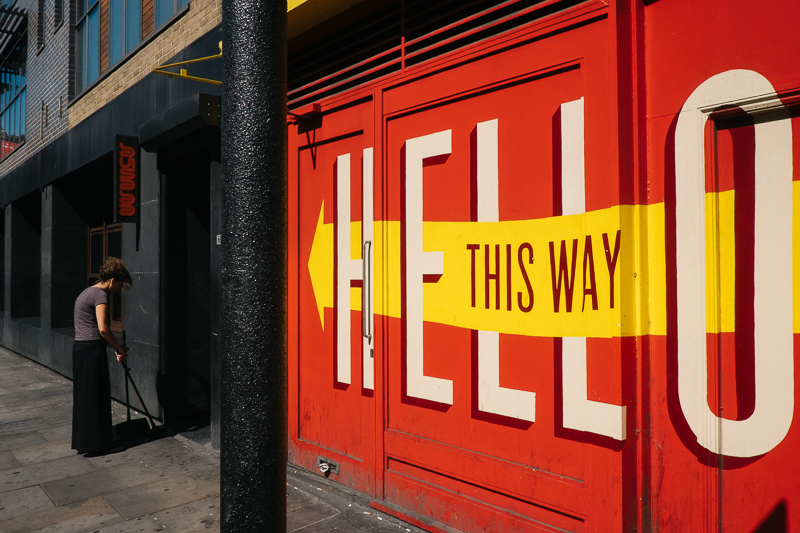 Buildings painted bright colors, graffiti, and of course plenty of British red from the buses and more. Shoreditch with Brick Lane is one of the more colorful areas, but walking around, I find colors all over the city with the sun there to bring them out. 
Maps everywhere for easy navigating
Scattered everywhere around the city, London has maps of the immediate area posted up on signs for pedestrians. I find them extremely helpful, making it easy to freely explore without getting lost, even without your phone. The signs show you where you are, a detailed mapped radius around you and what's directly in front and back if you keep walking straight. It's a great idea I wish more cities would do. Especially for street photographers.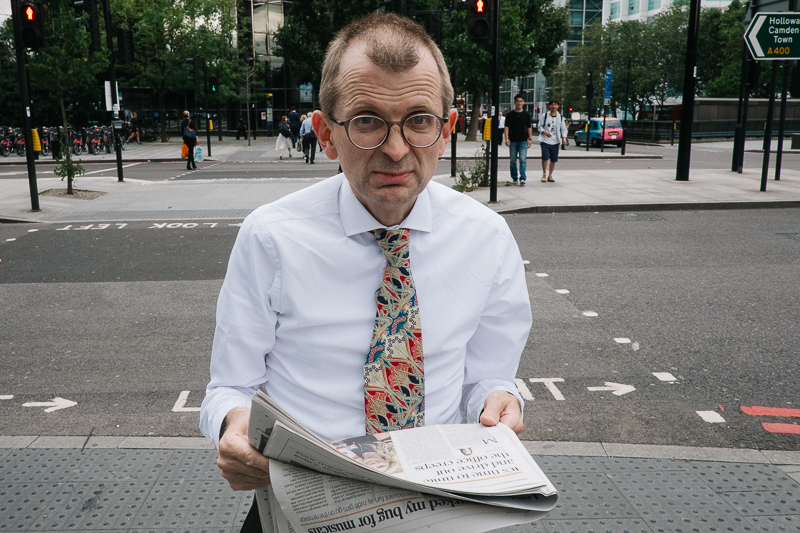 The Tube
There's not many cities where I use the metro more than in London. While it doesn't always run flawlessly, the Tube is still great for getting around a city the size of London. With stations all over, it's pretty convenient in getting you near almost anywhere you want to go too. While not the cheapest, you have multiple options. The Oyster card is what you use to get around. You can load it up with money and pay-per-ride with it or buy one that gives you an unlimited amount of uses in a limited amount of time, like a week. It all depends on how much you plan on using it if the latter option is worth it. I've done both and the weekly card rarely saves me much money, but I do like to walk a lot. As soon as you arrive at your first station, I'd go directly to the ticket counter and pick up an Oyster card and Line Map. They'll both get as much as use as anything else in London, other than your camera.
Inspiration:
For some more inspiration, London provides plenty of photography work to admire. For a few, you can look through the Street Photography of London photographers Matt Stuart, David Solomons, Nick Turpin and David Gibson. And you can always check out 33 of my photos taken in London too.
Conclusion:
London, the largest capital in the European Union, brings no shortage of things to do, see and capture. A mix of dense urban streets, parks, antiquity, modernity, diversity and endless neighborhoods of character and sights to explore. A city this famous for street photography should provide its fair share of places and opportunities to shoot, but London doesn't disappoint. There's just such a variety of places to shoot, inspiration and interest is everywhere to discover. And if it decides to bring out the rain and clouds, you still have some of the best museums and galleries free for all. Or, of course, you could always grab a pint at the British Pub on the corner.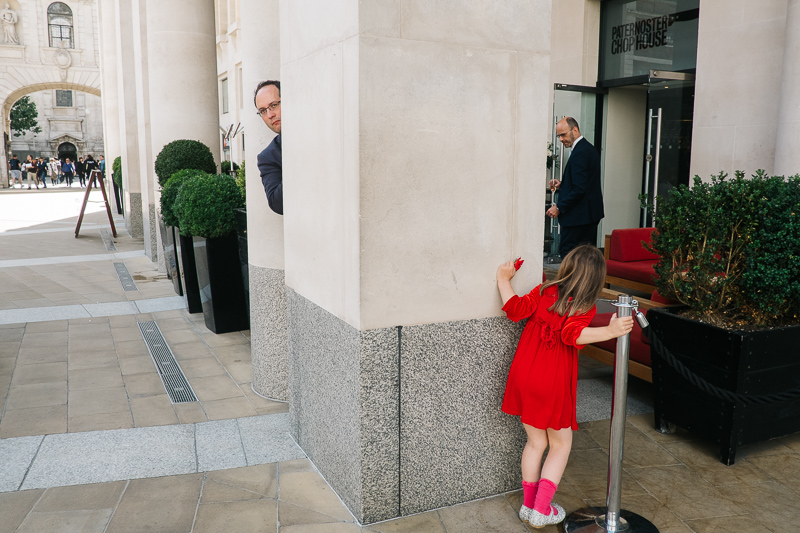 I hope this guide can at least help you scratch the surface of all that London contains. So grab your camera and capture all that London has to offer for Street Photography!
If you still have any questions about shooting in Hyderabad, feel free to comment below or email me!
(I want to make these guides as valuable as possible for all of you so add any ideas on improvements, including addition requests, in the comment section!)
(A New Guide Posted Every Other Wednesday)