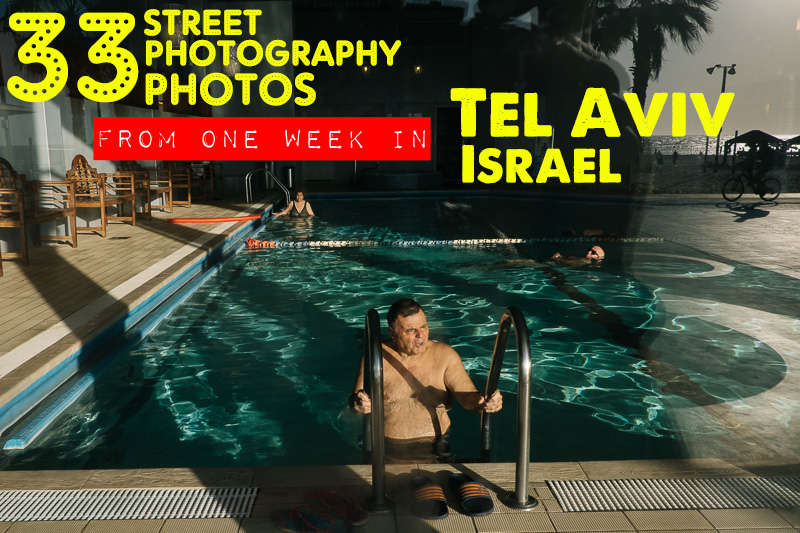 After Odessa, came City #40 Tel Aviv, Israel during my 100 Cities Project. It was my first time in the country, but for this city I was fortunate to have friend and local photographer Gabi ben Avraham there to help welcome me and show me around. This vibrant cosmopolitan city on the sea is so full of life that it feels much bigger than it actually is. Its compact and densely filled variety of interest and influences make it a perfect city for walking with your camera too. And best of all, the sun loves to stay out and keep the city and beaches alive for street photography.
So here's 33 photos that I was able to capture during my time in Tel Aviv…
33 Street Photography Photos from Tel Aviv
1.
2.
3.
4.
5.
6.
7.
8.
9.
10.
11.
12.
13.
14.
15.
16.
17.
18.
19.
20.
21.

22.
23. 
24.
25.
26.
27.
Finishing with a few shots from Kapparot in Bnei Brak…
28.
29.
30.
31.
32.
33. 
For more info on Tel Aviv, be sure to check out my first impressions from a street photographer's perspective. And stay tuned for one of my City Street Photography Guides to Tel Aviv. 
Have you photographed Tel Aviv before or do you plan on it someday? Let me know about it in the comments below!
And let me know which photos you like best too!