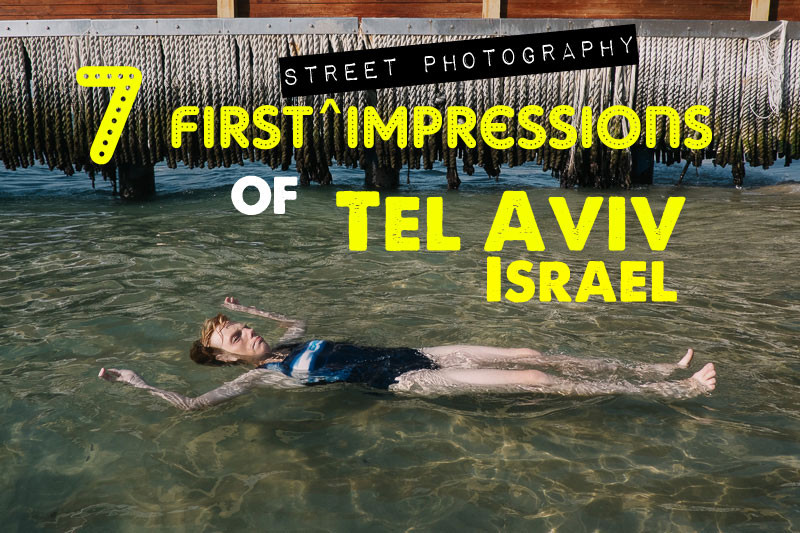 After spending some time in Odessa, Ukraine, I took a quick flight to Tel Aviv, Israel for City #40 during my 100 City Project.
Tel Aviv is Israel's modern cosmopolitan city on the sea. Lined with beaches full of life, packed with a vibrant urban center and topped off with the historic port of Jaffa, there's a lot going on here for a city well under a million people. Life is lived under the sun, but doesn't stop at sunset in Tel Aviv, making it a city much different from the rest of the country. It's trendy and chic, but still possessing a mix of the past and future, with a vibrant multicultural feel throughout the city. It's a compact, intimate city making it great for walking and exploring with your camera too.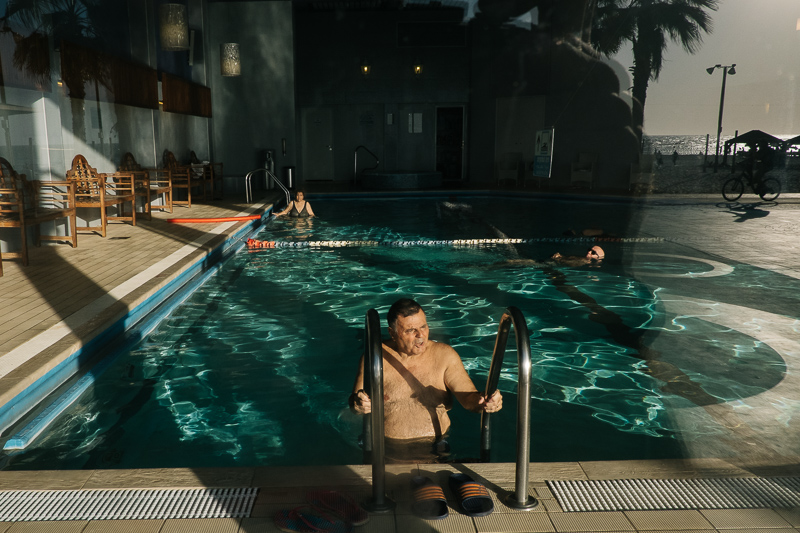 So here are my first impressions of Tel Aviv, from my personal Street Photographer perspective…
7 First Impressions of Tel Aviv
(From a Street Photography Perspective)
1. Beaches full of life
Tel Aviv supplies one of the longest, continually active beach walks you'll find for street photography in any city. From Old Jaffa to Tel Aviv Port, you'll walk through a variety of beaches, many with different vibes and characteristics. Some are made for sunbathing and peaceful relaxation, some are made for recreation and gym workouts, some are made for meeting others for socialization, some are made for food and drink, some are made for shopping, and a couple are even made for dogs, another noticeable part of the city. There's such a variety of beaches and life here that I can't think of another major city that compares.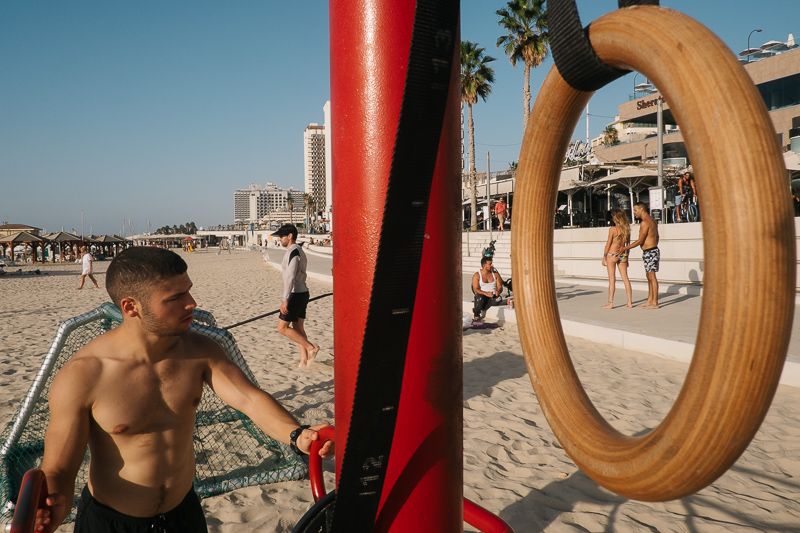 The beach lifestyle is as big a part of the city's culture as I've seen for a city its size. Golden Mediterranean beaches with an urban background. If you want a full day of shooting at the beach, Tel Aviv is perfect for it. Starting at Old Jaffa gives you plenty to see and capture, then just start walking north through a mix of beaches. If you make it all the way up to the Tel Aviv Port, you'll be greeted with a large wooden planked promenade with even more activity to capture with your camera. The beaches are definitely what I'll remember most about shooting in Tel Aviv.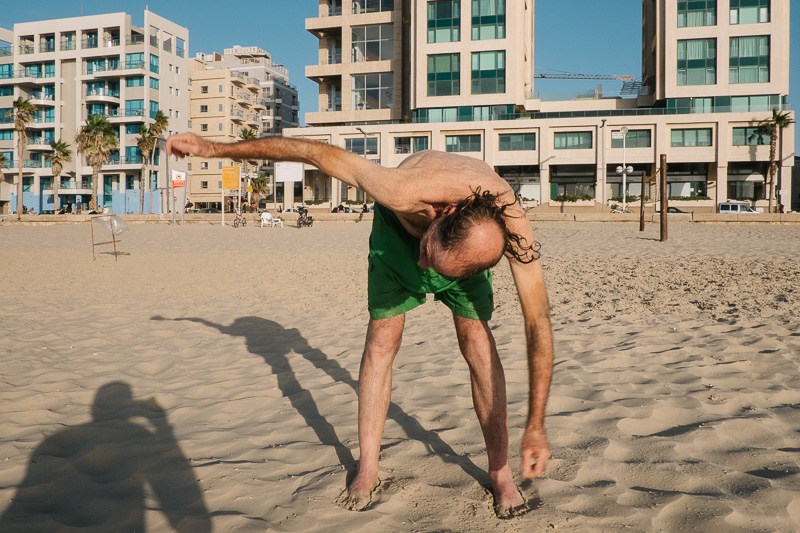 2. Holidays & Shabbat (Saturdays) change the city, but in Tel Aviv you still have the beach
Every Saturday, Shabbat closes much of the city down. Stores, shops, restaurants and markets close before sunset on Friday and leave the city very different through Saturday. Public transportation is also shut down and the streets become more quiet, but not quite to the degree you'd expect in the rest of Israel. For street photography, it's not a day to go to the markets, unless you want to capture the strange emptiness, but it is a day to go to the beach. Shabbat becomes a beach day for many locals so this is definitely a day I'd spend most of my time at the ports and walking the beaches with my camera. It gets crowded the whole way.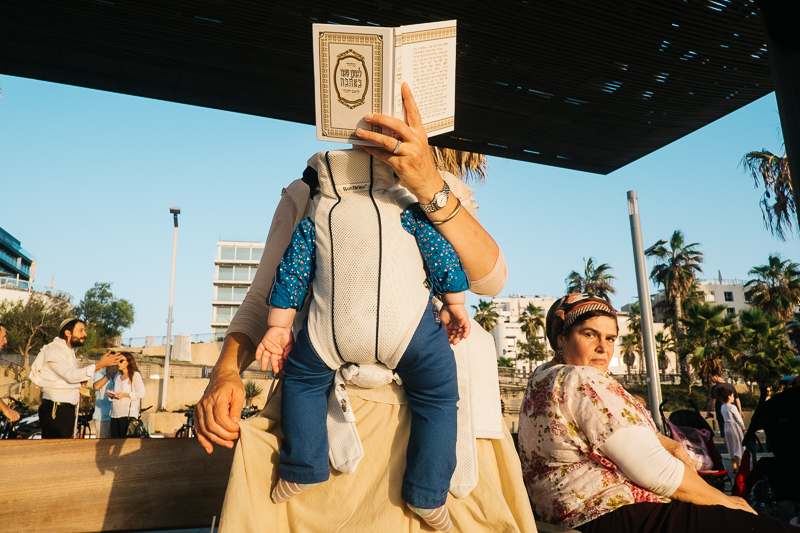 3. Much different, and newer, than the rest of Israel. 
Most major cities are different from the rest of the country, but the difference is much bigger in Tel Aviv. The religious aspect of Israel is still seen and felt, but nothing like outside of the city. It's a hip and bold cosmopolitan city. From the streets and beaches to the restaurants and nightlife, it feels young, creative and full of energy. The people love to have a good time here and it might surprise you how much the city likes to party and celebrate late into the night.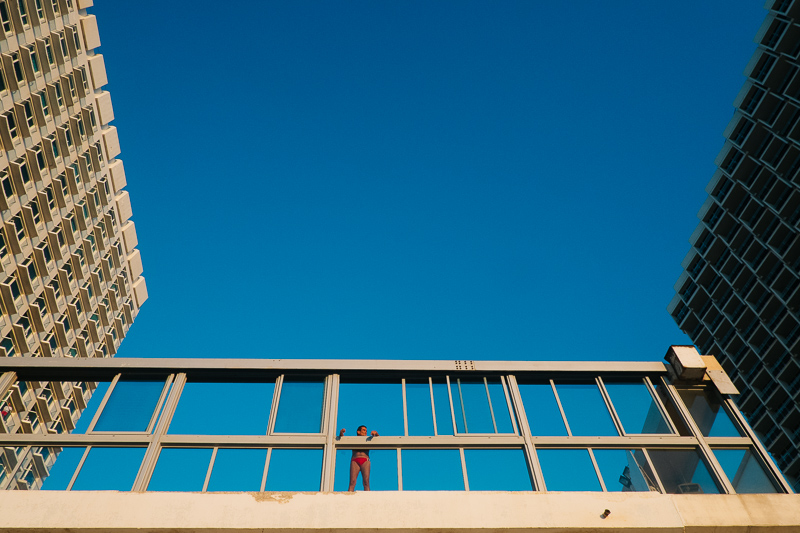 Compared to some of the oldest cities in the world close by, Tel Aviv is a young city, in age and at heart. You'll quickly see how new the city is comparatively, and how much it wants to keep growing and changing with all the construction cranes covering the skyline. If you want some of the older atmosphere, you do have Jaffa, the Old City and historical port that Tel Aviv grew out of. With old narrow streets, ancient architecture, street markets and decaying character right next to the modern Tel Aviv, it makes the difference of the city stand out even more.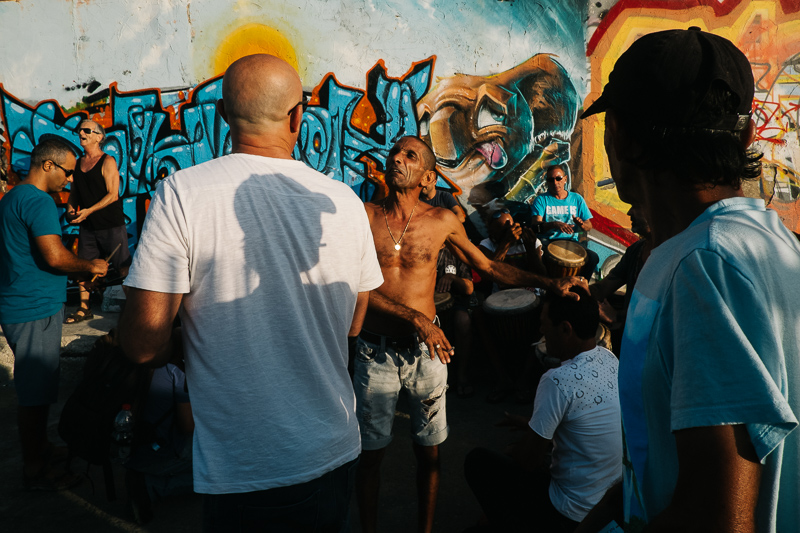 4. Lots of street photographers here for a city its size
At around 500,000 people, Tel Aviv is not the biggest city. Judging by the number of well-known street photographers here, you wouldn't be able to guess, though. With all these passionate street photographers combined with the smaller size of the city, you run into them constantly. Most hit up the same best spots and run into each other whenever they do their route. Some say it can be a problem when you get similar photos, but it also makes a strong community of street photographers here.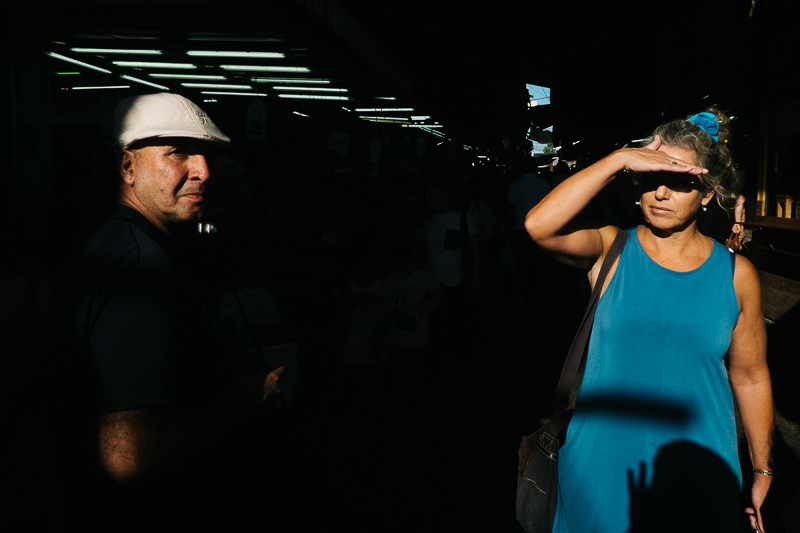 I met up with my friend Gabi Ben Avirham there, but unexpectedly ran into Barry Talis and Ilan Ben yehuda multiple times in just a week. I also randomly ran into Ilan Burla and got to meet Sagi Kortler, Felix Lupa and Ronen Berka through Gabi, among others. Bangkok has a lot of street photographers too, but I've yet to experience a city with more talent per capita than here, where you regularly run into each other to this degree.
5. Bnei Brak worth a visit
Bnei Brak is not only Israel's most densely populated city, it's also its only large city whose inhabitants are mainly ultra-Orthodox Jews. While it is a separate city, it's still in the metropolitan area so it's a quick ride away. Being the largest ultra-Orthodox Jewish center in the world, Bnei Brak is filled with this character and atmosphere. The religious influence gives it a unique charm too that will appeal to many for street photography. From the clothing stores to the cafes, everything is centered around the religion. Even more interesting is how the city is divided further into different Hasidic courts and communities, providing a further variety of character. With all the people and activity compacted here, Bnei Brak provides an ultra-Orthodox Jewish experience like no other in the world. Locals like to come shoot here too, but for a visitor, it's sure to be one of more interesting places to photograph around Tel Aviv. I'd highly recommend spending at least one day exploring its streets with your camera.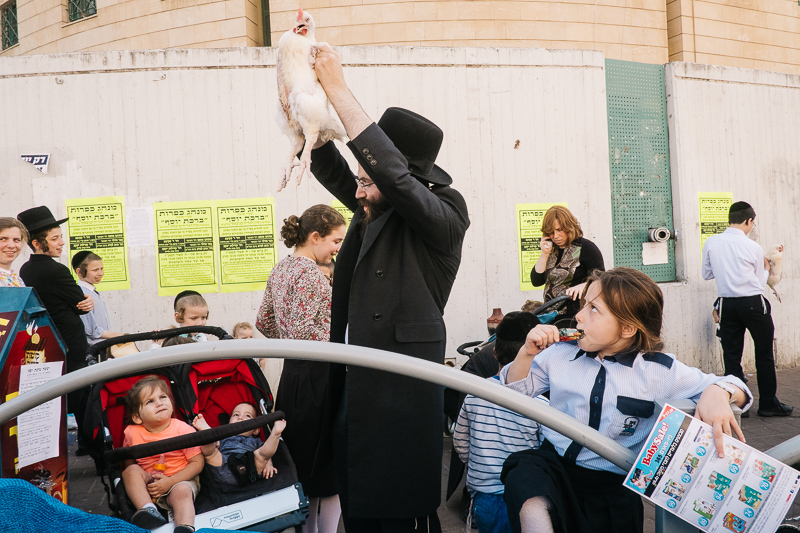 6. Great weather and bright light in a white city
One of the best reasons for a photographer to make a trip out to Tel Aviv is the weather. Especially if you live in Europe and summer has passed. The sunny beach weather continues through October here, while it's dark, cold and gray up north.
I was here at the end of October and all I saw was sun and clear skies. The beaches were always full of life and you never had to worry about light. If you're looking for a place to enjoy some photography in the off-season, this is a top place to go.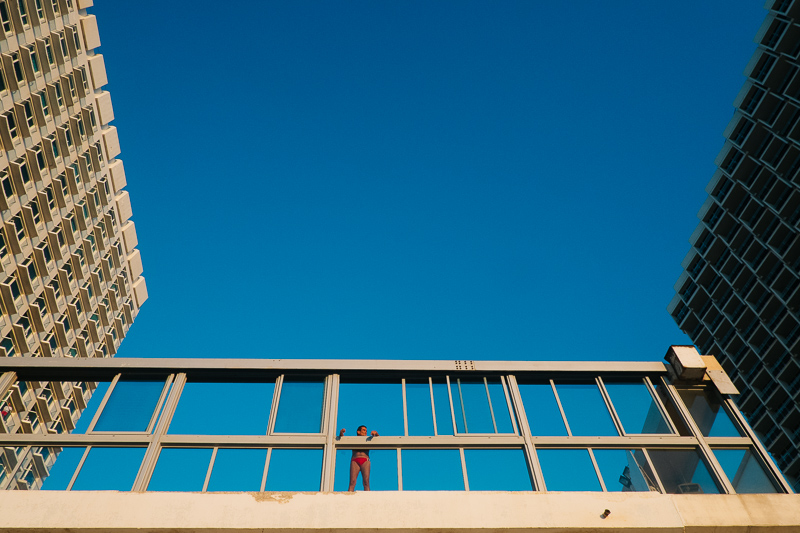 Speaking of the light, I will mention there's a lot of it and you do have to worry about its harshness sometimes. It was echoed by local photographers and I noticed it in many of my photos too. It's something to be aware of, not all bright light is equal. Tel Aviv is also known as the White City due to the color of all the buildings, which makes this bright light even brighter for photos.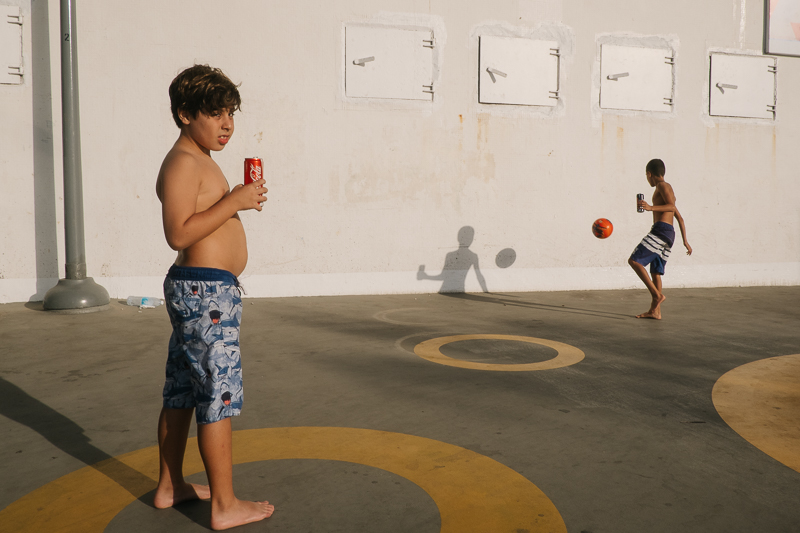 7. The Carmel Market is a hot spot for street photography
While walking the beaches is the other "go to" for street photographers in Tel Aviv, the Carmel Market is where you're almost guaranteed to see a few street photographers. I spent a lot of time with local street photographer Gabi ben Avraham when I was in Tel Aviv and this is definitely his favorite place to shoot in the city. If you look through his work, you'll find plenty of pictures from here, but he's not the only local shooting here. They all do.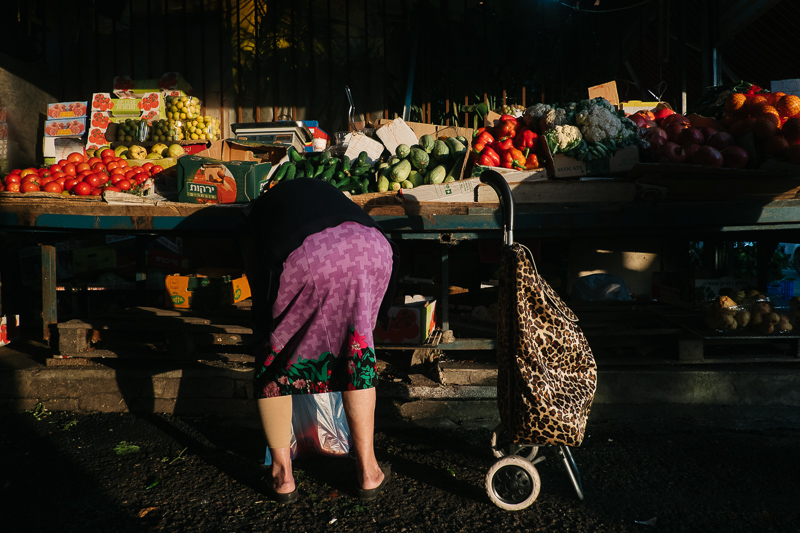 So why do they love it so much for street photography? First, it's the largest fruit and vegetable market in Tel Aviv, but also sells a variety of meats and other food, flowers, accessories, and more. Second, unless it's Shabbat or a holiday, it's guaranteed activity with crowds of people. Third, there's the popular Magen David Square and busy Allenby Street in front. And Fourth, the sunlight comes down into the alleys of the market creating great contrast for highlight and shadow shots. The location is also perfect, right in the middle of it all and within a few blocks of the beach, where you can walk to finish off the day shooting at sunset. If you're in Tel Aviv, it's a must stop.
Modern Vibrance in Israel
With Carmel Market at the center and the beaches from Tel Aviv Port to Jaffa Port, Tel Aviv gives you a nice triangle packed with interest for walking the city. Here, you'll find the bright sun shining on the white city where people love to live life outdoors, creating a very vibrant cosmopolitan city in Israel well worth a visit. Especially with your camera.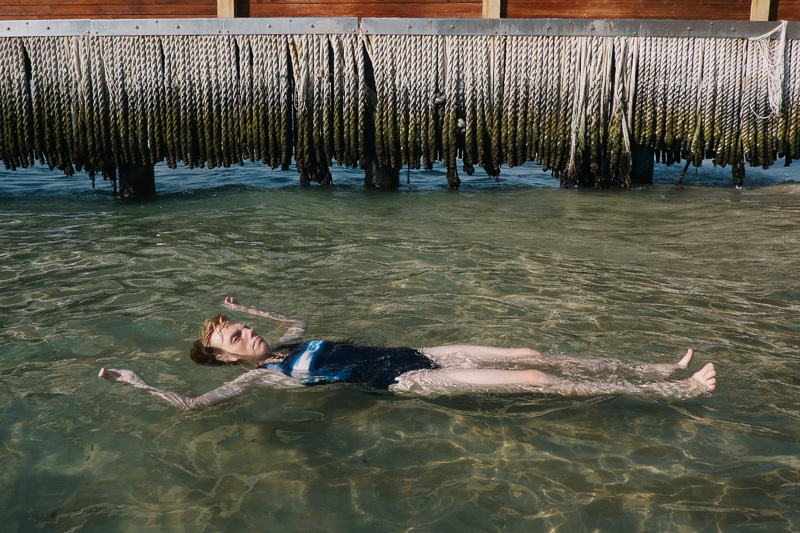 If any of you have been to Tel Aviv before, tell me about your experience and impressions of the city and country in the comments below! And stay tuned for more on Tel Aviv, including some of the best Street Photography shots I captured while there.
Click Here for More First Impressions on Cities Around the World 
(from a street photographer's perspective)