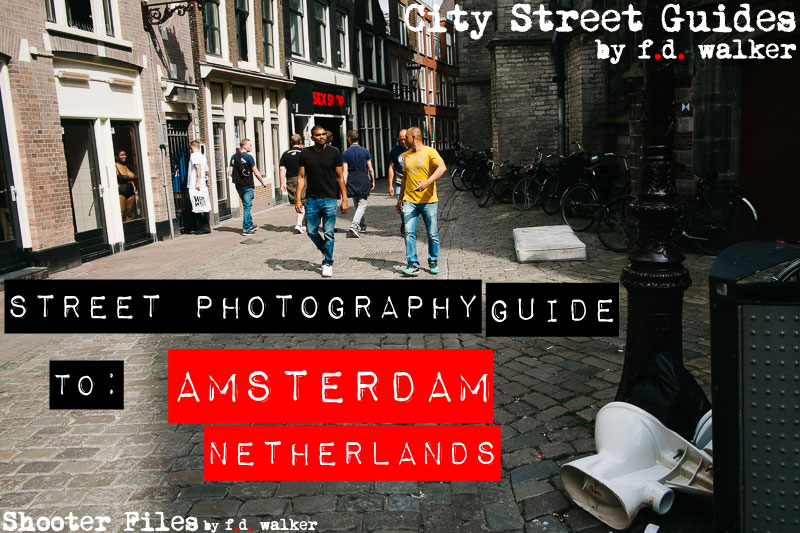 *A series of guides on shooting Street Photography in cities around the world. Find the best spots to shoot, things to capture, street walks, street tips, safety concerns, and more for cities around the world. I have personally researched, explored and shot Street Photography in every city that I create a guide for. So you can be ready to capture the streets as soon as you step outside with your camera!
Amsterdam
Overview:
Amsterdam is very famous for a few things, but there are two very different sides and experiences to the city, depending on how you want to enjoy it. And capture it. There's the crazy, anything goes side it's famous for with the red light district, coffee shops and partying, making it Europe's top spot for a quick and sinful getaway. Yet, there's also a very scenic, calm and beautiful side to the city. Canals, bridges, boats, bicycles, flowers, charming seventeenth-century homes and even plenty of quiet.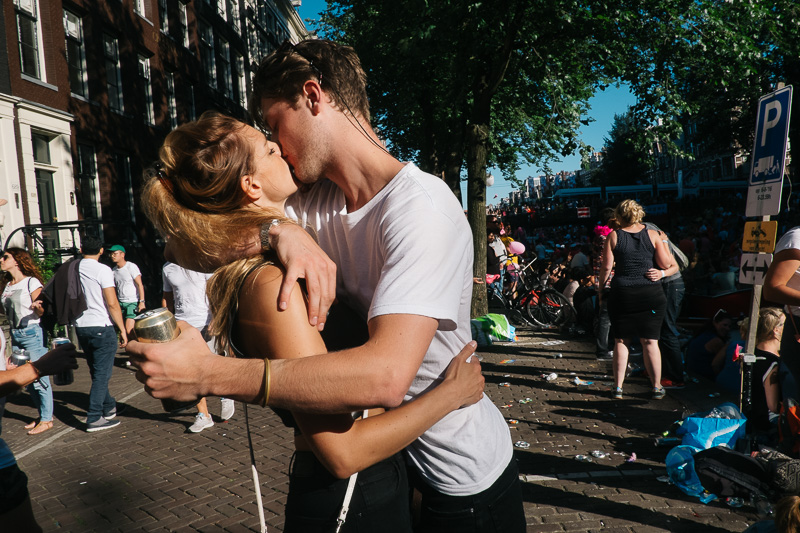 For street photography, this means you can experience and capture a diverse mix of characteristics, or you can experience them separately. Either way, Amsterdam is one of the more unique cities and makes for a great city to walk around with your camera.
So here's a Street Photography guide so you can be ready to capture all that Amsterdam has to offer before you even arrive!
Map:
Dam Square
Amsterdam Centraal
Jordaan
Redlight District
Albert Cuypmarkt
Bonus: Ijhallen Flea Market
Top 5 Street Spots:
1. Dam Square
Undoubtedly, Dam Square is the most known and visited square in the city. It lies in the heart of the historical center and links with many of its popular streets. The large, rectangular square fills with tourists, locals, pigeons, food stalls, street performers and sometimes small events. It's surrounded by cafes, restaurants and shops that attract more activity, while the Royal Palace brings even more tourists. There's always something going on here, but with a busy, yet relaxed vibe that harkens back to its Dam Square hippies days.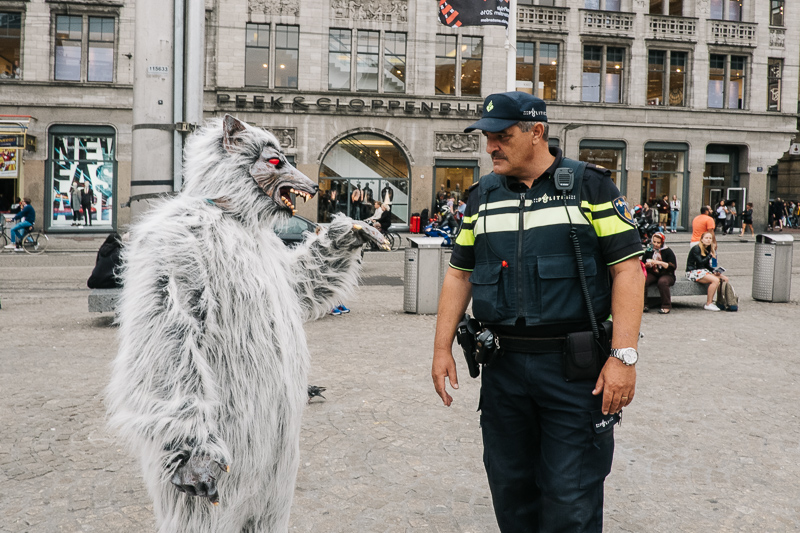 From here you can head in several directions for more street photography, including the pedestrian shopping street Kalverstraat or Damrak, which takes you to Central Station…
2. Amsterdam Centraal
Not only is Amsterdam Central Station used by more than 250,000 passengers each day, it's also the most visited national heritage site of the Netherlands. Amsterdam's main railway station is one of the more visually impressive buildings in Amsterdam and opens up to the city unlike many other stations in the world do. The long, open front fills with people coming, going or just hanging out. From there, you have the canals and whole city center in your path. Go left and find the Red Light District, head straight and walk the busy Damrak street towards Dam Square, or head right and explore the beautifully busy canals of Jordaan. 
Centraal Station is the entrance to the center of Amsterdam and worth some time with your camera observing all the activity it gathers before you head out to capture the rest of the city.
3. Jordaan
This popular neighborhood of canals used to be for the working-class, but today is one of the more expensive and sought after sections of Amsterdam. Jordaan is also a popular area for visitors to explore while enjoying its beautiful canals, art galleries, shops, restaurants, and bars. You'll find other attractions here bringing activity, like the Anne Frank House and multiple markets, including Noordermarkt. It's a very scenic area and makes a prime section to enjoy walking the canals with your camera. While parts get crowded with activity, you can also find quieter sections where many tourists don't go, but are just as appealing, specifically in the south.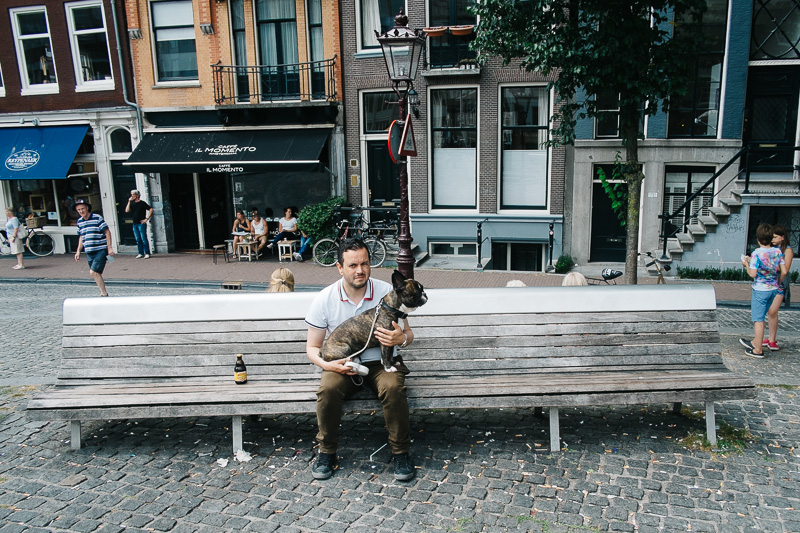 The maze of streets and canals provide as much beauty as you'll find, with courtyards, flowers, bridges, boats, old-fashioned homes and more. There's a real peaceful atmosphere here for strolling that makes it stand out, along with a vibrant and artistic vibe. It's a good spot to bring your camera and just get lost for a few hours.
4. Redlight District (De Wallen)
You've probably heard all about the red light district, but what's it really like in person? In many ways, it's the most touristic and tame red light district around. For most, it's an attraction more than anything. A walk-and-see spectacle to experience with tourist shops, coffee shops and food spots along the way.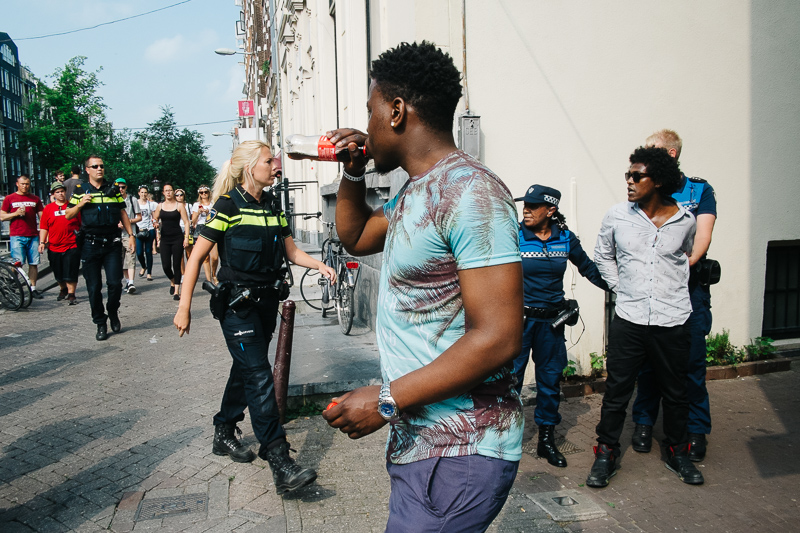 So while yes you do see barely clothed women in windows beckoning you for 15 minutes of their time, there's not an ounce of danger and only a small amount of seediness felt. The canals and signature buildings look similar and the streets are filled with tourists of all types just like the rest of the center. You might not even know you're in the red light district until you see a woman in the window, or the many tourist sex shops. And funny enough, the famous 14th-century Oude Kerk (Old Church) is the center of the red light action. Saying all that, it's still unlike any place in the world and worth some exploration with your camera.
As for taking photos, obviously be careful when walking any of the prostitute lined alleys. Unless you want to get yelled at, or worse. But other than pointing your camera at a woman, you're free to capture the unique atmosphere and activity as much you'd like. Plenty of tourists will be doing the same, but the mix of bachelor parties and other life filling this district can make for some interesting photos that scream Amsterdam.
5. Albert Cuypmarkt
The Albert Cuypmarkt is the busiest market in the Netherlands and one of the largest daytime markets in Europe. It's also a popular tourist attraction that fills the street with crowds the whole length, especially when the weather is good. This street market has been going for over a century, now lined with over 300 hundred stalls selling everything from produce, fish and spices to clothing, electronics and souvenirs. It's also popular for food stands selling Dutch items like freshly made stroopwafels or raw herring.
It does feel touristy, but there's a laid back vibe to the crowds. The street is lined with classic Dutch homes and gives a multicultural atmosphere with some of the items sold catering to immigrants in the De Pijp district. The surrounding area is lively too with cafes, bars and shops. If you like street markets for street photography, this is a must when in Amsterdam. Albert Cuypmarkt is open six days a week, with the weekend being the busiest.
Bonus: Ijhallen Flea Market
While only held one weekend a month, the IJ-Hallen Vlooienmarkt flea market is said to be the largest flea market in Europe. So if you're here when it's on, it's more than the worth the very short, and free, ferry trip from Central Station. The flea market itself does have an entrance fee of 5 euros, but once in, you'll have endless hours of exploration in a very interesting atmosphere. There's over a thousand stalls set up across the NDSM Amsterdam ship wharf. Anything and everything is sold here, with anyone and everyone coming from all over to see what they can find. The old ship wharf provides some interesting terrain and scenery itself so you have a very unique mix of life and atmosphere for a flea market.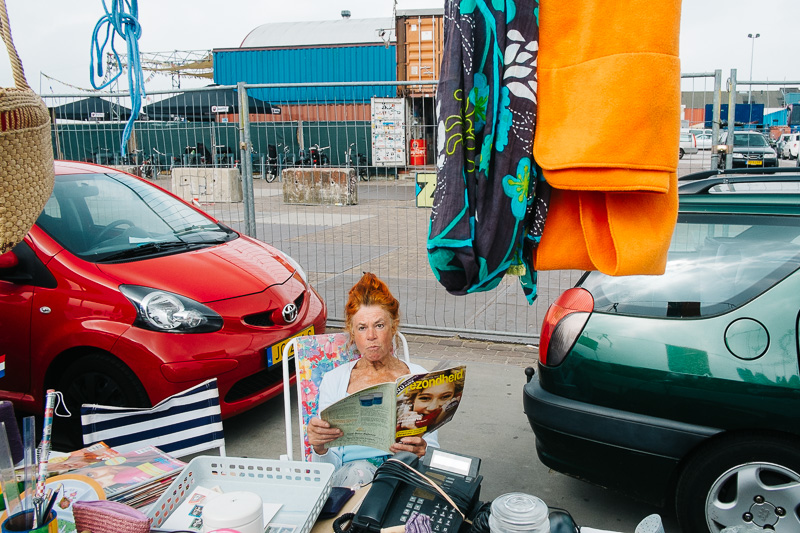 When here, I also recommend walking just outside of the flea market to Noorderlicht Café. This quirky industrial hangout attracts hipsters and hippies hula hooping in the grass and enjoying the unique outside set up. If the sun is out, it's sure to fill with plenty of characters. So if you're lucky enough to be here when it's on, you have to get up early make it out for at least a half-day of shooting in an atmosphere that takes you away from the city center and provides something unlike you'll find anywhere else.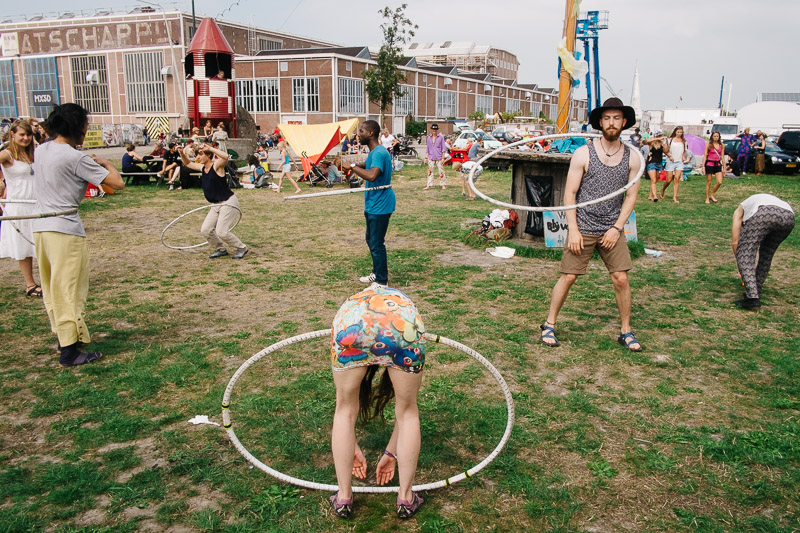 Sample Street Walk:
For a full day of Street Photography, covering some of the best spots, you can follow this sample street walk for Amsterdam:
Start your morning getting off at Amsterdam Centraal (2) and walking the area with your camera
Head southeast exploring De Wallen (4) for some more street photography, while being aware of the red light streets
Then head west over to Dam Square (1) to spend some time there before also checking out Kalverstraat
Now, keep walking east until you get to Jordaan (3) and slowly explore the canals and street
While walking southeast along the edge of Jordaan you can then make your way to Albert Cuypmarkt (5) for more street photography
Finish your day heading back north towards Amsterdam Centraal (1), while stopping in any parks or areas from earlier in the day to see a change of atmosphere as the day gets later
4 Things I'll Remember about Amsterdam:
1. Bikes & Boats
Amsterdam is known for a lot of things, and bicycles is one of them. This shouldn't come as a surprise, but the degree to how much bicycles own this city is only really felt once you're walking its streets. There are over 800,000 bicycles in Amsterdam, more bikes than people. Bicycles are everywhere and almost impossible to not include in a photo. Locked up on the street or flying by you, they're everywhere you look. While they can add to the character, you do have to watch out for capturing the cliché. Either way, cycling is a way of life in Amsterdam and a large part of its atmosphere.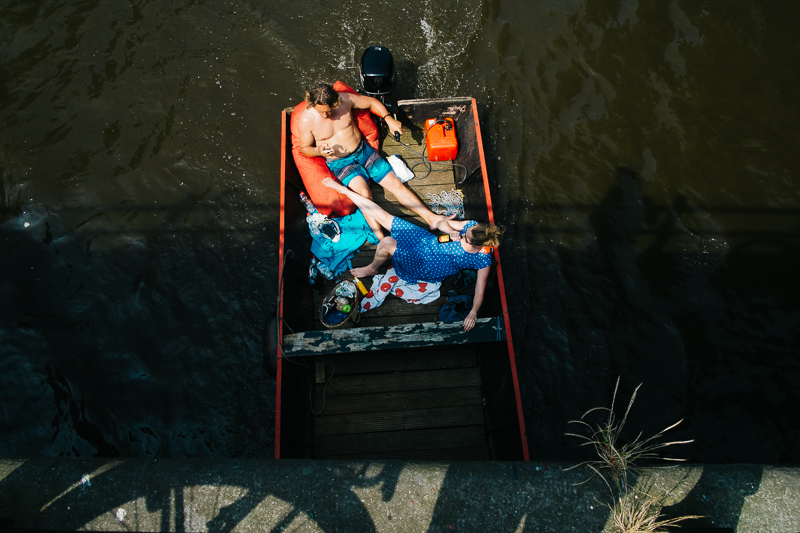 Another mode of transportation that adds to Amsterdam's atmosphere are boats. They line the endless canals in all shapes, sizes and color. Most are made of wood, which similar to the bicycles, gives them more character. Since many of them have rooms and decks they become prime spots for owners, family and friends to enjoy without even untying from the shore. Walking around Amsterdam, there's two things you'll notice as much as anything, and that's bikes and boats.
2. Canals & Bridges
Walking around Amsterdam, you're bound to get lost in the canals. And that's ok. While the canals can help you navigate just like streets, it can get confusing in some areas. At the same time, you can't get too lost so it's best to just enjoy exploring this unique atmosphere without worry.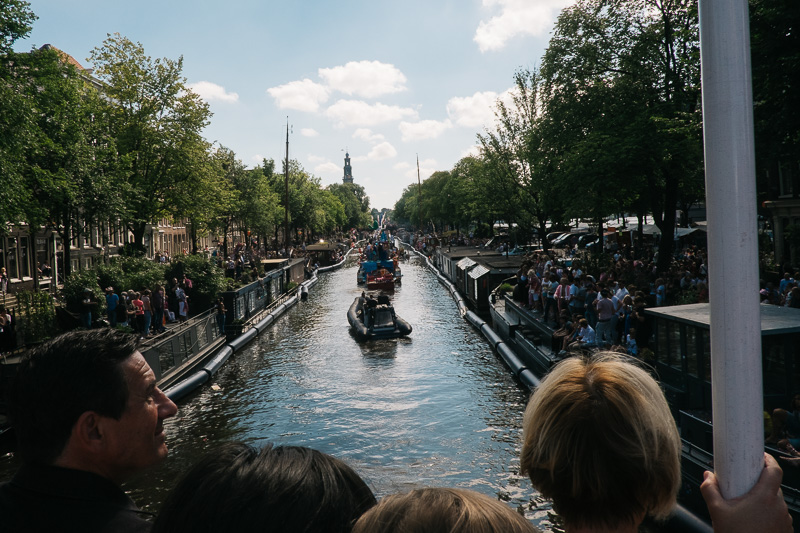 Some canals are active, some are quiet. Jordaan is a picturesque area with a mixture of both. I'd recommend spending time exploring here, but really most of the city is worth your time on foot. Below are some of the canals that I feel stand out for walking around with your camera.
Main large canals:
Herengracht
Keizersgracht
Prinsengracht
7 Smaller recommended canals:
Reguliersgracht
Brouwersgracht
Bloemgracht
Groenburgwal
Leliegracht
Spiegelgracht
Leidsegracht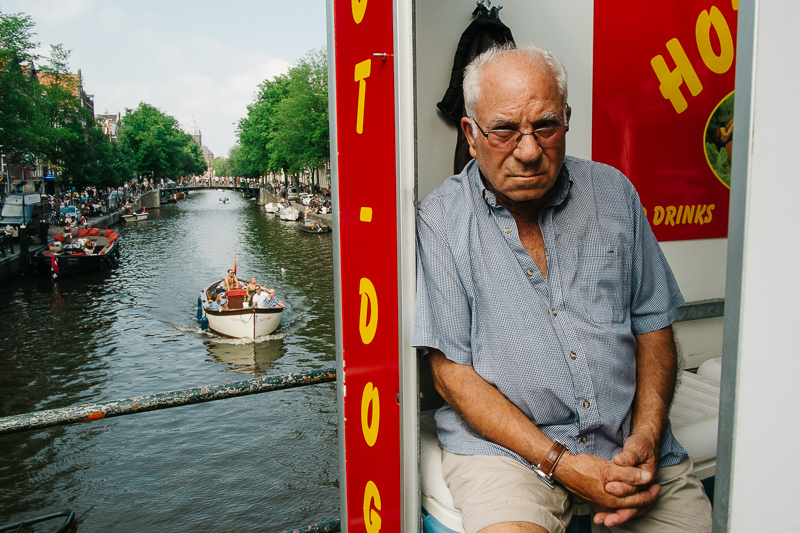 3. Not Just Pot, Parties and Prostitution
Tell someone you're going to Amsterdam and many times those 3 P's are what come to mind first. But while it's rightfully famous for that, there's a very different side to the city too. If you're not here to get crazy, Amsterdam can also be a very peaceful, picturesque and relaxing city.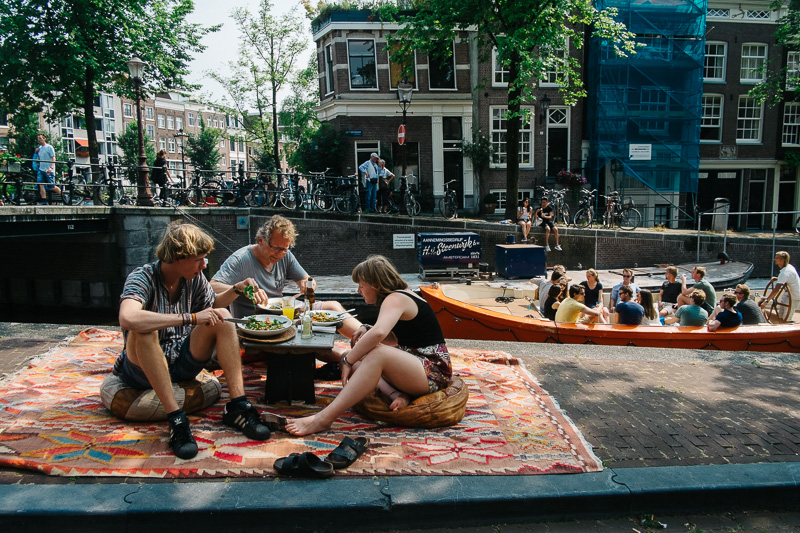 The canals, boats, flowers, parks, skinny historic buildings, markets, churches and many museums all provide a city with the opposite type of experience from what it's known for by many. And this can definitely cross over to your street photography. Capture it in different ways.
4. But it Still Has What it's Famous For
People come to Amsterdam to party. While there's plenty to appeal to non-partiers, as mentioned before, this is the prime reason that many make the trip here for. Groups of friends come out here to take advantage of the openness that Amsterdam has to offer for fun. The coffee shops draw a large portion of this crowd, but there's plenty of bars and the red light district for more fun too. And when it comes to Bachelor and Bachelorette Parties, this is the Las Vegas of Europe. You'll see countless groups of men and women dressed in the attire you'd expect, especially on the weekends.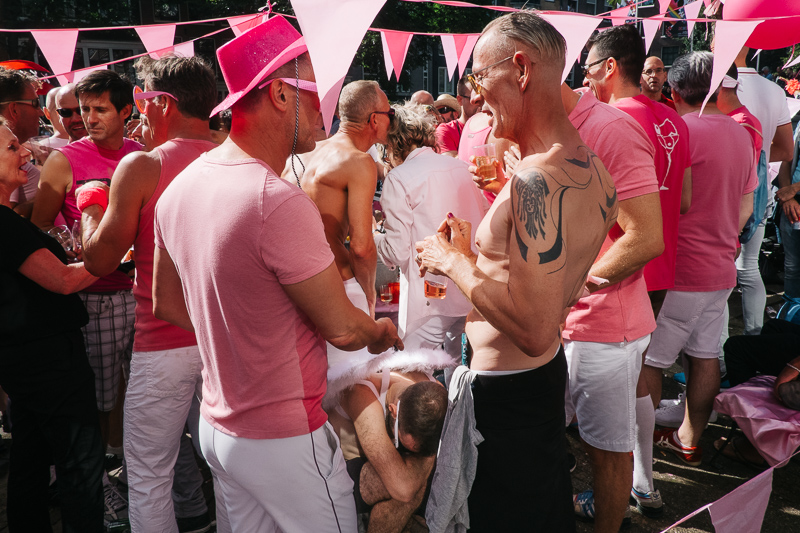 What To Do For a Street Photography Break?:
It's Amsterdam, I'll let you decide how you want to break 
Amsterdam gives you plenty of options for taking a break when out shooting. It all depends on what you're looking for. If you want to drink, there are pubs everywhere. If you want to relax, grab something to eat and have a picnic on the canal or park. If you want to get crazy, well you don't need me to tell you what to do. You're in Amsterdam.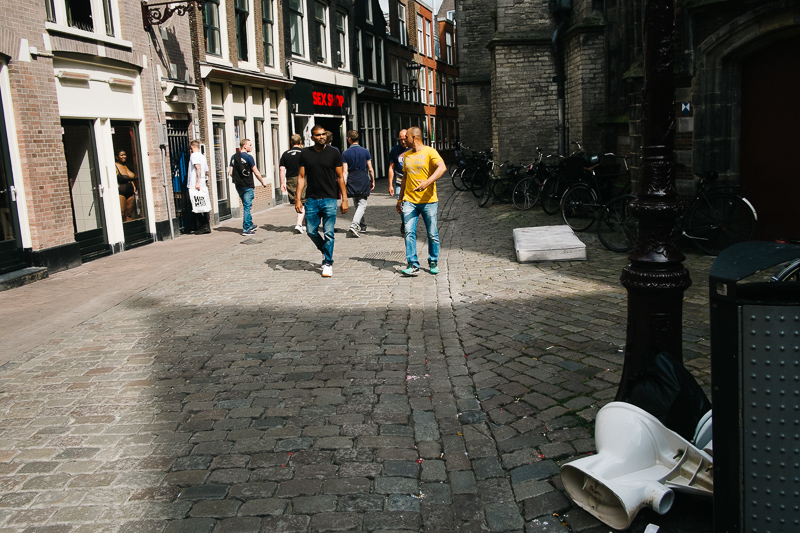 For specific food to try in Amsterdam, you'll see people eating cones filled with fries and topped with warm mayonnaise. Not my thing, but people love them. You also have the many waffle shops and Amsterdam's traditional fast food, the croquet. It's not the healthiest place to eat, but you'll find snacks everywhere.
Street Safety Score: 8
*As always, no place is completely safe! So when I talk about safety, I'm speaking in general comparison to other places. Always take precaution, be smart, observe your surroundings and trust your instincts anywhere you go!
Exploring and strolling the canal lined streets of Amsterdam rarely feels unsafe. In 2015's Safe City Index, Amsterdam actually came out as the 5th safest city in the world. For a big city, violent crime is nearly non-existent too. So while you might see some crazy partiers out on the streets, there's not much to worry about. That being said, it's still a tourist city so pick-pockets are out there. And not surprisingly, bike theft is the most common crime here so lock it up well if you decide to ride a bike for street photography.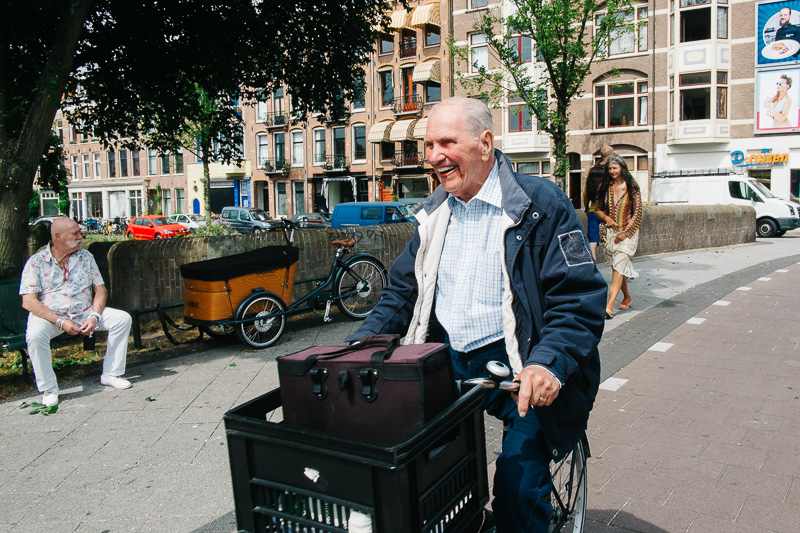 People's Reaction Score: 8
Amsterdam is filled with tourists and an anything goes freedom so street photography is pretty easy here when it comes to reactions. I've never had a problem here and you shouldn't, either. Saying that, people do come here to do things they might not want to be seen back home so there's always a chance someone might be displeased with it being captured.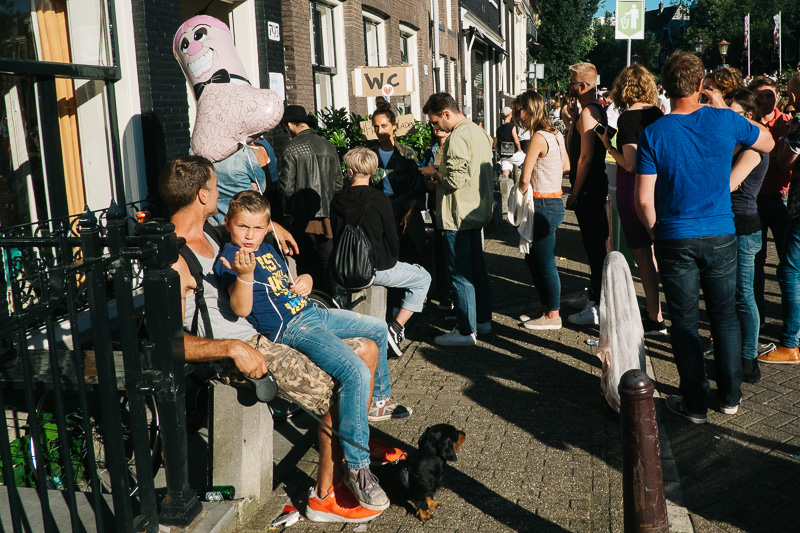 Street Tips:
Get Lost Along the Canals: But Be Aware of Interest with Mess
There's a lot of interesting things happening along the canals. Storefronts and cafes, bikes riding by, boats of people on the water, locals having picnics, tourists partying, and the list goes on. Sometimes the canals can be lined with people enjoying the sun, feet dangling over the water's edge. With all this activity comes an environment that can make putting it together a little messy, though.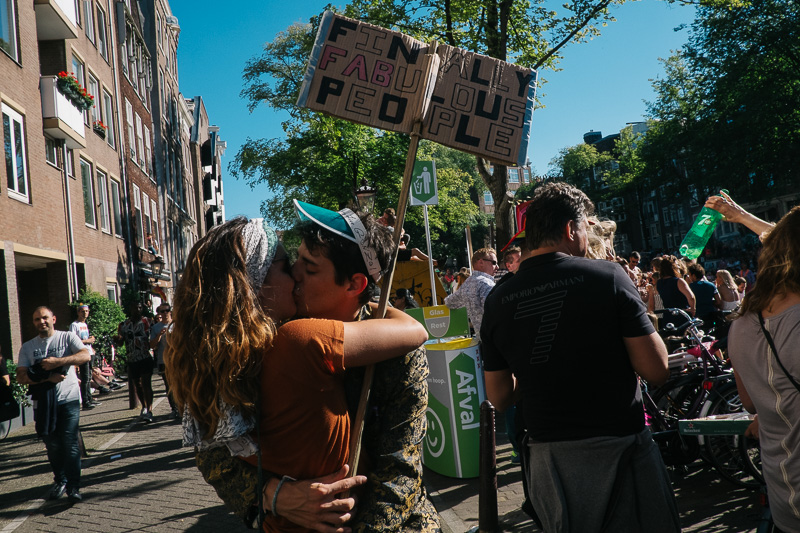 The waterways through the city make for narrow roads and cluttered space. And while it is a bike city, the vehicle traffic that attempts to get around can provide ugly delivery trucks and cars parked on the sides of canals and even bridges. With all the interest happening around you within a pleasing atmosphere, you might not notice the mess until you see the photo. The tall narrow building and trees lining the canal can take away light too, while the trees can also add even more to the clutter. So while there's plenty to shoot along the canal, be aware of the mess when composing before the shot.
Join the party with your camera
It's not only the visitors that know how to party. The locals have just as much fun. And then when there's a festival, you get a chaotic mix of it all. I've been in Amsterdam during their annual Gay Pride Parade, when Amsterdam gets its craziest. While these festivals and parades are celebrated all over the world, Amsterdam is well known for how they do it.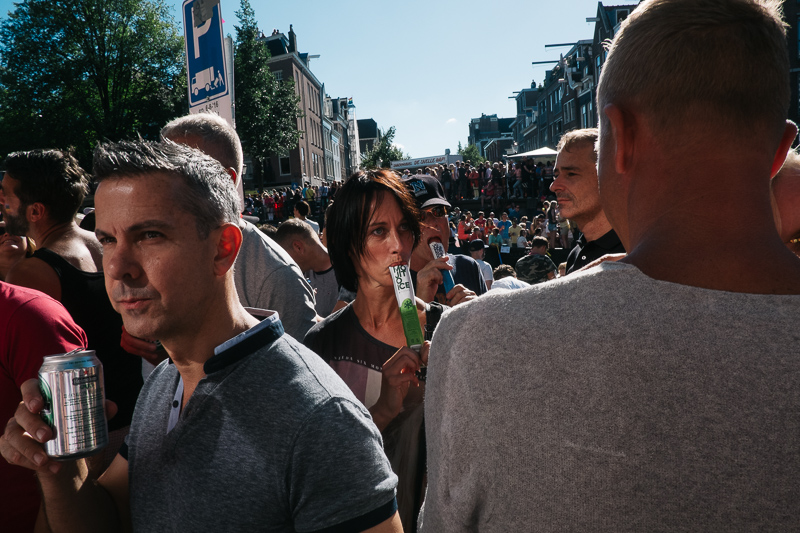 There are other festivals and parades, especially in the summer. So if you're here during that time, get out with your camera and join in with the people celebrating along the canals. Boats make for a popular party spot. Without even untying from the shore, people invite friends on board, extending the canal streets onto the water. It can make for a great atmosphere and if you're friendly, a welcoming one too.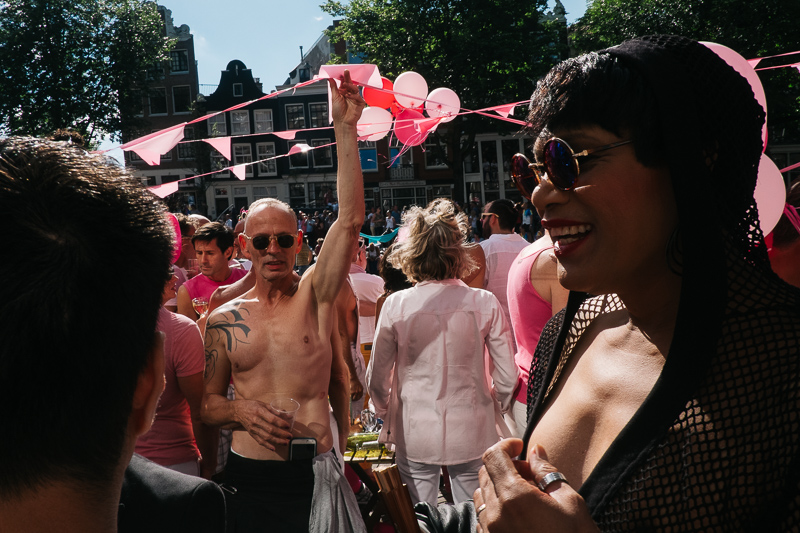 Amsterdam Transportation
Around the center, Amsterdam is made for walking and exploring the compact maze of streets, canals and activity. If you want to explore outside of this very busy center, though, you have a few options. First, you can always grab a bike like the locals. They make for an enjoyable experience discovering more of the city and you can stop and lock it up whenever you find a spot you like for street photography. After that, you have the metro and trolleys. For these, make sure to get an OV-chip smart card at one of the main stations, like Centraal. Once filled up, you can use the metro to get near many places, especially the further out you need to go, while the trolley can be useful more around the center. Grab a map and see where they all take you.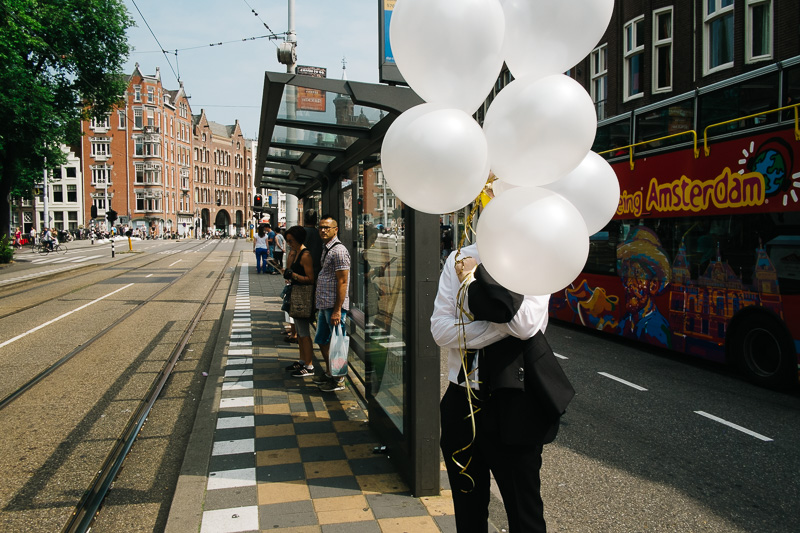 Inspiration:
For some more inspiration, you can look through the Street Photography of Amsterdam photographer Julie Hrudova and check out 33 of my photos taken in Amsterdam.
Conclusion:
Amsterdam is one of Europe's top short-break destinations for good reason. It has a lot to offer for fun, but it has plenty to offer for street photography too. It's a blend of many things for many people. And with your camera, you can get lost exploring the canals capturing it all.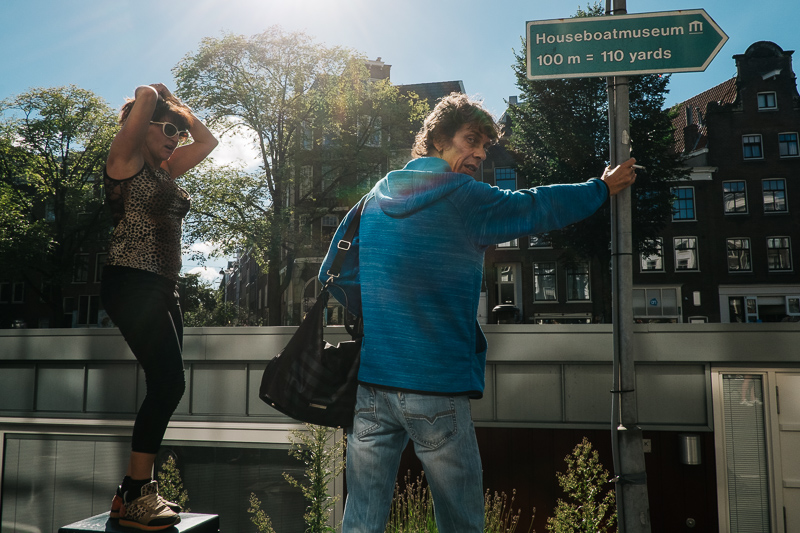 I hope this guide can help you go experience both sides of Amsterdam, the wild and the beautiful. So grab your camera and capture all that Amsterdam has to offer for Street Photography!
If you still have any questions about shooting in Amsterdam, feel free to comment below or email me!
(I want to make these guides as valuable as possible for all of you so add any ideas on improvements, including addition requests, in the comment section!)
(A New Guide Posted Every Other Wednesday)