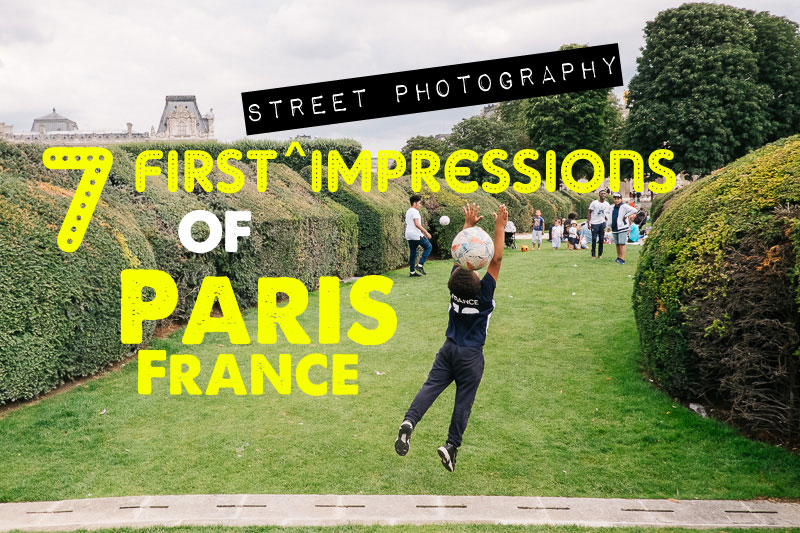 After a week in Amsterdam, next on the 100 city project list was a train down to Paris, France. After an easy 3 hour ride, I was in the middle of the most romanticized city of all. For many, Paris is the ultimate city. Full of beauty, history, culture, romance and style. For some, though, finding out that Paris isn't always the beautiful city they imagine can give different impressions. For me, I appreciate that edgier side of Paris mixed in with its famous atmosphere. It is touristy, crowded and as photographed as any city in the world, but all that Paris brings more than makes up for it. Long been a center for artists and writers, in addition to tourists, it draws people in for a reason and is a city everyone must visit, including photographers.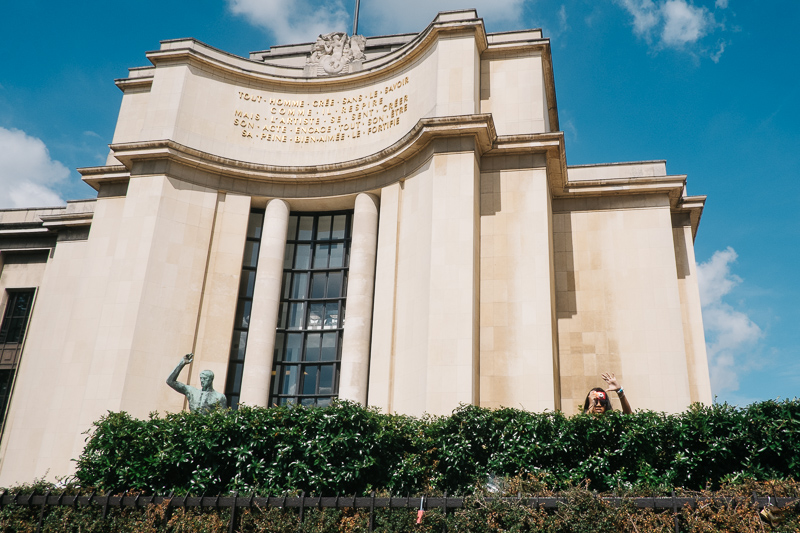 Paris is also considered the birthplace of street photography, conjuring the classic black & white street photos of the past. With so much timeless and recognizable scenery in the city, you do have to watch out for the cliché. But luckily, Paris is so rich visually with street photo opportunities that there's still plenty to capture. And beyond the romantic exterior, there's a different side to the city that provides even more opportunity for something different.
So here are my first impressions of Paris, from my personal Street Photographer perspective…
7 First Impressions of Paris
(From a Street Photography Perspective)
1. Big, spread out city, but still walkable
For how big and spread out it is, Paris is still a very walkable city. The metro system is one of the best in the world, with a high density of stations. This helps keep a range of spots in reach, while you can get out and walk each area. Also, since Paris' landscape is so flat, it makes long walks less noticeable. I normally walk a lot when out shooting, but in Paris, it's even more. Time and kilometers just seem to fly by.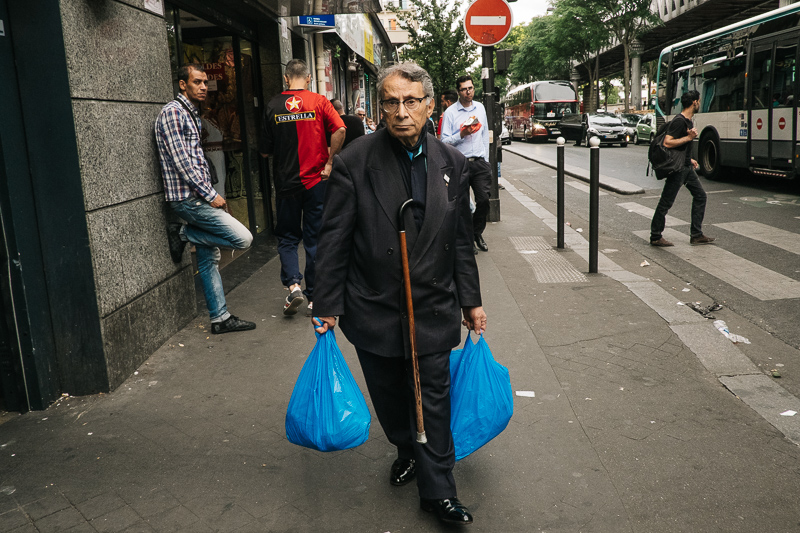 I would definitely bring a map or phone navigation, though, because it can be easy to get lost in Paris' labyrinth of never-ending narrow and winding streets. With all the sites and landmarks, map navigation is easy. And if you do get too off track, there's bound to be a metro station nearby.
2. The beautiful city center you've seen in photos and movies
Paris is the city credited by many as the birthplace of street photography. When thinking of the classic black and white street photos from the past, scenes of Paris come to mind first for many. It's the most romanticized city in the world with the architecture, parks, river, bridges and famous sites providing the backdrop Paris is famous for. In the center is where you'll really find this look, and streets like Rue de Rivoli are as classic as they come.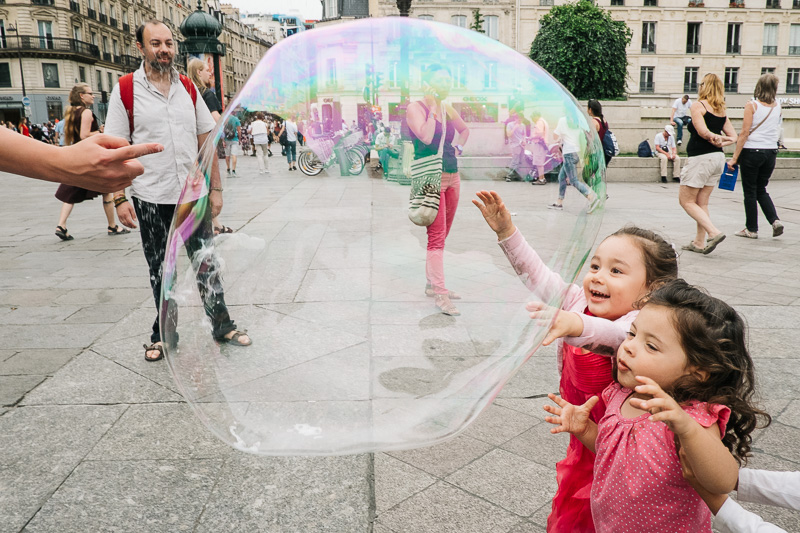 Being as photographed and romanticized as Paris is does come with its negatives. The cliché surrounds you, but there's still no where quite like the beautiful atmosphere of Paris' center. If you walk enough, the center is so rich and photogenic, that it's still one of the best places in the world for street photography. Everywhere you walk is stunning and impressive. And once night hits, Paris can become even more impressive, for many. It's a one of a kind place that deserves its hype.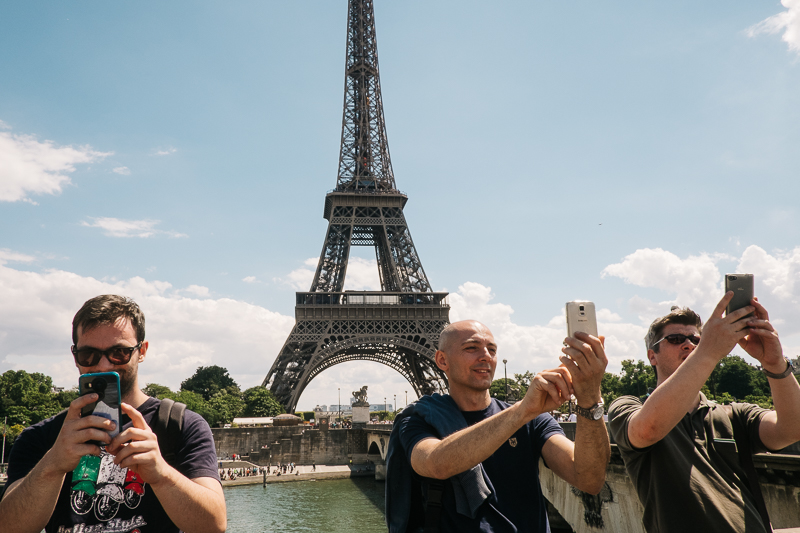 3. Not all of paris is romantic, but I like it
I'm attracted to the less polished sides of cities. Places with edge. Not necessarily pretty, but with character. I like the unpredictable and many times find them more authentic and interesting. Unfortunately, this can come with more danger too, but during the day it's worth it most times. For me at least.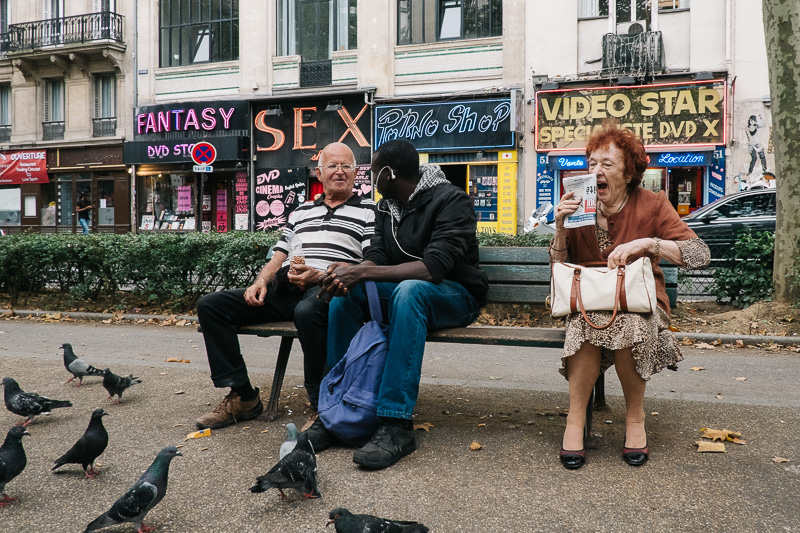 I bring this up because while Paris is universally known for its beauty and romance, it's not all like you imagine from the movies. It has a very edgy side too. A gritty not so pretty atmosphere that I happen to enjoy just as much as the fairy tale Paris. Especially for street photography.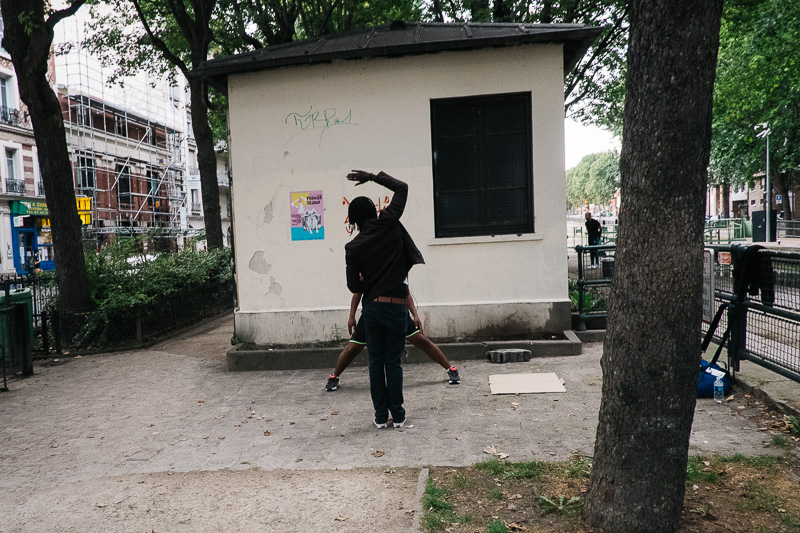 While some would tell you to be careful, you should be fine in these spots below during the day using common sense. Some are touristy with a roughness around the edges, but that roughness is getting rougher. For street photography they can be great, though.
Montmartre
Pigalle
Goutte d'Or district
Flandres
4. Canals lined with people
If the weather is nice out, head to Canal Saint-Martin before sunset. This narrow canal connects to the river Seine and winds up north away from the most touristy center. Not only does it give you a picturesque 19th century waterway with trees and foot bridges, it's also become a trendy district filled with restaurants, cafés and bars.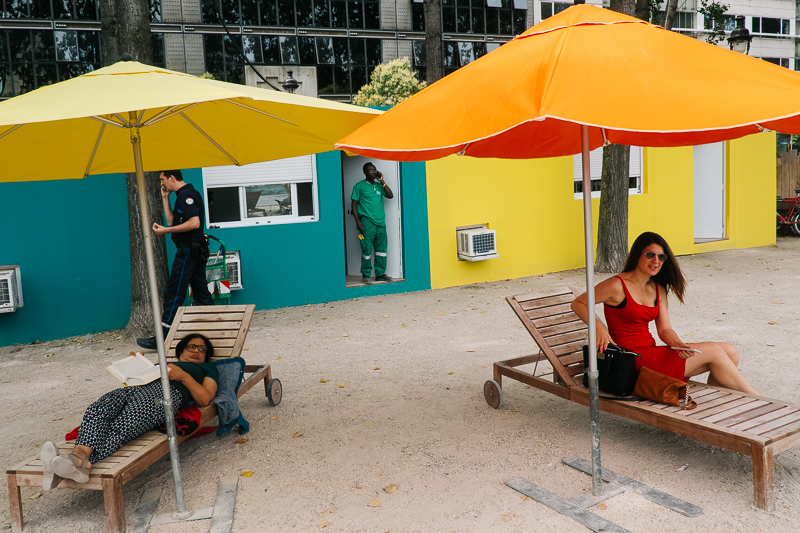 Along the canal, it can fill up with people picnicking and enjoying some drinks with friends. When it's busy, the shore is lined with feet dangling over edge the whole way. Complete with wine bottles and glasses. It's an enjoyable hot spot outside worth checking out with your camera later in the day, and night. It's a unique, fun atmosphere that makes me jealous I don't live here.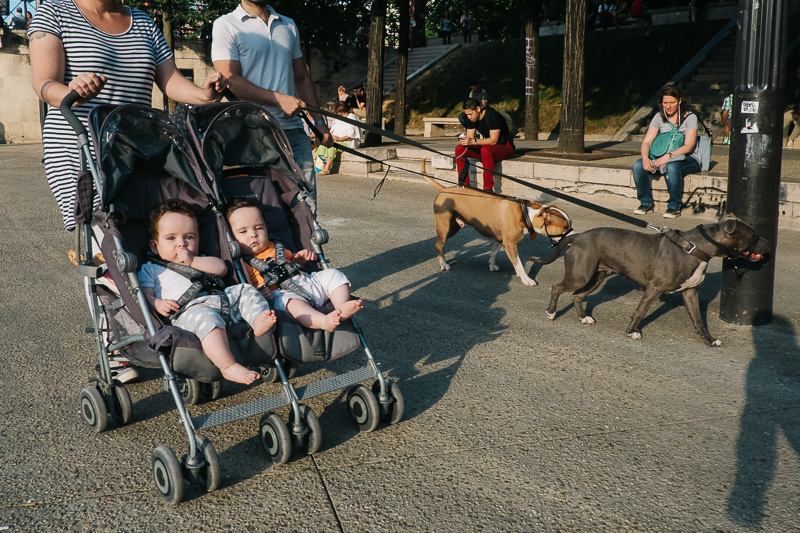 5. Parks are amazing, in a big way
Not only does Paris have a lot of parks, but many of them are gigantic, beautiful and full of life. The green grass, trimmed shrubs, statues and architecture mixed in make them a visual experience to explore, while the variety of activity can provide the scenes and juxtapositions to play with. All in a park big enough to spend hours in.
Three of my favorite parks for street photography would be:
Jardin des Tuileries
Jardin du Luxembourg
Jardin des Plantes
There are picturesque parks almost everywhere you go, but Jardin des Tuileries stands out for how impressive, long and packed with photo opportunities it is. The Tuileries Garden is Paris' oldest and largest public garden and goes on seemingly forever between the Louvre Museum and the Place de la Concorde. It was built in 1564 as the garden of the Tuileries Palace and feels that way, only now it has the giant ferris wheel and thousands of people everywhere. In the summer, it even has a fairground open, filled with rides.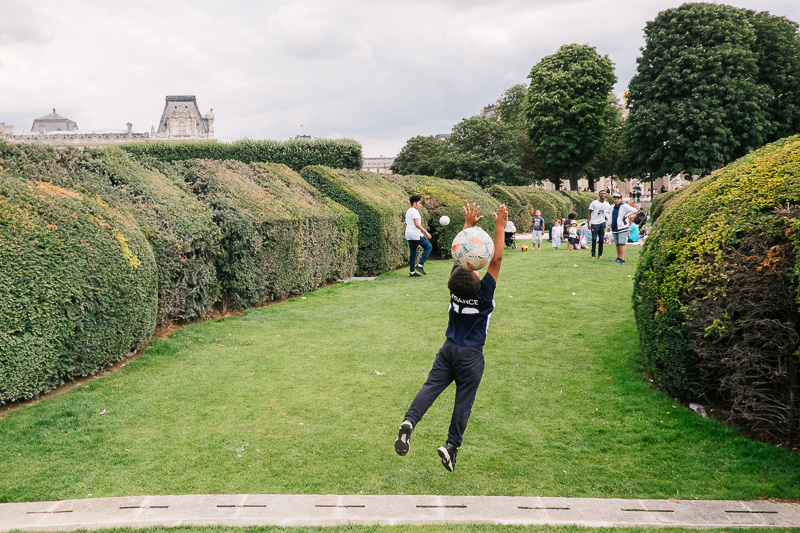 Many of the parks in Paris don't have benches, but instead have moveable metal chairs. so everyone can just pick them up and drag them to their perfect spot to relax or talk with friends. It's not a bad idea and can add to the scenes you're trying to capture.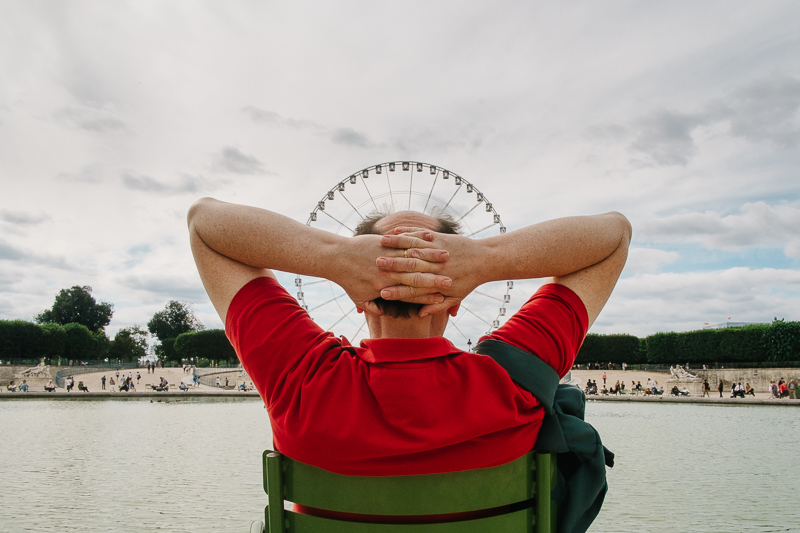 6. Parisian Style
Parisians are known for their style and the city is one of the fashion capitals of the world. When it comes to street photography, this translates into a city full of shopping streets and plenty of visual interest to capture from the people. The people are stylish, from the classic to the trendy. This style doesn't stop at the clothes, though, but extends to how they walk, talk, and smoke.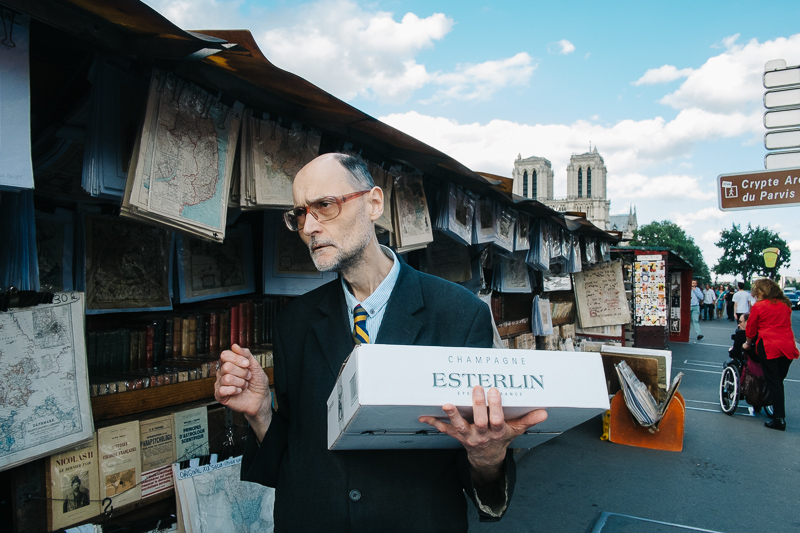 Comparing it to other cities around the world, only cities in Italy, and maybe Tokyo come close to all the style surrounding you in Paris. It's a vibe you can feel, see and capture with your camera. Paris does bring a reputation of arrogance too, but all I can say is I've personally never really felt it.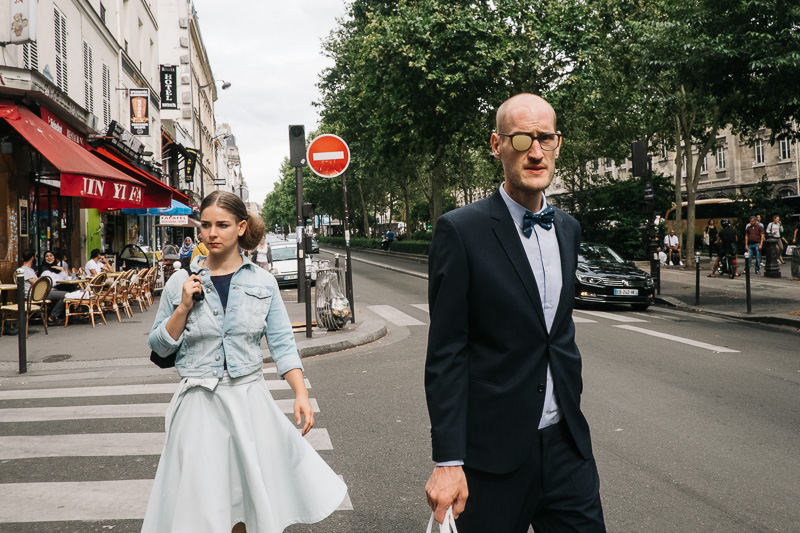 7. Plenty to explore and discover in different neighborhoods
Some cities give similar atmosphere throughout, while others provide a range of neighborhoods containing much different experiences. Cities like London, New York, Istanbul and Tokyo do the latter. And so does Paris.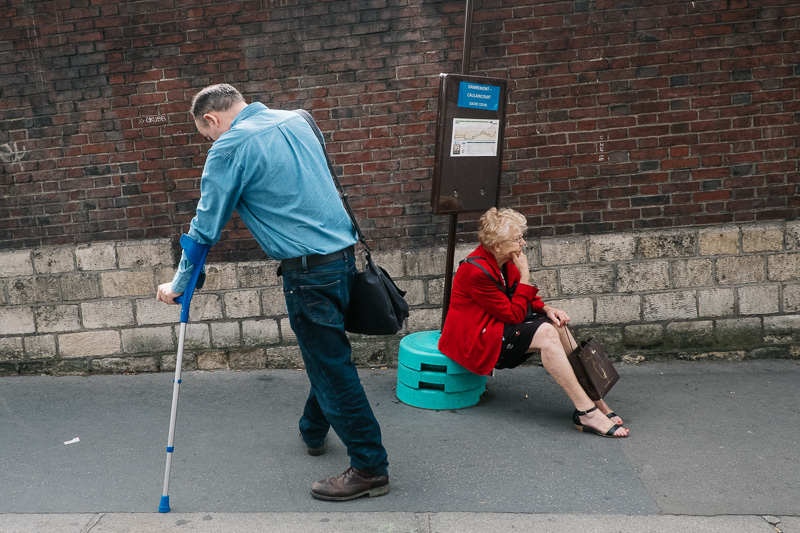 Paris is a large and impressive city, but there can be an intimacy to it too. The different neighborhoods have their own style and community. The different sights and character can be seen in the shops, cafes and architecture that come with an authentic feeling. By just exploring, you can discover so many unique areas and aspects of Paris hidden away.
Classic Paris with an edge
A magnet for artists and tourists alike, Paris is as classic as it gets. A glamorous, cosmopolitan metropolis. Most already know much of what Paris brings. It's been romanticized, photographed and etched into our minds as much as any city. But it still has to be experienced to get a real feel for it. And if you do make it here, you can find there's more to it than what you've seen in movies and photos. An edgier side, in addition to the beauty, that provides even more character for street photography.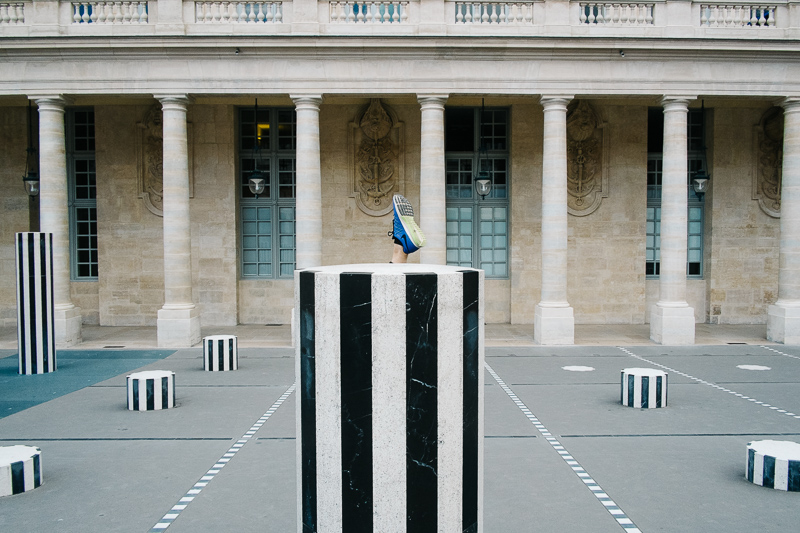 If any of you have been to Paris before, tell me about your experience and impressions of the city and country in the comments below! And stay tuned for more on Paris, including some of the best Street Photography shots I captured while there.
Click Here for More First Impressions on Cities Around the World 
(from a street photographer's perspective)