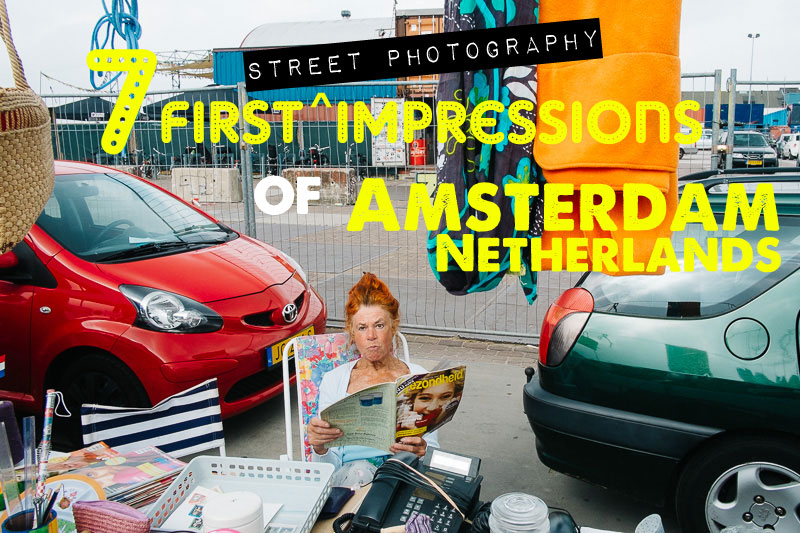 After passing through a couple of cities in Scandanavia, I took an overly complicated train ride down to Amsterdam, Netherlands from Copenhagen. It was a city I'd experienced many years ago, but never really with my camera. For me, Amsterdam has two very different sides and experiences depending how you want to enjoy it. There's the crazy, anything goes side it's famous for with the red light district, coffee shops and partying. Yet, there's also a very scenic, calm and beautiful side to the city. Canals, bridges, boats, bicycles, flowers, charming seventeenth-century homes and even plenty of quiet. You don't hear about this side as much as the other, but it's just as much there.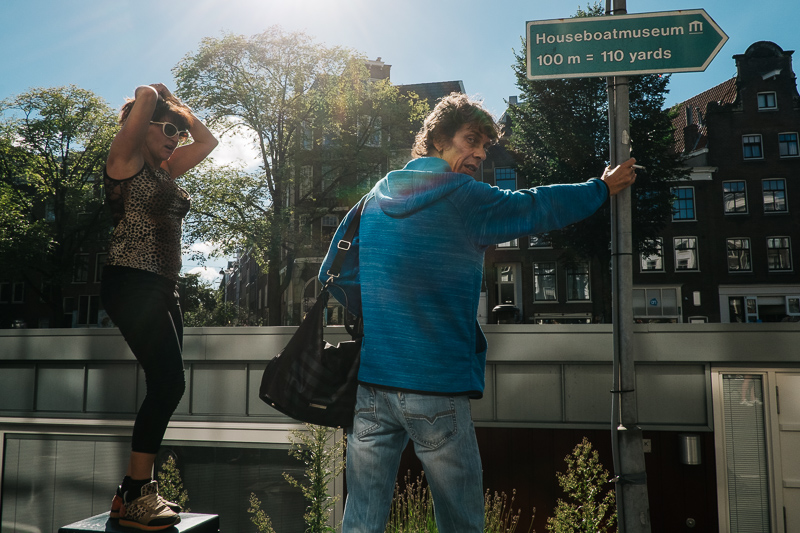 For street photography, this means you can experience and capture a diverse mix of characteristics. Either way, Amsterdam is one of the more unique cities around and makes for a great city to walk around with your camera.
So here are my first impressions of Amsterdam, from my personal Street Photographer perspective…
7 First Impressions of Amsterdam
(From a Street Photography Perspective)
1. Bikes & Boats
Amsterdam is known for a lot of things, and bicycles is one of them. This shouldn't come as a surprise, but the degree to how much bicycles own this city is only really felt once you're walking its streets. There are over 800,000 bicycles in Amsterdam, more bikes than people. Bicycles are everywhere and almost impossible to not include in a photo. Locked up on the street or flying by you, they're everywhere you look. While they can add to the character, you do have to watch out for capturing the cliché. Either way, cycling is a way of life in Amsterdam and a large part of its atmosphere.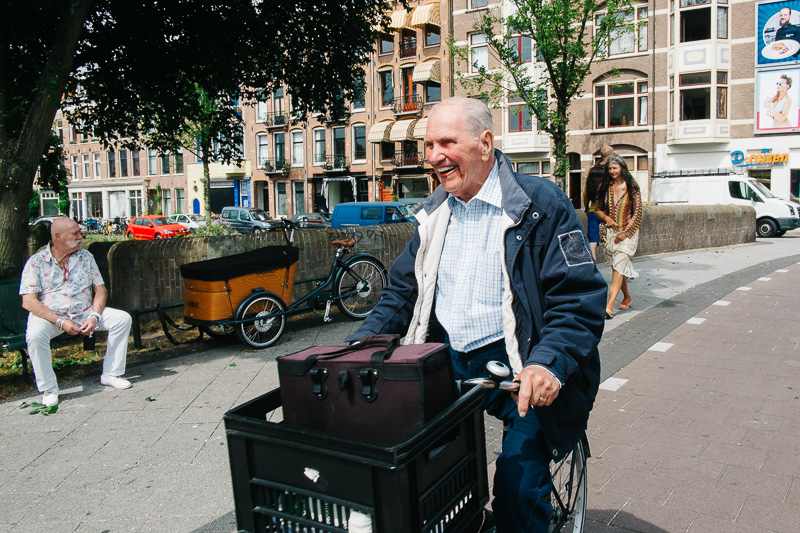 Another mode of transportation that adds to Amsterdam's atmosphere are boats. They line the endless canals in all shapes, sizes and color. Most are made of wood, which similar to the bicycles, gives them more character. Since many of them have rooms and decks they become prime spots for owners, family and friends to enjoy without even untying from the shore. Walking around Amsterdam, there's two things you'll notice as much as anything, and that's bikes and boats.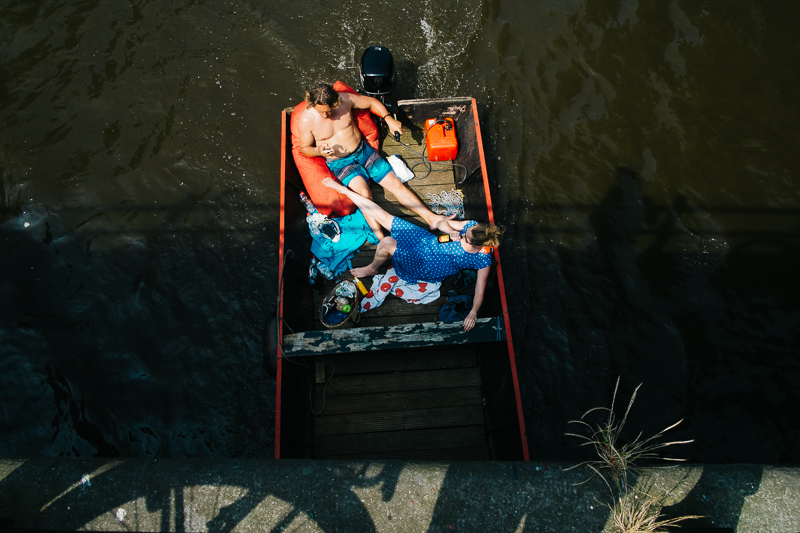 2. Interesting Mix of Characters
Amsterdam is full of characters and craziness. Many cities get the "only in (city's name)" treatment and this is one. You'll probably see something crazy if you explore long enough.
For example, during this trip:
I watched a bachelor on his stag party chasing people around while whipping them with his costume attached "you can guess what." Outside at 2pm.
I saw another man arrested after giving a 15 minute speech on the top of a bridge explaining the connection between racism and prostitution and how it got him kicked out too soon after getting some. The canals lined with an audience, it was that entertaining. Again, in mid-day.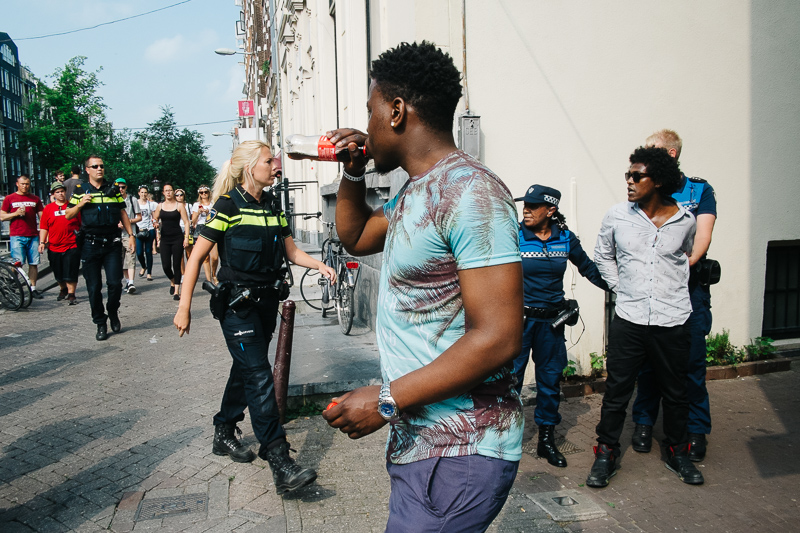 I even witnessed a quick argument between a monster and a police officer.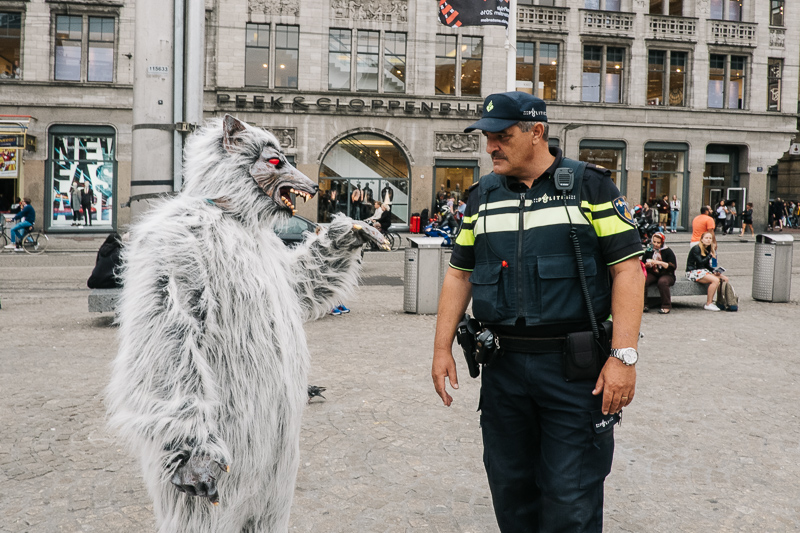 And then there was the one and only time I got told off for taking a photo. It was by an 8 year old boy holding a penis balloon while sitting on his father's lap.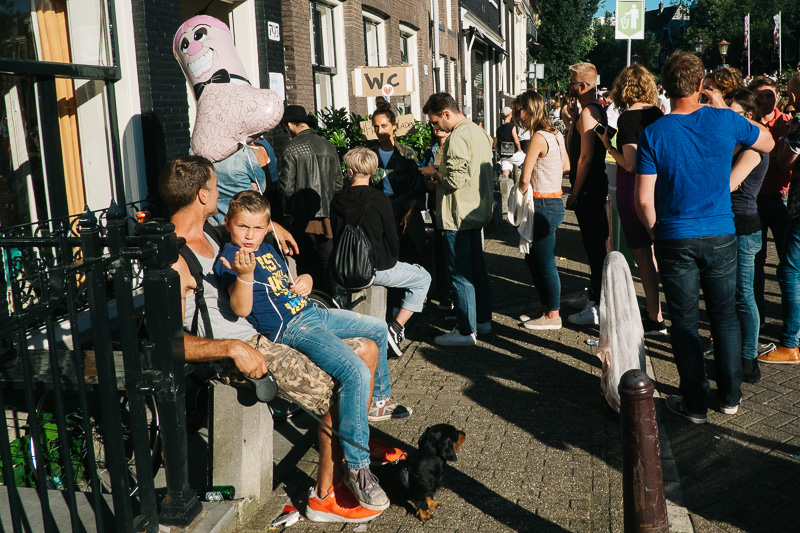 And these are just things I witnessed in broad daylight. You can imagine how the nights can get here. The place is full of craziness if you want to find  it.
3. Get lost in the canals
Walking around Amsterdam, you're bound to get lost in the canals. And that's ok. While the canals can help you navigate just like streets, it can get confusing in some areas. At the same time, you can't get too lost so it's best to just enjoy exploring this unique atmosphere without worry.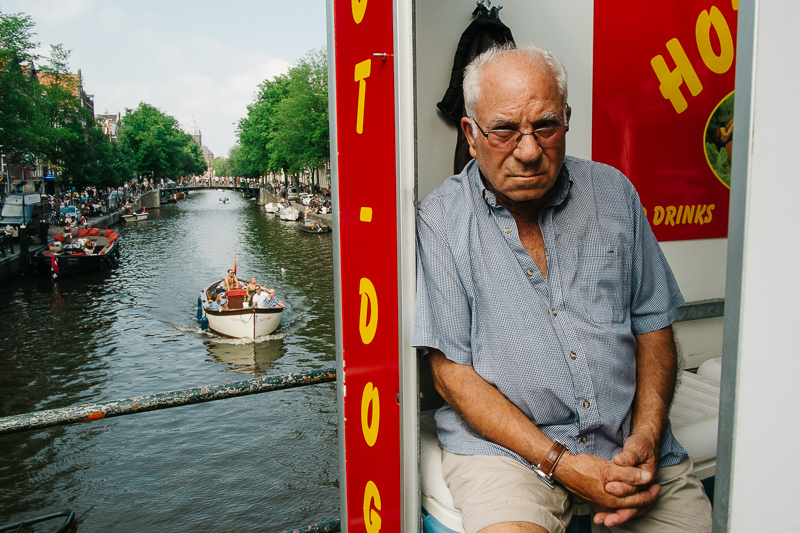 Some canals are active, some are quiet. Jordaan is a picturesque area with a mixture of both. I'd recommend spending time exploring here, but really most of the city is worth your time on foot. Below are some of the canals that I feel stand out for walking around with your camera.
Main large canals:
Herengracht
Keizersgracht
Prinsengracht
7 Smaller recommended canals:
Reguliersgracht
Brouwersgracht
Bloemgracht
Groenburgwal
Leliegracht
Spiegelgracht
Leidsegracht
4.  Not Just Pot, Parties and Prostitution
Tell someone you're going to Amsterdam and many times those 3 P's are what come to mind first. But while it's rightfully famous for that, there's a very different side to the city too. If you're not here to get crazy, Amsterdam can also be a very peaceful, picturesque and relaxing city too.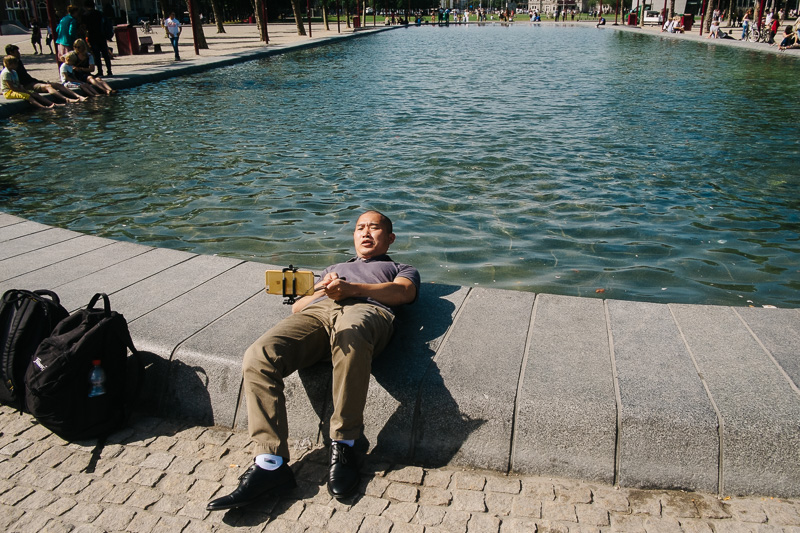 The canals, boats, flowers, parks, skinny historic buildings, markets, churches and many museums all provide a city with the opposite type of experience from what it's known for by many. And this can definitely cross over to your street photography here. Capture it different ways.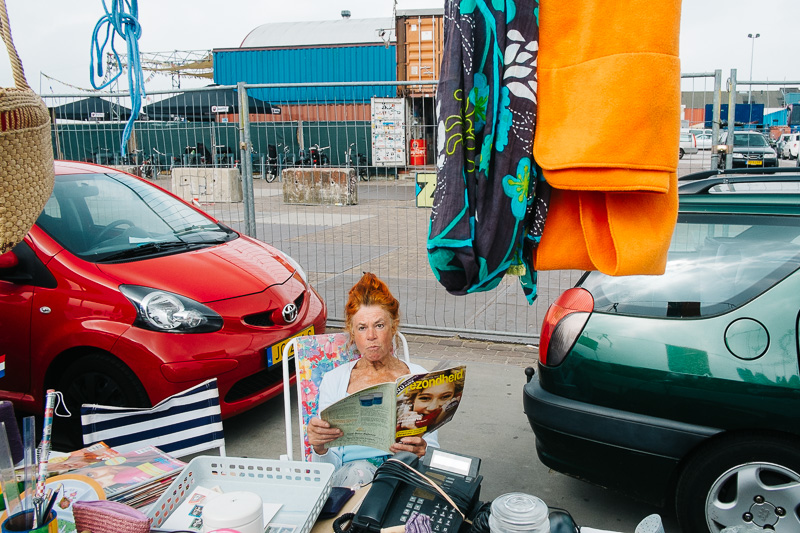 5. People line the canals for relaxing, but it can get messy
There's a lot of interesting things happening along the canals. Storefronts and cafes, bikes riding by, boats of people on the water, locals having picnics, tourists partying, and the list goes on. Sometimes the canals can be lined with people enjoying the sun, feet dangling over the water's edge. With all this activity comes an environment that can make putting it together a little messy, though.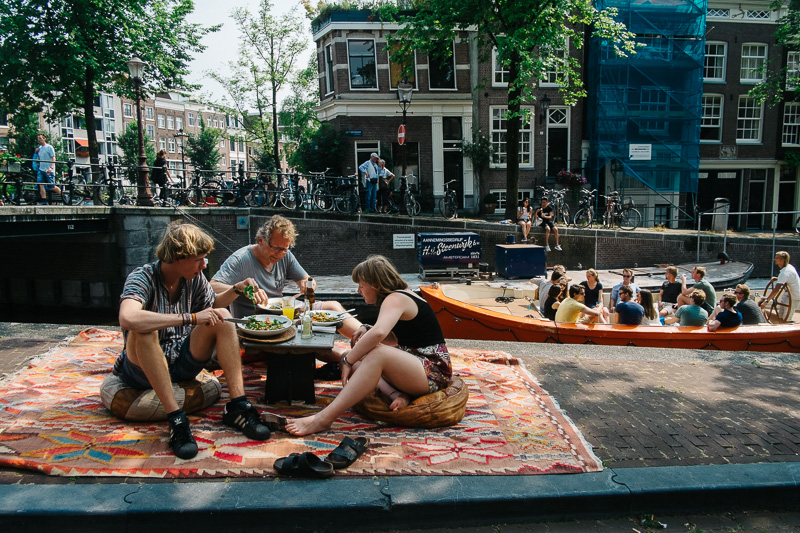 The waterways through the city make for narrow roads and cluttered space. And while it is a bike city, the vehicle traffic that attempts to get around can provide ugly delivery trucks and cars parked on the sides of canals and bridges. With all the interest happening around you within a pleasing atmosphere, you might not notice the mess until you see the photo. The tall narrow building and trees lining the canal can take away light too, while the trees can also add even more to the clutter. So while there's plenty to shoot along the canal, be aware of the mess when composing before the shot.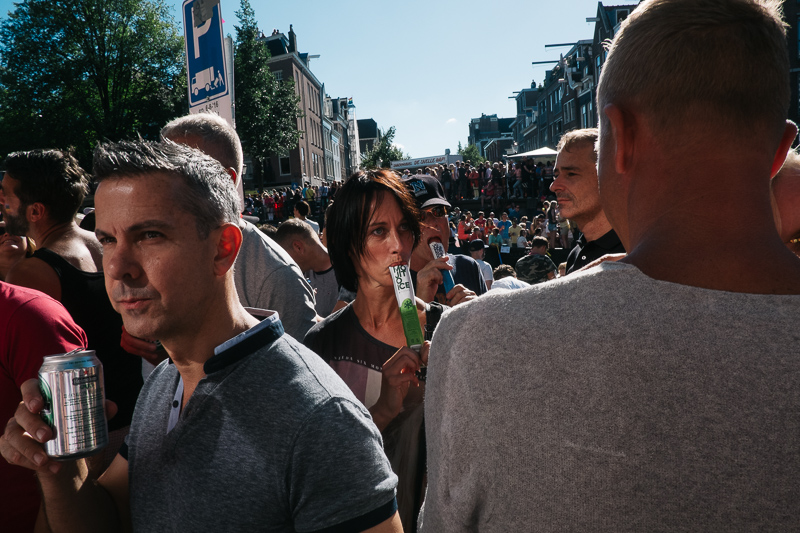 6. They Know How to Party
People come to Amsterdam to party. While there's plenty to appeal to non-partiers, as mentioned earlier, this is the prime reason that many make the trip here for. Groups of friends come out here to take advantage of the openess that Amsterdam has to offer for fun. The coffee shops draw a large portion of this crowd, but there's plenty of bars and the red light district for more fun too. And when it comes to Bachelor and Bachelorette Parties, this is the Las Vegas of Europe. You'll see countless  groups of men and women dressed in the attire you'd expect, especially on the weekends.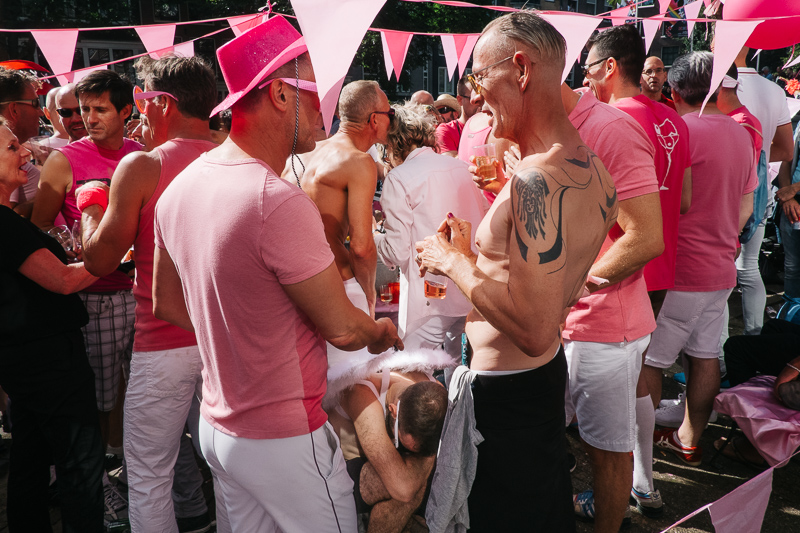 It's not only the visitors that know how to party, though. The locals have just as much fun. And then when there's a festival, you get a chaotic mix of it all. I happened to be in Amsterdam during their annual Gay Pride Parade, when Amsterdam gets its craziest. While these festivals and parades are celebrated all over the world, Amsterdam is well known for how they do it.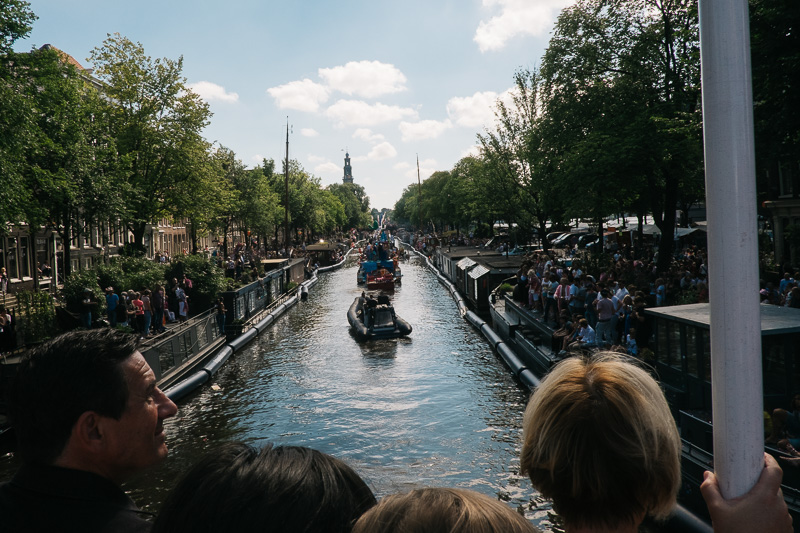 Amsterdam has street parties all week long, but the famous Canal Parade on Saturday is where it's at for photography. It's one of the busiest weekends of the year in Amsterdam. The four mile canal route fills with a line of themed boats, covered with decorations, costumed dancers, and music blasting the whole way. While the boats bring enough entertainment, it's nothing compared to what fills the canal streets.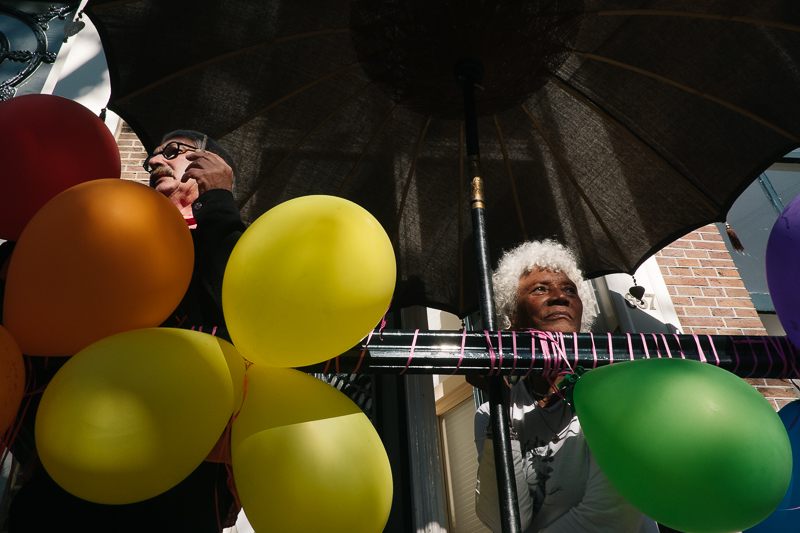 7. Red Light District
You've probably heard all about the red light district, but what's it really like in person? In many ways, it's the most touristic and tame red light district around. For most, it's just a walk and see spectacle to experience with tourist shops, coffee shops and food spots along the way. It's an attraction more than anything, for the majority.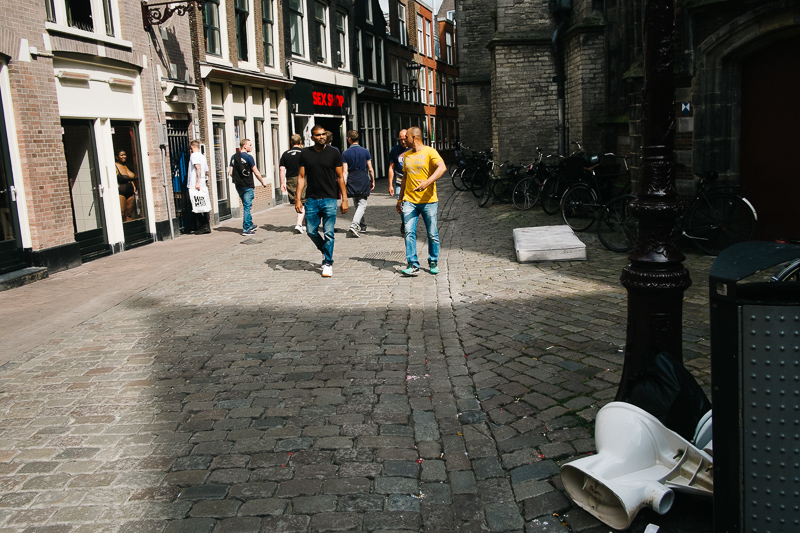 So while yes you do see barely clothed women in windows beckoning you for 15 minutes of their time, there's not an ounce of danger and only a small amount of seediness felt. The canals and signature buildings look the same and the streets are filled with tourists of all types just like the rest of the center. You might not even know you're in the red light district until you see a woman in the window, or the many touristy sex shops. As for taking photos, obviously be careful when walking any of the prostitute lined alleys, unless you want to get yelled at, or worse.
XXX
Amsterdam is one of Europe's top short-break destinations for good reason. It has a lot to offer for fun, but it has plenty to offer for street photography too. It's a blend of many things for many people. And with your camera, you can get lost exploring the canals capturing it all.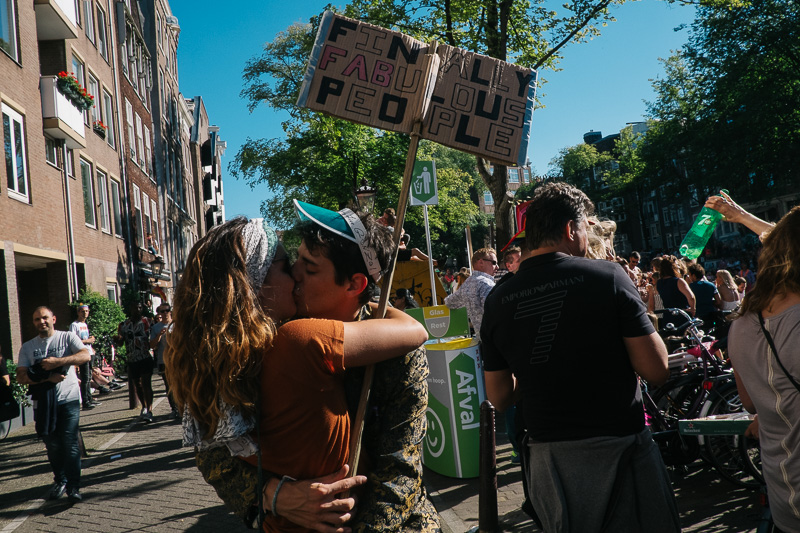 If any of you have been to Amsterdam before, tell me about your experience and impressions of the city and country in the comments below! And stay tuned for more on Amsterdam, including some of the best Street Photography shots I captured while there.
Click Here for More First Impressions on Cities Around the World 
(from a street photographer's perspective)