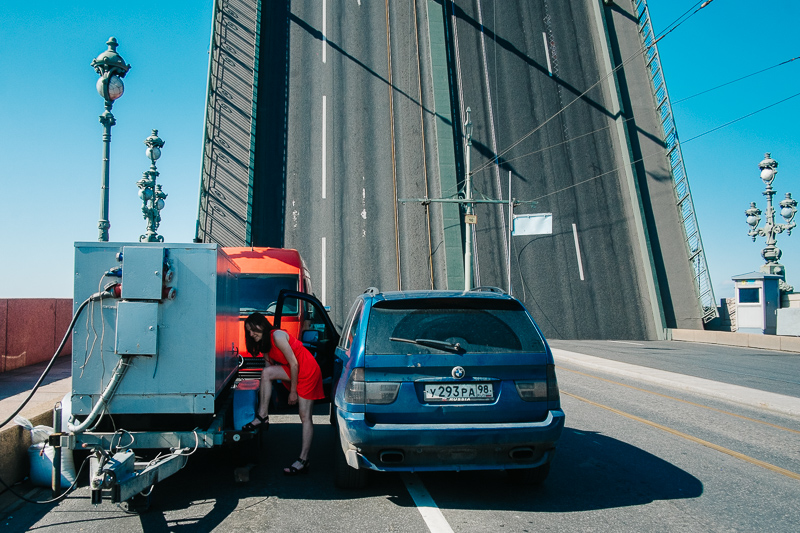 Street Shot Sundays Story & Stats
Story:
This Sunday's Street Shot of the Week was taken at the Troitskiy Bridge in Saint-Petersburg, Russia. It was the day of the Scarlet Sails celebration during the White Nights Festival and I was walking to Hare Island to be in the middle of it all. The White Nights Festival is many weeks long, but on the Saturday nearest the longest day of the year, the biggest celebration happens. It's also become the day of celebration for graduates and at night, they shoot off fireworks with a massive water show that includes an old ship with scarlet red sails.
Unfortunately, when I walked to Troitskiy Bridge to cross over to the action, they'd raised this bridge all day in anticipation of the ships. Little did I know, after walking multiple kilometers over to cross the next bridge, I'd soon run into a large graduation party/drunk fight that would pull me into the river and end the rest of my day with a wet camera (which did luckily dry 2 days later). More on that here, but the one positive from that raised bridge detour was it gave me this photo above. 
After initial disappointment from seeing the bridge raised, it did give an interesting backdrop, reminiscent of the movie "Inception." Then below, I saw this woman getting out of her oddly parked van. I noticed her dress matched the other van in color, which stood out nicely with the blue and gray tones from the rest of the scene. So when she put her foot up to fix her shoe, I captured this shot. An hour later I was fully submerged in the river, camera and all, but at least I got a photo out of it all.
Stats:
Camera: Fujifilm Xpro1
Lens: Fujinon XF 18mm 
Focal Length: 18mm (27mm full frame equivalent)
Aperture: f/13
Shutter Speed: 1/500
ISO: 800