Summer on Hare Island
If I was to pick my favorite city I visited this year for photography, it might be Saint-Petersburg, Russia. While maybe surprising to some with all the cities I visited in 2016, most of those surprised probably haven't been. Saint-Petersburg is a special city unlike any other. 
It was actually my second time in the city, but my first time visiting during the summer. And if you're planning on visiting, the time of the year makes a big difference. With its location so high north, the length of the days range greatly depending on the month. So not only is the weather much better during the summer, the daylight also lasts 20+ hours. On top of that, the city really comes alive once June hits.
Zayachy Island
Saint-Petersburg was originally built on 101 islands. After some engineering in the early 20th century, it was reduced down to 42 islands connected to each other by bridges and canals. This is a big part of what gives the city such a beautiful, interesting and unique atmosphere.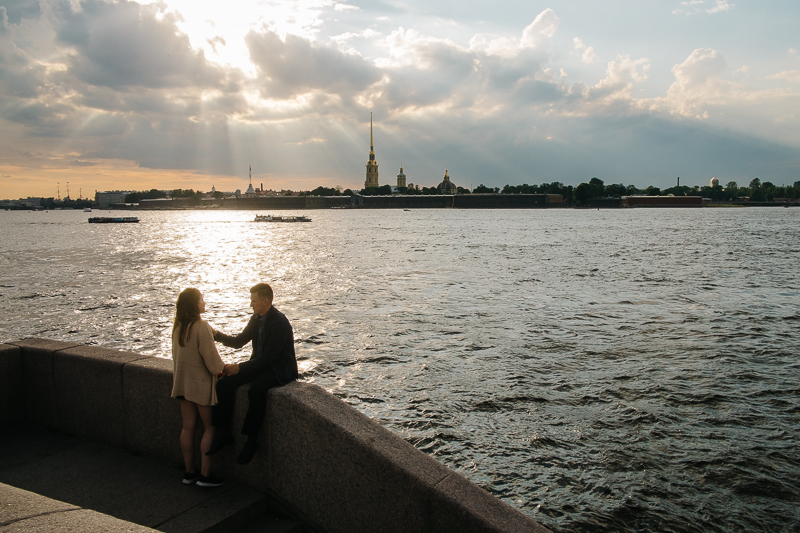 Zayachy Island, also known as "Hare Island," is a very small island in the center of Saint-Petersburg connected by two pedestrian bridges. In 1703, Peter the Great began construction of the Peter and Paul fortress here, which is a big tourist draw today. The grass, sand and stone surrounding the fortress is also a popular spot for the locals, especially in the summer. They come to lay out in the sun, take a dip in the water and enjoy the city view by the river. 
The large grass area fills up with activity, but the most interesting spot is around the fortress where you'll find a more secluded area with a large fort wall and stone shore. Since the wall faces the sun, it heats up and becomes a warm spot for locals to lay against in relaxation. Combined with the mix of characters it attracts, it can create a very interesting, slightly surreal scene. I found it so unique that I came back here multiple times during my visit to Saint-Petersburg.
Here's a short series of photos I made while experiencing some of Saint-Petersburg's summer heat on Hare Island.