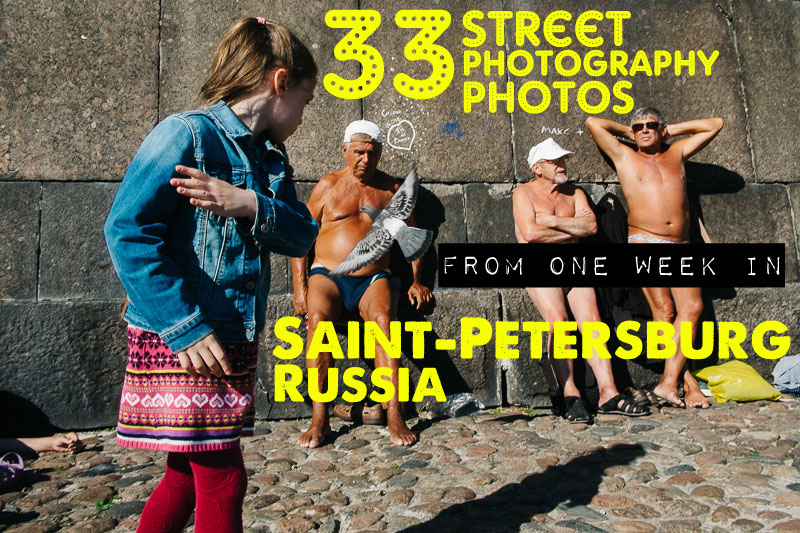 I don't hide my love for Saint-Petersburg, Russia. If you asked me to pick 3 cities anywhere in the world that I'd like to return for street photography, Saint-Petersburg would make the cut without hesitation. So much so that I do plan on returning for a longer stay this year.
While I'd been before, this last visit was my first time during the summer. The 20+ hours of sunlight and warmer weather really brings the beautiful city to life, and all the character it contains. I could go on and on about all the things I love about the city, but I'll save that for other posts. This one is about the photos.
So here's 33 photos that I was able to capture during my time in Saint-Petersburg…
33 Street Photography Photos from Saint-Petersburg
1.
2.
3.

4.
5.
6.
7.
8.
9.
10.
11.
12.
13.
14.
15.
16.
17.
18.
19.
20.
21.
22.
23.
24.
25.
26.
Finishing on St. P's Hare Island (Full Series Coming Next Week!)
27.
28.
29.
30.
31.
32.

33.
For more info on Saint-Petersburg, be sure to check out my first impressions from a street photographer's perspective. And stay tuned for one of my City Street Photography Guides to Saint-Petersburg.
Have you photographed Saint-Petersburg before or do you plan on it someday? Let me know about it in the comments below!

And let me know which photos you like best too!
Click Here for More "33 Street Photos" from Cities Around the World