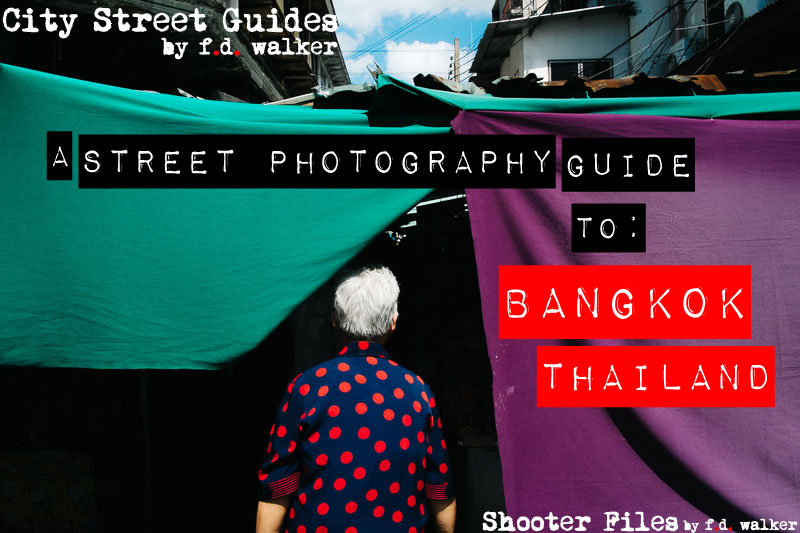 *A series of guides on shooting Street Photography in cities around the world. Find the best spots to shoot, things to capture, street walks, street tips, safety concerns, and more for cities around the world. I have personally researched, explored and shot Street Photography in every city that I create a guide for. So you can be ready to capture the streets as soon as you step outside with your camera!
Bangkok
Overview:
Bangkok is one of the more well-known cities in Asia and if you've seen a lot of the quality street photography coming out lately, much of it is coming from Thailand. Luckily, for this guide, I had help from some of Bangkok's most talented street photographers.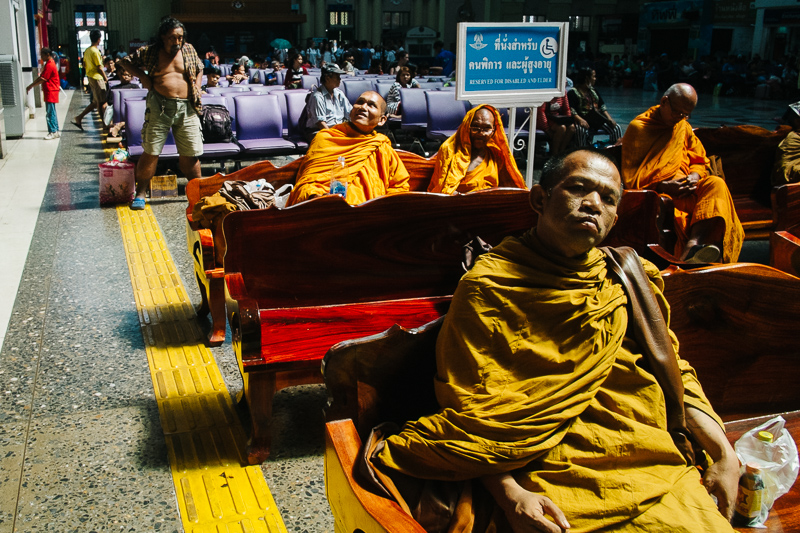 Bangkok is known for its amazing cuisine and street food, the Grand Palace and temples, wild nightlife and backpacker streets, and a mix of grit, lights and big city life in Thailand. Much of this is easily found around certain areas, but navigating around this spread out city looking for street photography spots can be exhausting if you don't know where to go. 
So here's a Street Photography guide so you can be ready to capture all that Bangkok has to offer before you even arrive!
Map:
Grand Palace / Grounds
Khao San Road
China Town
Siam
Nana/Soi Cowboy
Bangkok Railway Station
Khlong Toei Market
Top 7 Street Spots:
1. Grand Palace Area
Easily the city's most famous landmark, the Grand Palace is home to the Thai King*, Royal court and administrative seat of government. Mostly due to its impressive architecture and complexity, it's also the home of tourism in Bangkok. Wat Phra Kaew (Temple of the Emerald Buddha) is located inside its walls, and next door you have Wat Pho (Temple of the Reclining Buddha), so a lot of ground is covered with attractions here. Anyone that comes to Bangkok, will come here. Outside the walls, you have streets lined with shops, restaurants, street stands, and more. You won't find a place in Bangkok with a higher concentration of tourists, but it does supply activity and some nice backgrounds.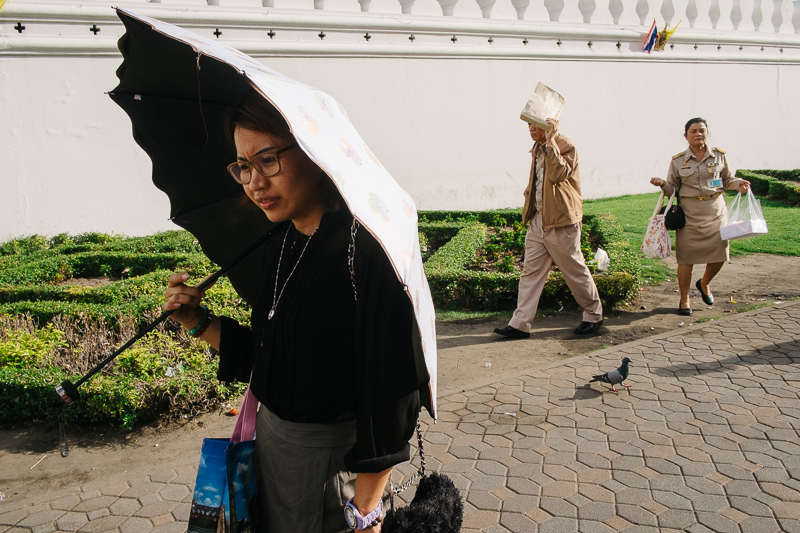 Across from the palace, you have Sanam Luang, a large open field and public square. During the day, it's usually pretty empty since there's no cover from the sun, but as evening comes, it can fill with some activity, including people flying kites. The Grand Palace area gives an area to explore with your camera that guarantees some photo opportunities and interesting backgrounds. Just expect it to be very touristy too.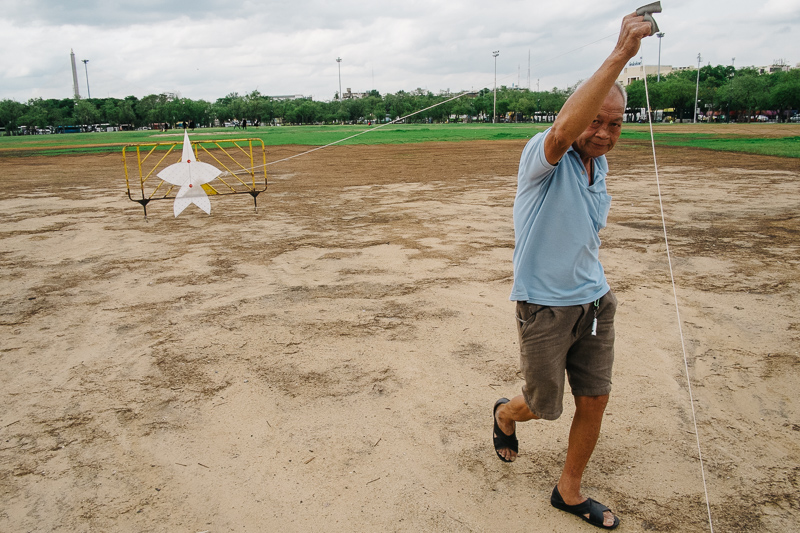 2. Khao San Road
Khao San Road is probably the most famous backpacker street in the world. This street, and some of the nearby streets, are packed with budget accommodation, cafes, bars, clubs, massage parlours, street food, tattoo shops, souvenir stands, and much more. Anything goes here, and it gets much more wild at night, when the lights and people really fill the street.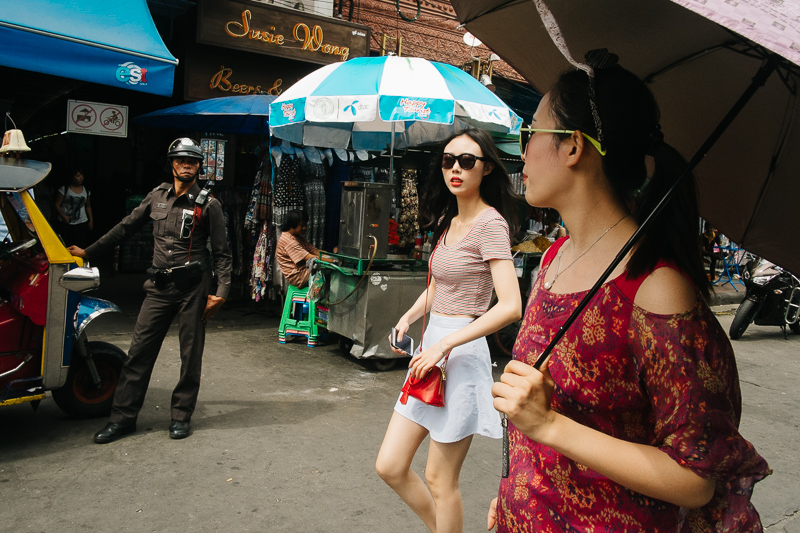 The vibe here attracts more than tourists too, as many locals and expats spend time here. From morning to night, there's guaranteed activity going. Much of the craziness you hear about Bangkok happens around Khao San. So for that scene, this can be a great place to capture it with your camera.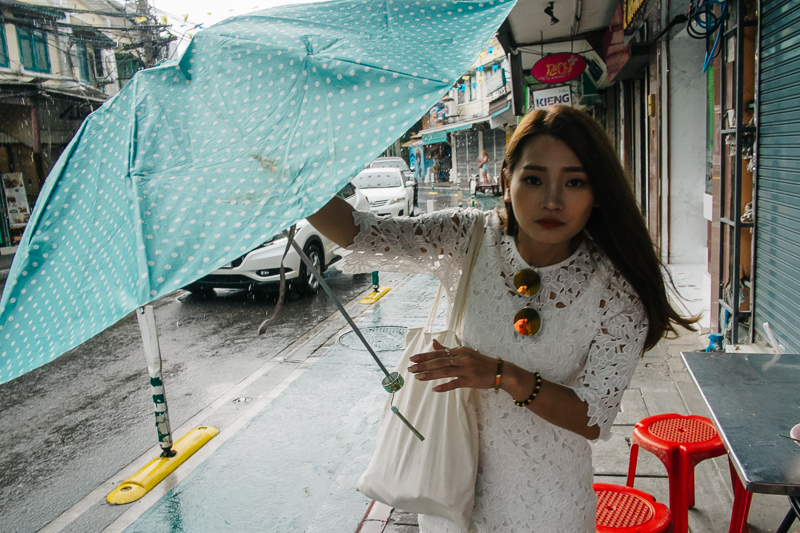 3. China Town
Bangkok's Chinatown is one of the better and bigger ones you'll find. There's plenty of area to cover here for photography. The area is well-known for its gold shops and street food, but you'll find streets lined with market stalls selling a variety of goods. There's a few Chinese temples here too, and a mix of color from the old chinese signs. It can get busy in many of the streets with a mix of locals and tourists, but it's spread out enough that many of the streets won't be as busy. Still, it's one of the more active spots in the city and filled with character.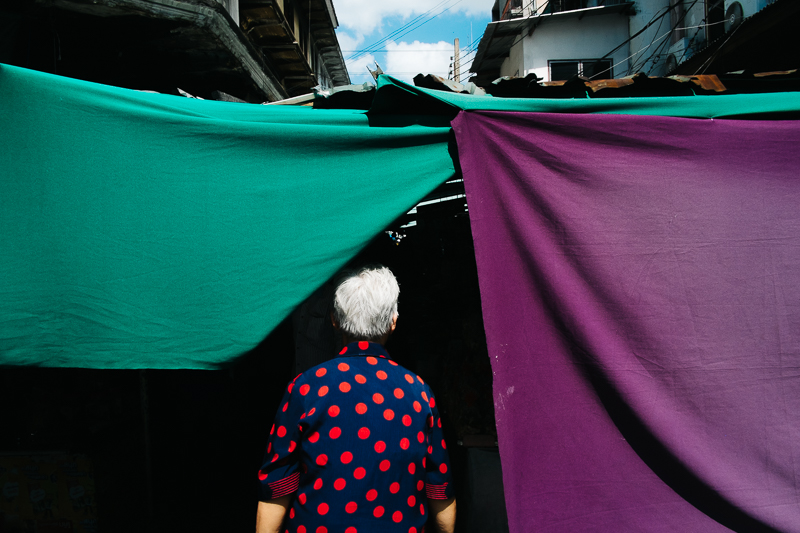 4. Siam
Siam is the center of shopping in Bangkok. Here, you'll find the city's large, modern shopping centers, including Siam Center, Siam Paragon and MBK Center. You can find anything here so it attracts a variety of the city's shoppers and gives that mall atmosphere on a grand scale covering multiple blocks.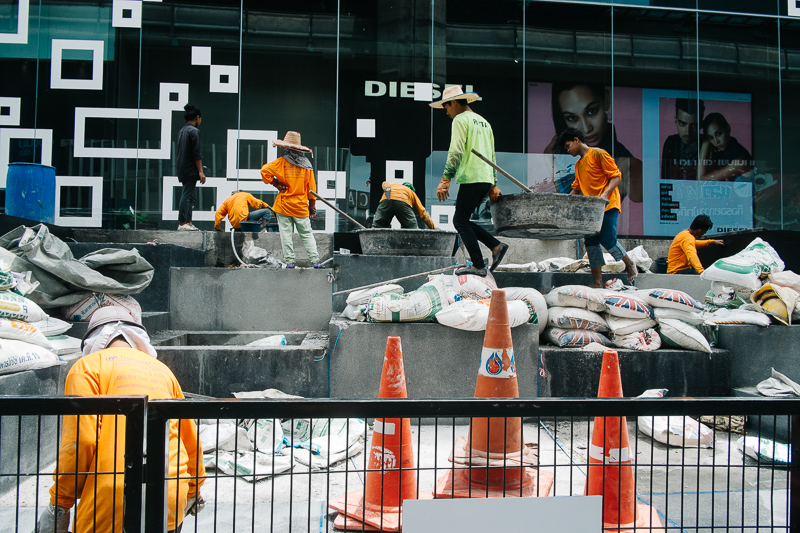 5. Nana/Soi Cowboy
Nana and Soi Cowboy are where you'll find Bangkok's famous red-light nightlife. Nana Plaza is arguably the largest sex complex in the world, which continues to grow with a mix of go-go bars covering three stories surrounding a square-shaped central atrium. Here, you'll find a more adult atmosphere compared to Soi Cowboy, which is a short street lined with go-go bars giving a more laid-back feeling for tourists to walk by. 
Both places cater to tourists and are filled with colorful lights and a playful adult atmosphere. Visually, they are definitely interesting and different, so if you want to capture some of the Bangkok's famous red-light district vibe, these are the top spots.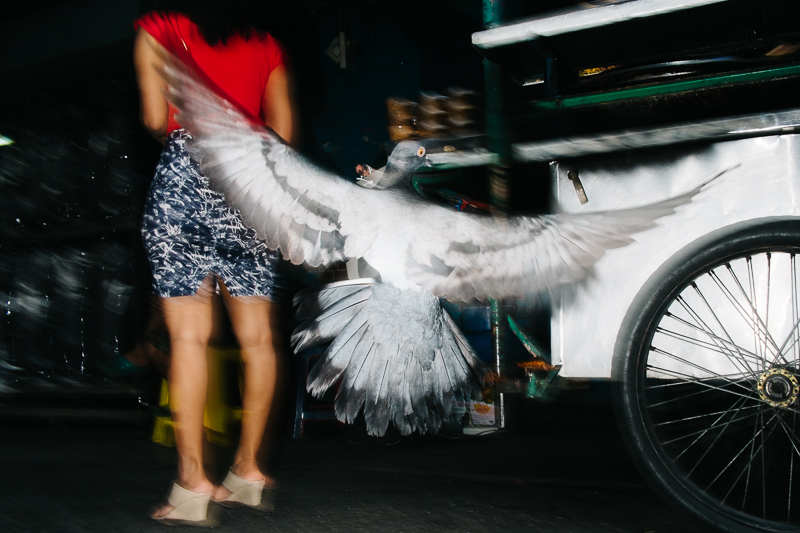 6. Bangkok Railway Station
Hua Lamphong is Bangkok's main train terminal. The Italian neo-renaissance half-dome design is appealing, with an interesting layout inside too. Mix this with all the activity that goes on here, it provides a great place for street photography. Local street photographer Rammy Narula even did a whole photo book on one of its platforms.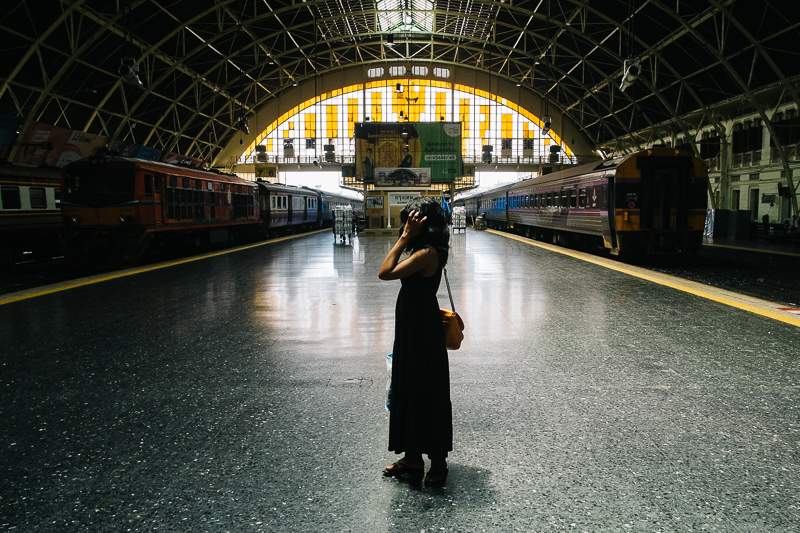 The sun can shine through certain areas, providing some great light. And the colorful trains provide interest themselves. I'd recommend spending a good amount of time inside this station, seeing what you can capture.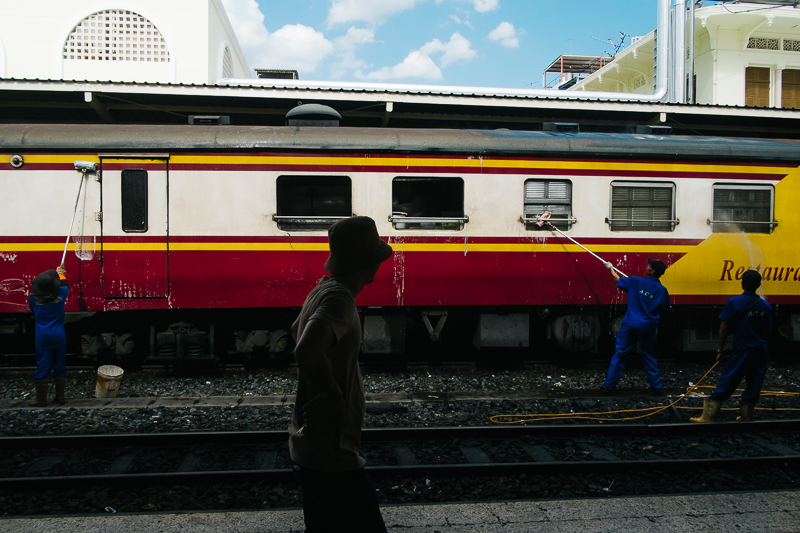 7. Khlong Toei Market
Khlong Toei Market is Bangkok's biggest fresh market. It's also one of the more authentic markets you'll find in the city. It can feel a little hidden away, but once you enter, it opens up into a mini village of markets stands. There's a more local, laid-back vibe here, while providing chaos and a grimy, but colorful character. There's a lot of life here and it's definitely worth finding while in Bangkok.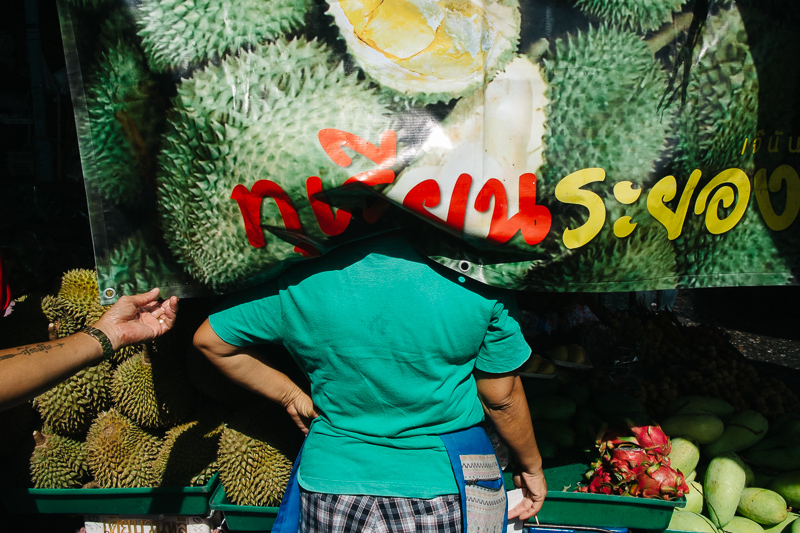 Sample Street Walk:
For a full day of Street Photography, covering some of the best spots, you can follow this sample street walk for Bangkok:
Start your morning walking around the Royal Palace Area (1)
Take a boat up along the river, where you can also stop at the Flower Market
Walk over to Khao San road (2) and explore the whole backpacking/tourist area, including parallel roads
Take transportation China Town (3) for some more exploring with your camera
After you're done in China Town (3), walk over to the Railway Station (6) for more captures
Using transportation, finish your day around the Siam shopping district (4)
If you still have energy for photos, you can check out the red light night life scene at Nana/Soi Cowboy (5)
Ask a Local Street Photographer: Rammy Narula
"The central train station. I love everything about it. The characters, the light, the lines, the color. It's a slow moving place making it feel like you can really get into it at your own pace. People are friendly and don't care about photographers so much, so you can really try to capture the essence of the place without worrying about what your presence is doing to it."
3 Things I'll Remember About Bangkok:
1. Royal and Religious Side
Thailand's royal dynasty has continued since 1782 and everyone that comes to Bangkok makes there way to the Grand Palace. The palace is impressive on its own, but the whole surrounding area is full of interest with a royal atmosphere. With all of the temples and orange robed Buddhist monks walking around, Thailand's Buddhist influence is felt throughout the city too. Some of the outside places of prayer can get pretty busy, especially later in the day, which can also make for some interesting photography opportunities.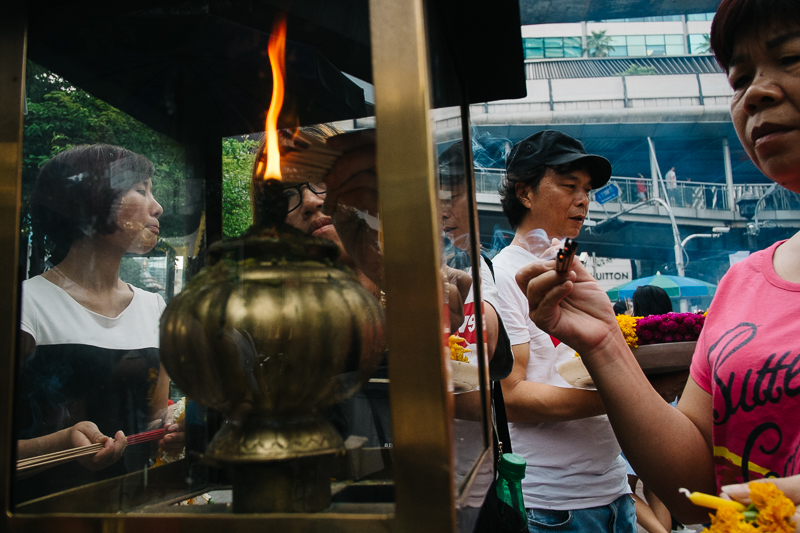 2. Wild Side
If you're looking for the more sinful side of Bangkok, you have a few places to explore with your camera. The backpacker area of Khao San Road, and nearby Soi Rambuttri, give you the lights, sounds, smells and crowded streets of people looking to party, while Nana and Soi Cowboy give you a much more adult themed atmosphere of people looking for a good time.
3. Markets
Bangkok has a ton of markets. With how large and spread out the city can feel, finding a market can give you a good spot to explore for street photography.
Below are 7 of my market picks to check out:
Klong Toey Fresh Market
Chatuchak Weekend Market 
Pak Klong Talat Flower Market
Klongsan Market
Sampeng Market
Phahurat Indian Market
Patpong Night Market
*Check out Nancy Chandler's Map of Bangkok too, which has a focus on all the different markets around the city, many of which are only known by locals.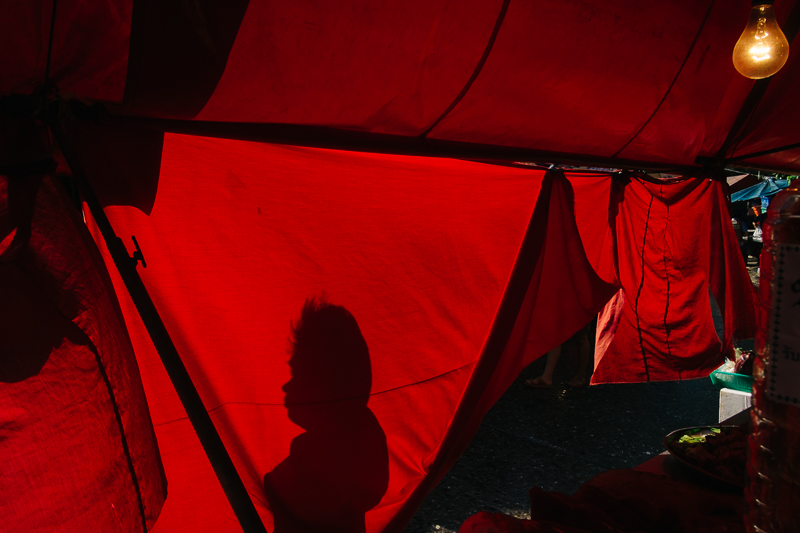 What To Do For a Street Photography Break?:
Thai Food, Cold Beer & People watching
Bangkok can make an interesting place for people watching on some of its busier streets. The city attracts characters. For many people, the food is what makes Bangkok, and Thailand special, though. Thai food is some of the most flavorful food around and you can find sidewalks lined with street food and small stalls. Just grab some pad thai and a seat, and enjoy the food and the people watching.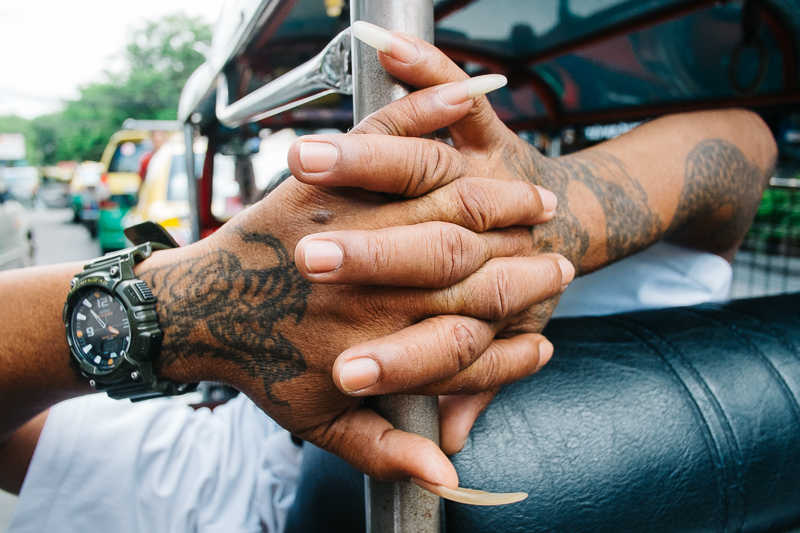 Street Safety Score: 7
*As always, no place is completely safe! So when I talk about safety, I'm speaking in general comparison to other places. Always take precaution, be smart, observe your surroundings and trust your instincts anywhere you go! 
In my experience, Bangkok feels safe for a city its size. There are seedy parts, but they don't really feel dangerous. Saying that, Bangkok did recently rank near the bottom of a 'safe city' list for expats. This might have a lot to do with many foreigners' lifestyle attraction to the city, though. It's made safe city lists in the past too. Generally speaking, I don't find Bangkok unsafe compared to other cities its size.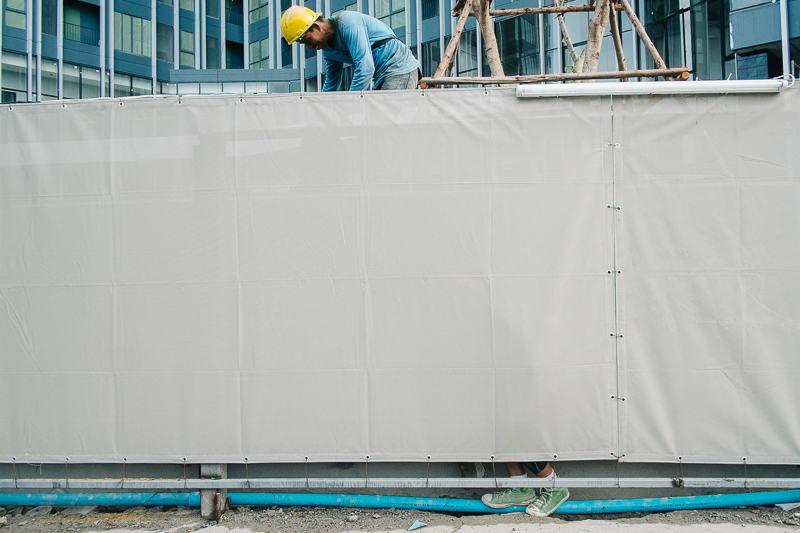 People's Reaction Score: 8
They call it the Land of the Smiles and that's what you mostly get here with street photography. A smile is the normal reaction to everything in Thailand, including photos. So for street photography, it's easy and friendly to photograph in most areas. Like most of Asia.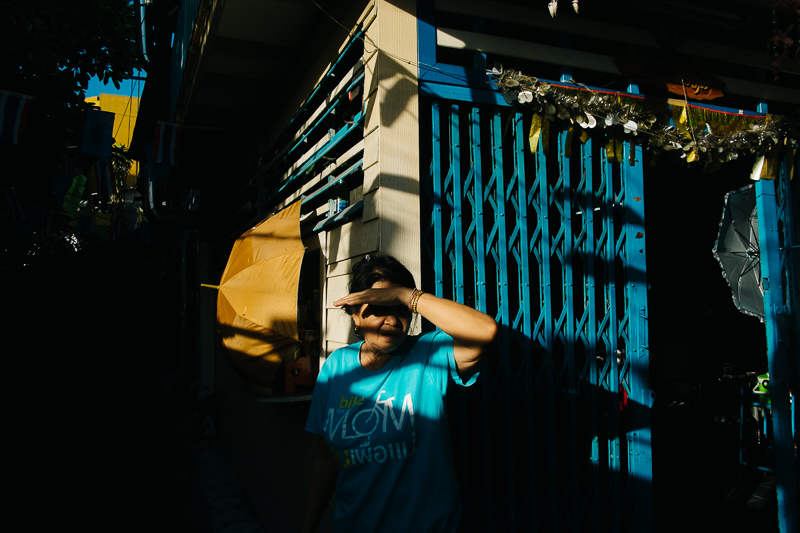 Street Tips:
Get a map
One of the more frustrating parts of exploring Bangkok on foot with your camera is how much of it is empty and spread out. You can walk multiple kilometers between spots without seeing any activity outside. Only quiet streets. It can make for a lot of wasted time if you don't plan out your day or know where you're going. It's a place you'll want to use a map.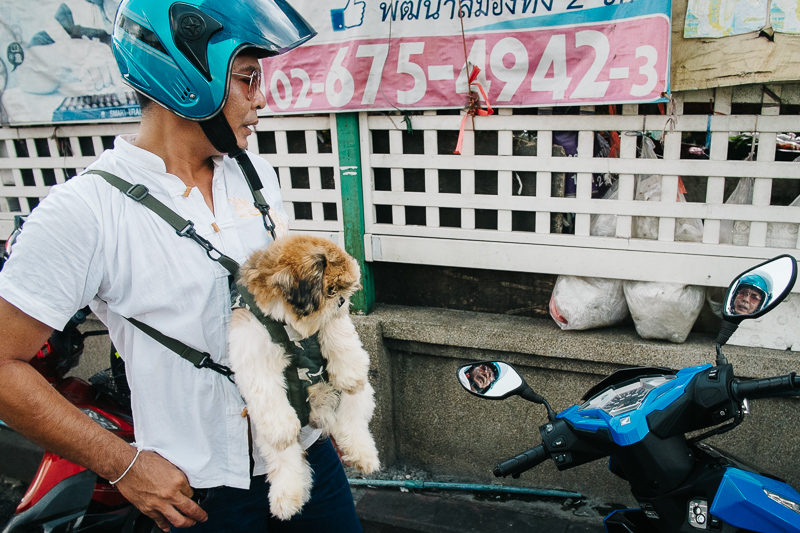 Fortunately, Bangkok is lucky to be home to Nancy Chandler's famous maps. She's lived in Thailand for decades and has put together a line of extremely popular and uniquely designed maps you can find at shops all over the city. They're artistically pleasing to go through, but the best part is how much info on markets and interesting spots that are included in the maps. They also came highly recommended to me by local photographer Rammy Narula, who to my knowledge doesn't receive a dime from her sales (Neither do I). :)
Find a spot you like and stick to it for a while
Bangkok isn't as chaotic and full of life on every street as much as many large asian cities. While traffic packs the streets, many of the people prefer to stay inside or out of the sun. It's one of the reasons that many parts of the city are void of any life or activity. This was echoed to me by local street photographers who advised to find the spots of activity and stay exploring around there. Lots of time can be wasted going from one place to the next, as it's jut not that type of walkable city. So pick your spots and stick to them.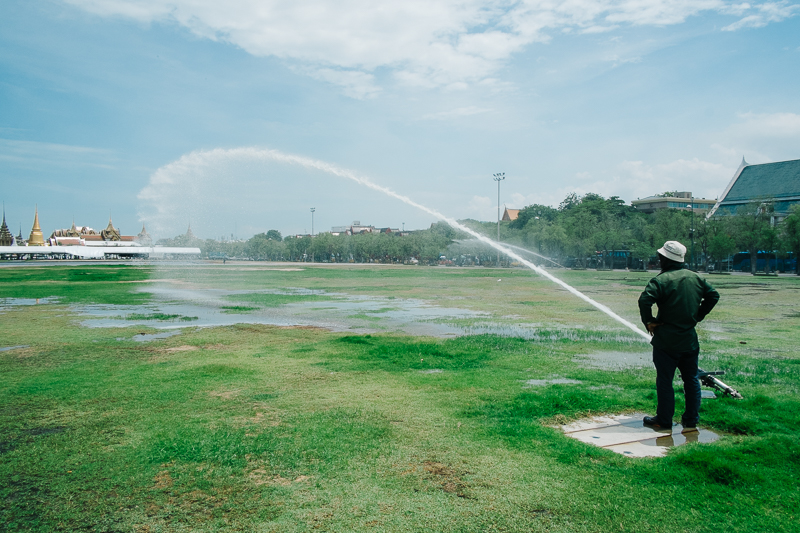 Take the Boat Taxis too
While Bangkok does have a metro, it doesn't yet take to you to many of the spots you'll want to go. Since Bangkok can feel spread out, without much activity in between, using the boat taxis can be a nice way to get around, at least some of the time. This is especially true around the Grand Palace and Khao San Road areas, where no nearby metro stops are located.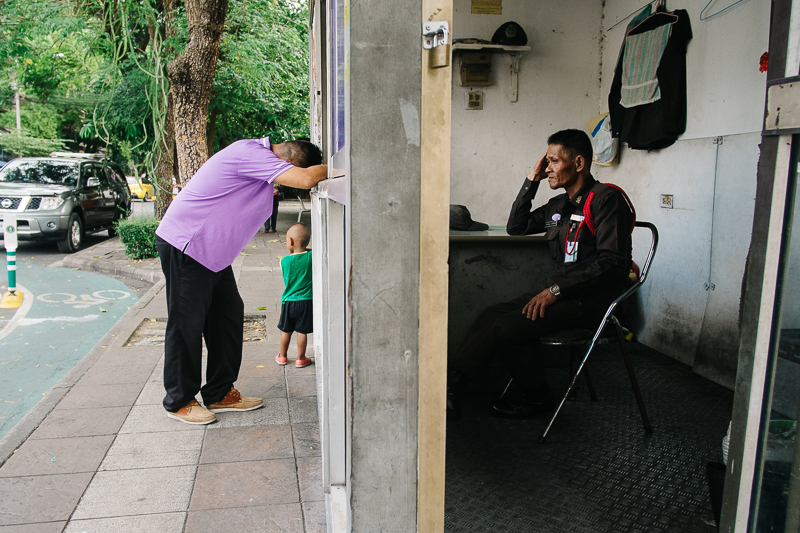 The boat taxis also give you a different view of the city and a relaxing way to get around. You can check out some of the city west of the river too, where it's more local and much less touristy.
Take a side trip to Pattaya
Some other popular local street photographer advice given to me was to take a weekend trip to Pattaya for a change of scene. And it was good enough advice to pass along to you because a change of scene it definitely is. Pattaya is an experience to say the least. It's not for everybody, but for street photographers, it provides plenty of characters and interest.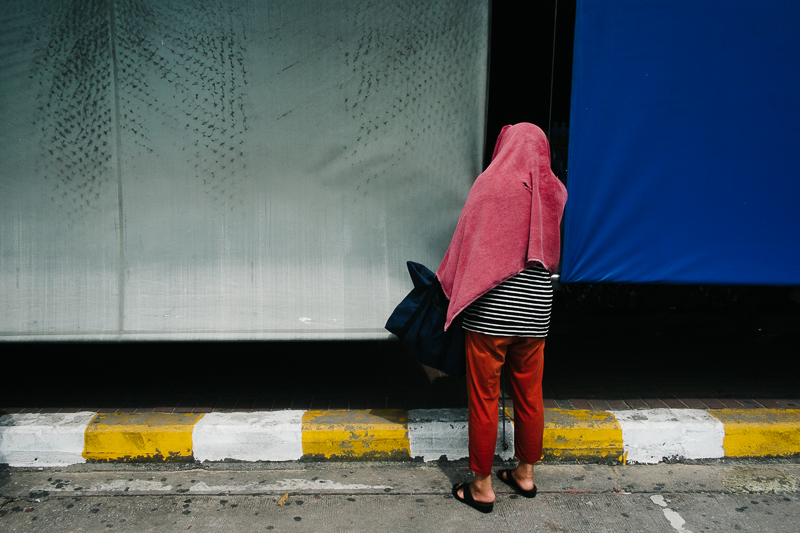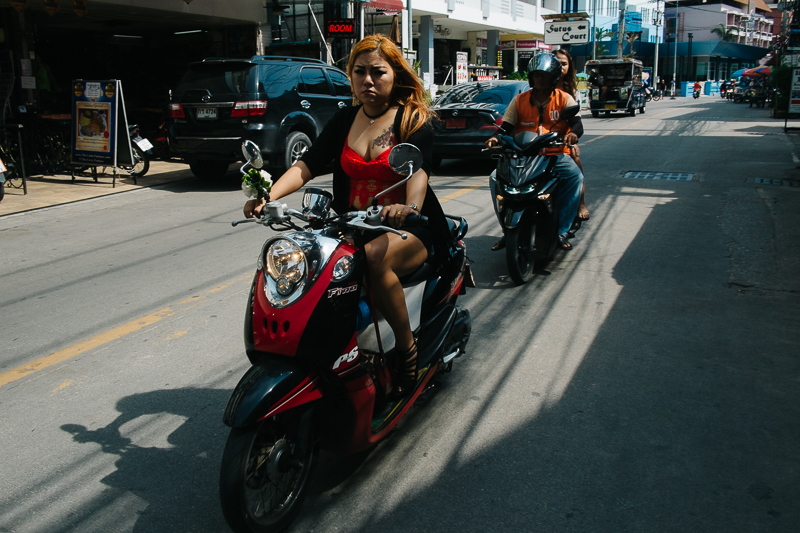 Pattaya is basically one big Red Light district by the beach. It's a full, busy city and Bangkok's closest beach, but most of the city is centered around wild nightlife and the sex industry. A variety of tourists, young and old, pack the town. You also have plenty of foreigners that decided Pattaya would make a good place to retire. And then of course you have scantily clad women all over the city enticing you to come to their massage parlor, bar or anywhere else you'd like.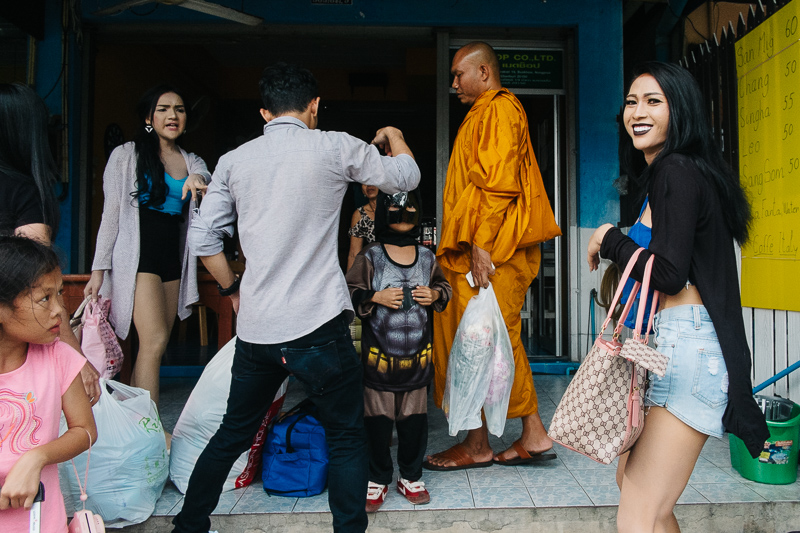 The variety of characters and unique atmosphere does make for one of the more interesting scenes I've experienced if you're into edgy street photography. It provides plenty of other attractions for tourists too, from restaurants to shopping, so it feels much safer than your normal red light district. Do be aware that not everyone wants their photo taken in common circumstances here, though. :)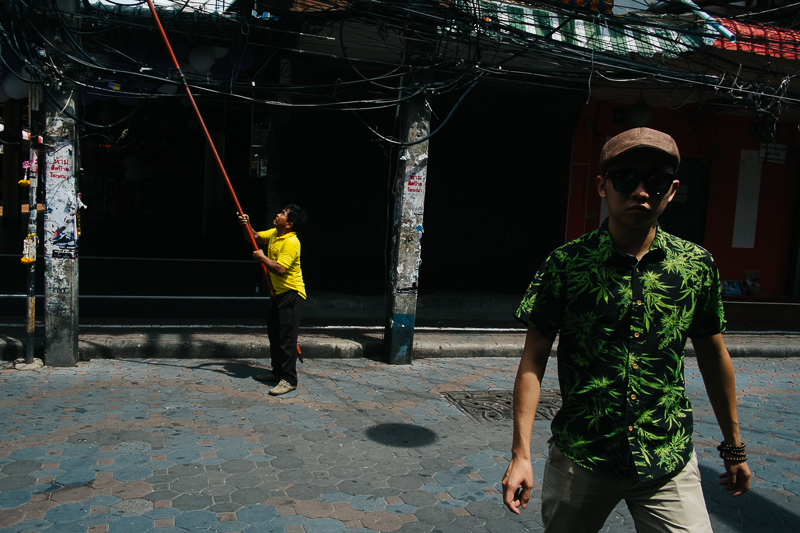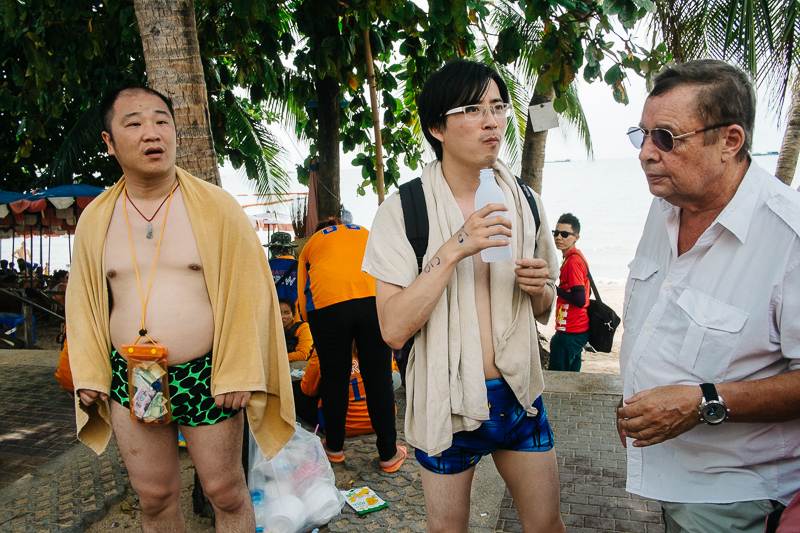 Hot Bed of Talent to Checkout
Bangkok has become a hotbed of top talent in the street photography genre. Thailand in general is full of street photographers, but Bangkok, being the biggest city, attracts a number that rivals many of the most famous cities in the genre. You have locals like Tavepong Pratoomwong, Rammy Narula, and Akkara Naktamna, but you also have expats like Maciej Dakowicz and Larry Hallegua. These are just a few names of many, as there are multiple collectives full of Thai street photographers.
While street photography is very popular in Thailand, it doesn't mean that it's easy to shoot here, as many of these local photographers explained to me. But thanks to all their hard work and talent, it does provide plenty of great photos to inspire you before visiting. So, below is a small collection of links to Street Photographers in Bangkok for you all to look through and find inspiration from. 
Bangkok photographers: Tavepong Pratoomwong, Rammy Narula, Akkara Naktamna, Maciej Dakowicz, Larry Hallegua, Jad Jadsada, Setsiri Silapasuwanchai, Nakarin Teerapenun, Hearhun Hun Shiun, Issaret Chalermsopone, Jaturapat Pattanacheewin, Jatuporn Sutthisawat, Paisarn Sawangsri, Sakulchai Sikitikul
Collectives: Loopers Collective, Street Photo Thailand
Inspiration:
For some more inspiration, you have plenty of work to look through in the links above. And check out 33 of my photos taken in Bangkok.
Conclusion:
Bangkok is one of the more difficult cities for street photography I've been to, even after all the local help I received. I had to work extra hard to make sure I could create a guide that included more than the Grand Palace area. Fortunately, that extra effort paid off as I ended up finding more spots than my first impression expected. Bangkok isn't made for trying to walk and explore on your own to find spots if you're only visiting, but once you know where to go, you can take transportation straight there and spend time photographing the area. It's a city that can take time and local experience to learn for street photography, but feels much easier the more you know where to go and give your time. So hopefully this guide can help with that.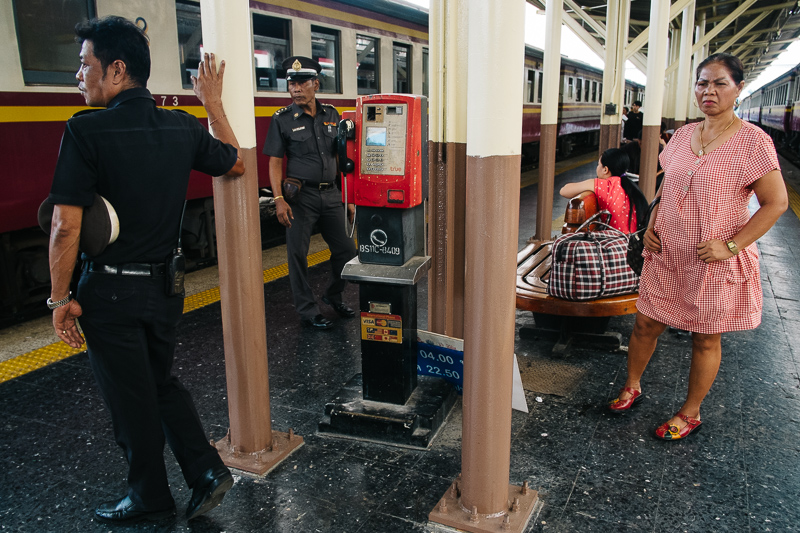 With all the amazing beaches, nature, great food and things to do, Thailand is one of my favorite spots for a vacation. I hope this guide can help you go experience Bangkok for some street photography too. 
So grab your camera and capture all that Bangkok has to offer for Street Photography!
If you still have any questions about shooting in Bangkok, feel free to comment below or email me!
(I want to make these guides as valuable as possible for all of you so add any ideas on improvements, including addition requests, in the comment section!)
*My time in Bangkok researching for this guide came before the recent passing of Thailand's long beloved King Bhumibol Adulyadej. I'd like to wish the people the best while dealing with their great loss and good luck for the future.
(A New Guide Posted Every Other Wednesday)