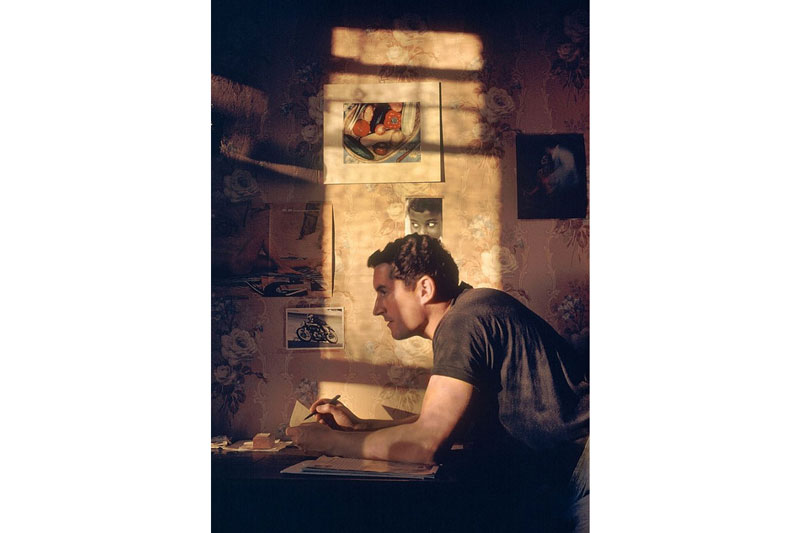 * "Master Profiles" is a series profiling all the great photographers of uncontrolled life. Unlike the rest of the blog, I'm doing these in a straight profile format to make it easy for quick access to facts, quotes and knowledge on all the masters. I'll also group them together here every time I add a new one.
Profile:
Fred Herzog (1930-Present)
German photographer known for his early color film photos capturing the urban streets of Vancouver, Canada.
Background:
Born: September 21, 1930 in Stuttgart, Germany
Fred Herzog grew up in Stuttgart, Germany, but left when his city was bombed during World War II. His parents passed away before the war ended and he dropped out of school to work as a seaman. In 1952, he emigrated to Canada, eventually settling in Vancouver.
Photography had been an interest growing up and he'd even bought a camera in Germany, but didn't take it seriously until Canada. He found he preferred color slide film and started with Kodachrome ISO 10. Color photography wasn't generally respected at the time due to its use in advertising, while the most respected photographers stuck to black & white film for more serious work. Herzog found color could be used to better represent the city, though.
Herzog was most interested in photographing working class people and the grittier aspects of Vancouver. He was attracted to capturing the Americanism found in posters, signs, and cars, while making "unposed photographs in color that have historical value," as he put it. He began full-time work as a medical photographer at the University of British Columbia, while shooting the streets as much as he could in his free time. He traveled as much as he could too, shooting in almost 40 countries, but the work he's most known for was done in Vancouver.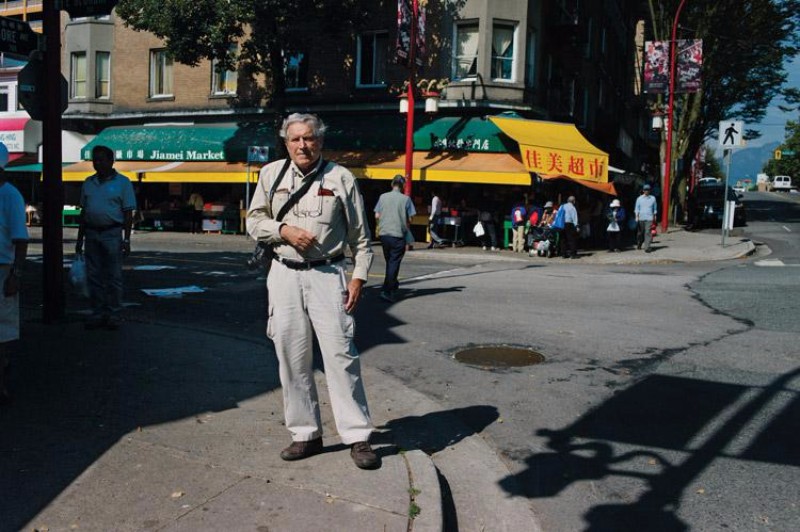 While he found some success, Herzog didn't gain much exposure or notoriety until he was in his 70's. Part of the problem was he could never afford the expensive cost of having to send his film to Kodak for printing, so he had slides made instead. This made access to galleries and viewings almost impossible. Once laser printing became available, though, the much lower cost allowed him to start printing his old slides. Luckily, Kodachrome's notoriously long shelf life helped make this possible.
His first show was at Equinox Gallery in 2001, which helped get his name and photos out to the public. In 2007, he had his first major show at the Vancouver Art Gallery. While his color work wasn't really seen until well after other color photography pioneers like William Eggleston and Stephen Shore broke down the walls, Herzog had shot his first rolls of color film decades before them. So in a way, he's become recognized as a pioneer of color photography, himself. 
Herzog still lives in Vancouver today and has published multiple books, gaining a worldwide audience in love with his work.
Style:
Pioneer of color photography
Grittier, working class side of the city
Signs, posters, cars and other Americanism found in Vancouver, British Colombia
Kodachrome look with rich, saturated colors and pleasing tones
Gear:
Fred has used a variety of cameras over his career, including Nikons, Leicas, a Kodak Retina 1, and even the Canon WP 1, a quirky weatherproof 35mm camera. His preferred film has always been Kodachrome and when it comes to lenses, he's shot a variety, with mid-range seeming to be the most common.
Quotes:
"Timing in photography is almost everything. You have to pay attention to where the light comes from, you have to pay attention to your background."

"Only a few people can see but most people don't even look."

"Take street pictures because it hones your instincts for speed and for quick composition. But above all what you bring in your mind to the scene is what makes your picture. "

"I was aware I was taking art. That's the conceit of young people. I knew that what I am doing is not only unique, but that someday I'm going to unpack that and shock people with it."
Related Photographers to Check Out:
 Saul Leiter, Helen Levitt, Ernst Haas and William Eggleston.
Recommended Video:
Recommended Reading:
Fred Herzog
Fred Herzog: Photographs
Highlighted Work: