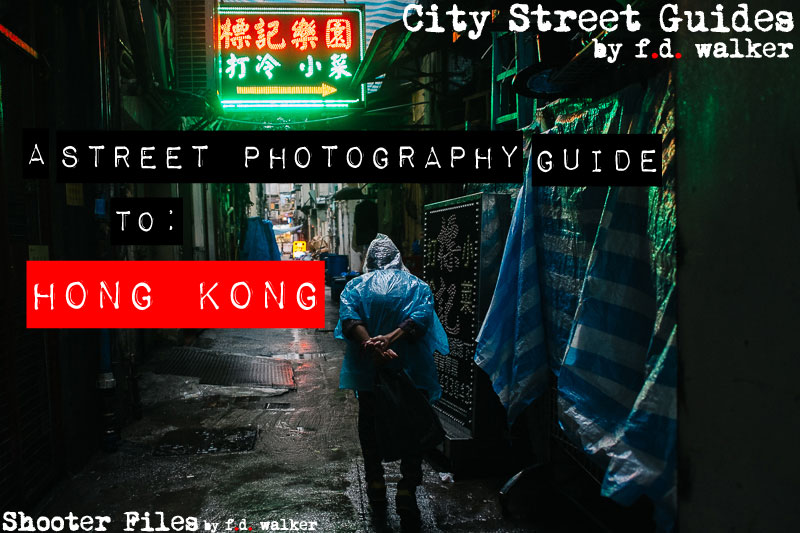 *A series of guides on shooting Street Photography in cities around the world. Find the best spots to shoot, things to capture, street walks, street tips, safety concerns, and more for cities around the world. I have personally researched, explored and shot Street Photography in every city that I create a guide for. So you can be ready to capture the streets as soon as you step outside with your camera!
Hong Kong
Overview:
Hong Kong is known for being one of the world's largest financial hubs, but it's also one of the world's greatest multicultural cities, providing a modern exterior with a traditional interior to explore. It's a one of a kind city full of character, variety and interest, showing the future in one direction and the past in another.
Hong Kong has one of the most impressive city skylines I've seen, but down on the ground in the narrow alleys and older neighborhoods, you can experience a completely different atmosphere. With such an appealing mix of scenery and life, I'd recommend it as one of the best cities in Asia for street photography.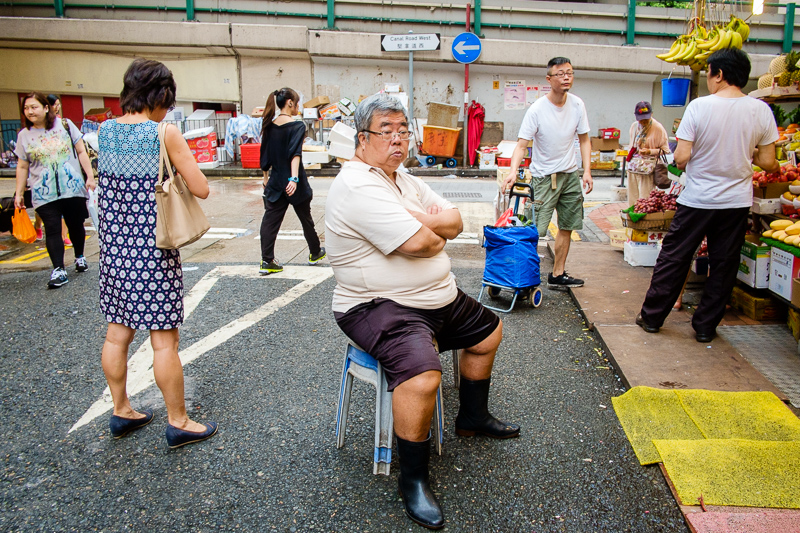 So here's a Street Photography guide so you can be ready to capture all that Hong Kong has to offer before you even arrive!
Map:
Ladies Market / Goldfish Market
Temple Street
Wan Chai
Central / Hollywood Road
Causeway Bay / Times Square
Top 5 Street Spots:
1. Ladies Market / Goldfish Market
The Mong Kok area of Kowloon provides some of the best atmosphere and street life in Hong Kong. Mong Kok is one of the busiest and most highly populated districts in the world. Its mix of older and newer buildings contain much of the character Hong Kong has been known for in the past. It's also one of the major shopping areas in Hong Kong, which includes two of the city's most famous markets, both of which provide multiple streets of activity with their own unique vibe and scenery. While Mong Kok definitely attracts the tourists, it still keeps a local charm and atmosphere.
Ladies Market
The Ladies Market on Tung Choi Street might be the most known street market in the city. It's called Ladies Market due to the low-priced products for women it sells, but has a variety of other goods for sales, including household items and souvenirs. You'll find rows and rows of over 100 stalls along the street, while behind them you can find actual shopping stores.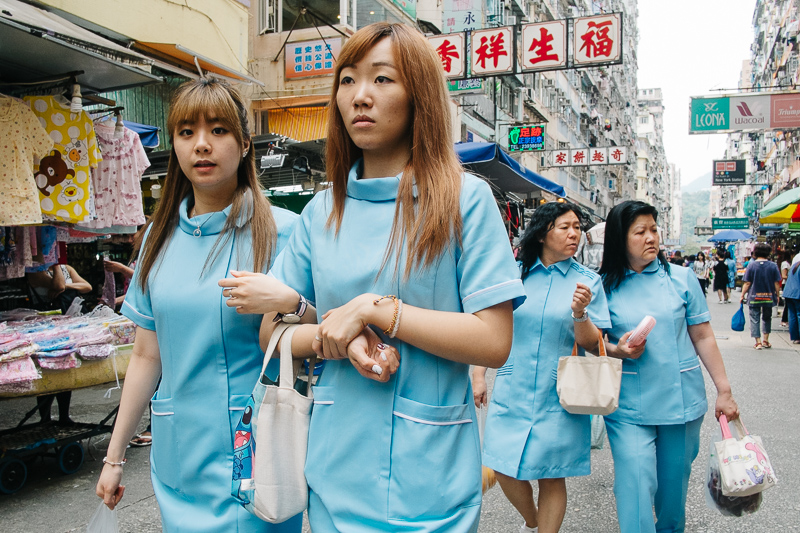 (The Ladies Market is on Tung Choi Street between Argyle and Dundas Streets)
Goldfish Market
The Goldfish Market is one of the more unique markets you'll come across. Goldfish are extremely popular in Hong Kong, partly due to their aquariums containing all five elements of Feng Shui. They are used to balance the home and bring good luck, while also providing a pet that doesn't require much space.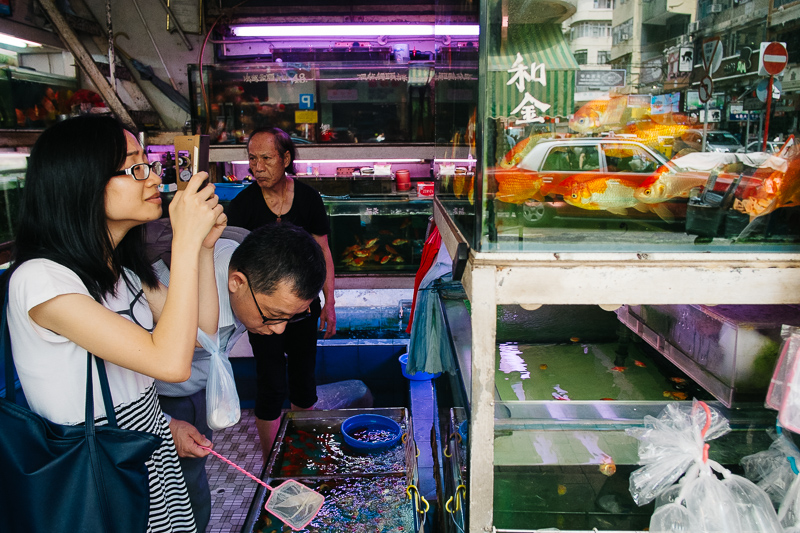 The Goldfish Market lines Tung Choi Street North with thousands of bagged fish of different colors and shapes. Inside the different shops, you'll find aquariums, equipment and even more fish for sale. Walking around here is an interesting sight to say the least, with men in business suits holding bagged fish up to the light for with selecting. 
2. Temple Street
Temple Street provides some of the gritty, edgier side of Hong Kong. A popular spot for prostitutes and fortune tellers, it still manages to attract crowds with its popular street bazaar. The setting and some of the activity might give off a seedy vibe, but it's really quite safe and has been featured in many movies due to its authentic Chinatown atmosphere.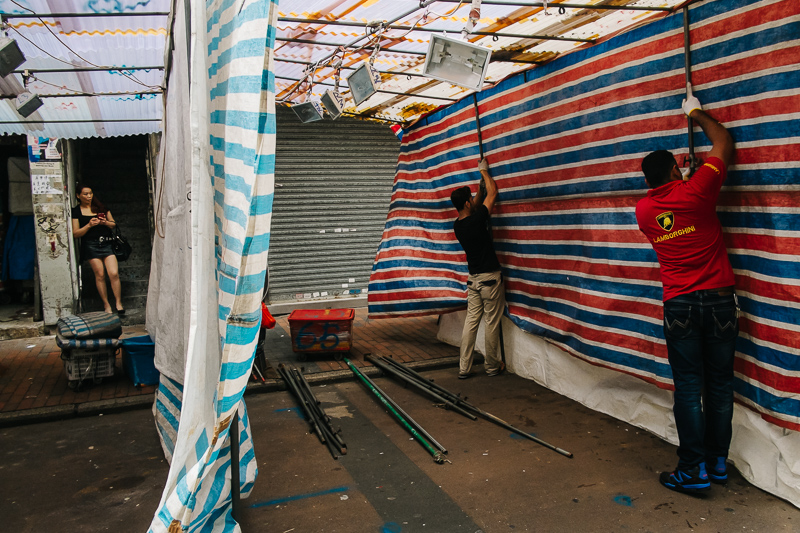 Once evening hits, the street fills with over 100 stalls lit up with colorful lights selling cheap goods, men's fashion, second-hand items and plenty of street food. During the day, it's more quiet, but still provides some activity in a very interesting environment. At night, it can get very busy. The market officially opens in the afternoon, but most hawkers set up around 6pm and start closing down around 11pm. Nearby, you can find a colorful wholesale fruit market too.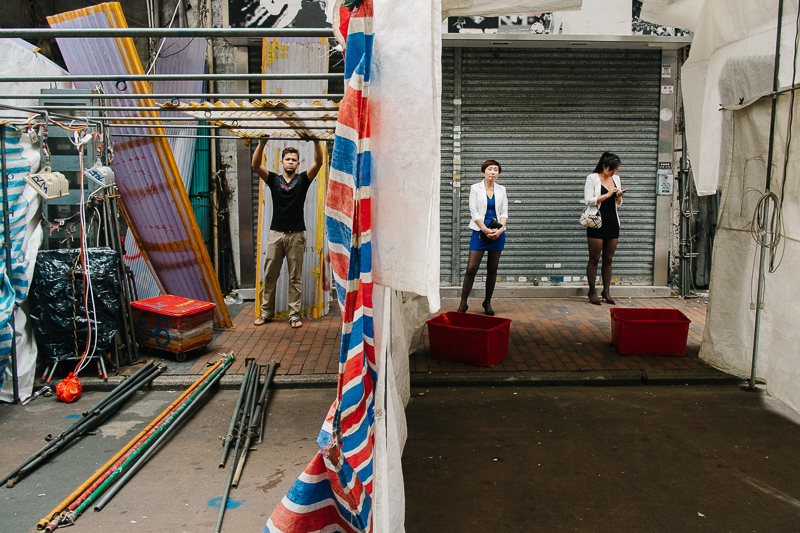 3. Wan Chai
Wan Chai is Hong Kong's famous red light district, where sailors came for some R&R in the old days. Today, much of that has changed with shopping centers, sky scrapers, markets, restaurants, bars and more. You can still find remnants of its red light days on some of the streets too, though.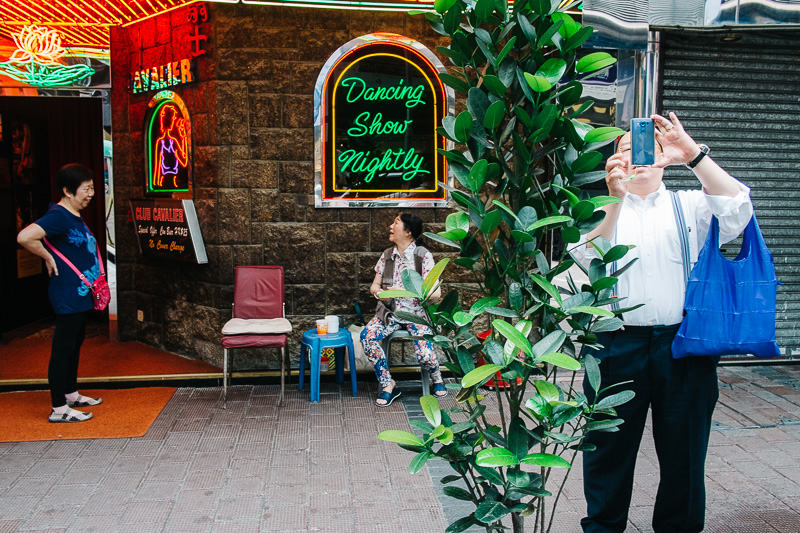 Wan Chai has a mixture of the city's older character amidst Hong Kong Island's modern development. Some of the best spots to explore here are the narrow alleys which can take you back in time just steps away from a modern highrise. It's also one of the first areas developed in Hong Kong, while still being one of the busiest commercial areas today. Some of the older buildings show their age, which provides an interesting atmosphere amongst the new developments.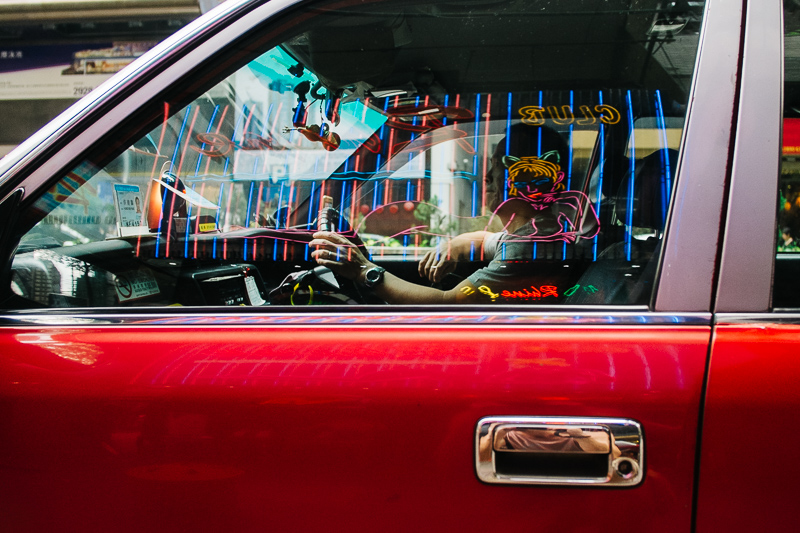 4. Central/Hollywood Road
The Central district is the political, administrative and financial hub of Hong Kong, and the setting for much of Hong Kong Island's impressive skyscraper skyline. With all the corporate and government headquarters located here, there's a modern, multinational vibe, but mixed in is a variety of atmospheres to explore. Victoria Harbour is in front, and where you'll land if taking the ferry from Kowloon. From here, you can check out the relaxing Central Promenade before heading into the busy streets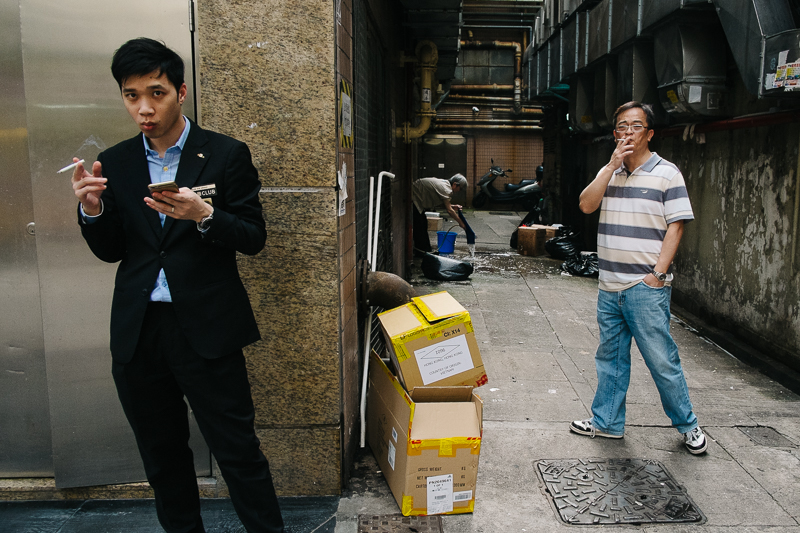 Hollywood Road is one of the main attractions in Central and was the first road completed after Hong Kong was founded. Chinese traders first came here to meet with British and European traders, and much of this vibe is preserved, although a little touristy. This winding street is lined with shops selling art, antiques and pieces from the city's past. It's the center of the art scene in Hong Kong and gives a mix of east and west. At the south of Hollywood Road, you'll run into the Soho area, which is filled with restaurants and bars, bringing activity during the day, and even more at night.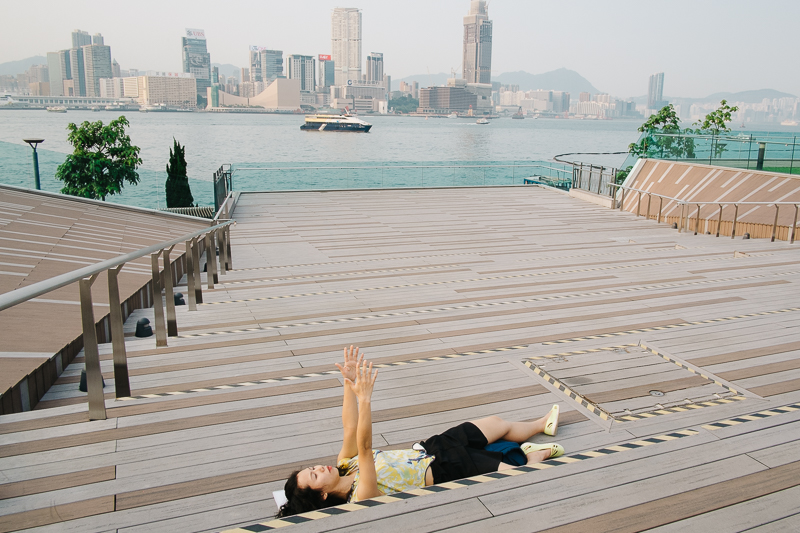 5. Causeway Bay/Times Square
Causeway Bay is one of Hong Kong's most famous shopping districts. The streets are lined with markets, shops, fashion boutiques and more, many of which are out on the street. You've probably seen photos of this area with shoppers underneath brightly lit signs. Some of the streets are pedestrian-only, and while it does get crowded, much of it provides enough open space. 
Times Square is the fanciest spot for shopping in Causeway Bay and has been ranked as the most expensive rent in the world. The mall contains 230 stores on 9 stories to compensate for the high land rent. Shoppers empty out onto the outside square at all times of the day. Many events and celebrations are set up at this square too, including the Hong Kong's New Year's Eve countdown.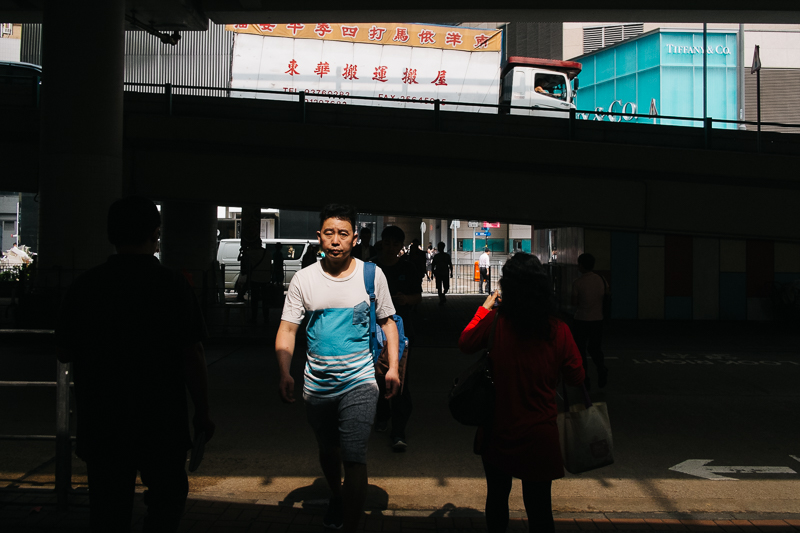 A block away from Times Square, you can find a completely different world at Bowrington Road Market. Once you cross Canal Street, you experience the extreme contrasts that Hong Kong can provide at this old world wet market. It's dirty, colorful and full of life and character. Fresh meat, fish and produce line the streets, while gloved workers keep busy around you. Times Square and Bowrington Road Market give you the two sides of Hong Kong right next to each other.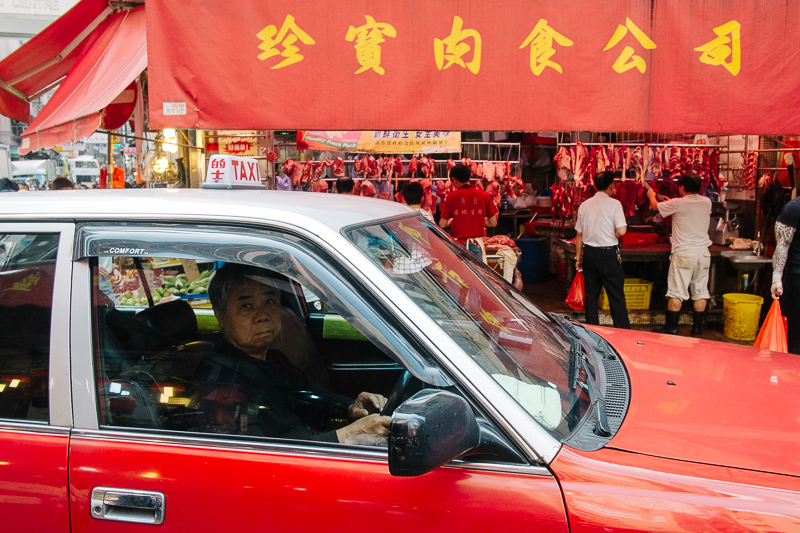 Bonus: Macau
Macau is another Special Administrative Region of China and the most densely populated region in the world. It's been called the "Vegas of China" due to its many casinos and while in Hong Kong, you can take an hour ferry ride to Macau for an easy day trip.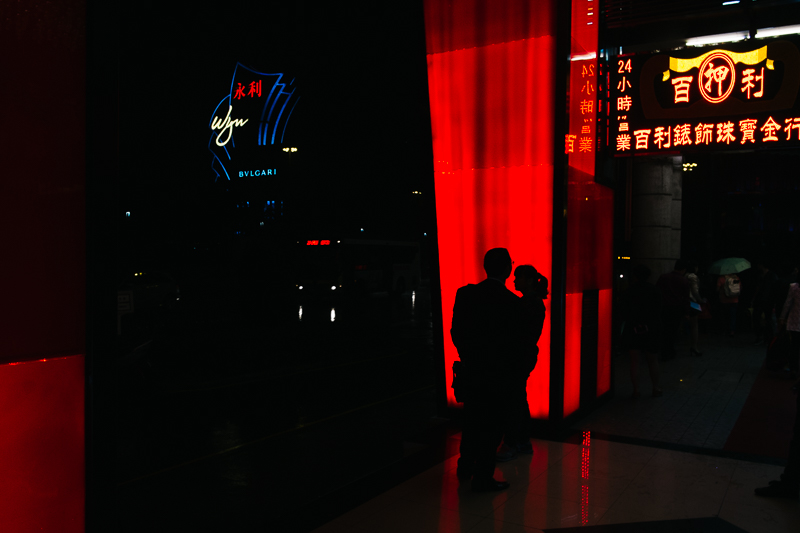 Macau just passed Las Vegas as the city with the highest gambling revenue. This has more to do with the amount of Chinese tourists it attracts, as its casino atmosphere pales in comparison to Vegas, but it still provides bright lights and grand casinos. It also provides historic monuments and cobblestone streets of Portuguese influence, as Macau was actually the first and last European colony in China. If you have the time, I'd highly recommend the short trip for some more street photography with a very different change of scenery. Being able to walk around and capture atmospheres of China, Portugal and Vegas in one place is worth the short ferry ride.
Sample Street Walk:
For a full day of Street Photography, covering some of the best spots, you can follow this sample street walk for Hong Kong:
Start your morning walking around the Ladies Market (1) and Goldfish Market (2)
Walk down Nathan Road and finish by Star Ferry Pier
Enjoy the views of the Hong Kong Island skyline before taking the ferry to Central (6)
After exploring Central/Hollywood (6), walk or take transportation to Wan Chai (4)
Explore Wan Chai, making sure to check out the alleys, and walk towards Causeway Bay/Times Square (5)
After giving Causeway Bay and Times Square (5) plenty of time, take transportation back to Kowloon for the Temple Street Night Market (3) 
End the night here, or you can spend more time capturing the lights around Nathan Road in Tsim Sha Tsui, or hit the Central/Hollywood (6) nightlife back on the island.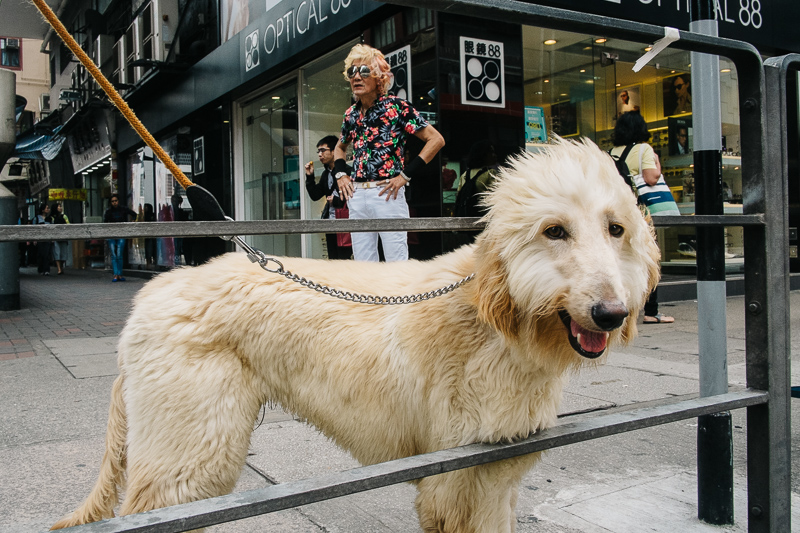 Where do you like to photograph most in your city?
"Tsim Sha Tsui because of all the people there." (interview coming soon)
3 Things to Capture in Hong Kong:
1. Narrow Alleys
One of the best parts of Hong Kong is exploring the different worlds hidden within the narrow alleys. While being in such a developed international city, it immediately takes you back in time to a feeling of the Hong Kong of old. You'll find a lot of workers in the back alleys, especially from restaurants. There's junk and a dark, gritty atmosphere, but one that can make for interesting photos.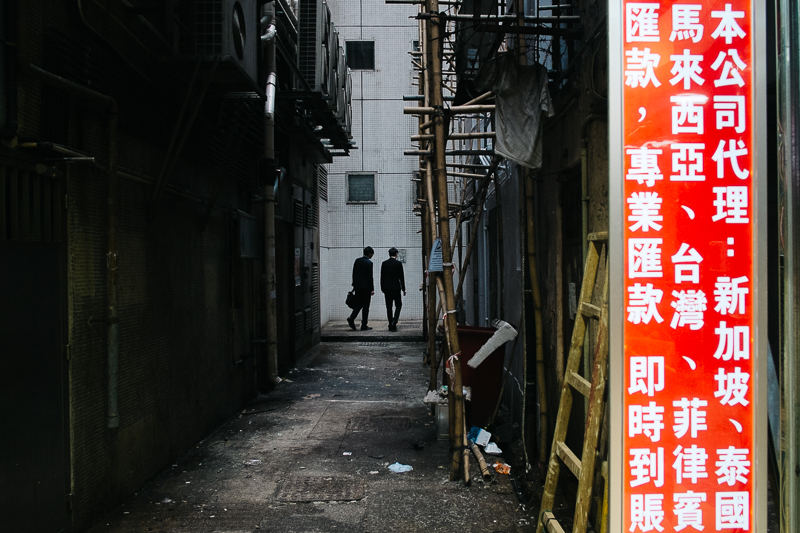 2. Mix of Old & New
Probably my favorite part of Hong Kong is the mix of old and new it has going. While it has some of the nicest sky scrapers and modern buildings you'll see anywhere, it's managed to keep the older buildings and narrow alleys from its past.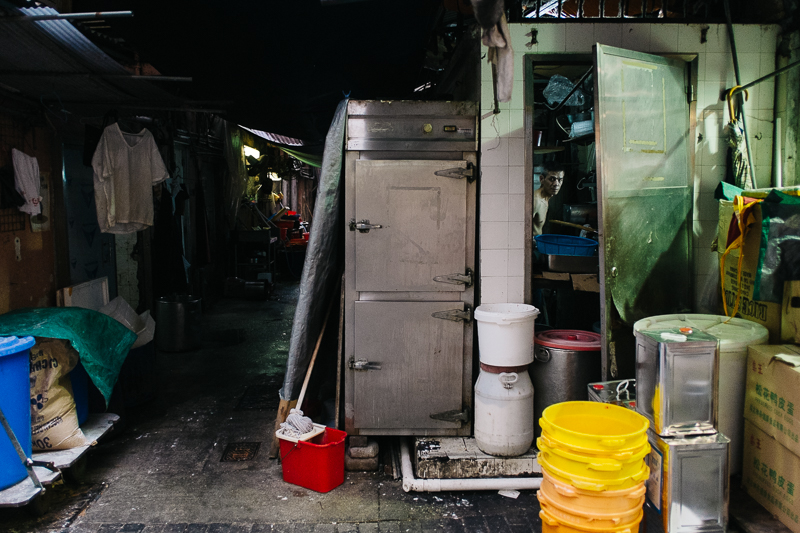 There's that beautiful Hong Kong skyline up high, but down on the ground you can find areas that take you back with old, Chinese neon signs, markets, dirty alleys and plenty of character.
3. International Flavor in Asia
Hong Kong is an international city like no other. Especially compared to China, the British influence is very felt. It has a mix of east and west maybe like no other city I've been to. You can find it all in Hong Kong. This can be seen in the architecture, signs, shops, restaurants and atmosphere. It can also be seen in the mix of nationalities crowding the streets around the city. There's a feeling that anyone around the world could move here, and they do.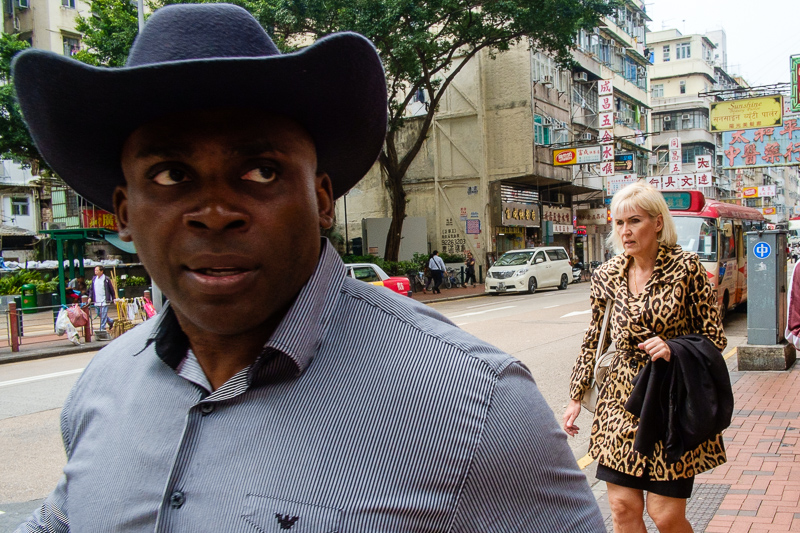 This, of course, creates an attractive environment for street photography with a variety of interest to capture.
What To Do For a Street Photography Break?:
Enjoy the City Views
I don't go as crazy over skylines as many people, but I have to admit the view of Hong Kong Island from Kowloon is one of my favorites in the world. The shiny and metallic buildings look beautiful with their variety of shapes and architecture. Then directly behind them you have the green hills providing a very interesting backdrop and juxtaposition. Hong Kong regularly provides a moody fog that adds even more to the skyline too. Go to the Kowloon Public Pier for the great skyline view and Victoria Peak on Hong Kong Island for the city view from up high.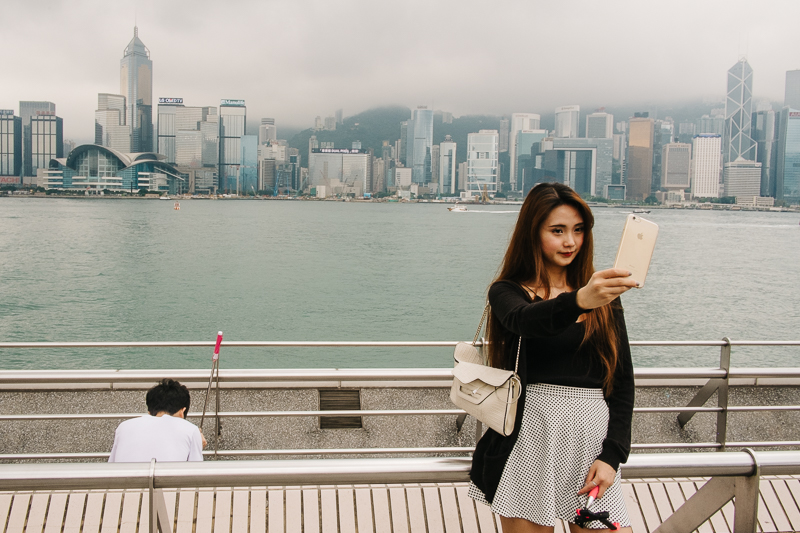 Street Safety Score: 8
*As always, no place is completely safe! So when I talk about safety, I'm speaking in general comparison to other places. Always take precaution, be smart, observe your surroundings and trust your instincts anywhere you go!
For a large city, Hong Kong is ranked as one of the safest cities in the world, especially when it comes to personal safety. It feels pretty safe too. Even in some of the sketchier areas like the red-light districts, people are mostly friendly. It's a big city that attracts tourists, so you're going to have some petty crime, but overall, you should have no worries about exploring Hong Kong.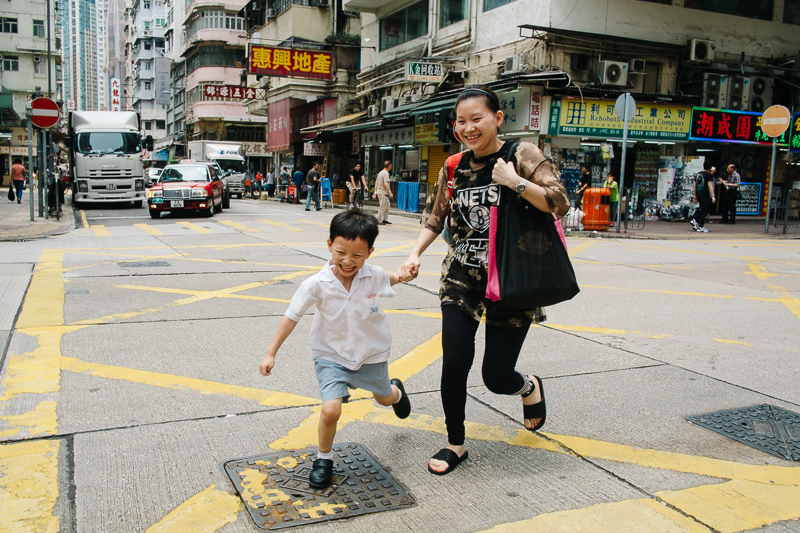 People's Reaction Score: 8
When it comes to street photography, Hong Kong does very well when it comes to photo friendliness. It's a big, crowded, busy multicultural city. Most people aren't even paying attention to cameras. Everyone's taking photos everywhere, anyway. And if someone does pay attention to you taking their photo, they either don't care or give a friendly smile. So in Hong Kong, anyone should be able to shoot candid without fear.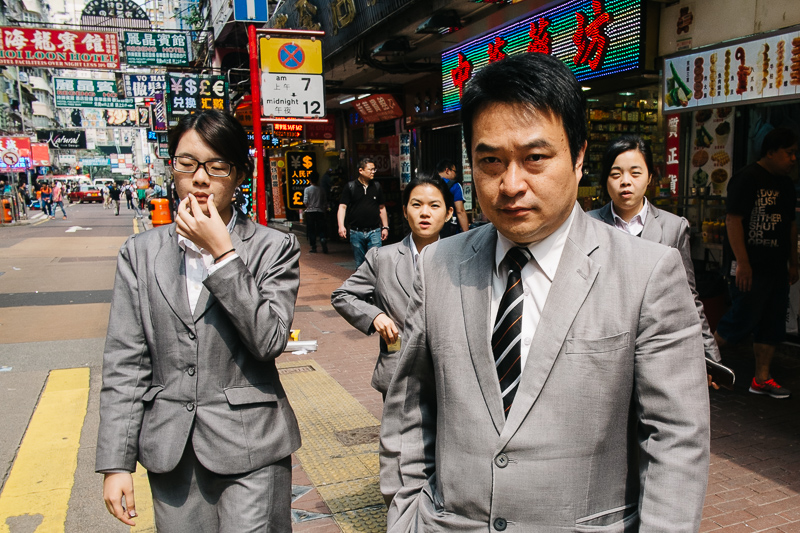 Street Tips:
Take the Ferry, but Use the metro too (octopus card) 
You can take the underground metro across the water, but you have to take the ferry at least a few times too. I took it almost every time. It goes often and gives great views of the city. And while the ferry life doesn't compare to a place like Istanbul for photography, it still can provide some interest. 
The Octopus card is a reusable smart card you can store money on and use for Hong Kong's mass transit system, and even in many retail shops and vending machines. It makes things easy, similar to the Oyster card in London.
Hong Kong Island or Kowloon? Both!
A popular question online is where to stay/go, Hong Kong Island or Kowloon. Personally, if I had to choose, I'd pick spending more time in Kowloon, but you have to spend plenty of time on the island too. For many, it would be easy to prefer either because they both have so much to explore, while providing their own vibes.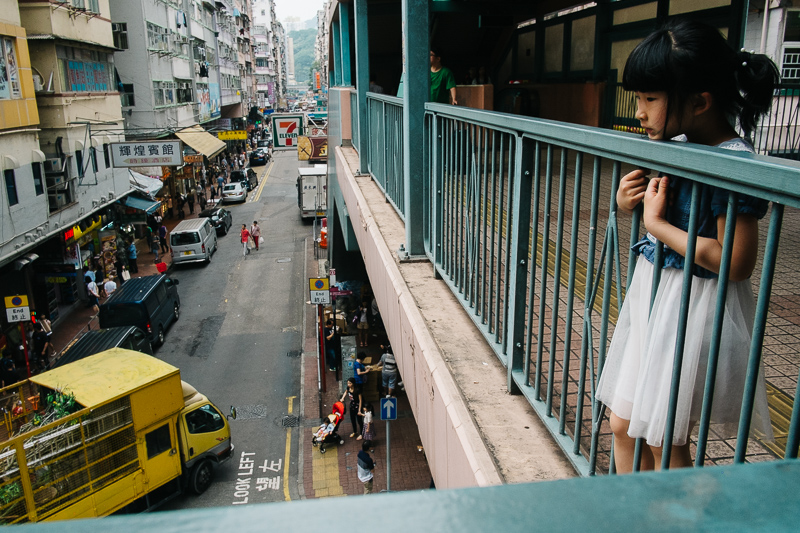 On Hong Kong island, you have the famous skyscraper skyline, Central/downtown, Hollywood street, Wan Chai and the red light district, Causeway Bay/Times Square, and more. On Kowloon, you can see that skyscraper skyline and you have the famous Nathan street, Ladies Market, Goldfish Market, Temple street, and endless streets that give you that Hong Kong of old. Kowloon feels a little edgier, while the island feels more cosmopolitan, but both share these characteristics too. You just have to give both plenty of your time with your camera.
Always check the alleys!
Explained above, but worth mentioning again as a tip too. The alleys in Hong Kong have their own special character. Another world inside the city.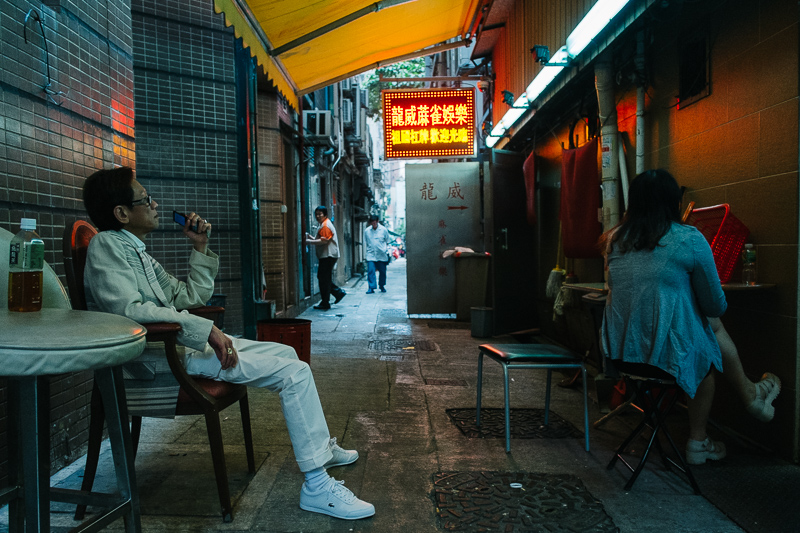 Check the weather too
When it comes to weather, I haven't had the best luck in Hong Kong. Much of my time there has been dark, cloudy and rainy for the most part. Now I wouldn't include this based on my bad luck, but this weather isn't completely out of the norm in Hong Kong. Gray days can be common here and sunshine levels aren't great. So be prepared, but bad weather can be part of the mood in photos so it doesn't have to be a negative. With the lights and atmosphere, the wet weather can be used to add some interest too.
Inspiration:
For some more inspiration, you can look through the Street Photography of Hong Kong photographer Fan Ho and check out 33 of my photos taken in Hong Kong.
Conclusion:
Hong Kong is one of the more unique cities I've been to with an international urban vibe mixed with old world Asia. The modern skyline brings you in, but the experience of all that awaits you below should put it at the top of any street photographer's list.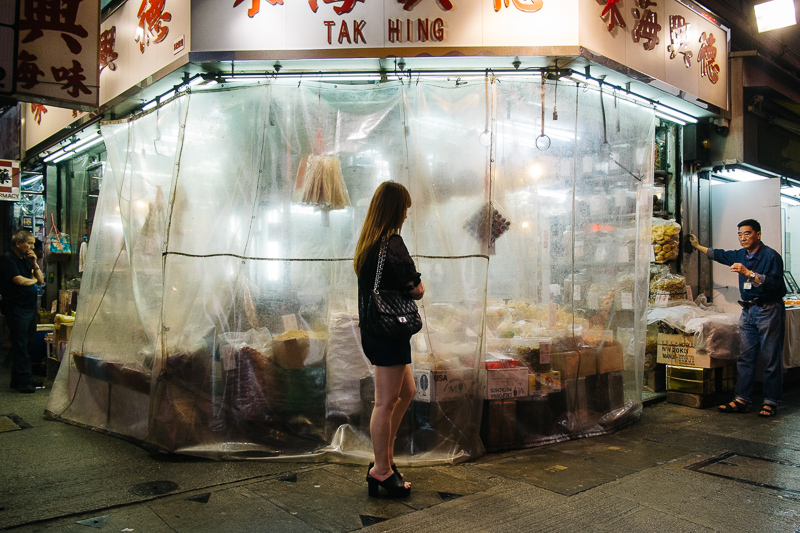 I hope this guide can help you go experience Hong Kong's captivating mix of life and atmosphere. So grab your camera and capture all that Hong Kong has to offer for Street Photography!
If you still have any questions about shooting in Hong Kong, feel free to comment below or email me!
(I want to make these guides as valuable as possible for all of you so add any ideas on improvements, including addition requests, in the comment section!)
(A New Guide Posted Every Other Wednesday)