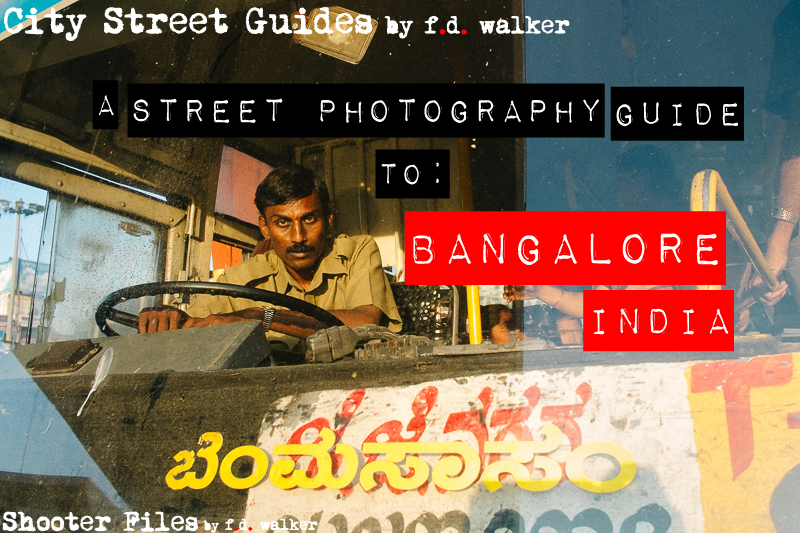 *A series of guides on shooting Street Photography in cities around the world. Find the best spots to shoot, things to capture, safety concerns, street tips, and more for cities around the world. I have personally researched, explored and shot Street Photography in every city that I create a guide for. So you can be ready to capture the streets as soon as you step outside with your camera!
Bangalore
Overview:
Bangalore, which recently changed its name to Bengaluru, is one of India's fastest growing cities. With a booming tech industry that's given it the nickname "The Silicon Valley of India" and a vibrant, trendy scene, it has a lot to make it stand out in India. But if you're looking for the older, chaotic and colorful India, Bangalore still has that more than covered. It provides a blend of past and future India that make it a great place for street photography, along with some of the best market life around.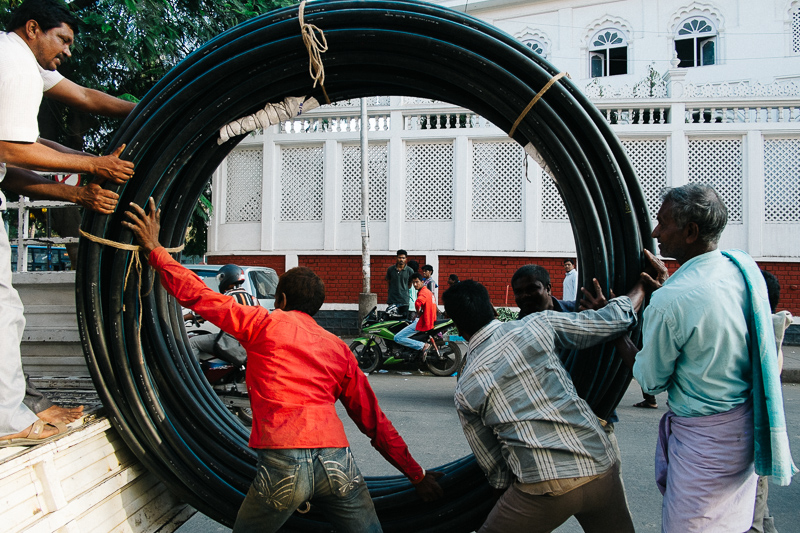 So here's a Street Photography guide to the city so you can be ready to capture all that Bangalore has to offer before you even arrive!
Map:
KR Market
Avenue Road
Majestic
Shivaji Nagar
Pottery Town
MG Road/Brigade Road
Top 6 Street Spots:
1. KR Market
KR Market is the most active area in Bangalore. It consists of three markets, each with their own specialization. The area was actually built on an old battleground and was the first place to receive electricity in Asia. The markets are both inside and outside with the largest flower market in Asia and a 3 floor tall main building. In addition to the market, the area is surrounded by busy streets full of shops.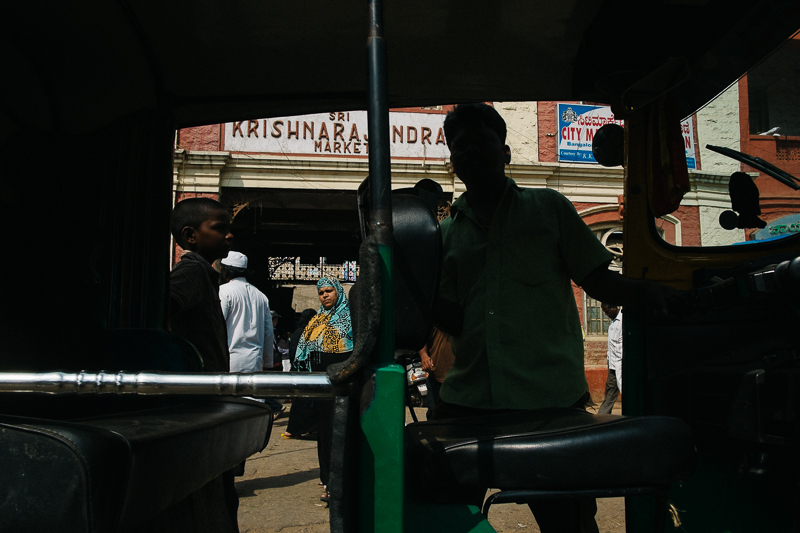 There's not really a time of day, or night, that it completely shuts down. It's the beautifully chaotic India that you envision, surrounding you with a variety of activity wherever you go. You can begin in the middle of KR Market and just start exploring in any direction. You'll be surrounded by the chaos of workers, cows, carts, tuk-tuks, vendors and people going in every direction. Everywhere you look, there's something to capture in the KR Market area.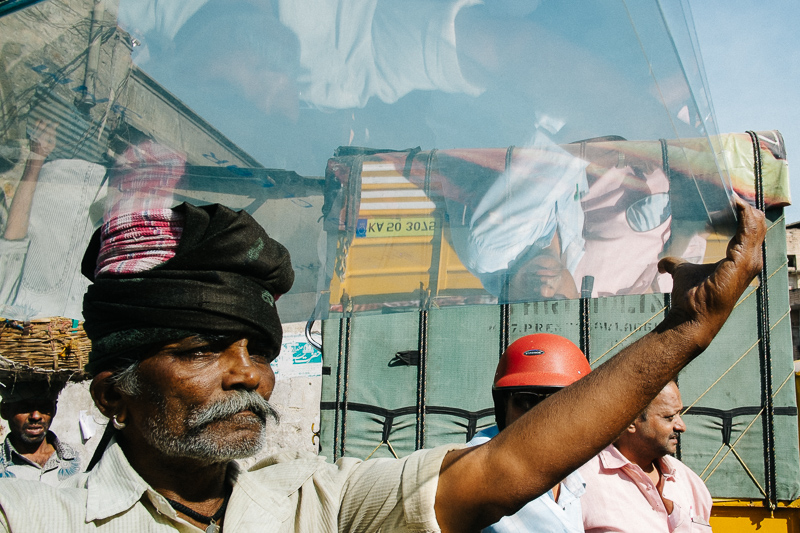 2. Avenue Road
Avenue Road  is one of the busiest shopping streets in Bangalore and stretches from the popular KR Market all the way up to KG Road. When in Bangalore, this is a great street to include in a photography walk because you can spend hours shooting around the market area and then slowly head up Avenue Road before spending the rest of your day around the Majestic area.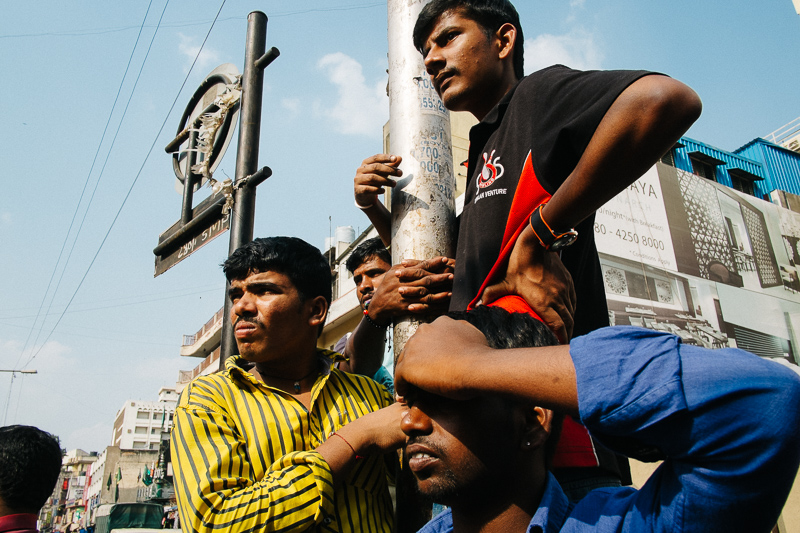 Avenue Road is always packed with people, covering the sidewalks and street the whole length. The mix of shops, restaurants, and its prime location keep the activity coming.
3. Majestic
Majestic refers to an area of Bangalore named after a popular cinema theatre of the same name located here. It's also the location of one of the city's largest bus stations, providing connectivity to almost every part of Bangalore. The station is very large and lively so it can be a good spot to spend some time, but this area is fun to just explore without a specific place in mind. It's not as crowded KR Market, but still has plenty of life around every corner.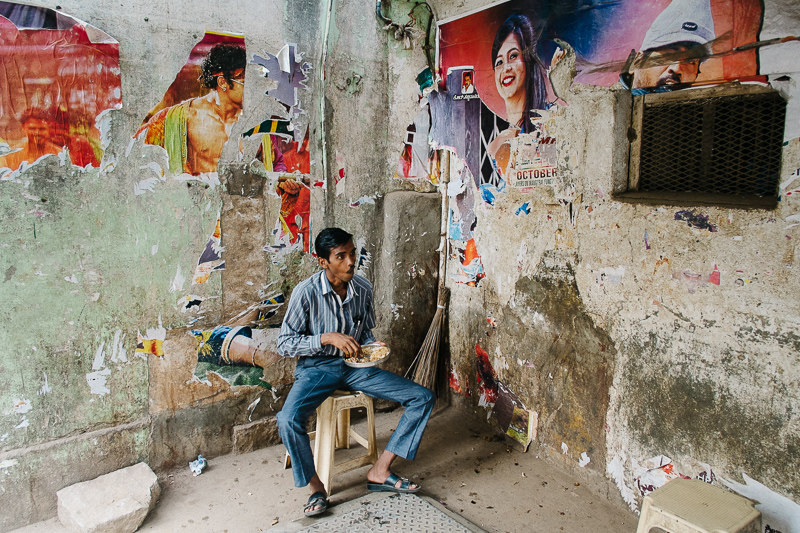 You'll find lots of colorful movie posters and ads on all the walls here too, which can be fun to capture within your scenes.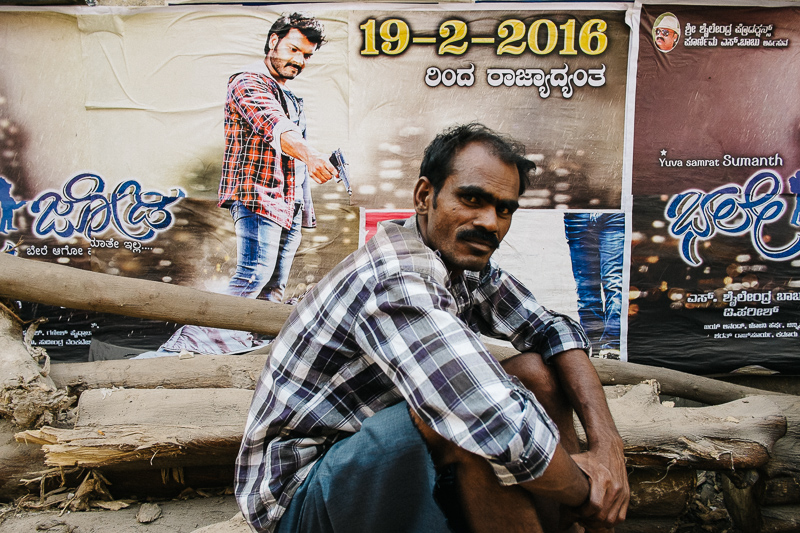 4. Shivaji Nagar
After the KR Market area, the Shivaji Nagar area might be my next favorite concentration of street photography spots. In the south of this district, you have Commercial Street full of shops and activity, including connecting streets. If you walk north from here, in the middle of the district you'll find Russell Market, which provides maybe the most active area. It's more open here and gives you an older feeling compared to Commercial Street. There's a popular meat market here too, among other attractions. Then more north you get to MM road and nearby Pottery Town.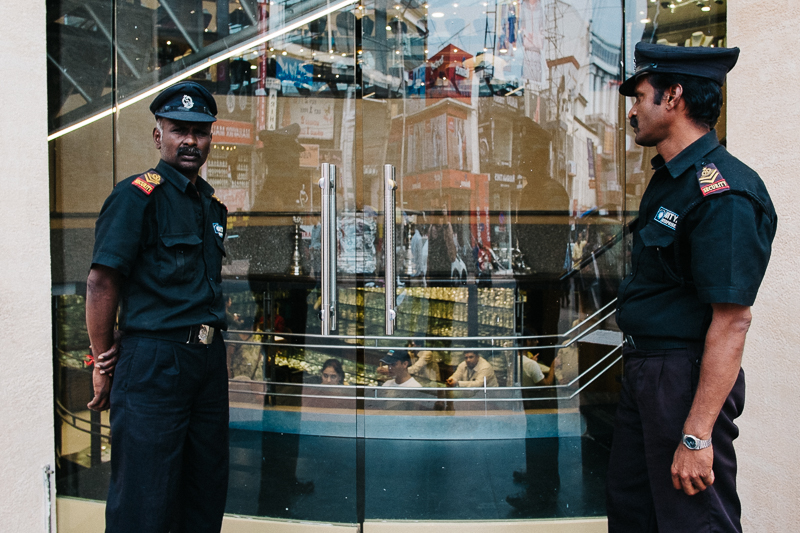 There's many areas of activity to explore between these locations too, so you could spend a day walking around it all with your camera without getting bored. Shivaji Nagar gives you more atmosphere of Bangalore's past, while giving you some variety mixed in.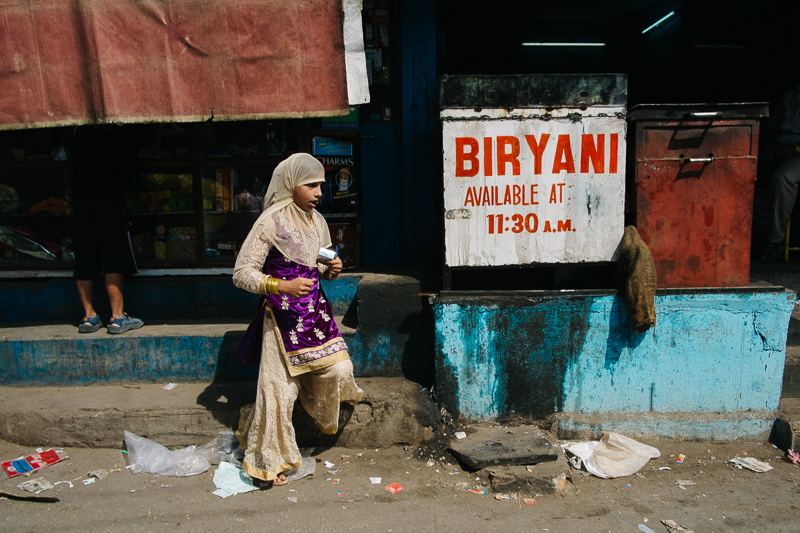 5. Pottery Town
Pottery Town is a very small section that can be a little difficult to find if you don't know where you're going. For many photographers, it's one of their favorite places in the city, though. It's an old settlement of pottery makers and artisans that gives a feeling of authenticity. For those that want to capture an age-old tradition of pottery making, you can watch some of them at work or admire the endless clay creations still baking in the sun. Surprisingly, I found exploring the side streets more enjoyable here, though, as there's a nice little, colorful neighborhood of activity.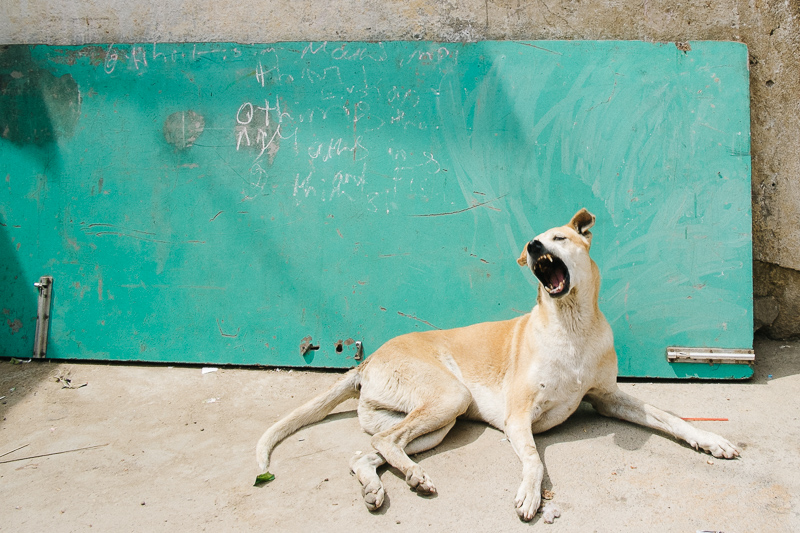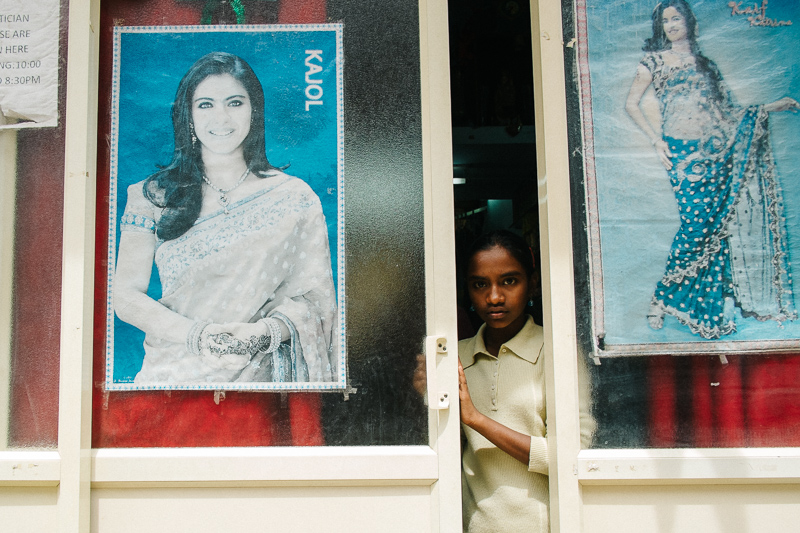 6. Brigade Road
Brigade Road is one of Bangalore's busiest shopping streets and a popular spot to hang out due to all the restaurants and bars in the area. It attracts a hip and young crowd, but you'll find a mixture of everybody walking around here due to its center location. Designer clothing brands line the main street, while the side streets are filled with trendy pubs, cafes and more. Much of it doesn't open until the afternoon, but can get really busy around evening/night. After areas like KR Market, it provides a big change of scenery and atmosphere for some street photography.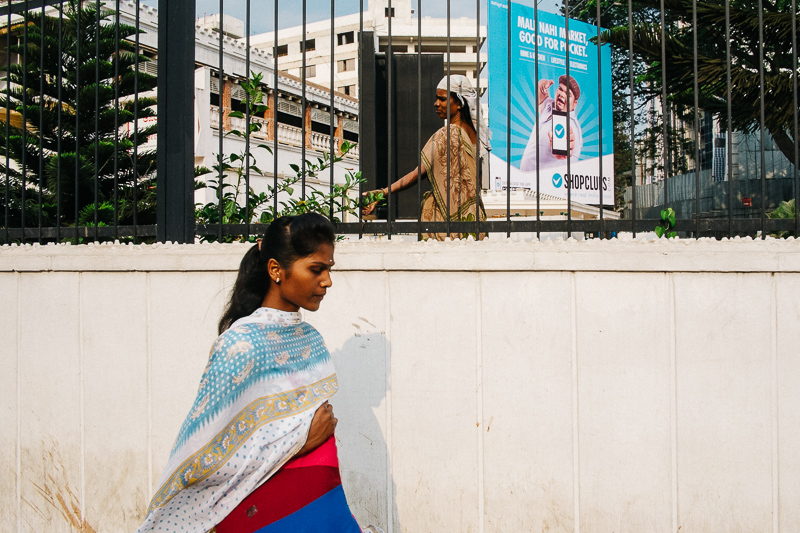 Sample Street Walk:
For a full day of Street Photography, covering some of the best spots, you can follow this sample street walk for Bangalore:
Start your morning exploring all you can around KR Market (1)
Slowly walk up Avenue Road (2)
Towards the end of Avenue Road (2) head west and explore Majestic (3)
From the bus station (3) take transportation over to Brigade Road (6) for the evening/night scene
For another walk:
Start up at Pottery Town (5) and explore the surrounding neighborhood too
Slowly walk south through Shivaji Nagar (4) until you get to Russell Market and spend some time exploring it all
Slowly walk south again until you get to Commercial Street (4) and spend some time here too
Finish your evening/night walking down to Brigade Road (6)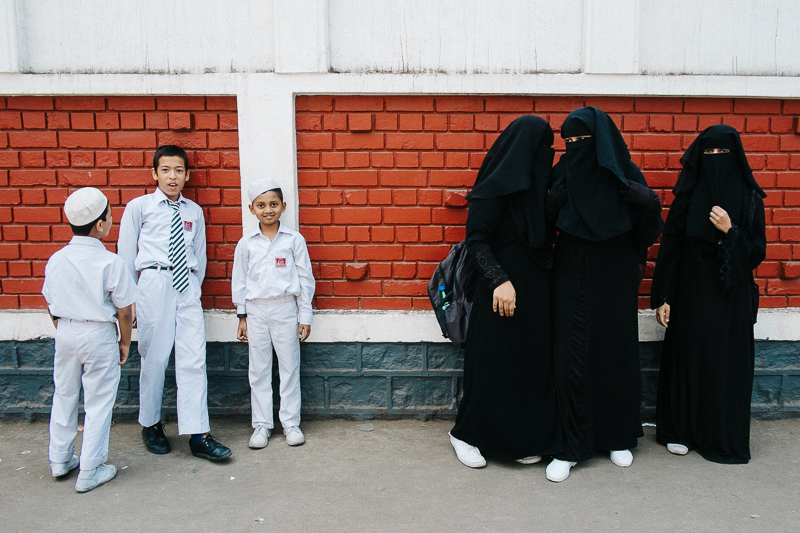 Ask a Local Street Photographer Where to Go: Arindam Thokder
"It must be the Pete Area. "Pete" means market and Pete area in Bangalore is a large area with many markets in every alley. People are active and doing something, and mostly not busy with their cellphone."
3 Things to Capture in Bangalore:
1. Market Life
For most street photographers, the KR Market area will probably be your favorite spot. It has one of the highest concentrations and variety of market life that you'll find anywhere. The chaos goes from early morning to night and has a mixture of everything a market could provide. It also has a rich history and provides the atmosphere India is famous for. Since it's not one just market and has plenty of other life surrounding it, you'll be sure to want to make a few trips and plenty of hours capturing all the area provides.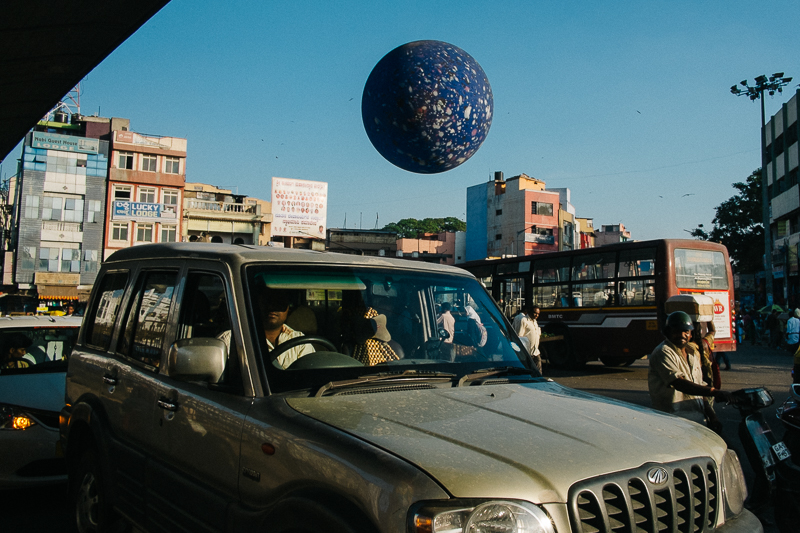 The market life doesn't end here, though, as the Russell Market and surrounding Shivaji Nagar area would be the top market spot in most cities. So even though Bangalore is a prime representation of India's rapid growth and development, it still preserves some of the best representations of old school Indian market life too.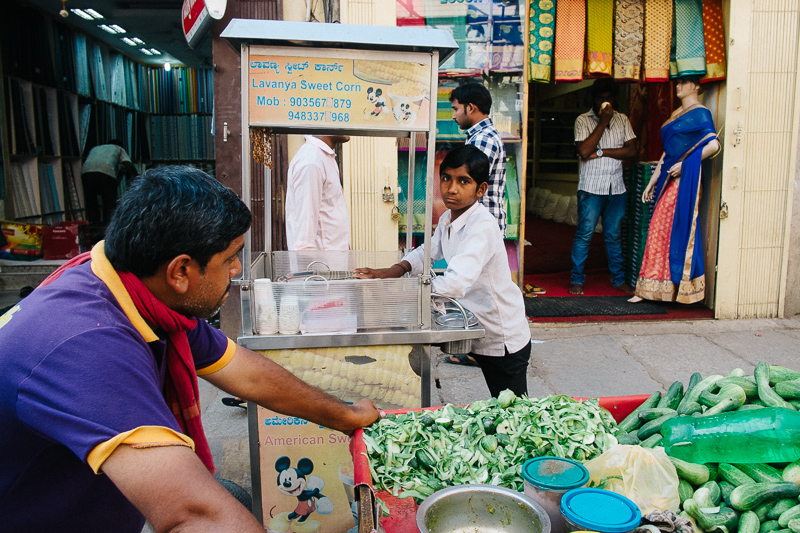 2. Colors
Bangalore is full of colorful advertisements, posters and street art. From paintings of political and religious figures to movie posters and advertisements, there's a lot of interesting visuals you can work into your photos here. They can add to a street photo and give another layer or point of interest in the scene, while also adding some color.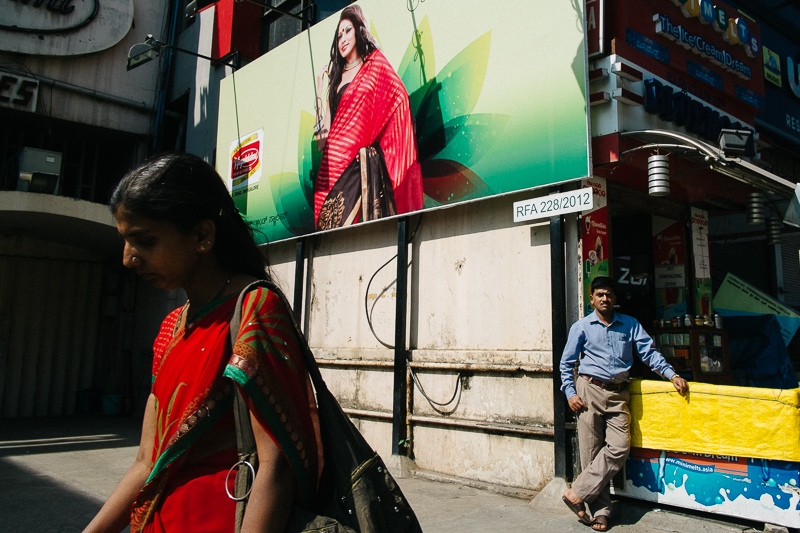 3. Growth & Commercialization 
I've traveled to most of the bigger cities in India now and nowhere have I found the rapid change more noticeable than in Bangalore. The city has grown rapidly over the last decade and gained the nickname "The Silicon Valley of India" due to its tech industry boom. Some even call it the most developed city in India today.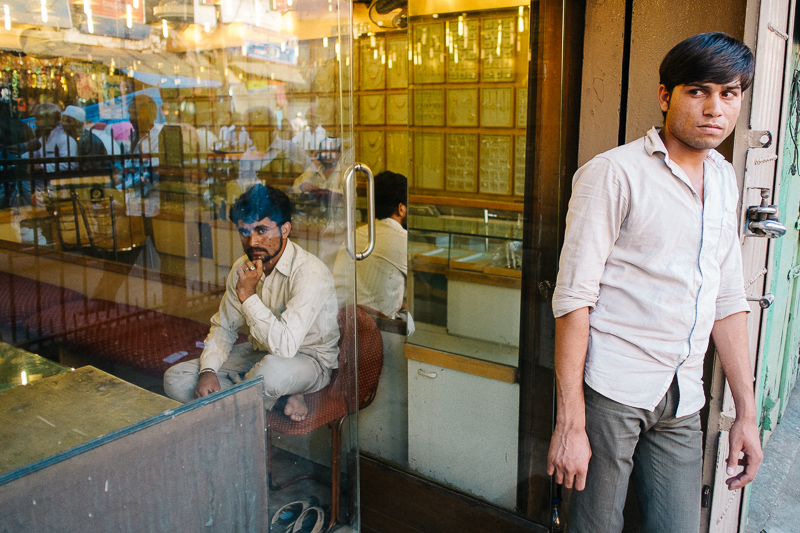 Western restaurants and designer shopping, luxury car dealerships, trendy hipster bars, nightlife, and much more give parts of Bangalore a different feeling compared to other cities in India.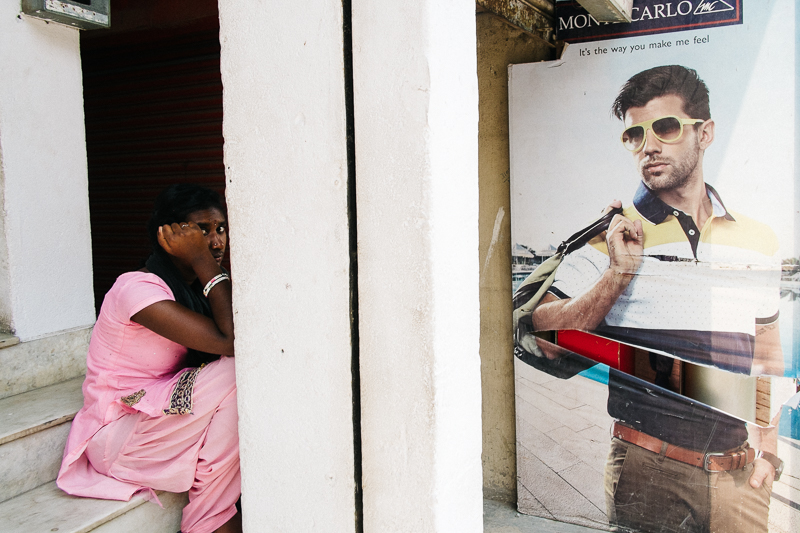 What To Do For a Street Photography Break?:
Trendy Spots for Food and Drink
Bangalore has more food and drink options than most cities in India. It's one of the few cities in the country that has a trendy nightlife too. Bangalore is full of universities and tech jobs so it attracts many younger people. This is partly why the nightlife is as big here as anywhere outside of Mumbai. There are coffeeshops, bars, cafes, shopping and lots of other places that cater to this younger crowd. So if you want to go out at night, or you just want a nice craft beer or espresso, Bangalore provides one of the best opportunities in India. Some of these trendier hot spots include UB City, Indiranagar and Brigade Road.
Street Safety Score: 8
*As always, no place is completely safe! So when I talk about safety, I'm speaking in general comparison to other places. Always take precaution, be smart, observe your surroundings and trust your instincts anywhere you go!
Safety in India can be a tricky subject. In my personal experience, Bangalore feels as safe as any bigger city around. The people are extremely friendly and while some areas might look dangerous due to poor conditions, looks are usually deceiving here. That being said, there are some parts at night that you should use common sense and trust your instincts, although I've never felt unsafe in Bangalore. I am a man, though, and while it might be a touchy subject, safety concerns are generally much lower for men traveling around India. Plenty of women travel around India without any trouble, but it as advised to take a little extra precaution when traveling alone.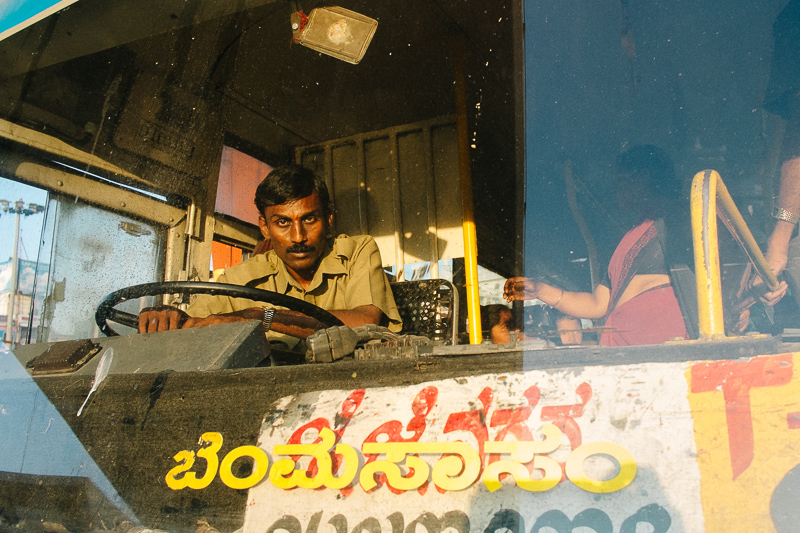 People's Reaction Score: 9
Unless it's an exception, I will just include the following when it comes to street photography reactions in Indian cities:
It's India. Your biggest problems with reactions are posing, others wanting to get into the photo, endless photo requests, and sometimes even getting chased for a photo. If you're a foreigner especially, people love photos here.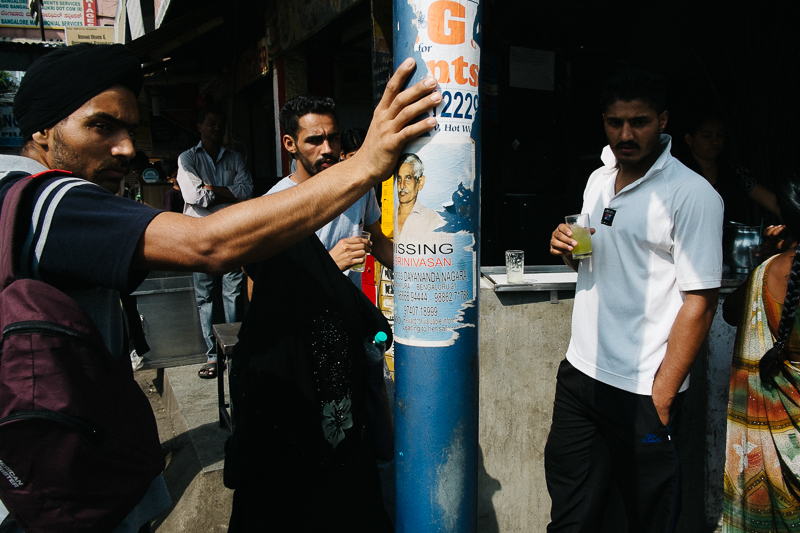 Street Tips:
Don't take the bus
Traffic is crazy and chaotic all over India so judging by looks, Bangalore's traffic goes along with the norm. If you're actually in the traffic, it's a different story, though. It's not just slow, like many of India's bigger cities. In Bangalore it doesn't even move.
Talking to the locals, there's a few reasons for this. There's a high number of cars instead of motorbikes compared to many of India's cities, the roads aren't as wide, and the infrastructure wasn't ready for the rapid growth Bangalore has seen recently.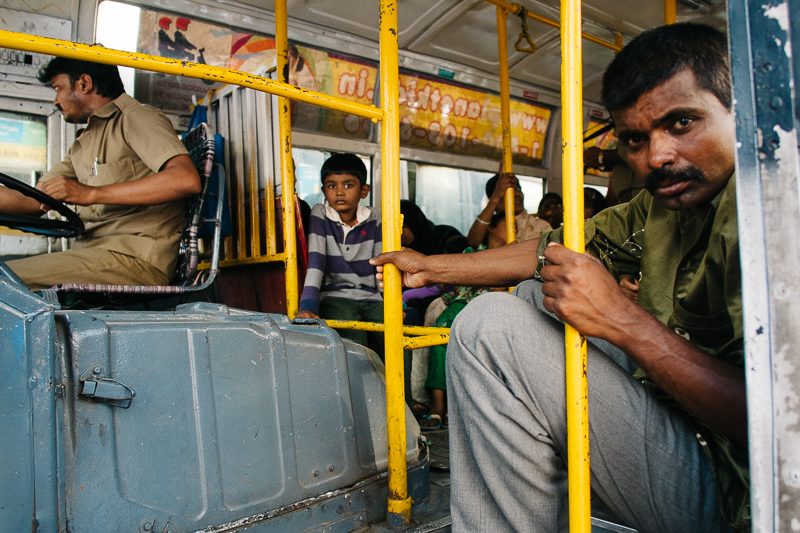 Tuk-tuks can navigate through traffic best, but other than that, walking is the best idea in Bangalore. Pick one big area per day and maybe one smaller area. Don't attempt to stretch too much into one day or half of it will be spent getting there.
Metro is not ready for big use yet
A metro system has been in the works for years now in Bangalore, but with a finish date that keeps moving back. Currently, there is one line that goes a few stops so if you're anywhere along Indiranagar to MG Road, you might want to give it try since it costs nearly nothing, but it will only cut off a few kilometers within that specific area. Photos are absolutely forbidden on the metro too, as they even make you go through security and write down your personal info if you're carrying a camera.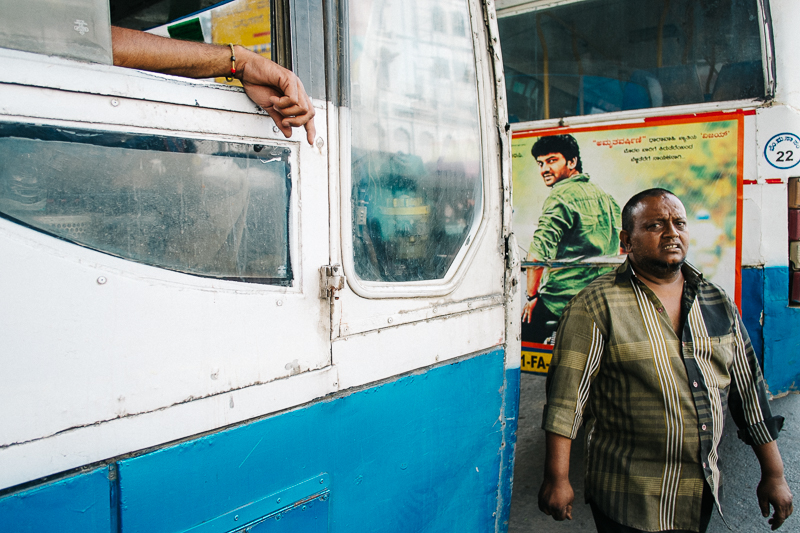 Bring extra batteries
There are multiple reasons why you'll want an extra battery, or three, when shooting in Bangalore, or any of India. For one, you'll be constantly surrounded with life and opportunities to capture it. So it can be hard to slow down the snaps. On top of that, though, are the amount of photo requests you're likely to receive. As stated earlier, many people enjoy photos here and they aren't afraid to request them if they see you taking photos. It makes for a fun experience interacting with locals, but will require some extra battery life :)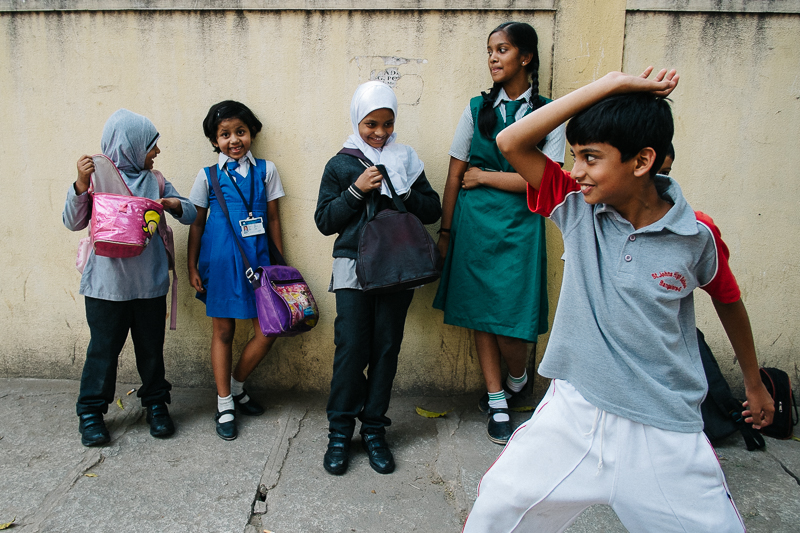 Inspiration:
For some more inspiration, you can look through the work of Arindam Thokder, and other members of That's Life, and check out 33 of my photos taken in Bangalore.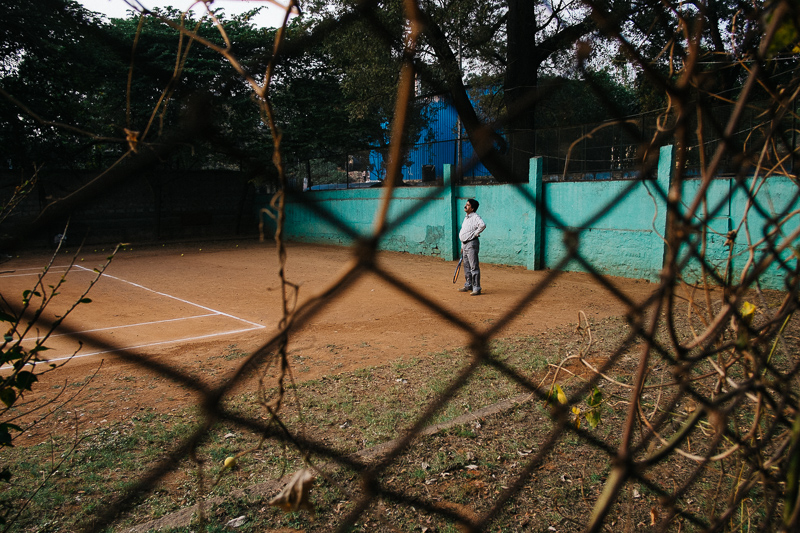 Conclusion:
Bangalore provides a great mix of past and future India in one city. For the past Bangalore, you have places like KR Market and Shivaji Nagar, but for the new Bengaluru, you have places like Brigade Road, 100 Feet Road and UB City. So seeing these different visions of the same city makes for a very interesting street photography experience. Personally, I tend to prefer the rougher, older parts of a city, but here you have both so you can mix it up. And getting the opportunity to visit a city in the middle of such rapid change can be a great thing for street photography.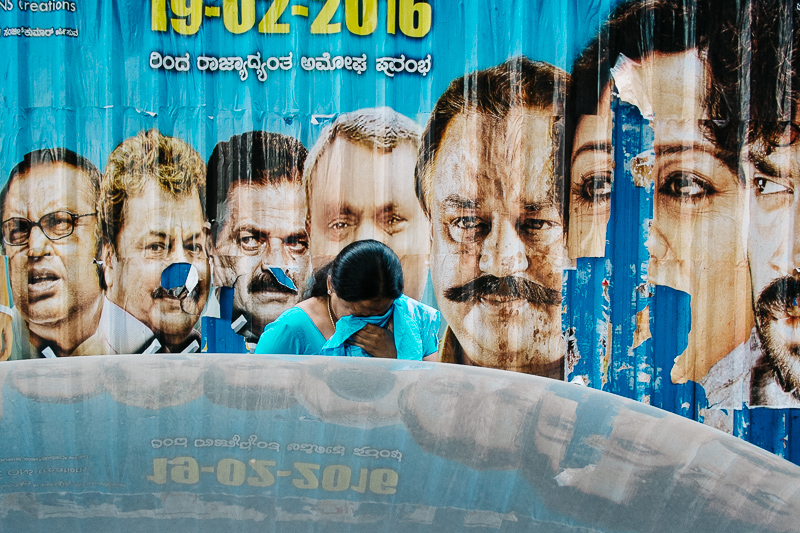 I hope this guide can help you go experience the variety of life and atmosphere in Bangalore, India. So grab your camera and capture all that Bangalore has to offer for Street Photography!
If you still have any questions about shooting in Bangalore, feel free to comment below or email me!
(I want to make these guides as valuable as possible for all of you so add any ideas on improvements, including addition requests, in the comment section!)
(A New Guide Posted Every Other Wednesday)