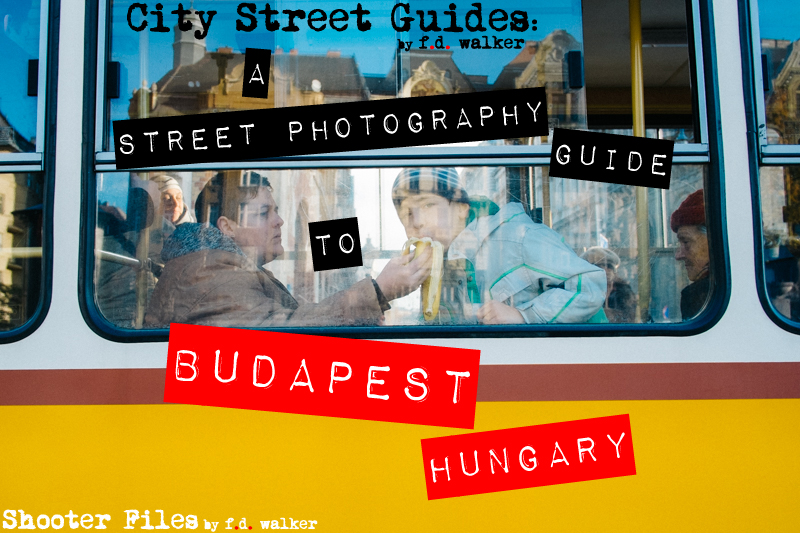 *A series of guides on shooting Street Photography in cities around the world. Find the best spots to shoot, things to capture, safety concerns, street tips, and more for cities around the world.  I have personally researched, explored and shot Street Photography in every city that I create a guide for. So you can be ready to capture the streets as soon as you step outside with your camera!
Budapest
Overview:
Budapest is one of my favorite cities in the world, and a destination I'd recommend to anyone, no matter your interests. There's so much to love about the city, which is why it's recently seeing a big surge in visitors, as it's becoming many travelers new favorite city in Europe. With that will come more and more tourism, and probably some changes. So it's definitely a city in Europe to visit as soon as you can.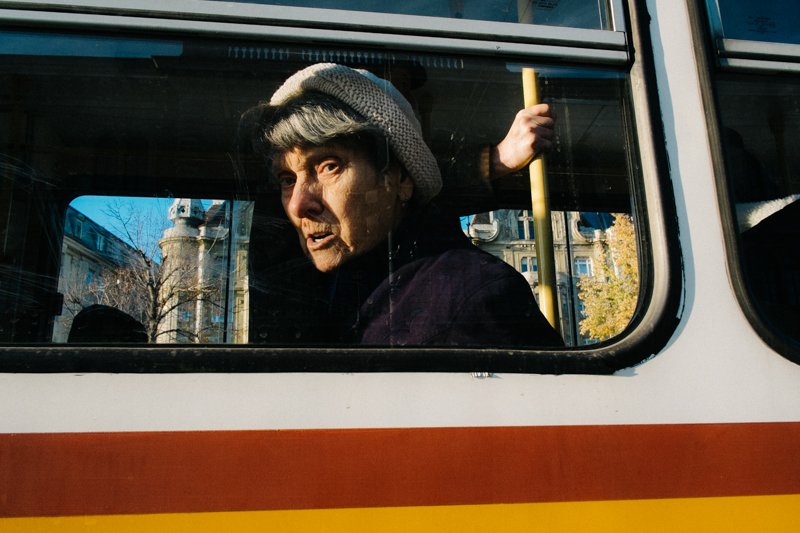 What makes it so special? The architecture, atmosphere, authenticity, things to do and see, the river views, the feeling you get walking the city, the mix of character, uniqueness, and the list goes on. It's a city I could see myself living in, it has so much going for it. And when it comes to Street Photography, it has plenty going for it too. 
So here's a Street Photography guide so you can be ready to capture what Budapest has to offer before you even arrive…
Map:
Deák Ferenc Square
Castle District
Váci Street
Fővám Square/Great Market Hall
Jewish Quarter
Heroes' Square/City Park
(The spot without a number is the Citidella, which I'd recommend for some non-street photography city views)
Top 5 Street Spots:
1. Deák Ferenc Square
Deák Ferenc Square is one of the central squares of Budapest and a major traffic junction. Several busy streets and underground metro lines connect here. It's one of the most popular spots to meet up from day-to-night in Budapest so it's always lively here.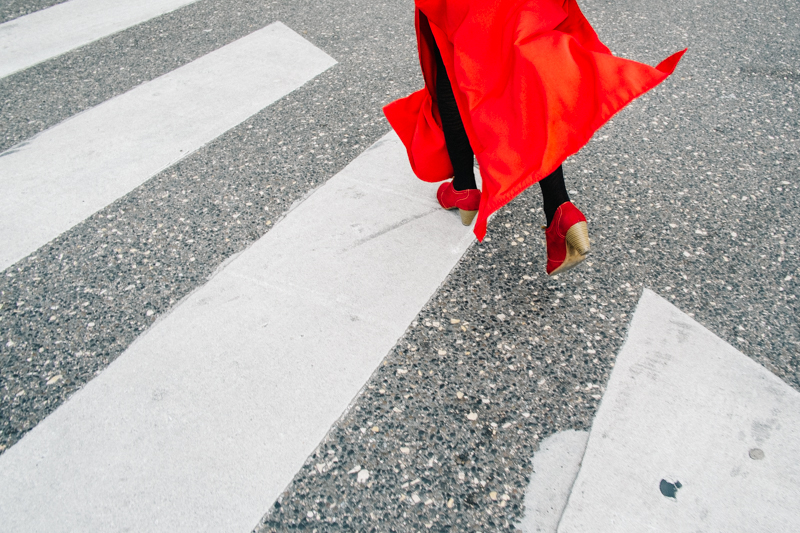 Adjacent to Deák Ferenc Square is Erzsébet Square, a large park and favorite spot for students and young people to sit down or hang out. There's even the Akvárium Klub below a see-through shallow pool in the middle of the park. In the summer, the square is also a popular venue for festivals.
For much of the year, the Sziget Eye, Europe's largest mobile ferris wheel, is located here, which makes it even easier to find. This is a great spot to start out for a day of Street Photography, as there's plenty to capture here and its central location makes it easy to head to a number of other spots afterwards.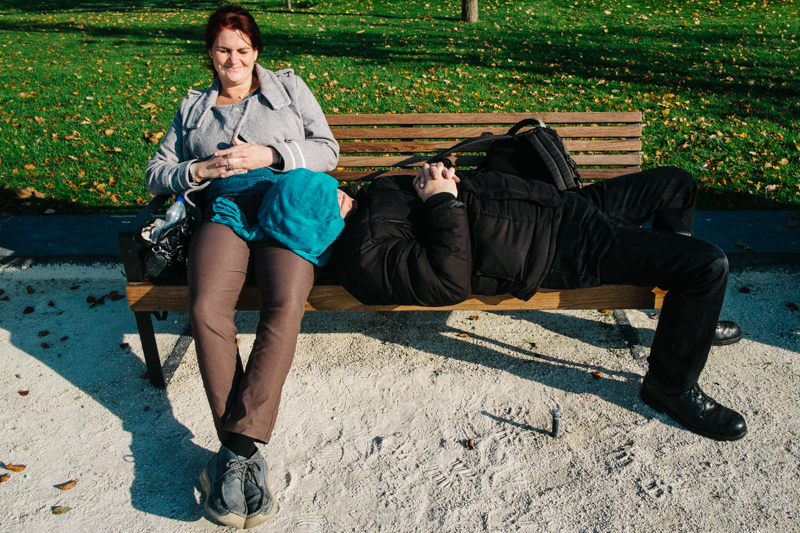 2. Castle District
Budapest's Castle District is concentrated with some of the city's most popular historical sites and attractions, including the Royal Palace and Fisherman's Bastion. There's also medieval houses, crooked streets following the shape of the hill, and cafes.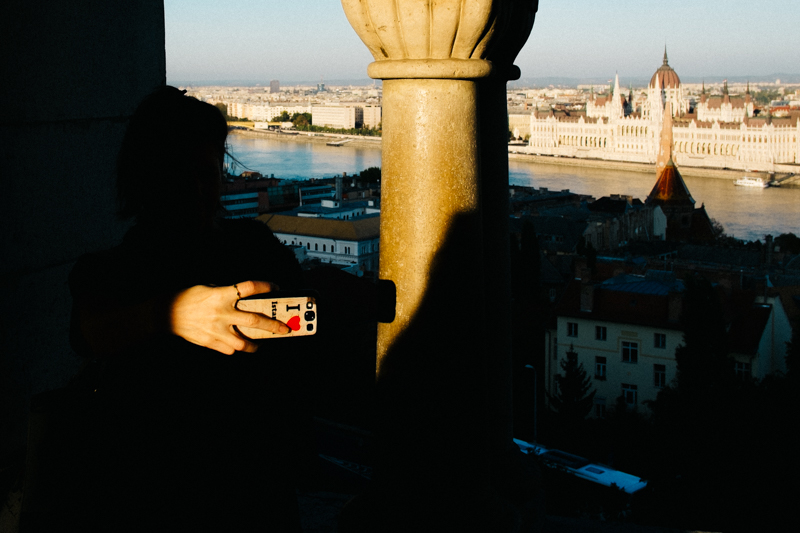 While this area attracts the most tourists due to the attractions and amazing city views, it's worth a visit for some street photography, as well. There's always plenty of activity and life going on up here. The winding cobblestone streets, medieval architecture and atmosphere provide some interesting backgrounds too.
3. Váci Street
Váci Street is the most popular pedestrian shopping street and arguably the most famous street in Budapest. It's around a mile long and goes from Vörösmarty Square to the Great Market Hall. It's lined with restaurants and shops, most with a focus towards tourism. So it is tourist central, but it's also one of the nicest streets in Budapest and great for people watching.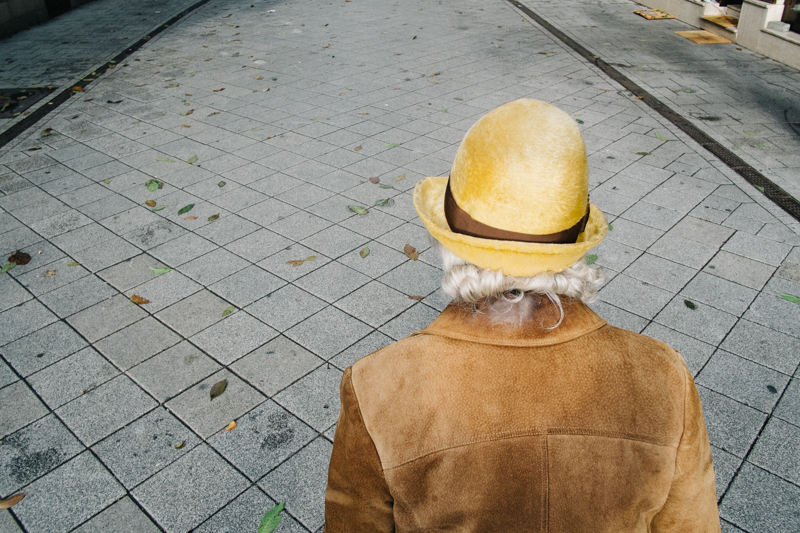 From mid November into January, the Budapest Christmas Fair and Winter Festival goes on here in Vörösmarty Square too. This provides one of the more interesting Christmas atmospheres you'll find and really brings out the crowds.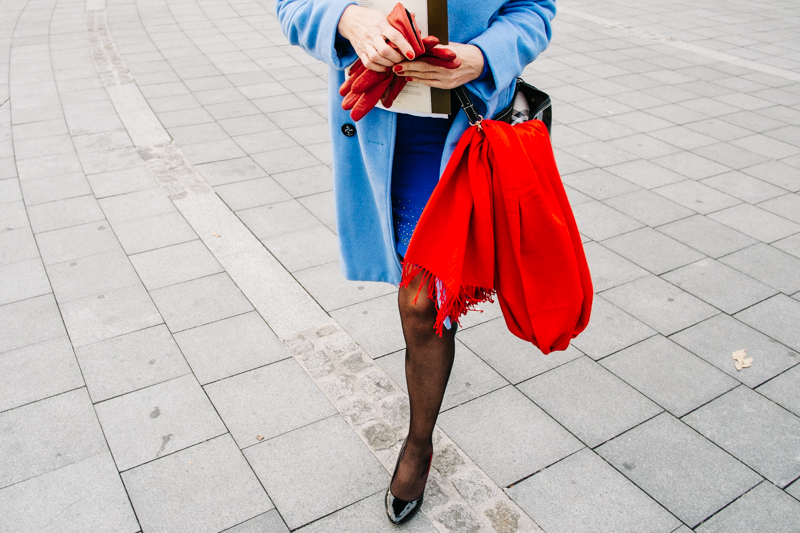 4. Fővám Square/Great Market Hall
Fovam Square translates to "Main Customs Square," as merchants have sold produce since the late 1800's in the Great Market Hall located across the street. There's the short Liberty Bridge, my personal favorite due to its green color and Art Nouveau style. And then you also have all the activity from Vaci Street, the riverfront, nearby university and a popular tram spot all located here.
There's so much going on here that it became my favorite spot for street photography in Budapest. The variety of scenery and life is amazing. The Great Market Hall provides some great shadow and light play, the bright yellow trams come and go every minute, the square also includes plenty of local life, and you're right by the river walk. It's a favorite spot for all the city's pigeons too.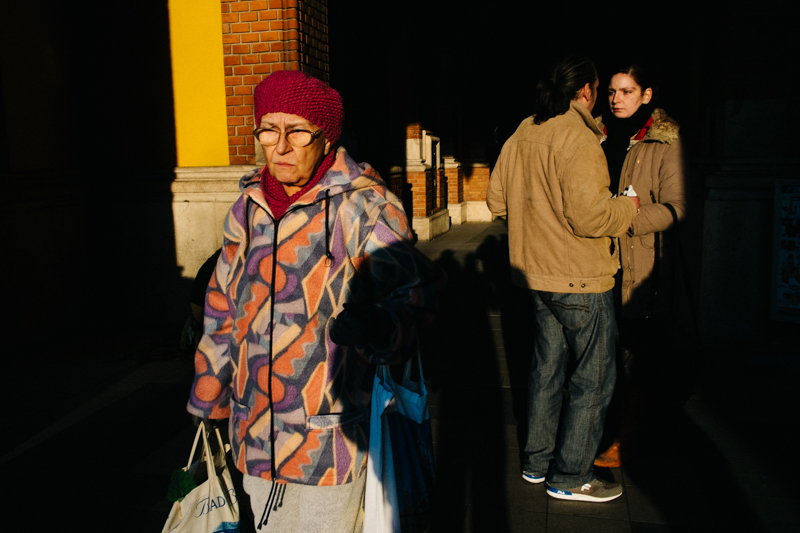 While worth some time, the actual square is probably the least interesting spot in the area, but it is surrounded by so much that it's a good starting point. After you check out the trolley stop, Great Market Hall, and Liberty Bridge, I'd head east along the river walk for plenty more to capture.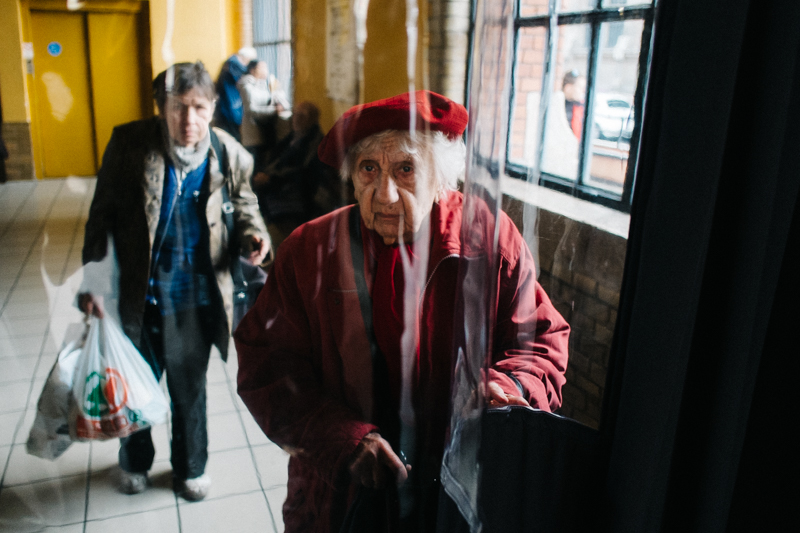 5. Jewish Quarter
The Jewish Quarter is where the Budapest Ghetto was located during World War II. The city's jewish population was forced to live here, completely confined inside its walls, which have since been demolished. Dohány Street Synagogue, the largest synagogue in Europe, is located here and the district is packed with historic and religious sites.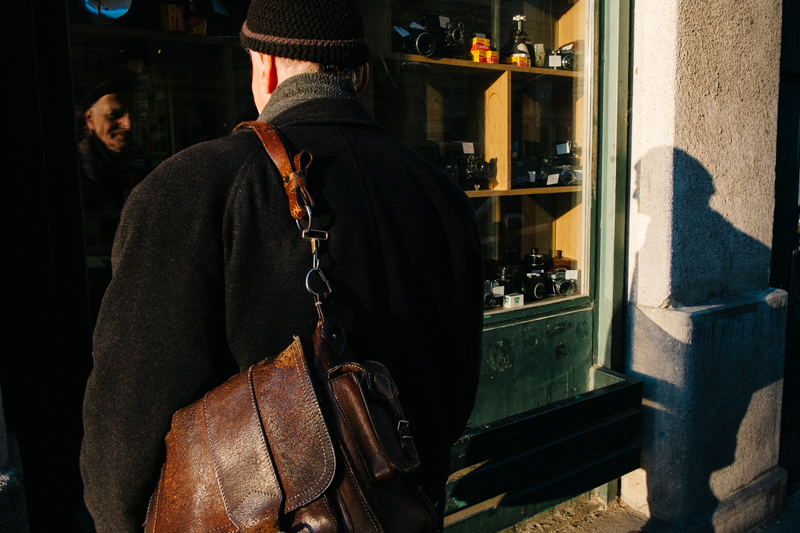 The Jewish Quarter has a striking contrast of crumbling buildings and new, modern apartments. It's become one of the more hip neighborhoods in Budapest with unique cafes, bars, and art galleries. It attracts both locals and tourists because of this hip mix of things to do and see. 
It's also the prime area for nightlife and Budapest's famous Ruin Pubs, abandoned buildings turned into large bars full of rooms (more on that later).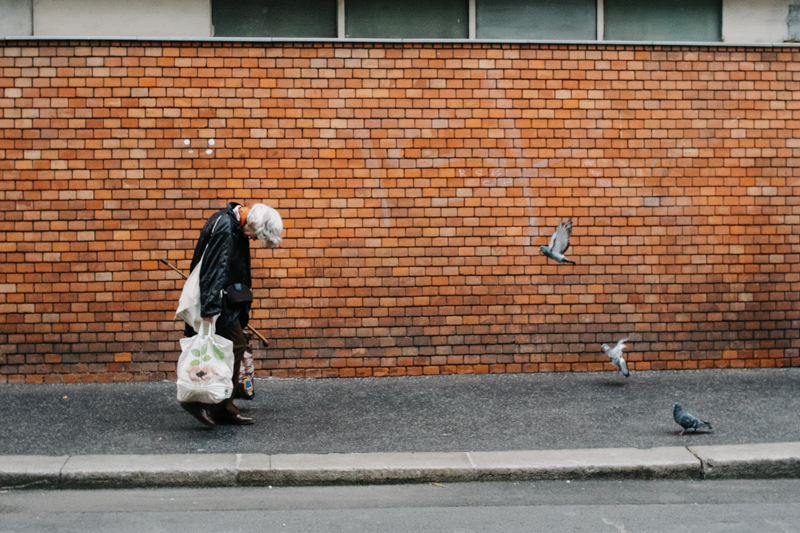 For Street Photography, the narrow streets, worn architecture, buzzing life and unique character make it a great spot to explore.
6. Heroes' Square/City Park
Heroes' Square (Hősök tere in Hungarian) is a main square in Budapest and the location of the famous complex of statues featuring the Seven Chieftains of the Magyars, and other important national leaders. In front of the impressive statue display is a large, open courtyard-like square that can really fill up with people. It's also a popular spot both and day night so it's worth checking out more than once to see the change in atmosphere.
Heroes' Square is located next to City Park, the largest park in Budapest. The park contains plenty of grass, benches, a lake, its own replica of a Transylvanian castle, and more. If you walk southeast, it also has the interesting structure pictured below that could be used for a good photo if you got there when people were inside (unfortunately, luck never did that for me). Nearby is the city zoo too, so this whole area around Heroes' Square and City Park is usually pretty active for street photography.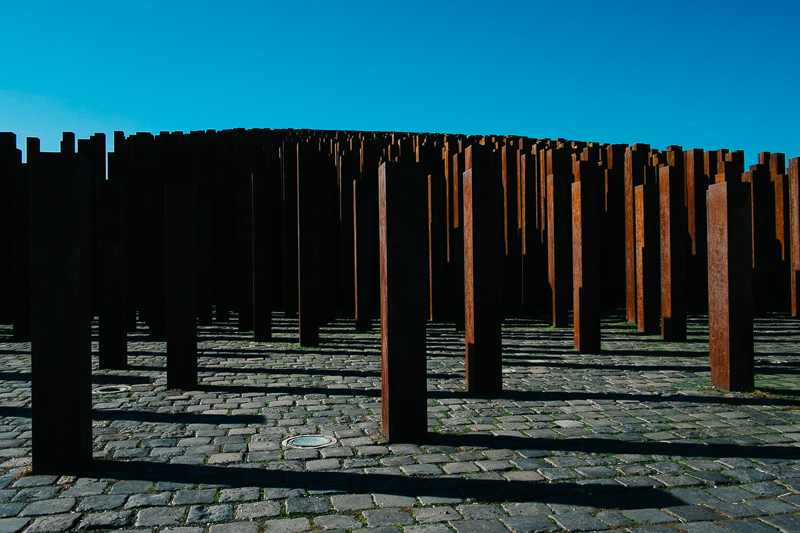 Sample Street Walk:
For a full day of Street Photography, covering some of the best spots, you can follow this sample street walk for Budapest:
Start at the Castle District (2)
Walk across the Chain Bridge to Deák Ferenc Square (1)
Walk to Vörösmarty Square and walk along Vaci Street (3)
End Vaci Street at Fővám Square (4)
Spend some time around Fővám Square (4) and the Grand Market Hall (4)
Finish your day off by walking SouthWest across the Liberty Bridge up to the Citadella and enjoy the views (and maybe the sunset) 
Or Finish your day off by walking NorthEast to the Jewish Quarter (5) and enjoy the hip district (and maybe the ruin pubs)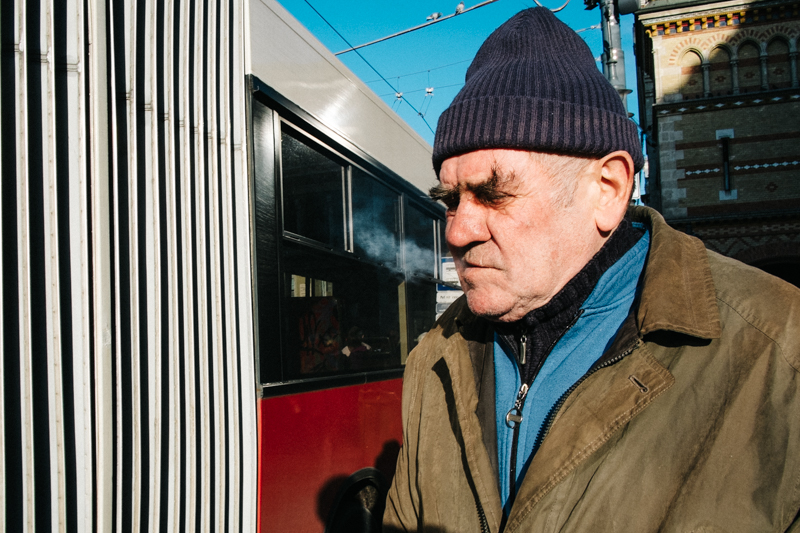 3 Things to Capture in Budapest:
1. Mix of Old & Modern
Budapest is one of the most developed and beautiful cities in Eastern Europe, but still has its marks from the past. The city has been rebuilt and gone through bombings and destruction. Plenty of restoration has gone on, as there seems to be a big push for a more modern city, but Budapest is still full of crumbling buildings and flaking veneer.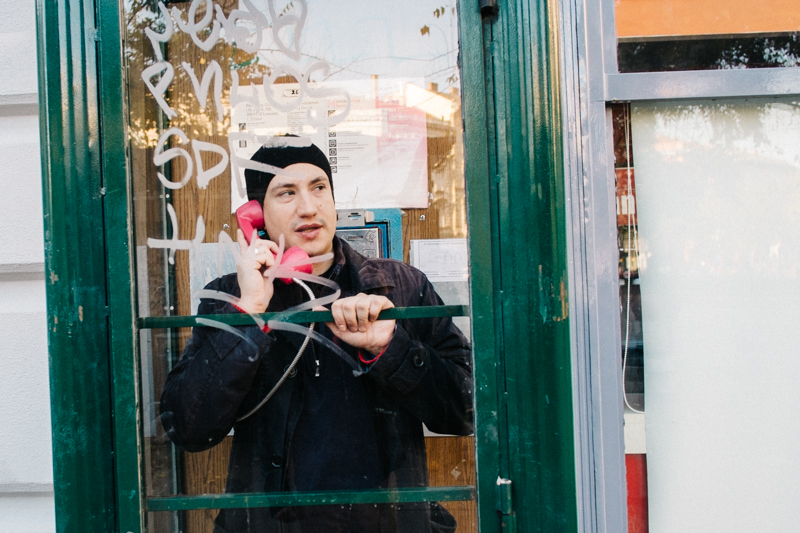 The mix of extravagant architecture, scattered ruins, and modern buildings provides a very unique and interesting urban atmosphere for capturing life on the streets.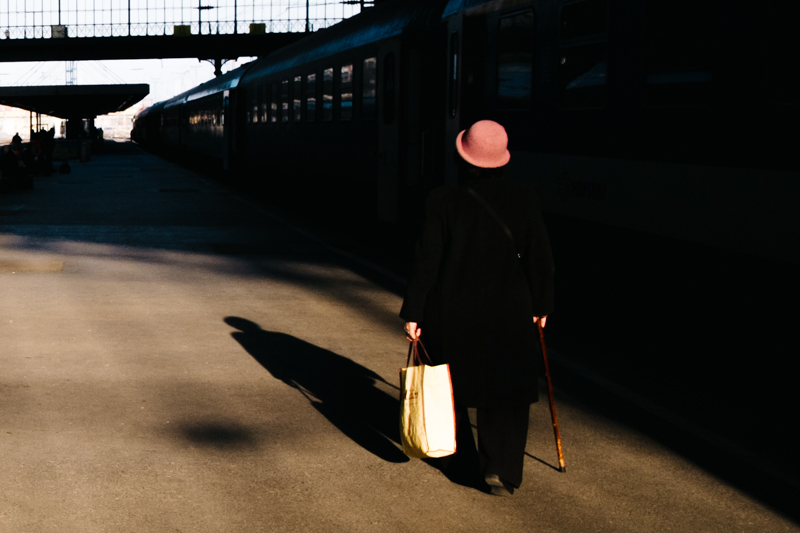 2. Backdrops of Impressive of Architecture
Budapest is filled with a variety of amazing architecture. The gothic style dominates the city's main attractions and scenery along the river with the Buda Castle Hill, Fishermen's Bastion and Parliament. Art Nouveau is the architectural style you might notice most walking around the city, though.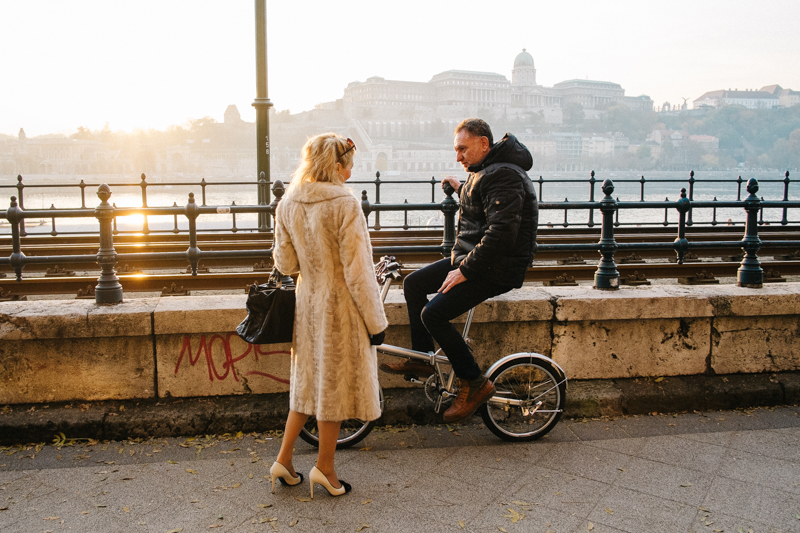 3. Dogs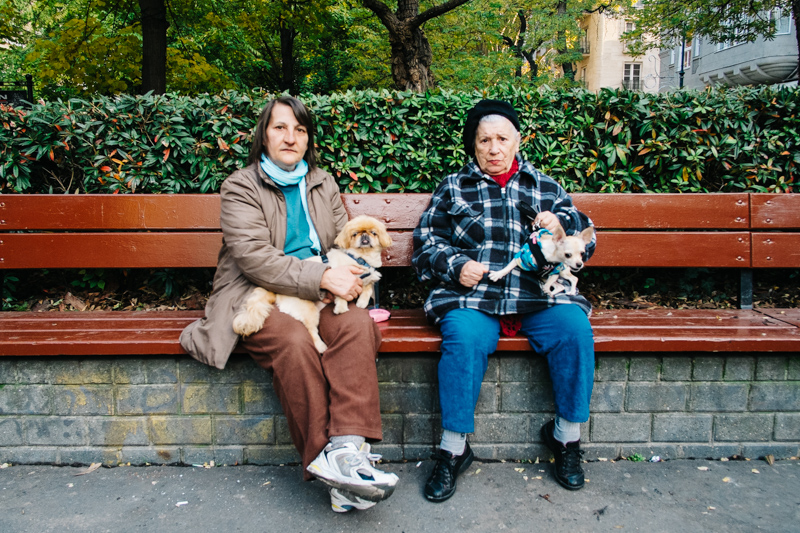 The more you travel, the more you notice how there are dog cities and there are cat cities. Well, Budapest is definitely a dog city. And we're not talking stray dogs, like some cities. I'm talking about seeing people walking their dogs all over the city streets, parks and squares. French Bulldogs and Pugs are especially popular, but you'll notice all breeds strolling with their owners.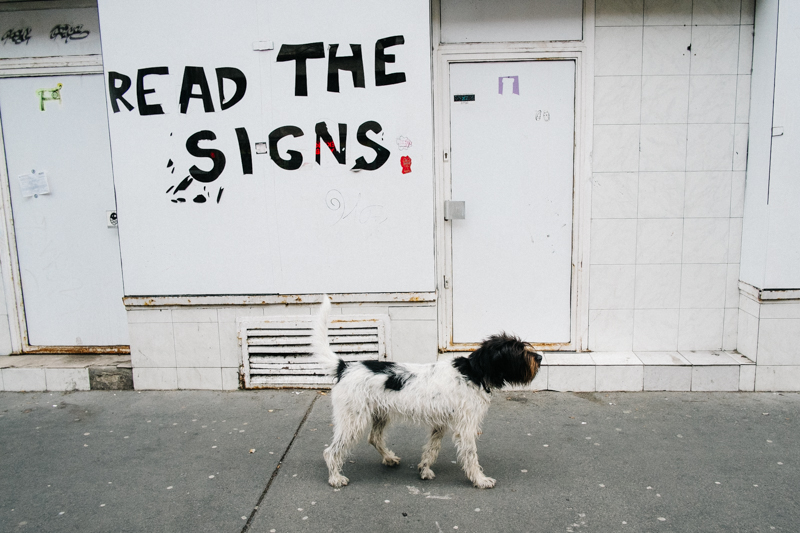 4. Buda & Pest, Two Cities in One
Unlike most European capitals, there isn't just one historical town center in Budapest. This is because the Budapest today was actually multiple cities in the past. 
So now you have Buda on one side of the river, with Pest on the other side. The latter is the heart of the city and activity in Budapest, while Buda contains some big attractions, like Buda Castle Hill and Fisherman's Bastion, but overall is much quieter.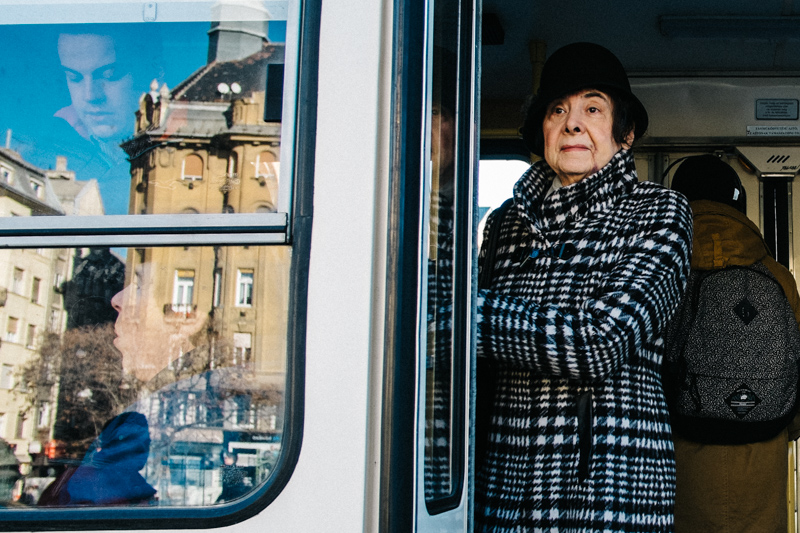 For more of the urban city and nightlife, it's mostly in Pest, but there's a lot of beauty to see on the Buda side. They have a different feeling too so it's a nice change of scenery while exploring the city with your camera.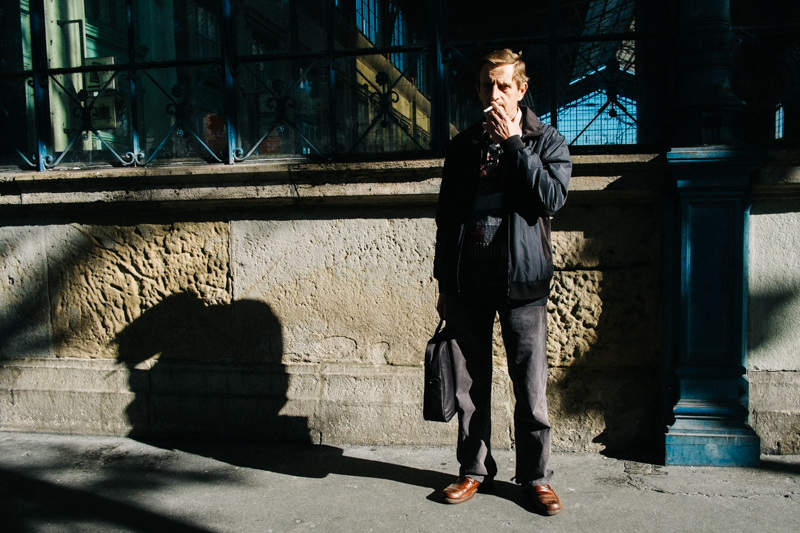 What To Do For a Street Photography Break?:
Endless Food Options, Ruin bars & Amazing Views
In Eastern Europe you're not going to find a city with a better variety of food and restaurants. I've found that most cities in Eastern/Central Europe do their own food very well, of course, but leave a lot desired when it comes to other cuisine. In Budapest, this isn't the case. You can find most any type of food in the city and best of all, it tastes good. Restaurants, cafes and bars all are taken seriously in Budapest.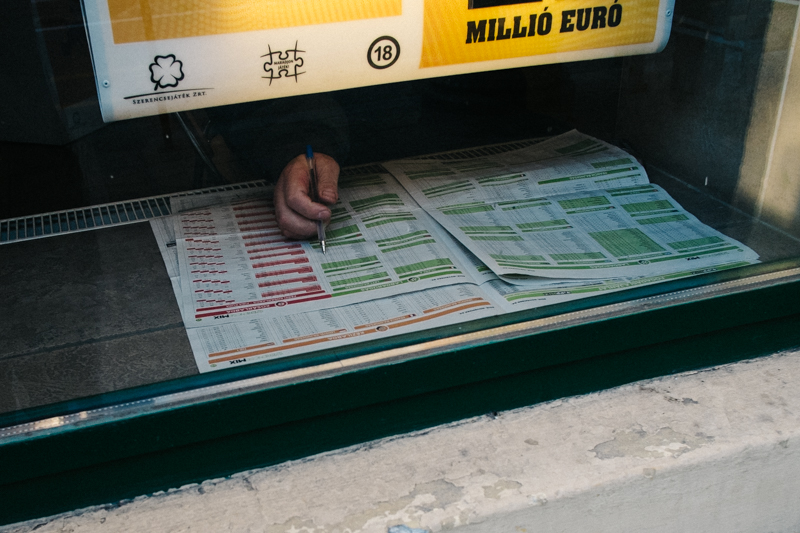 One thing Budapest is known for, especially among the younger crowd, are their Ruin Pubs, which is essentially an abandoned building turned into a large bar full of rooms. Many of them are done up with artwork and decoration, while having different themes, music and individual bars in each room. These Ruin Pubs help give Budapest a unique touch when walking around the city, but are even better when experiencing them for yourself.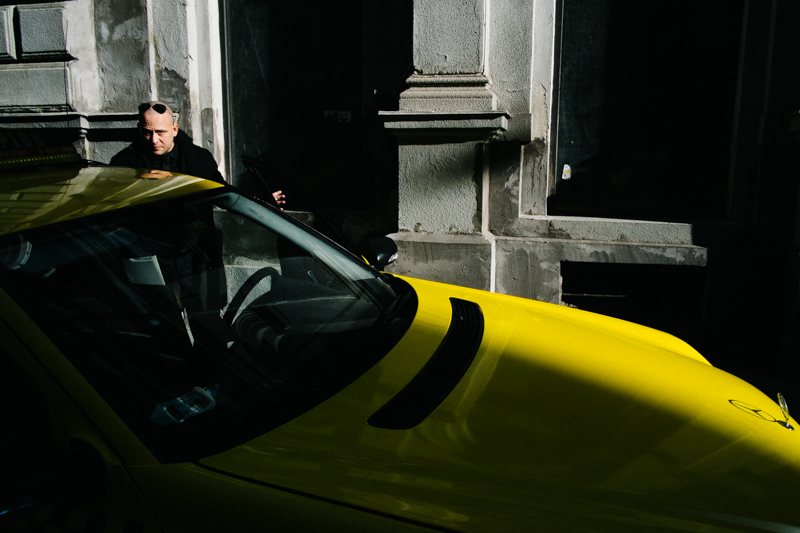 Citadella & Fisherman's Bastion
Budapest has some of the best views and viewpoints to enjoy them at too. So be sure to walk up to the Fisherman's Bastion and Citadella while you're there. These views are obviously great for landscape photography, but you might catch some street photography opportunities too with all the people and backdrops up top.
Street Safety Score: 7
*As always, no place is completely safe! So when I talk about safety, I'm speaking in general comparison to other places. Always take precaution, be smart, observe your surroundings and trust your instincts anywhere you go!
Budapest is safer than most big cities. I find walking around the city pretty worry free and without much to mention as dangers, outside of the basics you can expect in any large city that attracts tourists. At night, it might feel a little sketchy in some areas around the metro and river walk due to prostitution being more visible in Budapest than most cities, but it still doesn't come with a dangerous feel.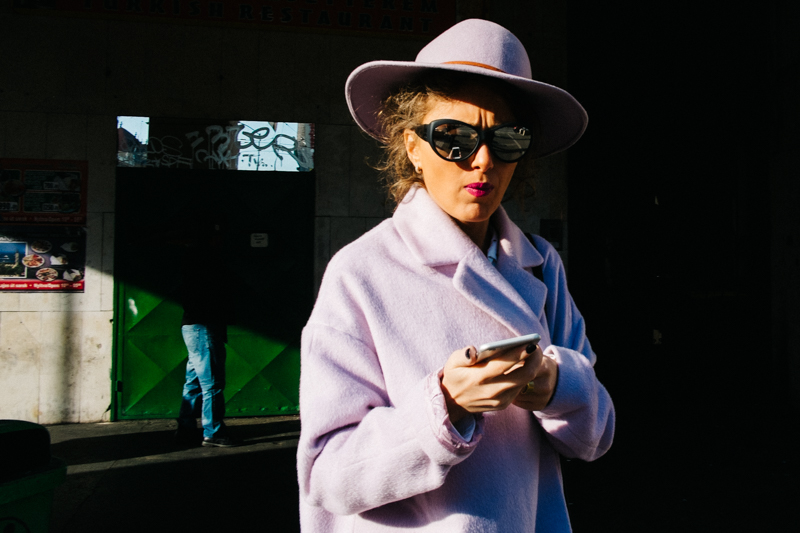 Using normal precautions, I'm sure you'll find Budapest as safe as any big city you've been to before. 
People's Reaction Score: 7
Eastern Europe is one of the most Street Photography friendly places in the world, in my experience. I never have any real problems with reactions when I'm in this region and Budapest hasn't been an exception. But, I wouldn't say it's the most positively receptive city to Street Photography in Eastern Europe, either. I do get more "no's" here compared to other Eastern European cities, but it still doesn't ever come with anger. Hungary does have stricter public photography laws too, though, which I will cover below in the tips section.
Overall, I'd say Budapest is better than most when it comes to Street Photography reactions. So I wouldn't expect any problems, but do be aware of the laws.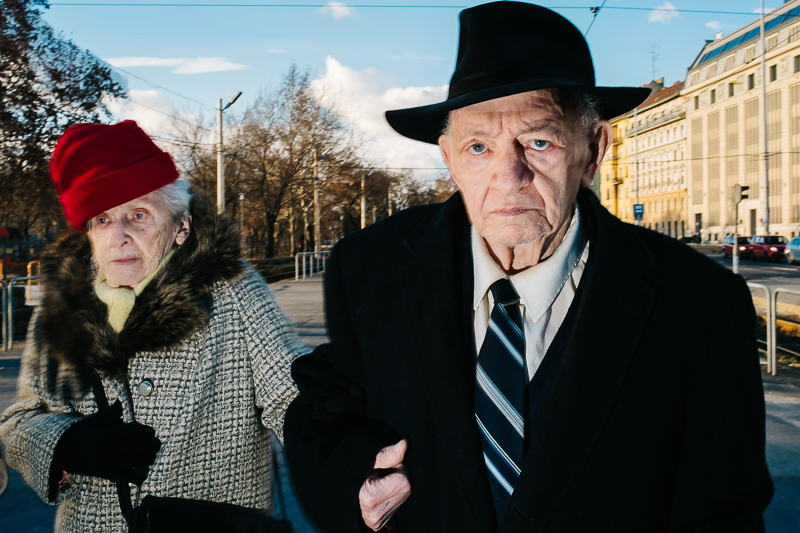 Street Tips:
Walk or Take the Yellow Streetcars
Budapest is a very walkable city, but also has a vast system of streetcars and trolley buses that can be convenient to mix in. I especially like the yellow streetcars, partly because of how photogenic they are, but also because they have multiple lines running along Grand Boulevard. What makes these lines so convenient is how Grand Boulevard curves around so many of the best street shooting spots and where you're like to stay when visiting. Also, due to the boulevard's "C" like shape, catching a stop is never too far away.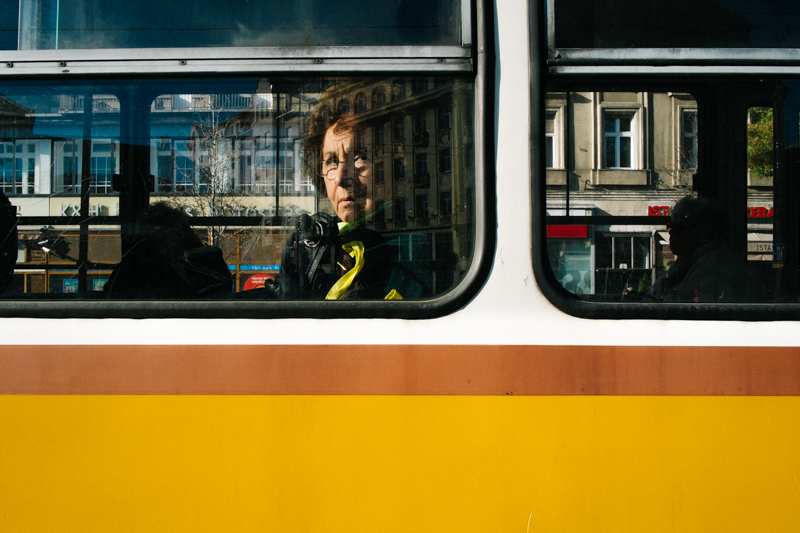 Mingle with the Tourists Too
Many times, the more touristic spots don't give the most interesting or authentic street photography captures. Budapest has its fair share of tourist attractions, but they're worth exploring, even for the most anti-tourism street photographer. Vaci Street is good for people watching, the Fisherman's Bastion has some interesting activity, and the river walk has plenty of quality street photo opportunities, as well.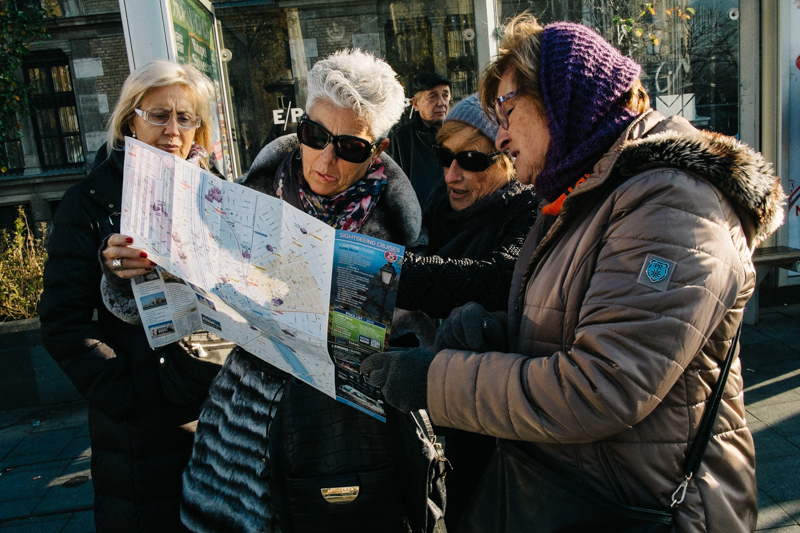 Budapest is becoming a popular tourist destination, but it's not at the point of tourism saturation as places like Prague yet so it keeps most of its authenticity. But be sure to get there soon before that could change.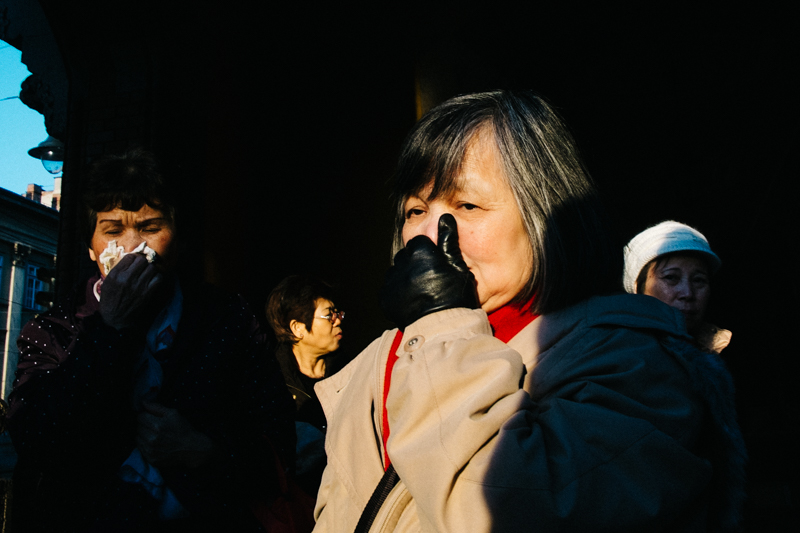 Budapest Fog
Fog is a common weather phenomenon in Hungary, especially in the fall and winter seasons. It can also get fairly dark with little sunlight because of this, outside of the summer months. This can be a bad thing for people like me who love to work the sunlight, but it also brings other street photography opportunities if you're ready for it.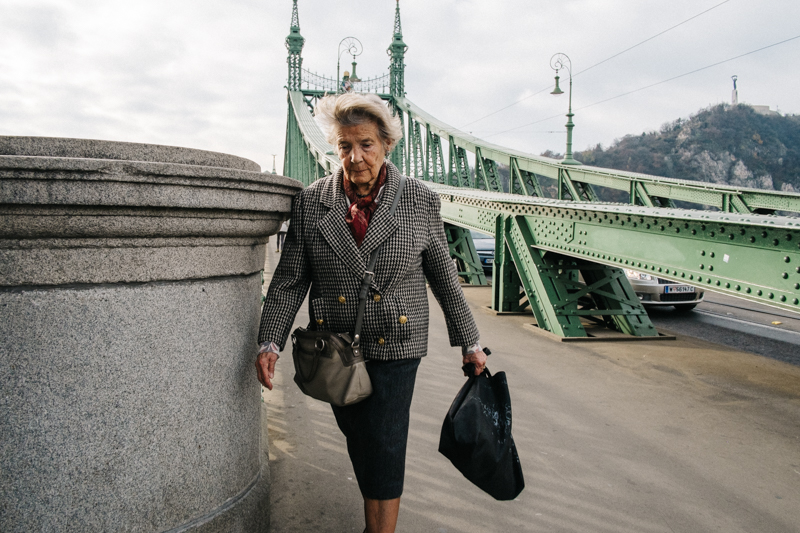 Budapest is already a mystical place, but with fog and low light, this can be brought out even more. If you get an especially gray, foggy day then head to the bridges and riverfront. The areas around the Liberty Bridge and Chain Bridge would be my top choices.
Hungarian Photography Laws
As mentioned earlier, I should go over Hungary's photography laws since they are stricter than most countries. Unfortunately, like some of the other strict countries, they're also very ambiguous. In 2014, Hungary added civil code that requires asking permission of everyone in the photograph. Since then, there really hasn't been implementation of this addition, though, and local photographers debate what it really means. For more info, The Guardian did a story covering just how confusing they are. I haven't had any problem, even when around police. I see plenty of people taking photos around the city without a problem too. So it feels like a similar situation to Germany, but you still should be familiar with the laws wherever you shoot Street Photography.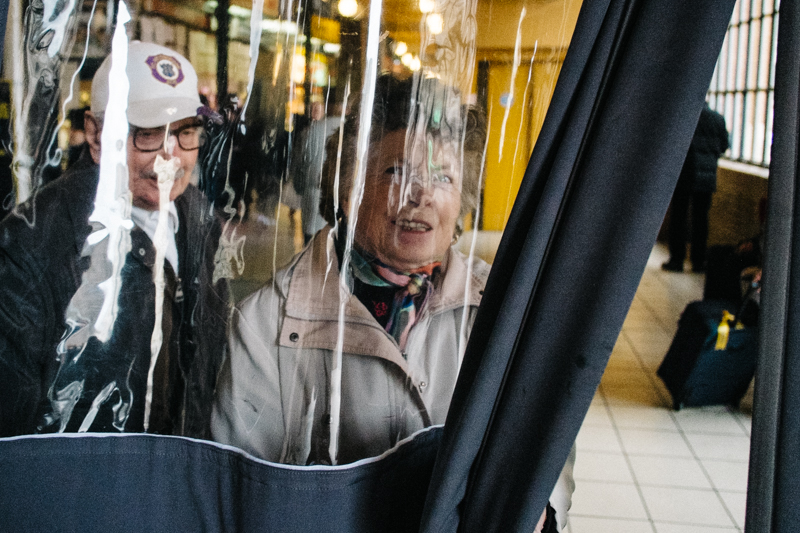 Inspiration:
For some more inspiration, you can look through the work of Budapest's war photographer legend, Robert Capa. You can also check out 33 of my photos taken in Budapest.
Conclusion:
Budapest is one of my favorite cities to spend time in. The atmosphere and character of the city is something special. The more time I spend there, the more I see how special it can be for street photography too. And the more travelers I talk to, the more I hear them name Budapest as their new favorite city in Europe. When this happens, it's best to make a visit sooner than later, before there's a chance it loses any of what makes it so special. I hope this guide can help you go experience and photograph Budapest as soon as possible. So grab your camera and capture all Budapest has to offer for Street Photography, and more!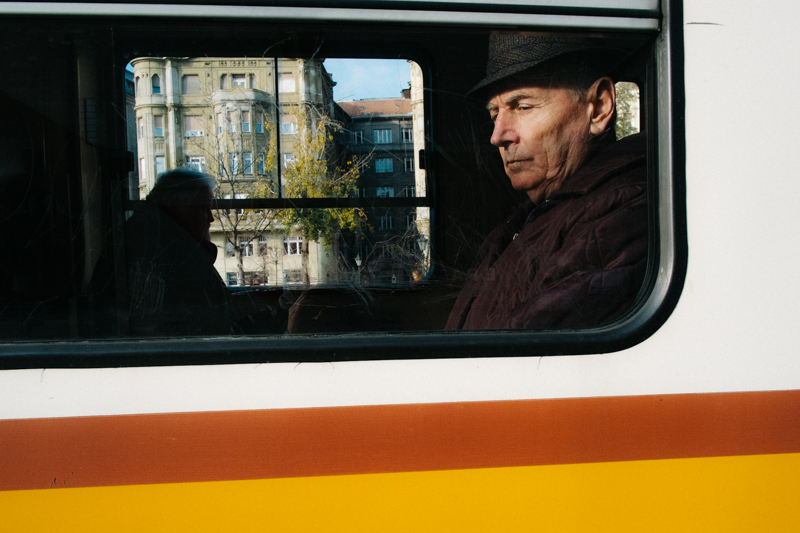 If you still have any questions about shooting in Budapest, feel free to comment below or email me!
(I want to make these guides as valuable as possible for all of you so add any ideas on improvements, including addition requests, in the comment section!)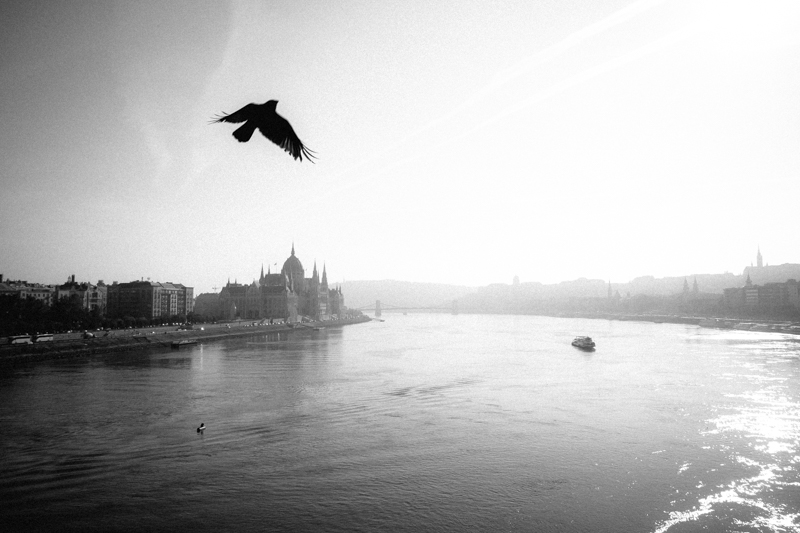 (A New Guide Posted Every Other Wednesday)