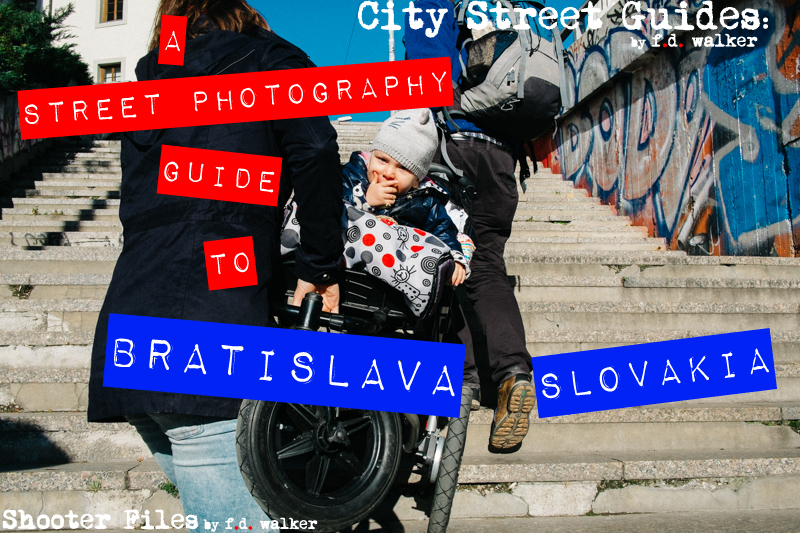 *A series of guides on shooting Street Photography in cities around the world. Find the best spots to shoot, things to capture, safety concerns, street tips, and more for cities around the world.  I have personally researched, explored and shot Street Photography in every city that I create a guide for. So you can be ready to capture the streets as soon as you step outside with your camera!
Bratislava
Overview:
While Bratislava is the largest city in Slovakia, it's still one of the smallest capitals in Europe by population. Part of Bratislava's charm comes from its smaller size, though. The city brings an authentic city vibe without the overcrowding. Exploring the city with your camera is much more relaxing compared to bigger cities, while still giving you plenty to capture.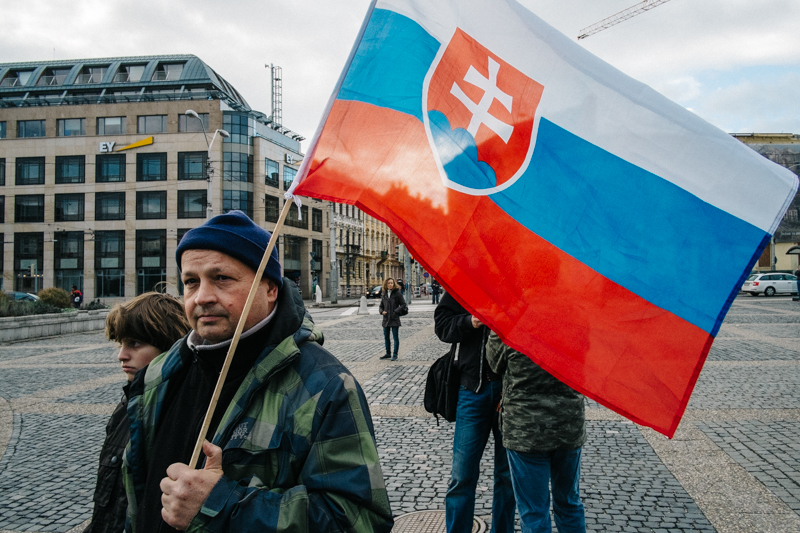 The city's history has been strongly influenced by many nations and religions, which helps pack a lot of character into the smaller capital. When it comes to Street Photography, you get a city that's unique and might just surprise you with how much interest there is to photograph. 
So here's a Street Photography guide so you can be ready to capture what Bratislava has to offer before you even arrive.
Map:
Obchodna Street
Michael's Gate/Medieval Center
Most SNP
Castle area
Nivy & East of Stare Mesto
Top 5 Street Spots:
1. Obchodna Street
Obchodna used be the city's main commercial street in the Communist era. While it's changed a lot today, it's still one of the more lively spots in the city. The stores aren't the most upscale, but they attract plenty of shoppers. It's also become a hot spot for younger people to hang out with the shopping, restaurants and nightlife that has concentrated in the area.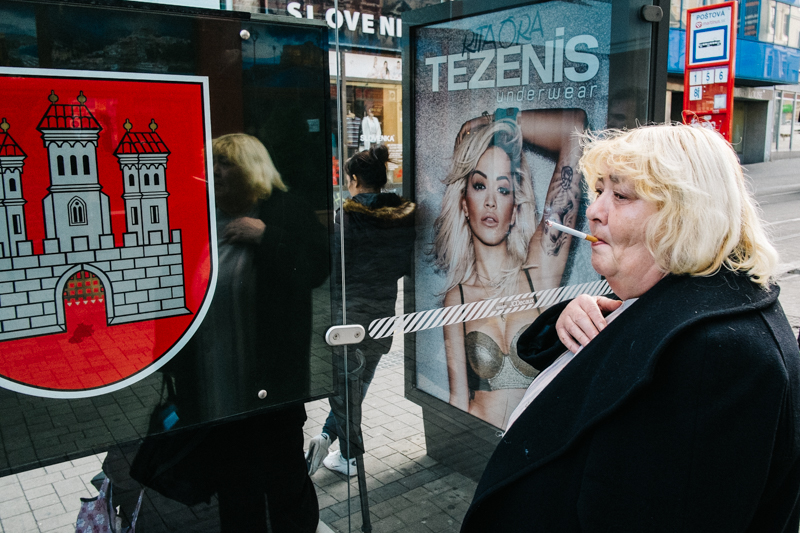 This is one of the main areas in Bratislava that is guaranteed to always have people around from morning to night. The scene can change during the day too, especially on weekends. It's one of the better streets for people watching and gives you a place that you can continue to come back to for Street Photography.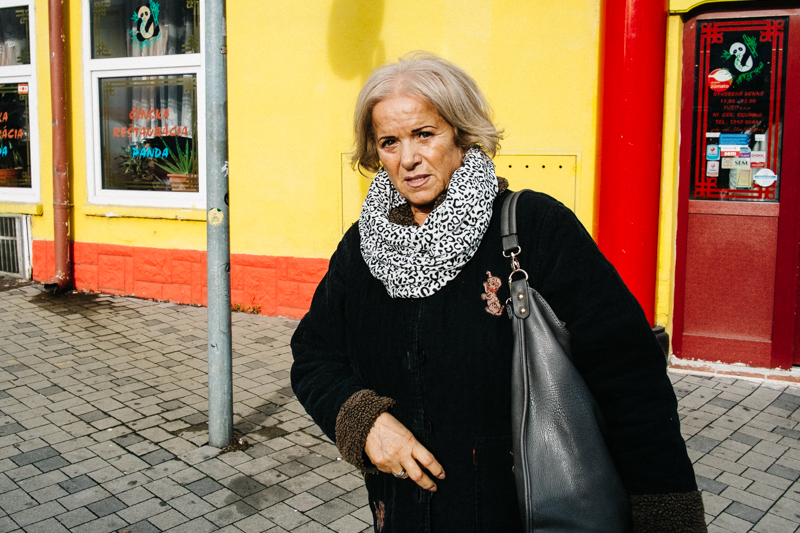 2. Michael's Gate/Medieval Center
Michael's Gate is the last preserved gate of Bratislava's Old Town. With all the Old Towns across Europe, I've gotten somewhat used to them, but I have to admit Bratislava's is better more than most, while having some of its own unique charm.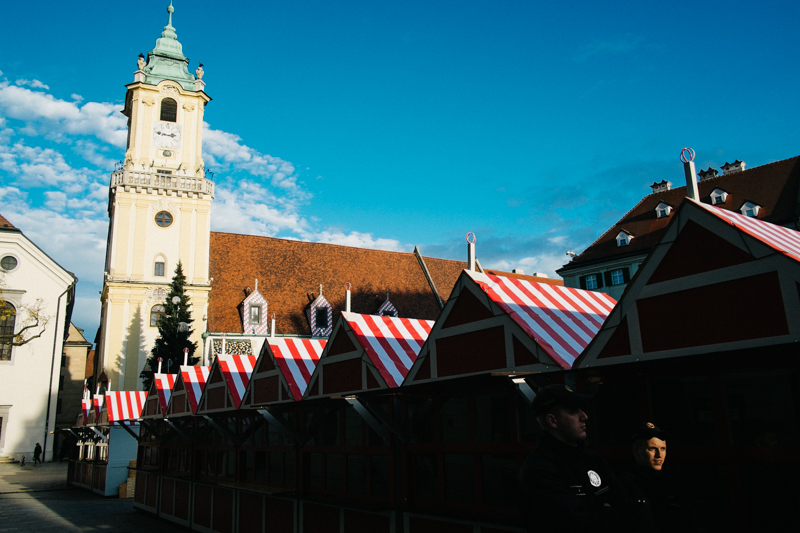 It contains a small, but preserved medieval center with many churches, landmarks, the Bratislava Castle up above and a riverbank promenade below. All of this is kept in a compact area so you can see it all and get a mixture of scenery and atmosphere in a short amount of time.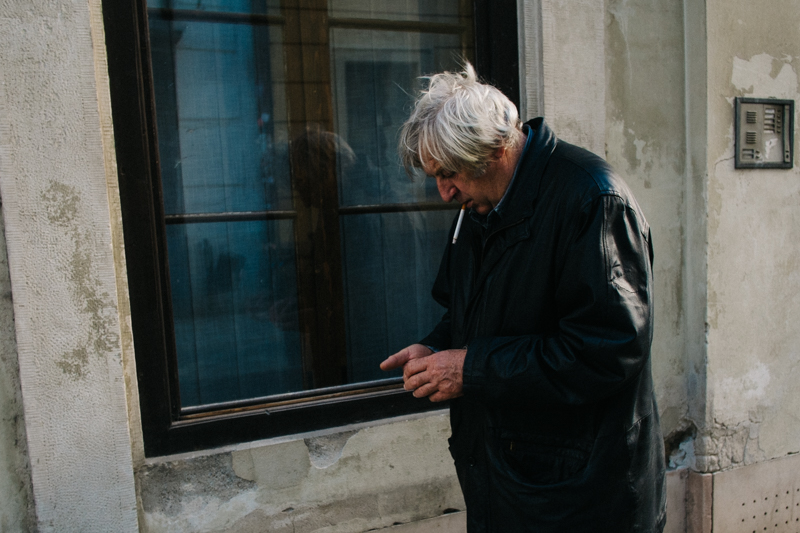 3. Most SNP
Most SNP is the name of the main bridge in Bratislava. The full name is Most Slovenského Národného Povstania, so you can see why it gets shortened to Most SNP. Some even call it the UFO Bridge due to how it looks.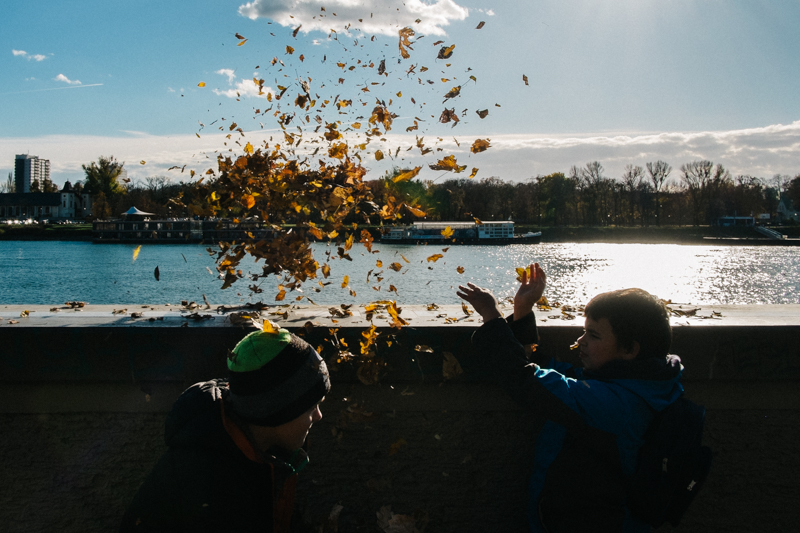 The bridge goes over the Danube River and is located by the Old Town and Castle. There's also a nice river walk where the Old Town meets the bridge, which I'd recommend walking along for some Street Photography opportunities.
There's not a lot going on the other side of the bridge, but you can still take a walk along the lengthy pedestrian bridge walkway too.
4. Castle area
The Belgrade Castle can be seen all over the city up on its hill. It offers some of the best views of the city, but it offers more for Street Photographers in its surrounding area too.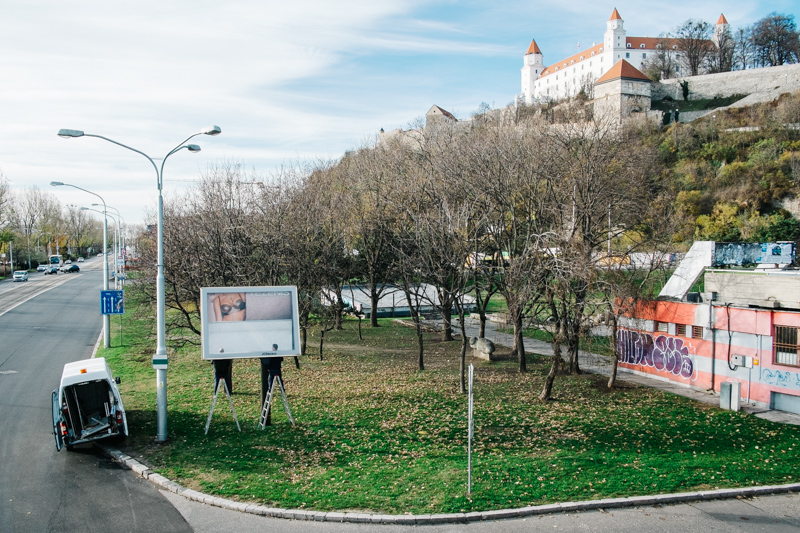 The area around the Hrad, Bratislava's castle, is full of museums and charming, winding streets. North of the castle, you'll find hilly residential hoods and Baroque architecture. While it's mostly quiet, it can give a nice change of scenery for Street Photography.
5. Nivy & East of Stare Mesto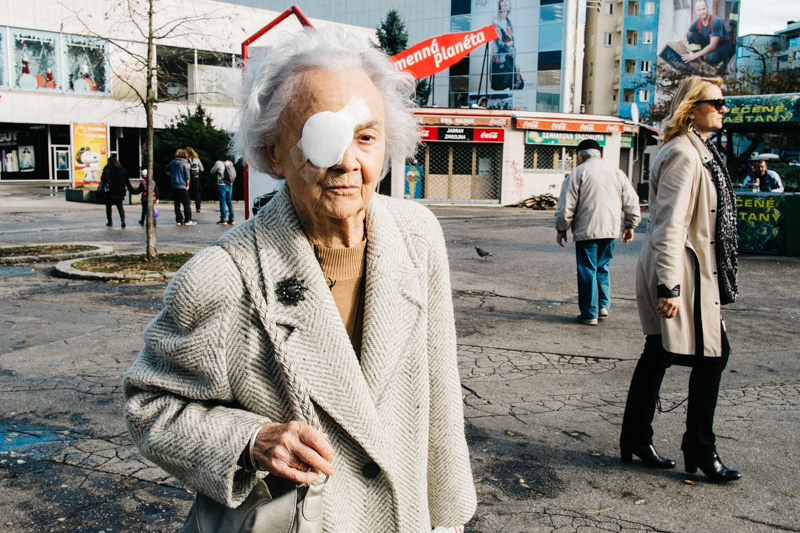 East of Staré Mesto and bordered by the Danube to the south, Nivy provides Soviet-era architecture, parks, and a slightly grittier look at local city life. You won't find any tourists around here, either. So if you're looking for more of that scene for Street Photography, then this area would be worth a tram ride.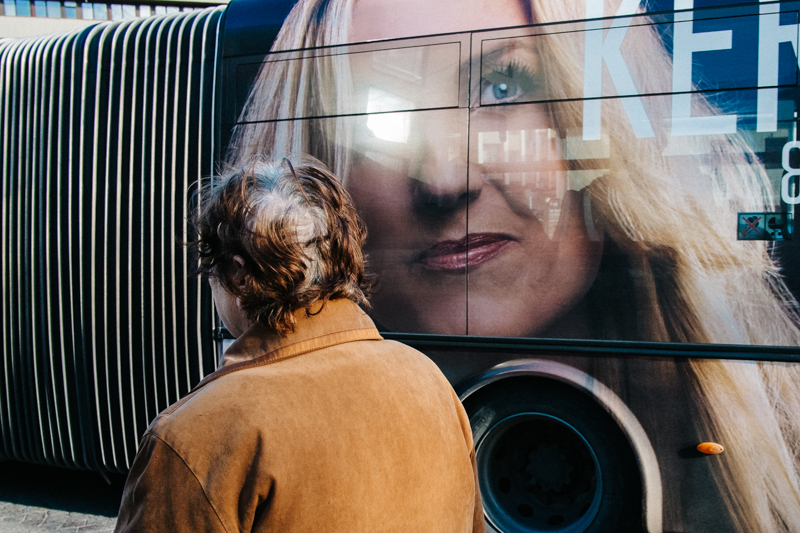 Downtown?
While Bratislava might feel like a small town, size-wise, it's actually not. The historic center, and areas you'd probably want to go to, are very compact, though. Bratislava does have a downtown, but as far as downtowns go, it's not very interesting. But if you want to capture a different side of Bratislava, you can go across the bridge from Old Town and explore away. Just don't expect too much activity or excitement.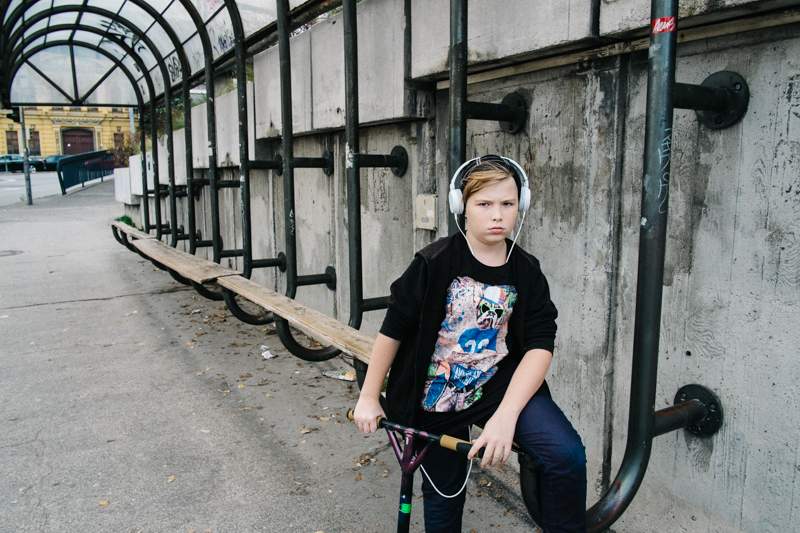 Sample Street Walk:
For a full day of Street Photography, covering some of the best spots, you can follow this sample street walk for Bratislava:
Start off walking around Obchodna Street (1)
Walk down to Michael's Gate (2) and explore inside this part of Old Town
Walk to Most SNP (3) and along the river walk
Make your way up to the Castle area (4)
Finish off your day of street photography walking back down to Obchodna Street (1) to see how activity changes here later in the day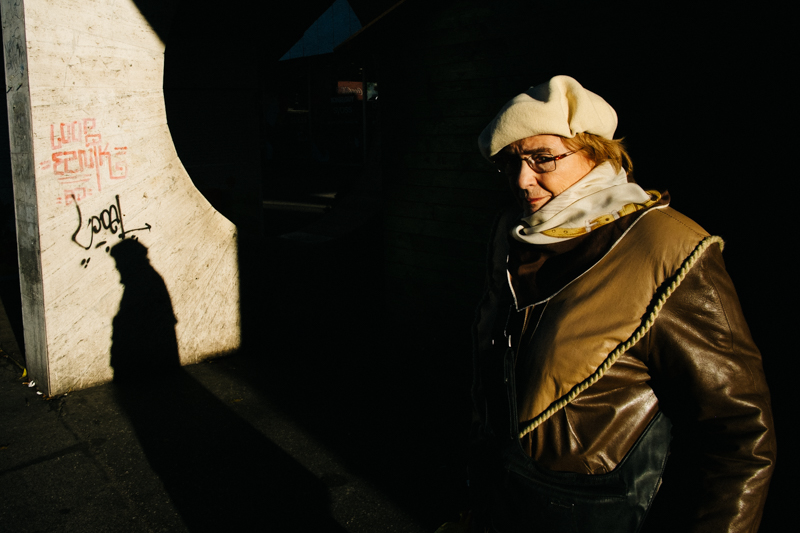 3 Things to Capture in Bratislava:
1. Rugged European Mix
Bratislava is full of scars left by the communist regime. It's not as modern or developed as most European capital cities yet so there's some ruggedness and edge to the urban atmosphere. On the other hand, Bratislava has some very beautiful architecture preserved from the Austro-Hungarian Empire era mixed in with those grey blocks.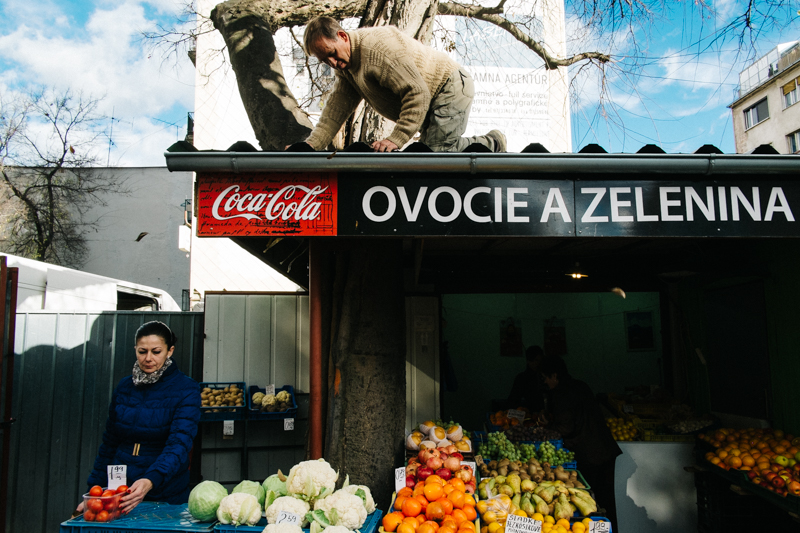 Around the Old Town, you get plenty of old world European charm. Outside of the Old Town, there's a different type of charm coming from the ruggedness. This mix of charm gives Bratislava a uniqueness when exploring the city with your camera.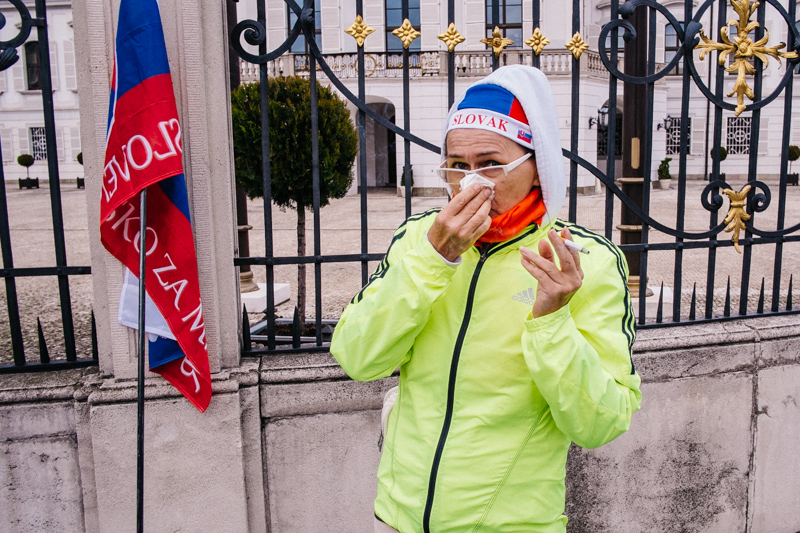 2. Quiet Capital Streets
Even around the more touristy parts, it usually doesn't feel crowded. This gives a unique opportunity to capture a capital city without all the tourists and crowds everywhere. It still has plenty of interesting backgrounds and atmosphere so you have chances to work with some space, while still working with an interesting city scene.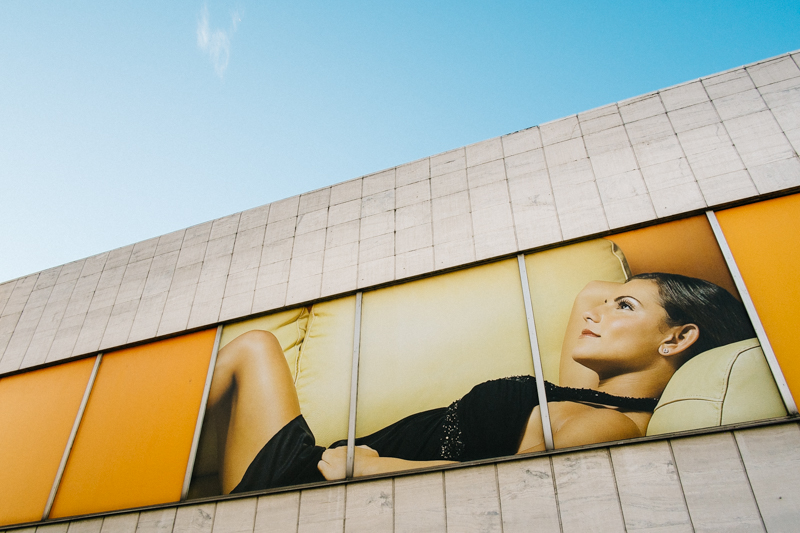 3. Statues
Other than the Old Town and Castle, Bratislava is also known for their statues. There's the most famous bronze man popping out of the manhole cover, but the city has human sized statues and sculptures all over its Old Town. They have more of a modern vibe than their surroundings so it adds an interesting touch when walking the streets. Because of this, they also attract all the tourists in the city for photos. It can create some almost humorous scenes and moments to capture too.
What To Do For a Street Photography Break?:
Have Some Halušky
Halušky is the big dish in Bratislava and Slovakia. It consists of potato dumplings with bryndza sheep cheese, and usually bacon. It's an extremely tasty dish and not too expensive. The bryndza sheep cheese is a rich cheese sauce so full of flavor, I still think about it. It's served in restaurants and pubs all around town so it's the perfect stop during a day of shooting.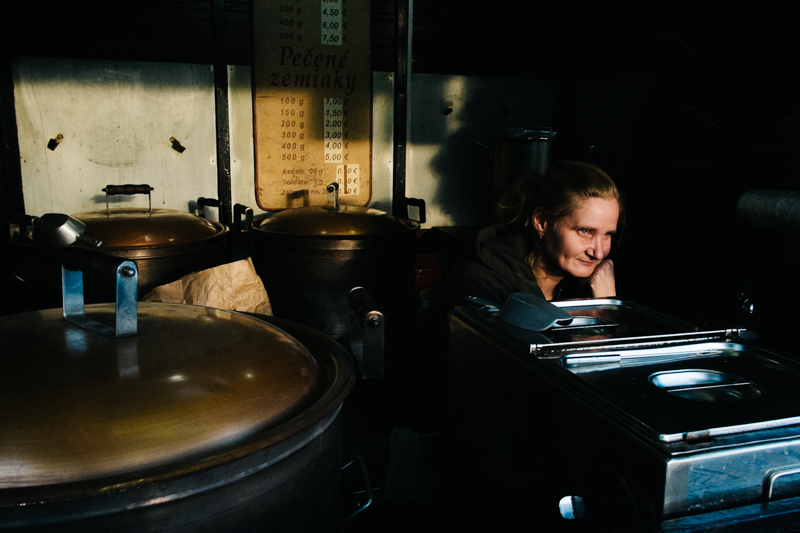 Coffee shops and cafes are also pretty big in Bratislava, which makes sense being so close to Vienna. The best part is they don't have the same prices as Vienna, though.
Street Safety Score: 8
*As always, no place is completely safe! So when I talk about safety, I'm speaking in general comparison to other places. Always take precaution, be smart, observe your surroundings and trust your instincts anywhere you go!
Bratislava is so relaxed and quiet for a capital that it feels extremely safe. There are some slightly sketchy areas east and south of the Old Town, but it still doesn't feel dangerous. Using normal precautions, while staying observant, and you should feel safe freely wandering the streets in Bratislava.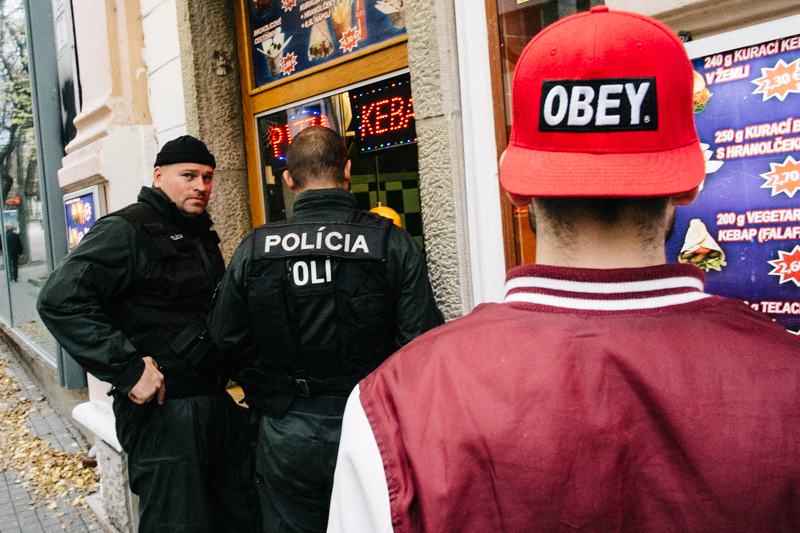 People's Reaction Score: 8
The general reaction to public photography in Bratislava goes along with the rest of Eastern Europe. In other words, it's pretty friendly towards cameras.
I never have problems when shooting Street Photography in Eastern Europe and that was the same case in Bratislava. Of course, some people will wonder what you're doing, but it never seems to bother them much. They either don't notice, don't really care, laugh or react intrigued.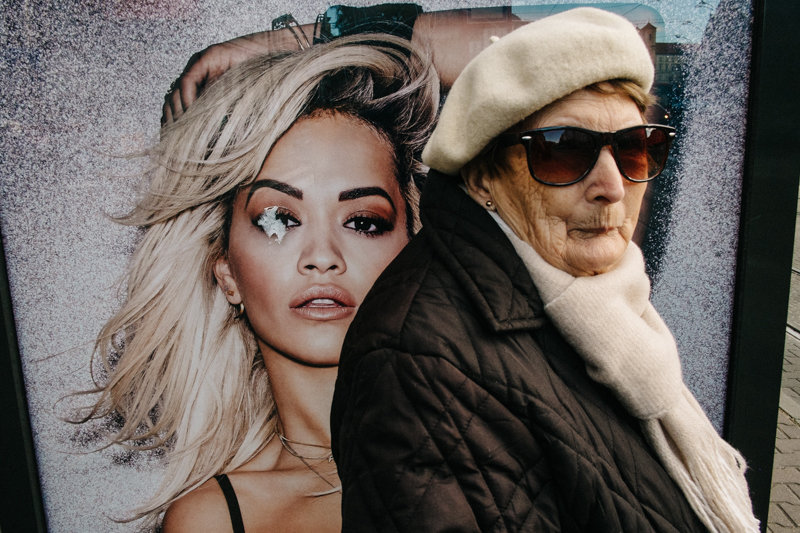 Street Tips:
Explore Freely 
Bratislava is a city that grows on you. It might not seem exciting or special at first sight. It's not extremely developed or busy with plenty to do and see, but there's something special about what it has, and doesn't have. The fact that it's not crowded, touristy or overdeveloped helps gives it its charm, and an advantage. It makes it a great city to explore and get lost wandering around.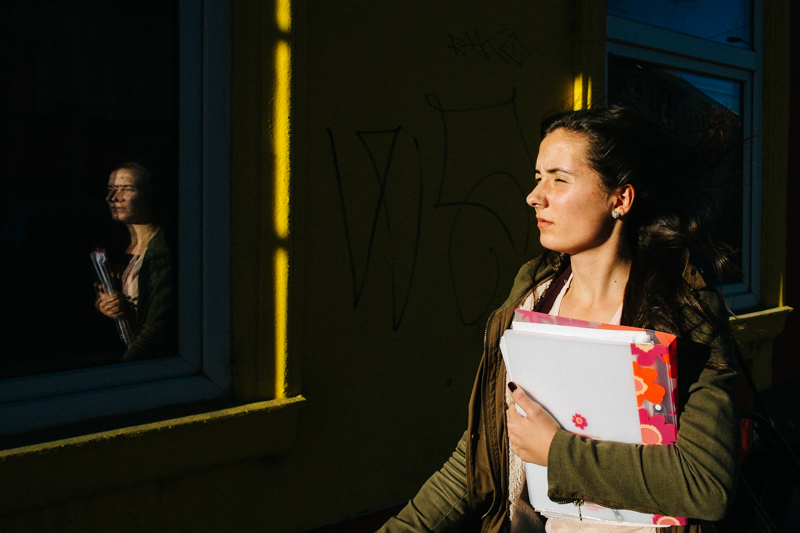 Sometimes I like to just walk around Bratislava without any plan or destination because it always seems like I find something new and interesting. There's a relaxing feeling walking around the city, almost like an escape. Walking around with your camera, you feel like there's a lot that hasn't been captured. Something that you don't feel in other European capitals.
Take a Break
If you're visiting some of the bigger, more visited cities, like Vienna and Budapest, add Bratislava as a stop. Why? Because it's an extremely convenient, quick and inexpensive stop. Vienna is an hour train ride, while Budapest is less than 3 hours, with both costing under 20 euros. They also have many trains leaving to and from each day so it couldn't be easier to fit in.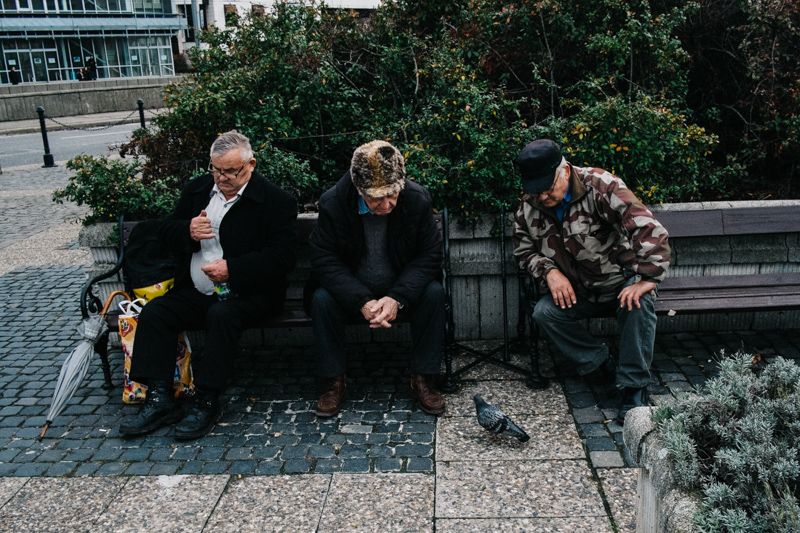 Bratislava also gives you a break from the bigger cities, while giving you a new city to capture that has its own unique character. It's an easy break if you're traveling in the region. It could even be as short as a quick day trip, especially from Vienna.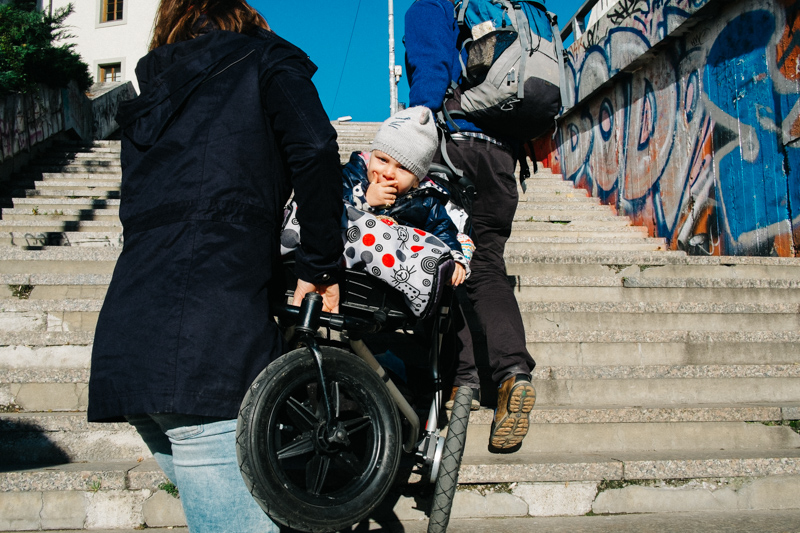 Inspiration:
For some more inspiration, you can look through some of Flickr's Street Photography from Bratislava and check out 33 of my photos taken in Bratislava.
Conclusion:
Bratislava might not be the most exciting city, but Bratislava brings plenty of its own positives over the bigger cities too. It might take giving it more of a chance, but after spending some time here, I grew more and more fond of it. I found a lot of positives for Street Photography in Bratislava too. It's not overcrowded, overdeveloped or over-photographed, while bringing its own look to photos. 
It's also very quick and convenient to get to by train if you're in some of the bigger central European cities, like Vienna and Budapest. So if you're on the fence on making a stop here for some photography, I wouldn't hesitate to take that train, along with your camera, to Bratislava, Slovakia.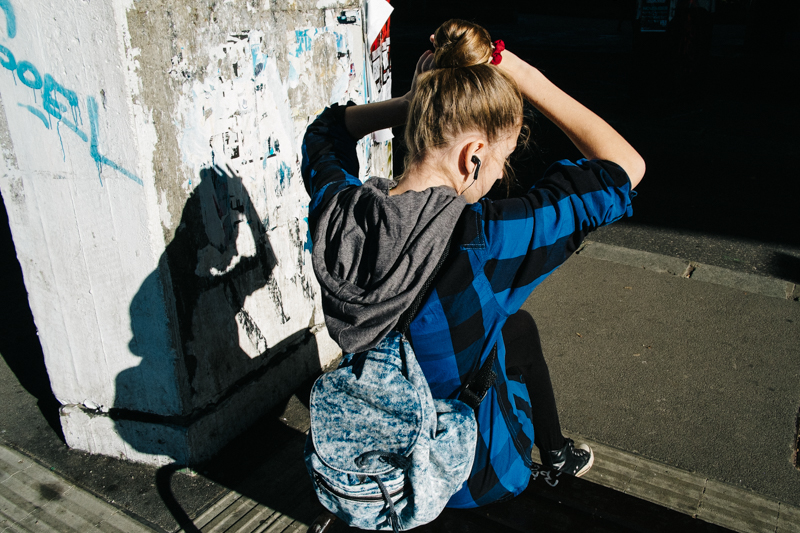 I hope this Street Photography Guide to Bratislava helps you get ready to photograph a place that packs more than you might expect from a slower paced capital city. If you still have any questions about shooting in Bratislava, feel free to email me or comment below!
(I want to make these guides as valuable as possible for all of you so add any ideas on improvements or additions below in the comment section too!)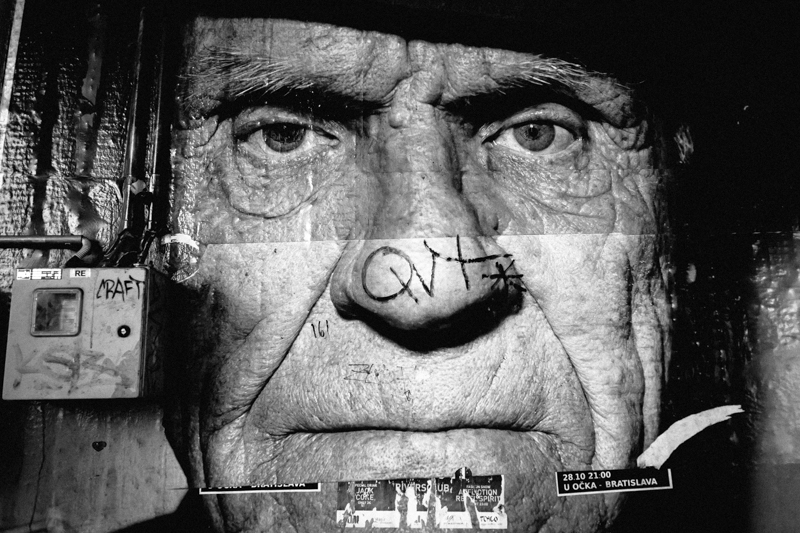 (A New Guide Posted Every Other Wednesday)