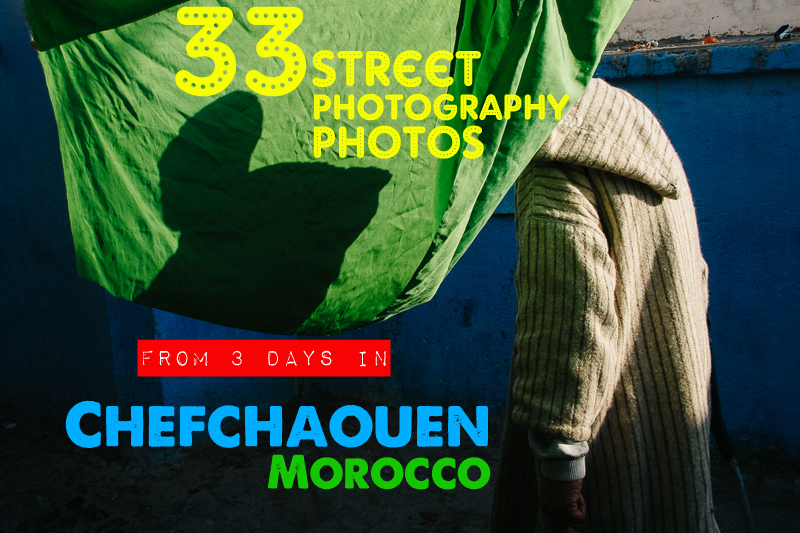 After Fes, I took a long bus ride up through the Rif mountains to spend a few days in Chefchaouen, Morocco.  The small mountain town of Chefchaouen is famous for its rich history, architecture, beautiful surroundings and most of all, the blue rinse covering everything in sight.
While many of Morocco's well-known cities are filled with chaos, Chefchaouen is a relaxing escape. It's also one of the more unique and picturesque cities I've been to. So here's 33 photos that I was able to capture during my time in Chefchaouen…
33 Street Photos from 3 Days in Chefchaouen
1.
2.
3.
4.
5.
6.
7.
8.
9.
10.
11.
12.
13.
14.
15.
16.
17.

18.
19.
20.
21.
22.
23.
24.
25.
26.
27.
28.
29.
30.
31.
32. 
33. 
For more info on Chefchaouen, be sure to check out my first impressions from a street photographer's perspective. And stay tuned for a post on my most interesting street photography experience to date, that happen right here in Chefchaouen.
Have you photographed Chefchaouen before or do you plan on it someday? Let me know about it in the comments below!
And let me know which photos you like best too!
Click Here for More "33 Street Photos" from Cities Around the World