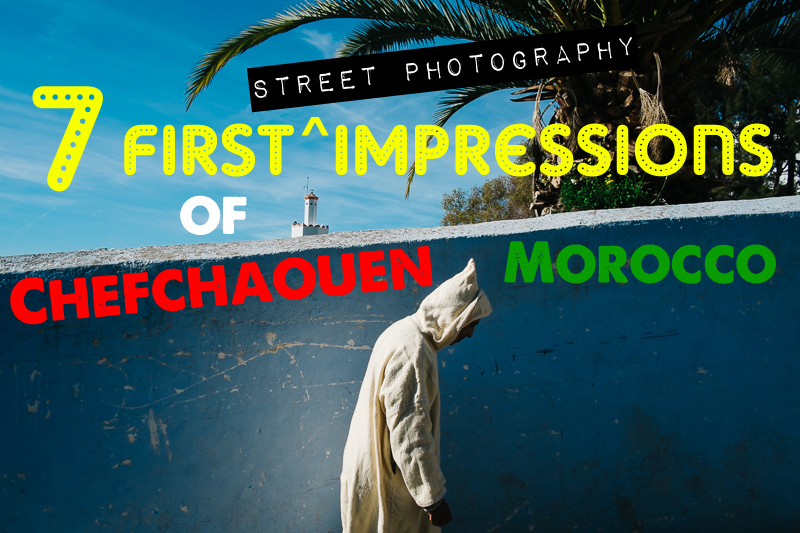 Chefchaouen is a small town up in the Rif Mountains of Morocco. It used to be controlled by Spain so it has more of a spanish influence than french, like much of Morocco. But this isn't why people make the long trip up through the mountains to visit Chefchaouen today.

I'll go into some of the reasons this small city has become a popular destination recently, but one is obvious once you see any photos. Much of Chechaouen's buildings, houses, walls, stairs and even ground are painted blue. This helps give it a unique atmosphere for photography, but there's plenty more that makes Chefchaouen a city to visit for some Street Photography, and relaxation.
So here are my first impressions of Chefchaouen, from my personal Street Photographer perspective…
7 First Impressions of Chefchaouen, Morocco 
(From a Street Photography Perspective)
1. Blue Walls Surrounded by Mountains
Chefchaouen is famous for its color. The city is covered with a beautiful blue rinse that in many parts, leaves nothing else any other color. This actually dates back 600 years when Jewish refugees escaped the Spanish Inquisition here. For them, painting everything blue mirrored the sky, always reminding them of God.
Today, this tradition is kept alive, partly because of how much visitors love it. The city hasn't been a destination for long, though, as it really wasn't discovered by outsiders until the 1960's. 

Being surrounded by all that blue really does add a lot to the city. Not only is it visually beautiful, but the blue has a calming effect that gives it a special feeling when exploring its streets. And of course for photography, the benefits are obvious. 
2. Hash is the Main Business Here
It doesn't take long for someone to ask you to buy some hash or be taken on a guided tour of a nearby hashish farm. Morocco is the center of hash production in the world and Chefchaouen happens to be located right by its epicenter. This has made the city become sort of a haven for many backpackers looking for kif, another name for hash. You can even hike to farm tours where they let you make your own hash.

So no matter where I was in the city, I would have someone coming up to me about it.  Streets, squares, shops, restaurants, it doesn't matter. Everyone seems to be in the business. Unless you want to attempt some hash farm street photography, it probably won't affect your photography too much, though. But it does add to the city's atmosphere.
3. A Very Interesting Mix of Tourism
There seems to be 2 main things that attract people to making the trek up to this little town in the mountains. The relaxing escape of the old blue city surrounded by mountains. And hashish. There is much more to the city than that, but these two things can attract a mix of tourists with very different interests and lifestyles.
You have backpackers making the trek for marijuana farm tours and then spending the rest of their time enjoying the returning supply. And then you have families and older couples here for the beauty, tranquility, and relaxation. This mix of tourism actually blends together very well, though. Everyone does their own thing without bothering the others. But it does make for some interesting juxtaposition, at times. Candle light dinners next door to "hash dens" :) 

4. It's Nice Getting Lost in the Maze of Blue
Within the blue walls of Old Town, there's a labyrinth of narrow alleys, steps and hills. In the middle, there's a large square of restaurants and shops, but if you take any of the many alleys, you can discover a different scene. Especially, if you head uphill, you'll walk by homes, local life, donkeys, kids playing, and a more quiet atmosphere to the rest of the city, all while being completely surround by that peaceful blue.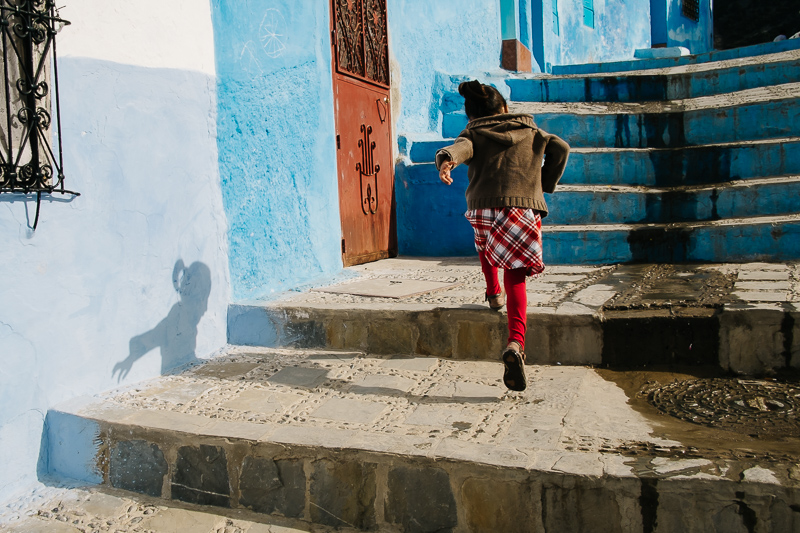 Once at the very top, you can get some good views of the city, along with goats grazing and women hanging up laundry. Just be careful about taking photos of the goats and donkeys up top. Speaking from experience, there's an older woman who just might run out her door yelling at people for taking photos of her animals  :)

5. Blue Cities Change the Light
The blue paint everywhere does affect the light a bit. In some places, all you see is blue and it can get a little dark in the more narrow alleys too. So not only do you have to look for good light, but you have to work with the blue color cast by the light. 

The camera's white balance can have trouble with the blue sometimes so I had to do more adjusting in editing to get it to look right. Even then, it can be a little difficult depending on the light. The unique blue setting is well worth the trouble, though.
6.  Explore Outside the Blue Walls too
There's actually plenty of activity just outside of the Old Town too. I noticed that most tourists don't venture outside, either, so it feels very local. Most days, they fill the streets with markets and shopping stands. I ended up spending almost as much time outside of the Old Town as inside because in many ways, there was more to capture for Street Photography.

The Old Town might be more unique and interesting, but the rest of the city is definitely worth checking out. Chefchaouen is small so most of the city is in the Old Town and closely surrounding area. You can easily walk around all of it in a day.

7. The Slow, Relaxed Side of Morocco
Compared to the chaos of cities like Marrakech and Tangier, or the big city life of Casablanca, Chefchaouen slows down the pace, removes the chaos and can be a nice escape while in Morocco. It's very relaxing walking around the city and enjoying the peaceful beauty. It takes you back in time to a much simpler time, while still giving you plenty to capture. After visiting the more lively cities of Morocco, Chefchaouen was a nice change of pace and atmosphere for Street Photography.

A Special Little City in Morocco
For many, Chefchaouen is a found gem within the busier hussle of Morocco. Some call it magical, even, but whatever feeling you get from it, it's hard not to enjoy yourself here. "Blue cities" can be over hyped and not quite as amazing, or beautiful, once you're there, but I don't find this to be true in Chefchaouen. For one, this truly is a blue city compared to some of the others I've been to. Along with the sky above, in many areas, blue is all you can see whichever direction you look.

Chefchaouen also has plenty to enjoy other than its color. With the surrounding mountains, the old town life, the Berbers walking around in their pointed robes, and much more, it became a great place to visit, relax, and photograph after some of the bigger cities in Morocco.

If any of you have been to Chefchaouen before, tell me about your experience and impressions of the city in the comments below! And stay tuned for more on Chefchaouen, including some more of the Street Photography I captured while there and a very interesting story that happened to me there (It involves Street Photography, 5 undercover policemen, and more  :)
Click Here for More First Impressions on Cities Around the World 
(from a street photographer's perspective)