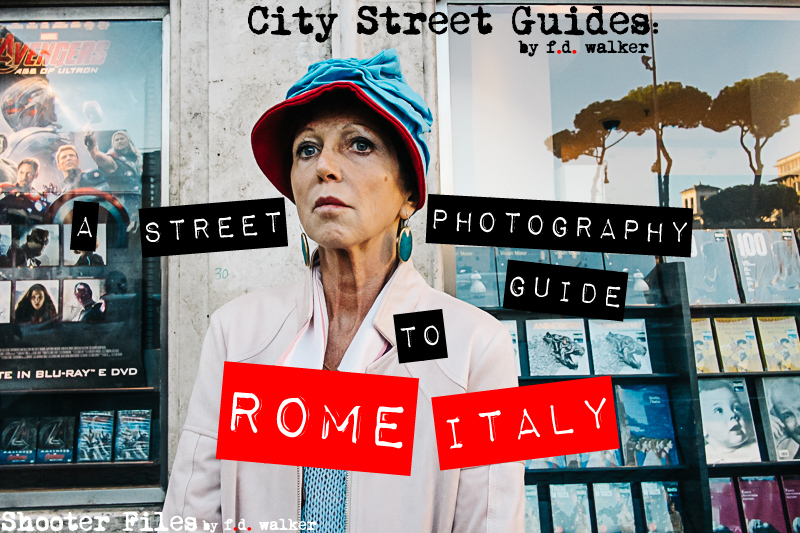 *A series of guides on shooting Street Photography in cities around the world. Find the best spots to shoot, things to capture, safety concerns, street tips, and more for cities around the world.  I have personally researched, explored and shot Street Photography in every city that I create a guide for. So you can be ready to capture the streets as soon as you step outside with your camera!
Rome
Overview:
For most cities, it can just be something cliché to say, but when it comes to Rome, there really is no place like it. You're constantly surrounded by so much ancient history everywhere you go. It's not a historical site here and there; they're everywhere. The whole city of Rome is like walking backing in time. And that's just the start to what makes Rome so special. There's all the culture, food, style and much more that Rome and Italy are so famous for.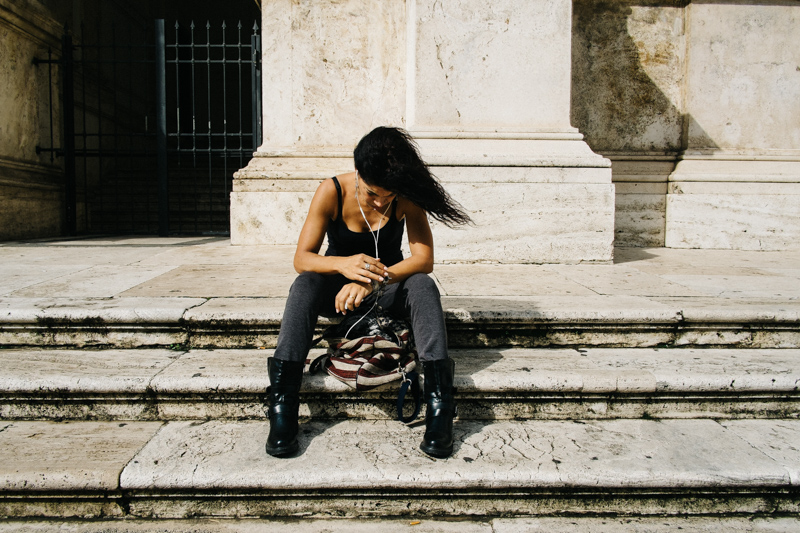 During my most recent trip to Rome, I was lucky enough to have a local photographer show me around while working on an episode of Street Hunt with the Street Hunters team. Marcello Perino, an italian photographer, showed me some of his favorite places for shooting street in Rome, which was a big help and added even more to this guide.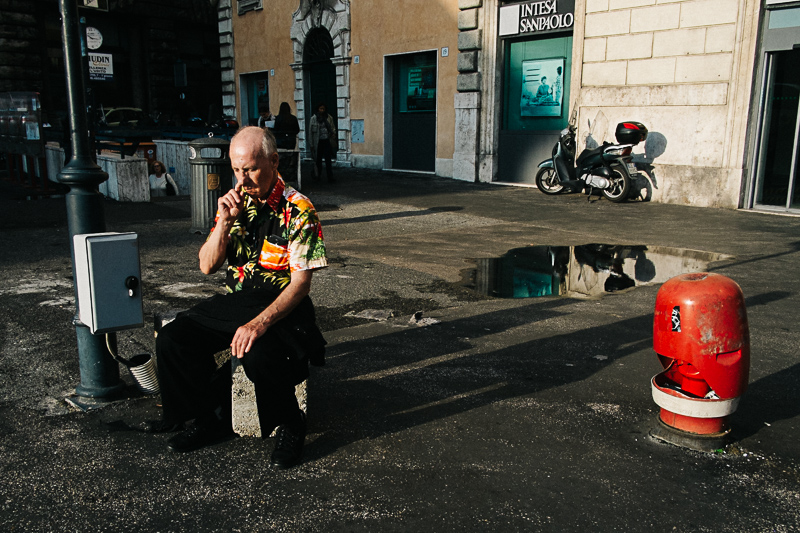 Walking around Rome is truly an experience like no other. And walking around with your camera trying to capture all that life you can't see anywhere else can be overwhelming at first. So here's a Street Photography guide to help you prepare for capturing all that Rome has to offer before you even arrive.
Map:

Piazza Venezia
Piazza Navona
Market at Campo de Fiori
Piazza San Pietro
Via dei Fori Imperiali
Colosseum
Tiber Island/Fiume Tevere
Top 7 Street Spots:
1. Piazza Venezia
Piazza Venezia is in the heart of Rome where four major roads intersect. As far as squares go, Venezia is dominated by Rome's chaotic traffic. Reasons to come here for Street Photography have more to do with what surrounds it than the square itself.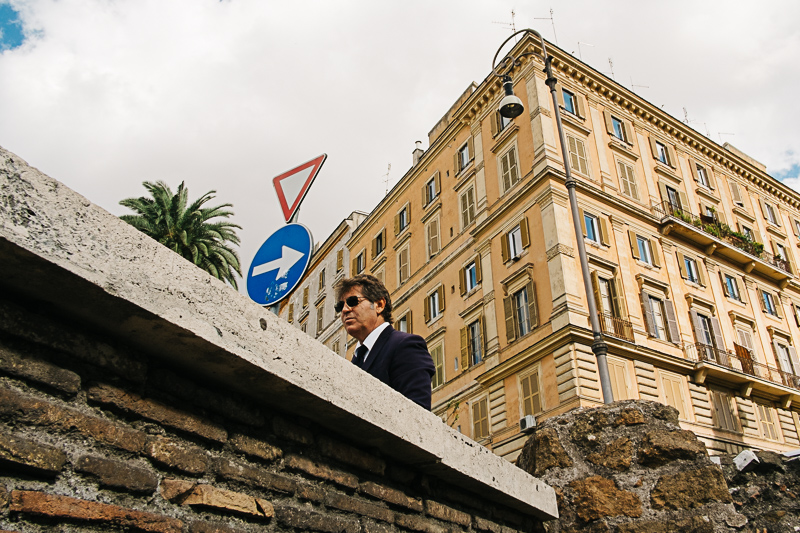 You have the Altare della Patria, Palazzo Venezia and the ruin rich beginning of Via dei Fori Imperiali all right here, which attracts plenty of people. You also have some nice nearby alleys and streets with plenty of character. You might not want to spend too much time at Piazza Venezia, but it makes for a great starting pointing for Street Photography in Rome.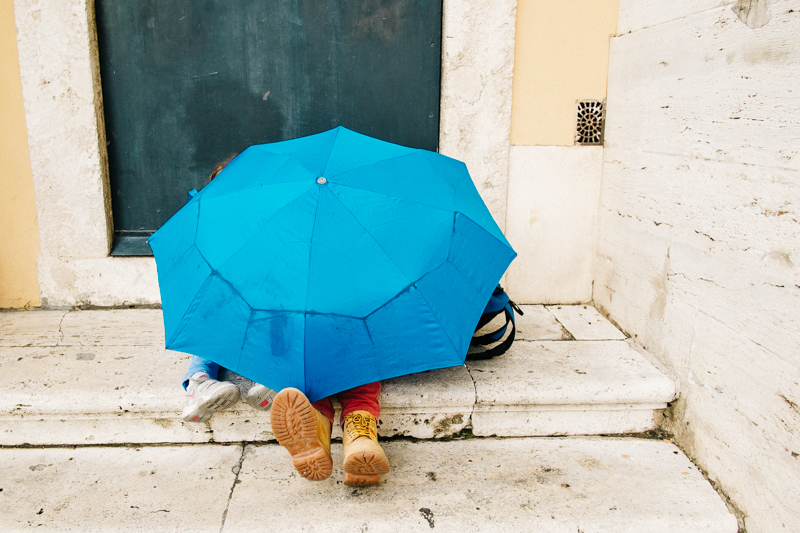 2. Piazza Navona
Piazza Navona is a square built on a former ancient roman stadium used for festivals and sporting events. So the large open oval shape of the square is unique and gives plenty of space and good light. At one point, the city's main market was located here, but now it fills with street artists instead. The square includes three fountains, while the surrounding is lined with cafes, restaurants and bars.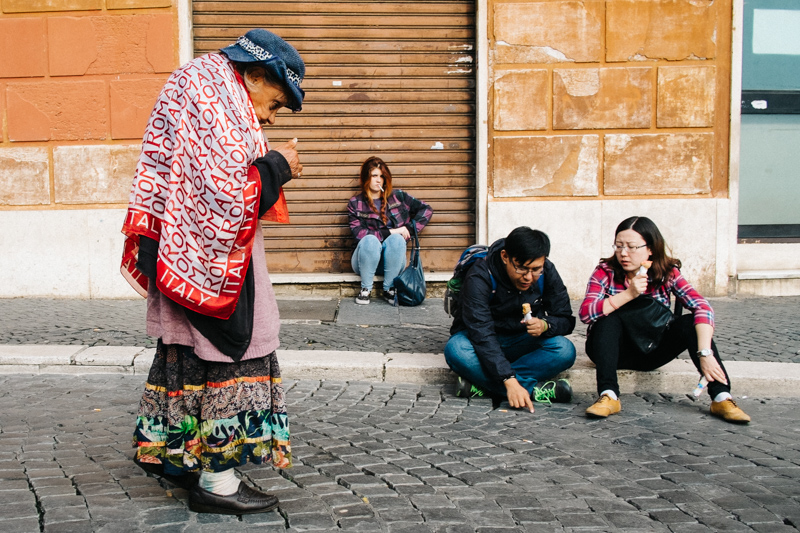 Piazza Navona is definitely one of the liveliest squares in Rome and attracts plenty of tourists. The long open set up, the fountains and surrounding architecture, the great light and all the activity that goes on here make it a good place for Street Photography too.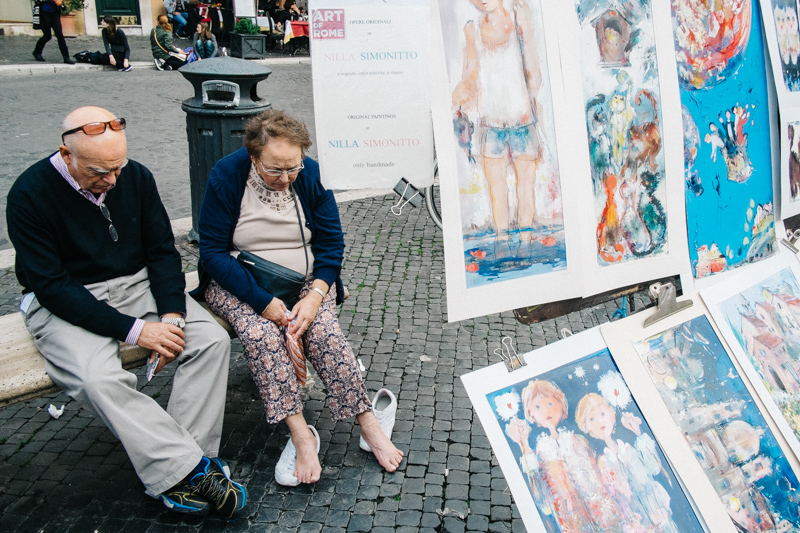 3. Market at Campo de Fiori
Campo de' Fiori is a rectangular square that was built on a meadow, which is why the name translates to "field of flowers." Today, it has a different personality depending on what time you visit it. During the day, it's the most popular open air market in Rome's center. Over the years, Rome's outside markets have slowly died and gone away, but this one still goes stronger than ever. If you like shooting markets, this would be your best bet since it's open daily too.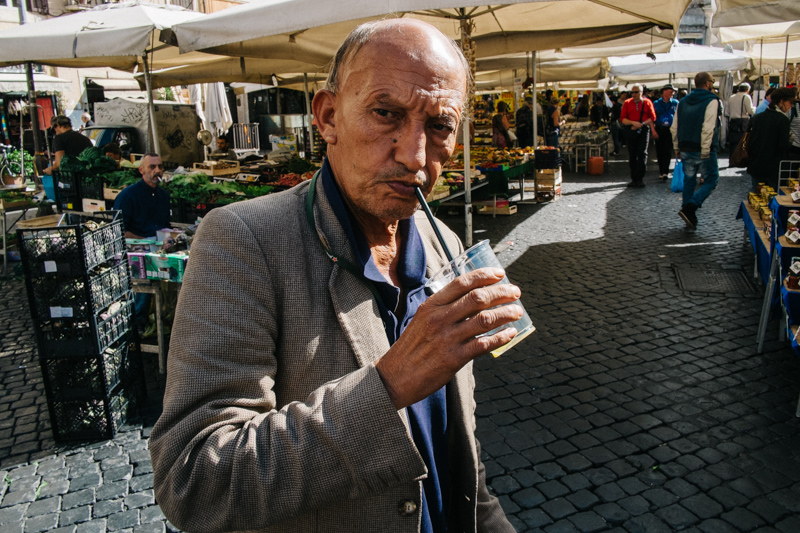 At night, the market goes away and fills up with a younger crowd, due to all the bars in the area. People stay out late here and it's become one of the most popular nightlife spots in the city. If you're into flash photography, it's not a bad spot to come back to for capturing its second personality at night. 
4. Piazza San Pietro / Via della Conciliazione
Piazza San Pietro, also called St. Peter's Square, is most famous for being right in front of the Pope's home in Vatican City. Depending on what's going on, this large plaza can completely fill up with tourists or give you more of an open look at St. Peter's Basilica and its beautiful surroundings.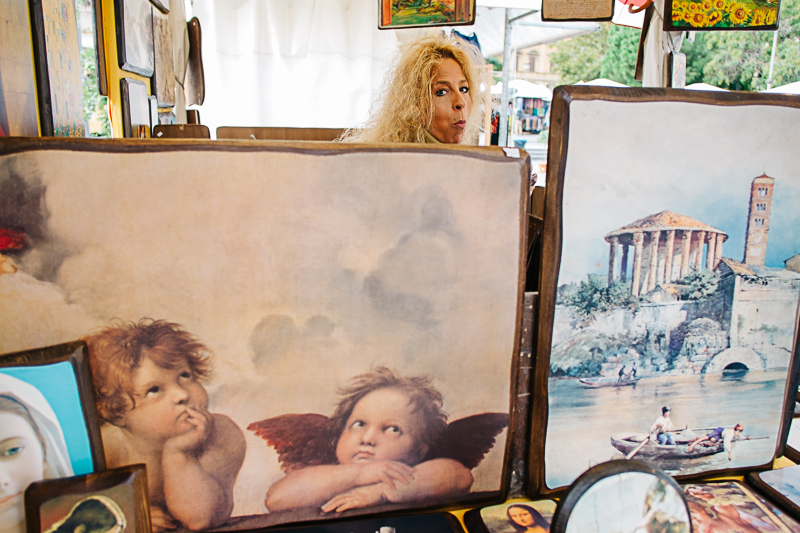 After the Colosseum, this is probably the most touristic place in the city, but there's a lot more close-by for Street Photography too. Via della Conciliazione is the primary road to the square and is lined with shopping. It's also one of the few streets in Rome that doesn't get congested with traffic so it attracts a more pedestrian friendly scene with plenty of shoppers and more freedom for you to move around with your camera.
5. Via dei Fori Imperiali
 Via dei Fori Imperiali is the street that runs from Piazza Venezia to the Colosseum. It's unlike any other street in the world, though, as it runs through ancient ruins along its whole path. In a city packed with visual history, you won't find a street that packs more of it in one place. It's like a half mile long open air living museum.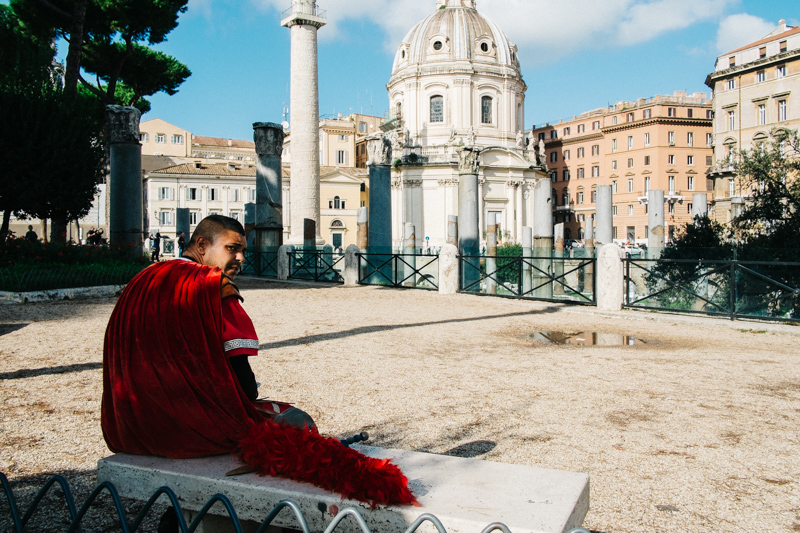 On both sides of the street there are walkways that allow you to navigate throughout the ruins. There are benches too and while some vehicles are allowed on the main road, the whole thing has more of pedestrian street like feeling. All this of course attracts plenty of people too.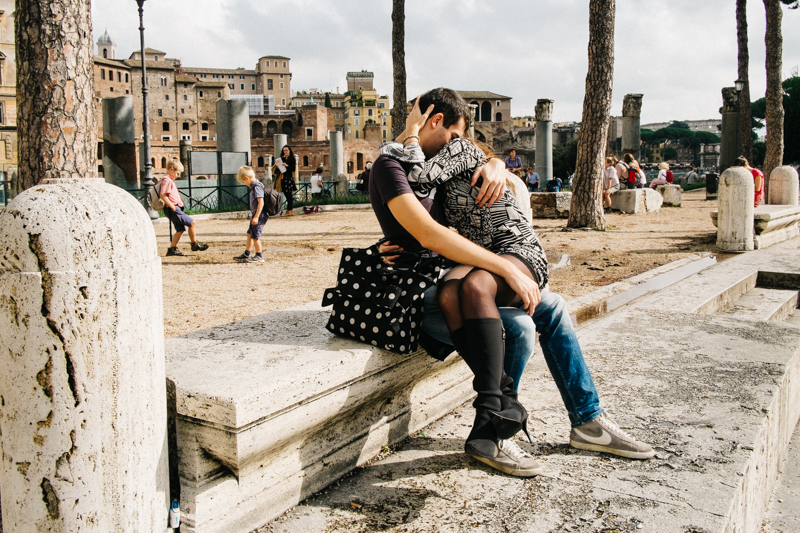 As far as a place for Street Photography, you really won't find anything like it anywhere else. So for something unique and full of life, it should definitely be on your list.
6. Colosseum
Once at the end of Via dei Fori Imperiali, you'll reach one of the world's most famous attractions in the Colosseum. You'll also reach tourist central and be surrounded by tour groups, selfie sticks and faux gladiators. If you're visiting Rome, you're coming here anyway, but you should be able to find some Street Photography opportunities here too.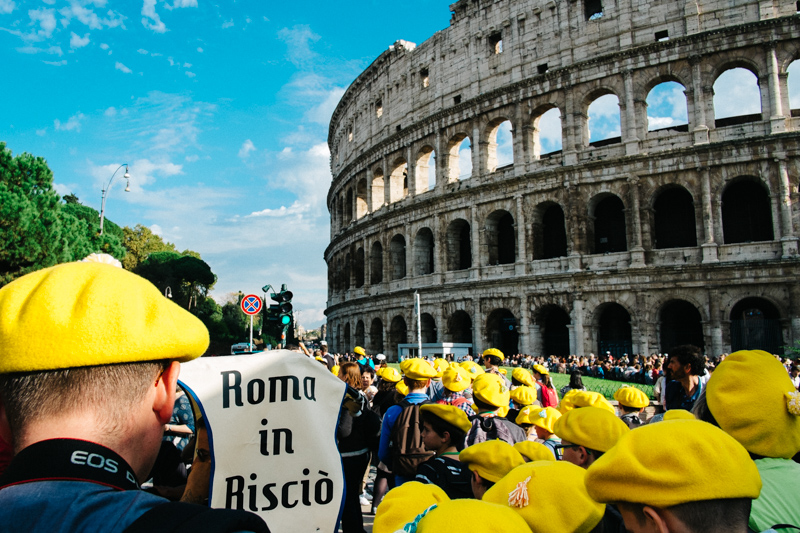 Tourists scenes like this can be interesting and entertaining with some of the things you see. Crowds of people hang out around the area outside of the Colosseum. There's the Arch of Constantine nearby and some grassy areas mixed with pedestrian trails too.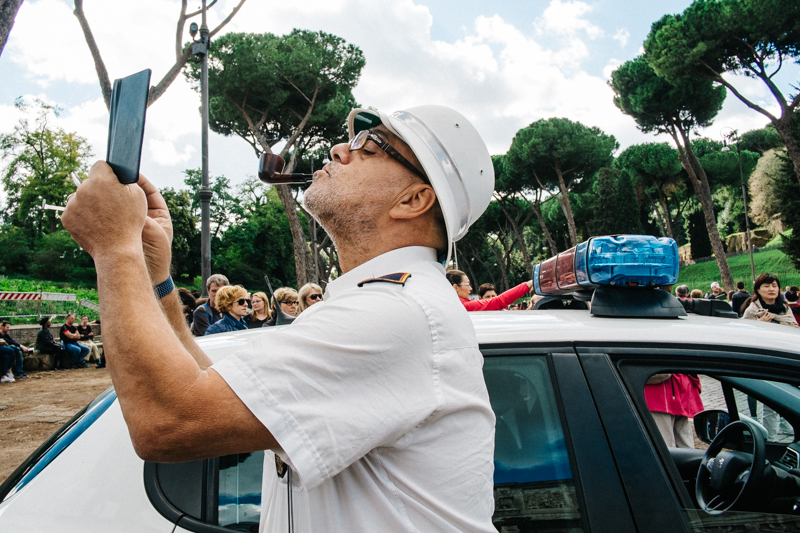 7. Fiume Tevere (Tiber Island)
Tiber river runs through Rome and actually contains the world's smallest inhabited island right in the middle of it. A short bridge connects to Tiber Island on each side. There's a basilica here that attracts people, but the main reason people come is to stroll around the picturesque little island. 
During the summer, the island attracts plenty of crowds and it even hosts an annual film festival. For Street Photography, it's a nice little nearby break from the traffic congested streets and gives some different scenery.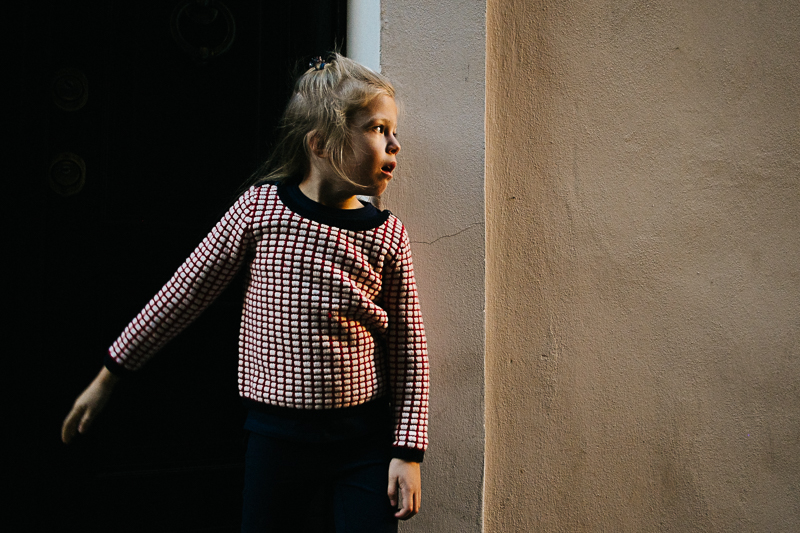 Bonus: Porta Portese Flea Market
If you're in Rome on a Sunday, then checking out the Porta Portese Flea Market would be a good idea. It's the largest flea market in Rome and is open every Sunday from dawn until 2pm. It does get very crowded here, but there's plenty to explore. Most of it is set up along narrow, outside walkways with stands selling everything you'd imagine from a flea market.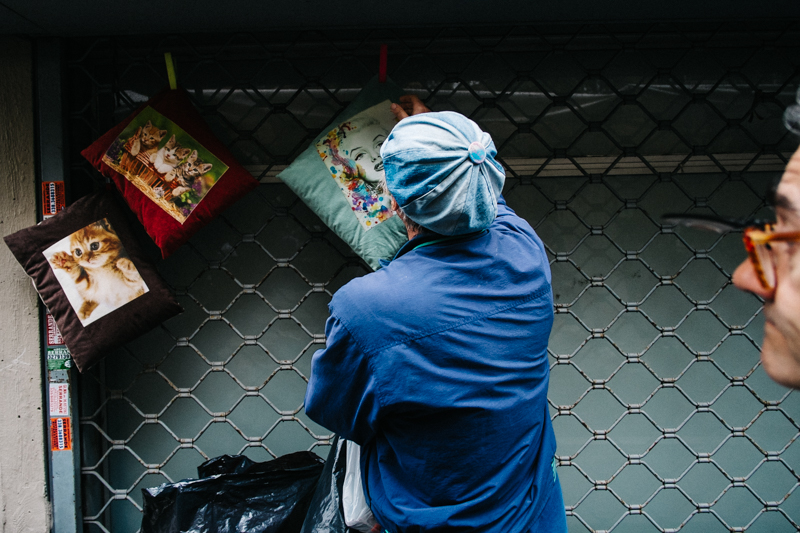 Sample Street Walk:
For a full day of Street Photography, covering some of the best spots, you can follow this sample street walk for Rome:
Start at Piazza Venezia (1)
Walk slowly along Via dei Fori Imperiali (5), while spending time checking out both sides
End at the Colosseum (6) and explore the surrounding area
Walk west to Tiber Island (7)
Then walk up along the river and over to Campo de Fiori (3)
Take short walk up to Piazza Navona (2)
And if you still have time, walk northwest across the river to Via del Conciliazione and finish at Piazza San Pietro (4)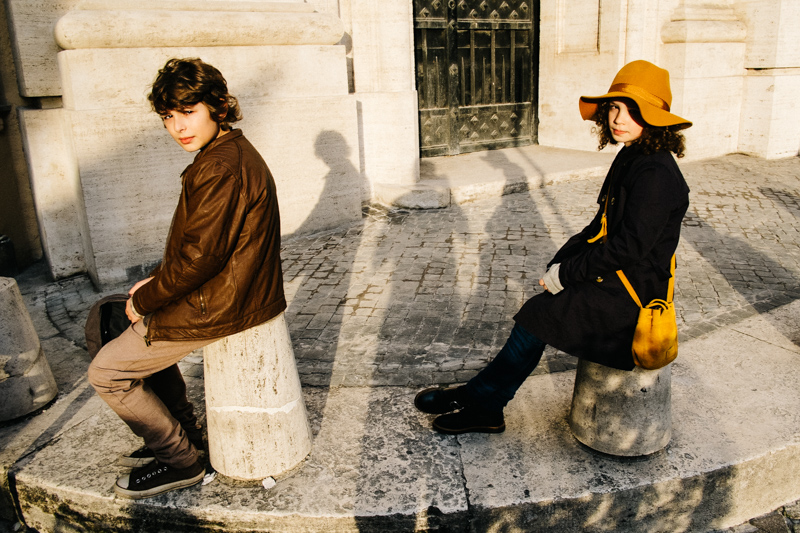 4 Things to Capture in Rome:
1. History
When it comes to visual history, there's no city like Rome. The whole city is one giant historical site.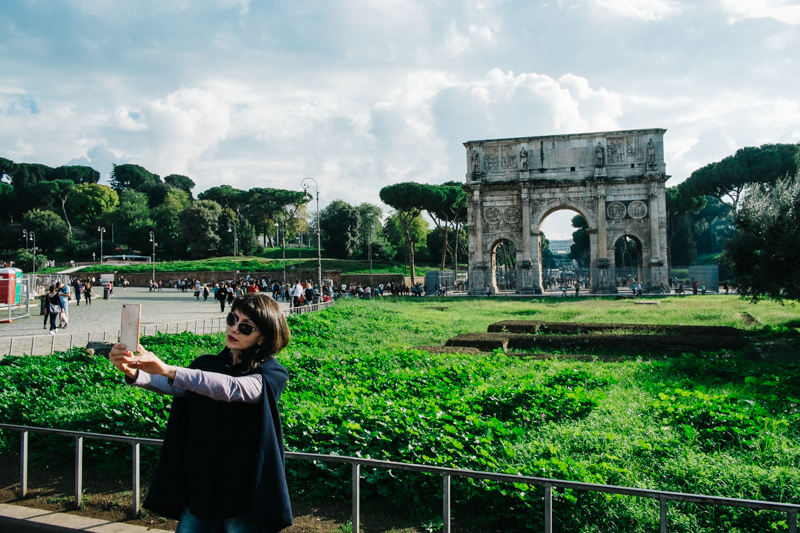 Walking the streets, you can't help, but be in awe of your surroundings. It's like being in an outside museum. The ancient ruins, statues, squares, streets, alleys, and architecture everywhere give you this constant atmosphere. In a city filled with history like Rome, it makes for very unique background and atmosphere when it comes to Street Photography. 
2. Italian Style
Italy is famous for their style and fashion. When out observing life for Street Photography, you really notice how much style the local people have. Both women and men, young and old, are dressed to impress. They care how they look and they know how to evoke plenty of personality and character through their style.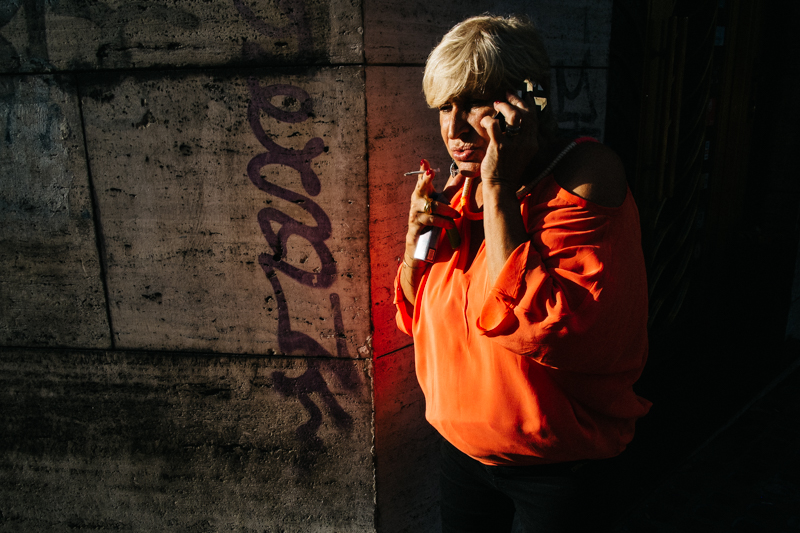 3. Food & Drink
Italian food is loved around the world, but nobody loves it more than the Italians themselves. With this love of food, comes plenty of passion and pride. Restaurants and cafes line the streets and squares of Rome, with people constantly keeping them filled.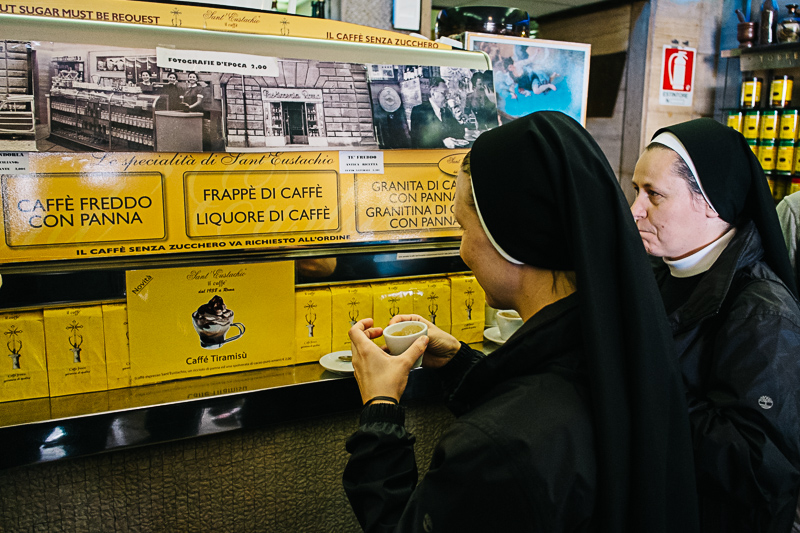 Rome is famous for pizza, of course, so you'll notice plenty of pizza spots. From quick slices to fancy restaurants. Italy is just as known for espresso so the streets are lined with cafes too. Many of the places charge less if you don't sit down so you'll see people enjoying their espresso while standing up outside, just like they do at the pizza slice joints.
Then there are the more upscale italian restaurants all over the city, serving all the famous italian dishes and pastas. The abundance and importance of italian restaurants and cafes is a part of Rome's atmosphere, and life, as much as any city you'll find.
4. Squares, Streets, and Sunlight
Rome has so many squares scattered throughout the city that if you wanted to, you could just walk from square to square all day long and see plenty of the best parts of the city.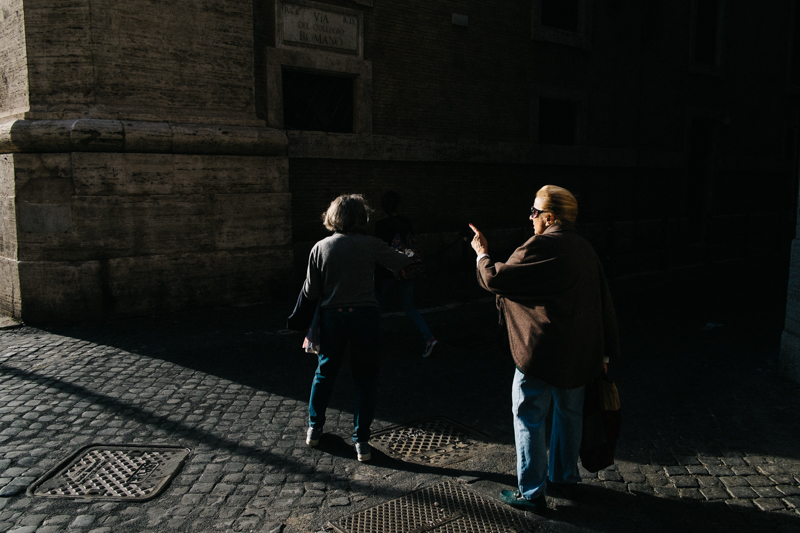 There's a few things every Roman square has too. Beautiful architecture, elaborate fountains and plenty of people. Light is always important, but Rome's ancient streets and squares really show it off well. You can capture the rays of light shining through the narrow alleys or in the open squares where it comes down beautifully.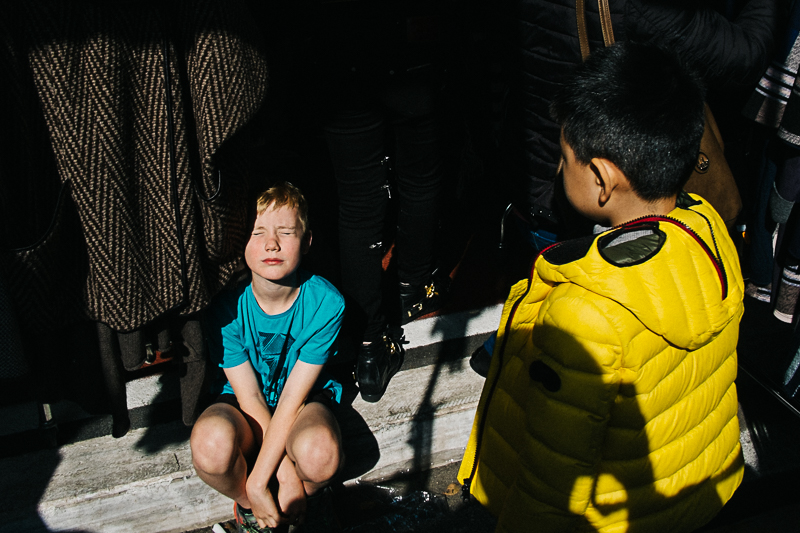 What To Do For a Street Photography Break?:
This one is easy: Eat & Drink
You're in Rome, Italy. What else would you do for a break? You have some of the best espresso, food and wine in the world all around you when you're in Rome so it would be a crime not to enjoy it.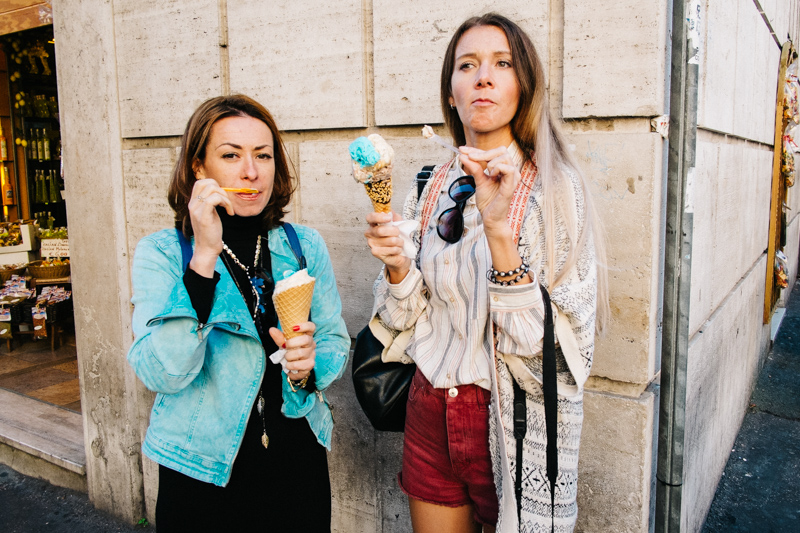 While my wallet doesn't thank me later, I never eat better than I do when I'm in Rome. It makes me hungry just thinking about the city. The cafes and restaurants are amazing. The only problem is sometimes you end up spending half your day inside them instead of out on the streets for photography. Especially, if you're eating with any locals :)
Street Safety Score: 8
*As always, no place is completely safe! So when I talk about safety, I'm speaking in general comparison to other places. Always take precaution, be smart, observe your surroundings and trust your instincts anywhere you go!
So much of Rome is protected for history and tourism that it feels extremely safe in most of the center, especially during the day. The main train station area can feel a little sketchy, but shouldn't be too dangerous. The main thing to look out for, like most cities that attracts tourism, are pick pockets. Rome is a big city, though, so it has it's fair share of crime, but it's more in the areas that you're likely not to go.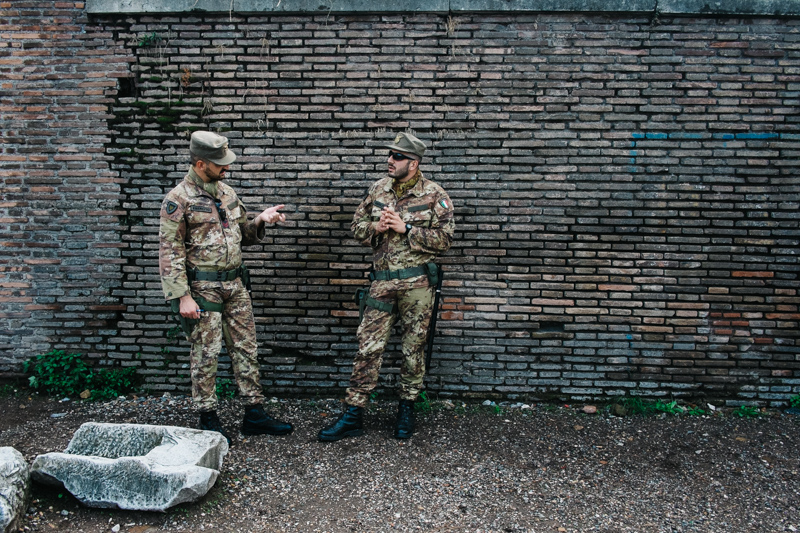 People's Reaction Score: 7
As far as Western Europe goes, Rome is probably somewhere in the middle ground when it comes to reactions to Street Photography. Like most cities, I never have much of a problem here in Rome, but reactions can happen.  Though, I've never witnessed anything serious happen, enough people don't want their photo taken that I can't consider it as Street Photography friendly as places in Asia or Eastern Europe. Still, there should be no problem shooting candid photography in Rome.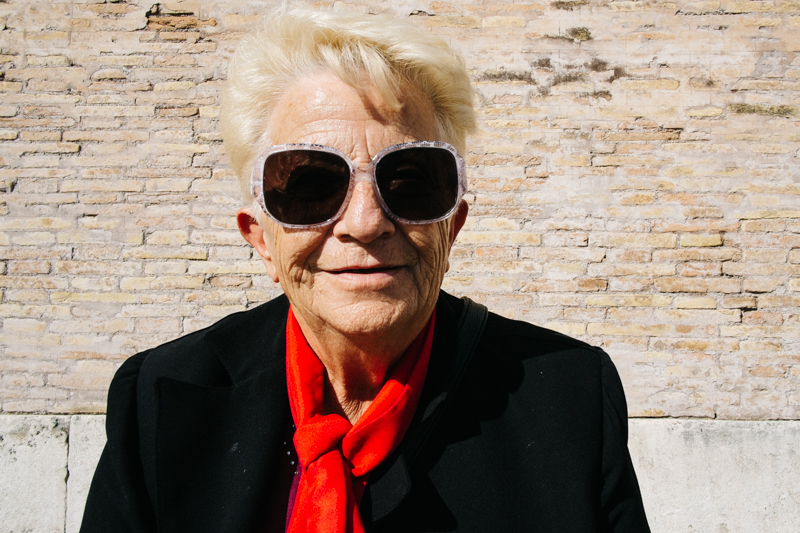 Street Tips:
Good Shoes/Sandals
Rome is filled with cobblestone streets, as should be expected from such an ancient city. So good shoes/sandals with thick soles are very helpful for your feet during a long day of shooting Street Photography here.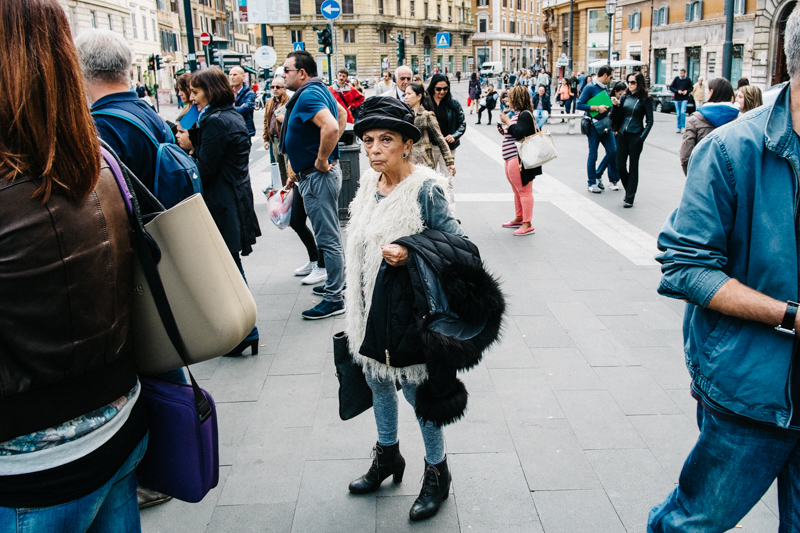 Use the amazing surroundings, open air museum
Rome is so packed with famous sites that they're bound to show up in some of your shots. You don't want cliché looking tourist shots, but that doesn't mean you have to avoid them. You can use them to your advantage too and find ways for them to work into your Street Photography scenes.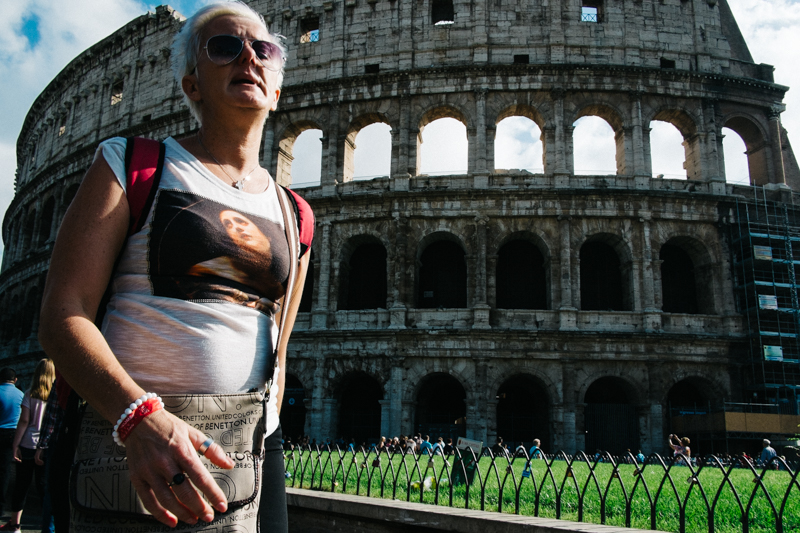 Light looks great on old architecture and streets
Great light can look even better against ancient architecture and cobblestone streets. There something about its beautiful, but rugged age that reflects the light so well. All over Rome you can get this look, especially later in the day when the light is best and pierces through all those narrow streets.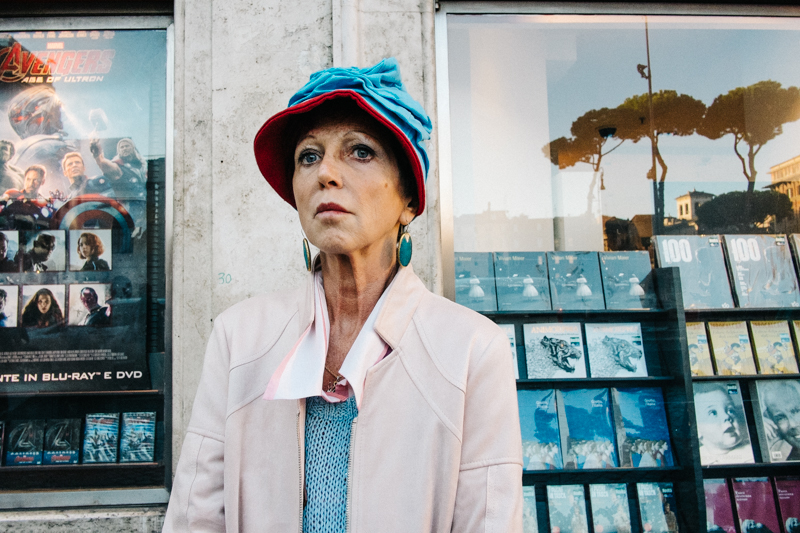 Metro not so great
Rome's metro system isn't the best or most expansive. This has a lot to do with the difficulty of digging underground lines on a city with so much history buried beneath. So the public transport system is somewhat undersized, which is a reason that Rome has one of the highest cars per capita ratios in the world, at almost one vehicle per person.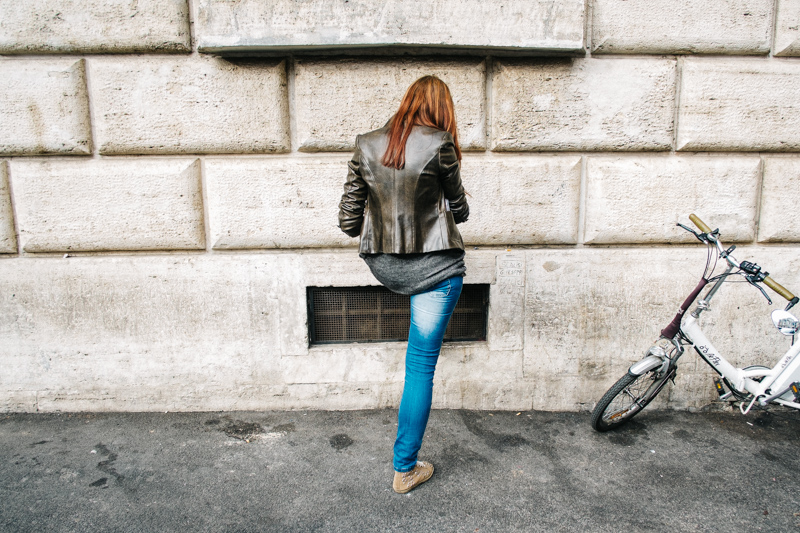 Still, the metro and buses are usable and can help you out, at times. I just would plan on walking most of the time. 
I hope this Street Photography Guide to Rome helps you get ready to photograph this city full of history, style and more! If you still have any questions about shooting in Rome, feel free to email me or comment below!
(I want to make these guides as valuable as possible for all of you so add any ideas on improvements or additions below in the comment section too!)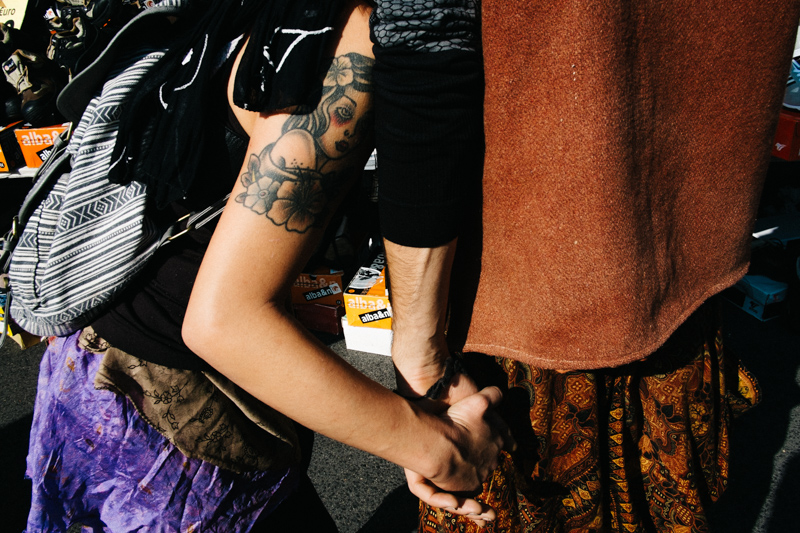 (A New Guide Posted Every Other Wednesday)