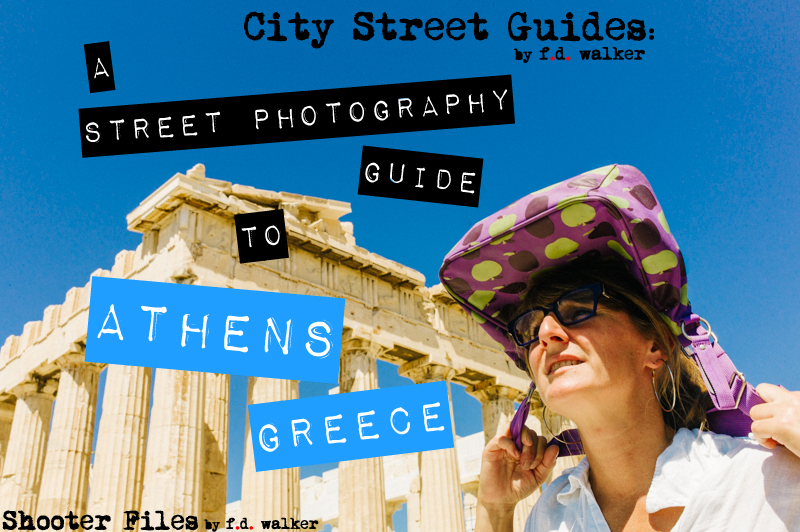 *A series of guides on shooting Street Photography in cities around the world. Find the best spots to shoot, things to capture, sample walks, safety concerns, street tips, and more for cities around the world. I have personally researched, explored and shot Street Photography in every city that I create a guide for. So you can be ready to capture the streets as soon as you step outside with your camera!
Athens
Overview:
When you think of Athens, Greece, you probably think of history, mythology, and the Acropolis. After spending some time shooting in Athens, I still think of these things, but I also think of a city that possesses an interesting juxtaposition of tourism and edgy, urban decay.
A mix of graffiti, concrete and economic crisis all come together to give Athens an edgy vibe once you step away from the historic ruins. The scorching sun provides plenty of light for Street Photography, but also adds to the atmosphere of this ancient, yet urban city. Athens can take a little effort in looking deeper than the Acropolis and urban deterioration to find what makes it special, but it's worth the effort.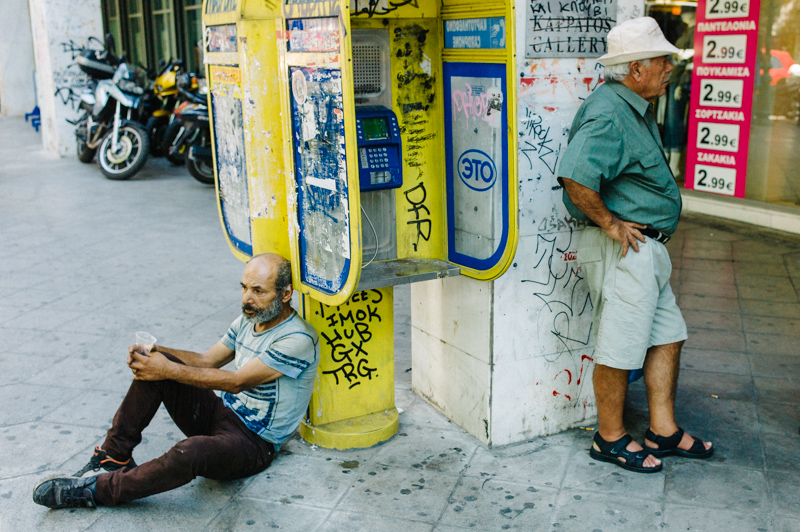 And when it comes to Street Photography, there's plenty to make Athens a city to visit. So here's a Street Photography guide so you can be ready to capture what Athens has to offer before you even arrive.
Map:
The Acropolis
Monastiraki
Omonoia Square
Athens Central Market
Ermou Street
Top 5 Street Spots:
1. The Acropolis
It doesn't get any more famous than the Acropolis. It also doesn't get any more touristic. So why start the list off with this area?
For one, if it's your first time in Athens, you're crazy if you don't make a visit up here anyway. I don't care how crowded with tourists it is, it's a must see for a reason. But more importantly for the guide, you can actually mix in some Street Photography while you're up here too. Just think Martin Parr and you'll see the possibilities.
Tourists with their fanny packs, cameras, bags, water bottles and selfie sticks all enjoying the history and panoramic views among ancient ruins. It can definitely attract some characters and create some interesting juxtapositions.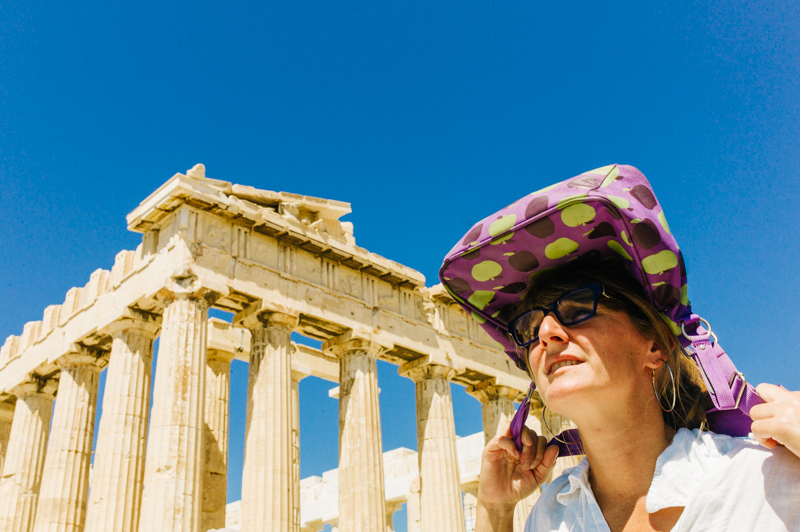 I hate crowds and tourism as much as anyone, but the visual history of the Acropolis is too amazing to not appreciate, no matter how busy it is. It's awe-inspiring, while also providing some nice views of the city that make Athens look much more beautiful than the ground level impression.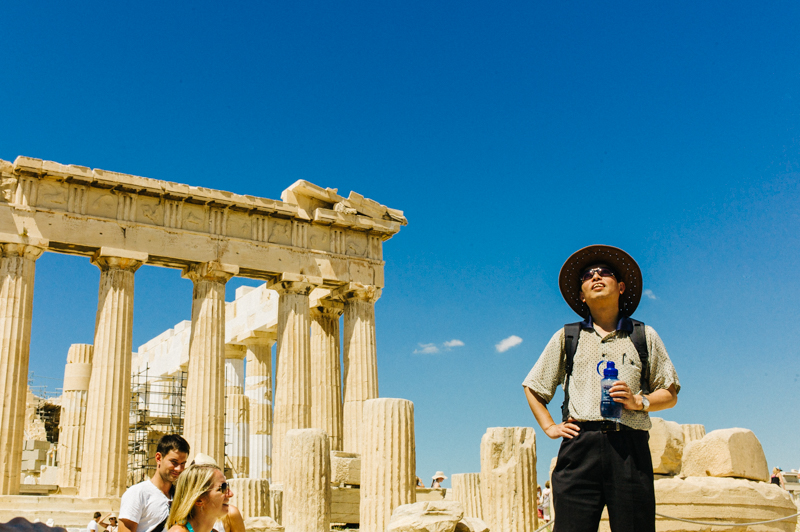 The surrounding areas are so unique that they can provide some great backgrounds and scenes for adding interest to your Street Photography, while the crazy tourism scene provides plenty to capture.
Embrace the tourism of Athens. It's part of the city so including in your Street Photography isn't a bad idea.
2. Monastiraki
Monastiraki is my favorite starting spot for a day of shooting in Athens. It's one of the busier neighborhoods and it's always full of life. 
Monastiraki is a flea market neighborhood and one of the main shopping districts in Athens. There are different boutiques, souvenir shops, and specialty stores so it attracts tourists, but has its own cool vibe too. There's also a large square where people hang out and a popular metro station here, both named after the neighborhood.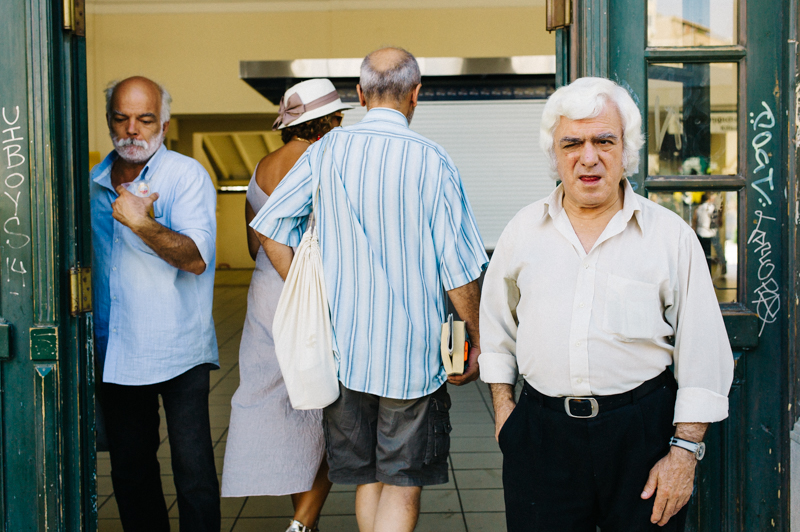 Monastiraki is surrounded by a variety of great areas to shoot too. In one direction, you'll find ancient ruins, in another direction you'll find street filled shopping and in another direction you'll find much of the graffiti Athens is known for. So you can shoot around here and then walk any direction, depending on where you want to shoot next. 
3. Omonoia Square
Omonoia can be a little sketchy so be aware of your surroundings around some of the dodgier streets. But it also happens to be one of the most interesting neighborhoods in Athens, with plenty of people full of character walking around too. It's not very far from the touristy areas, but takes a noticeable and authentic change.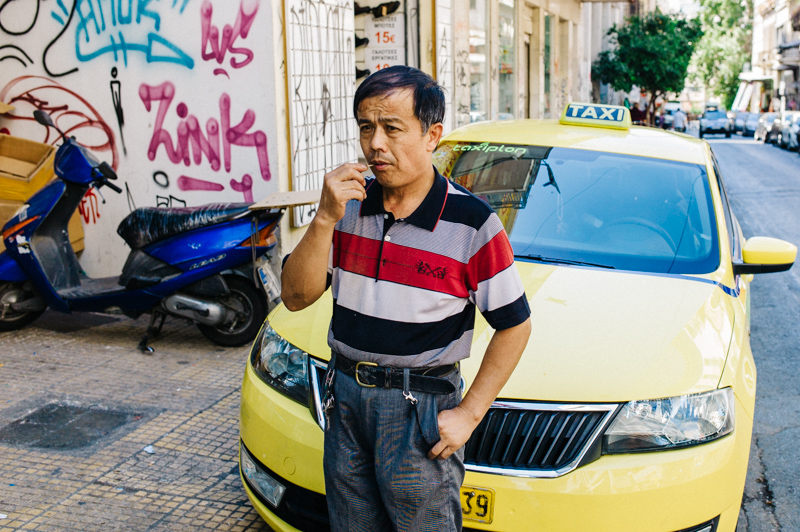 At the center is a large square and popular metro station. From there, you can walk in any direction and explore a different path of Street Photography adventure. Omonoia has been considered the heart of the city, but it's also been affected by urban decay, drugs, and prostitution. Saying all that, it's still a primary district for commercial and social activity. There's a heavy immigrant community influence too. Of all the areas in Athens, this neighborhood might contain the most character, and characters.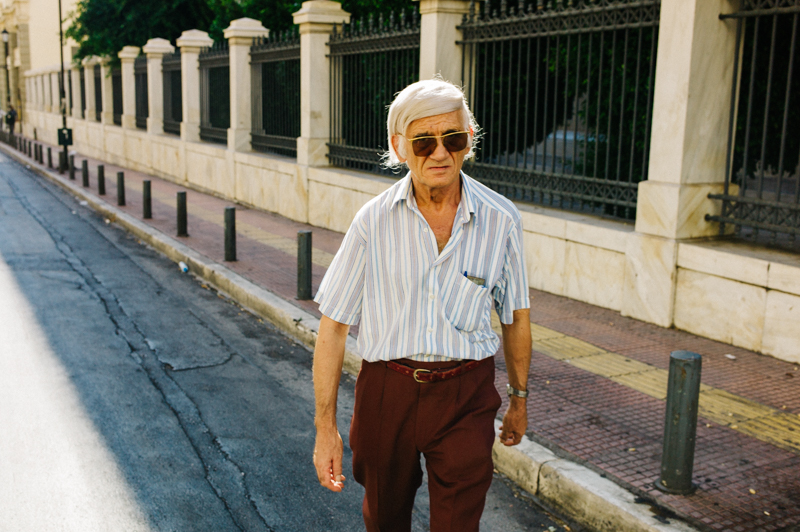 Omonoia provides an interesting environment for Street Photography, especially compared to the more touristy areas of Athens. I'd recommend exploring this area during the daytime, but it's still pretty safe as long as you're observant and use common sense.
4. Athens Central Market
This chaotic, colorful market in Athens is the prime spot for shooters who love to capture market life. From olives and cheese to seafood and spice, this market has it all. The most interesting part is probably the meat market section, with hanging carcasses and light bulbs giving a surreal atmosphere.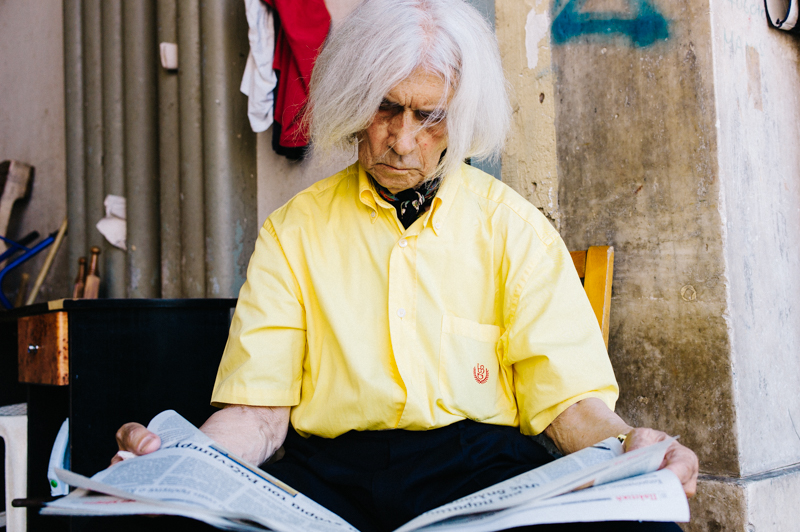 The market keeps the edgy Athens vibe too, making it different from markets in other cities. It's not the prettiest area, but it has character to spare.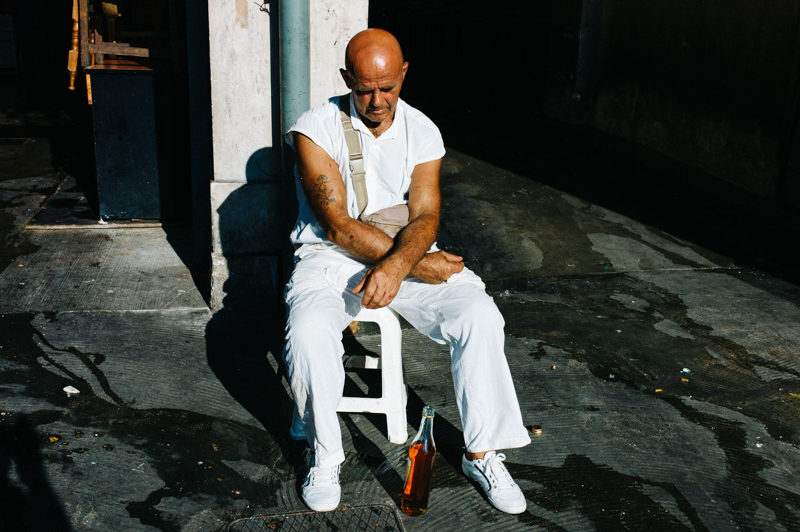 5. Ermou Street
Ermou is the busiest pedestrian street and shopping area in Athens. It also connects the popular Syntagma and Monastiraki squares.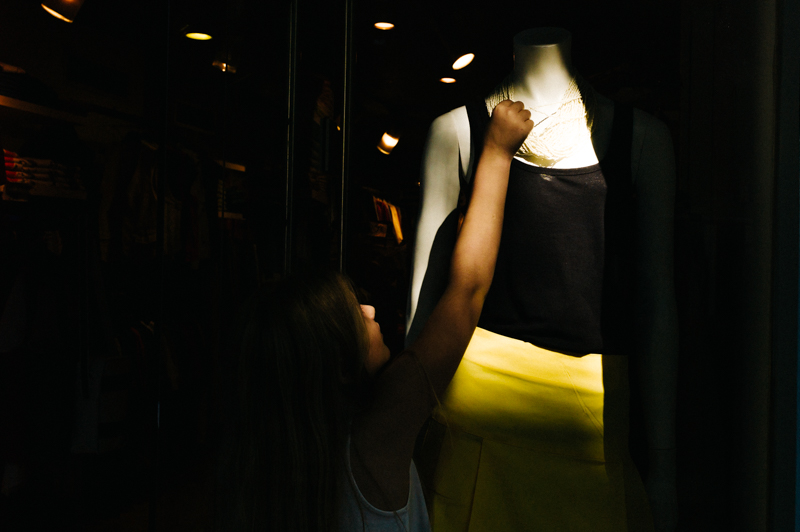 The street is around one and a half kilometers long and is in the top five most expensive shopping streets in Europe (top ten in the world). You get a mix of everything and everybody walking this street, though. It's right in the middle of it all so it attracts more than shoppers, which provides a good variety of chaotic life walking both directions. At all times of the day.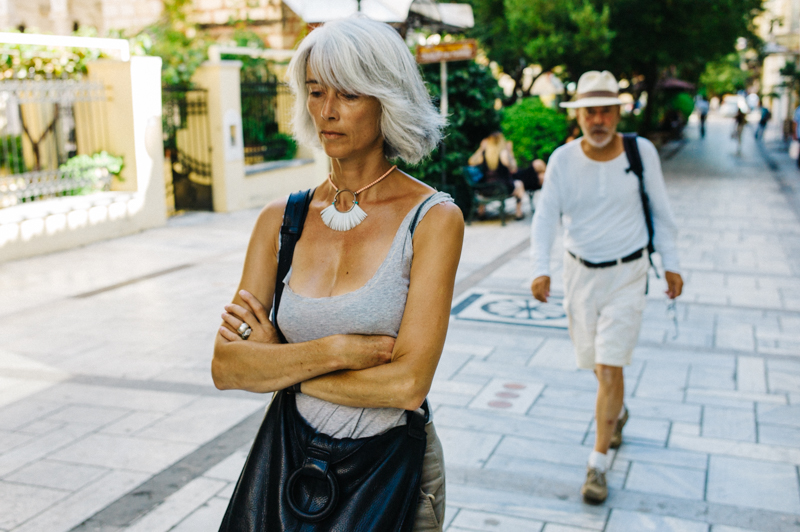 Sample Street Walk:
For a full day of Street Photography, covering some of the best spots, you can follow this sample street walk for Athens:
Start at the Acropolis (1)
Walk to Syntagma Square and the start of Ermou Street (5)
Walk Ermou Street (5) to Monastiraki Square (2)
Walk north on Athinas Street to Athens Central Market (4)
Keep walking north on Athinas Street to Omonoia Square (3)
From there, walk around Omonoia (3) and then catch the metro back home or to Monastiraki Station (2) and transfer to Evangelismos station so you can walk up Mt. Lycabettus and catch the best sunset view of Athens in the city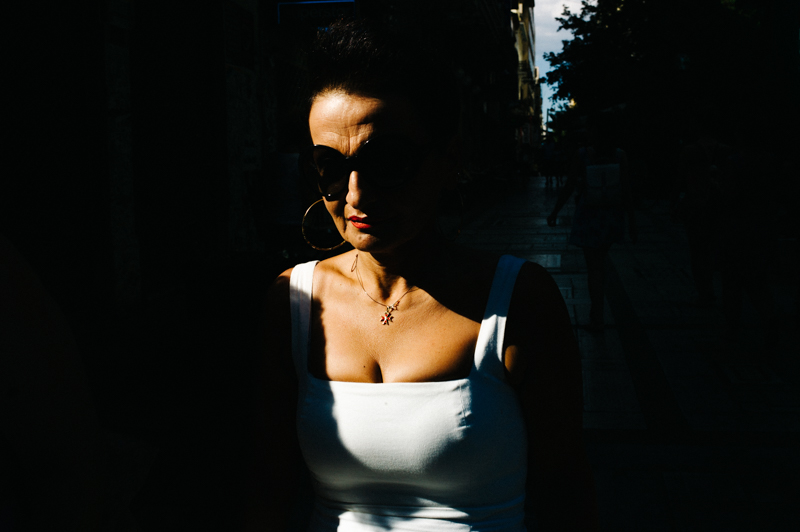 5 Things to Capture in Athens:
1. History
Athens is history. It's one of the world's oldest cities and the birthplace of democracy and western civilization. All over the city you'll walk by ancient ruins, statues and pillars. And due to the bowl like shape of the city, you can almost always see the Acropolis up high.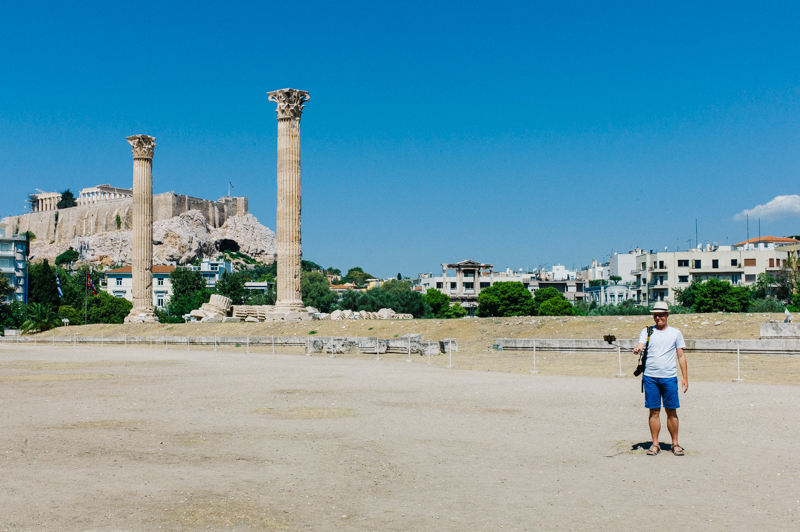 When a city is not only known for its history, but it's also so visibly engraved into its environment and atmosphere, it can make for something very worthwhile to try to capture. For Street Photography, you're not going to find many places where an urban city mixes so well with ancient history.
2. Grafitti
Athens has become one of the most graffiti'ed (I made that word up, I know) cities in the world. It's been a part of Athens forever and the police don't focus on stopping it. So artists have been given freedom to turn the urban decay into a beautiful canvas.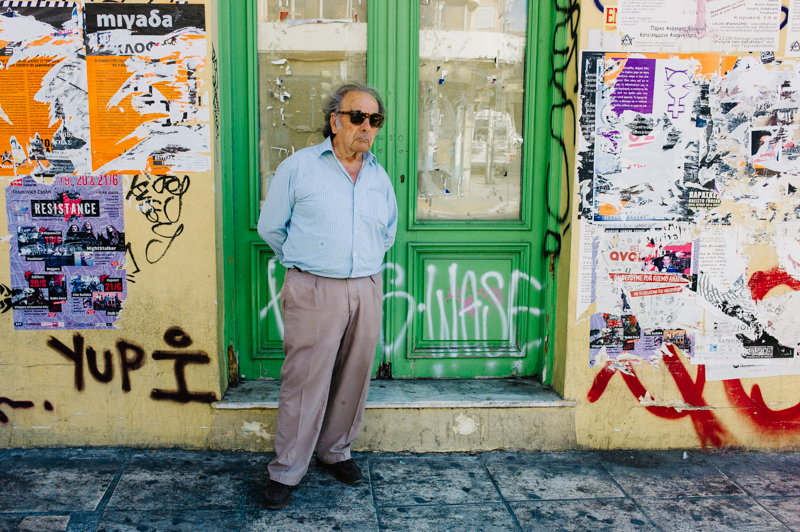 The styles of graffiti vary greatly. From sloppy tagging to complex artwork and paintings. There's also a good amount of humor mixed in much of the graffiti in Athens. If you go exploring, you're sure to see some crazy stuff.
Some of the best areas to see and capture Athens' graffiti culture are Exarcheia, Psiri, Gazi, and Plaka.
3. Crisis
The effects of the economic crisis in Greece are definitely apparent when walking the streets. And it's not just the shop and restaurant signs that read "CRISIS PRICES!"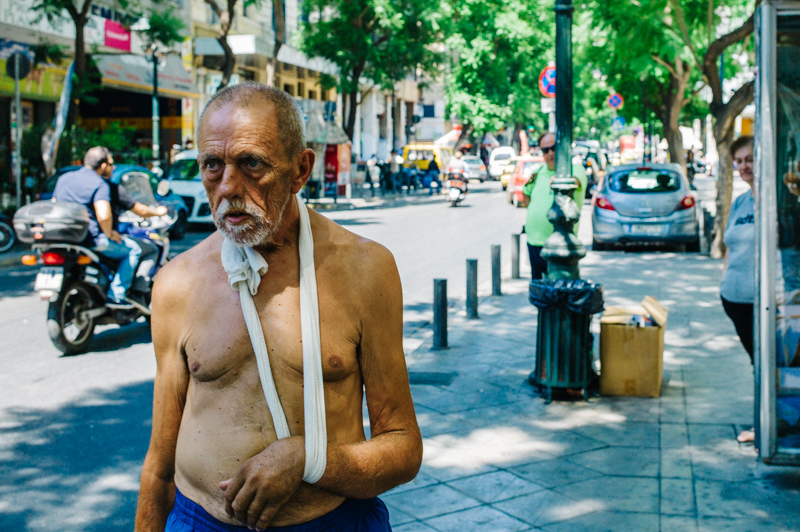 The urban decay and parks filled with homeless offer a look at the reality of the economic effects.
This also contributes to the edgy vibe Athens gives the more you walk around it. It adds to the mixture of age, urban decay, and graffiti. And this edginess provides character for Street Photography.
4. Character of the People
In Athens, the people have even more character than the city. This is mainly because the people in Athens also happen to be Greek. 
Greek people have a personality and character that make them stand out. They're physically expressive when they talk, which they do a lot. They have style. They have a friendly confidence. They're 100% Greek and proud of it.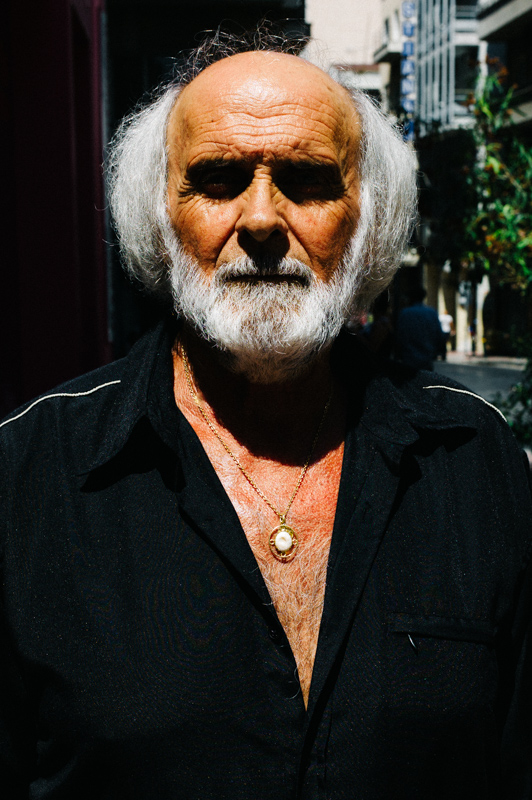 The character of the people in Athens is one of the best parts of the city for Street Photography too. They add interest to photos all on their own. 
5. Tourism
It doesn't get much more touristy than Athens in the areas around the Acropolis. Touristy is not usually a good thing for Street Photography, but in Athens it can be turned into an abundance of street photo opportunities.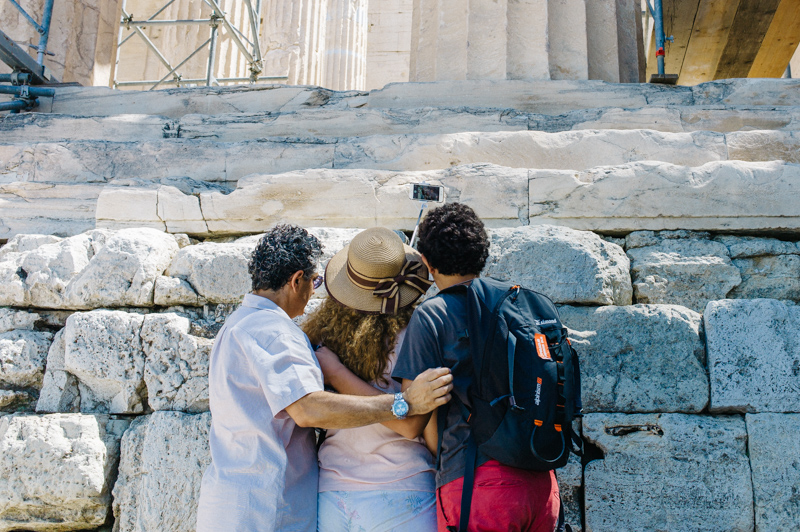 The unique surroundings provide a great backdrop to all the crazy tourism too. You'll see all the tourist stereotypes you can imagine and probably plenty of moments to match. 
What To Do For a Street Photography Break?:
Be a tourist and go up top
Down on the ground, Athens is not the prettiest city, but from up high, it's a different story. It's almost hard to believe it's the same city when you see it from above, but it's a must see. 
The views of the city from the Acropolis are great, but the best spot is Mt. Lycabettus. It's the highest point in the city and gives you the best look at everything it has to offer, including the Acropolis itself. There's a funicular railway that can take you to the top, but I recommend just walking up the paved trail. 
Street Safety Score: 7
*As always, no place is completely safe! So when I talk about safety, I'm speaking in general comparison to other places. Always take precaution, be smart, observe your surroundings and trust your instincts anywhere you go!
As I've said already, parts of Athens can feel a little dodgy, and you can see the negative affects of the crisis, so caution and observing your surroundings is advised if you venture away from the Acropolis area. In parts of the city, I've walked by some scenes that you probably wouldn't want to capture. At the same time, I've never felt in danger. Most of the dodgier areas are just people trying to get by.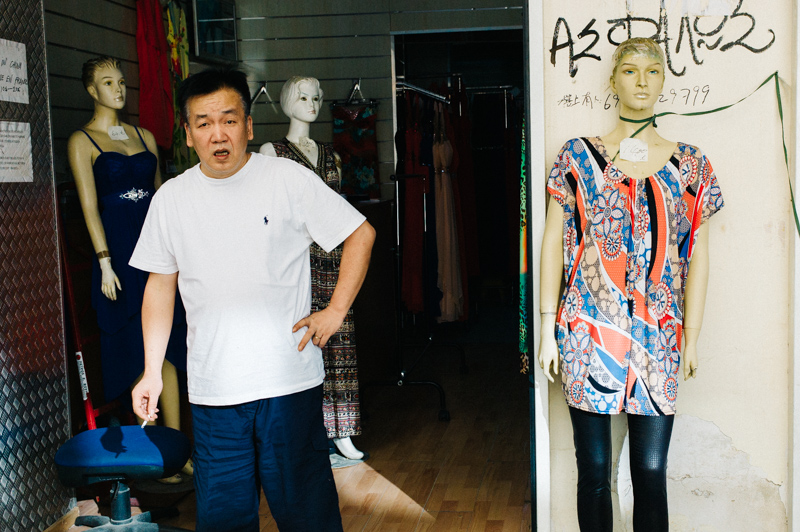 People's Reaction Score: 8
Greek people are very friendly and love to talk. For the most part, they are also very photo friendly too. I'd say it's one of the most photo friendly big cities in Western Europe. In parts of Athens, there can be a feeling they've grown tired of tourists and their cameras, but it's nothing serious. Also, around the dodgier areas, I'd try to make sure you're not photographing people who might not want to be photographed due to their situation or activities.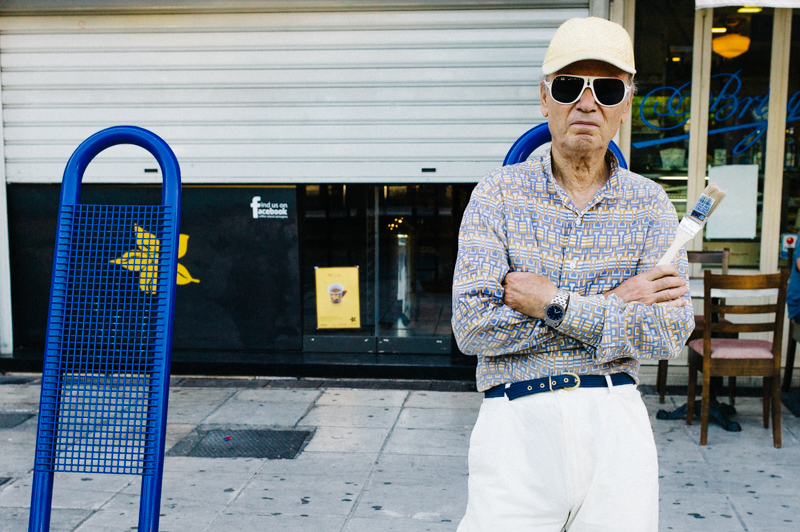 Street Tips:
It's all cash in Greece
Due to the economic crisis, banks are very restrictive in Greece right now. Many places don't accept credit cards because many really can't. Currently, Athens is all about cash so make sure you carry plenty of Euros.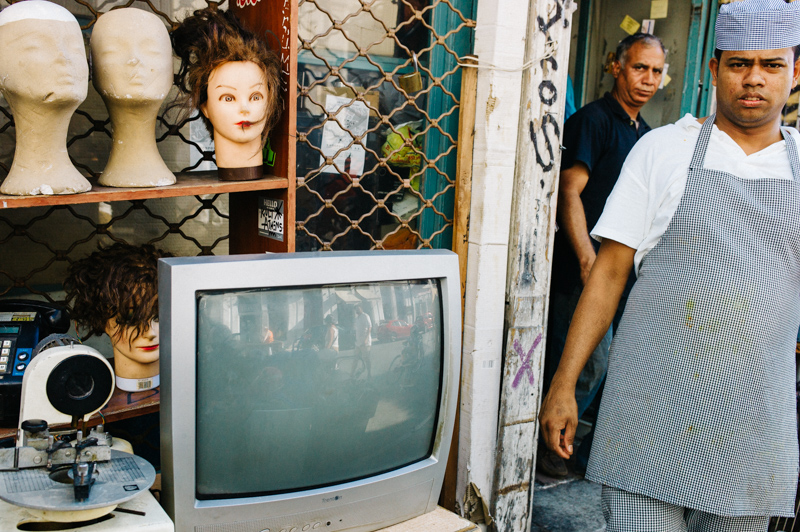 Be prepared for crowds and heat
Athens is full of tourists, especially around the Acropolis so you just have to be ready for that scene. It also gets extremely hot and dry so come prepared.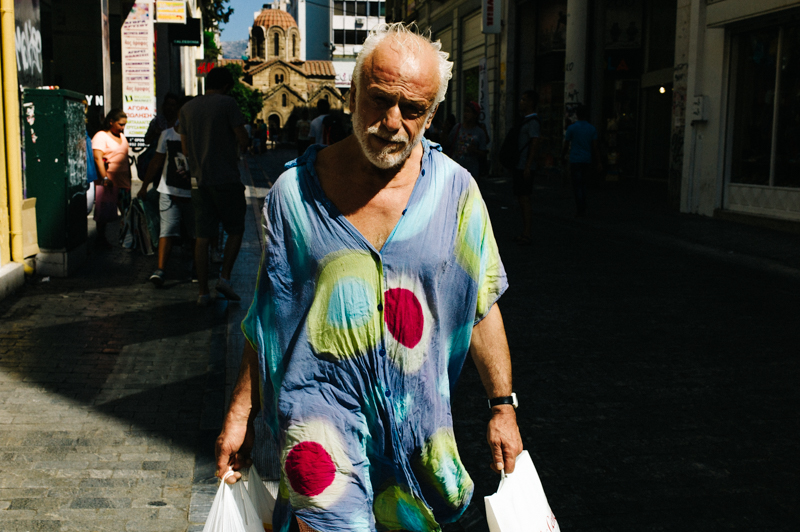 Find the spots away from the tourists to see the real Athens
Getting away from the Acropolis and more touristic areas provides a much more authentic Athens city experience. It might not be pretty, but it comes with character and a real picture of the city, past and present. It can also be eye-opening seeing some of the effects the current economic crisis has had on this ancient city.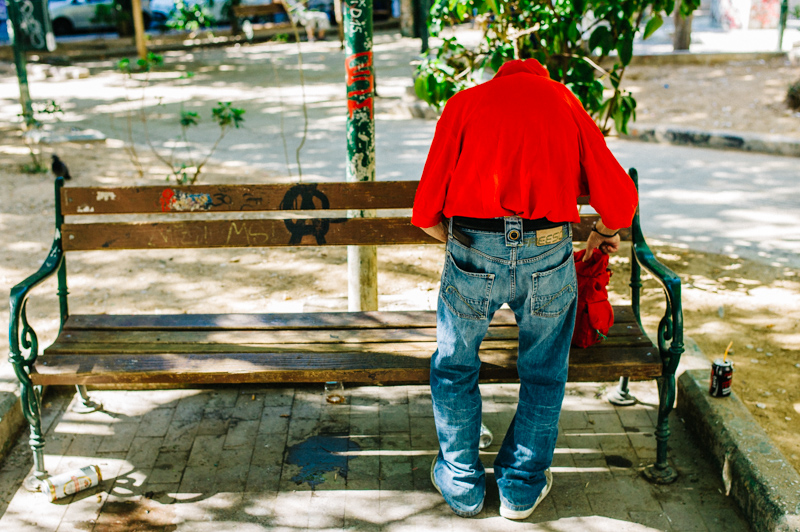 Inspiration:
For some more inspiration, you can look through the Street Photography of Athens photographer Lukas Vasilikos and check out 33 of my photos taken in Athens and Crete.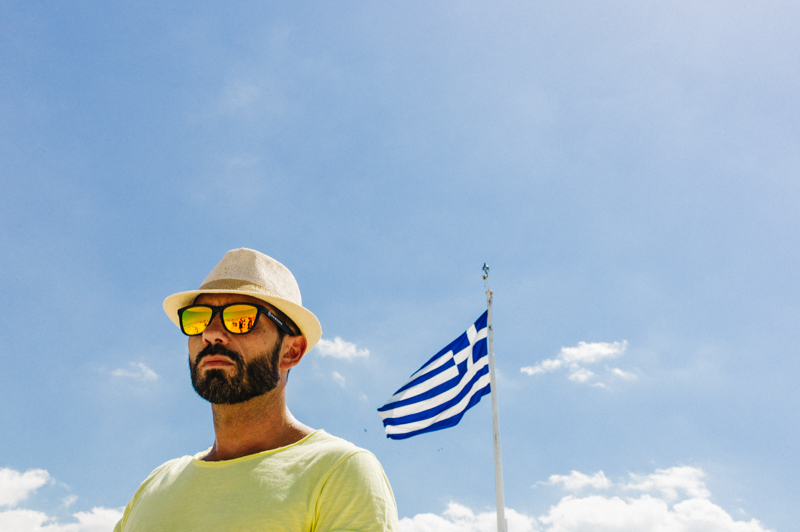 Conclusion:
Athens is known for its history more than any other city outside of Rome. For Street Photographers, it has much more to offer than just history, though. There's a very urban metropolis feeling mixed in with that history. Plus an edginess full of character throughout the city streets. I hope this guide can help you go explore some of that character too. So grab your camera and capture all that Athens has to offer for Street Photography!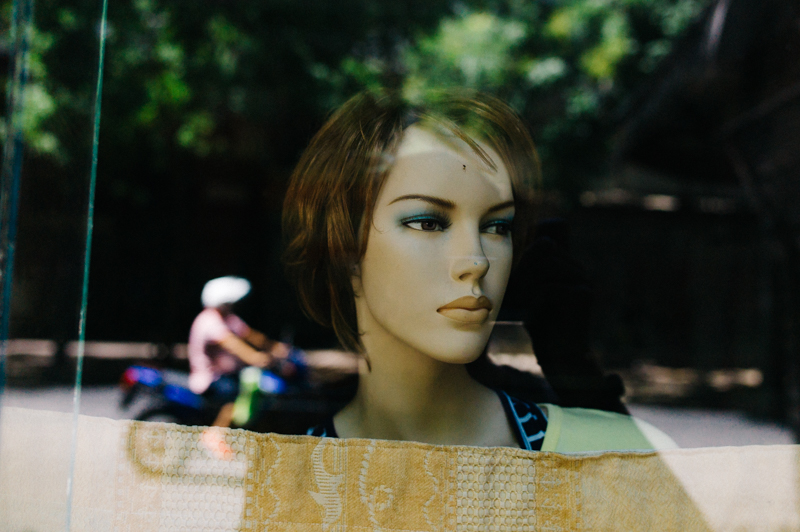 If you still have any questions about shooting in Athens, feel free to comment below or email me!
(I want to make these guides as valuable as possible for all of you so add any ideas on improvements, including addition requests, in the comment section!)