* "Master Profiles" is a series profiling all the great photographers of uncontrolled life. Unlike the rest of the blog, I'm doing these in a straight profile format to make it easy for quick access to facts, quotes and knowledge on all the masters. I'll also group them together here every time I add a new one.
Sebastião Salgado (1944-Present)
Brazilian photographer known for his long-term projects capturing and bringing awareness to socio-economic struggle in lesser developed places of the world.
Background:
Born: February 8, 1944 in Aimorés, Minas Gerais, Brazil
Born in the state of Minas Gerais in Brazil, Sebastião Salgado didn't find photography until his late 20's. Before then, he studied to be an economist and graduated with a master's degree in economics from the University of São Paulo. While working as an economist for the International Coffee Organization, he started developing a passion for photography during his many work trips to Africa. In 1973, he left his economist career to start taking photojournalist assignments, on the way to his real passion, documentary photography. After working with other photo agencies, he joined the prestigious Magnum Photos agency in 1979. After 25 years with Magnum, he formed his own agency, Amazonas Images.
Salgado specialized in long-term documentary projects with a focus on human struggles in less developed nations. His photos of a gold mine in Brazil called Serra Pelada from "Workers" have become some of his most famous work. One of his most acclaimed projects titled "Genesis" was also a first of its kind. From 2004 to 2011 he photographed around the globe, highlighting issues of environment and climate change through photos of indigenous people, wildlife, and landscapes in the last undamaged and unmodernised places in the world. A look at the less effected of nature and humanity in todays fast changing world.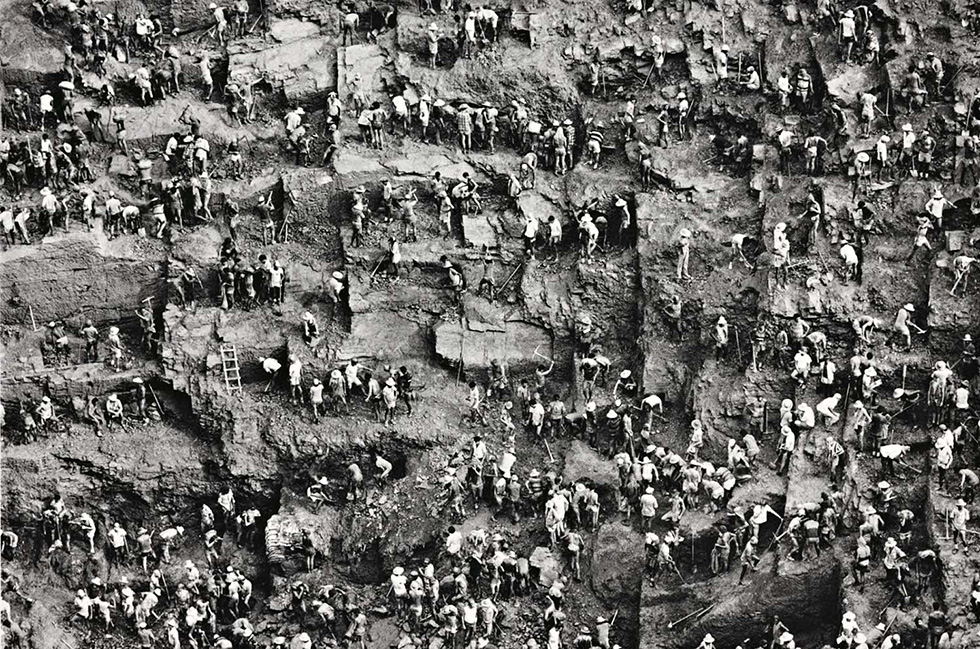 Salgado found photography as a way to bring awareness to socio-economic and political issues, especially in places where they had less of a voice. His use of black and white helped bring even more focus to the emotions of what he was trying to convey to speak to others. With a economist's background, he found photography an even more powerful medium to tackle the subject.
For his long-term projects, he has traveled to over 120 countries and produced multiple books and numerous exhibitions. Salgado became a UNICEF Goodwill Ambassador in 1991 and with his wife, Lélia, they also focus on different non-photographic projects to help better the world, including the restoration and reforestation in parts of the Atlantic Forest of Brazil. In addition, his 2014 documentary film The Salt of the Earth was nominated for the best Documentary Feature at the 2015 Academy Awards.
Style:
Humanitarian/Humanist with empathy & compassion in his work. 
Black & White photographs with dream like tones
Uses photography to bring eyes to the troubles of the disadvantaged people in the world
Issues of injustice, inhumanity and our relationship with the world
Gear:
Sebastião Salgado has worked with a wide range of equipment for his complex projects. During his film days, he used Leica SLRs and rangefinders, as well as Pentax medium format. Much of his more famous earlier work was shot with a Leica R6. Later, he decided he wanted to start printing extra big so he switched to a medium format Pentax 645. Since switching to digital, he now shoots primarily with a Canon 1DS. As far as lenses go, he uses virtually the whole line of Canon L lenses. From prime 24mm to 300mm and zoom lenses covering the same length. Tri-X was his preferred film and today he still has Digital images processed to mimic a similar Tri-X look.
Quotes:
"I looked through a lens and ended up abandoning everything else."

"When I was just starting out, I met Cartier-Bresson. He wasn't young in age but, in his mind, he was the youngest person I'd ever met. He told me it was necessary to trust my instincts, be inside my work, and set aside my ego. In the end, my photography turned out very different to his, but I believe we were coming from the same place."

"Roland Barthes, in his book Camera Lucida, stated that photography, rather than film or television, is the collective memory of the world. As I see it, he's right about this. Photography immortalize a moment, which then becomes a symbol, a reference. Photography is universal language; it doesn't need translation. Its collective memory is a mirror in which our society continually observes itself…"

"I'm not an artist. An artist makes an object. Me, it's not an object, I work in history, I'm a storyteller."

"What I want is the world to remember the problems and the people I photograph. What I want is to create a discussion about what is happening around the world and to provoke some debate with these pictures. Nothing more than this. I don't want people to look at them and appreciate the light and the palate of tones. I want them to look inside and see what the pictures represent, and the kind of people I photograph."

"You photograph with all your ideology."

"I work alone. Humans are incredible, because when you come alone, they will receive you, they accept you, they protect you, they give you all things that you need, and they teach you all things you must know. When you come with two persons or three persons, you have a group in front of them. They don't discuss with the new persons what is important to them…"

"If you take a picture of a human that does not make him noble, there is no reason to take this picture. That is my way of seeing things."

"I very much like to work on long-term projects…There is time for the photographer and the people in front of the camera to understand each other. There is time to go to a place and understand what is happening there. …When you spend more time on a project, you learn to understand your subjects. There comes a time when it is not you who is taking the pictures. Something special happens between the photographer and the people he is photographing. He realizes that they are giving the pictures to him."

"I don't believe a person has a style. What people have is a way of photographing what is inside them. What is there comes out."

"In the end, the only heritage we have is our planet, and I have decided to go to the most pristine places on the planet and photograph them in the most honest way I know, with my point of view, and of course it is in black and white, because it is the only thing I know how to do."

"…my way of photographing is my way of life. I photograph from my experience, my way of seeing things…"

"It's more important for a photographer to have very good shoes, than to have a very good camera"
Other Photographers to Check Out:
Henri Cartier-Bresson, Raghu Rai and Robert Capa.
Recommended Videos:
Recommended Reading:
Sebastião Salgado: GENESIS
Sebastião Salgado: Exodus
Sebastião Salgado: Children
Sebastião Salgado: Africa
Sebastião Salgado: Kuwait, A Desert on Fire
Sebastião Salgado: Workers: An Archaeology of the Industrial Age
Scent of a Dream: Travels in the World of Coffee
Sebastião Salgado: Other Americas
Sebastião Salgado (Photofile)
Highlighted Work: