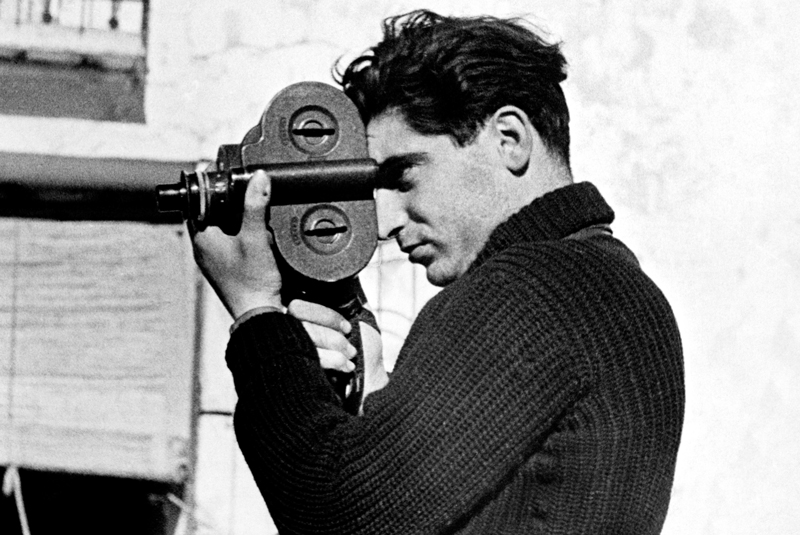 * "Master Profiles" is a series profiling all the great photographers of uncontrolled life. Unlike the rest of the blog, I'm doing these in a straight profile format to make it easy for quick access to facts, quotes and knowledge on all the masters. I'll also group them together here every time I add a new one.
Profile:
Robert Capa (1913-1954)
Hungarian war photographer famous for his images covering five wars, including World War II.
Background:
Born: October 22, 1913 in Budapest, Austria-Hungary
Robert Capa was born Endre Friedmann in Budapest, Austria-Hungary (He later changed his name to hide his jewish roots to gain more work as a freelance journalist). At 18 years old, he moved to Berlin, where he wanted to become a writer, but soon fell in love with photography.
In 1933, he moved to France due to the rise of Nazism. He used the American sounding name, Robert Capa, to help construct a famous American photographer "persona." In 1936, Capa went to Spain to photograph the Spanish Civil War for three years. During this time, he also visited China to document the Japanese invasion.
Capa found world fame after capturing his "Falling Soldier" photograph during the Spanish Civil War. It was quickly acclaimed as one of the greatest photos ever taken. It is said to be the republican militiaman Federico Borrell García at the very moment of his death, but since Capa's own death, there have been doubts to its authenticity.

Capa later moved to New York City to escape Nazi persecution at the beginning of World War II. He was soon sent back to Europe to photograph the war, though. During the war, he captured many iconic photos for the U.S. Allied. Some of his first acclaimed photos from the war were taken in Sicily when the US Army landed to liberate Italy from the Nazis.
His most famous images, though, were taken on D-Day at Omaha Beach. Capa was with the first wave of American troops that stormed the beach against the German troops. This work was later titled The Magnificent Eleven, as only 11 of the 106 photos taken that day survived a photo lab accident in London.
In 1947, Capa co-founded the now famous Magnum Photos in Paris with Henri Cartier-Bresson, David Seymour, George Rodger and William Vandivert. This collective agency for freelance photographers has since become the pinnacle for photojournalists.
While Capa had decided to retire from war photography, he went ahead and accepted an assignment from Life magazine to photograph the First Indochina War. In 1954, while accompanying the French regiment, Capa stepped on a landmine and died on the way to a small field hospital.
Robert Capa's fame has only risen since his death, as he is regarded by many as the greatest war photographer ever, and certainly the most famous.
Style:
War Photography
Action, Often Slightly Out of Focus
Dark, Gritty Black & White
Brave, In the Middle of Danger
Gear:
Camera: Contax II      Lens: 50mm
While Robert Capa is known for using Leica at the beginning of his career (most likely the Leica III model), the bulk of his work was shot with the Contax II series cameras. He preferred the 50mm focal length and shot with the Zeiss 50 sonnar 1.5 for much of his career. On the day he died from a landmine during the First Indochina War, he was found with his Contax II and a Nikon S 50mm. 
Quotes:
"If your pictures aren't good enough, you aren't close enough."

"I would say that the war correspondent gets more drinks, more girls, better pay, and greater freedom than the soldier, but at this stage of the game, having the freedom to choose his spot and being allowed to be a coward and not be executed for it is his torture."

"It's not always easy to stand aside and be unable to do anything except record the sufferings around one."

"In a war, you must hate somebody or love somebody; you must have a position or you cannot stand what goes on."

"War is like an aging actress: more and more dangerous and less and less photogenic."

"I hope to stay unemployed as a war photographer till the end of my life."

"You don't have to pose your camera. The pictures are there, and you just take them. The truth is the best picture, the best propaganda."

"If you call yourself an artist, you won't get anything published. Call yourself a photojournalist, and then you can do whatever you want."

Q: Do you really distance yourself from your subject? I mean, what would you do if you were presented with a young girl burning to death?
A: About 1/60 at f5.6.
Fun Fact:
Together with his girlfriend, Gerda Taro, they created his persona of "Robert Capa." Gerda also changed her last name from Pohorylle when she decided to become a photojournalist after Capa's teaching. As they both had jewish roots during the time of Nazism in Europe, they wanted to conceal this with their new names to gain more freelance work. 
Born André Friedman, Robert Capa had already been nicknamed "capa," which means shark. He found this name went along well with "Robert" to create a more American sounding name. From there, Robert and Gerda formed a fake association to help this persona attract success. Gerda became his secretary and sales representative in a made up photo agency, his birth name, Andre Friedman, became his darkroom developer, and Robert Capa became the famous American photographer visiting France. They even charged newspapers higher rates to reflect how rich and talented this fictional photographer was.
Their "Robert Capa" persona plan ended up working and quickly gained him work to jumpstart his career into the success it became.
Friends:
Henri Cartier-Bresson and Elliot Erwitt
Recommended Reading:
Robert Capa: The Definitive Collection
Slightly Out of Focus (Modern Library War)
Robert Capa at Work: This is War: Photographs 1936-1945
Capa in Color
Omaha Beach on D-Day: June 6, 1944 with One of the World's Iconic Photographers
Blood And Champagne: The Life And Times Of Robert Capa
Highlighted Work: