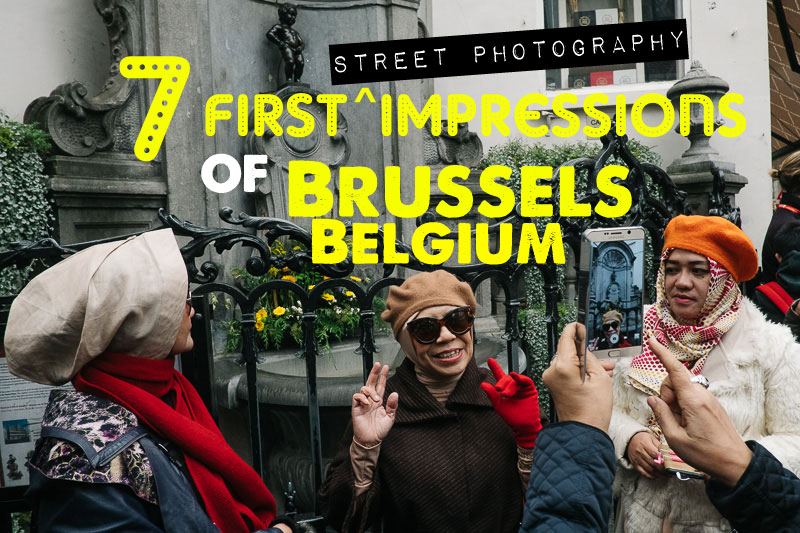 The 2016 Brussels Street Photography Festival brought me to City #42 during my 100 City Project, which of course of was Brussels, Belgium. Since I was here for the festival, I decided to include Brussels in the project and spend an extra week outside of the festival to give it time.
While many of the other Western European capitals attract more attention and longer stays, Brussels' beer, chocolate and Grand Place give plenty of tourists reason enough to make a stop here. If you give Brussels more time than Grand Place, though, you'll find the city is a funny mix of a lot of influences. Historic charm, EU politics, hipster trendiness, edginess, multiculturalism, and its own special surreality all blended into one city. There's a lot to Brussels that makes it stand out in Europe the more time you experience its different parts.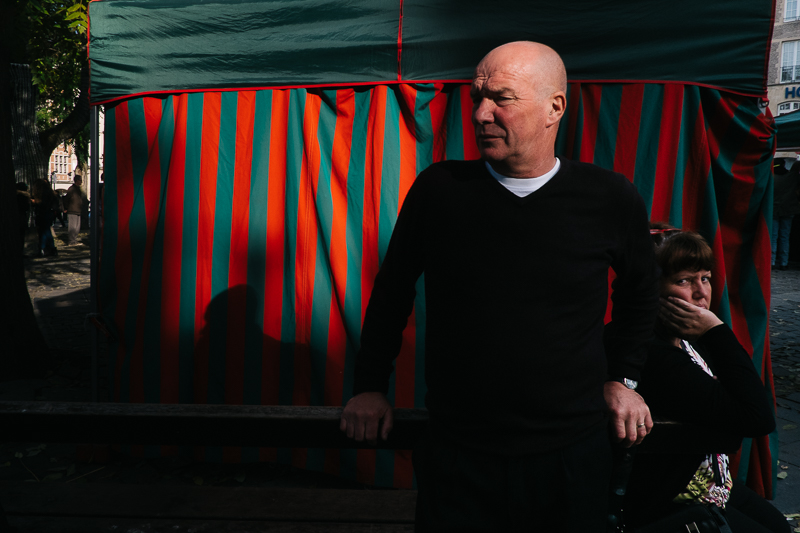 So here are my first impressions of Brussels, from my personal Street Photographer perspective…
7 First Impressions of Brussels 
(From a Street Photography Perspective)
1. Edgy, interesting mix in Western Europe
Many years ago, I stopped in Brussels for a few hours on a train ride from Amsterdam to Paris. I did the basics, grabbed some Belgium chocolate, sat at cafe, and of course sampled some Belgium beer before hopping back on the train to Paris. Brussels' Grand Place makes a nice spot for a 3-4 hour stop. It's compact, scenic and lively. But it also gave me a very superficial impression of the city. This time with so much more time to truly explore the city, my impression is of a completely different city. One that feels a lot more different than the rest of Europe than I first imagined. It almost has two or three personalities.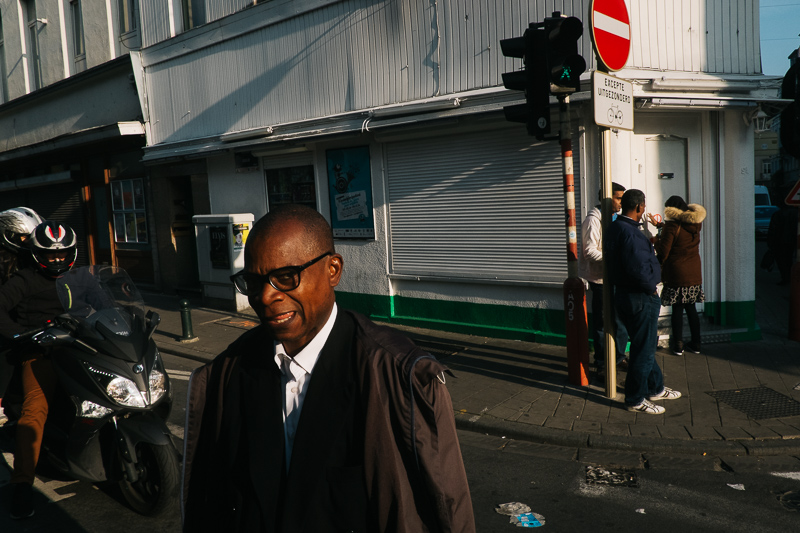 There's the lovely, scenic Brussels you see in magazines, then there's the government buildings/center of the EU feeling, and then there's an edgier side too. In a short walk, you can see a mix of it all. The picture perfect postcard Brussels mixed with hustle and bustle of a political metropolis mixed with a darker, gritty feeling in many areas. It's a city you really need to explore past the initial impression. There's a charm to its surprising mystique and mix unlike any other city in Western Europe, especially walking around with your camera.
2. Compact & touristy in the center
For many touring Europe, if they stop in Brussels, it's usually a shorter one compared to other European capitals. There's a few reasons for this. For one, it's an easy stop to make on the train, especially if you're taking a popular route between Paris and Amsterdam. The Central Station drops you off only a short walk from The Grand Place, and you're right in the middle of it all. This famous central square has an impressive surrounding of guildhalls and other architectural wonders. It's always full of tourists and tour groups here, taking photos and then enjoying Belgium's famous beer at one of the surrounding cafes. From here, you can explore the surrounding cobblestone streets lined with Belgium chocolate shops, waffle stands, cafes, souvineer shops, pubs and restaurants. Everything around here is geared toward tourists, but for obvious reasons. It's a charming, picturesque area. It's also only 2km wide so it's easily walkable for everyone.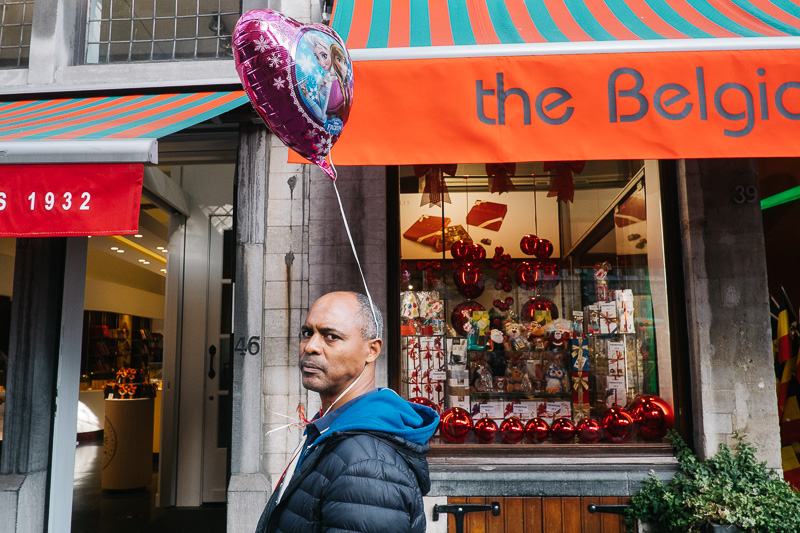 If you're in Brussels, you'll be here. While touristy spots like this aren't my favorite, it still makes an active, easy place to explore for street photography. If the sun is out, the light can be very nice coming down into squares and narrow alleys too. There's only so much to explore here, though, so I'd highly recommending making your way out of this center too, which brings me to #3…
3. Different city outside the center
The center of Brussels is what fills guide books and where most visitors will never leave. It's not very big, though, so if you really want to explore the city for street photography, you have to venture outside. And I ended up spending more time doing that anything here. The character changes quite a bit, though, sometimes not even noticeably the same city. You don't have that tourist polish, streets lined with souvineer shops and cookie cutter cafes, or all the tour groups running around taking selfies. While the center is photogenic, you can find some real character exploring Brussels, with a unique atmosphere too. While not as photo friendly, I found it more interesting.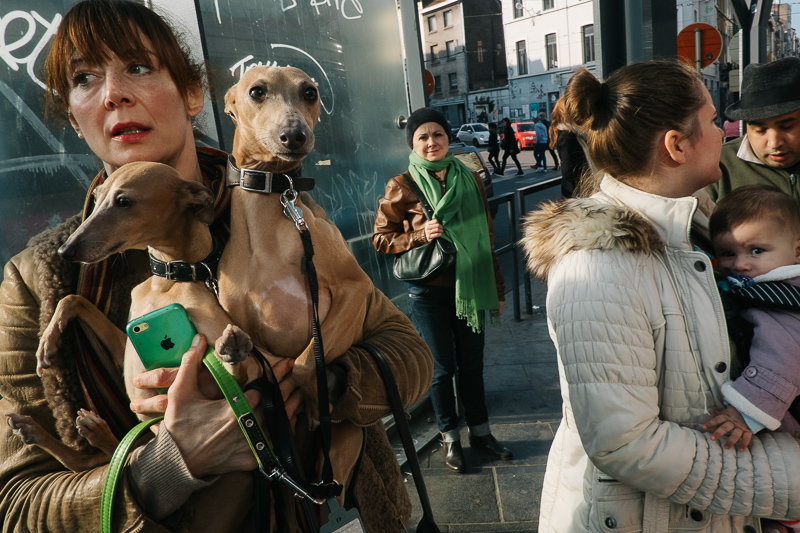 Some of the nearby places I'd recommend would be Les Marolles, which has a flea market and some slightly strange scenery at its main square. From there, you can walk along Avenue Louise until Chatelain. Not too far from here, you'll find one of my favorite spots in the city, Flagey, which has a large square by a busy bus stop that always supplies activity. Heading back towards the center, you can walk through Matonge, the African neighborhood in Brussels, which supplies a very different vibe, and some color. On the opposite side of the center, just past the canal, you'll enter Molenbeek, a multicultural neighborhood with strong Muslim influence. These are just a few spots within walking distance of the center, but they provide a very different side of Brussels that can be interesting for street photography. Especially if you're tired of shooting around the touristic center.
4. Multicultural feeling
After Dubai, Brussels has the highest percentage of citizens born abroad in the world. With over 60% foreign-born residents, it's also become a center of the European Union, not only because the EU headquarters are here, but also the strong attraction from other Europeans. Brussels has 10 times the EU average of inhabitants coming from another EU country. So in Brussels you have a wide mix of European influences, as well as from outside of Europe. It's definitely something that stands out about the city when exploring with your camera. With all that diversity, you not only notice it in the people, but also the different neighborhoods. Sometimes it feels like you cross over into other countries if you explore enough.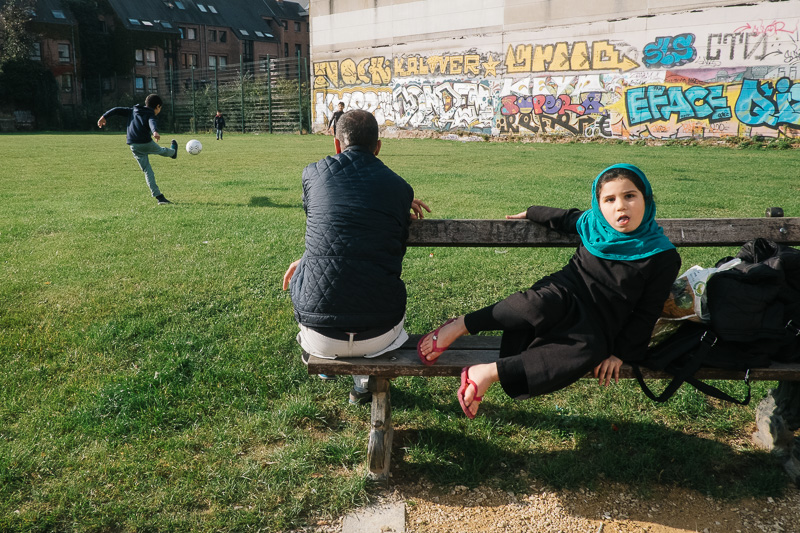 This diversity of influence mixed with Brussels own Belgium character to create an atmosphere unlike any place in Europe. That Belgium character also brings me to my next impression…
5. A different feeling, a little surreal
I'm not as big of a fan as many when it comes to western european cities for photography. Many of them have been overtaken by tourism and polish, losing much of their authenticity, in my opinion. Brussels can feel different, though. Grand Place and the surrounding compact streets of chocolates, waffles and beer are very touristy and polished, but the rest isn't. Maybe it's because it's not at the top of most lists compared to the other popular cities in Western Europe, many times it gets skipped over, or just a quick stop on the way to Paris or Amsterdam. With this, though comes a unique feeling to Brussels that has an almost surreal edge to it. This would make sense since Brussels happens to also be the birthplace of Surrealism, but it's left its impression on the city. It's hard to explain without exploring yourself, but it's in the scenery, art, weather, and even at times, the people.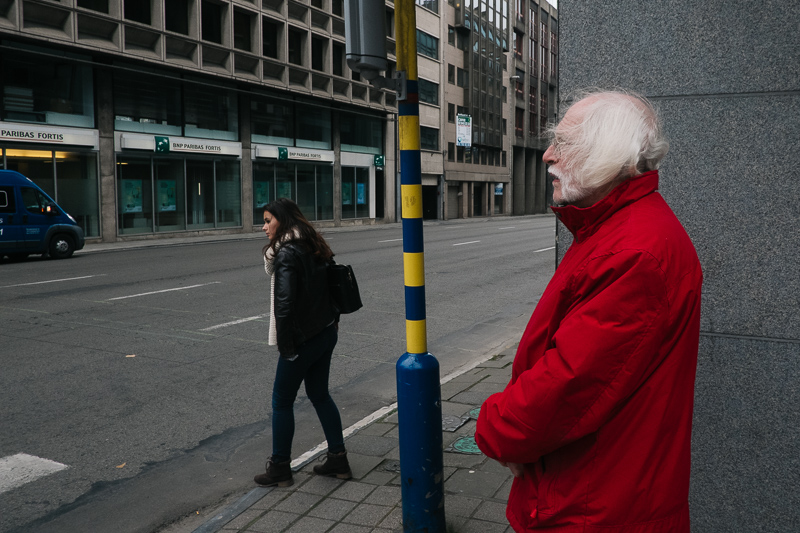 Having this feeling is great for street photography too, as many, including me, love to find that feeling in a scene and photo. Belgium is slightly different, in an authentic way, and it's probably the best thing about it for street photography, in my opinion.
6. Honestly, not as photo friendly as the rest of Europe (at least right now)
In the touristic center around the Grand Palace, it's as photo friendly as any other touristic area. Outside of this center, I have to keep it honest, though. Many might not openly tell you the truth with this, but there's no denying it. Brussels didn't feel as photo friendly compared to the rest of Europe, at least not right now. There could be a variety of reasons for this, including the recent tension due to terrorism, but I won't get into that. What I will say is I witnessed more unfriendliness towards street photography in a week here than I did the entire rest of the year shooting all over the world.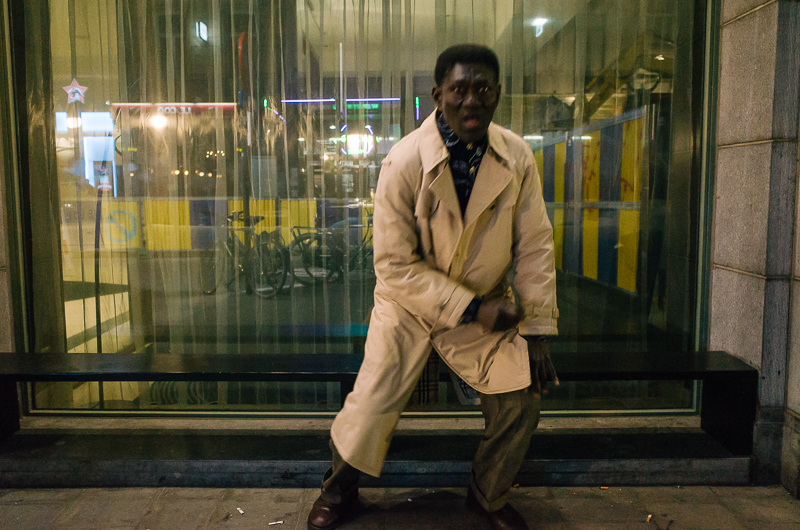 Part of the reason for this was due to the Brussels Street Photography festival going on during this time, so I saw a lot of street photographers out shooting. For a few examples, though, I saw one photographer yelled at from a window three stories above for taking a photo of a lone vinyl rock record laying on the sidewalk. I saw another photographer get aggressively pushed and yelled at for taking a very simple photo.  And more "no photos" than I've seen anywhere in Europe, including from police and security. None of this was for anything out of the ordinary, no close-ups, flash or anything. It wasn't only street photographers, either. On my first day here, I was just 3 blocks out of my door when a grown man on a bicycle pulled over to scare a young tourist girl half to death for taking a photo of him riding across the intersection by a canal, a good 10+ meters away.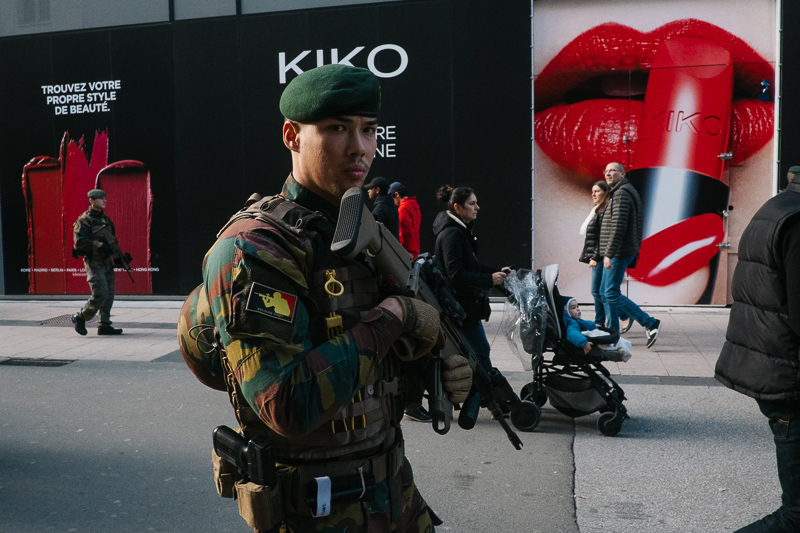 This was just my experience from what I saw and I will say I still made it out fine shooting here, and didn't let it stop or change anything. Anyone can shoot street photography easily here, and do, but it was surprising seeing the difference in push back here compared to the rest of Europe. Hopefully, it's just a temporary thing, and hopefully you don't even notice it (you won't in the center). I just want to be honest, though, because it definitely was something that stood out in my impressions shooting in Brussels outside of the center.
7. Ixelles is a great area to walk
Ixelles is a municipality of Brussels located southeast of the center. It was recommended to me by local photographer Dani Oshi for a street photography walk due to how big and lively it is. It was good advice because it ended up being one of the most interesting walks I made in Brussels.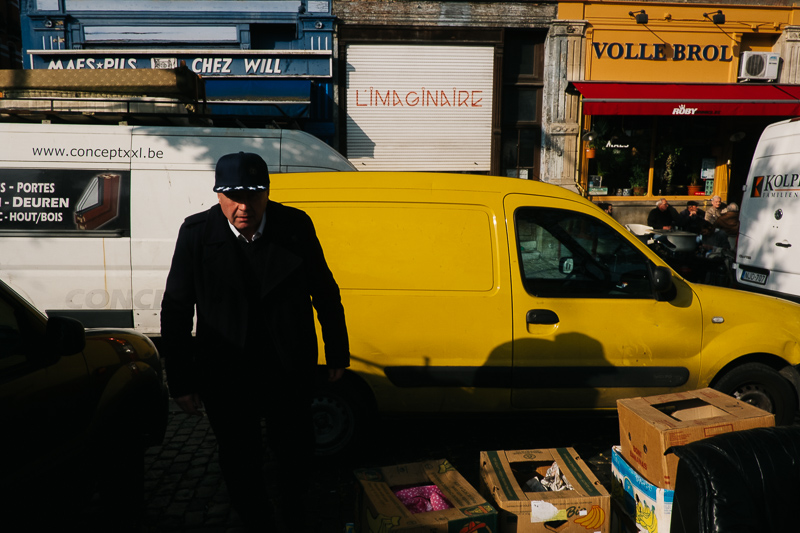 I already mentioned it above, but start in Les Marolles and stop at the open flea market, then walk down Avenue Louise until Chatelain (where there's a nice market on Wednesday), then walk up and over to Flagey Square for guaranteed activity, then walk up to Matonge, the African Neigborhood, before finishing around Sablon on your way back to the center.
The African neighborhood of Matonge definitely provides a different atmosphere in Brussels, especially around the many hair salons and wigmakers. It's colorful and vibrant, although be careful if you want to take photos in the hairdresser area, as pictures aren't allowed. Flagey square ended up being one of my favorite spots to shoot in the city and I came back multiple times. Ten streets converge here, along with a busy bus station. The foot traffic and activity is great for people watching and street photography. A street photography walk in Ixelles provides some highlights of Brussels so I'd definitely like to pass on its recommendation.
A Mix of Atmospheres
Brussels historical center around Grand Place provides enough charm for exploring with your camera, but if you really want to get to know Brussels, you'll have to walk outside of the Grand Place too. Brussels provides an interesting mix of atmospheres and character the more you walk. For street photography, it provided a city different than expected and different than I've experienced in the rest of Europe. And that's always a good thing.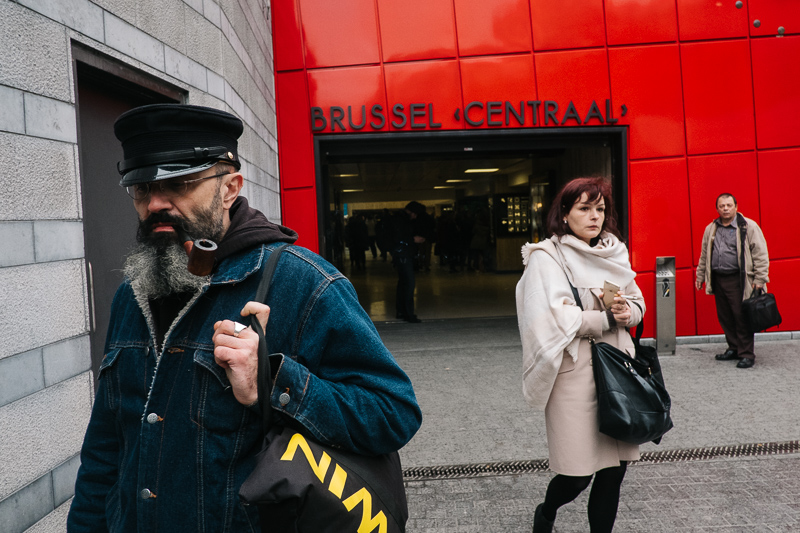 If any of you have been to Brussels before, tell me about your experience and impressions of the city and country in the comments below! And stay tuned for more on Brussels, including some of the best Street Photography shots I captured while there.
Click Here for More First Impressions on Cities Around the World 
(from a street photographer's perspective)