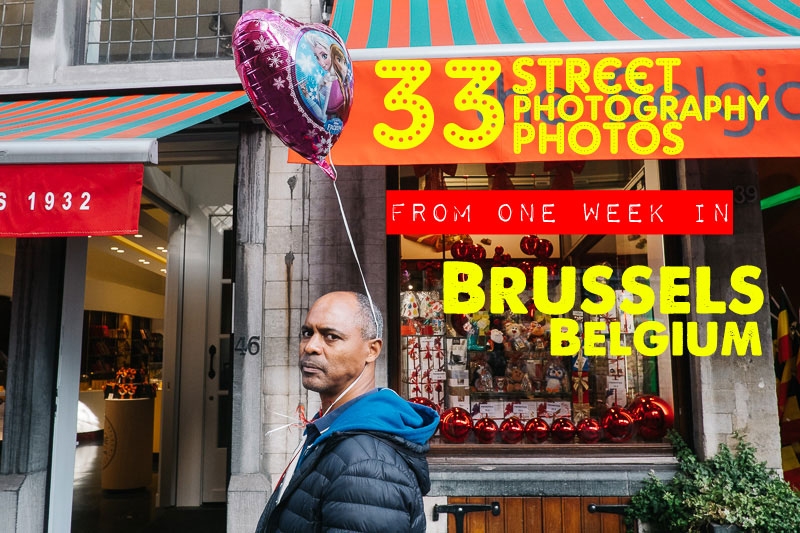 During my 100 City Project, I was brought to Brussels, Belgium for the Brussels Street Photography Festival so I decided to stay an extra week and add it to the photo project. It ended up being a city very different than first meets the eye in the charming, but touristy Grand Place center. For my personal taste, this was a good thing. Brussels has a unique mix of influences, including some edge. There's historic charm, EU politics, hipster trendiness, multiculturalism, an edginess I enjoy, and its own special surreality all blended into one city. 
So here's 33 photos that I was able to capture during my time in Brussels…
33 Street Photography Photos from Brussels
1.
2.
3.
4.
5.
6.
7.
8.
9.
10.
11.
12.
13.
14.
15.
16.
17.
18.
19.
20.
21.
22.
23.
24.
25.
26.

27.
28.
29.
30.
31.
32.
33. 
For more info on Brussels, be sure to check out my first impressions from a street photographer's perspective. And stay tuned for one of my City Street Photography Guides to Brussels.
Have you photographed Brussels before or do you plan on it someday? Let me know about it in the comments below!
And let me know which photos you like best too!
Click Here for More "33 Street Photos" from Cities Around the World